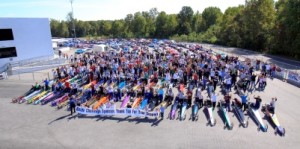 Some exciting news for MIROCK sponsors, racers, crew and family! MIR will be organizing a HUGE "Group Racer Photo" just like this one in the staging lines on Saturday, April 27th at the Fast by Gast Spring Nationals.
This "Group Racer Photo" will be sent to all of the MIROCK Superbike Series Sponsors as a Thank You for their incredible support. We took this photo during the Raider Car Series a few years back with a bucket lift truck so the photo is taken from up high in the air.
We will be doing the exact same photo on Saturday of the FBG Spring Nationals with the same bucket lift truck and a new banner thanking the MIROCK sponsors.
The "Group Racer Photo" will also be available for sale during the event from TNG photos if you would like to purchase one for yourself.
We strongly encourage everyone to attend the FBG Spring Nationals on April 26-28 at MIR and be a part of this memorable occasion. We want all racers, crew, and family members in the photo, and we are going to line up all of your dragbikes and streetbikes in the staging lanes just as we have done in this photo with the cars. It will be a great keepsake, and for you to say that you were here for this moment.
Thank you all and see you at the track!