As the NHRA Camping World Drag Racing Series returns to zMAX Dragway for the Countdown to the Championship playoffs for the Betway NHRA Carolina Nationals on Sept. 22-24, a trio of talented and experienced Pingel Top Fuel Motorcycle racers are poised to put on a show and go for world records.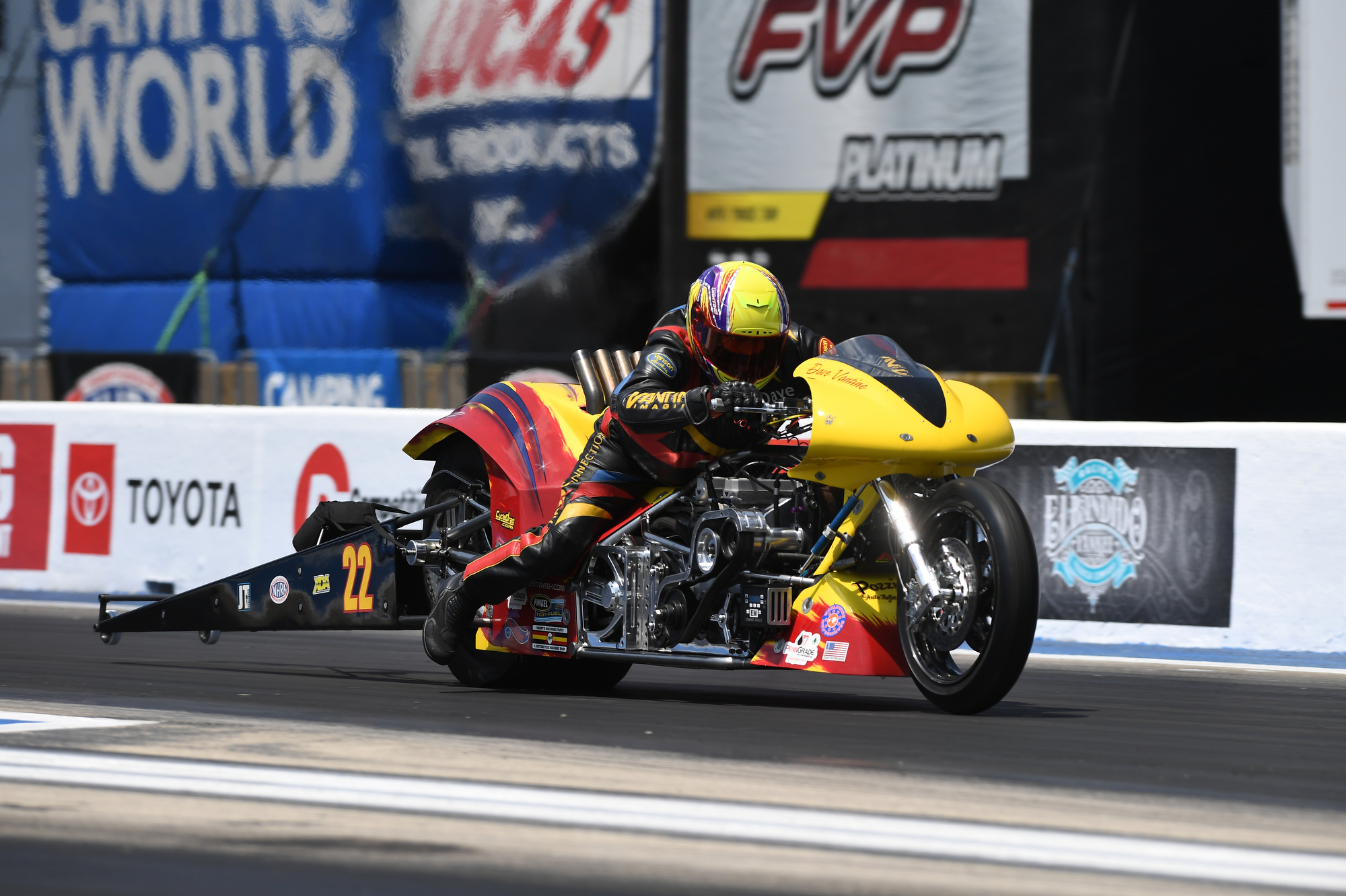 As of this writing the event will see Larry "Spiderman" McBride, Dave "Yellow Bullet" Vantine and Sam "Nitro Conspiracy" Wills in Top Fuel Motorcycle.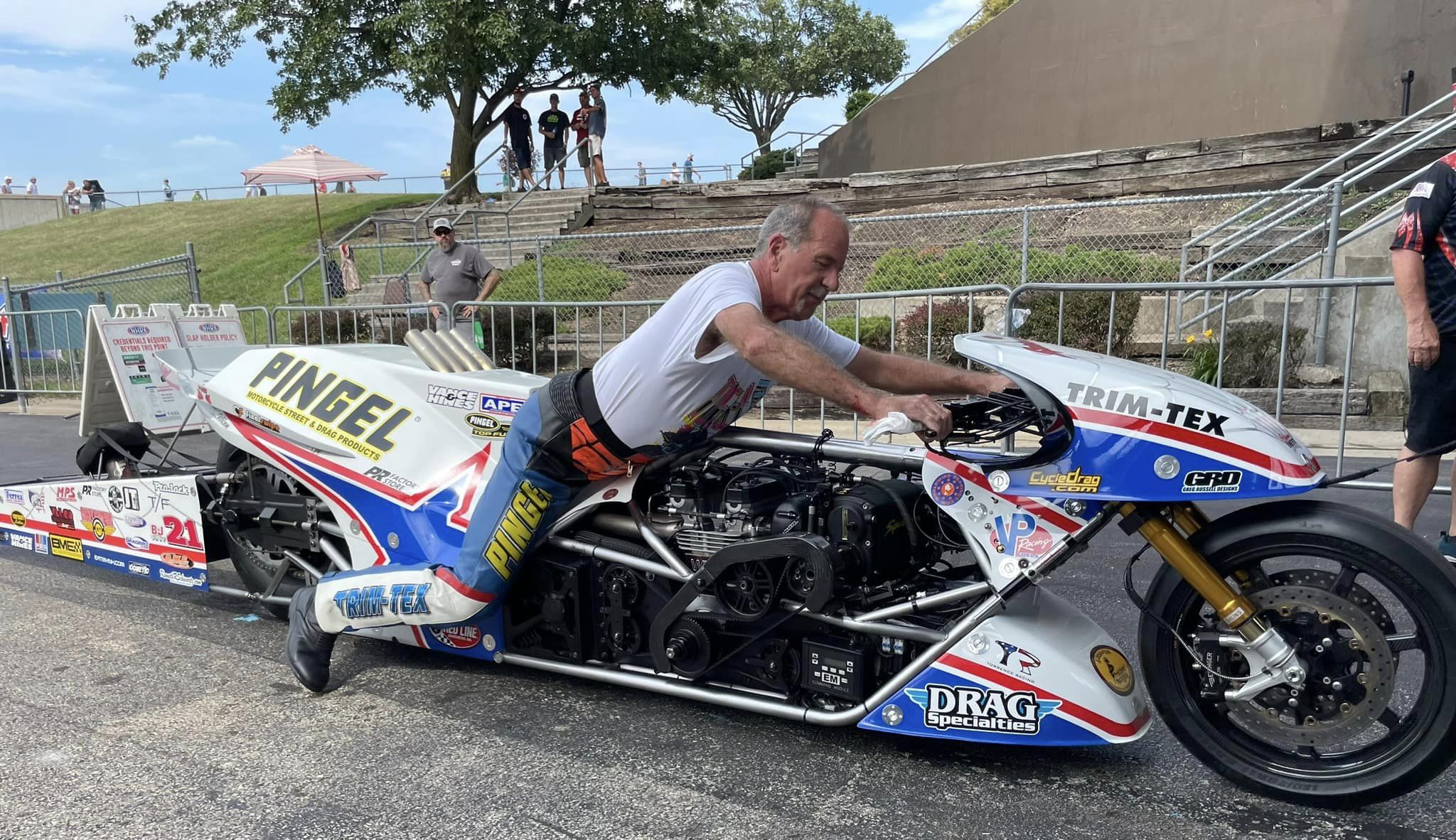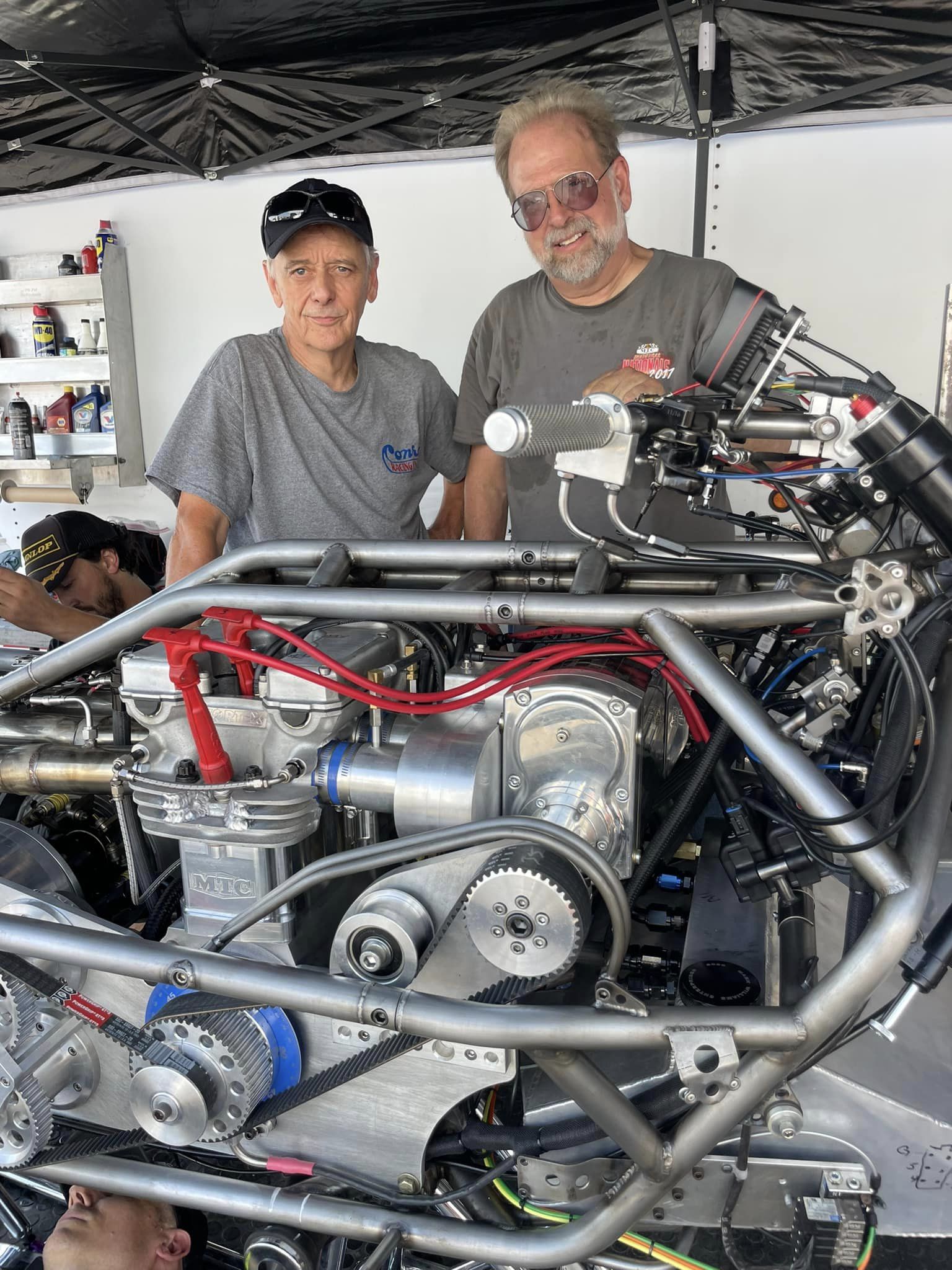 According to McBride he had a commitment from another racer to attend but that racer has since dropped out citing lack of funding.
Could a last minute replacement or change of heart by the driver in question surface? We will have to wait till Charlotte to find out.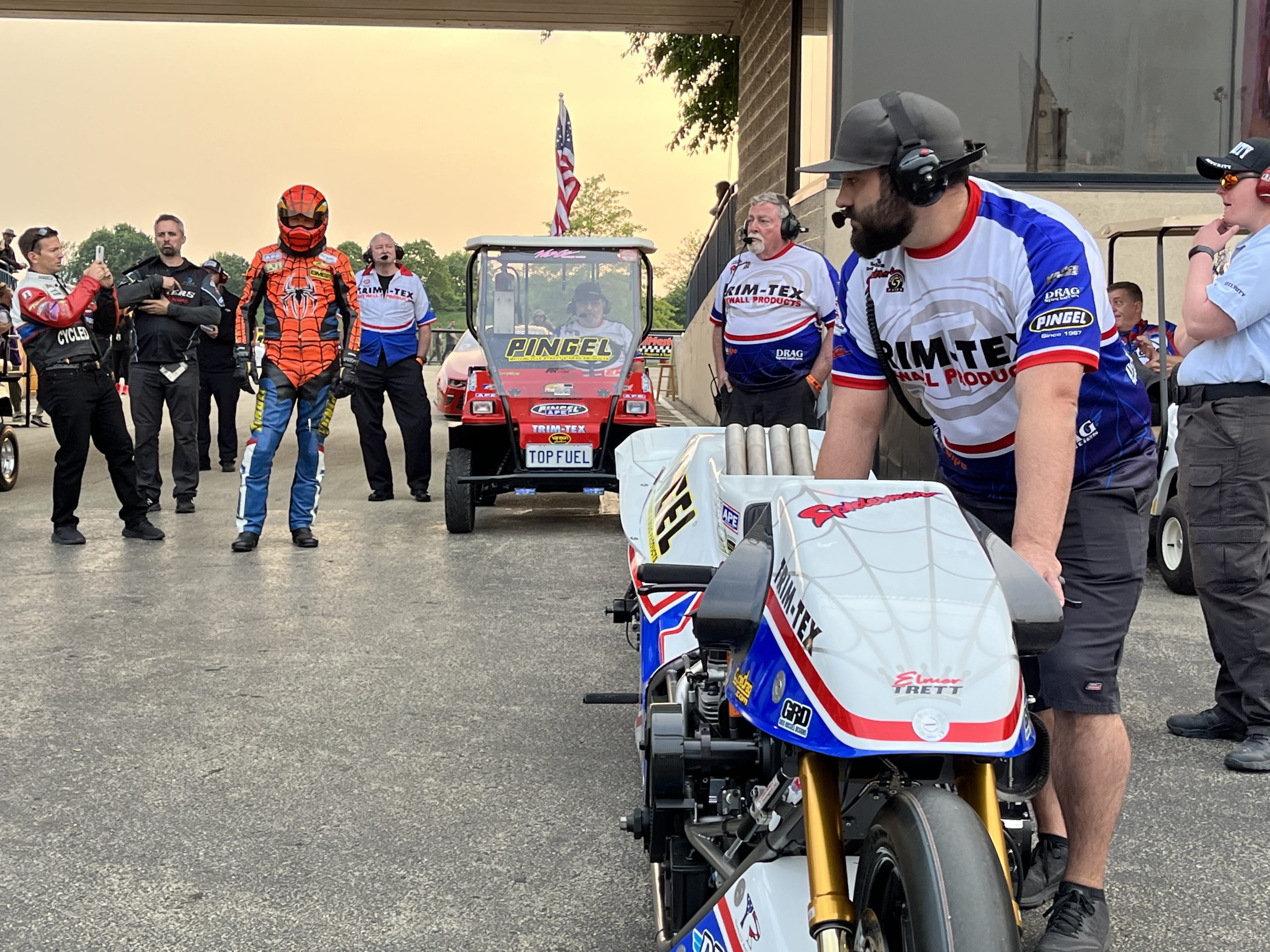 McBride, world-record holder at 5.50 at 268 mph is greatly looking forward to his first trip to zMAX Dragway, known as the Bellagio of dragstrips.
"We have been working hard to get ready and are really excited for this opportunity," McBride "I'm looking forward to seeing a lot of people I have not seen in a long time."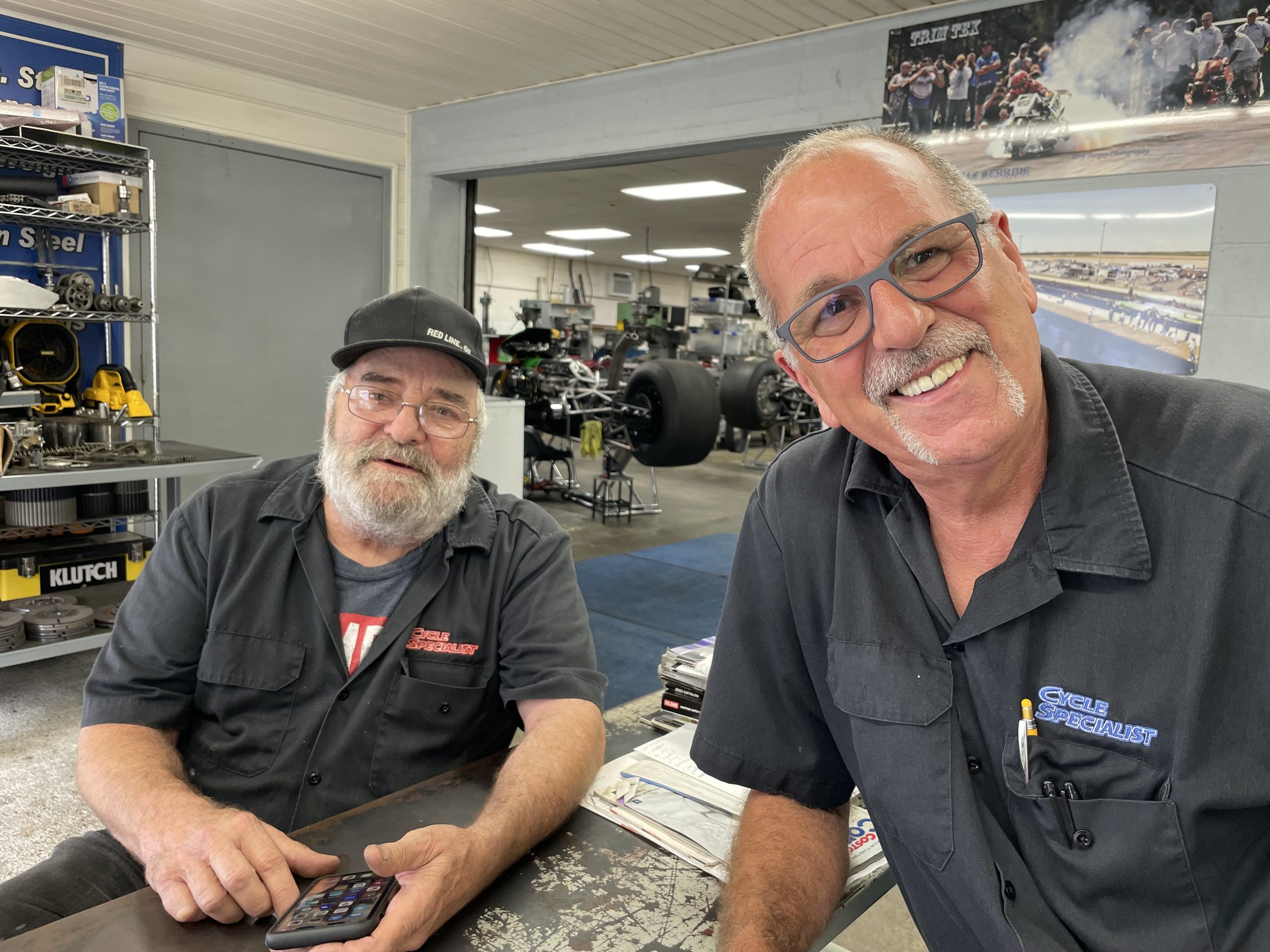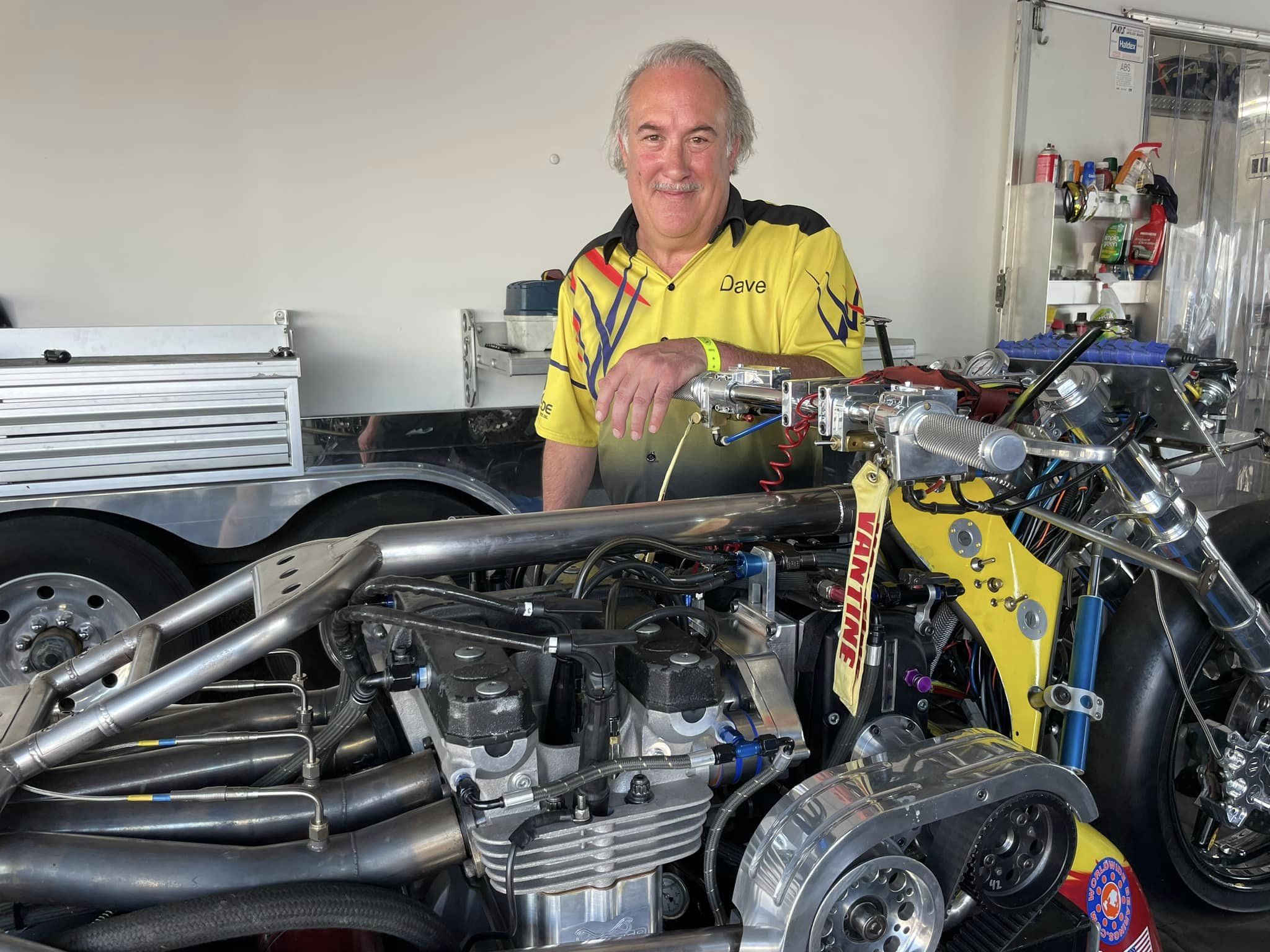 As for the world's second-quickest active Top Fuel Motorcycle racer, former Pro Mod standout Vantine's goal for the past few seasons has been to improve upon his career best of 5.71. With cool Fall weather and a long, smooth drag strip getting the "Yellow Bullet" in the 5.60-zone is not out of the question. McBride believes in his colleague.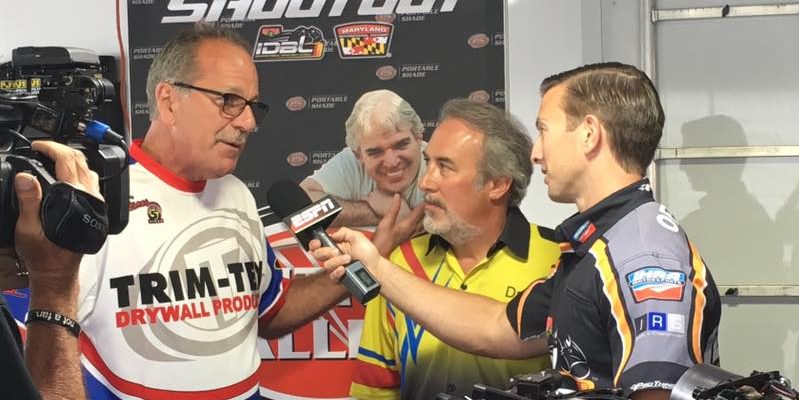 "They have the ability to do-it, no question about it," McBride said.
Vantine crew chief Greg Pollard, "Nitro" Joe Taranto and team will be looking to get the most out of the machine for their fearless pilot.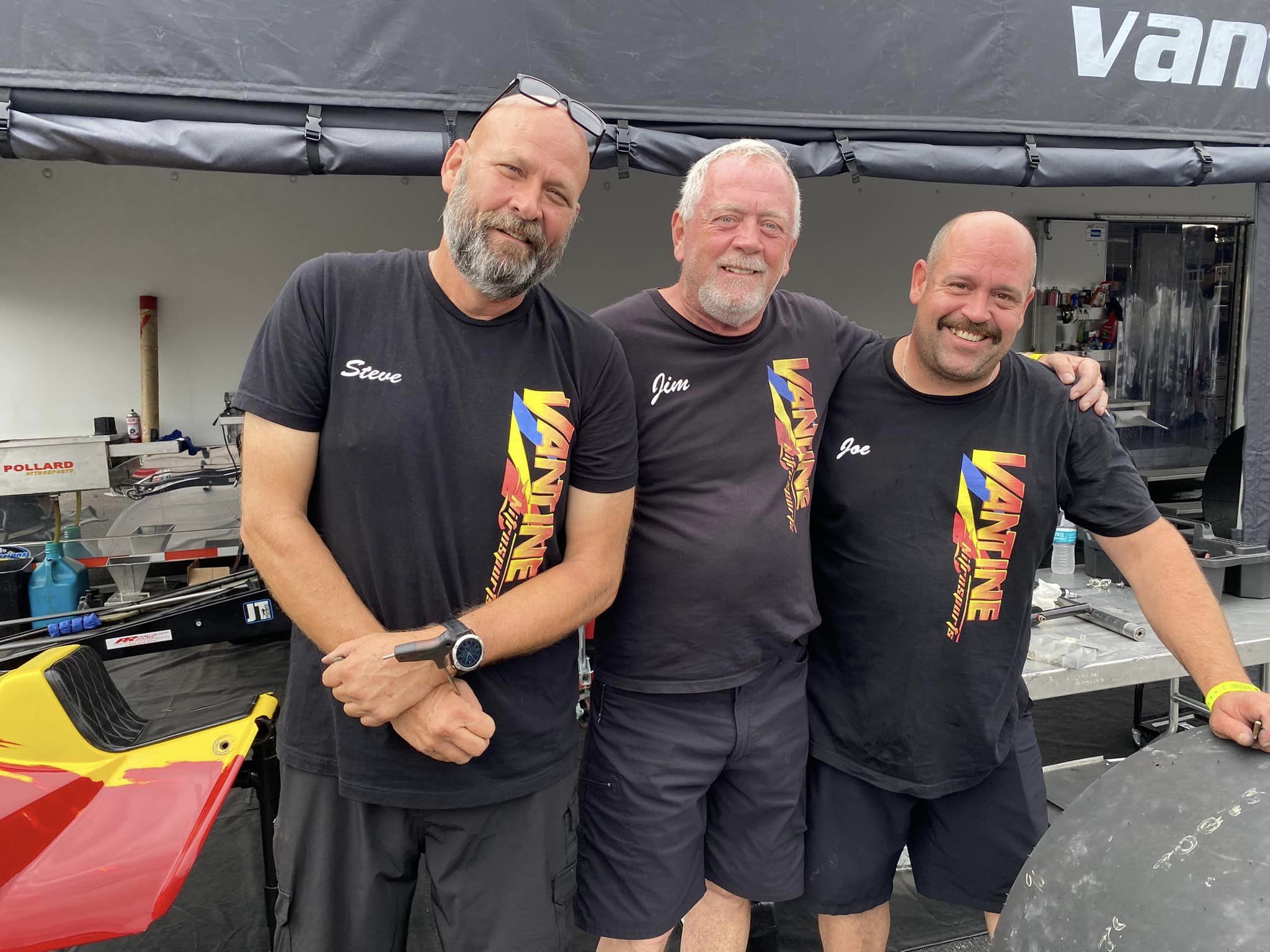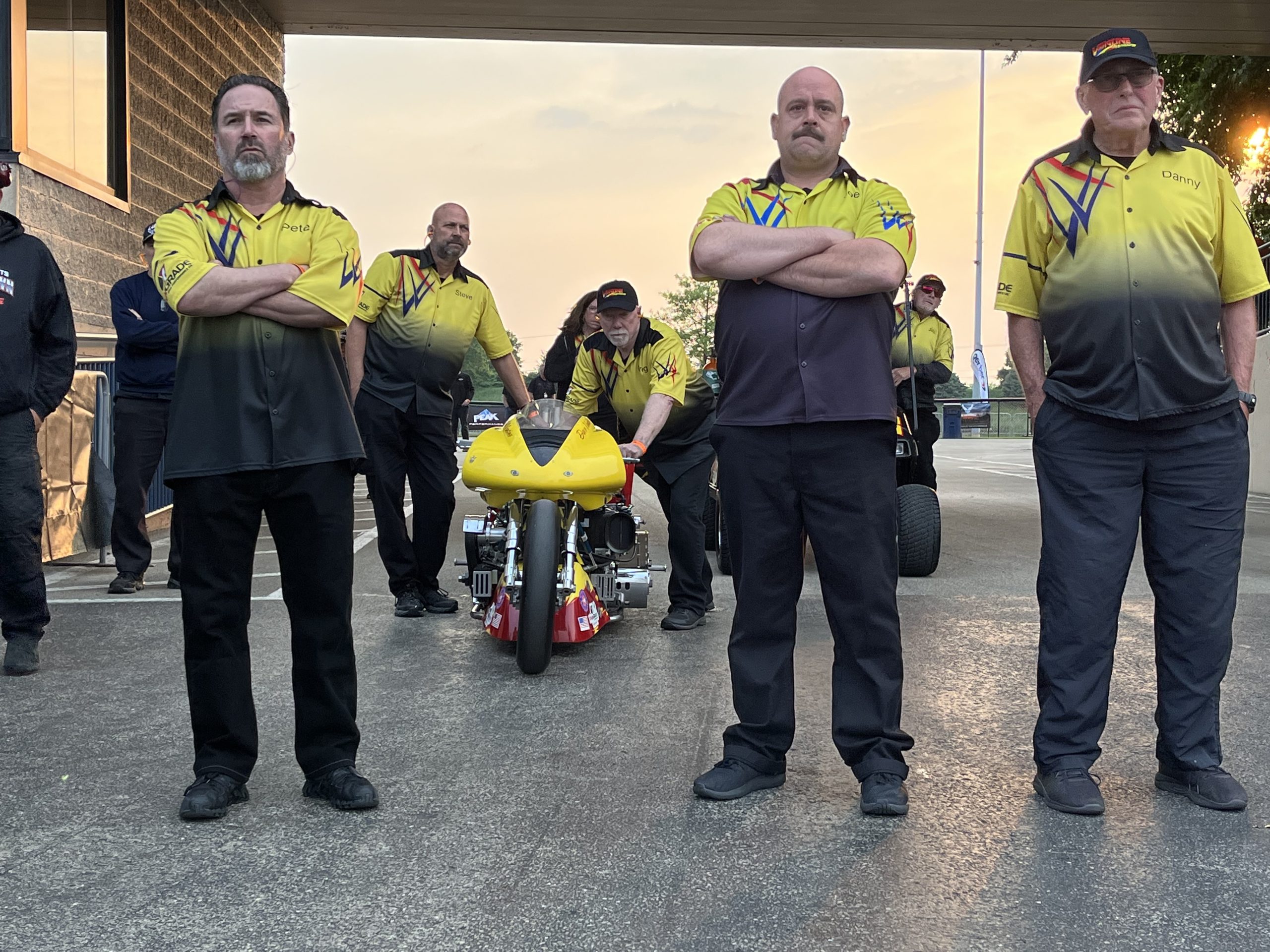 "We have really enjoyed running in front of the big crowds at the NHRA Nationals,' Vantine said. "When I raced Pro Mod it was all about going rounds. In Top Fuel it's about setting a new personal best, and that's what we want to do in Charlotte."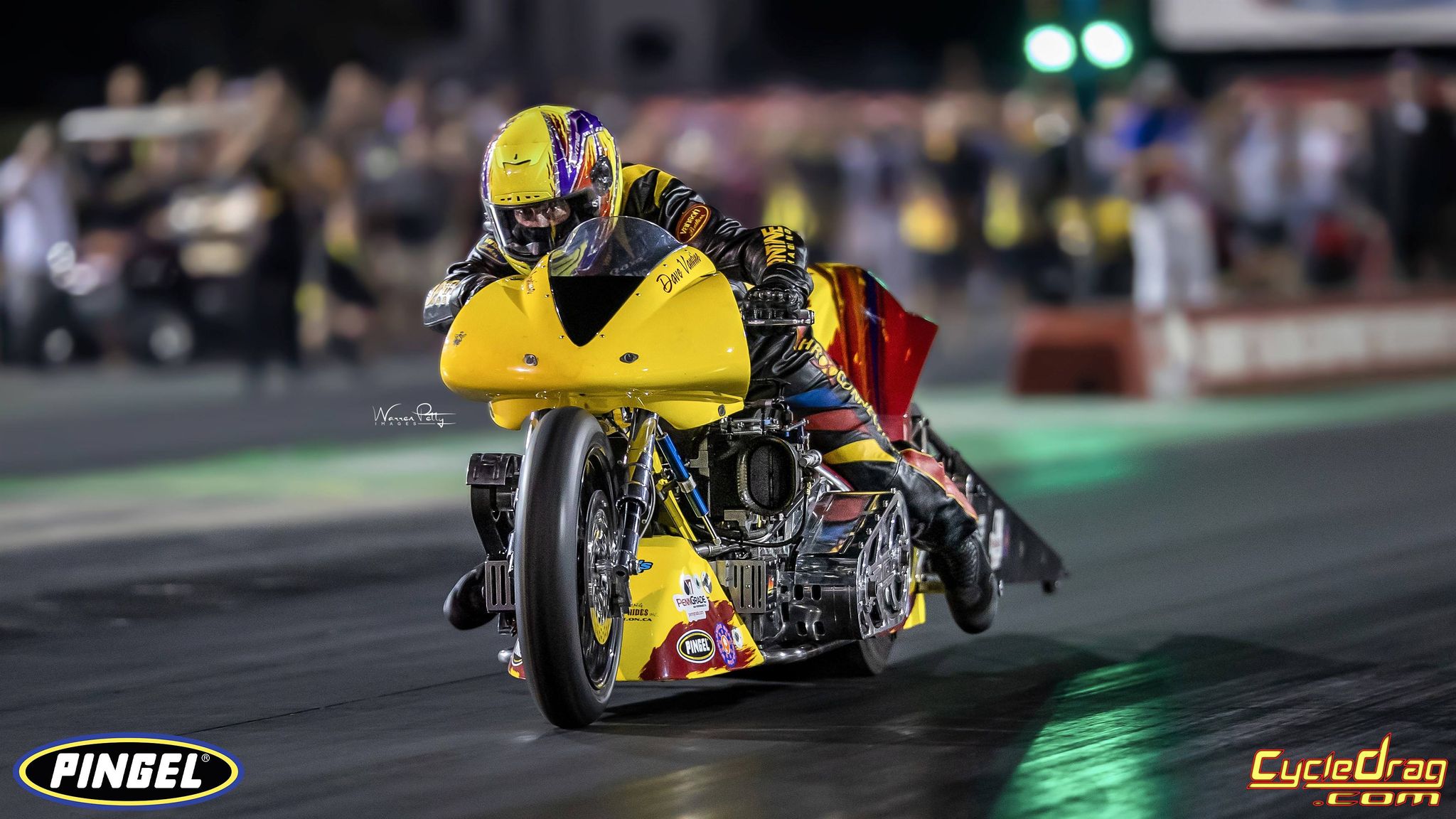 Nitro veteran Wills out of Oklahoma City, racing out of standout Pro Mod racer and owner of Tulsa Raceway Park Todd Martin's speed shop, confirmed to Cycledrag, despite one motorcycle dropping out, he still plans to make the trip to the "Queen City."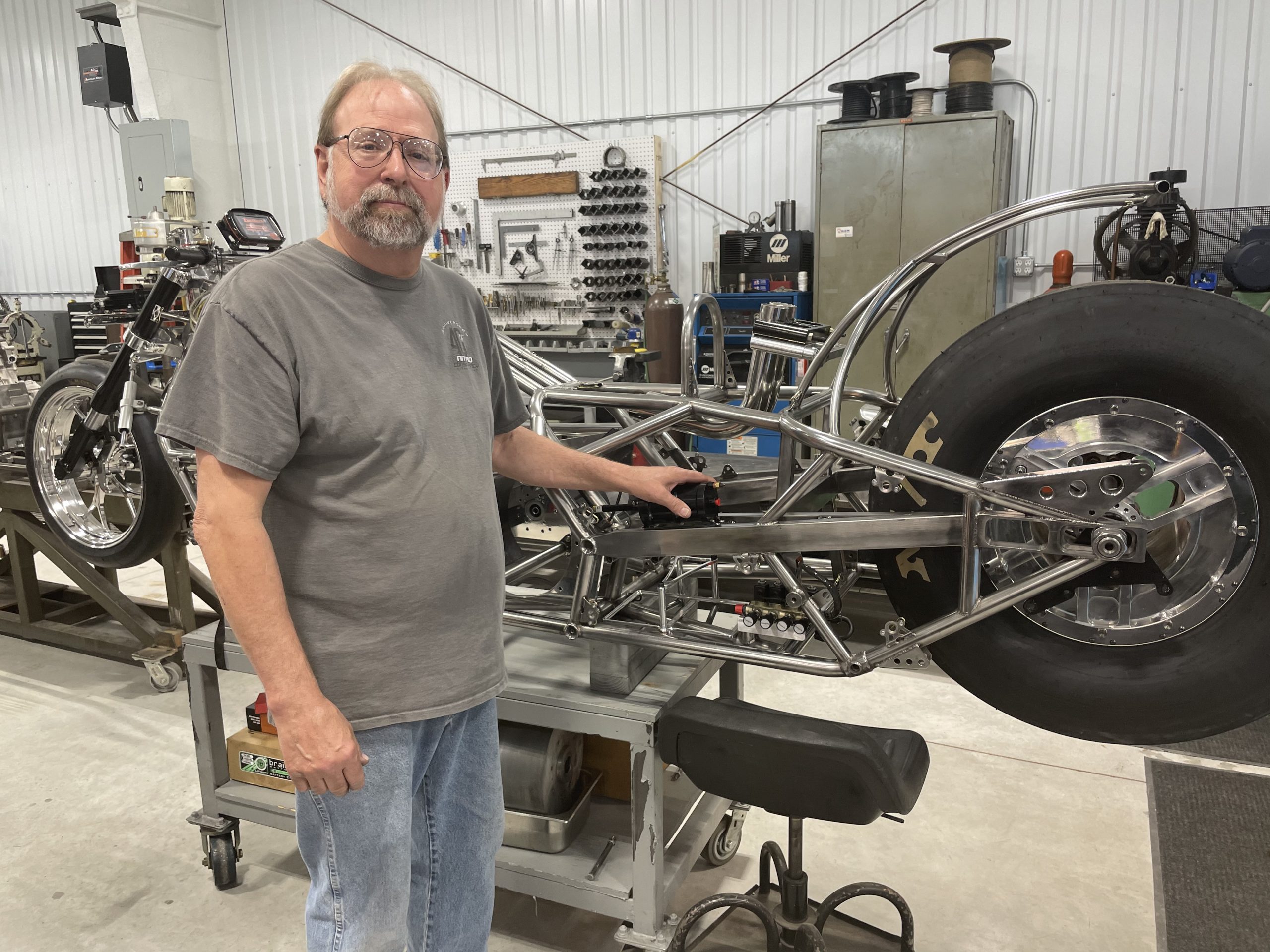 "We are locked in. My sponsor is excited for the race and we even have a suite," Wills said. "Hopefully we find a replacement to come join the class."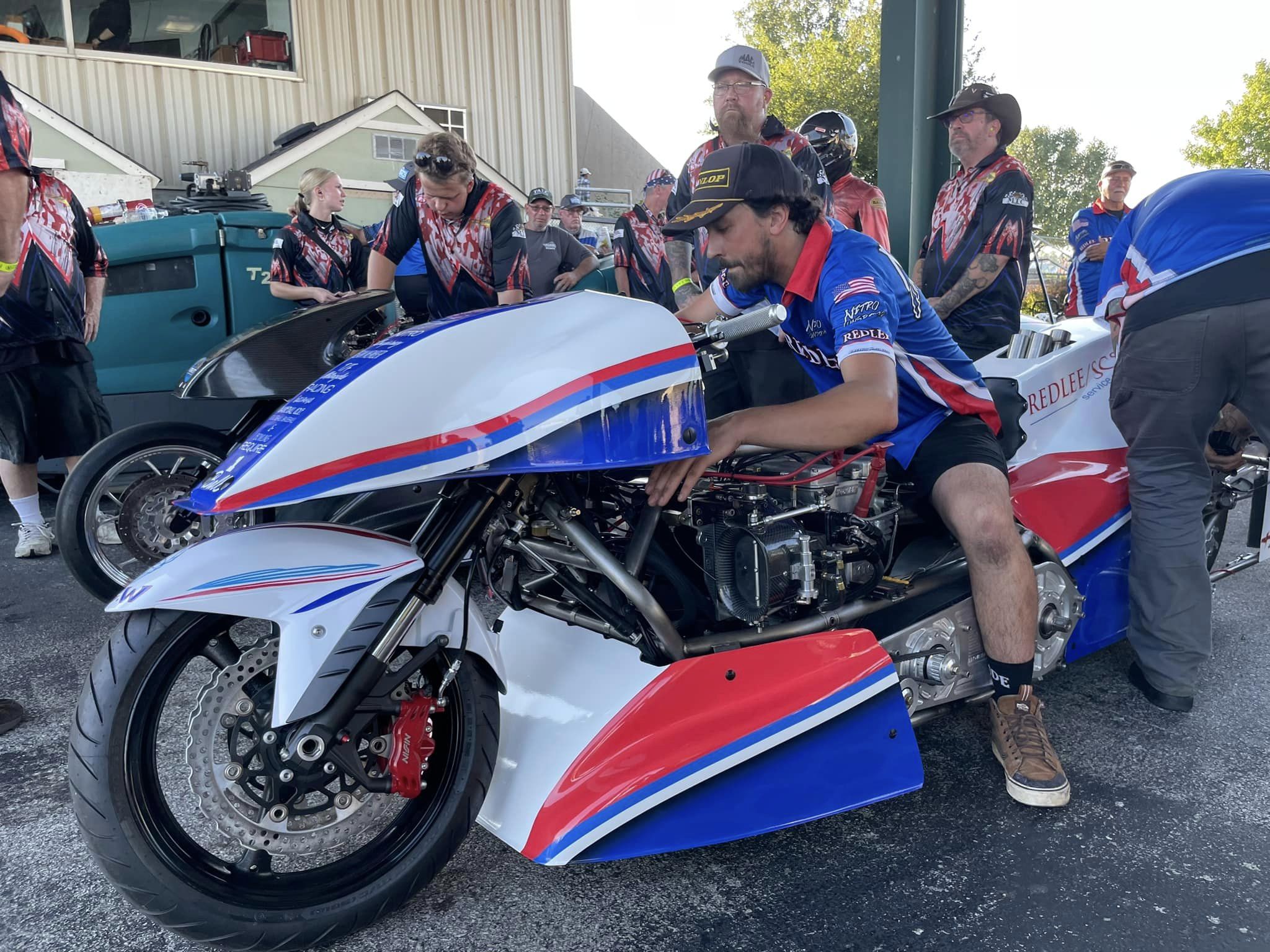 Two names that have been tossed around are Chris Hand and newcomer Micah Fenwick.
McBride says unfortunately, Hand never got his NHRA license or made the safety upgrades to the "Redneck Express" to comply with NHRA standards. It's two things McBride told Hand had to happen over the off-season to compete in the NHRA.
As for Fenwick, short notice and lack of quarter-mile experience will likely prevent him from entering.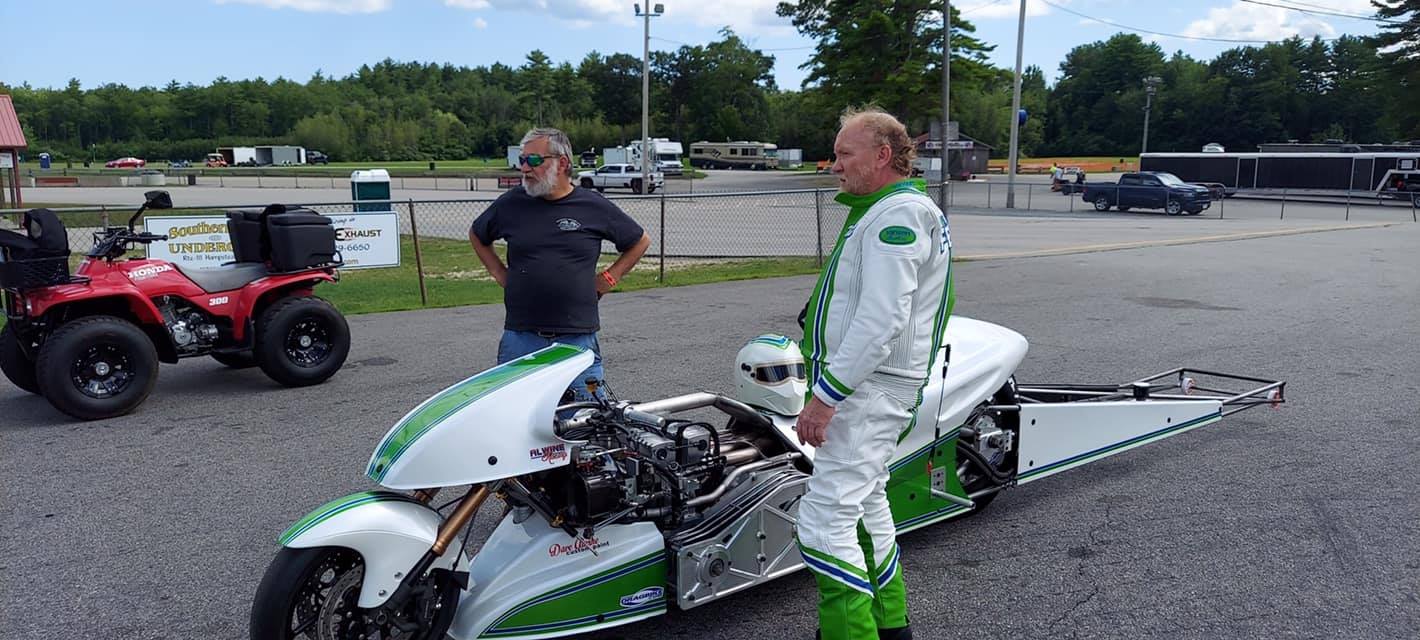 Former class champion, returning Jimmy "Hulk" Brantley says he'd like to get a few more test sessions in before running the full quarter-mile.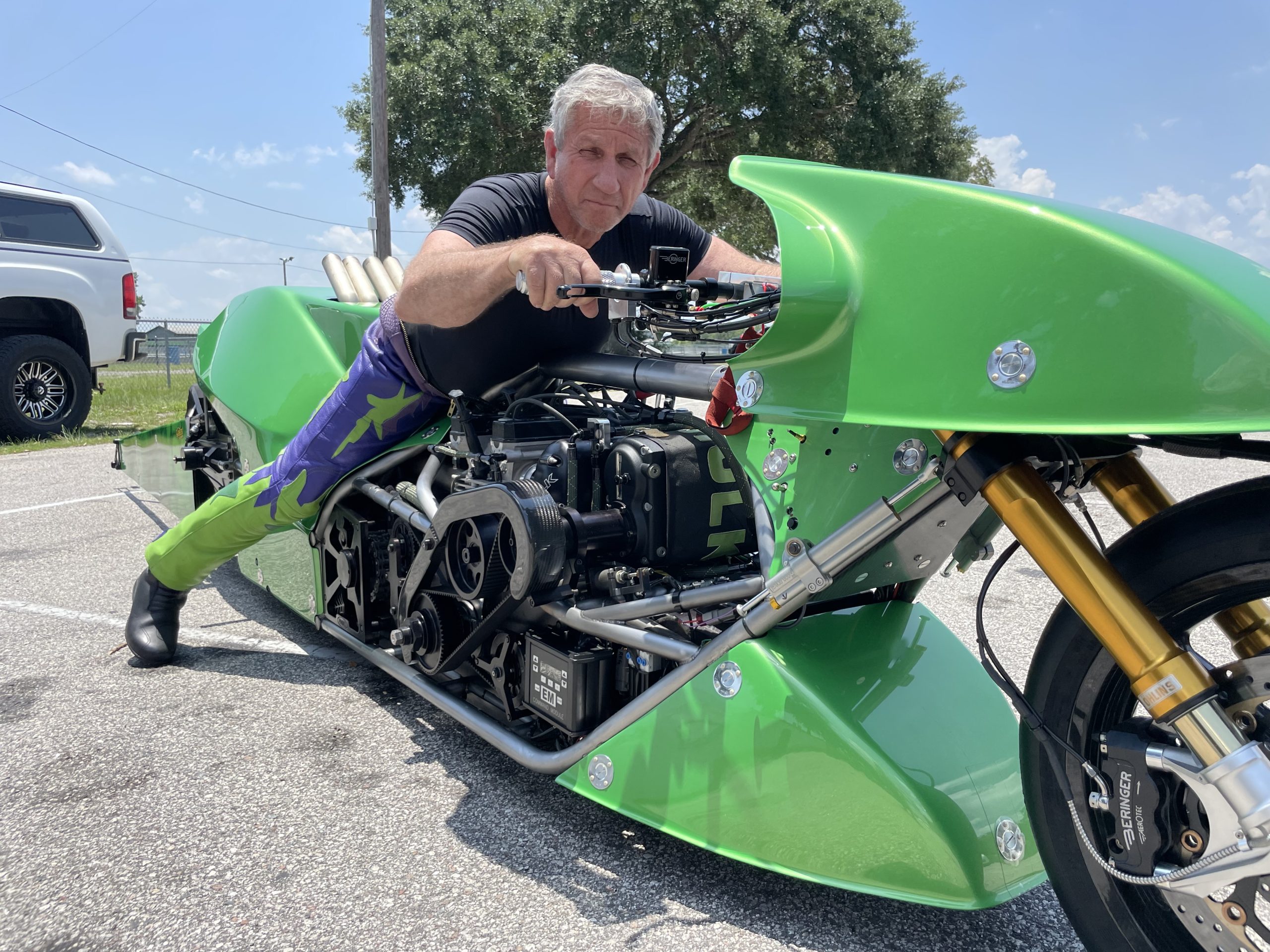 Could a supercharged Nitro Harley be enticed to join the show in Charlotte? Perhaps it's something another class advocate, working behind the scenes to try to establish a NHRA series next year, the world's quickest injected nitro Harley racer at 6.09 Bob Malloy could help facilitate?
Time will tell.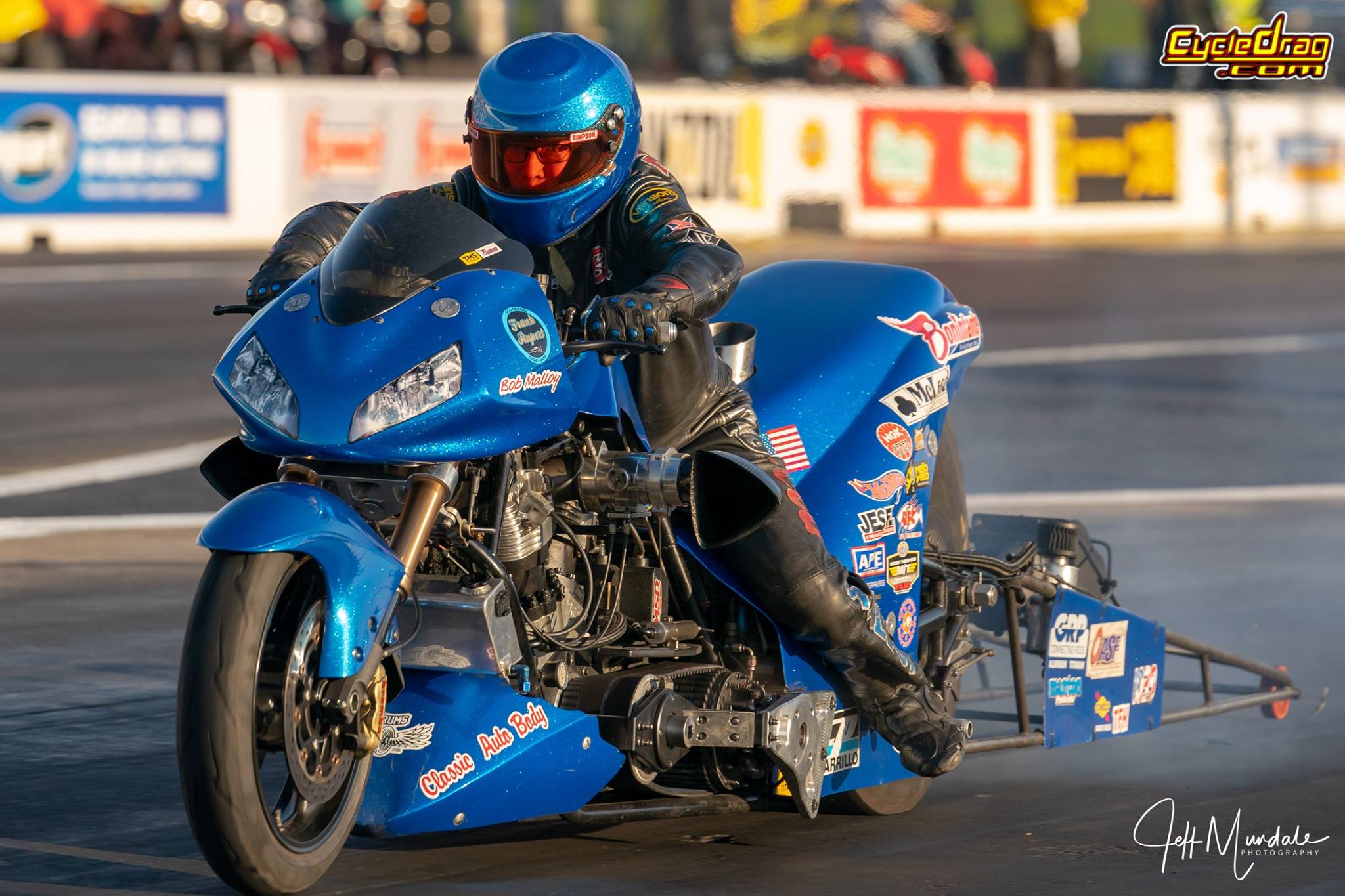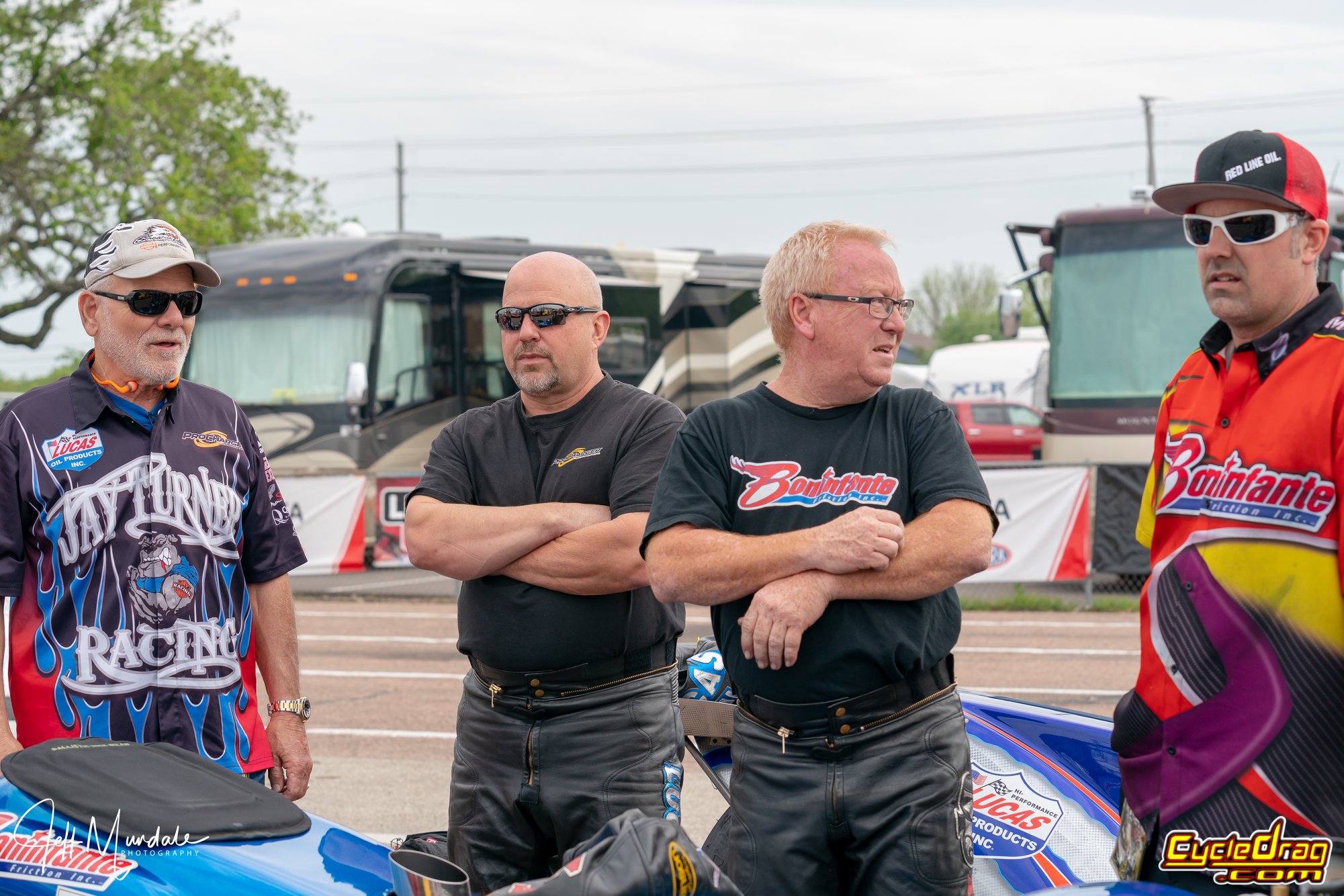 If not it will be a three-bike show, and still an entertaining one a that.
Wills stunned many with his appearance at Topeka, finishing a motorcycle partially owned by successful racer and business man Blake Harvey, originally constructed for Funny Bike legend Terry Kizer, in just six weeks. The thrash came after Wills sold his bike to a buyer in Australia.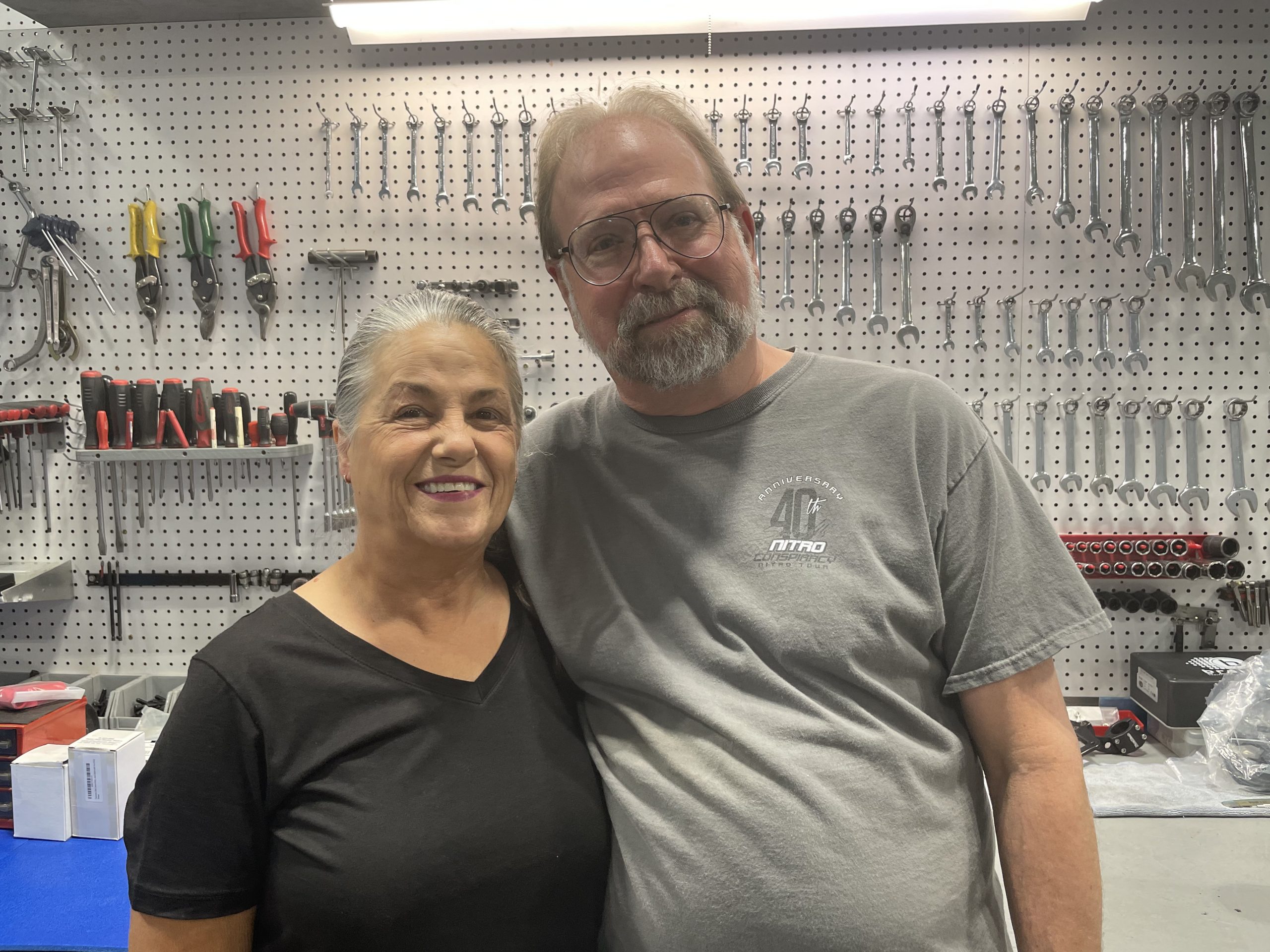 "I did six months of work in six weeks," Wills said.
Wills says with some downtime he's had an opportunity to correct some of the "new bike blues" the team encountered in Topkea last month and his optimistic his new machine runs like his former bike in Charlotte.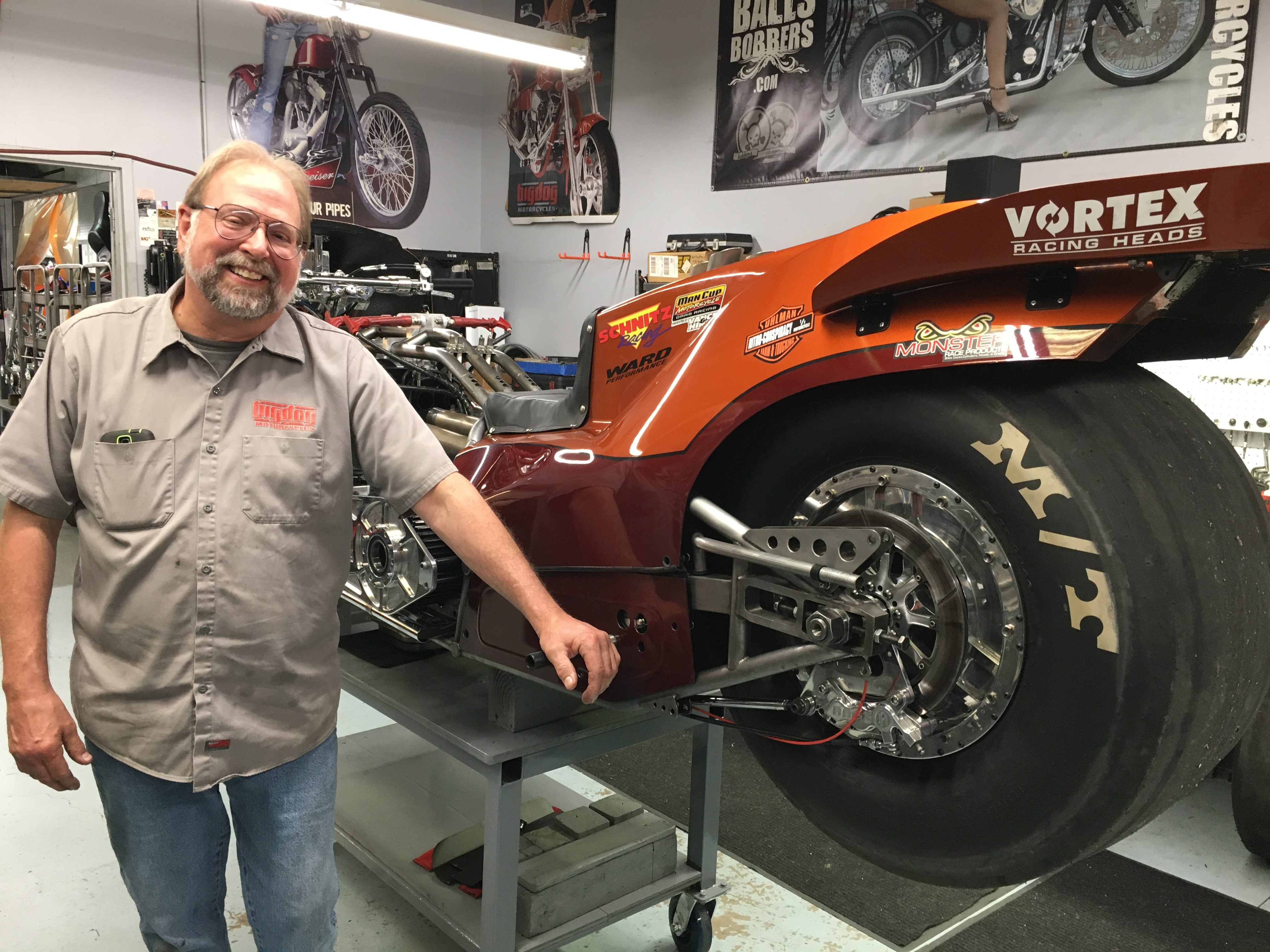 Fans should also plan to head to the Nitro Alley Stage in the pit area on Friday at 3:30pm where McBride will host a special edition of Pingel "Nitro School" with NHRA's Hannah Rikards.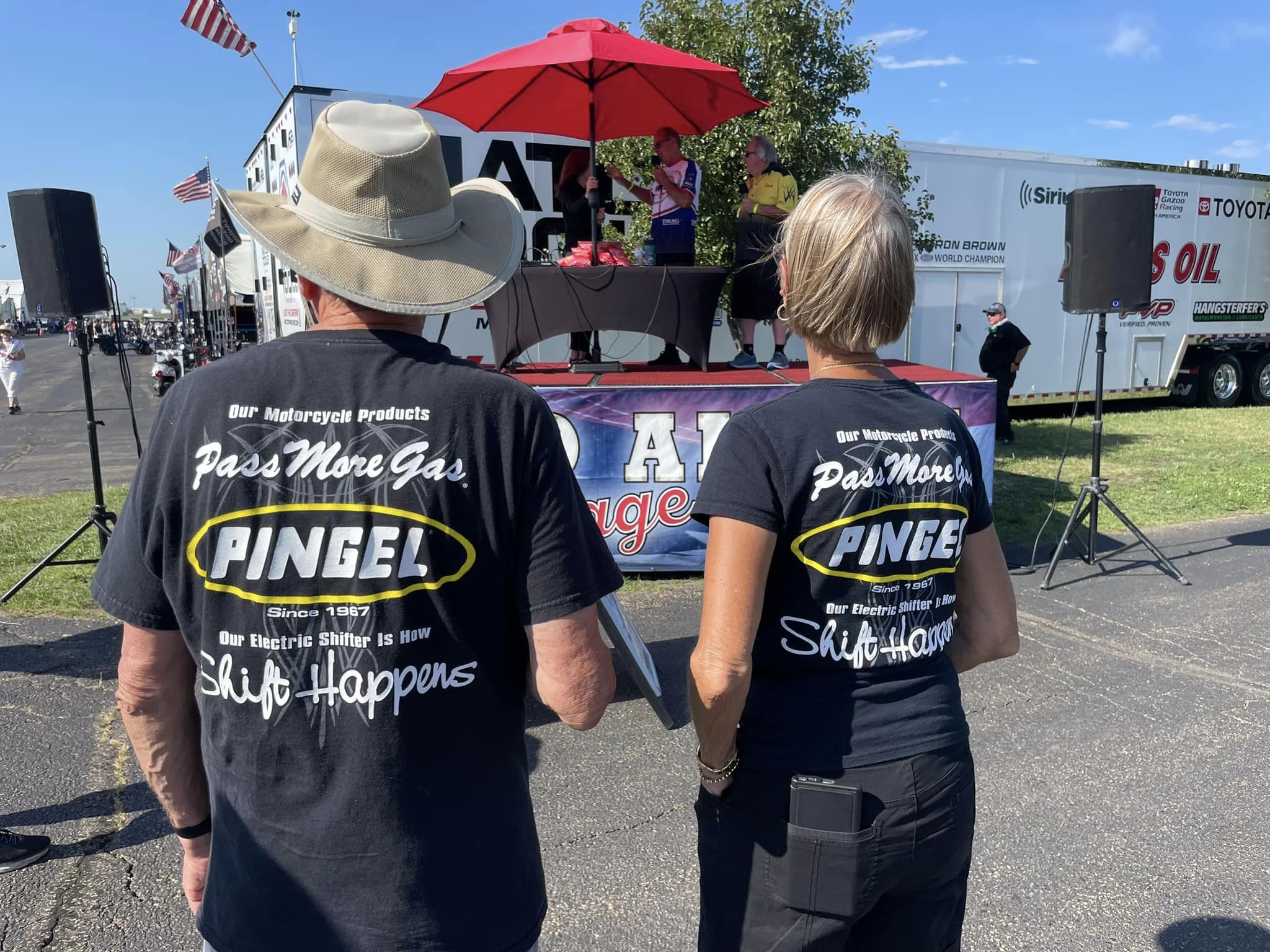 The event also marks the second race of the six-race playoffs and with four NHRA professional categories on track, the event promises to deliver all the thrilling racing action fans expect at zMAX
The playoff event will open with one round of qualifying on Friday with a pair of qualifying sessions on Saturday before the contenders in Top Fuel, Funny Car, Pro Stock, and Pro Stock Motorcycle gear up for race day on Sunday.
Antron Brown (Top Fuel), Ron Capps (Funny Car) and Aaron Stanfield (Pro Stock) claimed victories in 2022. This year's race will be broadcast on Fox Sports 1 (FS1), including eliminations coverage at 2 p.m. ET on Sunday, Sept. 24, as drivers look to impress the Carolina fans.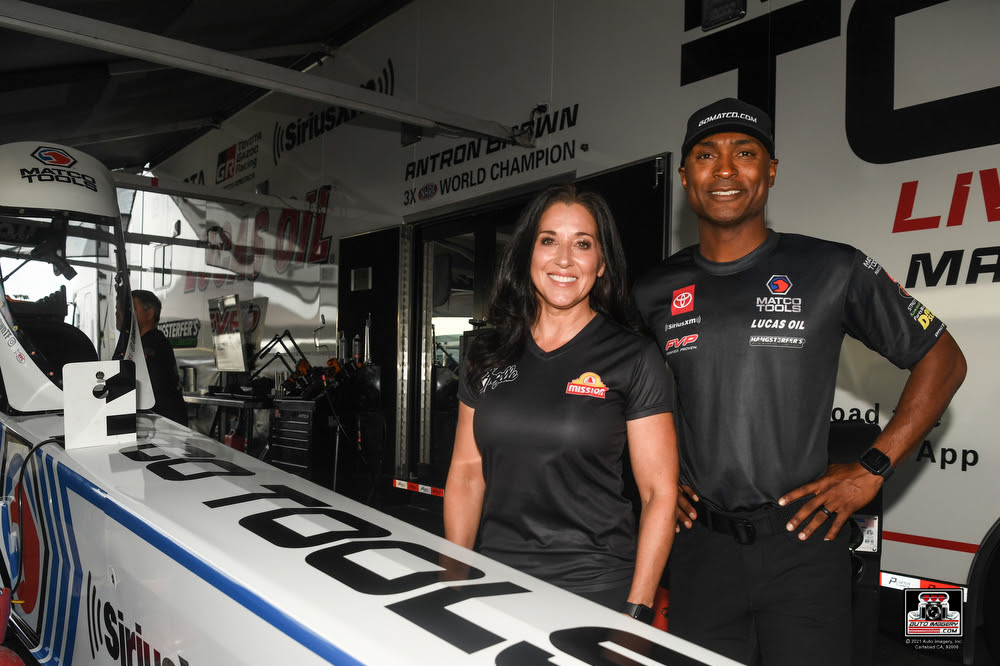 Also on track will be the Pro Stock Motorcycle division which will include the likes of points leader Gaige Herrera. Not only did Herrera win the NHRA Four-Wide Nationals this spring, he has a total of six wins on the 2023 season. Hot on his heels is the reigning world champion Matt Smith, after his big win in Indianapolis. Also in the hunt is Norwalk winner Hector Arana Jr., Eddie Krawiec and Angie Smith.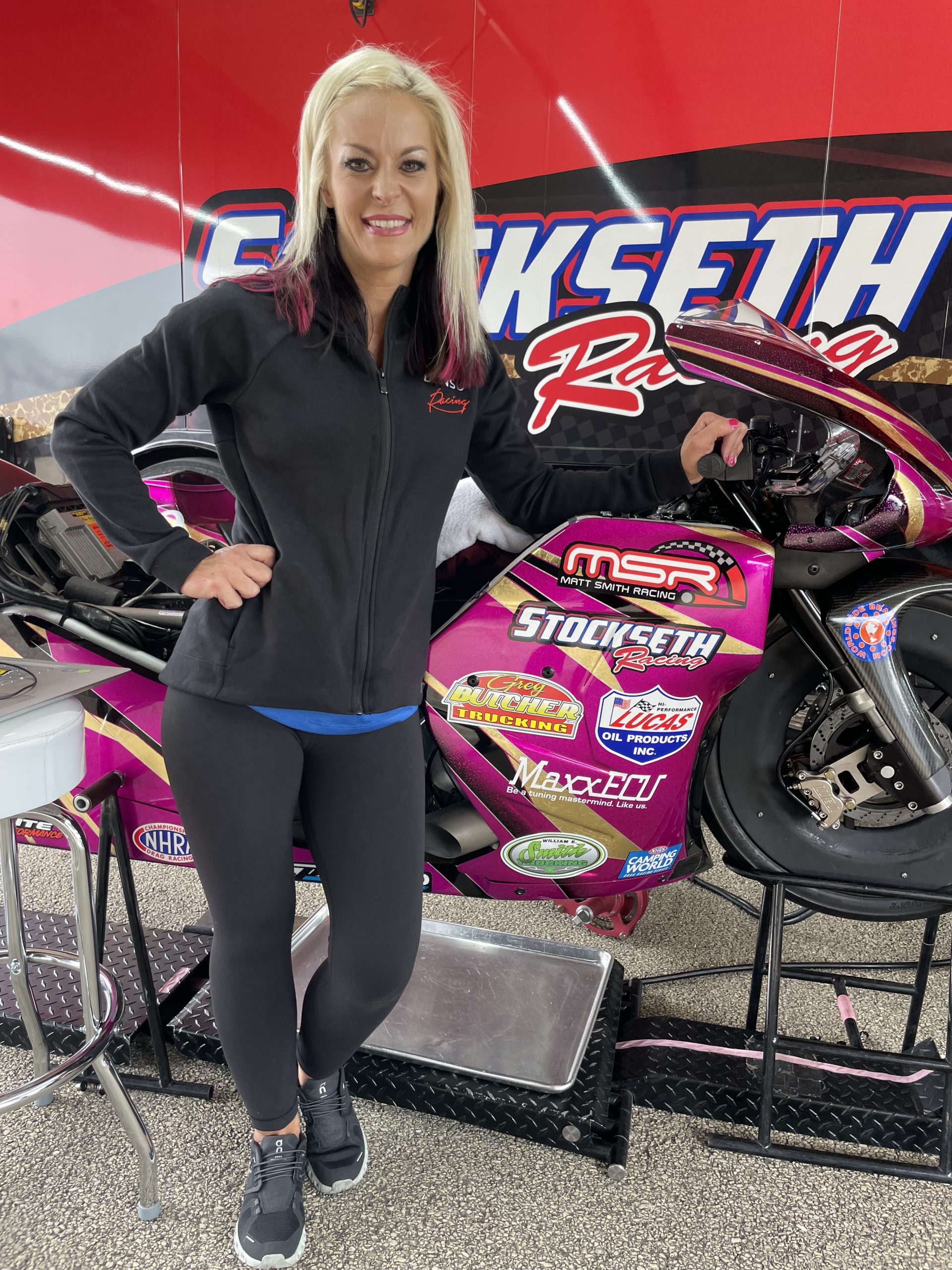 The Betway NHRA Carolina Nationals also will feature thrilling competition in the NHRA Lucas Oil Drag Racing Series, which includes some of the sport's top drivers, as well as the new NHRA Factory X presented by Holley class, the ever-exciting Mountain Motor Pro Stock category and a Top Fuel Motorcycle exhibition. Fans can also look forward to special freestyle motocross exhibitions all weekend. The star riders will perform three times a day in the midway, adding another entertaining aspect to the weekend.
Race fans at zMAX Dragway can enjoy the special pre-race ceremonies that introduce and celebrate each of the drivers racing for the prestigious Wally on Sunday and includes the fan favorite SealMaster Track Walk. The final can't-miss experience of any NHRA event is the winner's circle celebration on Sunday after racing concludes, where fans are invited to congratulate the Betway NHRA Carolina Nationals event winners.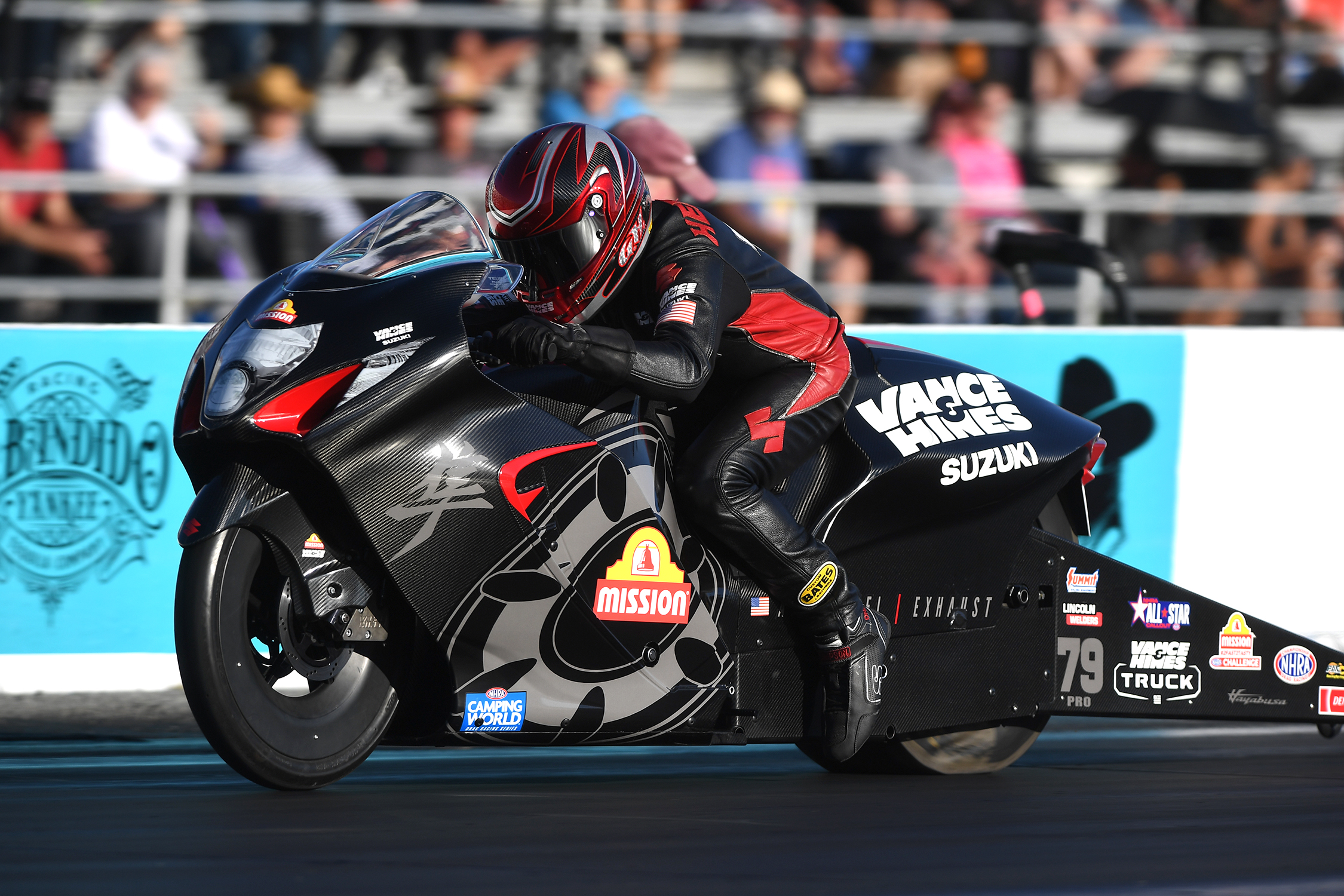 As always, fans also get an exclusive pit pass to the most powerful and sensory-filled motorsports attraction on the planet in Charlotte. This unique opportunity gives fans a chance to see teams in action and service their hot rods between rounds, get autographs from their favorite NHRA drivers, and more. Fans can also visit NHRA's popular Nitro Alley and Manufacturers Midway, where sponsors and race vendors create an exciting atmosphere that includes interactive displays, simulated competitions, merchandise, food, and fun for the entire family.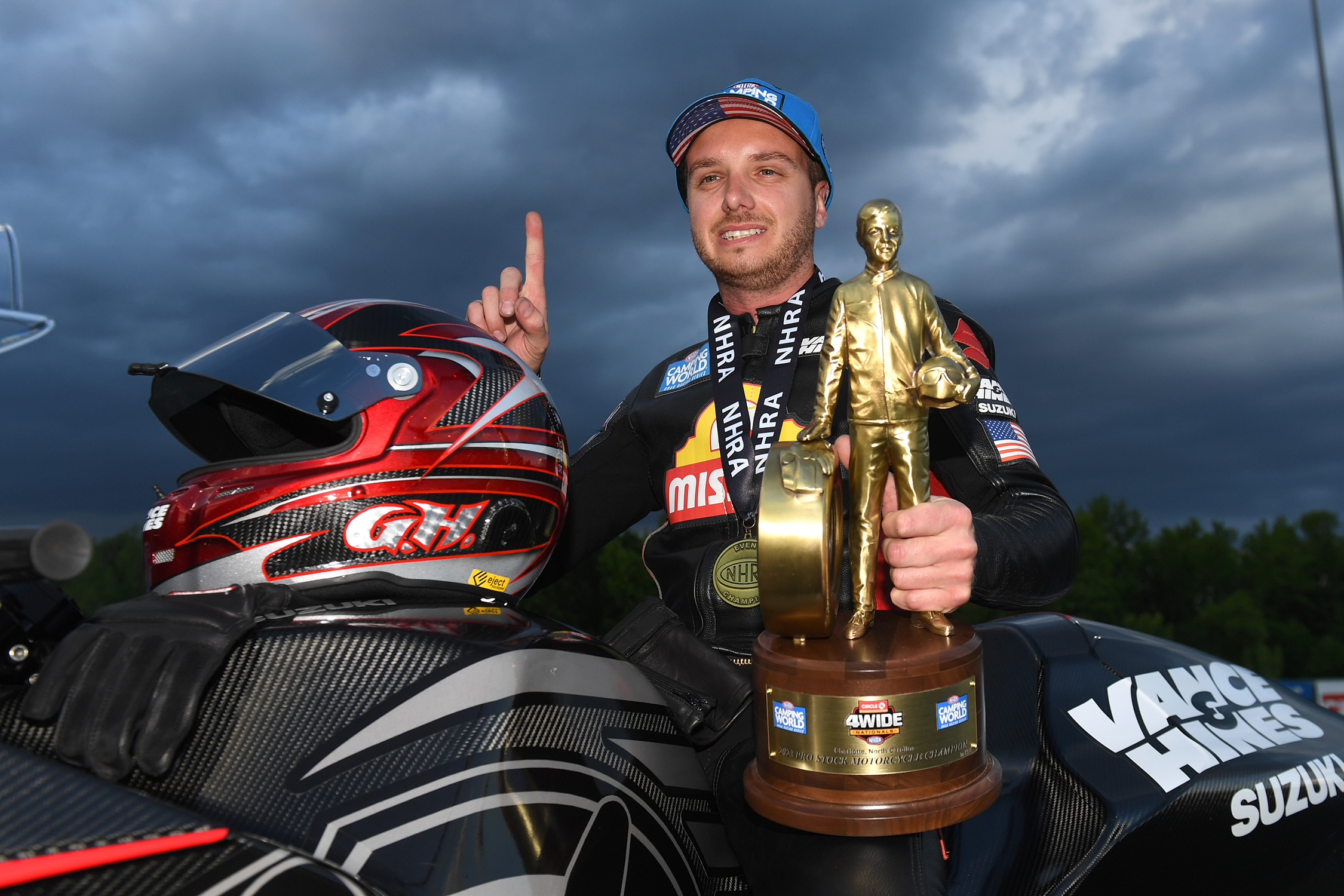 NHRA Camping World Drag Racing Series qualifying will feature one round at 6:00 p.m. ET on Friday, Sept. 22, and the final two rounds of qualifying on Saturday, Sept. 23 at 1:00 and 4:00 p.m. Final eliminations are scheduled for 11:00 a.m. ET on Sunday, Sept. 24. Television coverage includes qualifying action on FS1 at 9:30 a.m. ET on Saturday and 11:00 a.m. on Sunday, and then eliminations on FS1 at 2:00 p.m. ET on Sunday.
There are more videos on the Cycledrag Youtube channel (please subscribe here) and the Cycledrag Facebook page (Please like here) and more will be coming soon. Check back daily.