Defending NHRA champion Matt Smith's decision to roll out his v-twin proved to be the right as he powered to the victory on Sunday at the 42nd annual Dodge Power Brokers NHRA Mile-High Nationals at Bandimere Speedway.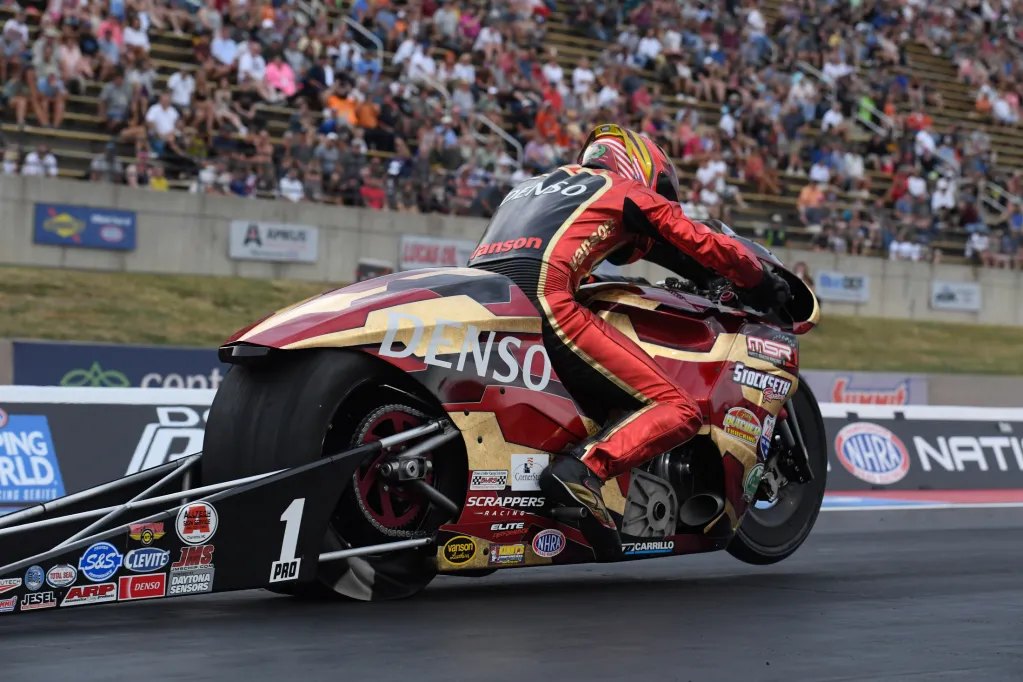 Smith capped off a dominant weekend in Pro Stock Motorcycle by going 7.097 at 190.22 on his Denso Auto Parts Buell to knock off Joey Gladstone and win for the second straight time in Denver, also setting the track speed record en route to his 34th career win and second this season. It was a fitting finish to an event that included track records all weekend, including a couple on Sunday. He became the first rider to reach the 7.00s in qualifying and then became the first in the class to go 190 mph on Thunder Mountain, doing so in his semifinal win against Angelle Sampey. In the final round, Smith went event faster and nearly equaled his qualifying run of 7.090, as he remained a clear step ahead of everyone in Denver.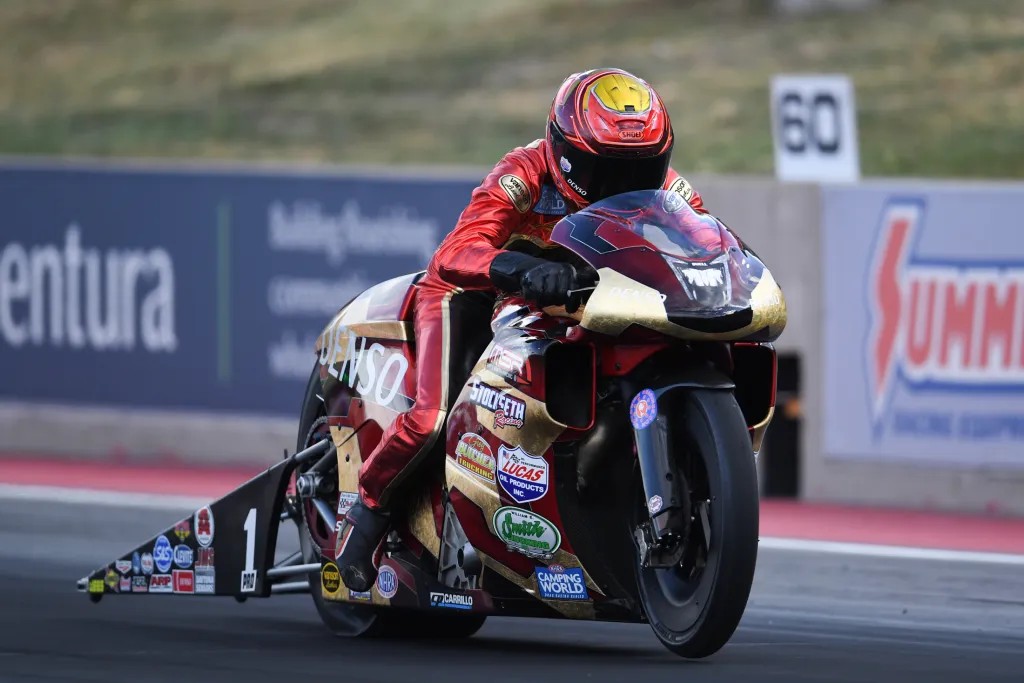 "This is the bike that won this race last year and it paid off," Smith said. "We qualified No. 1, won the race, and set both ends of track record. I can't ask for much more than that. I really wish I'd have run Angie in the final, but something happened to her bike in the (semifinals). Her bike slowed up, but Denso took the win and that's most important."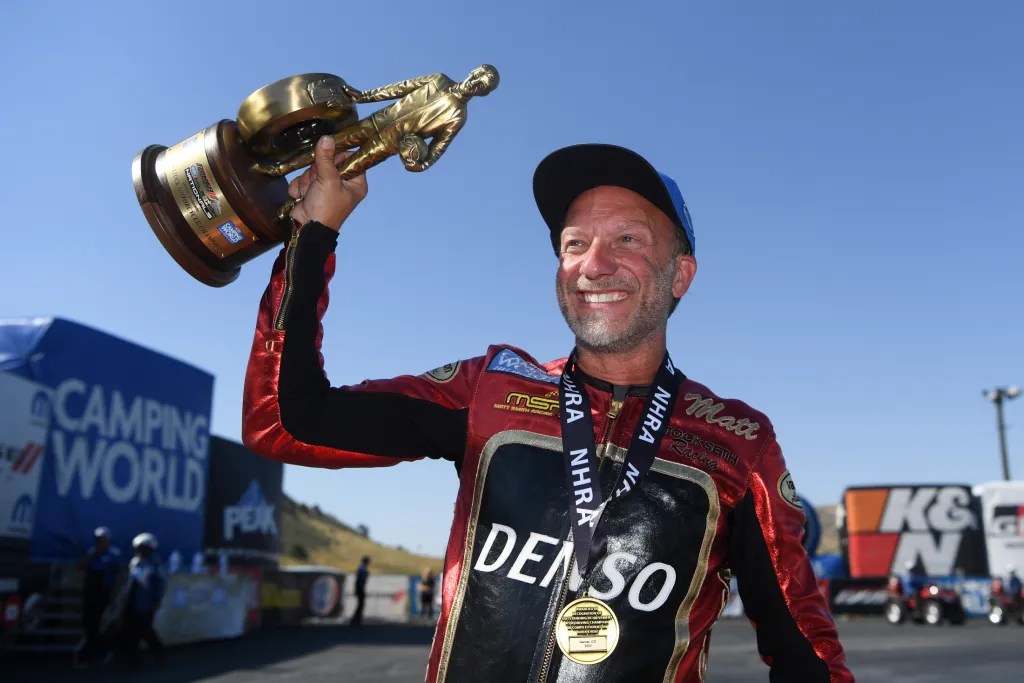 Gladstone reached his second straight final thanks to wins against Ryan Oehler, Eddie Krawiec and Angie Smith. Steve Johnson stayed in the points lead and now holds just a 10-point advantage over Angelle Sampey and 19 over M. Smith.
The NHRA Camping World Drag Racing Series returns to action July 22-24 with the Denso NHRA Sonoma Nationals at Sonoma Raceway.
ROUND ONE — Marc Ingwersen, 7.241, 185.03 def. Karen Stoffer, Suzuki, 7.216, 185.74; Angie Smith, 7.166, 187.99 def. Jianna Evaristo, Suzuki, 7.371, 179.61; Joey Gladstone, Suzuki, 7.173, 186.23 def. Ryan Oehler, Foul – Red Light; Angelle Sampey, Suzuki, 7.163, 187.23 def. Jim Underdahl, Suzuki, Foul – Red Light; Jerry Savoie, Suzuki, 7.198, 185.43 def. Steve Johnson, Suzuki, 7.173, 185.46; Eddie Krawiec, Suzuki, 7.148, 187.50 def. Kelly Clontz, Suzuki, 7.399, 179.76; Matt Smith, 7.115, 181.79 was unopposed;
QUARTERFINALS — A. Smith, 7.186, 188.57 was unopposed; Sampey, 7.181, 186.90 def. Savoie, Foul – Red Light; Gladstone, 7.155, 185.08 def. Krawiec, 7.181, 186.30; M. Smith, 7.103, 189.87 def. Ingwersen, 7.190, 185.28;
SEMIFINALS — Gladstone, 7.194, 185.56 def. A. Smith, 7.216, 186.82; M. Smith, 7.121, 190.03 def. Sampey, 7.253, 170.15;
FINAL — M. Smith, 7.097, 190.22 def. Gladstone, 7.163, 185.43.
Pro Stock Motorcycle Points
1. Steve Johnson, 525; 2. Angelle Sampey, 515; 3. Matt Smith, 506; 4. Joey Gladstone, 479; 5. Angie Smith, 467; 6. Karen Stoffer, 466; 7. Eddie Krawiec, 434; 8. Jerry Savoie, 395; 9. Marc Ingwersen, 346; 10. Jim Underdahl, 291.
There are more videos on the Cycledrag Youtube channel (please subscribe here) and the Cycledrag.com Facebook page (Please like here) and more will be coming soon. Check back daily.
To take advantage of some amazing discounts at Brock's Performance, click – http://brocksperformance.com?aff=12
USE cycledrag5 coupon code.