Matt Smith took over the Pro Stock Motorcycle points lead after his third victory of 2018 and 21st of his career after a run of 6.830 at 196.64 on his Elite Motorsports Denso Auto Parts EBR against Chip Ellis at the 11th annual NHRA Carolina Nationals presented by WIX Filters at zMAX Dragway.
The points lead changed hands for the fourth straight race as Smith, a two-time world champion, jumped back into the lead for the second time during the Countdown to the Championship. He knocked off Karen Stoffer, Scotty Pollacheck and Angelle Sampey to reach his third final round in the playoffs, giving Smith a 41-point advantage over LE Tonglet.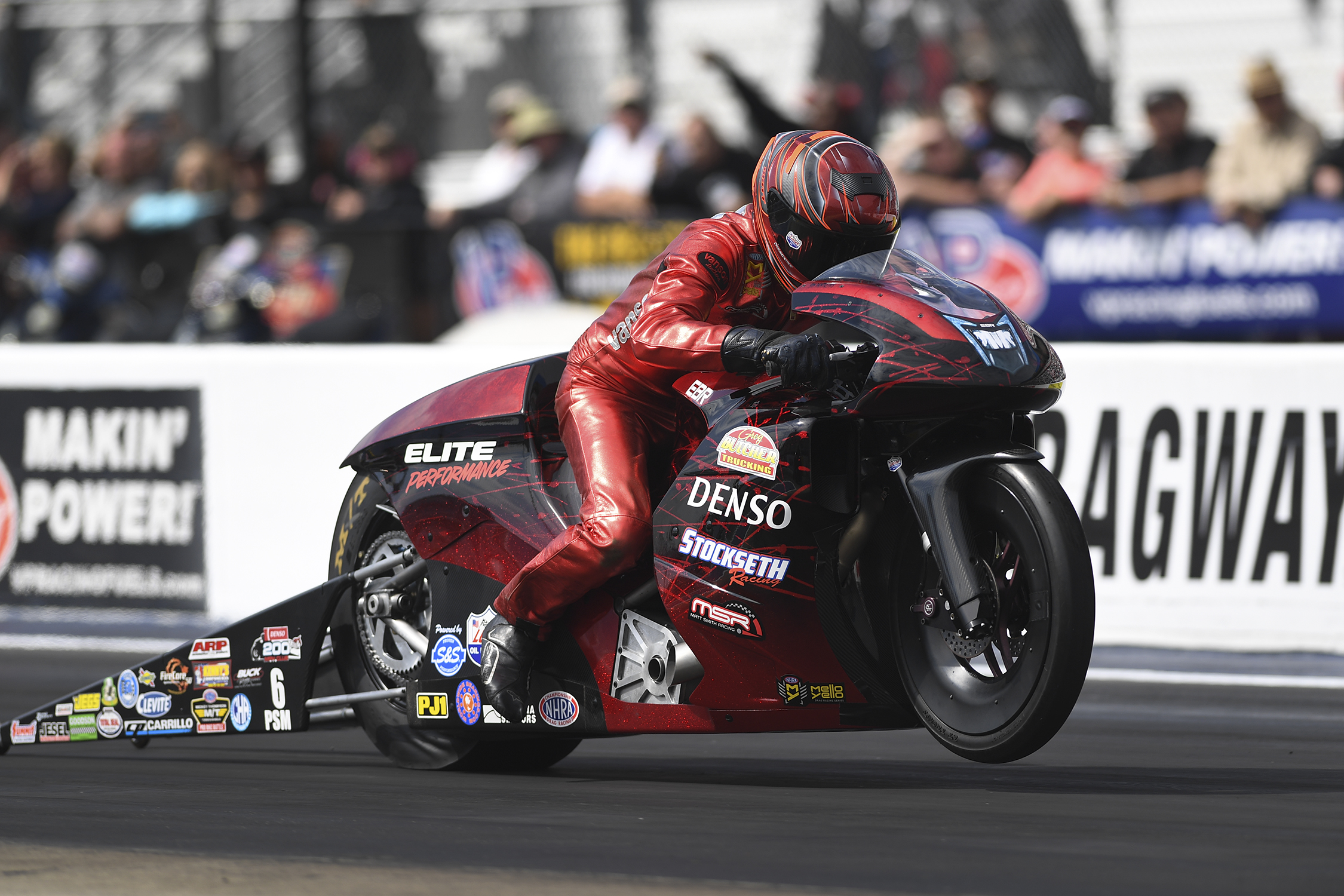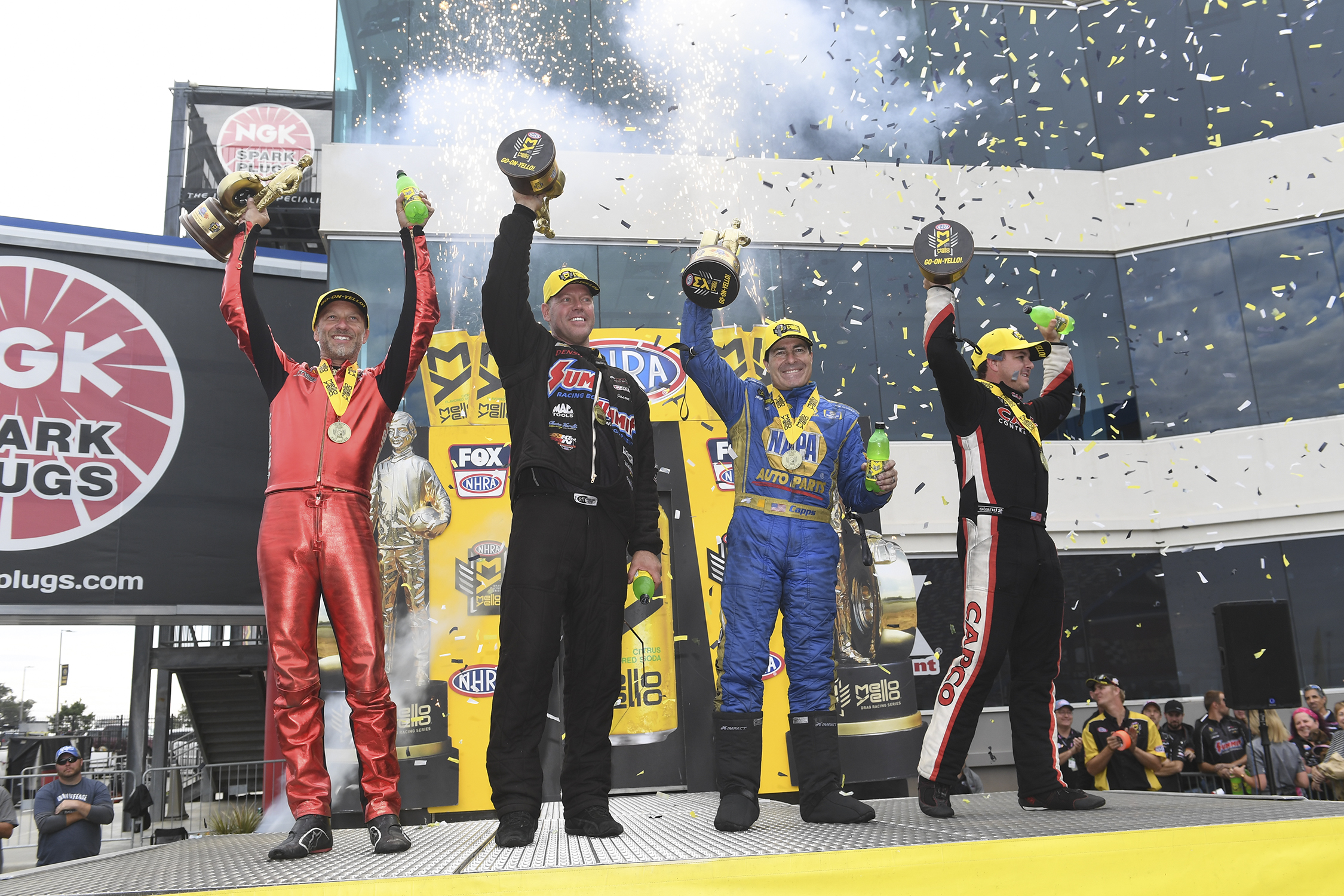 "It's pretty big if you look at the points," said Smith, who has two playoff wins. "I went up and raced scared in Dallas and didn't do my job, so I figured I would come here and do my job. All in all, the bike worked great and I just had to do my job. I said it to begin with that if we can win three races in the Countdown I think we can win this championship. We just can't have another first-round loss and we have to keep going rounds. We're going to do everything we can to make this dream come true again."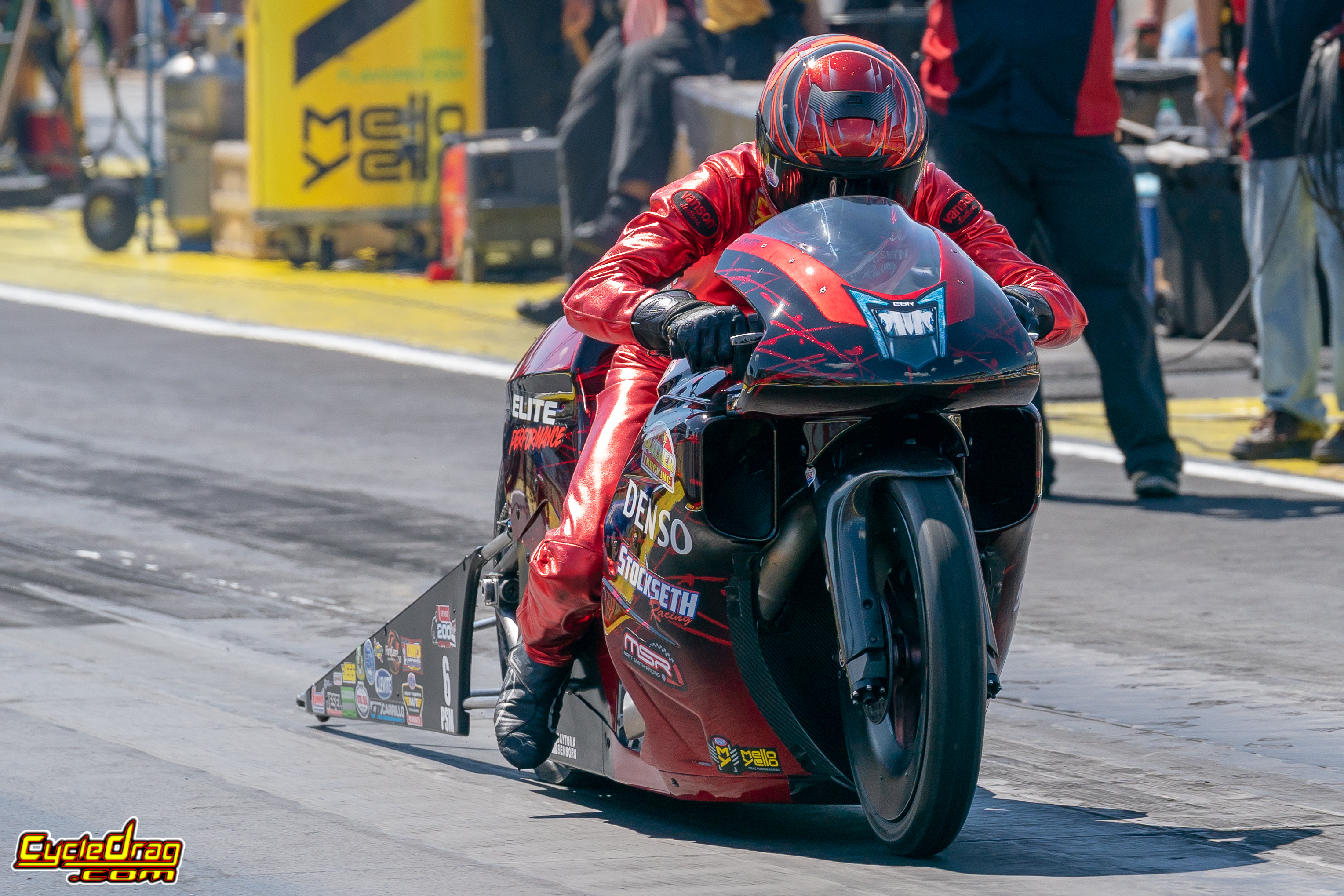 Ellis, who won the fall race at zMAX Dragway in 2016, reached his first final of 2018 on his Screamin' Eagle Vance & Hines Harley-Davidson, beating Joey Gladstone, Angie Smith and Jerry Savoie before going red in the final round.
The Mello Yello Drag Racing Series continues Oct. 25-28 with the fifth race in the Countdown to the Championship, the NHRA Toyota Nationals at The Strip at Las Vegas Motor Speedway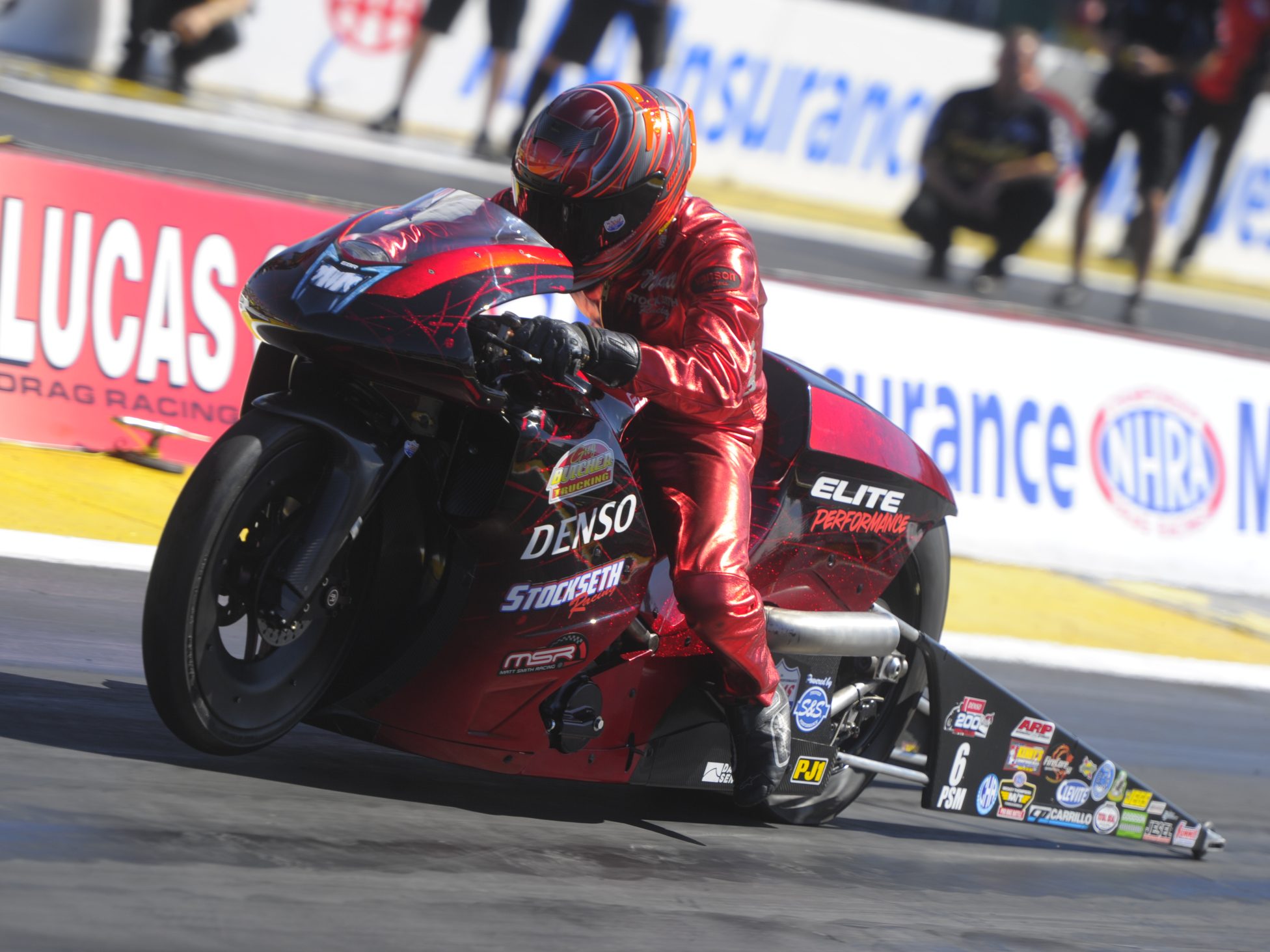 ROUND ONE — Angie Smith, Buell, 6.902, 191.10 def. Ryan Oehler, Buell, 8.462, 117.98; Jerry Savoie, Suzuki, 6.883, 194.02 def. Steve Johnson, Suzuki, 6.910, 192.19; Chip Ellis, Harley-Davidson, 6.778, 197.19 def. Joey Gladstone, Buell, 6.973, 194.32; Matt Smith, 6.869, 196.67 def. Karen Stoffer, Suzuki, 7.010, 192.33; Scotty Pollacheck, Suzuki, 6.878, 194.18 def. Hector Arana Jr, 6.855, 197.65; Andrew Hines, Harley-Davidson, 6.812, 196.53 def. Hector Arana, 6.903, 196.56; Eddie Krawiec, Harley-Davidson, 6.848, 197.91 def. Jim Underdahl, Suzuki, 7.073, 158.99; Angelle Sampey, Buell, 6.809, 196.90 def. LE Tonglet, Suzuki, 6.940, 194.77; QUARTERFINALS — M. Smith, 6.881, 197.19 def. Pollacheck, 6.890, 194.27; Ellis, 6.831, 197.08 def. A. Smith, 6.913, 191.67; Savoie, 6.842, 194.27 def. Hines, 6.857, 195.53; Sampey, 6.834, 195.31 def. Krawiec, 6.837, 197.91; SEMIFINALS — M. Smith, 6.869, 194.86 def. Sampey, 6.922, 193.18; Ellis, 6.854, 197.13 def. Savoie, 16.849, 35.06; FINAL — M. Smith, 6.830, 196.64 def. Ellis, Foul – Red Light.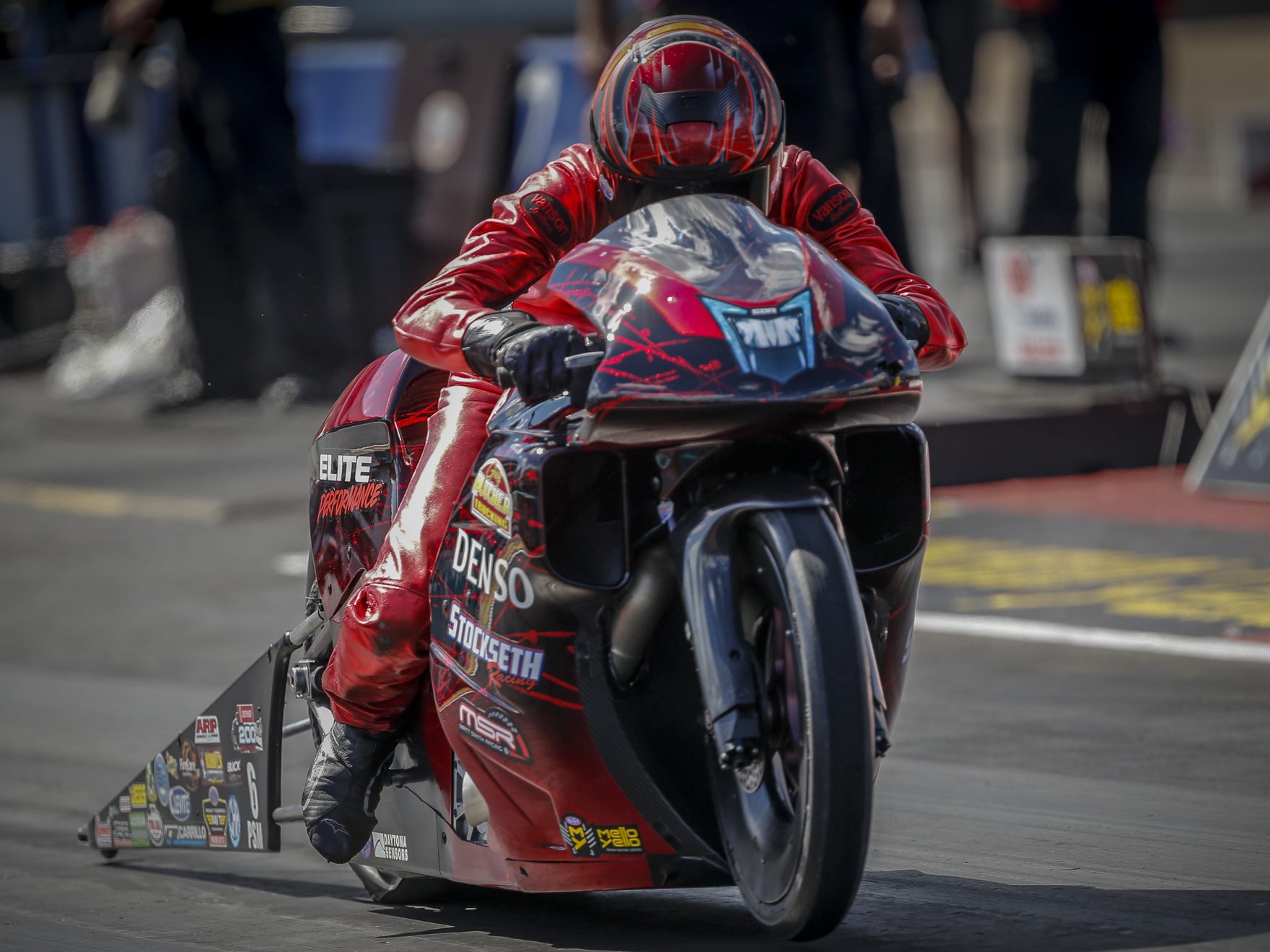 Pro Stock Motorcycle Points
1. Matt Smith, 2,426; 2. LE Tonglet, 2,385; 3. Eddie Krawiec, 2,370; 4. Jerry Savoie, 2,326; 5.
Andrew Hines, 2,291; 6. Hector Arana Jr, 2,288; 7. Angie Smith, 2,221; 8. Angelle Sampey, 2,216; 9. Steve Johnson, 2,209; 10. Scotty Pollacheck, 2,177.