After a year away from World Wide Technology raceway, the Pro Stock Motorcycle class returned with a vengeance on Friday, with defending world champ Matt Smith making an impressive run of 6.709 at 202.82 on his Denso Auto Parts Buell at the 11th annual NHRA Midwest Nationals. That set both ends of the track record as the sun was setting in St. Louis, and the five-time world champ also made the quickest run in his standout career. Bumped back to second in points after Joey Gladstone won in Reading, Smith is determined to have a big weekend as the season hits crunch time.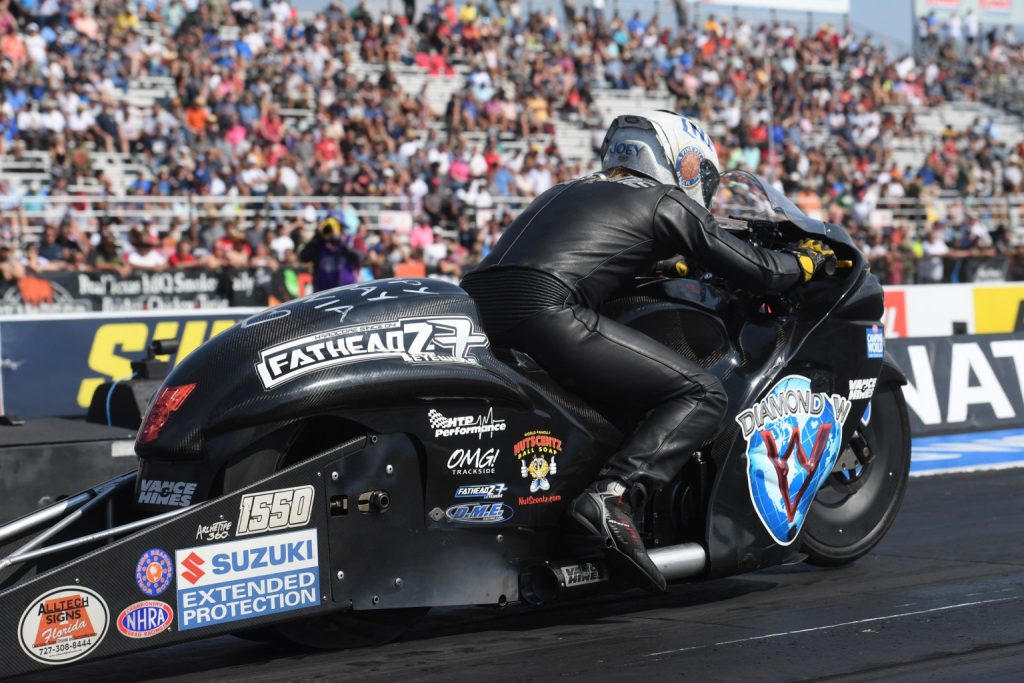 "The motorcycles have evolved a lot in the last few years," Smith said. "I'm excited to be back and it's a fast track, and I'm looking forward to what happens tomorrow. If we have the same weather, we're definitely going to go and swing for the 6.60s because we've never done that before, and we would love to do it."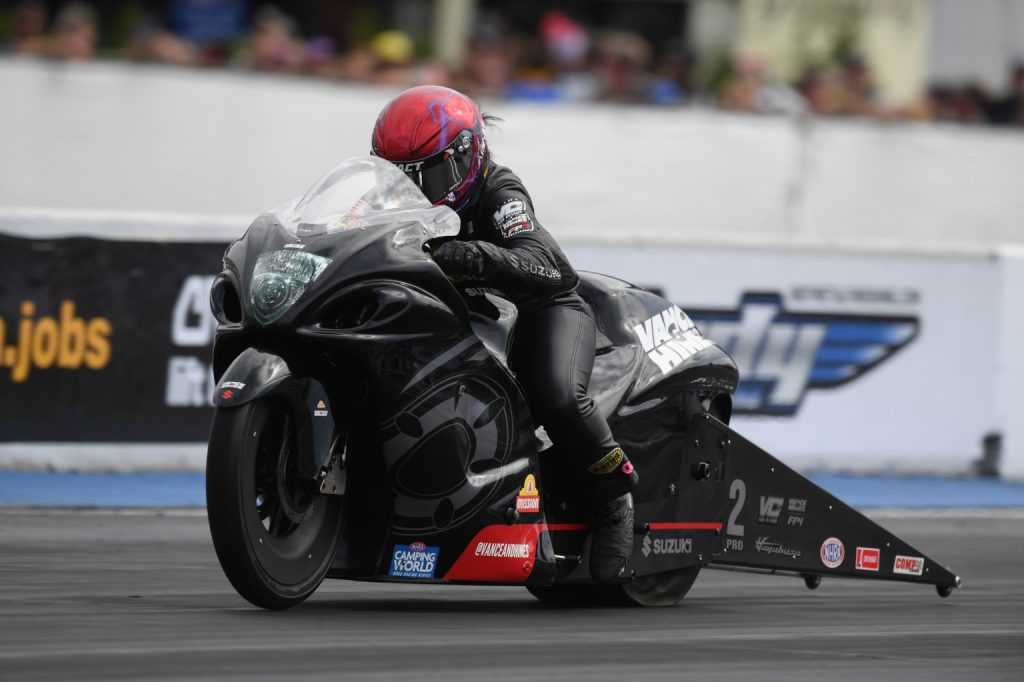 Angelle Sampey also impressed on Friday, going 6.726 at 201.67 and Angie Smith followed with a 6.748 at 201.19. Gladstone is currently seventh after his pass of 6.792.
Qualifying continues at 1:30 p.m. ET on Saturday at the NHRA Midwest Nationals at World Wide Technology Raceway.
Pro Stock Motorcycle — 1. Matt Smith, EBR, 6.709, 202.82; 2. Angelle Sampey, Suzuki, 6.726, 201.67; 3. Angie Smith, EBR, 6.748, 201.19; 4. Eddie Krawiec, Suzuki, 6.759, 199.67; 5. Marc Ingwersen, EBR, 6.785, 198.82; 6. Jerry Savoie, Suzuki, 6.791, 197.42; 7. Joey Gladstone, Suzuki, 6.792, 199.32; 8. Steve Johnson, Suzuki, 6.835, 198.20; 9. Kelly Clontz, Suzuki, 6.865, 196.93; 10. Ron Tornow, Victory, 6.886, 193.29; 11. Karen Stoffer, Suzuki, 6.906, 195.17.
There are more videos on the Cycledrag Youtube channel (please subscribe here) and the Cycledrag.com Facebook page (Please like here) and more will be coming soon. Check back daily.
To take advantage of some amazing discounts at Brock's Performance, click – http://brocksperformance.com?aff=12
USE cycledrag5 coupon code.