Rickey House used a remarkable career-best elapsed time of 6.205 seconds to record a huge upset win over series leader Doug Vancil in the opening round of the Mickey Thompson Tires NHRA Top Fuel Harley Drag Racing Series Sunday at the 50th anniversary Amalie Oil Gatornationals.
Racing against the higher-qualified bike of Vancil, House's 6.205 at 225.26 mph lopped a huge chunk off his qualifying effort of 6.378 at 222 mph and propelled him to an end-to-end victory over Vancil's 6.230 at 235.43 mph. House was even sharp at the Christmas Tree, leaving with a .015-second reaction time to Vancil's .041-second launch.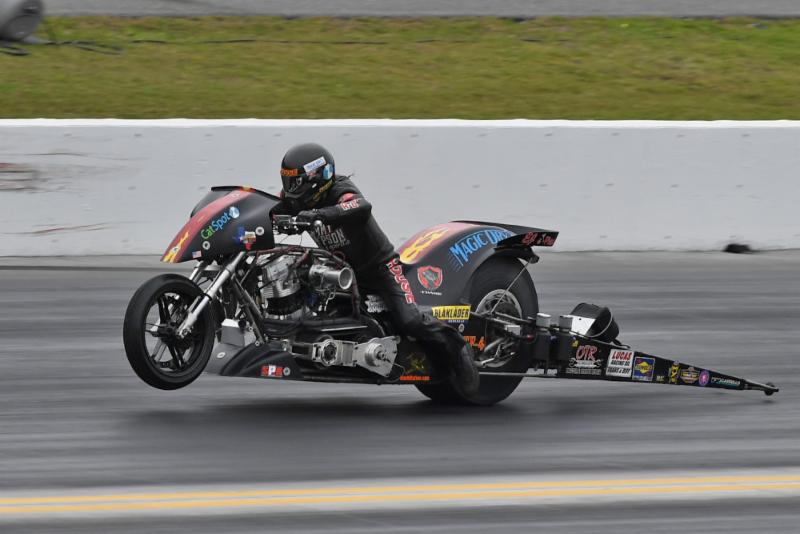 "We'd struggled all weekend in qualifying with parts breaking and what-not so to pull off a career-best pass in Round 1 against the guy everyone is chasing in the points was really satisfying," said House, who hails from the Houston suburb of Humble, Texas. "I pretty much knew Doug was going to be quick so I tuned the bike up for a big run and it held. Having a good light there was kind of icing on
the cake."
Up next was Bob Malloy, who had posted an impressive 6.208 in his Round 1 upset of third-ranked Tii Tharpe, so House knew he needed to stay fast and have another good reaction time to have a chance. He did earn a .011-second advantage when the green light flashed, but a fuel line rattled loose and covered his rear slick with nitro. That started his tire spinning, which allowed Malloy to slip by for the win.
Adding to the pain of the defeat was the fact Malloy had some trouble of his own down track and only ran a 6.494 at 192.71 mph.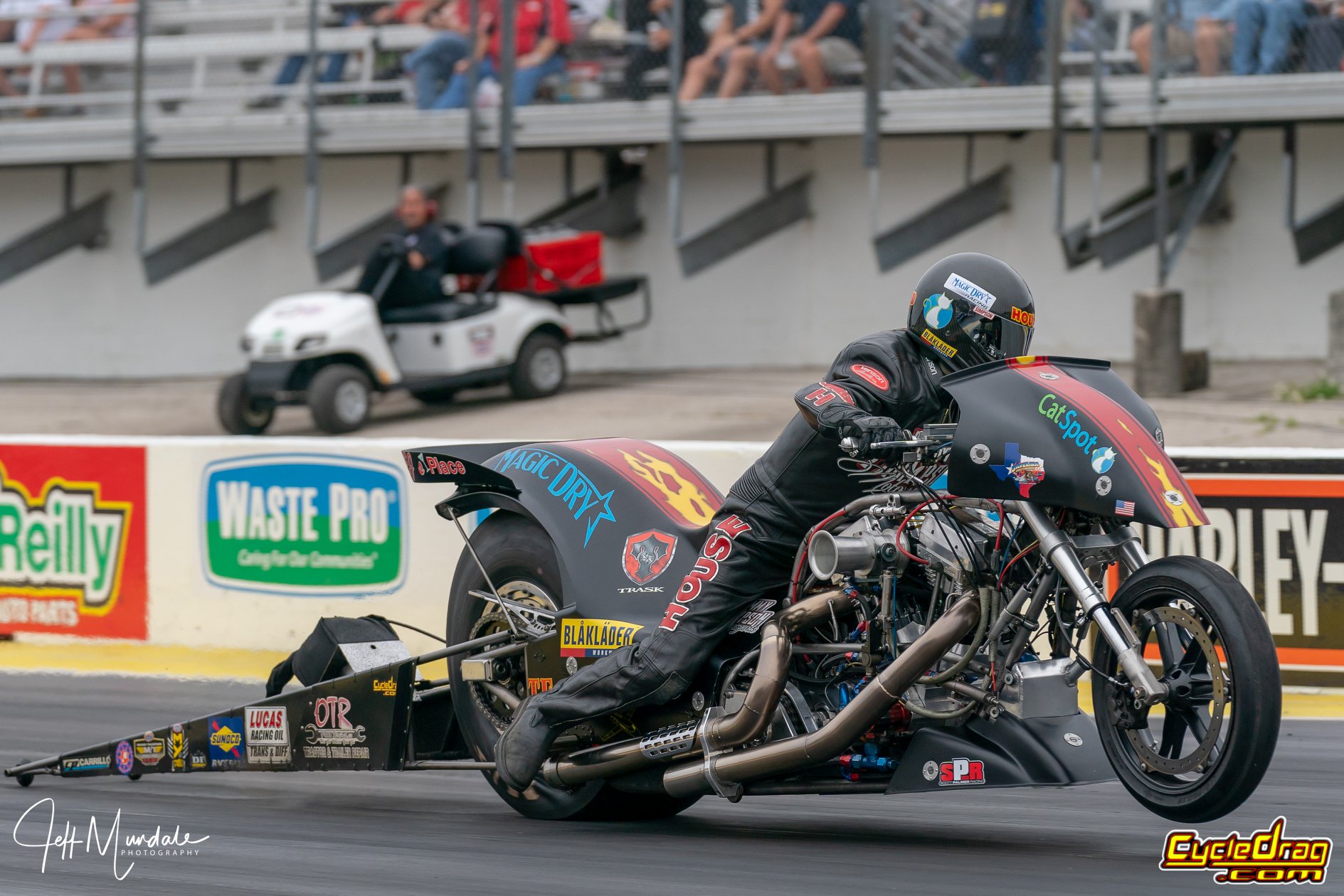 "I definitely feel like we let a final-round slip through our fingers there," House said. "With these bikes if any one thing goes wrong, it's over. I'm upset, but there's nothing you can do about it at this point except move forward.
"The next race for our class is Houston, so it's a hometown race for me. That'll be a lot of fun because all my friends come out to support us. It's time to introduce everyone back home to Magic Dry Organic Absorbent. It's definitely something the oilfield guys need to know about and use."
Prior to his Round 1 pass Sunday, House's previous career-best elapsed time was 6.227 seconds.
There are more videos on the Cycledrag Youtube channel (please subscribe here) and the Cycledrag.com Facebook page (Please like here) and more will be coming soon. Check back daily.