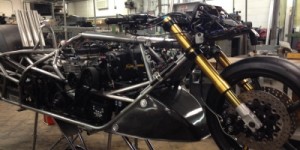 After over five years of incredibly thoughtful and meticulous labor, Larry "Spiderman" McBride's new, cutting-edge, mostly handmade motorcycle is nearly complete.
In early June the beastly 1,200 horsepower-plus motor fired-up for the very first time.
"It sounds sharp," McBride said. "Like it could shred a telephone book."
Known as shrewd perfectionists, the McBride brothers, armed with decades of experience from refining customers' operations and their own,  set out to create the most technologically-advanced Top Fuel Motorcycle in the world.
"It's the best parts money can buy and my brother has outdone himself putting it all together. The workmanship is bar none, the most impressive I've ever seen in Top Fuel Motorcycle drag racing," McBride said. "We have taken all of the knowledge we gained from things that worked and things that haven't and put it all into this one."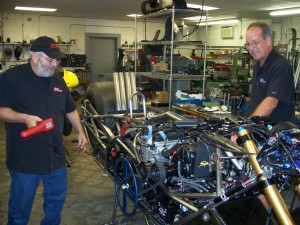 The new motorcycle is about five inches longer (adjustable up to six); it has a redesigned intake manifold and a completely revamped fuel system that is more on par with what NHRA Top Fuel Dragster teams are using.
"It's a little smarter than the blue bike. It's capable of doing more," crew chief Steve McBride said.
Steve also points to the upgraded, 1/8th inch thicker chromoly chassis tubing as a major performance enhancement.
"Blue is over 20 years old. It has a lot of passes on it. New pipe always works better," Steve said. "It's stronger."
Steve says the most difficult part of the slow, methodical process was waiting on all the specialty parts, dialing them in and constantly fielding calls asking when the motorcycle will be finished. The brothers insisted not to rush what they consider their masterpiece.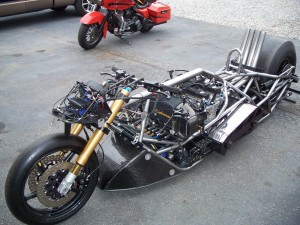 "We could have had it done already but we went back and changed it five times," Larry said. "At one point we had it ready to race and we decided we wanted to change to the outboard bearing support to something more like the one on the Top Fuel sand dragger we built."
Another time-consuming process was adding weight to the right side of the fearsome machine to balance it out.
"I'm not concerned about the handling. I'm just concerned about making sure all the new components work properly. Idling is one thing; going down the racetrack is another," Larry said. "I'm more eager than ever after hearing it run. We still have a few small details to take care of but we are close."
McBride has maintained that he will not race the new motorcycle until it is competitive. The team hopes to test in the near future.
"It's a little more user-friendly for my crew to work on. That's good because they are getting old," laughed McBride.
CLICK HERE TO SEE THE NEW TOP FUEL MOTORCYCLE PHOTO GALLERY

McBride thanked his primary sponsors; Pingel Enterprise, Trim-Tex Drywall Products, Drag Specialties-Parts Unlimited, Red Line Synthetic Oil Corporation and Final Swipe Merchant Services.



"Joe Koenig is one of the best guys I have known in my life. He sells the best drywall products in the world."



"Wayne and Donna are like family to me. I make the joke that I'm their oldest and youngest child. Pingel has by far the best quality in America. They have the top of the line, best engineered products and they are all USA made."



"The Web Cam girls and Steve are the best. They are like family to me as well. Laurie Dunlap does so much to help the sport. They also make the best cams on the market."
McBride added –
"Red Line is the best oil on the market or Alan Johnson would not be using it."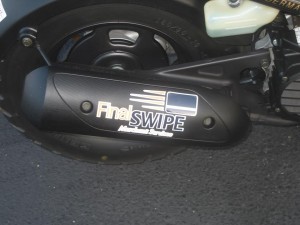 "Drag Specialties is a great company that I'm honored to be involved with. They are the best people to deal with."
"I really appreciate Final Swipe and Gary Baillio. He's a great man with a great company."
"There is not one sponsor that is not important."
McBride thanked his associate sponsors and added, "Everybody is equally important. We couldn't do it without each one of these fine companies."
K&N Air Filters, Web-Cam, Vance & Hines Motorsports, PR Factory Store, Ferrea Valves, Kibblewhite, Precision Machine, World Wide Bearings, Vanson Leathers, Millennium Technologies, Belt Drives Ltd, Simpson Race Products, Nitrous Express, APE, EK Chain, Arias Pistons, MSD, Protect ALL, Cometic Gaskets, B&J Transmission, Carolina Cycle, L.A. Sleeve, PJ1, Mickey Thompson Tires, Valco, Goodridge, Carlisle Belts and Gates Belts.