Gladstone and San Marino are Racing Full-Time in 2017
Rider Joey Gladstone and bike owner/tuner Joe Riccardi are announcing a full-season partnership on Riccardi's San Marino Excavating Suzuki for the 2017 NHRA Mello Yello Pro Stock Motorcycle season.
"This has been my ultimate goal since I was 12, when I first saw Pro Stock bikes at NHRA races with my dad," said Gladstone, who rode the San Marino Suzuki in the last few races of 2016. "I never thought I'd be called up to the majors like this, and that's what it feels like—being called up to the majors."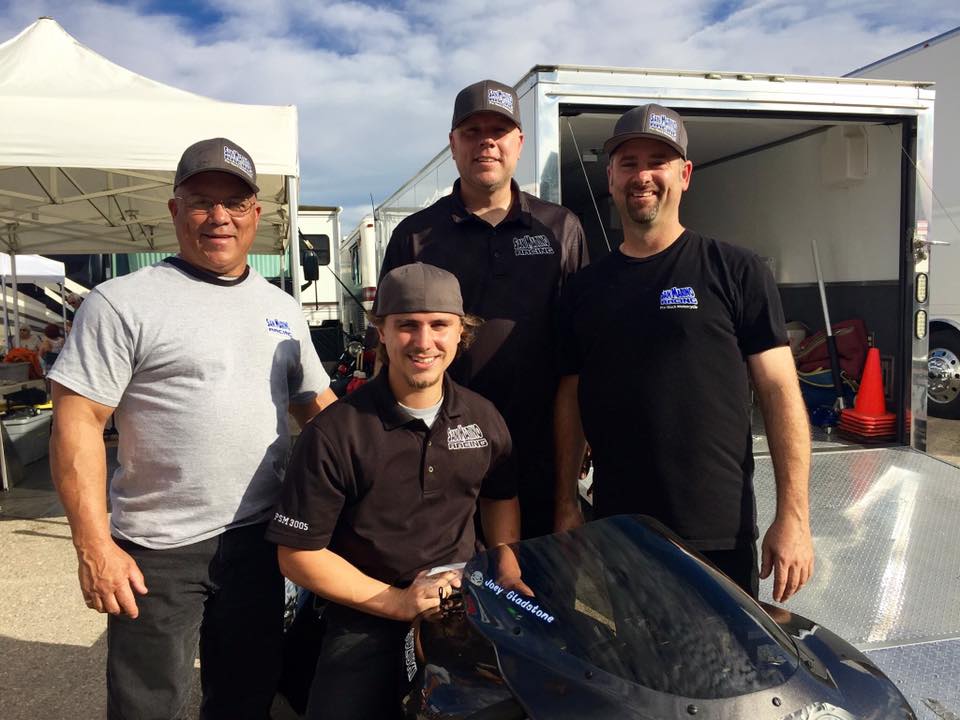 "I like Joey because he's young and ambitious," said Riccardi. "If I could find fifteen 25 year-olds like him—who own a house and want to work—I'd hire all of them! If he continues to exude the work ethic that he does now, that's gonna go a long way with me."
Riccardi spends his off-track time running San Marino Excavating, handling jobs as big as moving 150,000 tons of sand for new runways at Detroit Metropolitan Airport. "The great men and woman that handle all the company operations while I'm racing, and my wife Shelby at home—that is what enables me to chase the racing dream," said Riccardi.
Before Gladstone became a household name on DME Racing's 700 horsepower, turbocharged, Pro Street Suzuki Hayabusa, he cut his teeth on what Eddie Krawiec and many others believe is the ultimate Pro Stock training tool—low horsepower, short wheelbase, nearly stock Supersport bikes in the old AMA/Prostar series. A very young Gladstone won four races in the class and finished second to veteran superstar Rickey Gadson in the championship.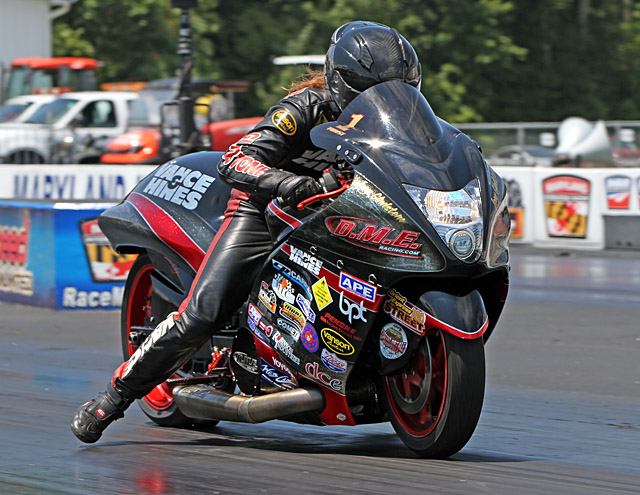 Three-time NHRA PSM champ Krawiec, Junior Pippin rider Chip Ellis, U.S. Nationals winner John Hall, former Muzzy's/Trim-Tex rider Ryan Schnitz, Michael Phillips, and Michael Ray all raced Supersport early in their careers.
"Everybody that talked to us way back in the day—like George Bryce and Shawn Gann—told us to get our start in Supersport, that it would shape me as a rider," said Gladstone.
Joey then moved up to a more powerful turbocharged Real Street bike before taking over the seat that would bring him eight championships in the world's quickest, fastest, street tire motorcycle class—DME's all-conquering "Black Betty" Pro Street 'Busa.
Along with occasional grudge races, 4.60 index, and one other quick dip into Pro Stock, the fully rounded rider that Gladstone is was formed.
Even though Joey has a few PSM starts under his belt, he's still eligible for NHRA's Road to the Future Award—AKA Rookie of the Year. That'll be a difficult task for Gladstone, who'll be running for that honor against well-backed scions of legendary NHRA families—Troy Coughlin Jr. and Tanner Gray—and fellow Pro Street star Mark Paquette.
"We're shooting for the top ten, that's our goal," said Gladstone. "Consistent qualifiers and round wins."
Riccardi agreed. "We wanna go out and have fun, but we really wanna get in this top 10."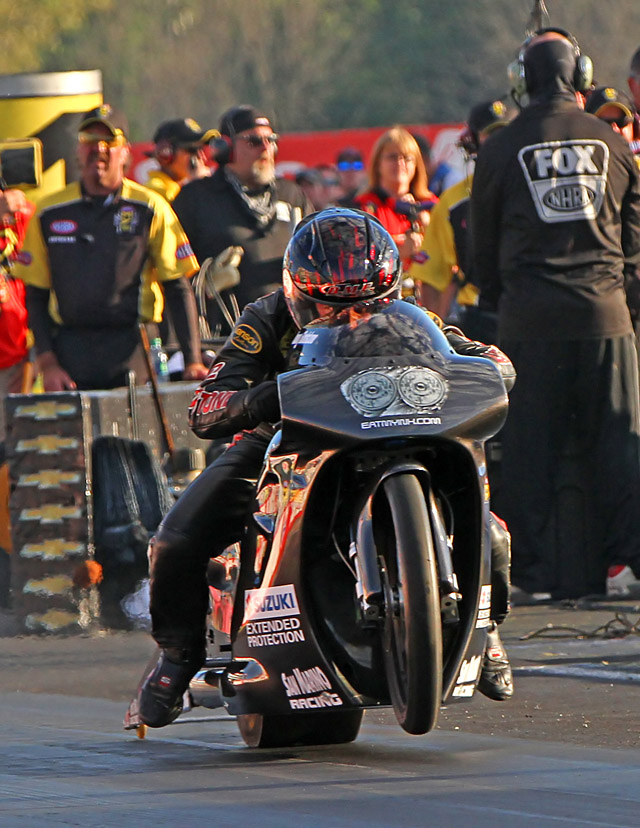 Gladstone will also assume the role of maintaining and traveling with the bike—practically a fulltime commitment for the 16-race PSM season. "This kind of opportunity comes around rarely, so I want to dive into it full bore and make the most of it," said Joey.
The San Marino team will link up with Karen and Gary Stoffer, the Underdahl team, and first year Pro Stock racer Kelly Clontz. "We're gonna work out of one truck and trailer as a three bike team sharing information," said Riccardi. "Scotty Pollacheck's gonna be riding Jimmy Underdahl's bike this year and we're all gonna groom Kelly on her new bike. Her husband Chris is working with us as a fulltime mechanic and Greg Underdahl's been working hard getting a new trailer together. We really have a great bunch of people to work with this year."
And, Riccardi bought another bullet to fit his Suzuki's frame rails. "I tell you Joey lit the fire under my ass to do something this year. We've been racing a lot of years, and this is the first time San Marino's had multiple engines," laughed Riccardi. "We've got a lot of new parts and pieces and I'm bustin' my ass tryin' to get stuff done. Hard work is the cornerstone to success. I've learned in business and racing, if you want to be successful you must surround yourself with great people, and over the years that's what I've done."
Gladstone's also working hard—trying to shed some Pro Street weight to get to Pro Stock size. Gladstone is a former two-time Conference Champion high school wrestler and ranked fourth in the state of Delaware, so he knows a thing or two about making weight.
"In Pro Street, you get a wheelbase break at 155, so I had to make 155," said Gladstone. "When I rode the Pro Stock bike last year, I was like 148, 149. Right now I'm 141 and I'm still going to get lighter from there. My goal is to get to 135 pounds, which is difficult for me. I have my dad's genes, so I'm a bit wider."
Anyone who's ever seen Joey's dad Skip knows that the elder Gladstone is a retirement-age Incredible Hulk of a man.
It's a big gamble for Joey, leaving behind a consistent championship winning team in the all-motorcycle drag racing world and the spoils that go with it to race in the strictly professional—and strictly expensive—arena of NHRA national events. Gladstone knows he cannot let down his hustle if this roll of the dice is to pay off.
"I can't stress enough how much the streetbike community has done for my career—especially DME Racing," said Gladstone. "I'm so grateful to Dimey Eddinger and Andy Sawyer and DME. Just because I'm racing Pro Stock Motorcycle doesn't mean my heart isn't still on their team. We've been through a lot together. We've done a lot in the last five years, we've accomplished a lot, and I'm still gonna be rooting for them. Dimey and Andy are like family and I'm excited to see what their team will accomplish this year.
"But I'm really looking forward to representing Joe and Shelby Riccardi, San Marino Racing, and San Marino Excavating. Gladstone Race Engines will also be a part of my program. I'll be touting the company I have with my dad on the back of my Bates Leathers.
"I'll also still be representing Vance & Hines. They're still very much a part of my racing program. It was Eddie Krawiec who first suggested Joe call me. Everything Eddie's ever brought to the table has been valuable, so I knew that this would be a good thing.
"I have to thank Dave Vantine of Vantine Imaging and Mike Androwick of Mike's Racing Heads.
"Big thanks to my dad Skip and my mom Peggy for all the support and opportunities they've given me. Dad's been my career coach as far as racing goes, and Mom has been the coach for the rest of my life. And of course my fiancée Nicole, for agreeing to still get married to me after deciding to go Pro Stock Motorcycle racing.
"And Joe's a great guy, a great family man with great values—who wouldn't want to work with the guy!"
"I'm excited," said Riccardi. "We'll definitely be testing before Gainesville."
The pairing made their first event together last year the biggest—the 2016 U.S. Nationals at Indianapolis. And while the team didn't make the highly competitive field on their first time out, they improved every round of qualifying except the fourth, when tire-shake broke second gear.
"You can't control breakdowns or unforeseen situations at the race track," noted Riccardi. "It takes a leader to rise to the occasion and overcome any misfortune."
Both Joey and his dad Skip chipped in to help Riccardi rebuild the transmission at the track for the fifth and final round, along with Blake Ritter of Vance & Hines.
"He (Joey) rode well and did a great job," Krawiec said at the time. "He got better each lap and it was great to see him make a dream come true. Next time out will be a lot easier and I expect to see better results now."
And indeed he did. The San Marino team qualified 14th under intense pressure because of bad weather at Maple Grove Raceway near Reading, Pennsylvania. Gladstone bettered 2010 national champ LE Tonglet .040 to .042 at the tree in the first round of eliminations but dropped the round anyway when Tonglet drove around for the win.
"With so many motorcycles fighting for a raceday start, it was like winning a Wally when we just qualified," noted Riccardi. "It was just a great accomplishment and feeling among the whole team."
Gladstone qualified 15th in Texas and faced five-time champ Andrew Hines in eliminations. Perhaps after learning against Tonglet at Maple Grove that he couldn't simply match lights with an ex-champ and take the winlight, Gladstone pushed the tree—a little too hard.
The team qualified 14th at their last event of the year in Vegas, and once again faced Hines, with the same result as Texas.
"Joe was really great to work with, and we got to work with a lot of great people like the Stoffers and the Underdahls," said Gladstone. "I really enjoyed meeting all of them. It was great getting to know all the Pro Stock Motorcycle field, and hopefully earning their respect."
Now Gladstone and Riccardi will take that experience and apply it to a full 16-race season. They are, of course, seeking the continuous sponsorship and funding necessary to compete at the highest level this year and beyond. That's one of racing's biggest jobs, but for this hard working owner out of Michigan and rider out of Delaware, rolling up their sleeves and putting in work has just begun.
Joey Gladstone and Joe Riccardi thank Eddie Krawiec and everyone at Vance & Hineshttp://vanceandhines.com/ , San Marino Excavatinghttp://www.sanmarinoexcavating.com/ , Suzuki Extended Protection https://www.suzukisepdirect.com/ , Underdahl/Stoffer Racing, Kustom Machine http://www.kustom-machining.com/ , Eight Mile Signshttp://eightmilesigns.com/ , Northeast Ohio Dyno, Pingel Enterprise http://pingelonline.com/ , Manitoulin Chrysler http://www.manitoulinchrysler.com/ , and their families.
Contacts: joe@sanmarinoexcavating.com and jgladstone231@aol.com
For media inquiries: Tim Hailey timhailey@eatmyink.com
Find out more about the NHRA athttp://www.nhra.com/