Rockingham Dragway's Jim McClure All-Harley World Finals presented by MTC Engineering and Law Tigers of North Carolina was—by the estimation of everyone who was there—the biggest Harley-Davidson drag race in decades. Whether you're counting bikes, entries, records, spectators, impact on the local economy—this event added up. The October 27-29 championship finale for both the PennGrade1 AMRA and AHDRA/AMA motorcycle drag racing series showed that the American V-Twin drag racing sport is alive and growing—something that would make the late Jim "Da Judge" McClure beam his legendary smile.
The event featured an incredible 40 nitro bikes putting fire in the hole and taking the tree. Nitro V-Twin racing is literally and figuratively blowing up.
Top Fuel
Defending AMRA Top Fuel champ Ryan Peery qualified number one at The Rock with a 6.39 at 217 miles per hour. Spring AHDRA Rockingham race winner Tim Kerrigan was second with a 6.42 at 213, and defending AHDRA champion Tracy Kile was third with a 6.44 at only 188.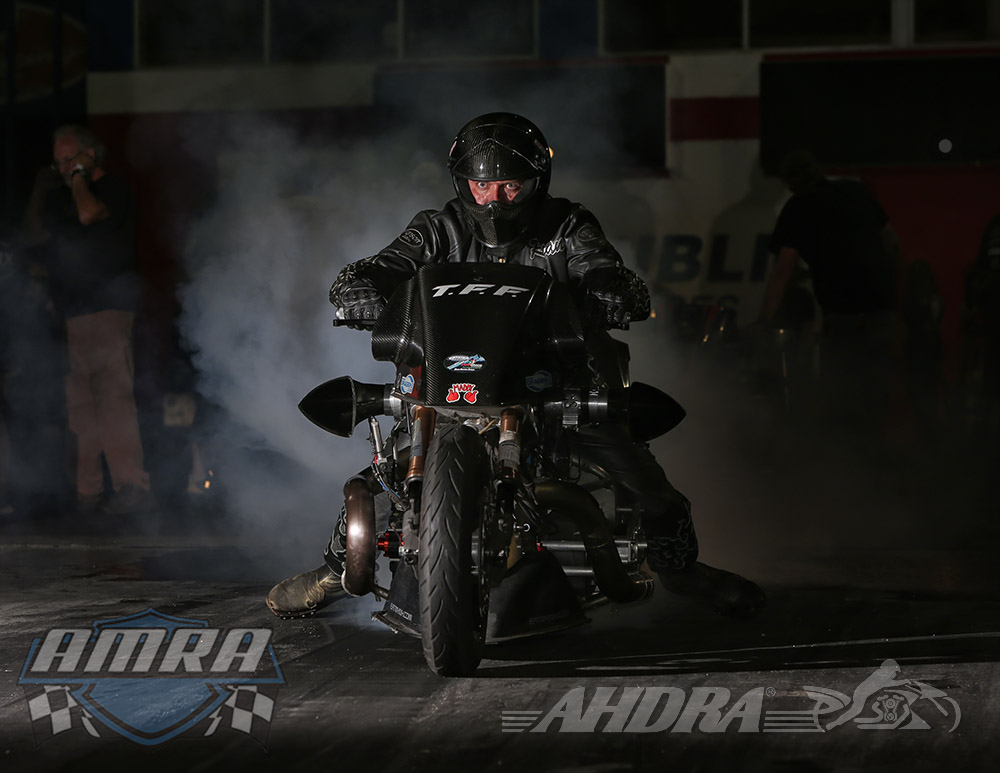 Top Fuel eliminations were a brutal slug match. Kile was spun and done in E1 against multi-time NHRA champ Tii Tharpe on his Spevco Jay Turner Racing bike. Kerrigan slipped past Tharpe's teammate John "JT" Toth and Jordan Peterson raced past Ricky "Sharkey" House. Peery's opponent broke in the waterbox and then Ryan's bike broke abruptly at launch and the top qualifier was done for the day.
"The rods had enough and said 'I'm outta here!'" reported Peery. "Luckily they lasted just long enough to get the round win and lock up the championship." Actually, both AHDRA and AMRA championships.
Peterson and his Romine Brothers built-and-tuned, Steve Horne-owned, beautiful former Doug Vancil bike was on an improvement arc on raceday, running a 6.46 at 208 in the semifinal alongside a lane left vacant by Peery's no-show. That left him with lane choice against Tharpe in the final after Tii's 6.47 at 205 beat Kerrigan.
The JTR team had Tharpe's bike fully loaded for the final and the Spevco boss ran a 6.39 at 215. But that .159 light though…..Tii gave up .121 to Peterson at the tree and came up .004 short of catching the red and black bike he fought with in the NHRA wars a few years ago. It was second generation Nitro Harley drag racer Peterson's first Top Fuel win.
"First and most, I need to thank Steve Horne with Horne Concrete for the opportunity to race one of the best Fuel bikes in the world," said Peterson. "Next, the whole Romine clan—Mike, Patti, and Jack. In the pits, they made it so easy for me to concentrate on just the riding of the motorcycle. I have never been so relaxed while racing in my life.
"Next to my extremely supportive girlfriend Casey. She's really getting some attention from her punch she throws to send me on my way.
"Thanks Alvin Kobernusz for getting me six years of experience riding his fuel bikes, and to Mike Henry for getting me some laps at some premiere racetracks.
"Finally to my dad, who didn't do a good enough job at talking me out of starting racing years back, and also teaching me some things about racing.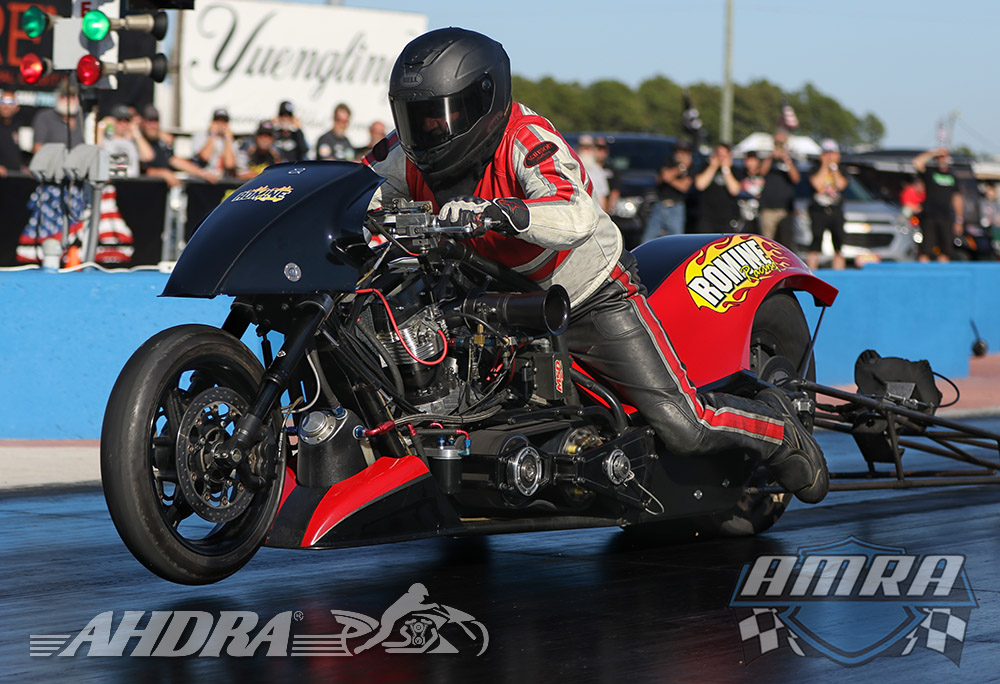 "This was our first time out with me riding this bike, so we had some adjustments to make. We got three test passes in before qualifying. They were very helpful in getting me familiar with the bike and also giving the Romines a chance to see changes that needed to be made. I am 70 pounds heavier than the previous rider (Vancil).
"As far as eliminations went, I really wish I could have raced Ryan Peery second round. He damaged his bike beyond repair to make second round. He has whooped me many times, and if I could have gotten around him, that would have made the win even better."
North Carolina Drag Racing Hall of Famer Jay Turner is the one the locals all come to see, but Turner focused on his role as team manager and trying to solve the riddle of his massively powerful ProCharged Top Fuel bike.
Nitro Funnybike
Nitro Funnybike also saw a second generation Nitro Harley drag racer take the win. Armon Furr is the son of the legendary South Carolina racer Bill Furr, and the family magic came through this weekend.
Peery was number one qualifier in Nitro Funnybike also with a 6.59 at 210. But he slowed in the semis and defending AMRA champion Jim Doyle got around him to meet Furr in the final.
Furr came to the line with lane choice but Doyle's consistency outran him. Again the tree was the story, as that redeye back at the starting line in Doyle's lane signaled the -.010 foul that cost him the race.
"It was definitely a tough final," said Furr. "I have raced at The Rock for quite a few years and we caught that track at the worst possible time."
Armon is referring to the way Rockingham Dragway is pointed towards its famous sunsets, making it difficult for racers to see the tree at that time of day. The track often shuts down for about 20 minutes for that moment to pass. But with nitro, once you've rolled into staging and realize you can't see the tree, it's too late to do anything about it.
"I couldn't see anything but the top stage bulb. I knew at that time I was either going to redlight or be late at the tree. Well luckily, I won that coin toss.
"What a decent turnout, huh? I tell you, my team really needed that win. For the last few races we have been fighting a starting line issue. After finding a problem that I didn't think was a problem, we have finally gotten it back to normal—or, well, as normal as a Nitro Harley can be. We definitely have the motivation to get this thing back on track for next year.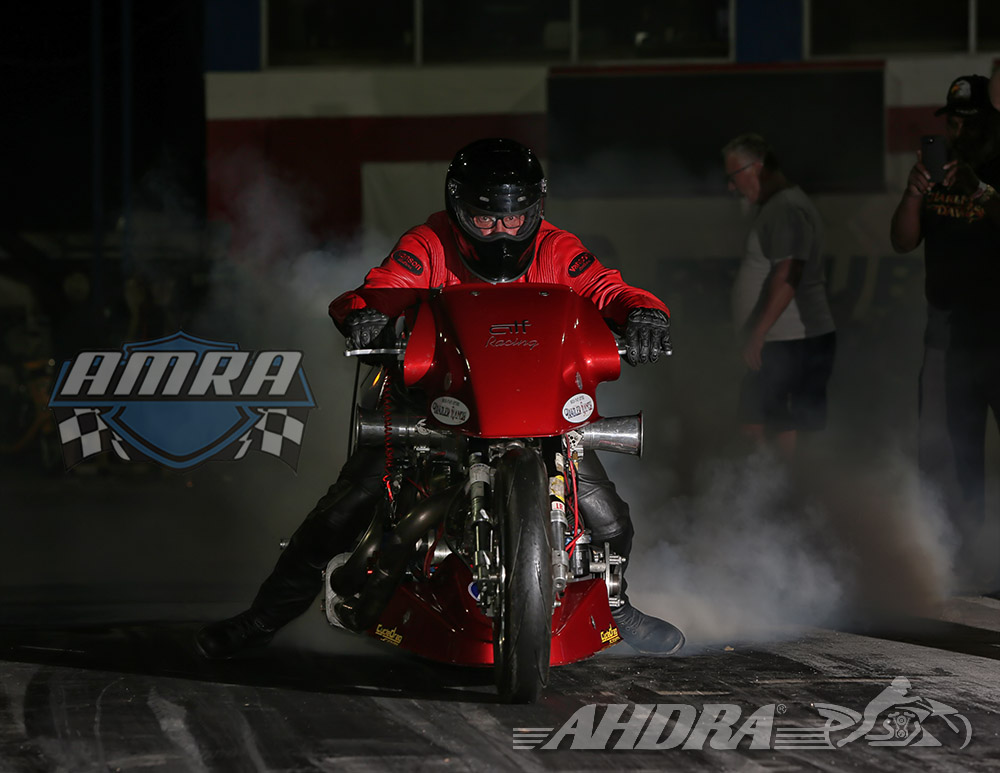 "I would like to thank my team and all the people that believe and support me. Also the AMRA and AHDRA for continuing to have places for us to race. And last but not least, all the men and women that take their own time to help cover and support this amazing sport."
Peery secured the AMRA championship, and AHDRA champ Michael Balch broke at launch against Doyle in E1.
Hawaya Racing Pro Fuel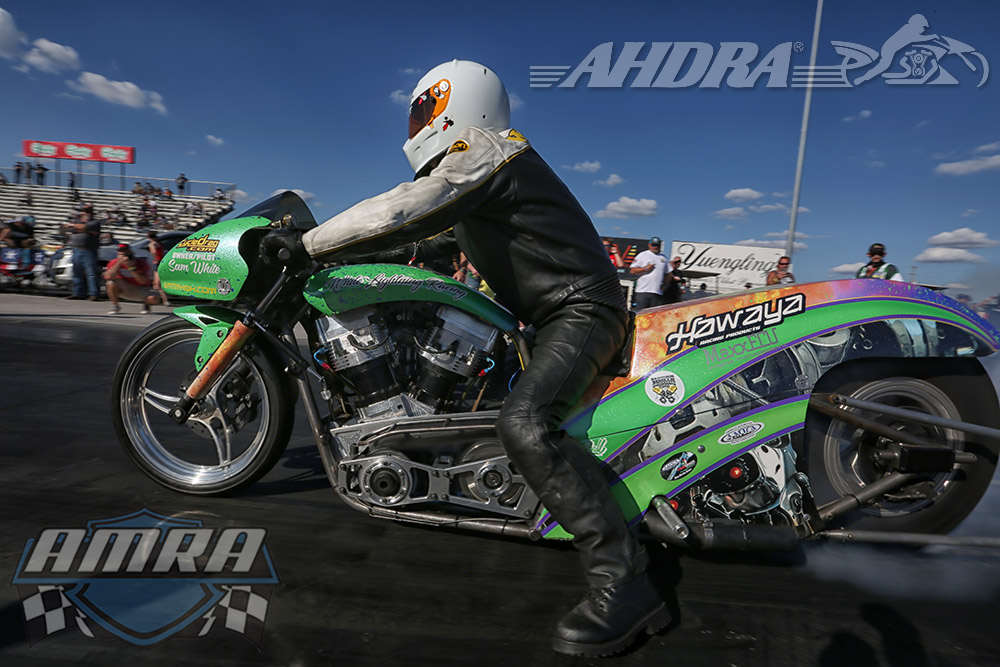 Veteran racer Sam White scored a sweep in Hawaya Racing Pro Fuel, qualifying number one, winning the race, and the championship in both series. White and final round opponent Rocky Jackson left the line within 1/1000ths of each other, with White legging it out with a 7.31 at 170 against Rocky's 7.57 at 169.
"A lot of people don't realize that in the finals, Rocky runs the same Maxx ECU ignition that I do," reported White. "Rocky figured out his fuel and look what happened. I kept telling him, I said 'Rocky, when you get your fuel system right, I'm telling you our systems are superior. It will burn more fuel.' In the finals, he looked up and he said, 'You're right, man, I'm starting to get a handle on it.' I said 'I told you!'
"I also think a lot of people didn't understand that when I lined up next to Curt Sexton (in round 2 of eliminations), that was the race for the (AMRA) championship. We were close enough, had he taken me down and won the race, he'd have beaten me." White already had the AHDRA championship won by simply qualifying at Rockingham.
"Sunday morning when I got to check the ladder, and I saw Curt Sexton on my side of the ladder, I was happy. Everybody's like, 'What do you mean, you're gonna have to run him.' I said, I want to get this over with. I don't want someone else doing my job for me or my business. I want to take care of my business my way.'"
The pairing started out most definitely Sexton's way, as his stunning .006 light led White by .085. But Sam's well-sorted Hawaya Racing power and chassis drove him around Curt for a 7.29 at 173 vs. 7.47 at 171 win.
"I want people to know that I'm not going to race for two championships next year, because people will hate to see you turn in the gate if you continue, and I don't blame them," added White.
"Rockingham was the culmination of all the testing and racing, everything that we learned. Johnny (Vickers of Hawaya Racing) said 'We're gonna show them just how fast and dependable this machine can be.' And we did."
White thanked Vickers, Hawaya, his family team, and everyone, everywhere, all the time.
GMS Racing Engines Outlaw Street
GMS Racing Engines Outlaw Street saw a heated, record-shattering battle amongst these gasoline and power-adder no-bar badasses. Andy Simon Sr. started the assault with a 7.64 at 188.36 on his turbo bagger in testing. Gregg Dahl pushed the bar way farther with a 7.57 on his nitrous-huffing, no-bagger to lead qualifying. But it was Dahl's teammate Mike Motto who won the race and the AHDRA championship with a .009 light and 7.80 lap in the final against Dahl, who shedded his drive belt at about the 330.
"What a weekend at the Rock!" said Motto. "I win the race and the 2023 AHDRA National Championship, Gregg sets a new national record and Damon (Kuski) claims the 2023 National Tuner of the Year award! At least that's the award I think he deserves. Every pass he went into our FuelTech system and we got faster and faster. He was able to tune for the win while keeping my machine from damage so I would make to the end of the event and then some. All while tuning Gregg for a national record.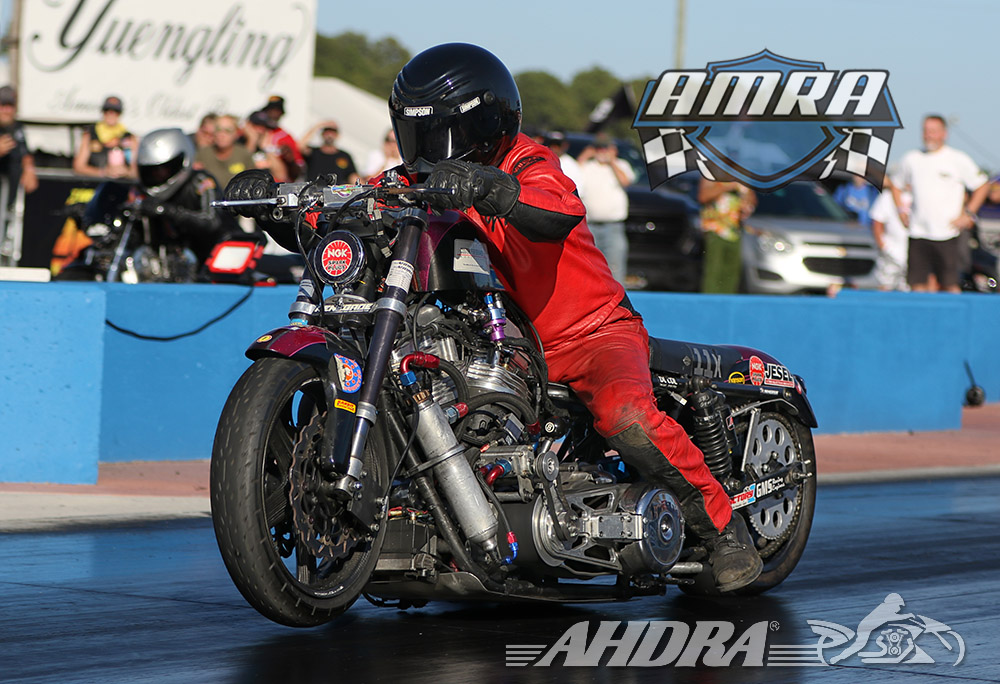 "Both bikes ran 7s all weekend, I win the finals at the Rock against Gregg and take the national championship and we set records in the same weekend with bikes that went A to B every pass! My hat is off to Gregg.
"I would like to thank all people who help us and supply us with some awesome products: all of the crew at GMS Racing, all of my friends and race family, FuelTech systems, Energy One Clutches, Renegade Fuels, NGK Spark Plugs, MTC Engineering GEN 2 Clutch, and Bandit Primary Drives
"And last but far from least, my wife, who rides by my side always in my quest for speed. She is my rock and my love!
"It was an exciting and overwhelming weekend and if I forgot anyone please forgive me. I am thankful to everyone who has helped me along the way. See you all at the races!"
Casey Smith is the 2023 AMRA Outlaw Street champion.
Zipper's Performance Pro Bagger
Zipper's Performance Pro Bagger saw Indiana's Jeremy Williamson run the class' first 7 second pass with a 7.98 at 172 in qualifying on his sleek turbo bagger. But Williamson redlit in E2. Number two qualifier Rick Hunnicutt took his semifinal, but broke in the process. That left number five qualifier Scott Tomsu as the last man standing for the unopposed win and the AHDRA championship.
"Feels nice to end the season on a positive note by winning the last Pro Bagger race," said Louisianan Tomsu, who also secured the AHDRA Street championship. "This was my first year ever building, tuning, and racing a turbo, so any success is very positive. Also, that class is full of talented racers that can handle these insane baggers and wins are hard to come by.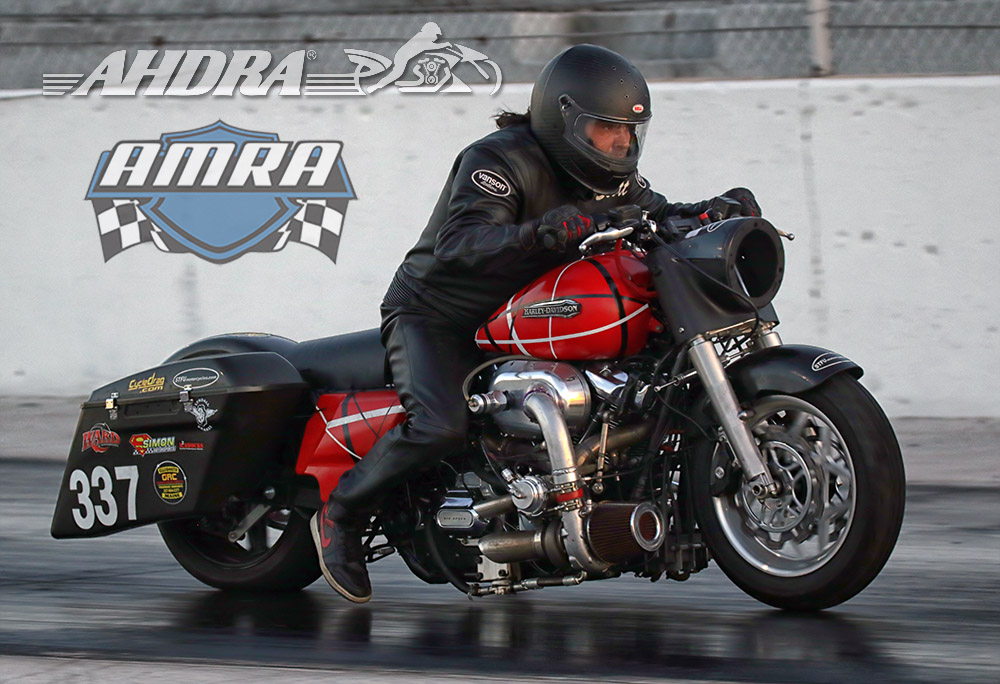 "Thanks STFU motorcycles, Ward Performance, Simon Motorsports, Lyndall Brakes, and GRC Cranks."
Despite the early exit, Williamson scored the AMRA Pro Bagger championship.
Thundermax Street Bagger
Tomsu runner-upped to Bowling Green winner Jimmy Maikranz in Thundermax Street Bagger. Maikranz qualified number one with a 9.33 at 145 and won the final despite giving up .106 to Tomsu at the tree. His 9.42 at 142 was able to drive around Tomsu's 9.86 at 135 for the win and the AMRA championship.
Tomsu won the AHDRA championship.
Hot Street
Brian Conley Jr. and the iconic "JT's Auto" bike continued their domination of Hot Street, winning the class for at least the second straight year. Conley qualified number one with a 9.09 at 146 and took a very good final round race against veteran racer Joe Perry. Brian took the tree by .057 and ran a 9.14 vs. Perry's 9.17 for the win and the AMRA championship.
"Man, what a year and an awesome race at The Rock," said Conley. "We qualified number one and won the event with an eleven bike field.
"This season we won every event, qualified number one at five of six events. We also reset the 1/8 and 1/4 mile records and took home our fourth championship. This is a dream come true season for me.
"A special thanks to Dad, Mom, Alexa, John Toth, Marianne, and every single person and company behind us! Drag racing and the AMRA are awesome!"
Zippers Performance Pro Modified
Zippers Performance Pro Modified boiled down to the reigning champions of the two series—AMRA's Billy Doherty and AHDRA's John Price. Doherty qualified number one and Price number two. And that's how it went in the final, too, with Doherty taking the tree .124 to .296, the stripe 9.49 to 8.70, the win and the AMRA championship.
Price still secured the AHDRA Zippers Performance Pro Modified championship.
Pingel / Axtell Cylinders Modified
Pingel / Axtell Cylinders Modified went to number one qualifier (9.18 at 143) Gary Douglass. He and runner-up Casey Smith both had great reaction times, with Gary an .013 and Casey .018. Gary's 9.26 kept him out in front of Smith's 9.32 for the win and the AMRA championship.
"Rockingham is usually one of the best races of the season, and being the last race of the season, it surely didn't disappoint," said Douglass. "The most spectators and racers I have seen in years. Friends and racers I haven't seen in quite a while made it that more special.
"I was planning on testing on Friday, so I was checking out the top end on my motor and found a cracked rocker stand. I didn't have another and couldn't find one, so I did a McGuyver and hoped for the best. I didn't want to run no more than was necessary, so no testing.
"First round of qualifying I was in the left lane. I didn't expect it to be that rough, so that pass wasn't very good. The second round I was in the right lane and ran a 9.18 which was good enough for number one qualifier.
"Had a bye in the first round. In the second round I had our friend and great competitor, Troy Young. Ran a 9.23 for the win. On the return road I reached down for my shifter and it broke off in my hand. Another problem to fix between rounds.
"Had Casey Smith in the finals. We both did our burnouts and headed for staging. The sun was setting and I couldn't see the bulbs, so we backed out and waited for the sun to set (a benefit of gasoline). I cut a .013 light and Casey a .018. He had a little better 60, so I had to play catch-up. He had me just after the eighth and then I started to pull away. It was a great race. My 9.26 to his 9.32.
"I want to thank my family and friends for all their support. Charley, Jody Simpson, Jacob Bush, and Cindy Folks for all their hard work at the track. Thanks to Energy One, SA Racing, Chad Hart, H-D of Lynchburg, CP/Carrillo, Brian at Line to Line, Jerry Johnson, and Billy Mathias. Thanks to Mike Davis, Tom McCarthy, and Tim Hailey for all their expert pictures and commentary."
Jeff Workman is the AHDRA Pingel Modified champion.
Benchmark Excavating Top Eliminator 9.30
The Benchmark Excavating Top Eliminator 9.30 final was a battle between Harley index titans—last year's winner David Doremus vs. number one qualifier Ken Strauss. Strauss punched first with an .030 light to Doremus' .057. Strauss somehow let that advantage slip away and lost a double breakout, 9.29 to 9.27 finish.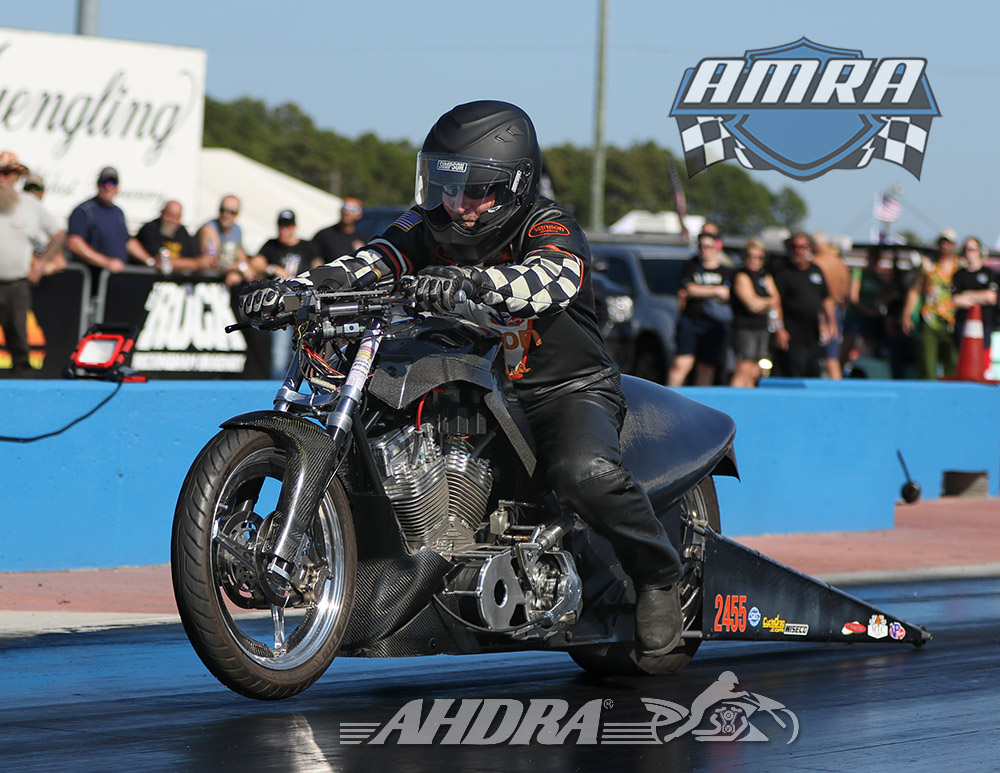 Doremus secured the AMRA Top Eliminator and Super Pro championships, while Strauss won the AHDRA Top Eliminator 9.30 championship.
"We came into The Rock with a good lead in the points," said Doremus. "Qualifying went well and we finished in the top half.
"Top Eliminator is getting tight. Any one of the eight riders could have gotten the win. Each of my three competitors made me work for it.
"In the final it was Strauss, the AHDRA champion, and me, the AMRA champion, which made for a great race. It was a double breakout and I came out on top.
"With the help of David Hedicker and Ed Durey we got the championship in Top Eliminator and Super Pro. It was a great weekend and year."
Vreeland's Harley-Davidson Super Gas 9.90
Strauss then took his revenge out on multi-time champ Donnie Huffman in the Vreeland's Harley-Davidson Super Gas 9.90 final. Only .003 separated these two index studs at the tree and Strauss ran closer to the number with a 9.97 to Huffman's 10.12 for the win and the AHDRA championship.
Huffman was still able to secure the AMRA Super Gas championship. Number one qualifier Kash Laughman lost in round one.
BK Electric Super Pro 10.30
Number one qualifier Joe Petersen beat John Shotts in the BK Electric Super Pro 10.30 final, gaining a scant .004 advantage at the tree but still pushing Shotts to break out with a 10.28.
"I only entered the 10.30 class for the first time in Indianapolis after missing the first two (AMRA) races. That first race I was able to make it to semifinals. Next race was Bristol and was able to win that event. Bowling Green I was able to accumulate some points. And the fourth race I was able to compete in the class was the Rockingham World Finals were I was able to qualify number one and win the class.
"Rockingham is our home track, and we were happy to have plenty of friends and customers to join us for a victory lane photo.
"My lifetime racing and mechanical mentor wasn't able to attend the race, as he was in the hospital in Massachusetts getting cancer treatment. I want to dedicate this win to Robert "The Brain" Dumas, B&J cycles of Ayer, Mass., and thank the Lord for making it all happen."
Nate Carnahan is the AHDRA Super Pro 10.30 champion and, as previously mentioned, David Doremus is the AMRA champ.
Universal Fleet & Tire Pro Eliminator 10.90
Universal Fleet & Tire Pro Eliminator 10.90 boiled down to a battle of the Larry's—Maynhart vs. Stevens. Stevens took the tree by .010 on his no-bar bike, but Maynhart ran .020 closer to the index to take the win on his V-Rod Destroyer. Number one qualifier Willie George lost in round four.
"This was my second race this year, but it was my daughter's first Junior race and she made her first pass down the track," said Maynhart. "I was so happy to get a win with her there! And what an event! Full class, great people and great competition.
"Thanks to Danette and daughter Ally for the love and support. And thanks to the late Dale Miller."
Clayton Danford won the AMRA Pro Eliminator championship while Cody Hayworth secured the AHDRA crown.
Thundermax Street Eliminator 11.50
Terry Mason took the tree by .012 and went dead-on with a 1 to take the Thundermax Street Eliminator 11.50 final over Loren Potter, who broke out. Number one qualifier Racin' Ray Robinson lost to Mason in round 3. Mason also secured the AMRA Street Eliminator championship, while Robinson is the AHDRA champ.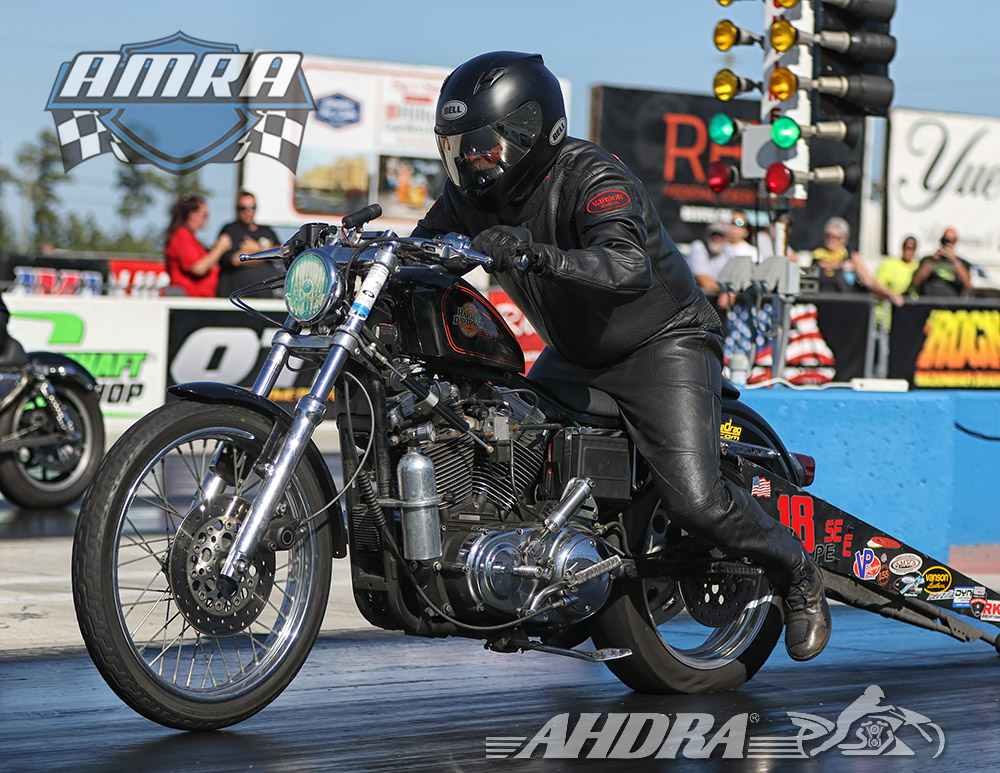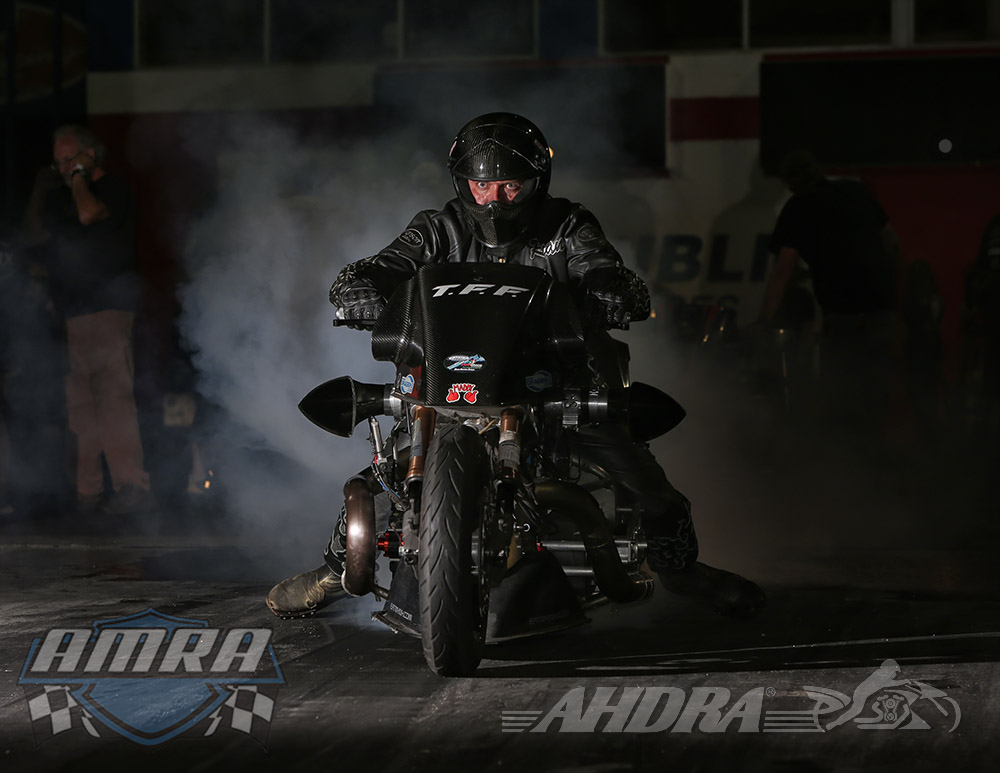 "I hadn't planned going to go to the Finals until i saw the points and I was leading. So we decided to make the 10 hour drive and see what happens.
"I ran my three classes I normally run—Eliminator, SE 11.50, and PE 10.90. It was one the largest turnout of Harley racers in years and qualifying was tough with 30 plus bikes in each index class and close to 100 in E-class.
"I only had a 65 points lead over Chad Tryaner and 115 over the 30 championships legend Donnie Huffman. But Chad had suffered a motorcycle crash a few weeks ago, so he couldn't race but a fellow racer Dalton Lund rode his bike.
"I qualified ninth in SE and Donnie qualified third, so it came down to Donnie and me in the semifinals for the championship. i ended up winning that round and winning the race, running an 11.50 in the finals against another great racer Loren Potter.
"I was so excited and also humbled to be able to race against some of the best racers in motorcycle drag racing. It was a great weekend. Thanks for the coverage of the sport I love—Harley drag racing."
Law Tigers Eliminator
Law Tigers Eliminator came down to a battle of 13 second Harleys, with Talon Harper taking the final over Calloway Ledford. Neither rider set the tree on fire, but Harper's .282 had the advantage on Ledford's .313. Harper ran a 13.52 on his 13.28 dial-in, while Ledford was 13.71/13.35.
"I wanna thank the Danford family for all the help and coaching me through the day and making it all the way to the finals," said Harper. "And when it came down to the finals and I crossed the finish, I shedded a tear because I finally got to put Licia's bike back on top in the E class, and she got to be there and watch it and make her proud."
Chad Trayner is the AMRA Eliminator champion while Chris Hoppe took the AHDRA title.
Junior Dragbikes
Harper's son Blake won Junior Junior Dragbikes and Damian Patino won Junior Senior, both at the expense of the Hines brothers in the finals.
"To get a win this year at such a big event is something I did not think would be possible, as this is my first year racing," said 10 year-old Blake. "I could not have done this at all without some great people. I want to give a huge thank you to Kevin and Licia Danford, as Licia made me custom leathers and Kevin was one of the many that made my bike for me, and teaching me so many things about my bike.
"The biggest thank you to Clayton Danford, as he is the one who stands behind me at every pass. Clayton has put so much work into building my bike, teaching me the things needed to know how to make a pass, how to do a burnout and so much more. Clayton is hands down the best coach a boy could ask for.
"Another big thank you is to my grandpa Bill Harper. Without him, I would have never met the Danford's or got into racing bikes. Lastly, I want to say thank you to my parents—Talon Harper and Tori Fisk—for being the best parents a kid could ask for. Thank you for being at every race, cheering me on and supporting this dream I have.
"There is many more people to thank, but this main bunch made my race season possible this year. This group of people made nothing into a bike, a boy with a dream, and I couldn't be more happy to call them family. Thank you everyone from the bottom of my heart."
Damian Patino's win came at his first race ever. "It was my first time on an actual track, and I was really nervous to go down the track for the first time," said Patino. "Thanks to my papa Darrel Smith, Michael Train, Little Joe, my uncle Slim Billy, and Stimpy."
The Hines brothers still came through with their second straight championships—Jaden in Junior Junior and Michael Jr. in Junior Senior.
Trophy
Jon "Jonny Flattop" Ard won Saturday's Trophy class final with an .030 light and 11.25 on his 11.12 dial. Runner-up Sean Clarke was .142 at the tree and posted an 11.27 on his 11.15 dial.
It was the last race ever for Ard's beautiful, brand new Indian build (only its third outing) known as The Fugitive. It was destroyed in a garage fire on the Thursday after the race.
"Special thanks to our marketing partners," said Ard. "Jonny Flattop Motorsports, FabWerks, Browns Oil Service (Sunoco race fuels), Fattys Cycle, Wounded Warrior Project, and my pit crew CJ and Tommy Rodriguez.
Shutdown Area
And that's a wrap for for 2023. AMRA's Greg Baugh and John "JT" Toth and AHDRA's Bill and Chrissy Rowe wish everyone a safe and happy off-season and look forward to welcoming the whole, growing Harley-Davidson drag racing family back to the track in '24.
There are more videos on the Cycledrag Youtube channel (please subscribe here) and the Cycledrag Facebook page (Please like here) and more will be coming soon. Check back daily.