Earlier this year, Scrappers Racing and Jianna Salinas learned about a courageous fifteen-year-old girl and her father from the Bay Area. Scott Radabaugh suffered a heart attack at age 43 and recovered from a quadruple bypass surgery. This event led him to have his children's cholesterol levels tested and they discovered Chloe's was astronomically high. Later she was diagnosed with the rarest and most dangerous form of Familial Hypercholesterolemia (FH) and began treatment at age 5. FH is a common genetic condition; it affects approximately 1 in 250 people, but Chloe was diagnosed with HoFE which affects 1 in 300,000. Chloe visits the Oakland Children's Hospital every 14 days to have cholesterol filtered from her blood through the process of Lipoprotein or LDL Apheresis.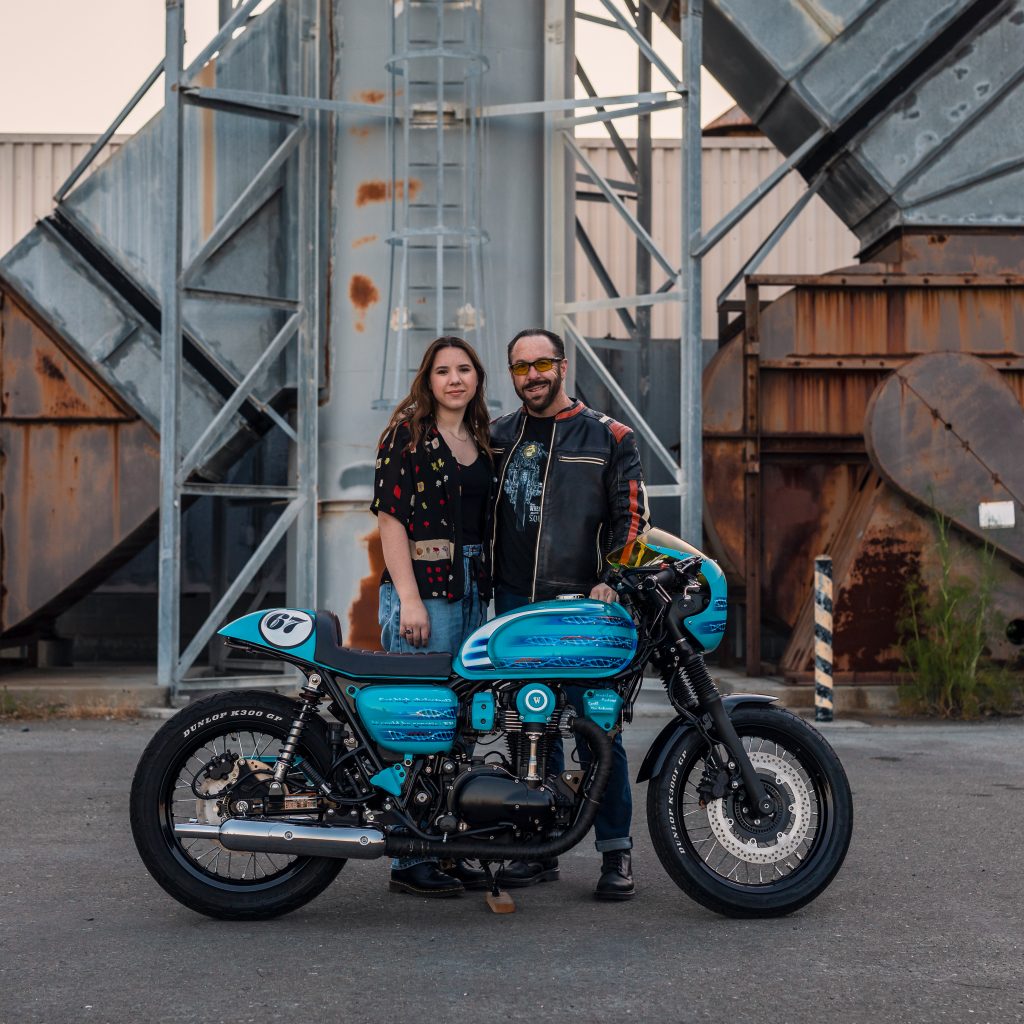 Admittedly, the treatment process has not been easy for Chloe and there are many mental struggles along with the physical struggles. In 2019 though, Scott saw Salinas' "Walk 1000 Feet" video, showed Chloe, and told her "See, if you stay in the fight good things will happen." Those words perfectly describe Salinas' attitude towards racing, and she proved that after her accident in Chicago by getting back on the bike as soon as it was repaired and riding to a National Event win at the end of the same season. Since watching that video and continuing to follow Salinas' racing journey, Chloe has gained a lot of strength and determination.
During the last year, Scott and Chloe have worked together on a custom Café Racer motorcycle. It began as a way to bond through a shared passion of motorcycles and transformed into an impressive work of art that helped them through a difficult year. Now that the bike is complete and Scott's vision has been realized, the Café Racer is on tour. Its goal… to raise awareness about FH. An excerpt from thefhfoundation.org highlights why this is so important to Scott and Chloe, "FH is vastly underdiagnosed – only 10% of individuals born with FH know they have it and are diagnosed today. This is due to low public awareness, the failure to link very high cholesterol with a genetic cause, and that many individuals with FH also show no visible symptoms and therefore are not receiving the care they need."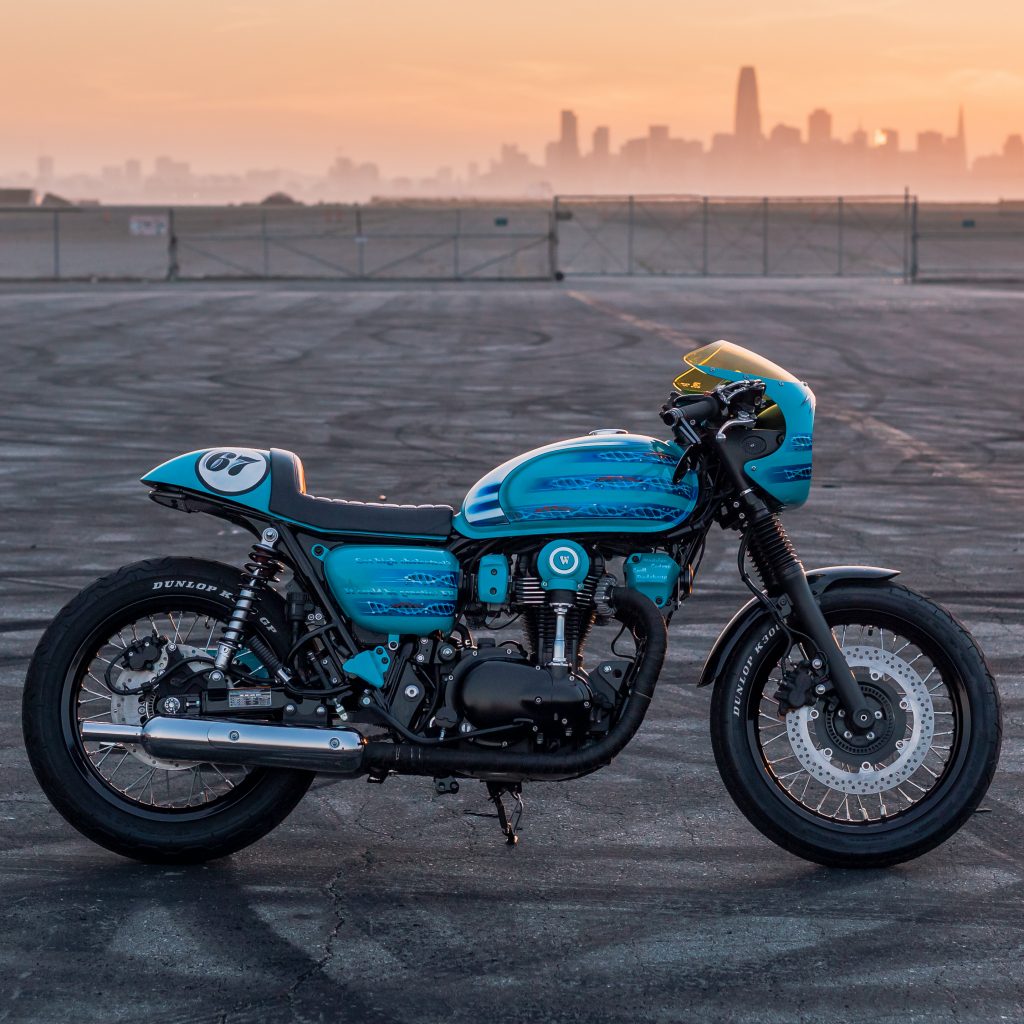 Scott grew up around motorcycles, raced them for a time, and generally spends a lot of time wrenching on them. He found a unique way to use his passion for motorcycles to raise awareness. The Café Racer displays hand painted DNA strands, inspirational sayings, and the FH Foundation website.
This past weekend, Scrappers Racing displayed the "Motorcycle that Saves Lives," a name Scott gave the bike after a car show where he showed the motorcycle and received an email after the event that someone had gone to get their cholesterol tested and were diagnosed with FH. The Radabaugh's will be camping onsite at Sonoma Raceway and cheering on the entire Scrappers Racing team. Salinas will also display FH Foundation decals on the scoop of her Pro Stock Motorcycle in hopes of raising awareness at the track and through media.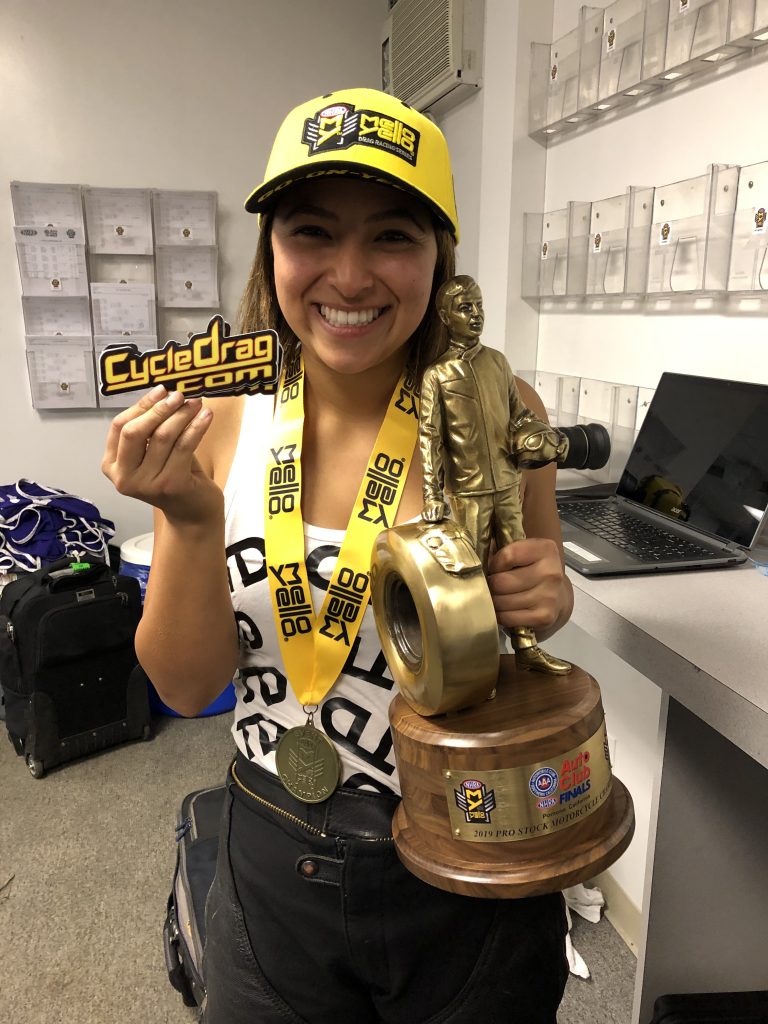 In the weeks leading up to the NHRA Sonoma Nationals, Salinas made plans to meet with Chloe to give her words of encouragement and learn more about her story. On Wednesday afternoon, they met for lunch at Alice's Restaurant, one of the most famous meeting places for motorcycle riders and enthusiasts. During the few hours they spent together, they exchanged gifts. Salinas gave Chloe the helmet that was scuffed up during the accident in Chicago as a symbol of perseverance and courage. Chloe gave Salinas a guardian bell that is meant to keep evil spirits and bad luck away from a rider's motorcycle. It was a heartfelt moment as they each shared the story behind their gifts and bonded.
Scrappers Racing, the Salinas family, and the Radabaugh family are hopeful this story reaches those who need it most. Please visit thefhfoundation.org for more information about testing diagnosis.
There are more videos on the Cycledrag Youtube channel (please subscribe here) and the Cycledrag.com Facebook page (Please like here) and more will be coming soon. Check back daily.