In sports and racing it's the team that gets hot at the right time who wins the championship title, not necessarily who has the best regular season. Former class champion Jerry Savoie is thriving after one of his worst regular seasons and one of the most dominant by Andrew Hines, who won seven of nine races heading into U.S. Nationals.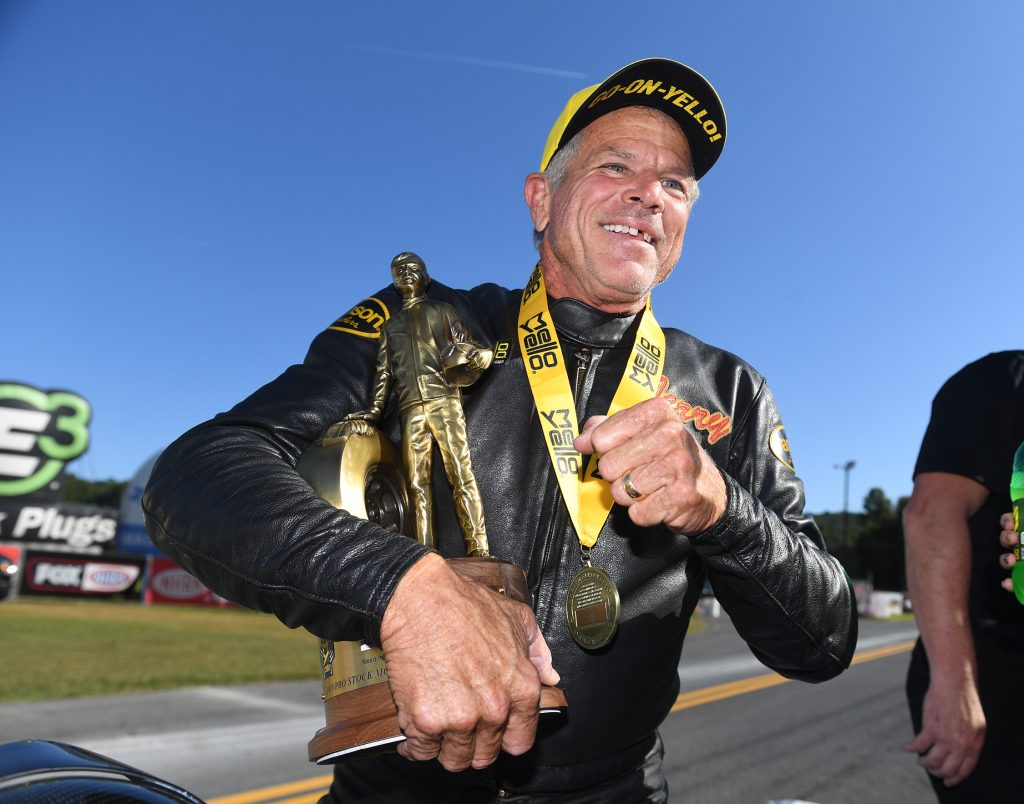 At the 35th annual Mopar Express Lane NHRA Nationals presented by Pennzoil from Reading, Pa.'s Maple Grove Raceway Savoie picked up his second consecutive win on his White Alligator Racing Suzuki. He took down Steve Johnson with his 6.774 lap at 198.55 in the final round and went on to claim the Pro Stock Motorcycle points lead.
"It was just a great, great day for everyone. My whole team. I don't take any of this credit. (Crew chief) Tim (Kulungian) and everybody on the team worked their butts off and here we are. At my age, I can do it. I didn't count on making the top 10 because I took three races off. And, bam! Here we are. No one, not even myself expected this."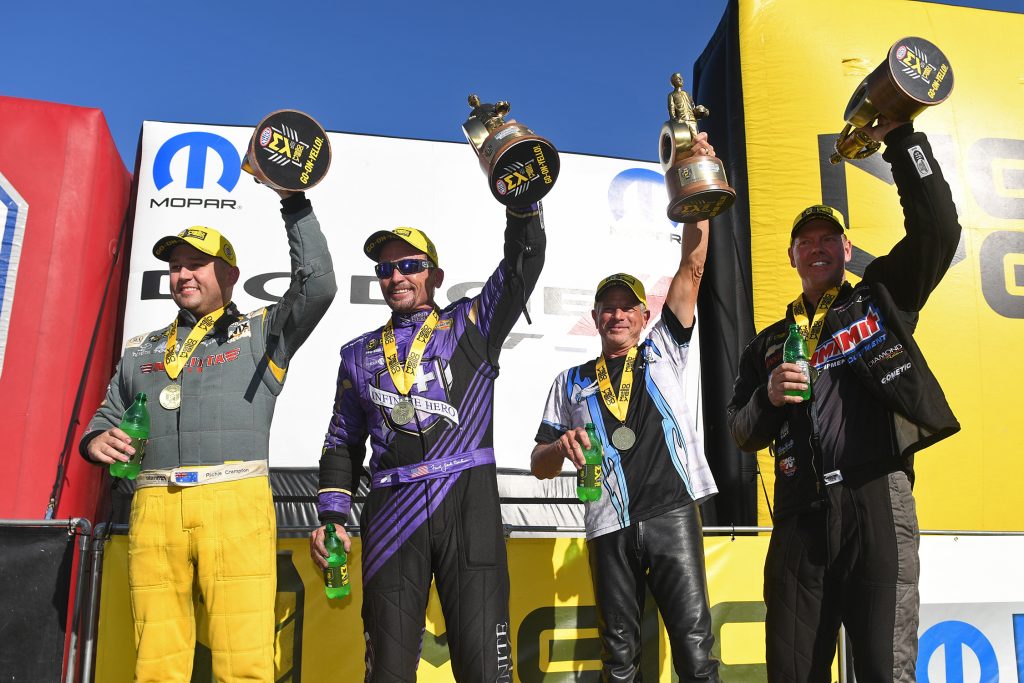 The Mello Yello Drag Racing Series continues Sept. 27-29 with the second race of the Mello Yello Countdown to the Championship playoffs, the AAA Insurance NHRA Midwest Nationals at World Wide Technology Raceway in St. Louis.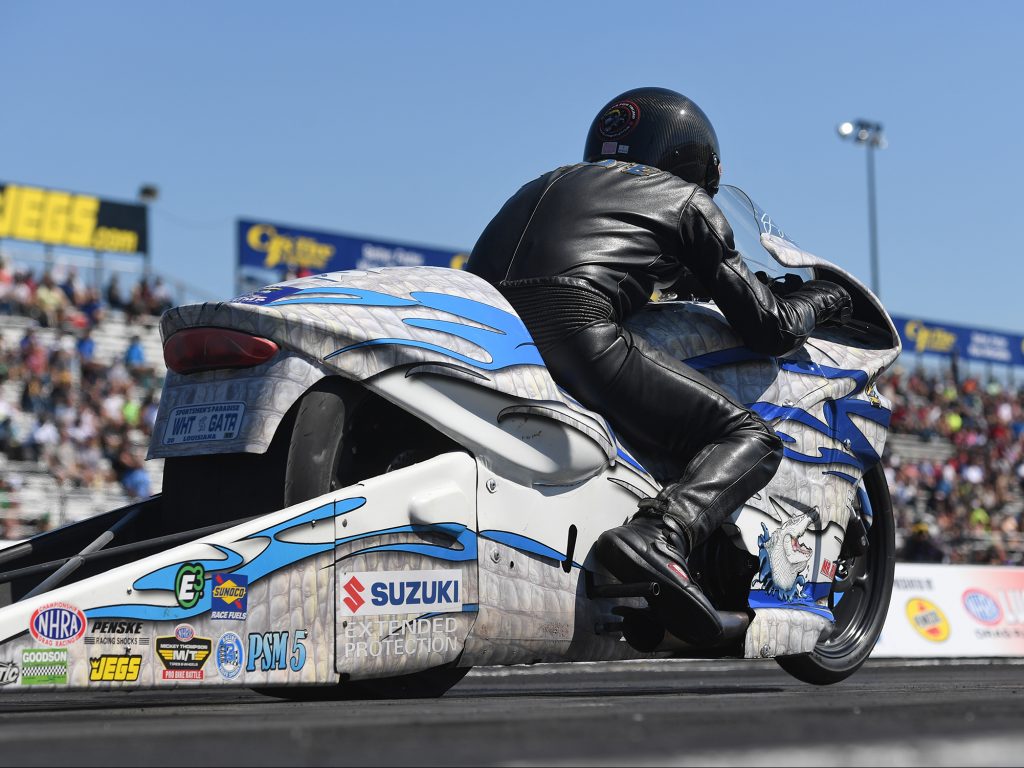 ROUND ONE — Matt Smith, 6.843, 198.15 def. Scotty Pollacheck, 7.109, 192.91; Jerry Savoie, Suzuki, 6.807, 195.11 def. Hector Arana, Foul – Red Light; Eddie Krawiec, Harley-Davidson, 6.891, 196.36 def. Angie Smith, 6.902, 196.19; Steve Johnson, Suzuki, 6.837, 194.72 def. Kelly Clontz, Suzuki, 6.971, 193.18; Hector Arana Jr, 6.897, 197.19 def. Ryan Oehler, 6.946, 194.46; Karen Stoffer, Suzuki, 6.822, 197.31 def. Ron Tornow, Buell, Broke – No Show; Angelle Sampey, Harley-Davidson, 6.865, 195.03 def. Jianna Salinas, Suzuki, 6.976, 191.40; Andrew Hines, Harley-Davidson, 6.871, 197.31 def. Michael Ray, 7.009, 189.71;
QUARTERFINALS — M. Smith, 6.862, 199.58 def. Sampey, 6.857, 196.07; Johnson, 6.854, 195.42 def. Arana Jr, 6.967, 192.08; Stoffer, 6.847, 196.96 def. Krawiec, 6.878, 196.70; Savoie, 6.818, 197.10 def. Hines, 6.904, 196.44;
SEMIFINALS — Johnson, 6.834, 195.70 def. M. Smith, 6.847, 198.64; Savoie, 6.818, 196.42 def. Stoffer, Foul – Red Light;
FINAL — Savoie, 6.774, 198.55 def. Johnson, 6.805, 196.59.
Points
1. Jerry Savoie, 2,166; 2. Andrew Hines, 2,160; 3. Matt Smith, 2,143; 4. Eddie Krawiec, 2,134; 5. Karen Stoffer, 2,120; 6. Hector Arana Jr, 2,117; 7. Angelle Sampey, 2,083; 8. Angie Smith, 2,062; 9. Ryan Oehler, 2,042; 10. Hector Arana, 2,032.
There are more videos on the Cycledrag Youtube channel (please subscribe here) and the Cycledrag.com Facebook page (Please like here) and more will be coming soon. Check back daily.