Racing for a good cause – it's time to once again Paint the Quarter Pink!
One of the world's largest all-motorcycle drag races/festivals, the International Drag Bike League (IDBL) WPGC Bike Fest from Maryland International Raceway, July 28-30, will again include a special fundraiser to help those battling breast cancer.
"We give directly to cancer patients," said Cynthia Seaborne of Bikers Against Breast Cancer. "These people may be fighting to pay even a cell phone or electric bill while they are going through chemo. This money means so much to them"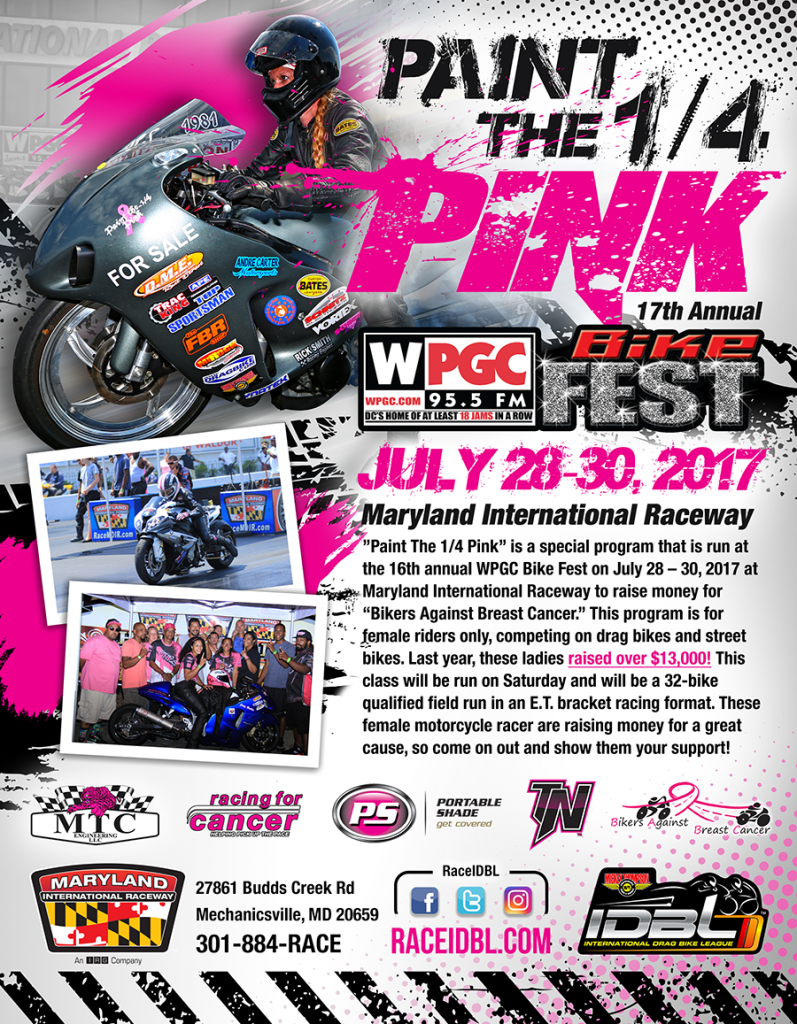 On Saturday, July 29th a special all-female, "Paint the Quarter Pink" bracket race will take place. The IDBL and Maryland International Raceway are granting all competitors free entry, as long as they have purchased a tech card for another class. The winner of the race will receive a trophy, winner's circle photos and of course bragging rights as the top female dragbike racer in the region.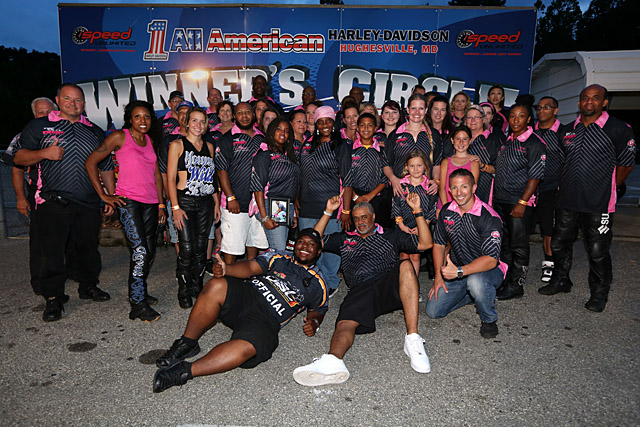 The real winner will be decided by who can raise the most funds. Most of the ladies began their fundraising campaigns weeks ago. Donations will be accepted all-weekend long and a winner will be announced on Sunday afternoon. Portable Shade and MTC Engineering will crown the winner with personalized racing umbrellas.
Eric Hochstetler of Portable Shade has been a key contributor of the program for the past five years and says, "We think this is a great cause. Cancer affects everyone and this is a great opportunity to help."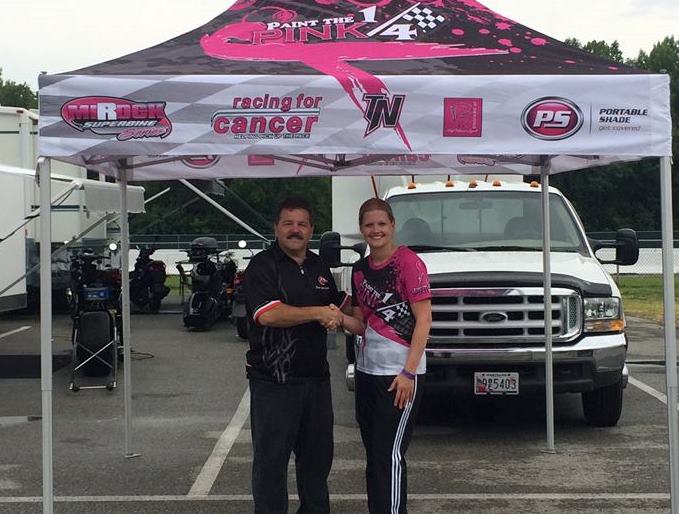 Portable Shade has again created great-looking custom shirts for the event that can be pre-ordered up until June 30th through last year's winner and Pro Stock Motorcycle racer Kelly Clontz. The high-quality shirts are only $40 with proceeds going to Bikers Against Breast Cancer. To order a shirt please reach out to Kelly Clontz on Facebook or email her at klms7881@aol.com before June 3oth.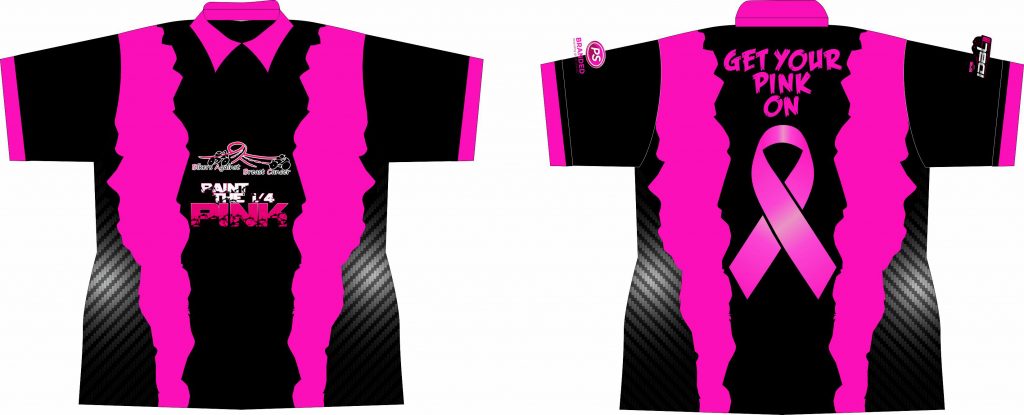 Last year Clontz earned herself top honors on the strength of raising an impressive $3, 120.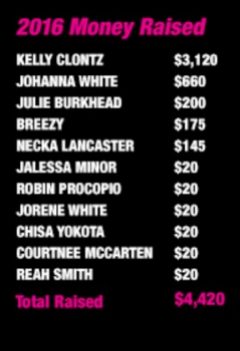 "This money goes to people who really need it, people who are going through a struggle. It's important to me and makes me feel great to help," Clontz said. "I've had skin cancer and fortunately I caught it early. You really never know when something can happen to you."
Clontz also has breast cancer ribbons available for one dollar.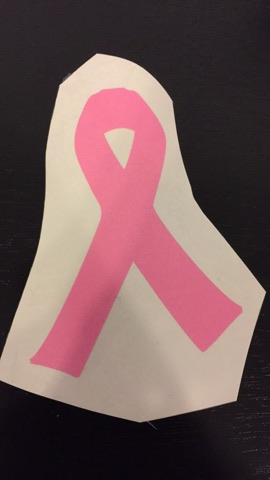 Hochstetler a issued a challenge to other drag bike related businesses.
"If your company is involved in racing in anyway please help us contribute to reward these ladies for raising funds," Hochstetler said. "Any extra prizes or incentives we can add will help them raise even more money."
Any company wishing to donate to the race can contact IDBL President Jack Korpela at Jkorpela@RaceIDBL.com
Korpela issued a challenge of his own.
"It's a golden opportunity to help those in need while doing something we love," Korpela said. "I'm challenging every female racer in the country to please get to this race to compete on Saturday. I'm challenging everyone, male or female, racer or not to please come out to this event, put on a shirt and make a donation to a great cause. Get those GoFundMe pages going and let's break a new record for money raised. We all know someone who has been devastated by cancer. This is our way of fighting back."
For more information about the WPGC Bike Fest from Maryland International Raceway, July 28-30,please visit RaceIDBL.com.