Steve Johnson and his Slick 50 / USA Electric Suzuki enjoyed a banner two weeks in the NHRA Camping World Drag Racing Series. On Sunday, April 24th at the NHRA SpringNationals at Houston Raceway Park, Johnson picked up his first Pro Stock Motorcycle win of the season. The veteran racer then took over the championship points lead by capturing another victory just seven days later on Sunday, May 1 at the Circle K NHRA Four-Wide Nationals at zMAX Dragway.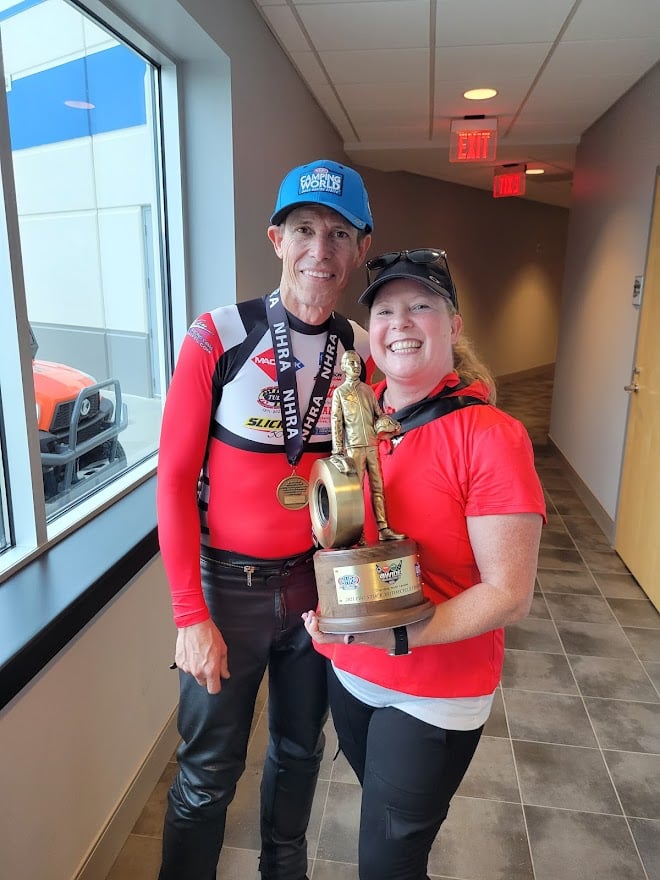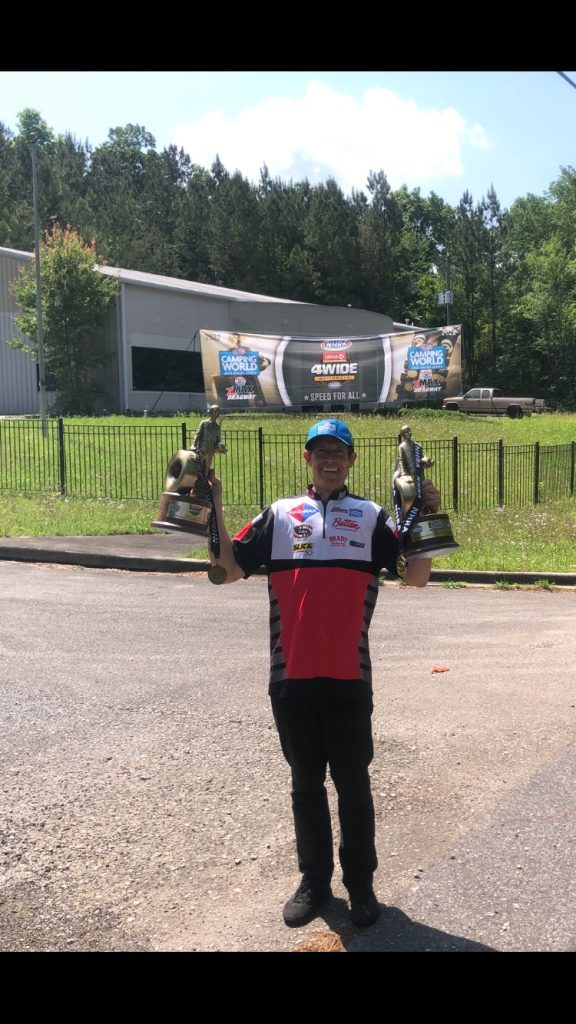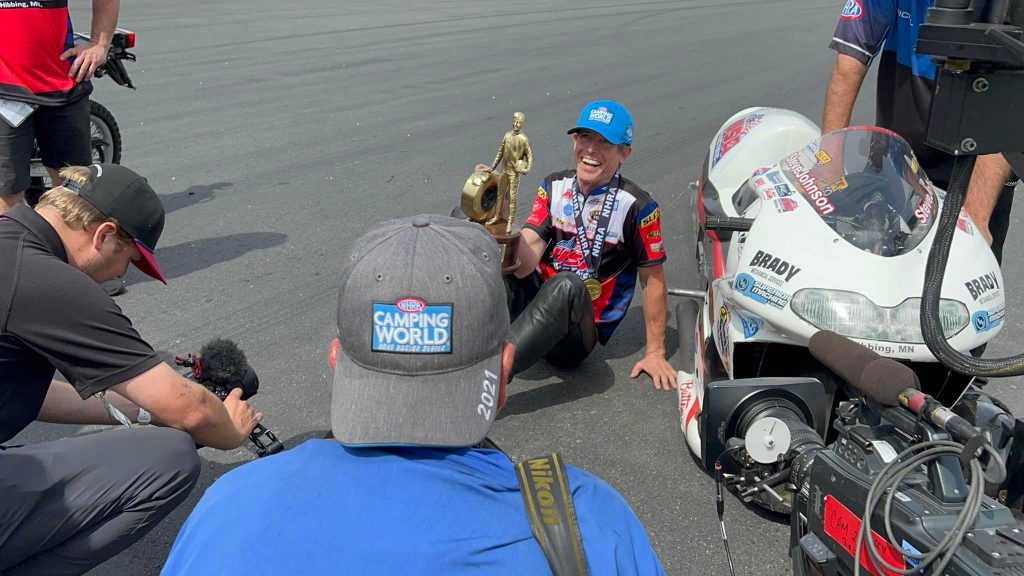 Qualified in the No. 2, position, Johnson was simply dominant during eliminations at Houston Raceway Park, making the quickest run in Houston history in the opening round and then setting both ends of the track record a round later with a pass of 6.711-seconds at 201.55 mph.
Johnson knocked off Vance and Hines Factory Suzuki rider Eddie Krawiec to advance to the finals, where he put together another strong run going 6.720 at 199.91 on his Slick 50 Suzuki to beat longtime rival and defending world champ Matt Smith in the finals to earn his 10th career win and first at Houston Raceway Park.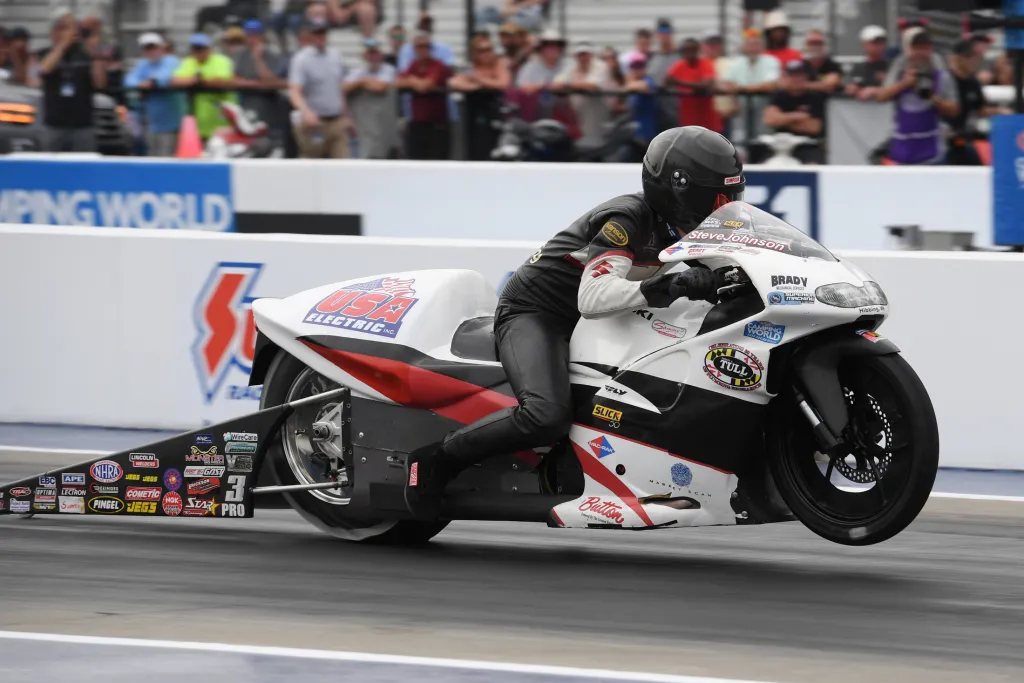 "Anytime you can get by factory riders like the Vance and Hines team is a day of gratitude. To think my finals opponent, Matt Smith, was able to bring out a spare bike after hurting his Suzuki is pretty incredible. It's allowed, even in the fuel categories, if you wreck or hurt an engine, you can bring out a back-up car or bike on race day," Johnson said. "We have a spare tire for the truck and trailer, a spare chain and spare NGK Spark Plugs, but not an entire spare Pro Stock Motorcycle. In any case, my guys prepped our Slick 50 Suzuki perfectly and we won the race against Matt's Buell.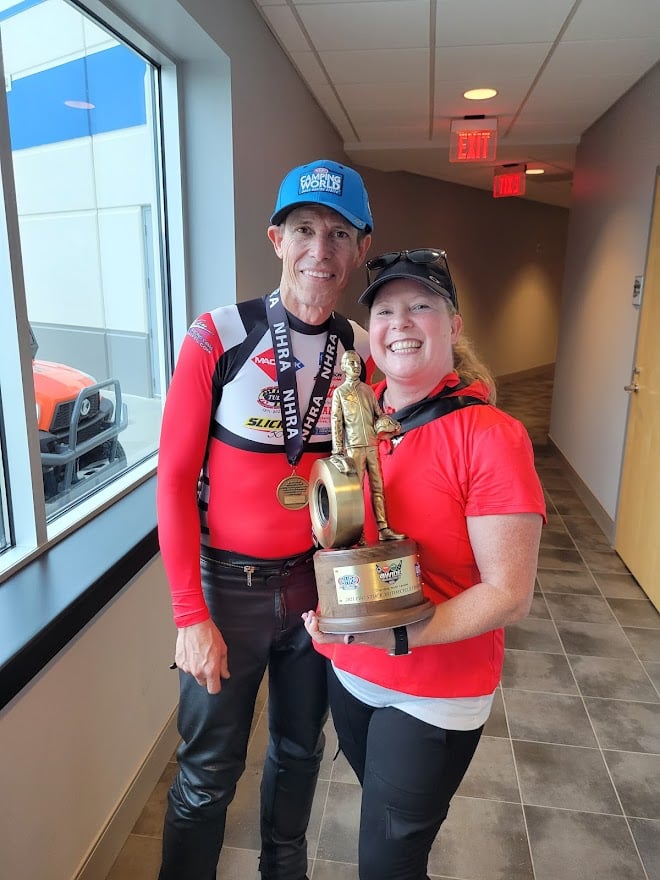 The domination continued into the following weekend where Johnson raced to his second straight win and a second consecutive victory at the Circle K NHRA Four-Wide Nationals. Johnson went 6.740 at 200.65 on his USA Electric Suzuki in the finals, easily distancing himself from Karen Stoffer, Eddie Krawiec and Joey Gladstone. At zMAX Dragway, Johnson had the quickest bike of every session during eliminations, including an impressive run of 6.712 at 201.40 in the second round that set the track record.
"These bikes, they're so hard to ride perfectly," Johnson said. "We made some good runs today, but it's never going to be an easy day in this class. For us to win, it's special and this track is always a special place. Anytime you can win and win a race at a Bruton Smith track, you're killing it and doing a great job.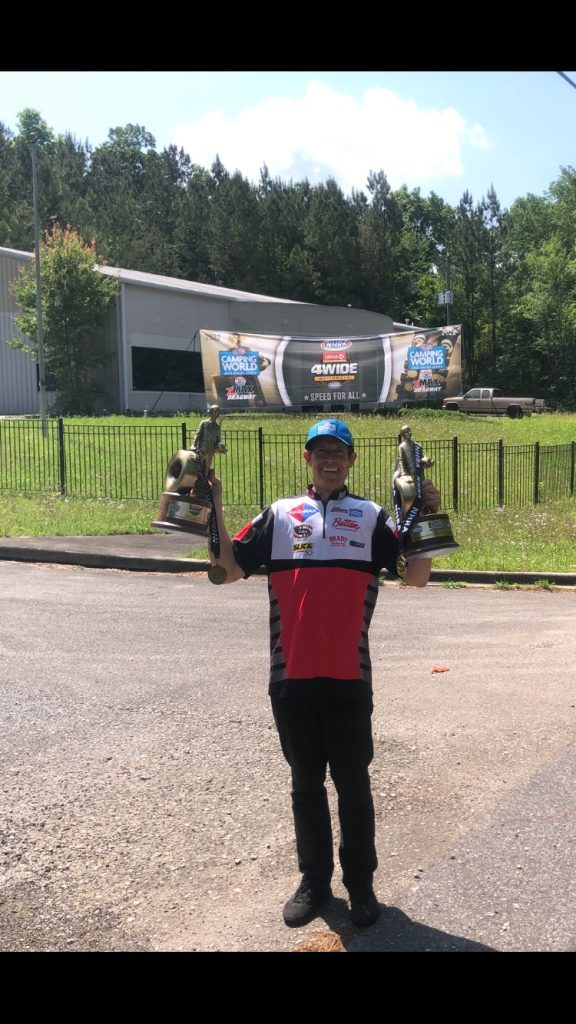 "Performance and wins like these all start back at the shop," Johnson continued. "This is a huge accomplishment for us. Most people that know me understand NHRA Drag Racing is my career path that gives me a platform to talk about my initiative to engage young people to skilled trades especially in the automotive, diesel and motorcycle fields. Winning is a huge key to spreading the word. I made a few huge mistakes before the Gatornationals in Florida. After some direction from my buddy Chris (Dalton) I learned and moved on with Barry Kuscavage and Jock never let Gainesville planning hit us again. I really felt like we had a good bike for Houston, it just took a couple of runs to get the gearing, jetting, wheelie bars, timing and aero tuned in right and we were able to carry that over to Charlotte just a week later."
Johnson would like to thank sponsors, Slick 50, Tull Plumbing, Button Transportation, Market Scan, Mac Rak, Superior Machine, Brady Mechanical, Sammy's Pizza, WPS/Fly, Mickey Thompson, Nostalgia Street Rods, Erickson, NGK, WireCare, V-Twin Powersports, Monster, Star Racing, FBG, High Performance Lubricants, Web Cams, Cometic, Pingel, EBC Brakes, Beringer, APE, Worldwide bearings, Trac, and ISC."
Next event for NHRA Camping World Drag Racing Series Pro Stock Motorcycle series May 13-15 at Virginia Motorsports Park for the Virginia NHRA Nationals just outside of Richmond, VA.
There are more videos on the Cycledrag Youtube channel (please subscribe here) and the Cycledrag.com Facebook page (Please like here) and more will be coming soon. Check back daily.