Most drag racers live by the cliche, "never give up."
Drag Racing is an incredibly challenging sport and the long nights in the garage, the mad thrash in the pits and the expensive broken parts are all reasons to go find something else to do with one's time and money. Yet, the most successful racers understand a hard-nosed, never-say-die attitude is what it takes to prosper. Perhaps no one understands this more than Top Fuel Motorcycle rising star Mitch Brown, 53, of Clearwater, Kan.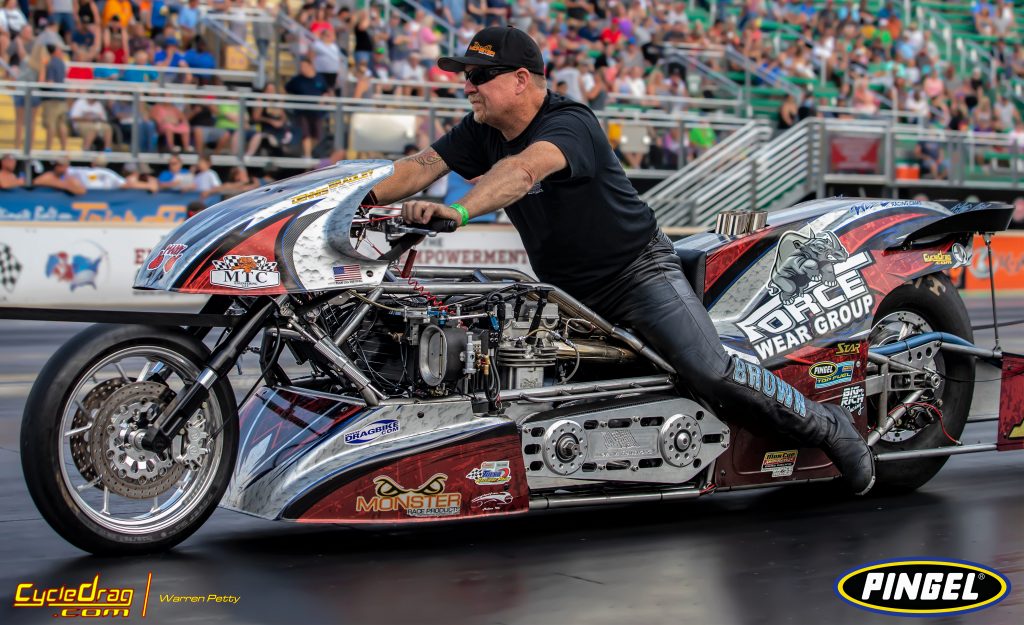 In just five years of demanding and arduous four-cylinder nitro racing, Brown is building a reputation as a racer who can do more with less. He's become the Oakland A's or Minnesota Twins of Top Fuel Motorcycle racing.
That comparison was again proven to be legit in Norwalk.
Brown is fresh off a stunning, come-from-behind, upset-laden weekend at arguably the biggest single-day drag race of all-time, the Pingel Top Fuel Motorcycle Shootout presented by Cycledrag at the sold-out Kelly Night Under Fire at Summit Motorsports Park in Norwalk, Ohio, Aug. 7.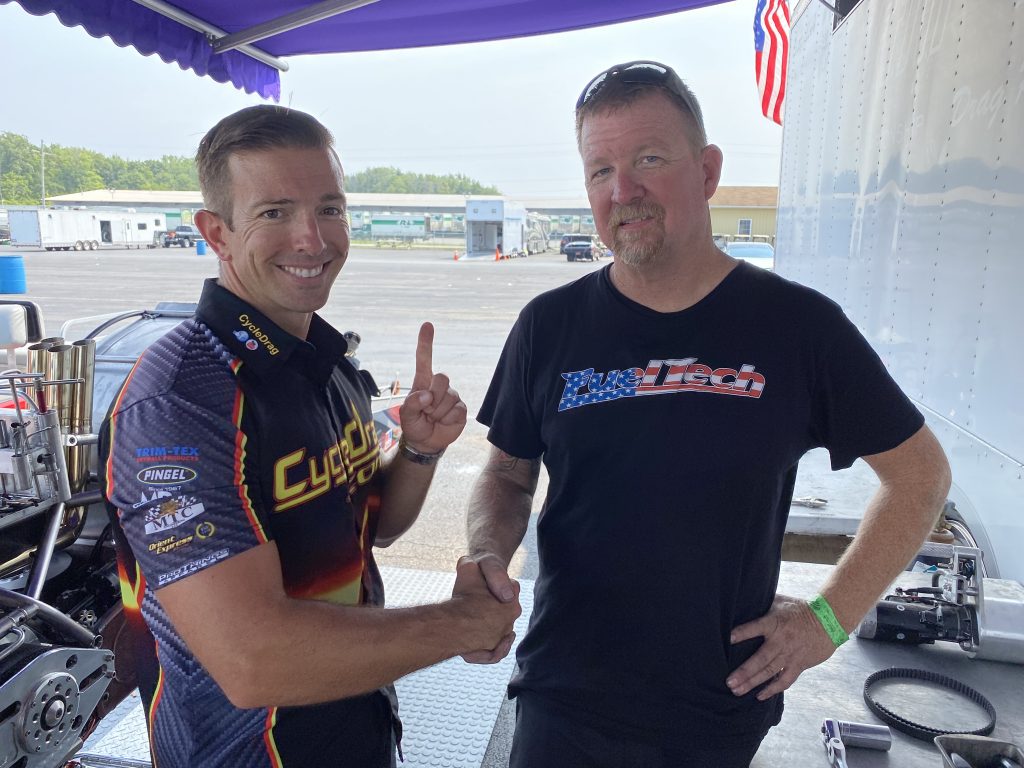 In a final round pushed to Sunday morning, instead of Saturday night due to a freak power outage, Brown's motorcycle threw a blower pulley off at about 60-feet. Brown was left to dejectedly watch nitrous Pro Mod racer Ashley Owens cruise to an easy win.
Then an occurrence nearly as shocking as the power outage happened.
On what looked to be a sure victory for Team McKinney, Owens crossed the centerline and took out the 1000-foot cone, disqualifying the legendary nitrous racer and illuminating the win light in Brown's lane.
The upset kid with a rabbits foot and a golden horseshoe struck again.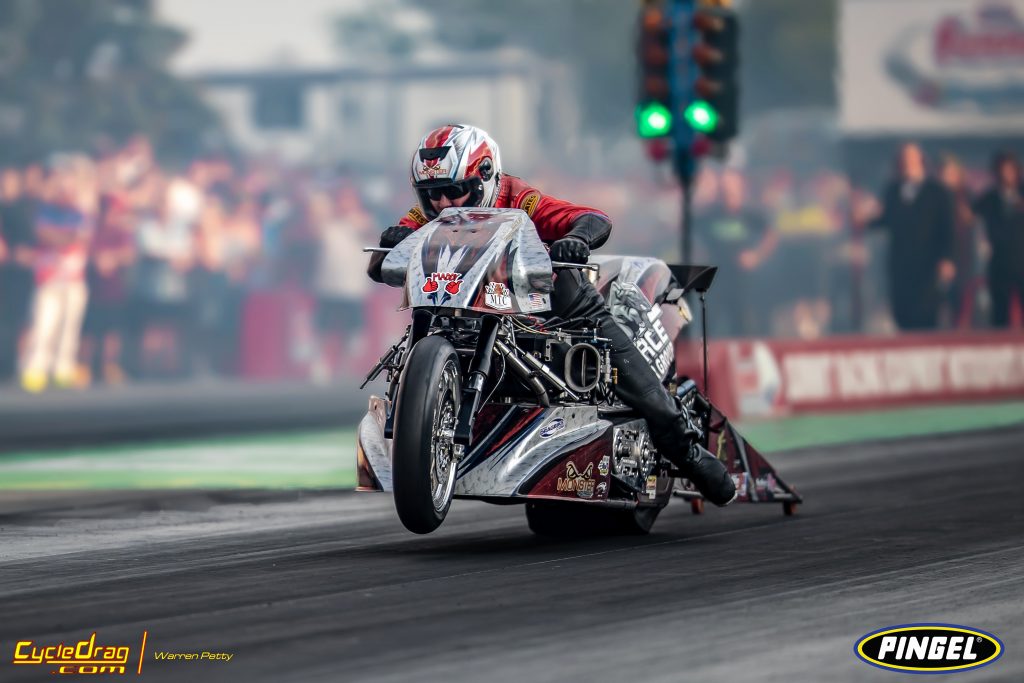 Some called it luck.
Hard-working Brown was quick to counter with another great racing cliche,"luck is when preparedness meets opportunity."
They are words to live by for Brown and overcoming the odds is certainly nothing new for the longtime motorcycle drag racer who is relatively fresh to Nitro racing.
In 2018 Brown collected his first Top Fuel victory in remarkable fashion at the Man Fun Cup Finals in what was one of the most competitive fields ever, stacked with several five-second motorcycles. Running consistent 6.20s, Brown was able to reach the final and upset proven five-second performer Ian King.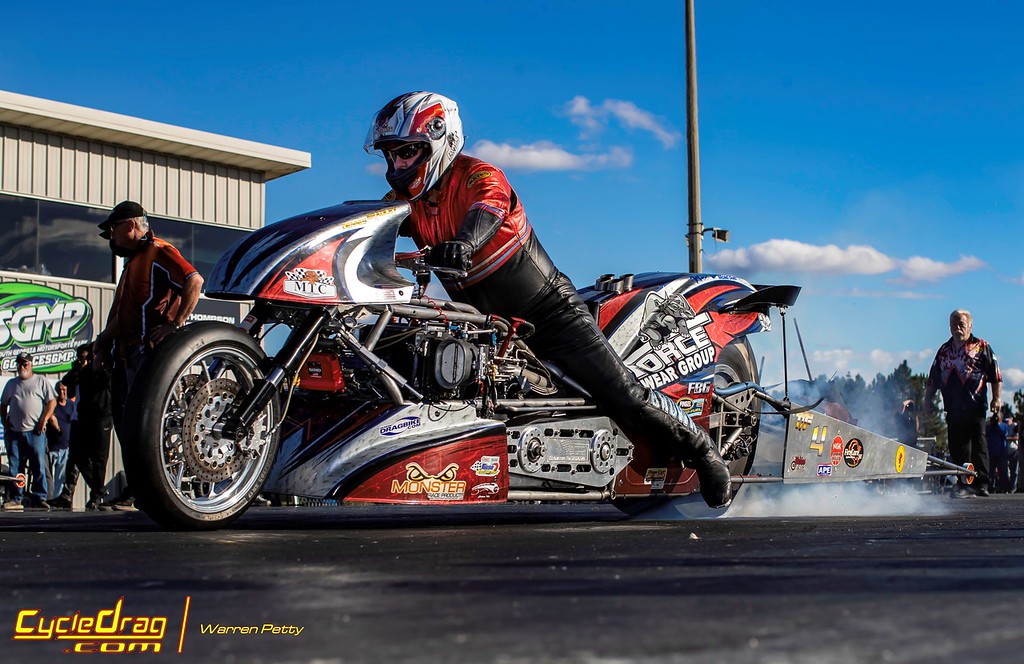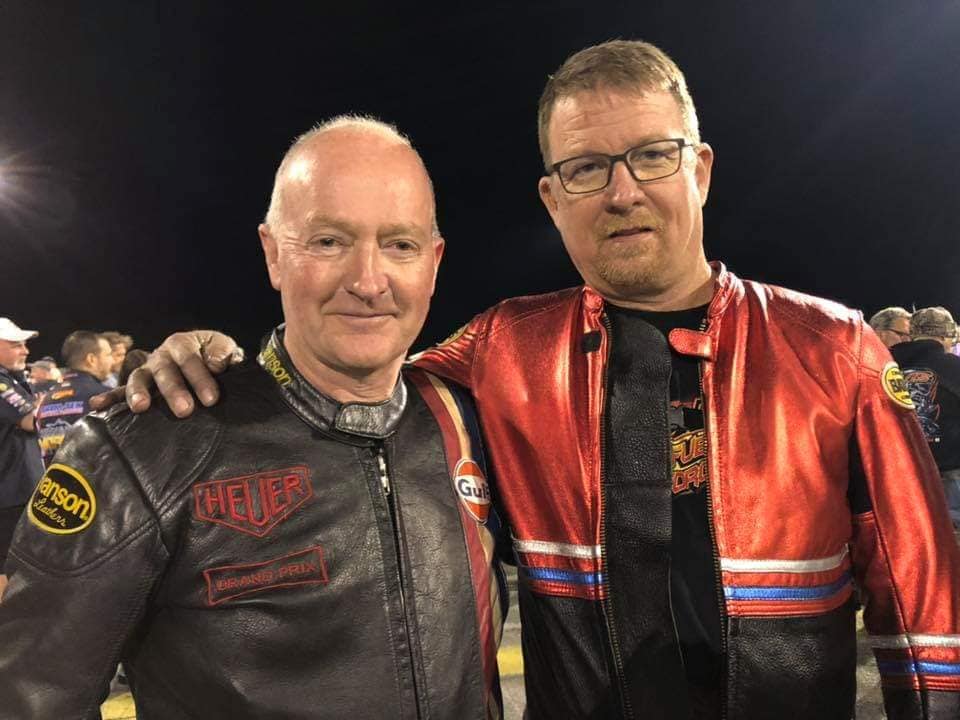 Last season Brown became the first racer to win a Top Fuel championship other than Larry "Spiderman" McBride since Jimmy "Hulk" Brantley broke the Spiderman's string of dominance back in 2005. Brown scored valuable points as the only motorcycle entered in competition at Ohio's Dragway 42 race, which lifted the racer to a title. It was yet another example of preparedness meeting opportunity.
The 2020 Man Cup Finals was Brown's last official race prior to Norwalk and much had changed on his motorcycle since running his first five-second pass in at that Valdosta event. The biggest change came with Brown switching to a Fuel Tech system, marking the first time a Top Fuel four-cylinder motorcycle has tried such a unit.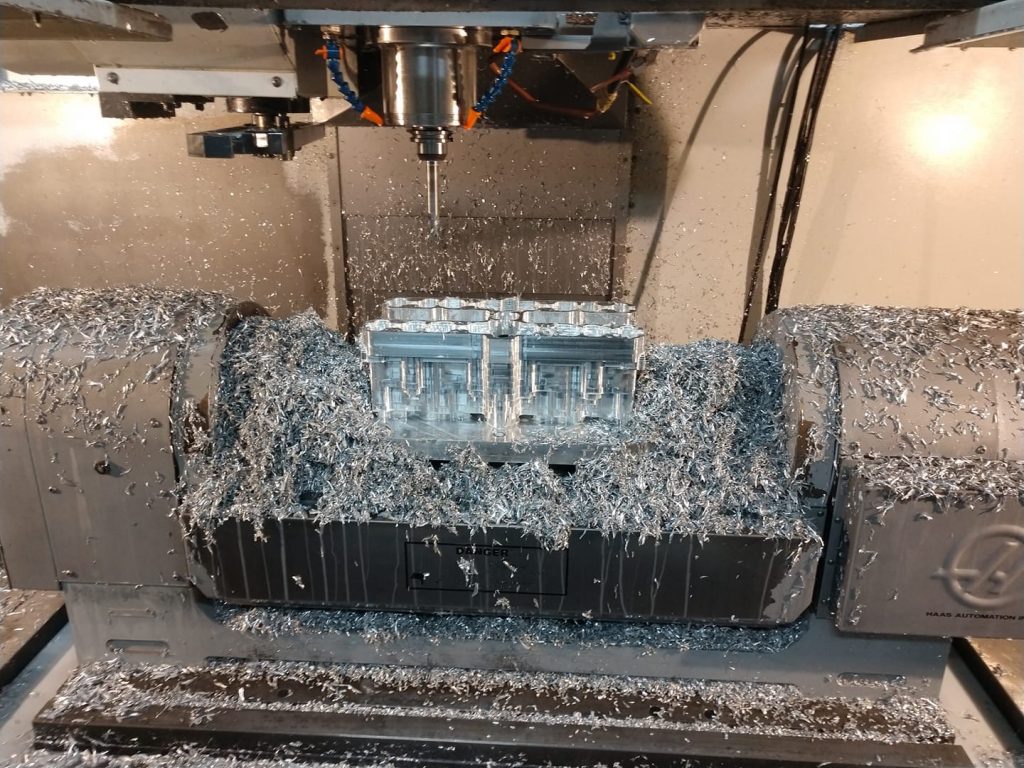 Long nights in the race shop leading up to Norwalk were agonizing. Not to mention Brown is ultra busy with his Monster product line, including the NHRA Pro Stock Motorcycle four-valve head. Getting his Fueler ready was a grind.
"I wanted to give up about two or three times in the last few weeks. I just didn't think I was going to get it done in time," Brown said. "It was pretty rough to go to Norwalk with a completely unproven bike. I was stressed. I just kept working and hoping we were heading in the right direction."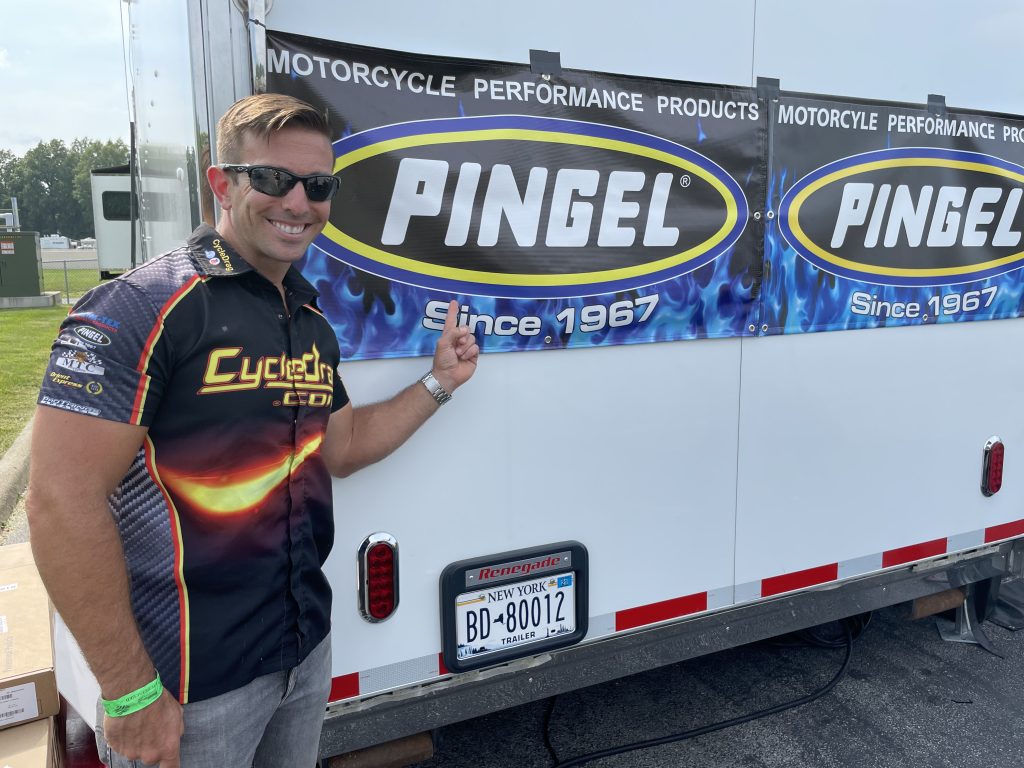 Plus the chance to showcase his program at the largest drag race in history was prime motivation. As expected the event was jam-packed, with not a single seat or parking spot left open by the start of the show at 7 PM.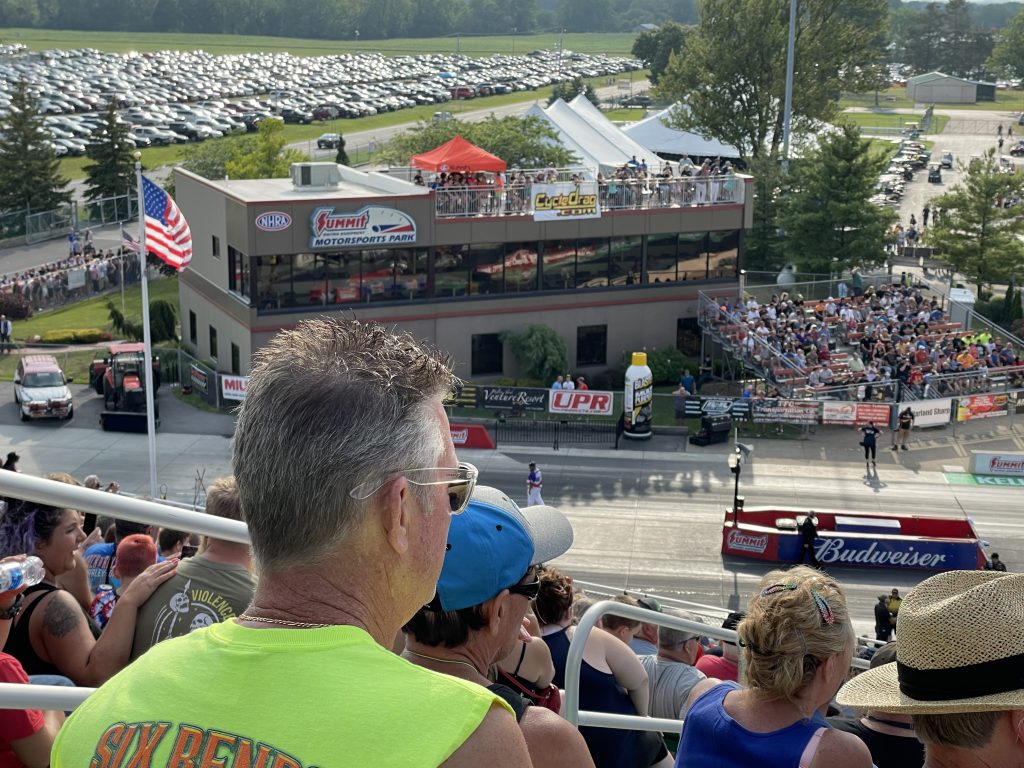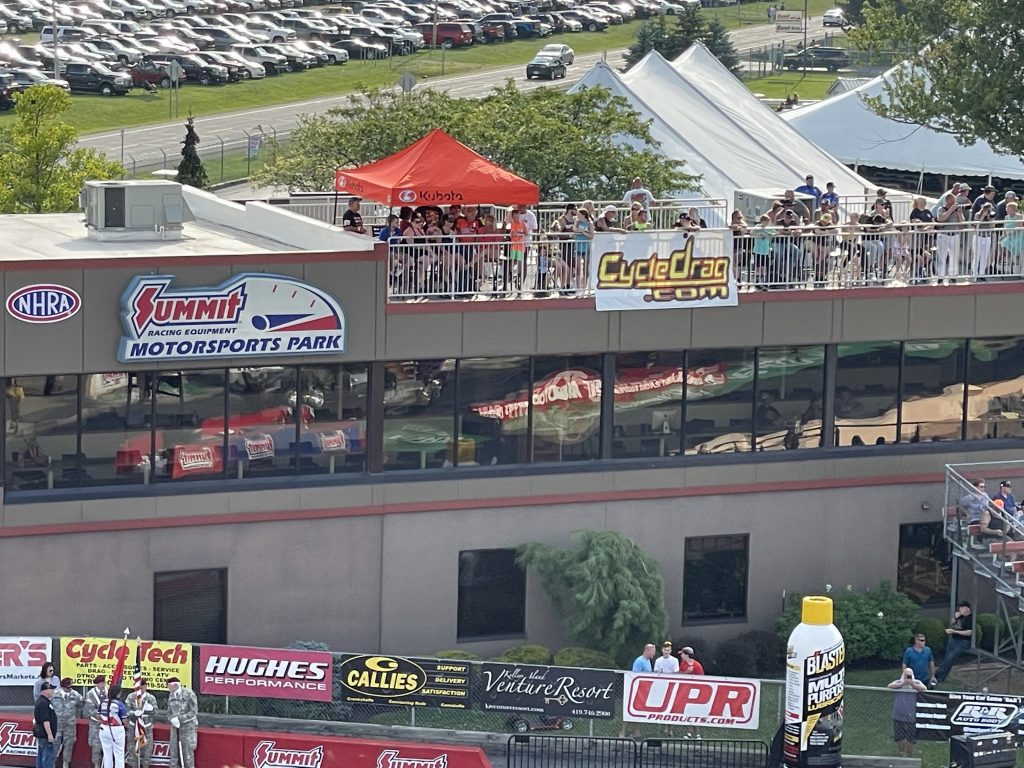 "I knew this race would be a very important opportunity and we had to do everything in our power to be a part of it," Brown said.
Not only a coveted opportunity but Norwalk would be a unique challenge indeed with only two qualifying sessions slated for the event. The lack of testing opportunities for most teams made it difficult to pick a pre-race favorite. Throw in the last minute cancellation of veteran Chris "Redneck Express" Hand and the absence of world record holder Larry "Spiderman" McBride, recovering from knee replacement surgery and an emergency appendectomy, the race was wide open.
Fresh off a 6.05 in the XDA, turbo racer Billy Vose was certainly one to keep a close watch on.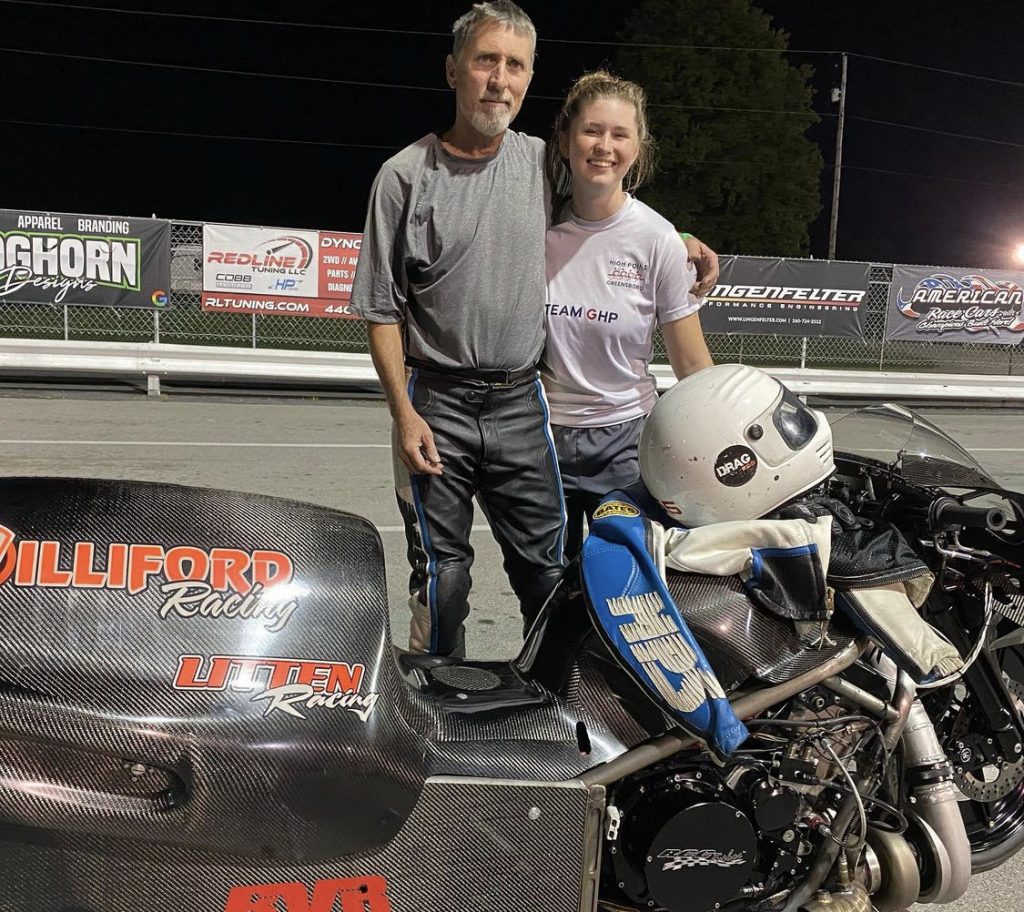 The first qualifying hit was delayed several hours on Friday night due to a massive, record-breaking turnout of bracket cars in Norwalk. At around 10:30 PM Brown used Friday as a planned shut off and collected preliminary data.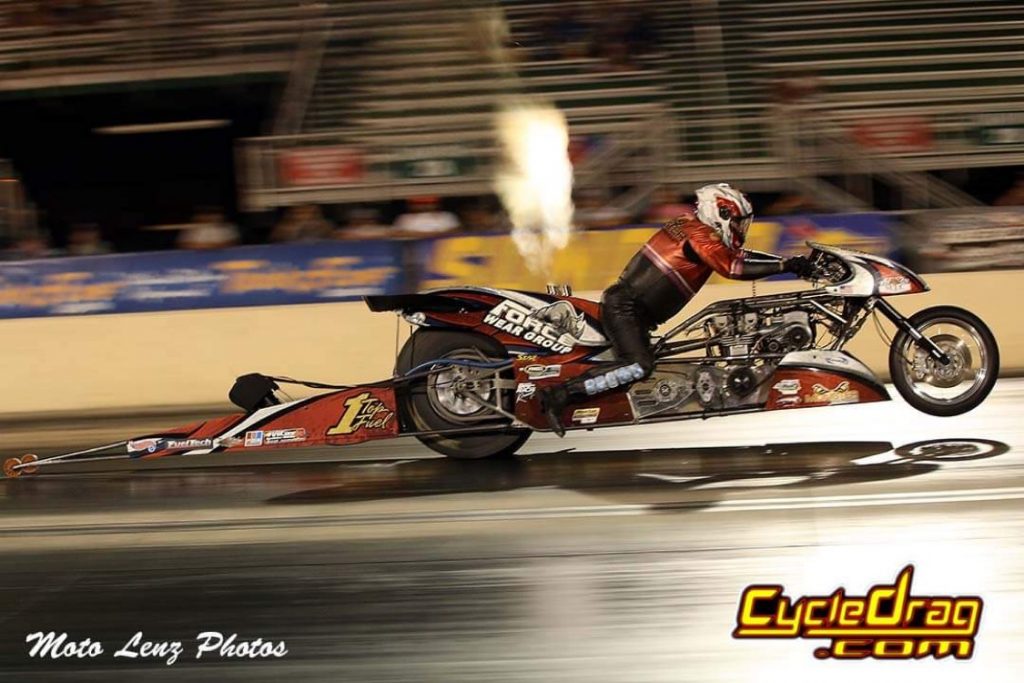 "When you switch to the Fuel Tech everything is different. We had absolutely no data to go off of. We switched the clutch cannon control and fuel lean out control from pneumatic (air) to electric. It was the way to go but it changed all of our settings. We were starting over from scratch," Brown said. "In qualifying we knew we could make fairly short runs so we could get data. We were only going 600 to 700 feet."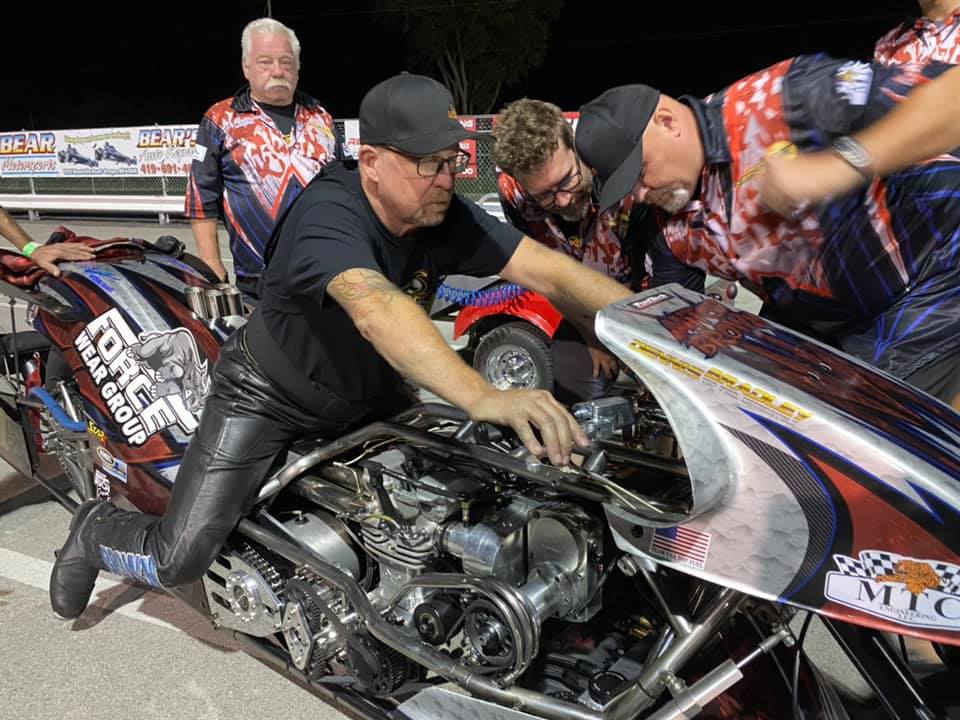 On Saturday morning Brown lifted his confidence in his new set-up and seized the No. 6 qualifying position with a 6.95 at 149 mph.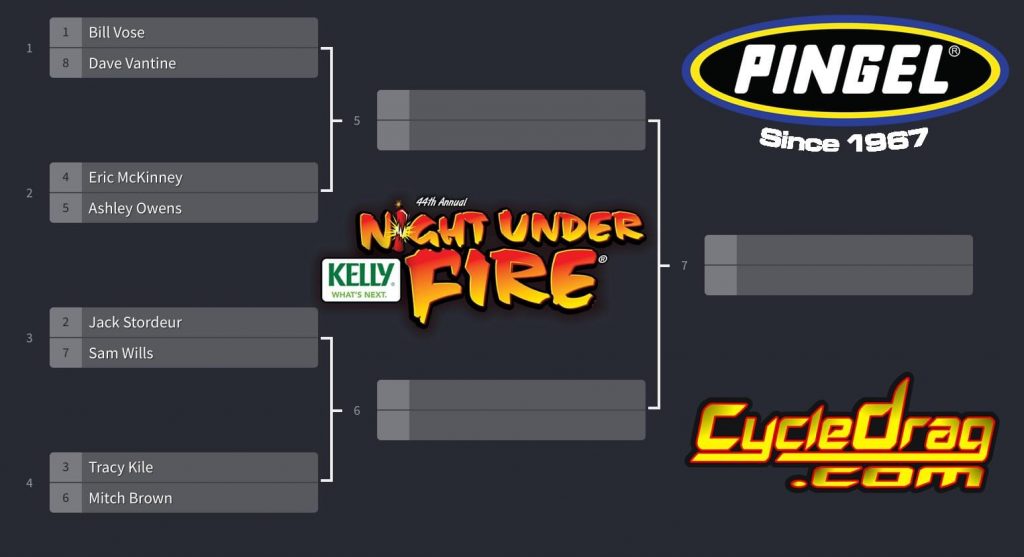 For Saturday evening's opening eliminations in front of a gigantic, record-breaking crowd, Brown was paired with No. 3 qualifier, the Nitro Harley of Tracy Kile and his "Bad Apple" machine with proven 6.20-potential.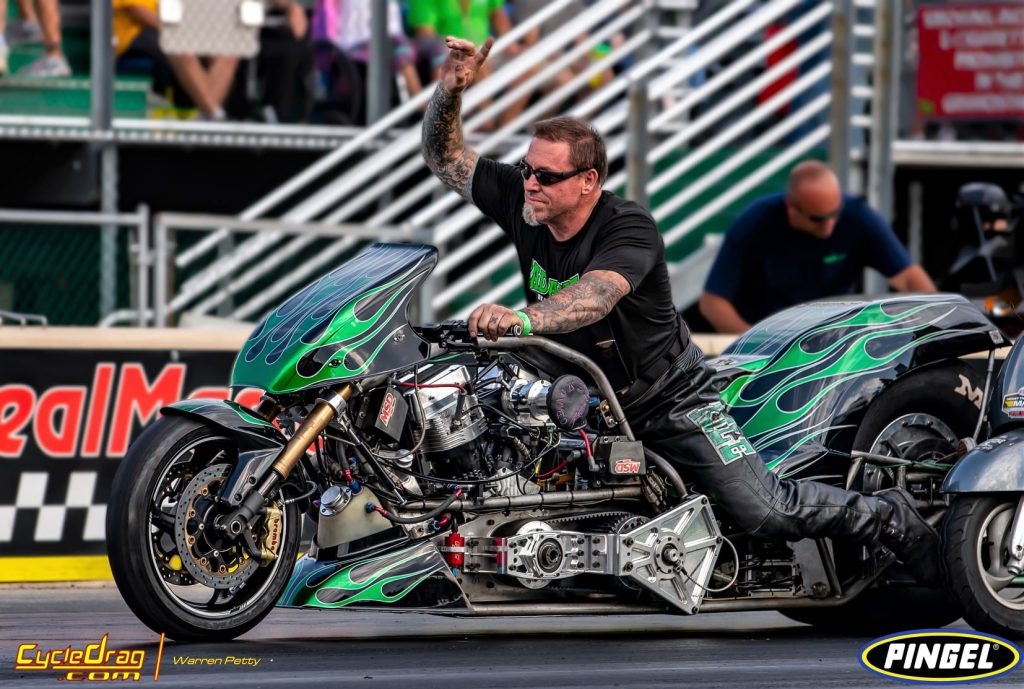 Brown knew he would need something special to get by Kile.
Brown scored a .179 to .221 holeshot and took a narrow victory with a 6.50 at 180 mph to hold of Kile's 6.60 at 211 mph.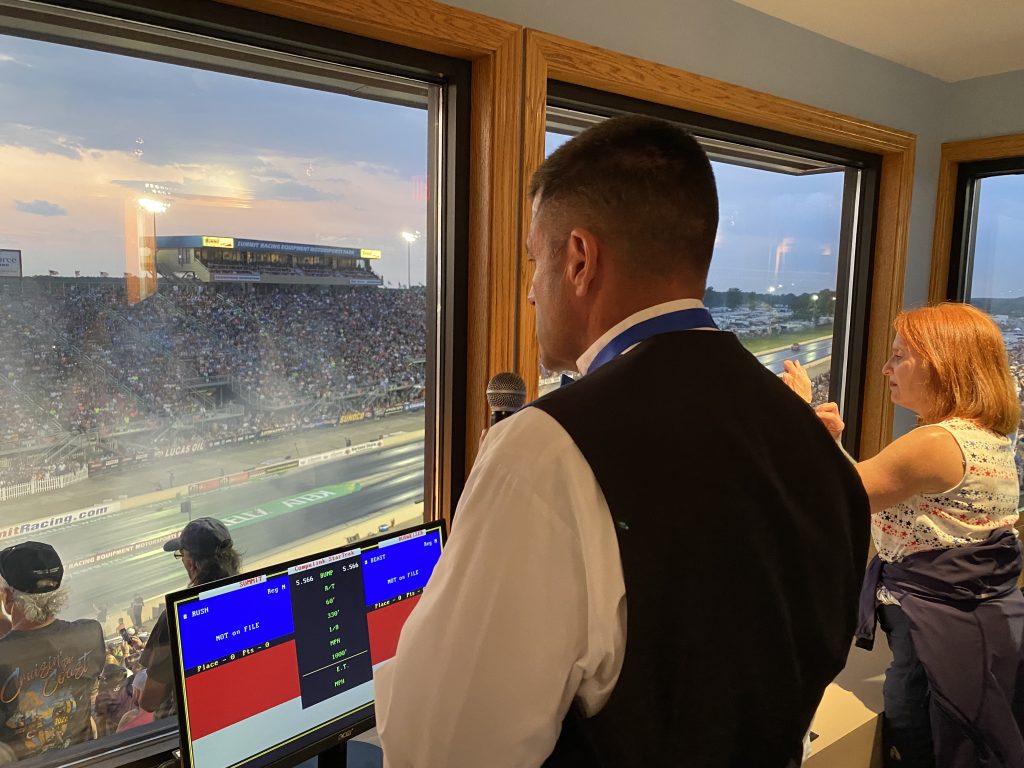 "I let off at 800 feet and he almost got around me," said Brown, still learning what has become known as a tricky Norwalk stopping area for motorcycles. "We really dodged a bullet because he almost caught me. Tracy is a super solid guy and probably going to run 6.30s most of the time."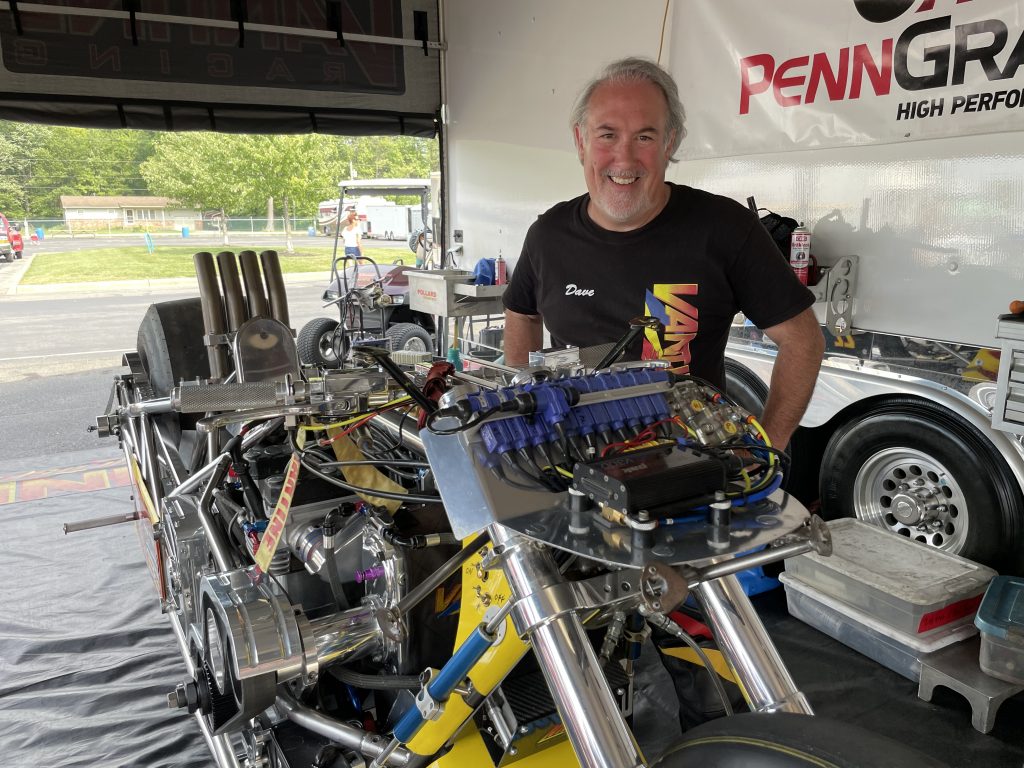 It had Brown reminiscing on a similar first-round upset last year at the Man Cup finals where he took out Dave Vantine to win the championship.
"It felt just like last year against Dave," Brown said. "You just go up there hoping for the best, knowing you need to step up."
"Big Daddy" Don Garlits always said he felt the first round was the hardest. It was looking that way for Brown too as the drag racing gods smiled on the defending Man Cup champ again, awarding him a bye into the finals when No. 2 qualifier Jake Stordeur broke a jackshaft against Sam Wills in his 6.49 to 6.46 holeshot victory in the opening round.
The run was even more disastrous for Wills who experienced a rear break failure and went into the sand trap. Fortunately the veteran rider was unharmed.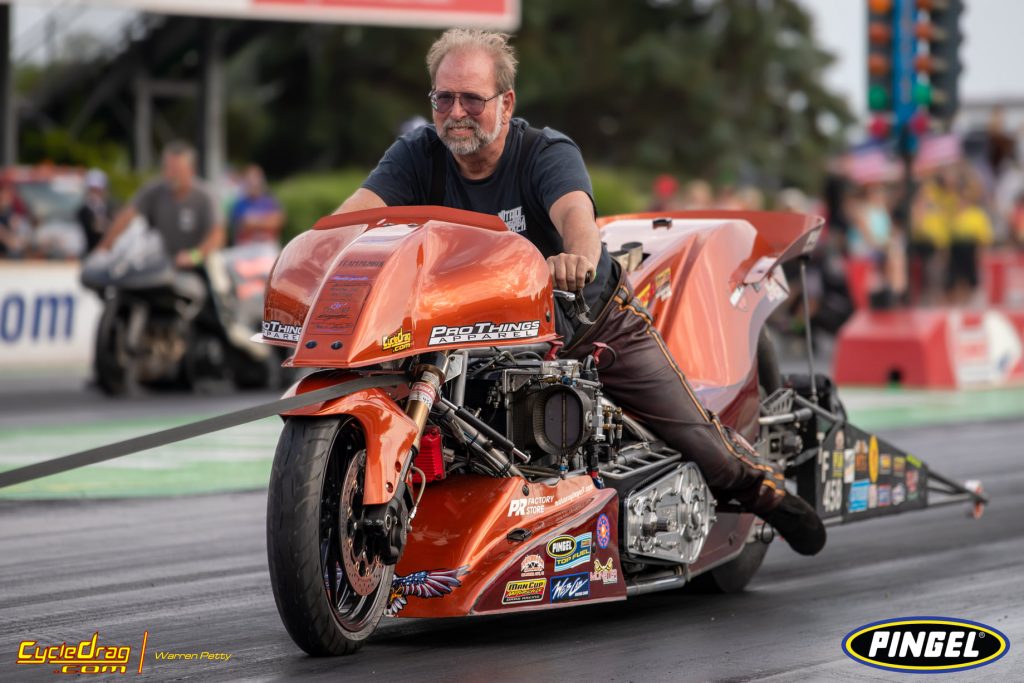 Stordeur was without a spare jackshaft and all Brown had to do was break the beam to advance to his second consecutive final round.
In the other semifinal Vantine opted to switch lanes after the jet truck of Bob Motz created a massive cleanup in the right lane. Perhaps Vantine's decision proved costly as he drifted towards the wall and watched Owens collect a 6.40 at 197 mph victory.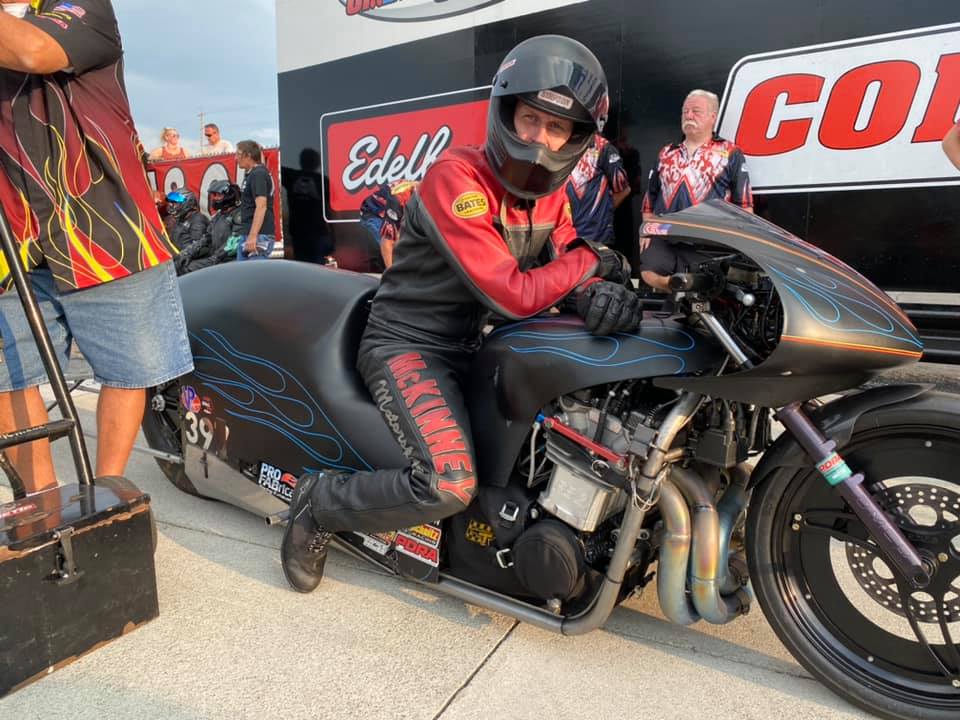 "John Force's traction guy showed us right where to line up," said an ecstatic Scott McKinney of Team Owens.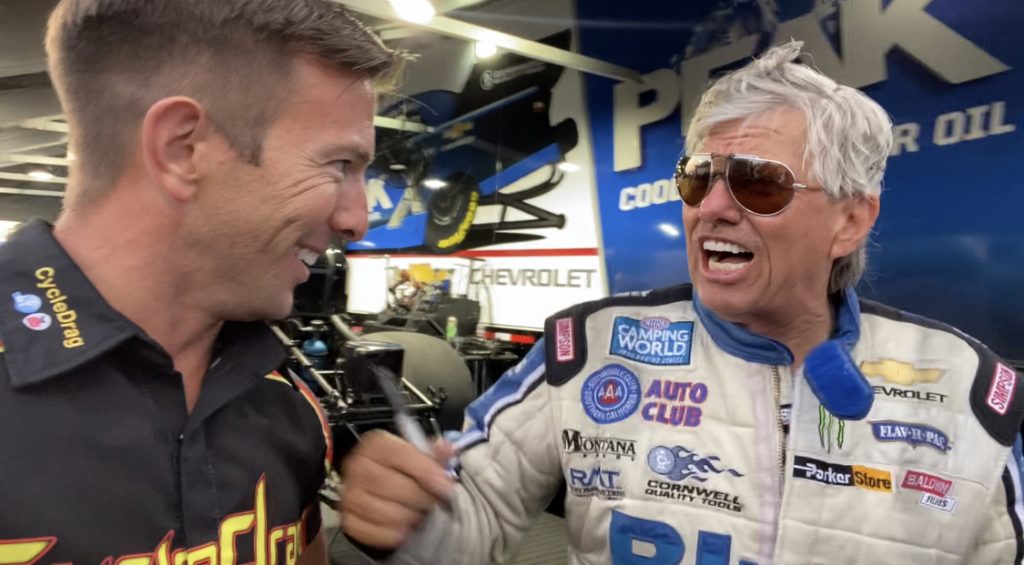 Owens 6.40 was also good enough for lane choice. Brown opted to do more than break the beam, running a respectable 6.63 at 165 mph. Although it was not good enough to select his lane in the final, it represented more valuable data for Brown and team and another step in the right direction.
"It's not killer but we went from 1.20 to 1.33 in a couple of runs learning the whole system and we knew we were making progress," Brown said. "The way our speeds were creeping up, we knew the bike was on about a 6.10 pass. We just had to keep from putting a hole out."
As two-wheeled fans anticipated a final round showdown, slated for about 11 pm, the unthinkable happened. The lights went out at the track. Moments later with no power for announcements, parking lots or suites , it was clear this wasn't part of the show. The Undertaker was not coming out for a planned appearance.
After a brief delay, promoter extraordinaire Bill Bader Jr., released about $150,000-worth fireworks for an epic display that seemed to send the fans home happy.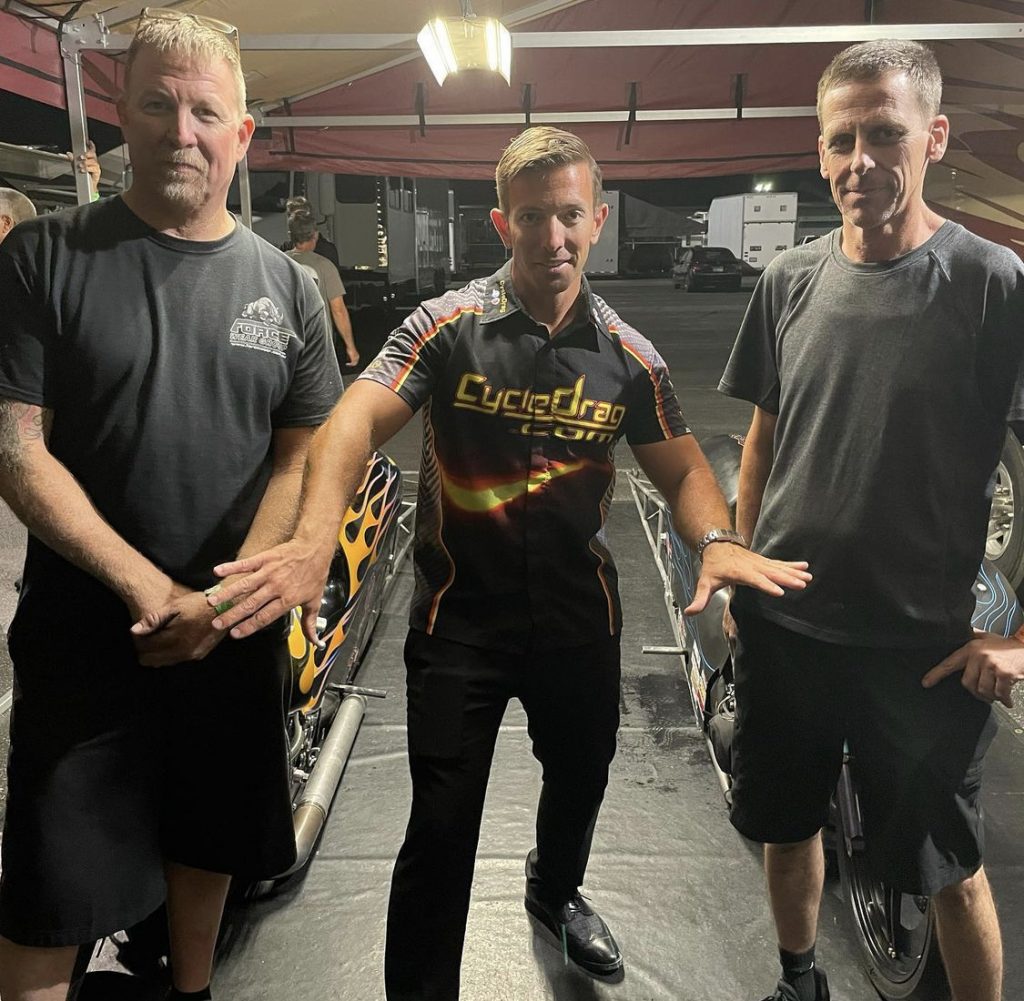 He also put the word out that racing was done for the night and the motorcycle competitors could either split the money or race for the win on Sunday.
Both Owens and Brown quickly agreed to stay and race, setting a thrilling Sunday morning showdown.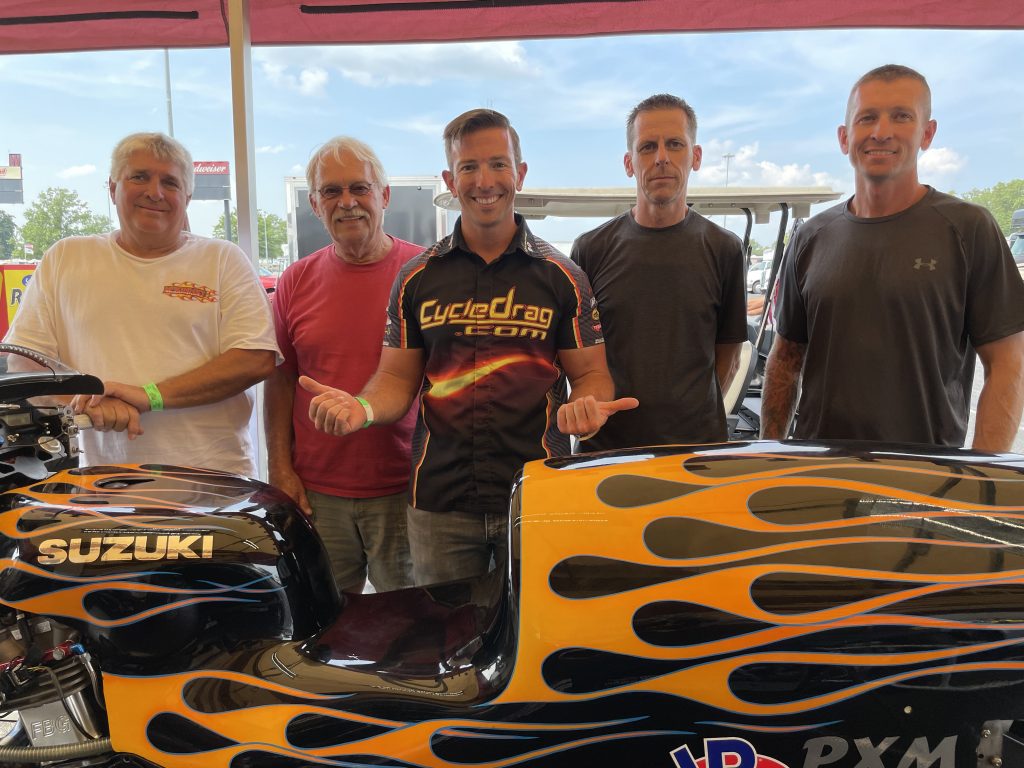 "We came to race and that's what we wanted to do," Brown said. "Since we were in the final I didn't have to worry about hurting a motor either. I wanted to run it as far as we had to."
Sunday morning presented new challenges for the racers.
"The weather changed and the track changed," Brown said.
Fortunately for both racers track prep guru Kurt Johnson was still there making sure grip was at a premium.
In the anticipated final Owens grabbed a huge holeshot, .061 to Brown's .254 as Brown lost his blower pulley shortly thereafter.
"It had a 1.10 60-foot, it broke the belt that drives the fuel pump at 80 feet and just went dead," Brown said.
Owens knew he needed a strong run to better a Nitro Bike with five-second potential and never gave up on a pass that was pulling him across the track. Brown saw every move the nitrous bike was making as it approached the 1000-foot mark
"I was watching him closely and was worried about his safety. Once I saw he was ok, it's not as much about the win as we are having fun and we are getting something for all the effort," Brown said. "For me, my win was we made by the bike going quicker each time."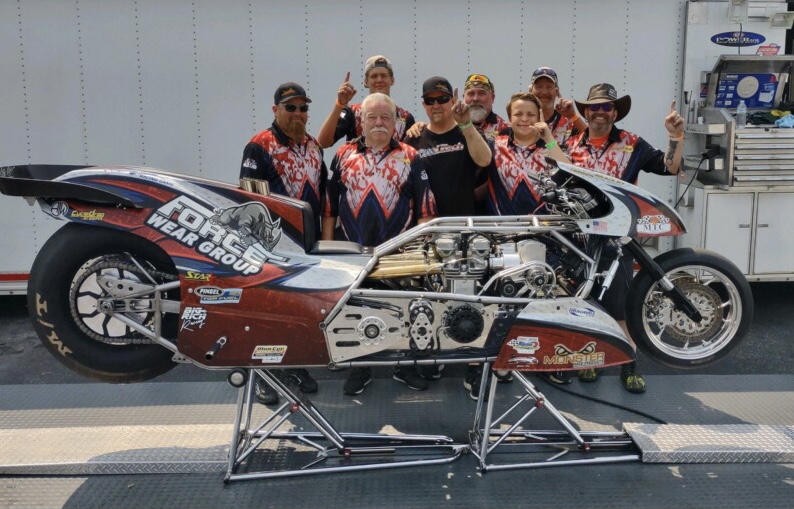 Brown pulled another rabbit out of his hat and again showed his preparedness met opportunity perfectly.
Brown credited tuner Todd Martin, Pro Mod car racer and owner of Tulsa Dragway, for the continual improvements.
Brown was crowned the champ and collected his winner's check to make the long and expensive drive back to Kansas a little merrier.
Overall the event was a rousing success.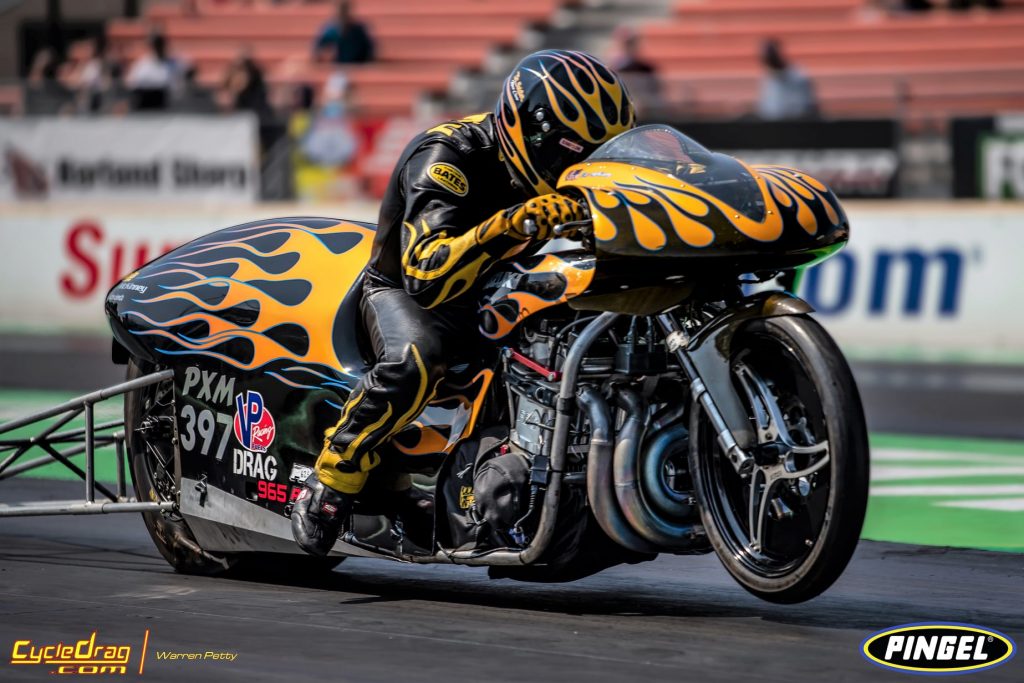 Racers were treated like royalty and got to participate in serval pre-race actives including a massive, fan-filled autograph session and a special pre-race parade.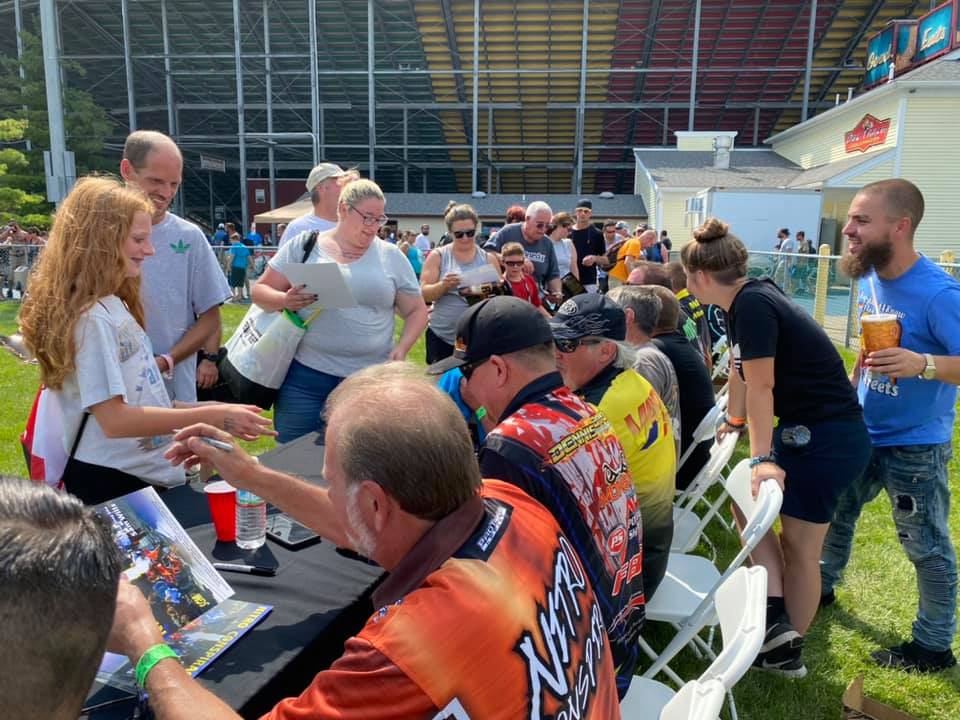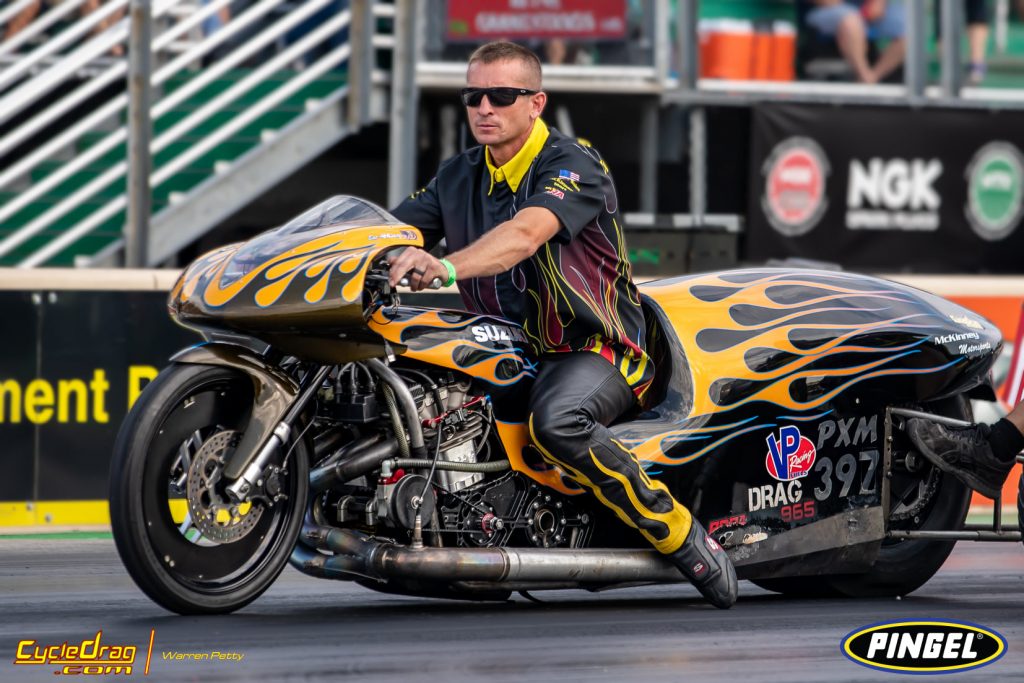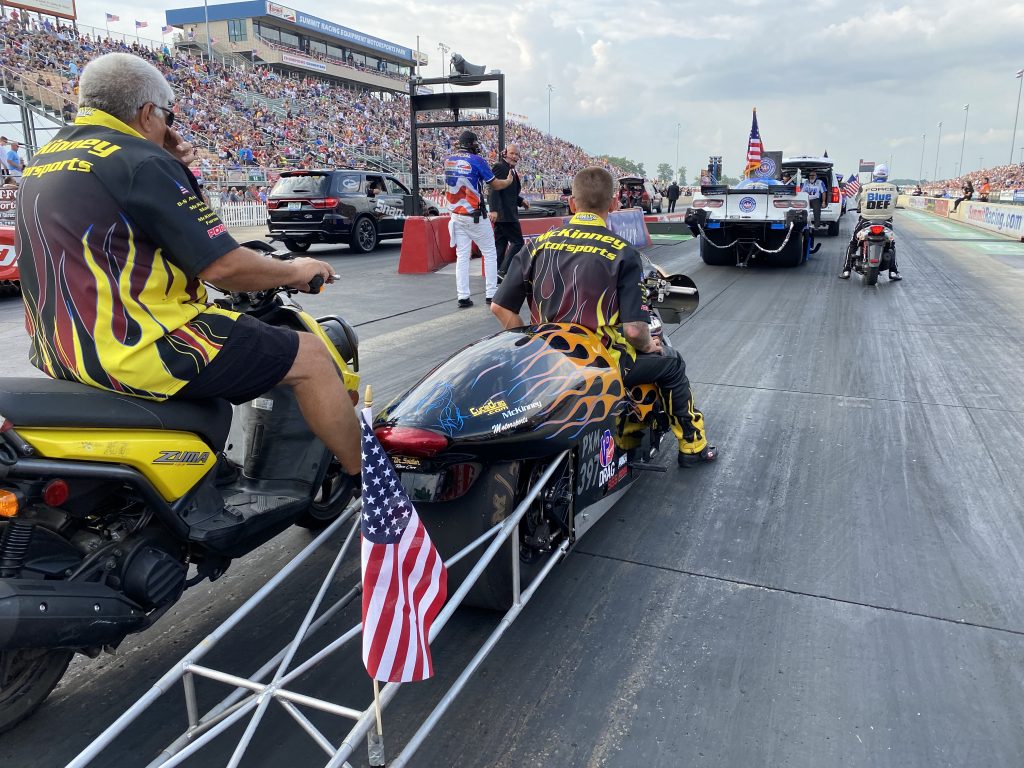 It was at the pre-race parade that Brown said his weekend was made. Trailing John Force and in front of a captive audience of more than 50,000 fans, the motorcycles were introduced.
"Dennis Bradley (team co-owner) was on the back of the golf cart towing the bike and I never saw him smile so big," Brown said. "It was amazing and my favorite part of the whole weekend."
All of the racers thanked Wayne and Donna Pingel and the Bader Family at Summit Motorsports Park for an incredible race.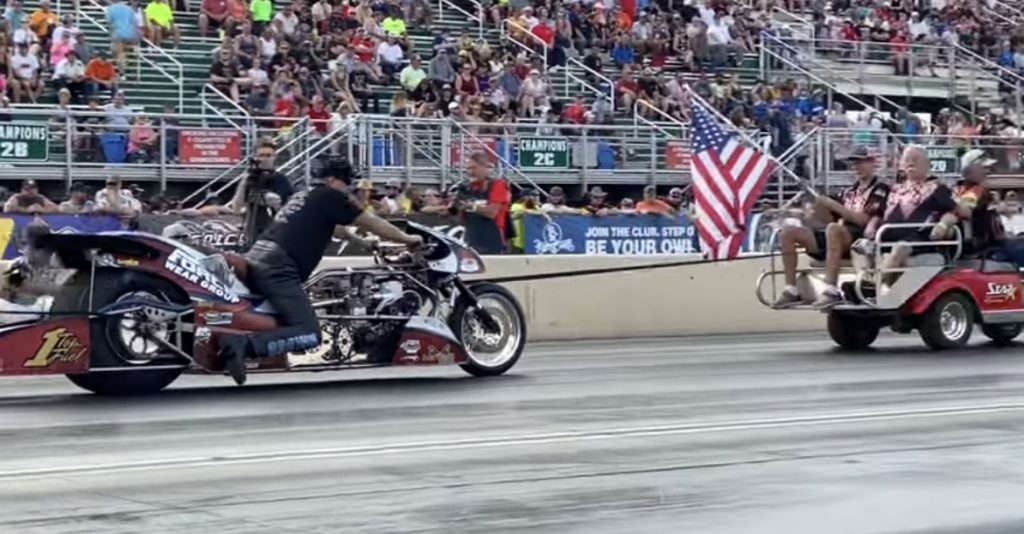 Brown thanked Cycledrag for including him in the show and made it clear the memories are indelible.
"It was a very enjoyable race. I was especially proud to be a representative for the motorcycle drag racing class," Brown said. "To see so many people interested in what we do is very rewarding."
Mission accomplished Cycledrag Universe, mission accomplished.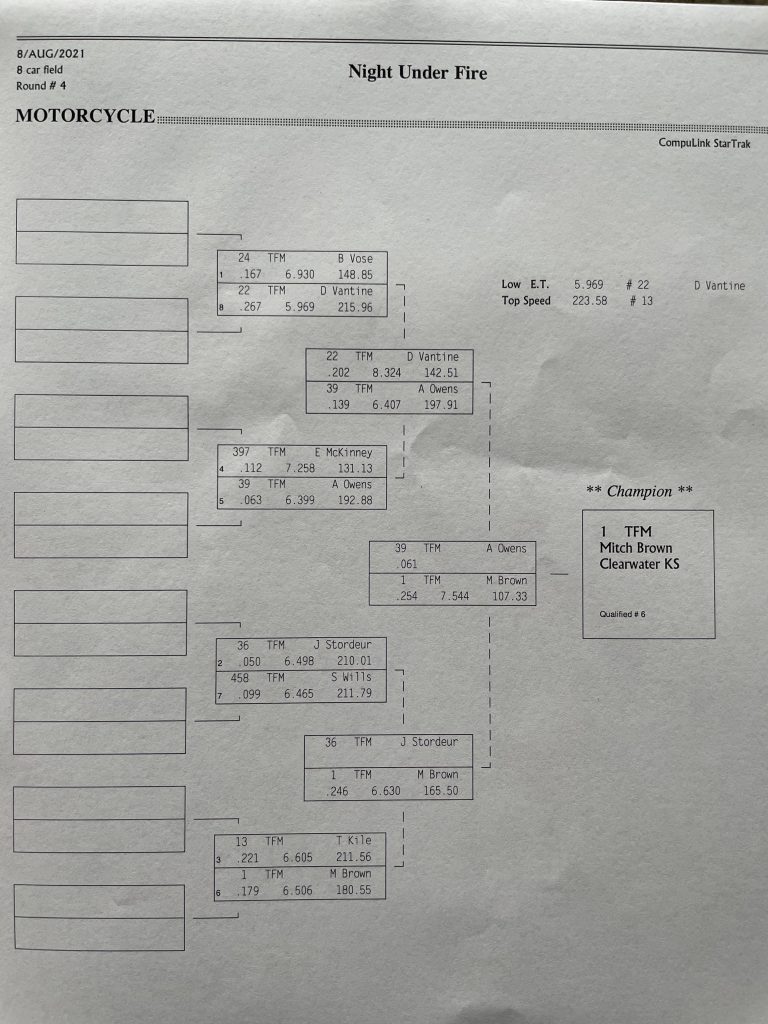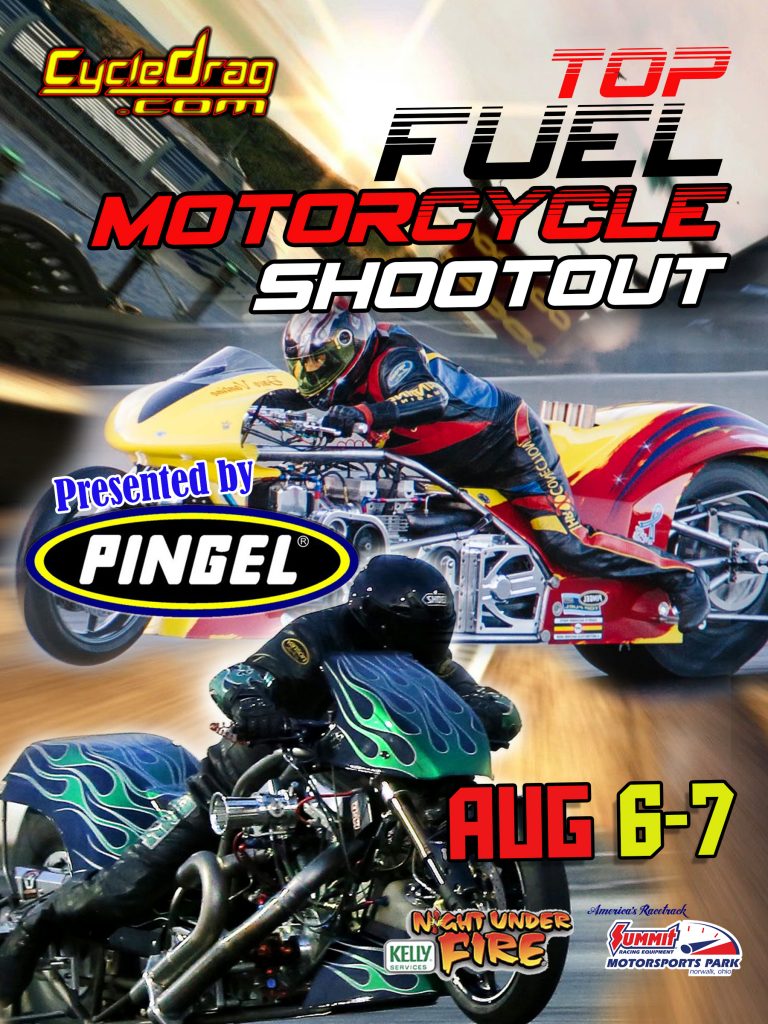 Congrats again to the good luck kid Brown. If he keeps it up we are going to have to stop calling it luck.
There are more videos on the Cycledrag Youtube channel (please subscribe here) and the Cycledrag.com Facebook page (Please like here) and more will be coming soon. Check back daily.