Hector Arana Jr., who made just his fifth appearance this season in Dallas, at the 37th annual Texas NHRA FallNationals., provided a thrilling underdog winner in Pro Stock Motorcycle, grabbing his first victory since 2019 with a run of 6.822 at 196.35 on his Team Arana Buell to beat Jerry Savoie in the final round.
It also gives Arana his 16th career victory and first at Dallas and the veteran took out some heavy hitters to get there. He defeated Chip Ellis, Angie Smith, and points leader Matt Smith to reach the finals, playing the spoiler role perfectly. Arana then tracked down Savoie to pick up a meaningful victory at Dallas.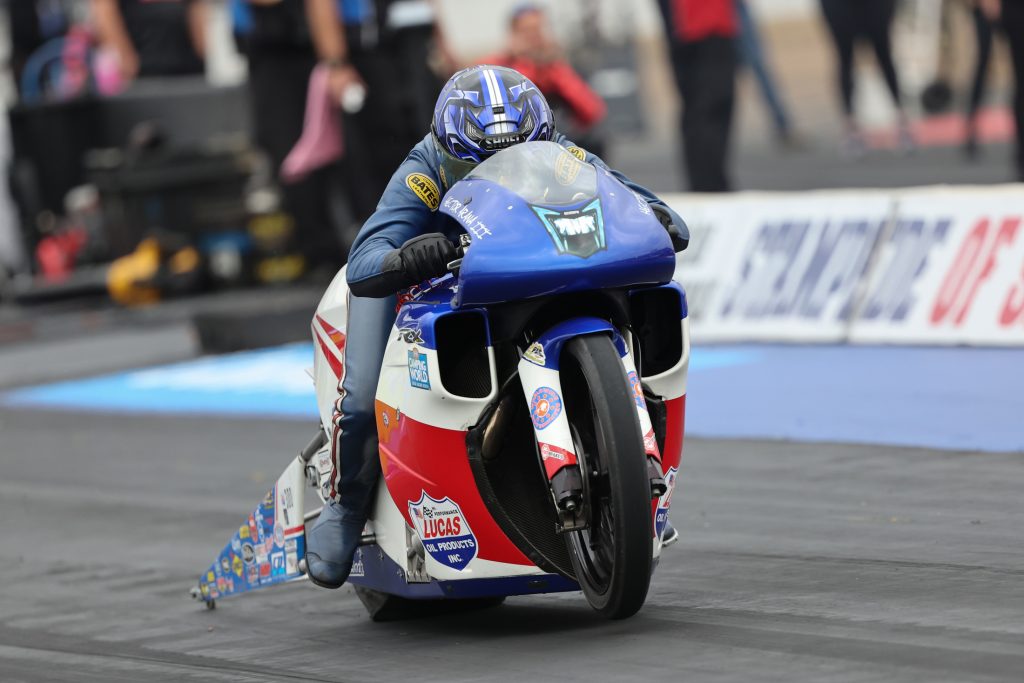 "This is so awesome. You've got to make the best of it," Arana Jr. "We just have such a passion for it. It's been so long, and we love being out here with all the fans and to bring home a Wally, is the icing on the cake."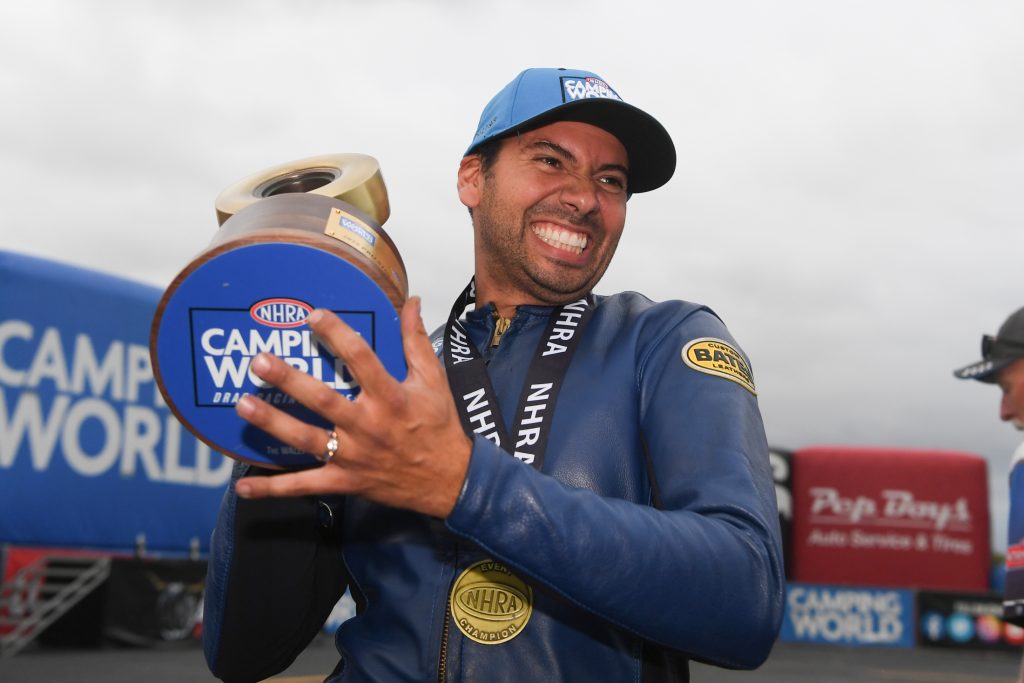 Savoie reached the final round in Dallas for the seventh time in the past eight years by defeating Marc Ingwersen, Ryan Oehler and Steve Johnson. It's also his third final this season. With two races remaining, Matt Smith now holds a 51-point lead over Joey Gladstone.
The NHRA Camping World Drag Racing Series returns to action on Oct. 27-30 with the NHRA Nevada Nationals at The Strip at Las Vegas Motor Speedway.
ROUND ONE — Jerry Savoie, Suzuki, 6.862, 194.45 def. Marc Ingwersen, 6.880, 189.67; Hector Arana Jr, Buell, 6.917, 192.98 def. Chip Ellis, 6.930, 194.75; Angie Smith, 6.841, 200.77 def. Gaige Herrera, Suzuki, 6.955, 190.96; Steve Johnson, Suzuki, 6.804, 195.54 def. Jianna Evaristo, Suzuki, 6.888, 196.97; Joey Gladstone, Suzuki, 6.852, 197.92 def. Richard Gadson, 7.675, 121.02; Ryan Oehler, 6.960, 191.84 def. Angelle Sampey, Suzuki, 7.033, 146.09; Eddie Krawiec, Suzuki, 6.834, 198.88 def. Chris Bostick, Suzuki, 11.660, 68.21; Matt Smith, Buell, 6.818, 200.38 def. Karen Stoffer, Suzuki, 7.065, 180.43;
QUARTERFINALS — Savoie, 6.874, 194.70 def. Oehler, 7.045, 187.79; Arana Jr, 6.924, 193.32 def. A. Smith, 7.713, 125.09; Johnson, 6.778, 195.33 def. A. Smith, Foul – Red Light; M. Smith, 6.804, 200.07 def. Krawiec, 6.904, 193.97;
SEMIFINALS — Arana Jr, 6.887, 193.41 def. M. Smith, 7.595, 130.37; Savoie, 6.874, 194.46 def. Johnson, 7.014, 186.24;
FINAL — Arana Jr, 6.822, 196.35 def. Savoie, 6.890, 193.03.
Pro Stock Motorcycle Points
1. Matt Smith, 2,377; 2. Joey Gladstone, 2,326; 3. Jerry Savoie, 2,274; 4. Steve Johnson, 2,259; 5. Angie Smith, 2,258; 6. Eddie Krawiec, 2,237; 7. Angelle Sampey, 2,218; 8. Marc Ingwersen, 2,171; 9. Karen Stoffer, 2,140; 10. Ryan Oehler, 2,139.
There are more videos on the Cycledrag Youtube channel (please subscribe here) and the Cycledrag Facebook page (Please like here) and more will be coming soon. Check back daily.