Pro Stock Motorcycle points leader Gaige Herrer picked up the victory for Mission and Vance & Hines at the final NHRA Camping World Drag Racing Series race at Bandimere Speedway, powering past Angie Smith in the final round on Sunday in front of a sellout crowd at the 43rd Dodge Power Brokers NHRA Mile-High Nationals.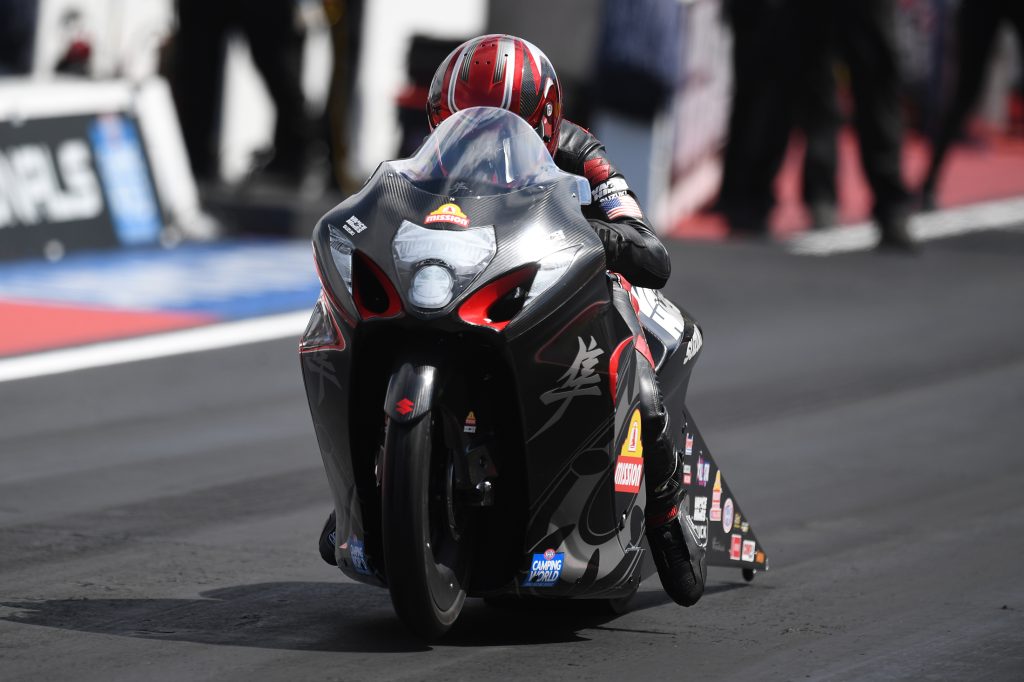 Herrera returned to form, picking up his fourth win of the year on his Suzuki with a run of 7.103 at 187.73 to beat Smith in the championship round. After struggling on Friday, Herrera performed at a high level the rest of the weekend, beating Chris Bostick, defending world champ Matt Smith and rookie Chase Van Sant to reach the final round. A. Smith went red in the finals, but Herrera would have been difficult to beat with his second straight run of 7.10 on Sunday.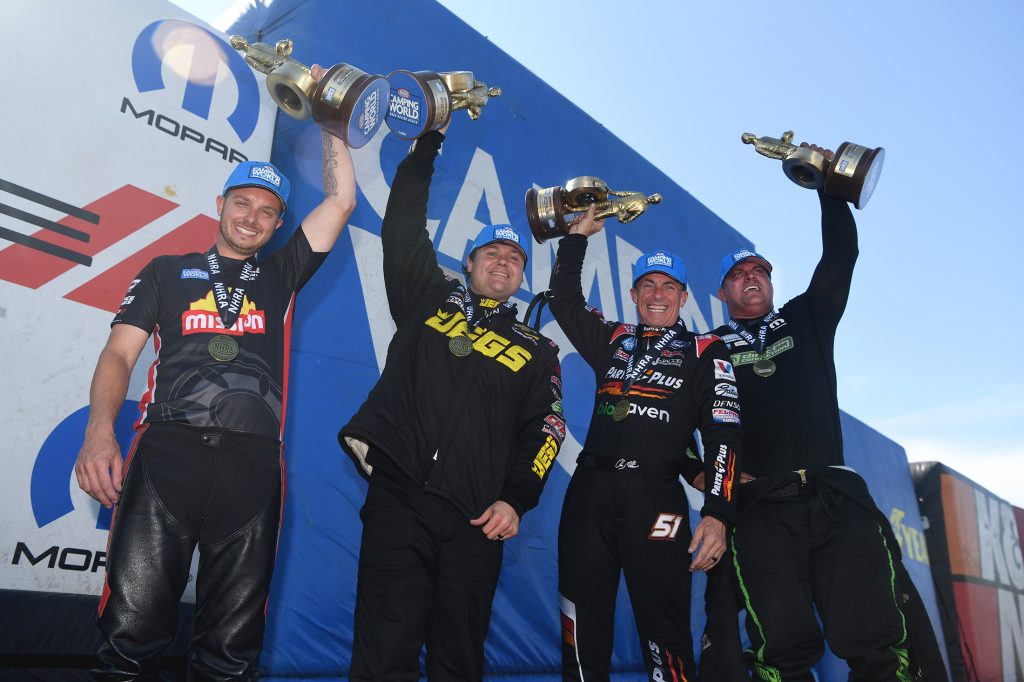 After a dominant start to the season, the points leader struggled – at least by his standards – in back-to-back races. But Herrera made another strong statement in his first race ever at a packed Bandimere Speedway.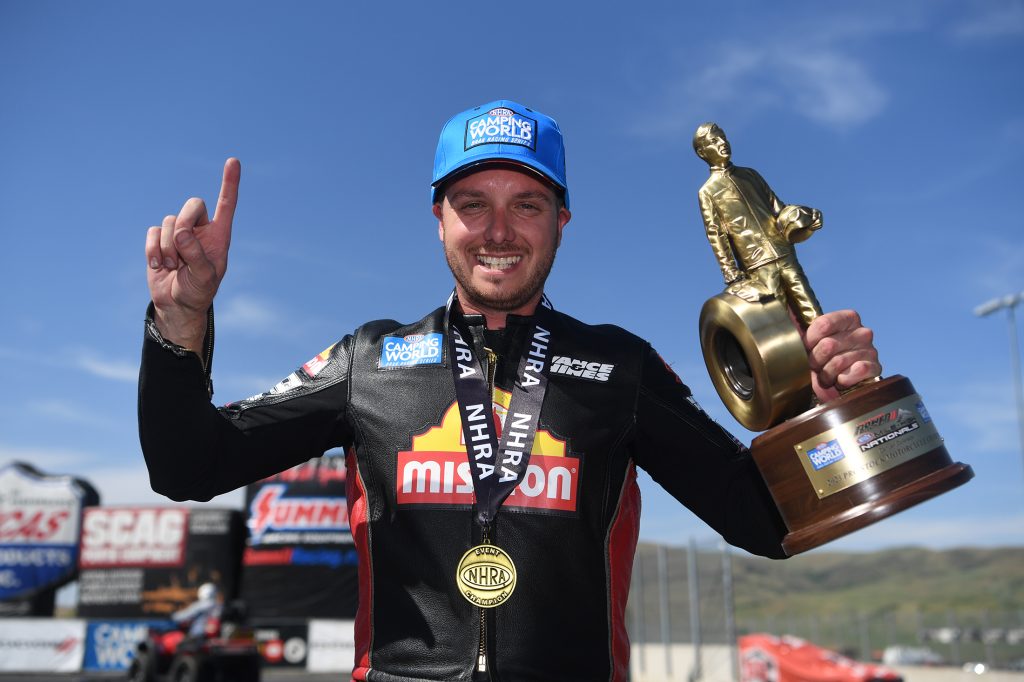 "I'm glad we bounced back here, especially in front of all these fans at Bandimere Speedway," said Herrera, who now leads Arana Jr. by 219 points. "These fans are incredible and this whole weekend has been amazing. I'm glad I'm able to add my name to the list of people from Vance & Hines who have won here. It was an adjustment for sure, but the bike was running good all weekend. It makes my job a little easier when you have a bike like that.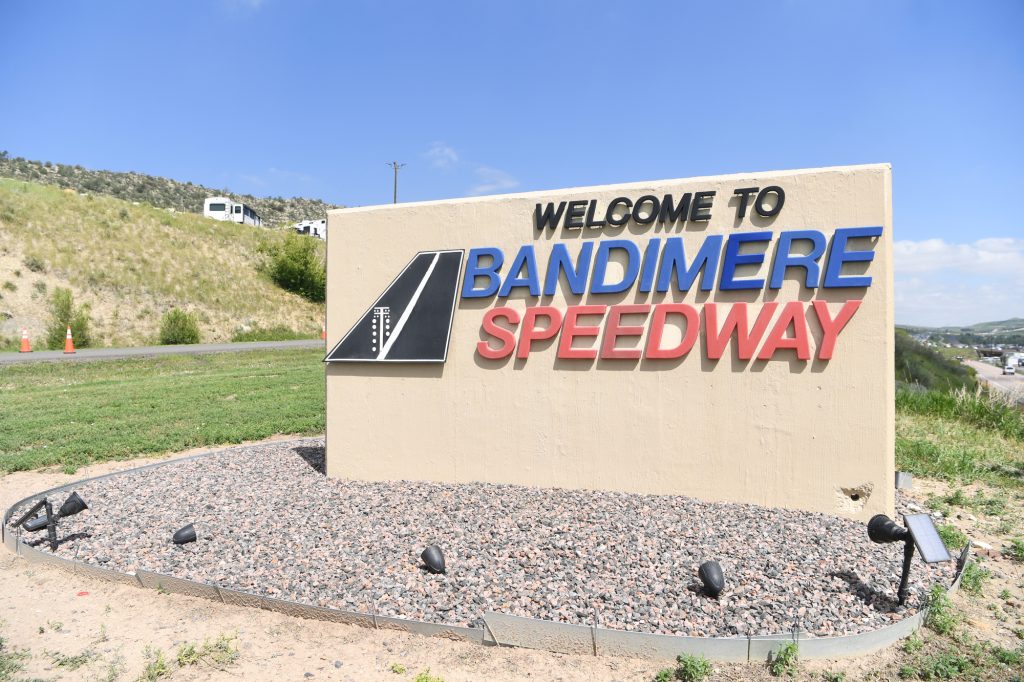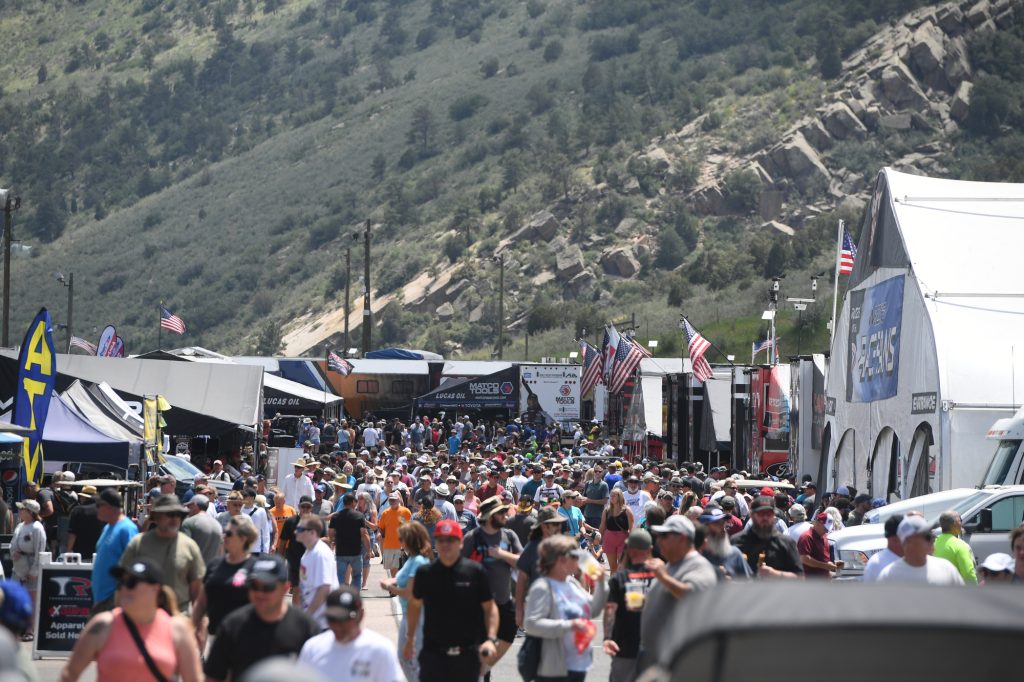 "To be able to bounce back from (the last two races) here, of all places, it's an amazing feeling. It's a shame to see it go but I'm just glad to put my name as part of the last to ever win here in Pro Stock Motorcycle."
A. Smith reached the finals for the second time this year and seventh overall by defeating Jianna Evaristo, Eddie Krawiec and No. 1 qualifier Hector Arana Jr.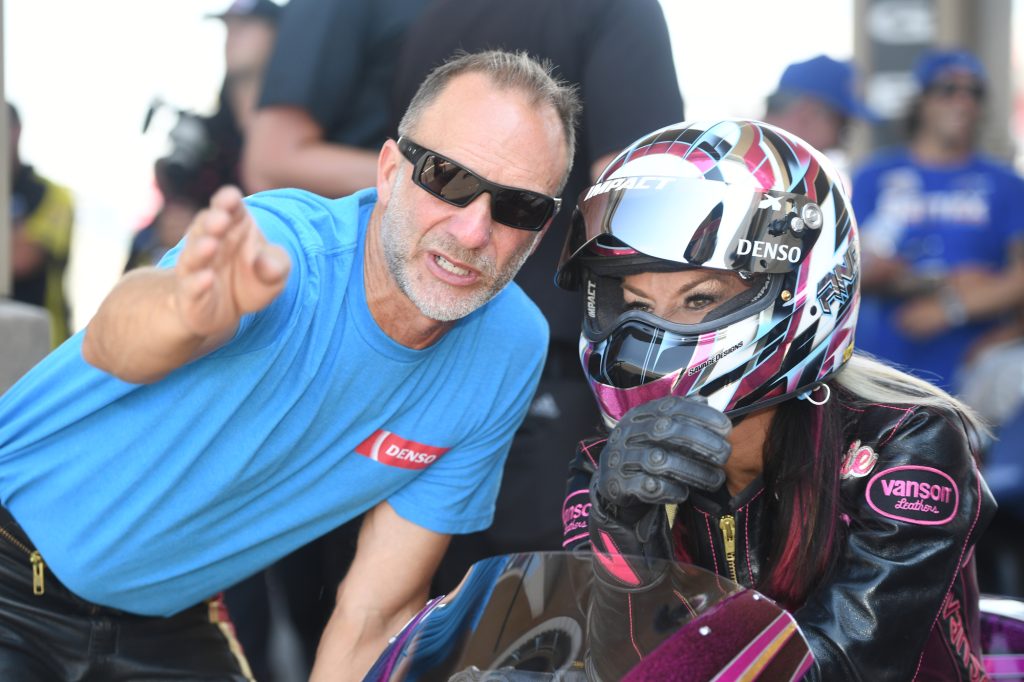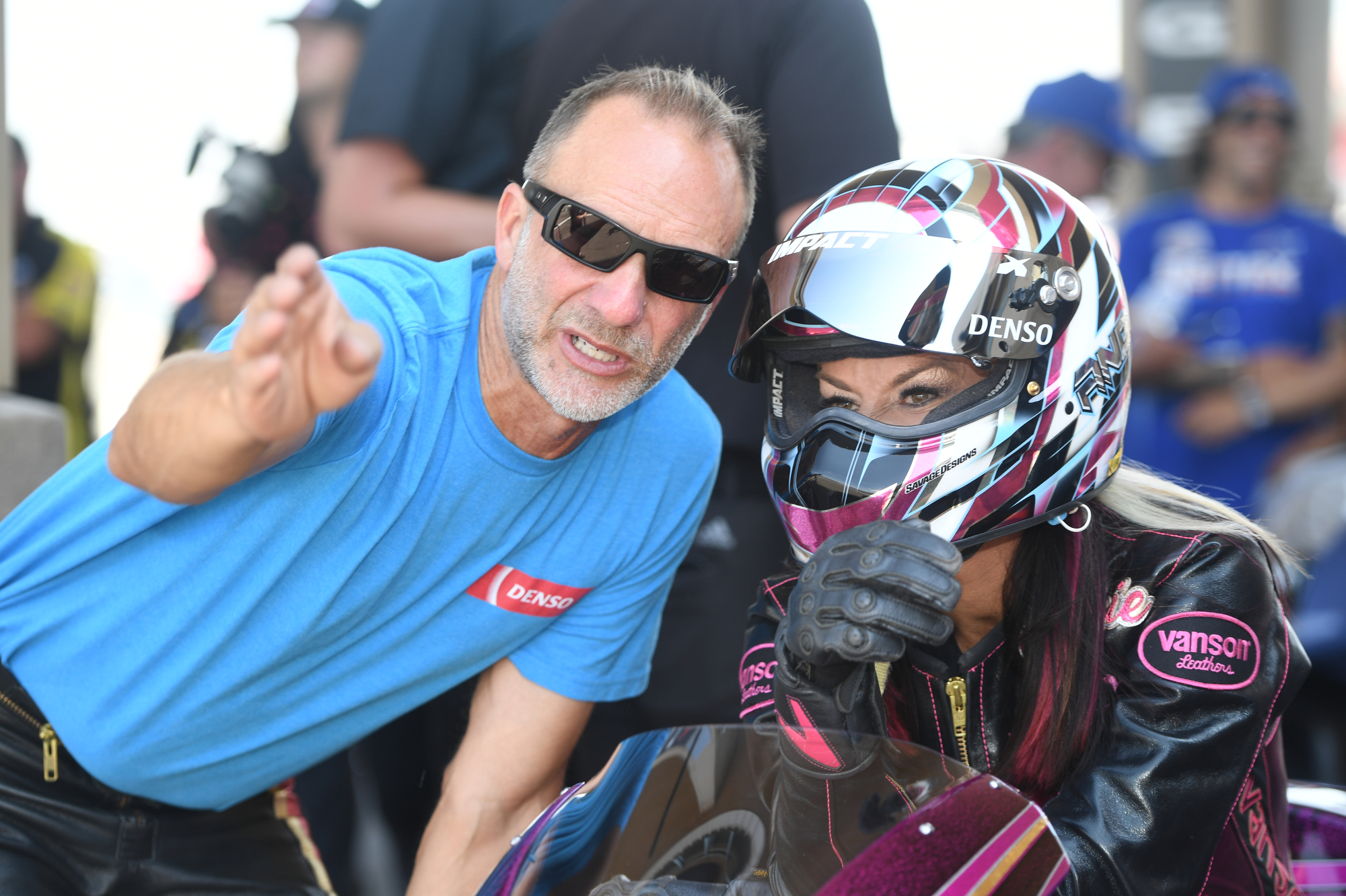 The NHRA Camping World Drag Racing Series returns to action July 21-23 with the second race of the famed Western Swing, the Flav-R-Pac NHRA Northwest Nationals at Pacific Raceways in Seattle.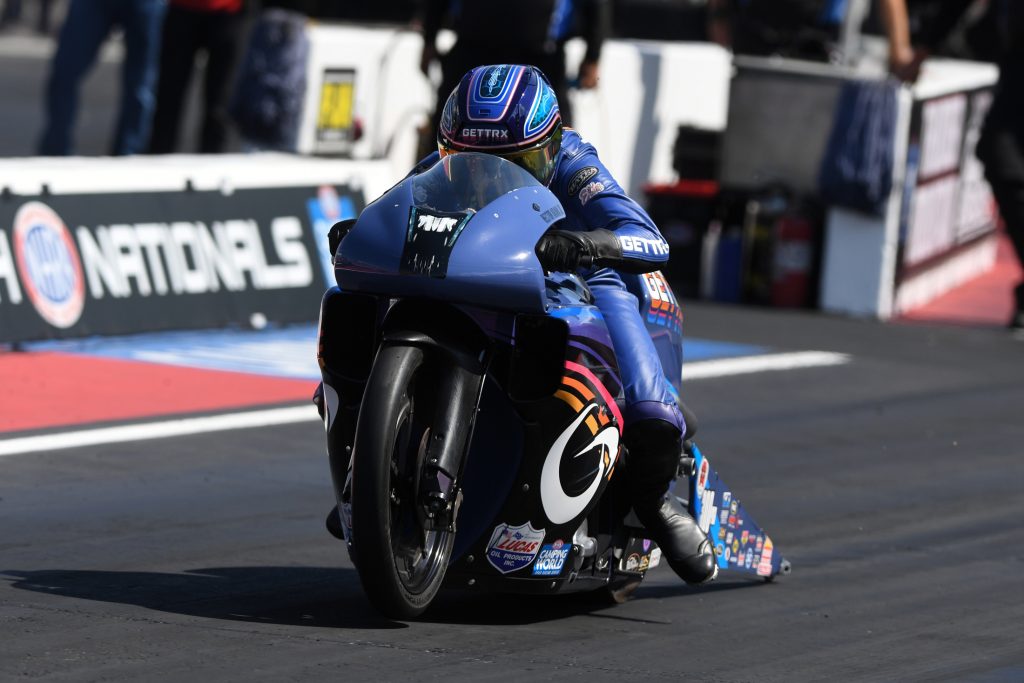 ROUND ONE — Angie Smith, 7.187, 187.11 def. Jianna Evaristo, Suzuki, Broke; Marc Ingwersen, 7.217, 185.51 def. Ryan Oehler, Foul – Red Light; Matt Smith, Suzuki, 7.176, 186.43 def. Kelly Clontz, Suzuki, 13.590, 57.50; Eddie Krawiec, Suzuki, 7.148, 188.12 def. Steve Johnson, Suzuki, 7.309, 182.50; Chase Van Sant, Suzuki, 7.135, 187.13 def. Lance Bonham, Buell, Foul – Red Light; Hector Arana Jr, 9.554, 91.82 was unopposed; Gaige Herrera, Suzuki, 7.098, 187.91 def. Chris Bostick, Foul – Red Light;
QUARTERFINALS — Arana Jr, 7.159, 187.21 def. Ingwersen, 7.235, 183.89; A. Smith, 7.217, 186.10 def. Krawiec, 7.176, 187.94; Van Sant, 7.192, 185.84 was unopposed; Herrera, 7.143, 186.72 def. M. Smith, 7.190, 186.43;
SEMIFINALS — A. Smith, 7.217, 187.03 def. Arana Jr, 11.259, 74.94; Herrera, 7.109, 187.73 def. Van Sant, 7.166, 187.73;
FINAL — Herrera, 7.103, 187.73 def. A. Smith, Foul – Red Light.
Pro Stock Motorcycle Points
1. Gaige Herrera, 672; 2. Hector Arana Jr, 453; 3. Steve Johnson, 390; 4. Angie Smith, 388; 5. Eddie Krawiec, 384; 6. Matt Smith, 375; 7. Chase Van Sant, 335; 8. Jianna Evaristo, 273; 9. Marc Ingwersen, 258; 10. Ryan Oehler, 229.
There are more videos on the Cycledrag Youtube channel (please subscribe here) and the Cycledrag Facebook page (Please like here) and more will be coming soon. Check back daily.
To take advantage of some amazing discounts at Brock's Performance, click – http://brocksperformance.com?aff=12
USE cycledrag5 coupon code.