In Pro Stock Motorcycle, Hector Arana Jr. defended his Chicago win from last season with a 6.918 at 194.66 on his Lucas Oil Buell, defeating two-time world champ Matt Smith in the final. The win was Arana Jr.s' 10th career victory, first of the season and second at Route 66 Raceway. He defeated LE Tonglet, Jerry Savoie and Chaz Kennedy before taking Smith out in the final. Arana Jr. sits second in points.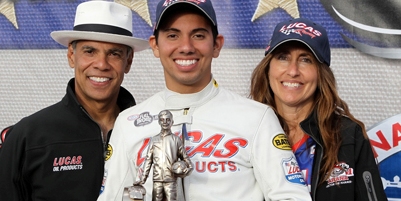 "This is one of my favorite tracks," Arana Jr. said. "We had the bike and I knew we had the bike all weekend but we couldn't get it to leave the line well and we finally figured it out for the last session. We made a change and we felt good about it so we didn't change anything for the first round and from then on out we didn't touch it. We just went consistently down the track."
Smith, a two-time world champ, was looking to win his first race since the 2013 Fall event at Las Vegas. Despite getting his Victory Racing Gunner to a head start on the starting line against Arana Jr., Smith was unable to claim the win when Arana Jr. drove around him on the top end. Despite the loss, it was a positive points day for Smith who moves into the top ten in points at No. 8 with four Pro Stock Motorcycle events remaining before the Countdown to the Championship playoff.
The NHRA Mello Yello Drag Racing Series next embarks on the three-race NHRA Western Swing, beginning at Denver with the 36th annual Mopar Mile-High NHRA Nationals July 24-26.
PRO STOCK MOTORCYCLE:
ROUND ONE — Jerry Savoie, Suzuki, 6.921, 194.07 def. Steve Johnson, Suzuki, 7.095, 189.66; Angelle Sampey, Buell, 6.984, 192.71 def. Jim Underdahl, Suzuki, 6.990, 188.33; Chaz Kennedy, Buell, 7.016, 189.50 def. Hector Arana, Buell, 6.973, 191.73; Hector Arana Jr, Buell, 6.895, 195.82 def. LE Tonglet, Suzuki, 6.984, 191.02; Eddie Krawiec, Harley-Davidson, 6.925, 190.97 def. Shawn Gann, Buell, 7.040, 190.73; Matt Smith, 7.008, 187.94 def. Karen Stoffer, Suzuki, 6.985, 191.16; Andrew Hines, Harley-Davidson, 6.961, 190.16 def. Eddie Reed, Suzuki, 7.096, 185.36; Chip Ellis, Buell, 6.909, 193.65 def. Angie Smith, 7.165, 186.82; QUARTERFINALS — Kennedy, 6.996, 190.62 def. Hines, 7.052, 190.16; M. Smith, 6.989, 189.36 def. Krawiec, 7.016, 192.14; Ellis, 6.917, 190.57 def. Sampey, 6.966, 191.81; Arana Jr, 6.910, 195.62 def. Savoie, 6.896, 194.46; SEMIFINALS — M. Smith, 6.977, 188.28 def. Ellis, broke; Arana Jr, 6.932, 195.39 def. Kennedy, foul; FINAL — Arana Jr, 6.918, 194.66 def. M. Smith, 6.957, 190.24.