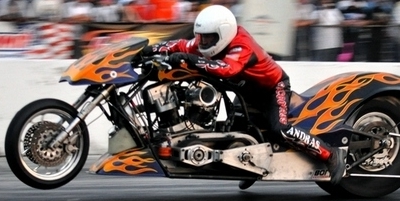 A Top Fuel showdown between North Carolinians Tommy Grimes and
Jay Turner, reigning series champion Randal Andras and Texan Rick "Sharky"
House will be among the features Oct. 11-13 when track owner Steve Earwood
welcomes the Harley Nation to Rockingham Dragway for the 22nd renewal of the
Jim McClure Nitro Nationals.
The all-Harley Davidson event will feature the 220 mile-an-hour
Top Fuel bikes but will also crown champions in the Nitro Funny Bike, Pro Fuel,
Pro Gas and Pro Modified categories along with a host of sportsman classes.
Grimes, from Pfafftown, lowered the track record to 6.239 seconds
at 223.69 miles per hour in qualifying No. 1 last year astride the
Raleigh-based bike fielded by Harley Hall-of-Famer Ray Price.  That'll be
the target on which Andras, the veteran from Amelia, La., Turner, the 2011 Top
Fuel Harley winner from Julian, and House will be focused when qualifying
begins on Saturday, Oct. 12.
The American Motorcycle Racing Association event will begin
with a special Harley Only test-and-tune session from 3 p.m. until 8 p.m. on
Friday.  Saturday's program will feature pro qualifying starting at 10
a.m. and single elimination finals in all categories will begin at 11 a.m.
Sunday.
Adult admission is $20 daily although discounts are
available on three-day ($45) and two-day ($35) tickets.  Children under
six are free when accompanied by a ticketed adult and, as always, parking is
free in Rockingham's main lot.  Special parking is available for a fee.
Several riders, notably House, the rider from Humble, Texas,
Joey Thomson from Hopewell, N.J., and Rocky Jackson from Youngsville, La., will
try to double-up at The Rock.  House will be among the challengers in both
Top Fuel and Nitro Funny Bike; Jackson is one of the favorites in Nitro Funny
Bike and Pro Fuel; and Thomson will be a contender in both Pro Gas and Pro Mod.
The Nitro Funny Bike battle may be one of the most
intriguing with former series champ Steve Pier of Hatfield, Pa., reigning champ
Chris Smith of Murfreesboro, Tenn., and Jake Stordeur of Loveland, Ohio, among
those taking on Jackson and House.
Among those expected to challenge favored Seth Cooper of
Cullman, Ala., in Pro Fuel are Carolina veterans Johnny Vickers of Wilkesboro
and Dale Nilles of Purlear.  Vickers will be conducting his Nitro Bike
School on Wednesday and Thursday of the event.
The race is expected to attract competitors from more than
25 states including California, Idaho, Massachusetts and Michigan.