Pro Stock Motorcycle points leader Gaige Herrera continued his dominant season on Saturday at Sonoma Raceway, winning the first-ever NHRA Pro Stock Motorcycle All-Star Callout as part of this weekend's 35th annual Denso NHRA Sonoma Nationals.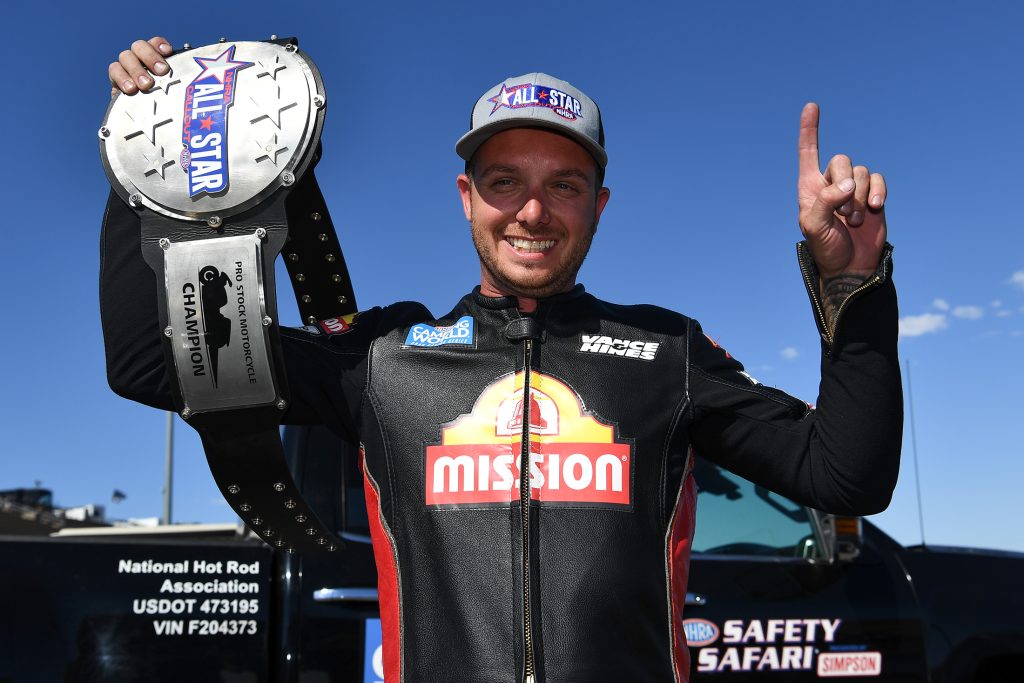 In the Mission #2Fast2Tasty NHRA Challenge, Steve Torrence (Top Fuel) and J.R. Todd (Funny Car) both won the bonus event in Sonoma. Austin Prock (Top Fuel) and Bob Tasca III (Funny Car) each qualified No. 1 at the 12th of 21 races during the 2023 NHRA Camping World Drag Racing Series season.
In the final round of the Pro Stock Motorcycle All-Star Callout, Herrera went 6.756-seconds at 196.42 mph on his Vance & Hines/Mission Foods Suzuki to defeat Angie Smith and collect yet another win in a bonus event in 2023. Adding in his three wins in the Mission #2Fast2Tasty NHRA Challenge, that gives the points leader four specialty race wins. Herrera's Friday pass of 6.728 at 199.94 held up to hand him a seventh No. 1 qualifier this season. On Sunday, he'll also look to become the first rider in Pro Stock Motorcycle history to sweep the three-race NHRA Western Swing.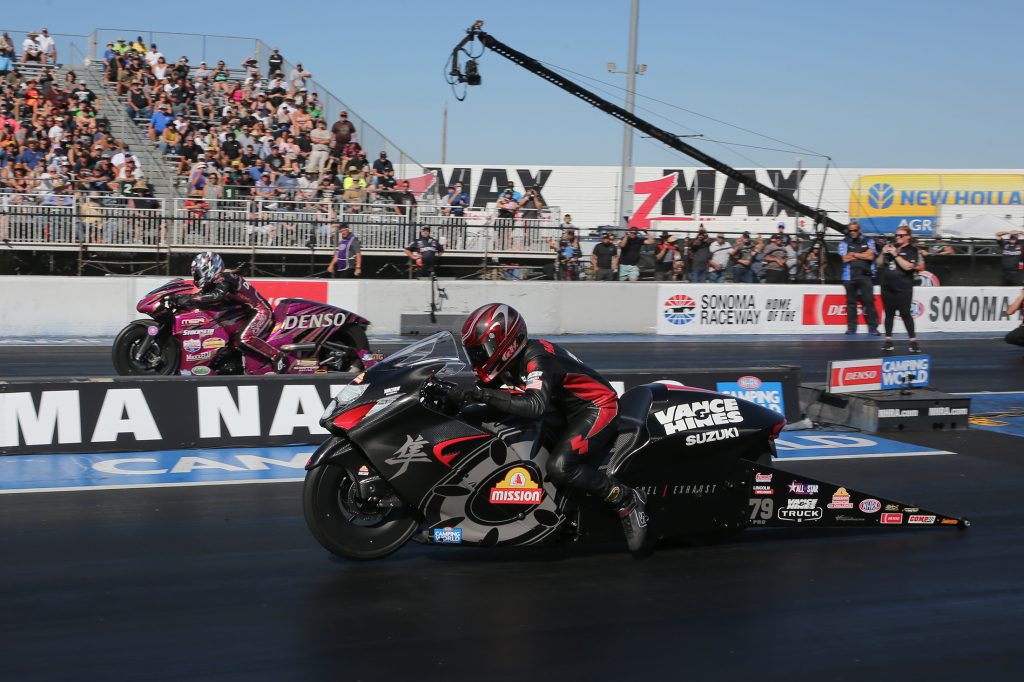 "It's been amazing," Herrera said. "I was out of breath after that. It was a big one and I wanted it really bad. There's nothing like winning a Wally, but to win this first Callout for the class is pretty cool. It's awesome for the whole team and I'm so happy right now. The amount of effort this team puts into these bikes is really amazing and it's all paid off.
"This is special because a win like this takes a lot as a team. You get bragging rights and something like this is good for the sport and the class. We're in a great position (to sweep the Western Swing). I've got all the confidence in the world in my team. I'm very excited and we'll see what happens."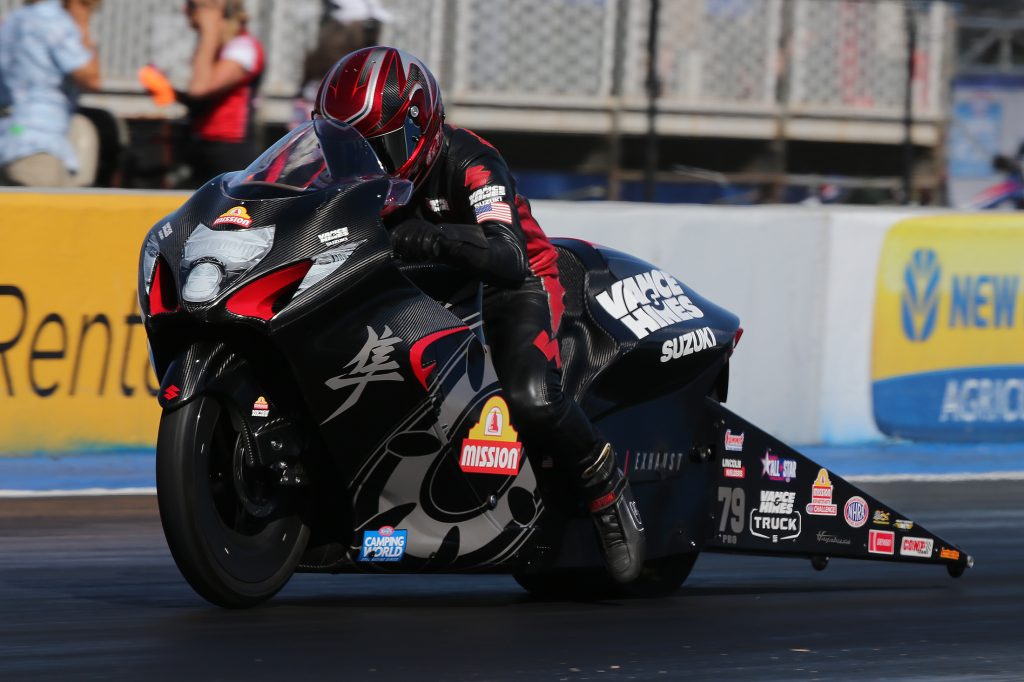 Matt Smith qualified second thanks to his 6.729 at 200.23 from Friday, while Eddie Krawiec's 6.771 at 199.1 put him third.
Pro Stock Motorcycle — 1. Gaige Herrera, Suzuki, 6.728, 199.94 vs. 16. Ryan Oehler, EBR, 8.814, 96.74; 2. Matt Smith, Suzuki, 6.729, 200.23 vs. 15. Lance Bonham, Buell, 7.185, 190.51; 3. Eddie Krawiec, Suzuki, 6.771, 199.91 vs. 14. John Hall, Buell, 6.956, 193.18; 4. Hector Arana Jr, EBR, 6.791, 199.88 vs. 13. Freddie Camarena, Suzuki, 6.926, 195.53; 5. Karen Stoffer, Suzuki, 6.792, 198.17 vs. 12. Chris Bostick, EBR, 6.909, 192.60; 6. Angie Smith, EBR, 6.802, 199.43 vs. 11. Chase Van Sant, Suzuki, 6.867, 195.79; 7. Jianna Evaristo, Suzuki, 6.820, 198.64 vs. 10. Steve Johnson, Suzuki, 6.844, 194.24; 8. Marc Ingwersen, EBR, 6.829, 198.03 vs. 9. Kelly Clontz, Suzuki, 6.840, 198.06.
Did Not Qualify: 17. Scott Bottorff, broke.
There are more videos on the Cycledrag Youtube channel (please subscribe here) and the Cycledrag Facebook page (Please like here) and more will be coming soon. Check back daily.
To take advantage of some amazing discounts at Brock's Performance, click – http://brocksperformance.com?aff=12
USE cycledrag5 coupon code.