It was a picture-perfect weekend for Gaige Herrera in Pro Stock Motorcycle, continuing his dominant season with a run of 6.728 at 201.79 on his Mission Foods/Vance & Hines Suzuki to defeat teammate Eddie Krawiec in the final round at the 12th annual NHRA Midwest Nationals.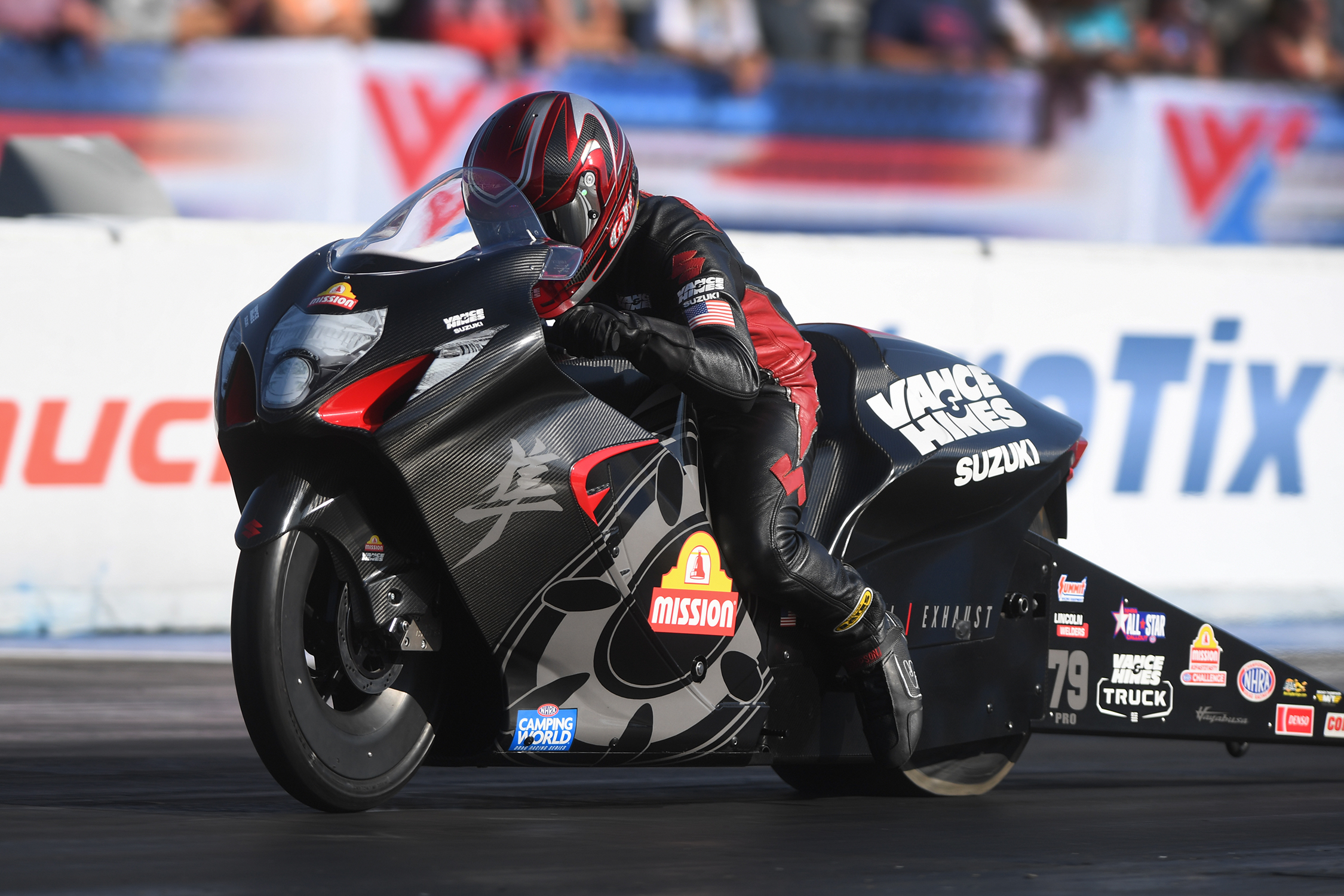 It gives Herrera his eighth victory this season, extending his lead to 99 points over Matt Smith at the halfway mark of the playoffs. After qualifying No. 1 for the 11th time this season – tying the single-season mark in Pro Stock Motorcycle history – Herrera broke the track E.T. record in the first round (6.701) to defeat Joey Gladstone.
He knocked off rookie Chase Van Sant to reach the final round, where he dispatched Krawiec and his 6.761 at 201.52 to deny his teammate of his 50th career victory. But in the process, Herrera moved a step closer to his first career NHRA world championship.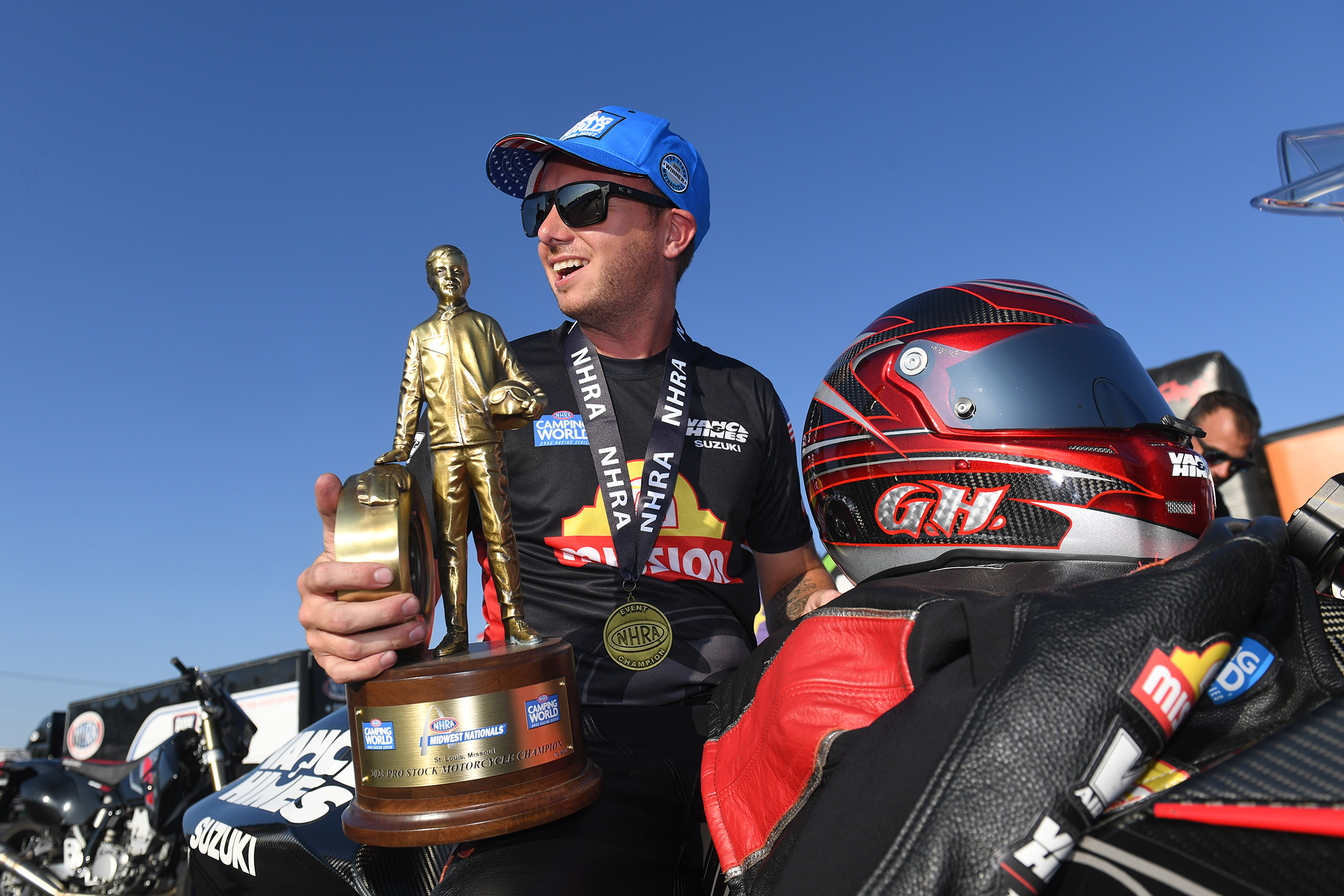 "Hopefully, I still have a job after knocking Ed off, but that final round was good for our whole team" Herrera said. "All day I had a very consistent motorcycle, and first round was probably the most nervous round for me. Racing Joey, he's always a tough competitor, so I knew he was going to be on it. All day has been really good.
"I can't give enough credit to the whole Vance & Hines Mission Suzuki team. I still can't believe I got that phone call almost a year ago now to race for them. It's been incredible, and I'm proud to be part of it."
Krawiec reached the final round for the second time this season and the 93rd in his career thanks to round wins against Ryan Oehler, Jianna Evaristo and Smith.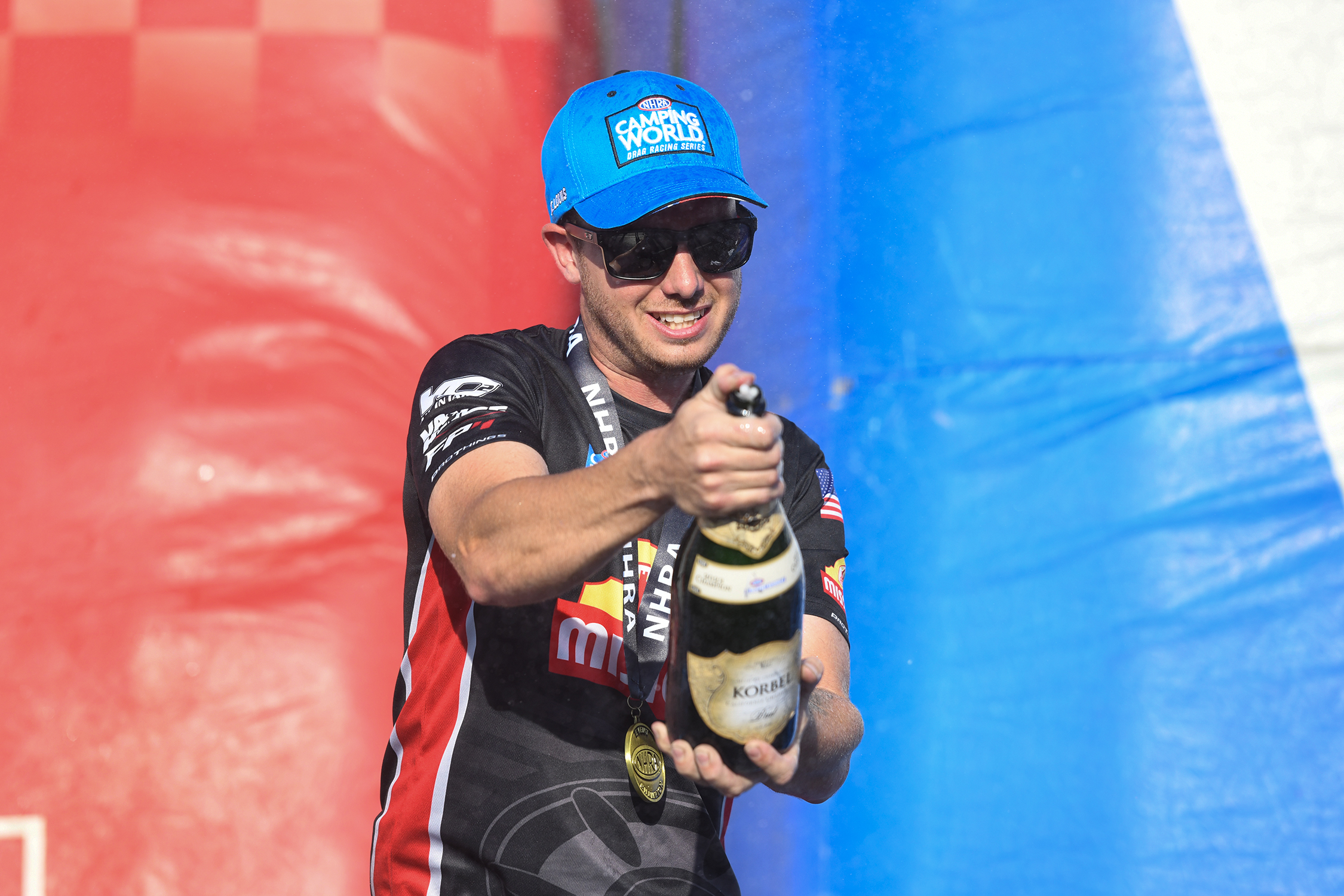 The NHRA Camping World Drag Racing Series returns to action Oct. 12-15 with the 38th annual Texas NHRA FallNationals at the Texas Motorplex in Dallas.
ROUND ONE — Cory Reed, Suzuki, 6.818, 196.70 def. Kelly Clontz, Suzuki, 6.820, 199.49; Jianna Evaristo, Suzuki, 6.856, 196.67 def. Marc Ingwersen, 7.138, 169.21; Hector Arana Jr, 6.798, 199.35 def. Steve Johnson, Suzuki, 6.829, 198.99; Chase Van Sant, Suzuki, 6.808, 198.93 def. Angie Smith, Buell, Broke – No Show; Eddie Krawiec, Suzuki, 6.748, 201.40 def. Ryan Oehler, Foul – Red Light; Matt Smith, Buell, 6.742, 202.91 def. Chris Bostick, 6.856, 194.94; Gaige Herrera, Suzuki, 6.701, 201.88 def. Joey Gladstone, Buell, 6.780, 200.17;
QUARTERFINALS — Van Sant, 6.777, 198.67 def. Arana Jr, 6.825, 199.14; Krawiec, 6.760, 201.28 def. Evaristo, Foul – Red Light; M. Smith, 6.759, 203.40 def. Reed, 18.534, 34.67; Herrera, 6.706, 202.45 was unopposed;
SEMIFINALS — Krawiec, 6.747, 201.94 def. M. Smith, 6.782, 202.70; Herrera, 6.716, 202.12 def. Van Sant, 6.800, 198.85;
FINAL — Herrera, 6.728, 201.79 def. Krawiec, 6.761, 201.52.
There are more videos on the Cycledrag Youtube channel (please subscribe here) and the Cycledrag Facebook page (Please like here) and more will be coming soon. Check back daily.