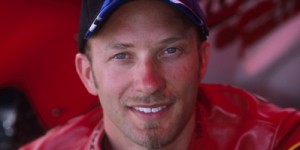 On a brutally hot day at Lucas Oil Raceway near Indianapolis, former NHRA Full Throttle Series Pro Stock Motorcycle champ and U.S. Nationals winner Matt Smith threw down the gauntlet in the form of a 6.954 second run at 190.97 mph. The run was good enough to launch him to the top of the PSM charts after Friday's only qualifying round and enter Saturday as the provisional top qualifier.
The 57th Annual Mac Tools NHRA U.S. Nationals is going to be a busy event for the King, N.C., native. He's riding and tuning his own Haltech/Redline/Affliction Buell, tuning the bikes for his wife, Angie, and Matt Smith Racing's third entry, Michael Ray, as well as driving a Pro Mod for his dad, Rickie, who was cleared to race here himself last week after a vicious crash at Bristol in June.
"Today has been exciting," he said, addressing the media after his run. "Michael's bike didn't shift, but it left good. Angie's bike rolled the beams, but she still went (7.140). She probably wouldn't went .02 or .03. And in the Pro Mod, we shook, so I just let out of it. I don't have enough laps in it to drive out of that, so I'm not going to do that right now."
The main story was the nearly 110 degree heat. "It's miserable out there because it's so hot. Those fans, they're high quality to sit out there in the sun like that."
While Matt is looking for his second win of the season and first No. 1 qualifier of the year (and the 19th of his career), the 13-time Nationals winner doesn't think his current time will be the one leading the field come Monday's eliminations.
"We should see something better as the weekend progresses," he said. "The weather is supposed to get cooler. It's pretty hot out there and the track is slick. I'm sure we're going to see some .80s. All in all, we had a great lap. We didn't have a great lap in the Pro Mod car, but I'm just happy I'm doing both."