Two-time American Motorcycle Racing Association (AMRA) Pro Modified champion Flyin' Ryan Oehler tested the NHRA Pro Stock Motorcycle (PSM) waters last year and found the temperature just right for a full assault on this season's Road to the Future award—the National Hot Rod Association's version of Rookie of the Year.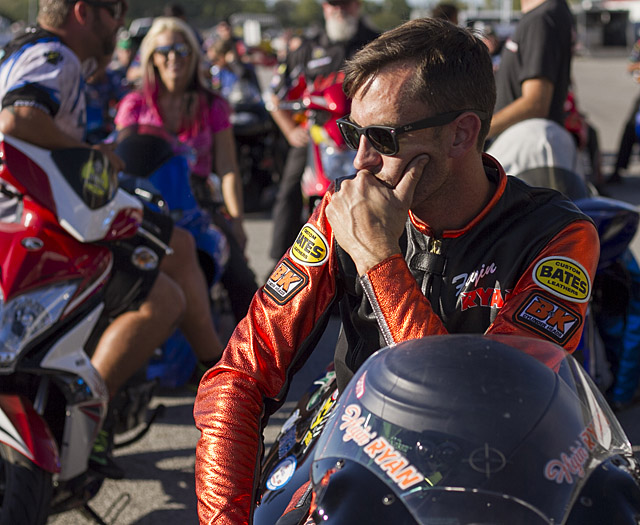 Oehler entered George Bryce's racing school in 2013 and was a finalist in the Star Racing Challenge in 2015, which is where he got his first taste of riding a Pro Stock Motorcycle.
That's also where he met fellow Road to the Future candidate Kelly Clontz. "Kelly was at the Challenge, and we're friends but I think there's a natural rivalry there," Ryan said. Oehler's team—like Clontz's—is mostly a family operation, with Ryan partnering with his dad. Another natural aspect to the rivalry is the equipment—Clontz on a Suzuki and lifelong Harley racer Oehler on a Buell V-Twin. "She's tough, I like her."
Oehler outpaced Clontz in the Challenge, but Kelly was one up on Ryan at last year's one-off, non-NHRA PSM race at Capitol Raceway in Maryland. "She busted into the 6.80s there and I just missed it with a low 6.90. I gave her a round of applause but did have to walk away with my tail between my legs—and some broken parts."
Now both riders plan a full year of NHRA Mello Yello racing, which was a scheduling headache for Oehler. "I'm getting married this year!" said Ryan, whose fiancée Laura Griffin is also his team's graphic designer, photographer, videographer, social media manager, and his secretary at work. "I've avoided all the precious dates (NHRA weekends) with our wedding planning, so we're getting married in July and I'll be getting back from our honeymoon just in time for the Denver race."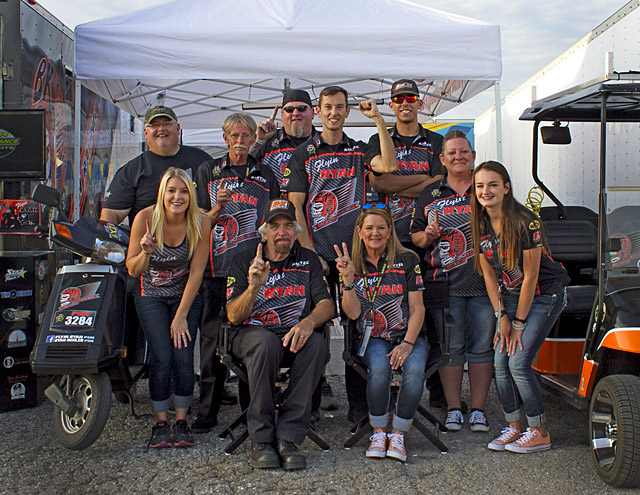 Both Oehler and Clontz tested at Bradenton in February, but Ryan thinks he has the edge there. "We tested more this winter than probably any other team," said Oehler. "We tested in December and twice in February. But we're not testing this week, though, simply because if we had an issue, we wouldn't be able to make any repairs. We want to come into the Gators with everything fresh."
Oehler and his father Brad run a busy HVAC business, so test days for them are frequently redeye flights in the A.M. followed by late night return flights and back on the job first thing in the morning.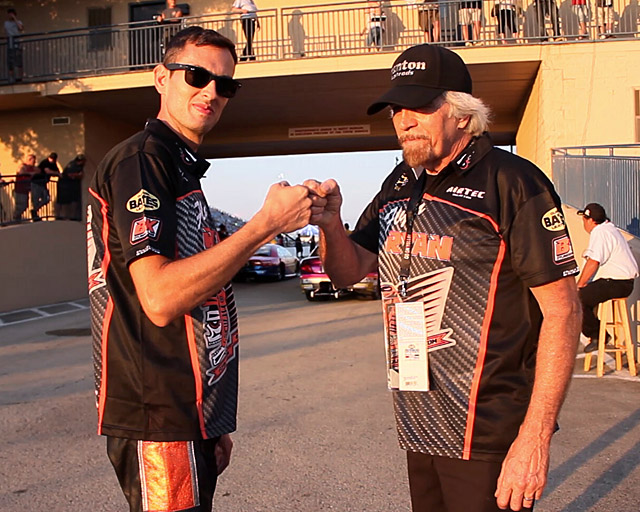 But the Oehlers' hard work is paying off. "We're getting comfortable with the bike," Ryan said, referring to the S&S-powered Buell he acquired from Star Racing—the one Angelle Sampey rode in 2015. Oehler qualified at his home track in St. Louis last year and again in Pomona, and missed the show by one spot at his other two events.
Now they have two motors with a third one on the way to fit in the Buell's frame rails, which spent two weeks this winter getting massaged by veteran chassis guru Dave Scaggs at D&G Chassis. "We lightened the bike quite a bit," reported Oehler. "New body, new outer bearing support, a new rear wheel. Between Dave and I, we both spent over 100 hours apiece on the bike from Christmas to New Year's Eve."
While at D&G and testing in nearby Bradenton, Oehler also received help from Jay Regan of MRE and the Manufacturers' Cup. "Jay's been right there with me every step of the way. He's been very helpful, introduced me to a lot of important people, and been kind enough to work with me on parts and storage of the rig. He is one of my best allies.
"And we're finally getting a handle on it, finally running fast, and definitely gonna run in the .80s. We'd love to run in the .80s at the Gators and get into the middle of the pack—that's our goal for this weekend. But basically, we have the mindset that we're gonna go A to B, make good consistent passes, and work the data to whatever we can achieve on the tune-up."
The Oehlers have their own engine program, working to carry over their AMRA Pro Modified success (in addition to two championships, they still hold the AMRA record in the hotly contested class) to the Mello Yello circuit. "In 2016 we won every single race except one, where we runner-upped because of a redlight. It was time for us to move on."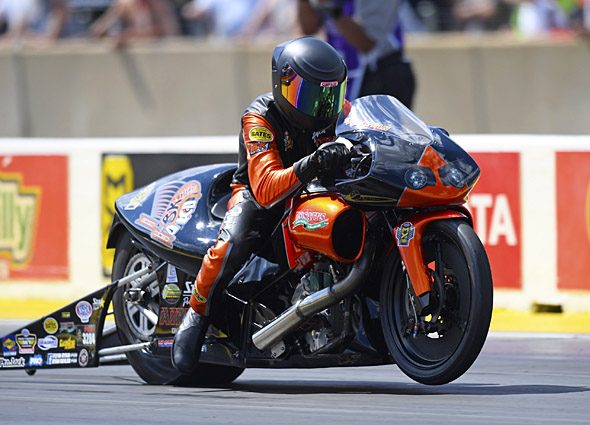 Moving on has required a considerable amount of work and expense beyond the race equipment itself. "Upgrading our facility to handle the loads these motors create is a job all in itself. We've moved our business and we have a much bigger shop—a full machine shop, and a new SuperFlow engine dyno test cell. Dad's been working his fingers to the bone in there about 15 hours a day, every day, for about six months now."
The elder Oehler started working on Pro Stock Cars in the '70s before switching over to Harley-Davidson race and street performance, and both father and son are particularly excited about this particular Gatornationals —the first time that Pro Stock Motorcycles and Top Fuel Harleys are racing at the same NHRA national event.
"We come from the all-Harley world, so this is a big deal for us. We set the Top Fuel Harley record in the '90s with Bill Furr," said Ryan, who'd like to see one sponsor bridge the gap between the close precision of Pro Stock and the rough and tumble violence of nitro. "We want to team up with a Top Fuel program and give a sponsor 24 race exposure.
"There's a lot of Fuel guys we're close with, so we'll be discussing opportunities with all of them. I think it's a great package for one sponsor to span all motorcycle drag racing. It would be huge."
Also huge is the support Oehler's already receiving for his PSM effort. "The Tim Birch family has been real supportive, and between their help, MRE, D&G, High Performance Lubricants, Gas Jockey Graphics, Precision Plastic Products, Fogler Signs, Dawn and Dana at Bates Leathers, Dave Conforti at Worldwide Bearings, our company AirTec, Inc., and our own B&K Cylinder heads, we're putting it all together. And Matt Smith helped us with the new body—we got that from him. And of course I've got my solid crewmen Alex Tutt and Phil Leptich."
So now it's time for the 33 year-old Illinois racer to deliver at Gainesville and beyond. "The gloves are off," said Oehler. "I've got a lot of seat time over the winter and my confidence is up—way up. And as George Bryce has always told me—now it's time to shut up and put it on the scoreboard!"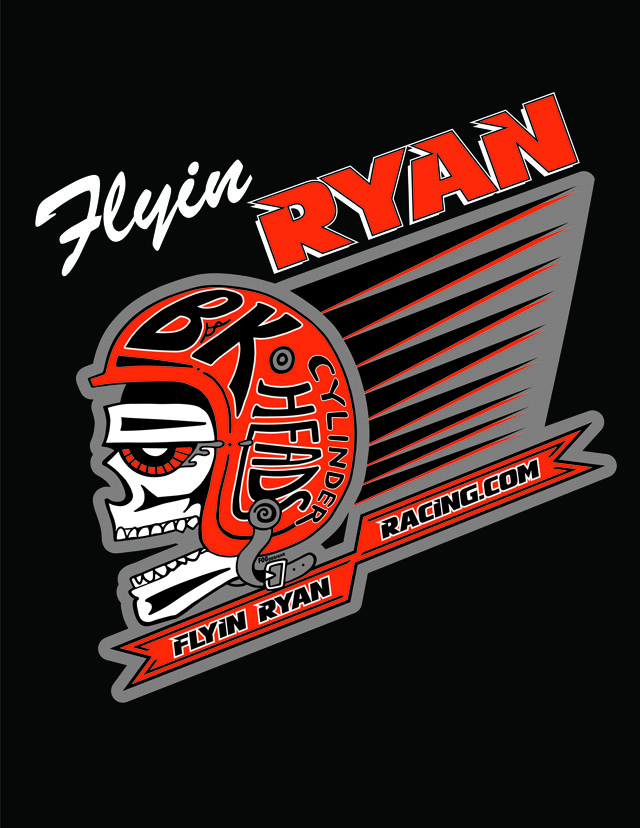 Ryan Oehler thanks Precision Plastic Products http://www.precisionlexan.com/Default.asp , Gas Jockey Graphics https://www.facebook.com/Gasjockeygraphics101/ , the Birch Family https://www.capitolgroupinc.com , High performance lubricants http://www.hplubricants.com/wp/ , Fogler Signs https://foglersigns.com ,
S&S https://www.sscycle.com , MRE http://www.murdochracing.com , D&G Chassis http://www.dgchassis.net , Rosati's Pizza https://www.rosatispizza.com , Bates Leathers https://www.batesleathers.com/ , Worldwide Bearings http://www.worldwidebearings.com/ , AirTec, Inc. https://www.facebook.com/airtecinc/ , B&K Cylinder Heads and Flyin' Ryan Racing FlyinRyanRacing.com , and his family.
contact: airtecinc@gmail.com