Multi-time NHRA world champion Eddie Krawiec picked up his first victory in more than two years, powering to the win in a thrilling side-by-side duel with Ryan Oehler in the final round of Sunday's 33rd annual Mopar Express Lane NHRA SpringNationals presented by Pennzoil at Houston Raceway Park.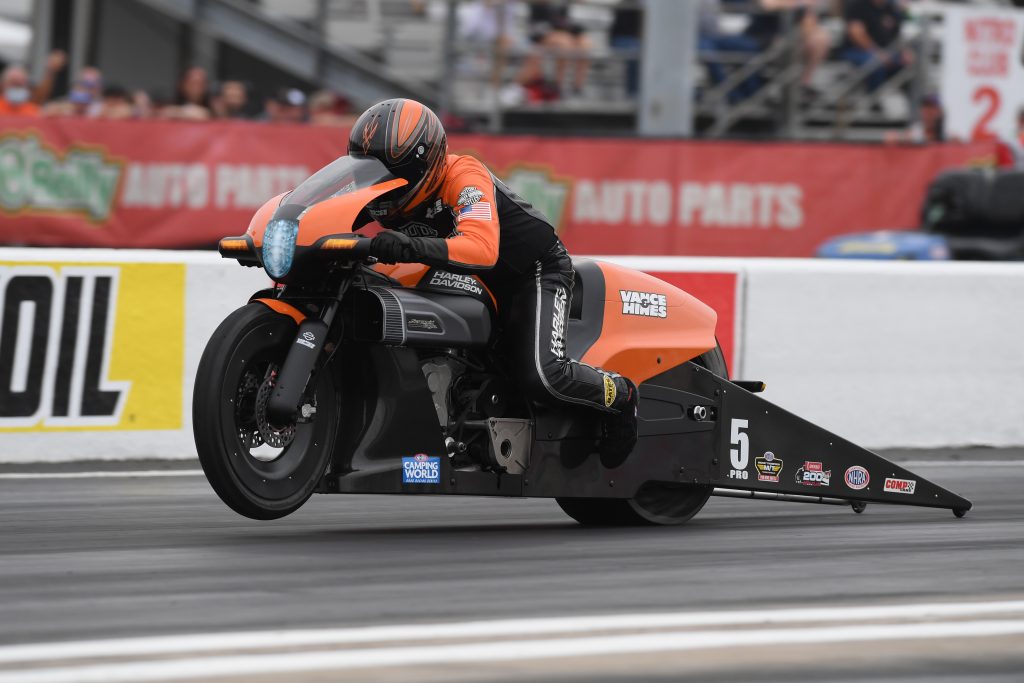 Krawiec won on his Harley-Davidson FXDR, going 6.801 at 198.61 in the finals. Krawiec's last victory came at Brainerd in 2018, but he was impressive in Houston on Sunday to pick up his 48th career victory. He had a series of 6.80 runs over the final three rounds, beating Michael Phillips, Jerry Savoie and Hector Arana Jr. to reach the final round. Oehler beat Kelly Clontz, Andrew Hines and points leader Matt Smith to earn his second final-round berth, but Krawiec led from start to finish in a strong championship round performance.
"It just feels good to win again," Krawiec said. "I feel like I've accomplished all that I've needed to and I don't have to prove anything, but it's nice just to get it done. There's a lot of great racers in the class and you can't take anything for granted. You have to appreciate every win, even more so right now with the competition level in the class. We've got 4-5 motorcycles all fighting for the championship. It's great racing and that's the way it should be. You have to be on your game at all times. It's a big team effort and that's what I really attribute this to."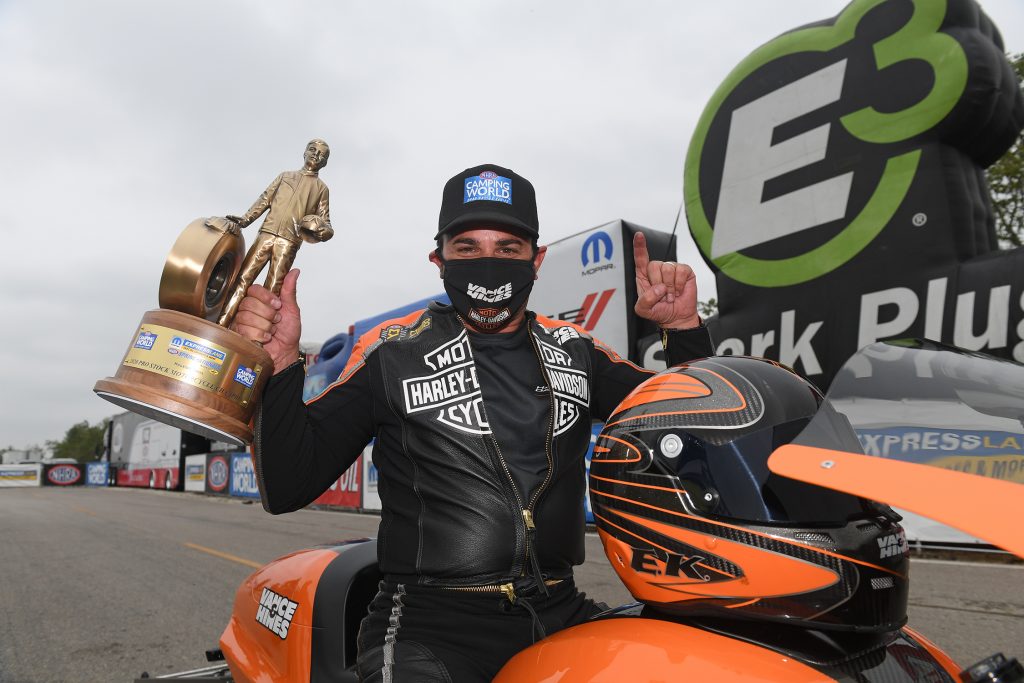 Matt Smith kept the points lead and is 58 points ahead of Scotty Pollacheck with one race remaining. Defending world champ Hines trails Pollacheck by just eight points as he remains in title contention as well.
The NHRA Camping World Drag Racing Series finishes its 2020 season Oct. 30-Nov. 1 with the Dodge NHRA Finals presented by Pennzoil at The Strip at Las Vegas Motor Speedway.
There are more videos on the Cycledrag Youtube channel (please subscribe here) and the Cycledrag.com Facebook page (Please like here) and more will be coming soon. Check back daily.
ROUND ONE — Jerry Savoie, Suzuki, 6.935, 187.65 def. Steve Johnson, Suzuki, Broke; Hector Arana Jr, 6.854, 197.51 def. Angie Smith, 8.003, 119.68; Scotty Pollacheck, 6.877, 197.94 def. John Hall, Suzuki, Foul – Red Light; Andrew Hines, Harley-Davidson, 6.810, 198.15 def. Chris Bostick, Suzuki, 7.225, 189.23; David Barron, 7.028, 191.29 def. Angelle Sampey, Harley-Davidson, 7.314, 169.53; Ryan Oehler, 6.850, 198.12 def. Kelly Clontz, Suzuki, 6.929, 193.71; Matt Smith, 6.769, 200.44 def. Marc Ingwersen, Broke – No Show; Eddie Krawiec, Harley-Davidson, 6.818, 196.50 def. Michael Phillips, Suzuki, 6.944, 192.91;
QUARTERFINALS — Arana Jr, 6.835, 196.79 def. Barron, 6.964, 190.32; Krawiec, 6.808, 198.29 def. Savoie, Broke; Oehler, 6.855, 197.16 def. Hines, 6.818, 198.15; M. Smith, 6.801, 200.68 def. Pollacheck, 6.854, 198.26;
SEMIFINALS — Krawiec, 6.803, 199.11 def. Arana Jr, 6.883, 196.59; Oehler, 6.859, 197.13 def. M. Smith, 6.962, 163.06;
FINAL — Krawiec, 6.801, 198.61 def. Oehler, 6.905, 181.37.
Points
1. Matt Smith, 542; 2. Scotty Pollacheck, 484; 3. Andrew Hines, 476; 4. Angelle Sampey, 447; 5. Eddie Krawiec, 424; 6. Ryan Oehler, 339; 7. Angie Smith, 338; 8. (tie) Steve Johnson, 303; Jerry Savoie, 303; 10. Hector Arana Jr, 284