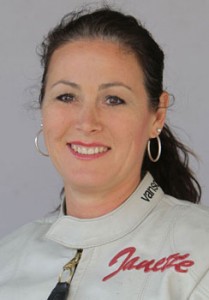 Janette Thornley's ready to go racing.  "Since I am now officially hooked on Nitro and my rookie year is under my belt, I felt it was time to do some more research and discover ways other women racers find support.  During this effort and networking, a friend and fan of mine, Doug Atkinson, shared my photo on a Facebook page– Female Racer's – Ya Gotta Love Em.  After reviewing some of the info, I discovered Racing Diva Radio's call for guests and threw my name in the hat.  Tiffany Welsh is the hostess and found my story interesting so she scheduled me on the show. Press, marketing and social media is all part of the transition to race on the professional curcuits so off we go into new territory."
Thornley goes on to say, "We are all so excited for 2013 racing season for Dream Chaser Racin'.  The team has been working hard to get the last minute items together for our first race.  Since we stepped out on our own this year, there were a lot of items we needed to purchase to ensure our rig was road ready and that we had the right equipment at the track as we are hunting for a successful year. Johnny Vickers, veteran racer and the power behind Pro Dragster with Hawaya Racing, worked on the motor and replaced my steel rods with aluminum.  New pistons came with the refresh also.  Additionally, crew members Freddie Robbins and Buddy Foss have gone over this bike from the tip of the front tire to the end of the wheelie bar.  As they checked the bike for safe conditions, they did some rewiring and replaced a few lines all in hopes of reducing the possibility of problems at the track.  I am truly blessed to have the two of them engaged like they are but they want to bring home a Wally (NHRA Trophy) also!!"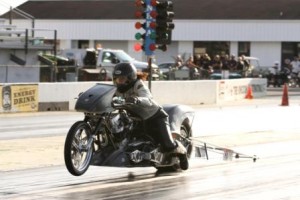 "My plans for 2013 are coming together nicely. I plan to run primarily in the NHRA Harley-Davidson Drag Racing Series. Currently, the plan is to race as many as I can without interfering with work commitments.  Additionally I will have some appearances at the Manufactures Cup and American Motorcycle Racing Association (AMRA). We would love to possibly race in Sturgis and who knows where else if time and money allows."
Tune in to hear Janette Thornley and Tiffany Welsh on Racing Diva Radio
When:  Tuesday, March 19th 6 p.m. c.s.t
Listen to the show:  www.blogtalkradio.com/racingdivaradio/2013/03/19/racing-diva-radio-presents-janette-thornley-h-d-drag-series
Season starters for Dream Chaser Racin':
March 23-24, AMRA Baton Rouge LA
April 6-7, Manufacture's Cup Bradenton FL
April 13-14, NHRA Richmond VA
Janette Thornley is owner and operator of her nitro burning, carbureted, 121 ci Pro Dragster and Dream Chaser Racin'.  Thank you : LAT Racing Oils  Special thanks to all of those that continue to support my efforts through their time, hard work and moral support.   Sponsors always welcome!
 Contact Dream Chaser Racin' at dreamchaserracin@yahoo.com