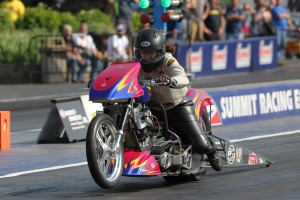 After a great weekend in Norwalk, the Dream Chaser Racin' team struggled in Atlanta.  Racing back to back weekends, the team traveled to Atlanta Dragway for NHRA's Harley-Davidson Drag Racing Series, NHRA Southeast Division 2 event. 
"We came off the truck strong, running 7.415 seconds in the first qualifying round" says Janette Thornley, "A 7.415 second quarter mile is a good number except when you're running Kirby Apathy or Dale Niles." Both ran stronger numbers, Kirby with a 7.267 ET at 171.23 mph to land him the number one qualifier spot and Dale with a 7.384 ET at 165.01 mph.  "Given that we were only .15 seconds apart for qualifying, it was anyone's Wally to win", says Thornley. 
For elimination round, the team made a few tuning adjustments as Thornley was paired with Niles but it just wasn't enough.  Thornley lost running a disappointing 7.890 ET at 170.51 mph to Niles 7.381 ET at 174.35 mph. 
"As team owner I face some hard decisions as Dream Chaser Racin' continues to make a name for itself", says Thornley, "I am making adjustments to team roles that will strengthen the team and assist with our success and longevity of Dream Chaser Racin'." 
"I think I can speak for all of the Harley-Davidson racers attending the NHRA Harley-Davidson Drag Racing Series events," says Thornley, "we really appreciate NHRA welcoming us to the Lucas Oil Series and the spectators they are bringing in."
Look for Dream Chaser Racin' June 14-16, 2013 as they make their way to the next NHRA Harley-Davidson Drag Racing Series event held at the Bandimere Speedway, Bandimere Colorado. 

Dream Chaser Racin' would like to thank LAT Racing Oils, Robbins Performance and MaP for your sponsorship. Sponsors always welcome
Contact Dream Chaser Racin' atdreamchaserracin@yahoo.com
Facebook Friend-Janette Thornley and Dream Chaser Racin' – Janette Thornley