Pro Street drag bikes continue to advance at a staggering pace and that trend continued at the Hail Mary Derby exhibition race from Maryland International Raceway Nov. 4-8, where Chris Moore took over the top spot in the no-bar, street tire category with a jaw dropping 6.300 at 233 mph.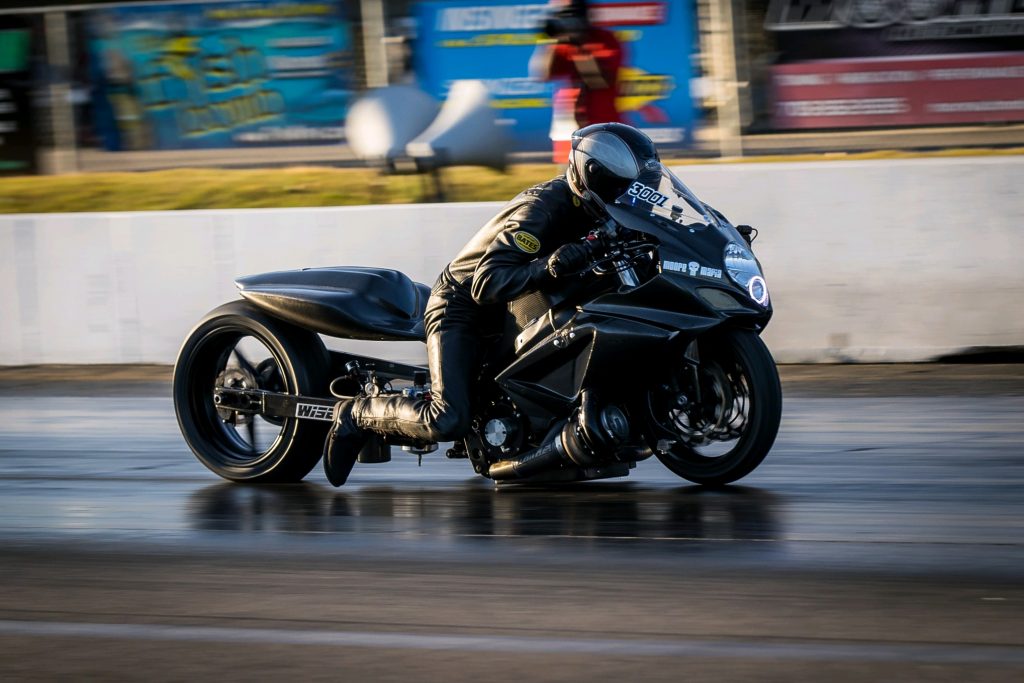 The Greer, S.C. Motorsports dealer, tuner and avid Youtuber was ecstatic over the performance of his self-built 2019 turbo GSXR 1000R
"It's rewarding because we are just a small time team and new to the game. We came into Pro Street last year for the first time ever, and people doubted us. They said this is a different world from what you are used to, "said Moore, who has been drag racing 23 years, mainly in the grudge class. "When I got the time slip I could not believe it. It was amazing. We knew the bike was capable but we were really struggling with the 60-foot. On our record pass we went from a 1.13 to a 1.09 60-foot time and a 2.85 to a 2.80 330."
Moore attributes the record run to something crew chief BJ Humphries found in the tune.
Coming into the race, the top mark for a no-bar, street tire bike was held by Jeremy Teasley at 6.34 with Moore closely following at 6.36. Current Pro Street rules have these competitors at 69 inches of wheelbase, but for this fan-friendly, fun, exhibition showdown they were allowed to go to 72.5 inches. Moore says he was still at legal Pro Street weight with the bike and rider coming in at 585 pounds.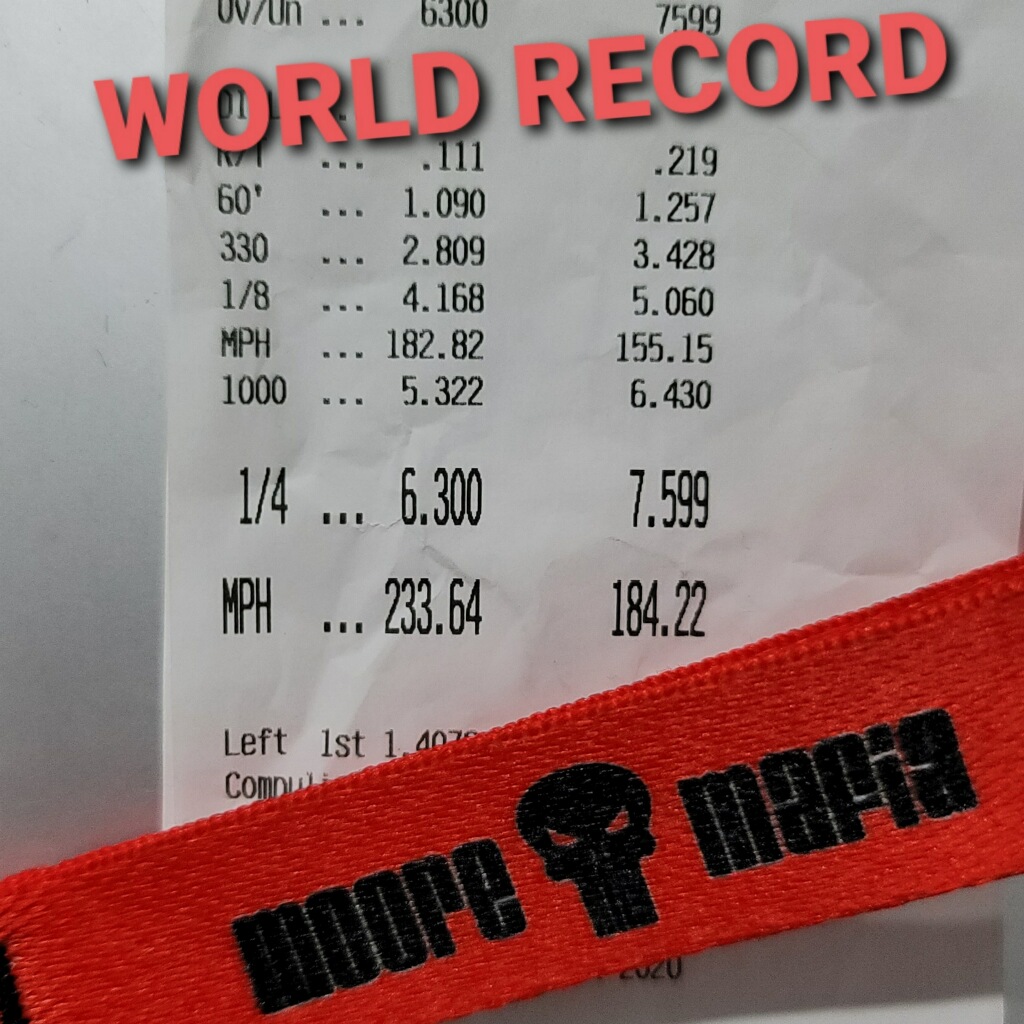 "It was our exact Pro Street setup excluding the length," Moore said. "We knew we had a chance to do something special if we could put it all together."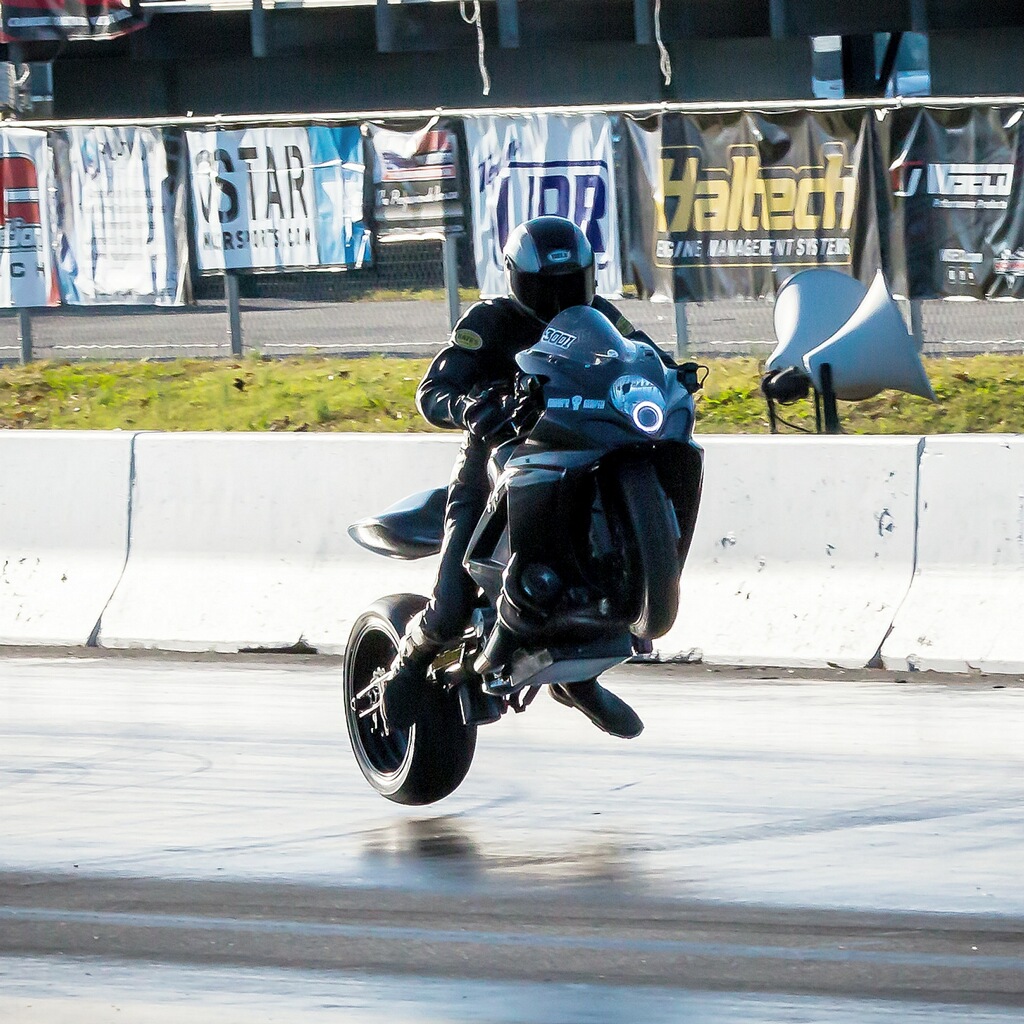 Moore even got himself a photo for the ages as both tires elevated off the ground on a strong pass. Moore said it was a little more excitement than he cared for.
"When the bike left it started to wheelie in the 60-foot and I rode it out. When it hit 4th, that's when BJ really smacks it with the power super hard, and it was downright scary. It came up quick and I said BJ is trying to throw me off," laughed Moore.
Moore was able to keep the motorcycle from crashing and return for the record crushing blast.
It's not the first time Moore has made history. In 2003 at just 18 years old he set the world record in Outlaw Pro Street with 7.19 at 197 mph.
He says the most recent one is his greatest milestone yet.
"This is even more rewarding because we built this bike all on our own and the level of competition is so high. DME and Williford Racing have been at this so long and are very tough," Moore said. "For this to happen in only our second season, we could not ask for more."
When asked if there was any possibility of a no bar, street tire Grudge bike, that keeps times a secret, being quicker, Moore said no way.
"Those guys are flying, but not like this," Moore said. "The fastest grudge bikes are in the 4.20s in the 1/8th."
Moore ran a 4.16 on his record pass.
Next up for Moore is a Kings of Grudge race in December and a much-hyped showdown with the legend Rickey Gadson, now confirmed for March 27th at Galot Motorsports Park.
There are more videos on the Cycledrag Youtube channel (please subscribe here) and the Cycledrag.com Facebook page (Please like here) and more will be coming soon. Check back daily.
To take advantage of some amazing discounts at Brock's Performance, click – http://brocksperformance.com?aff=12
USE cycledrag5 coupon code.