There is nothing quite like the start of a new championship drag racing season to get the blood pumping.
In the case of 6 x Australian Top Fuel Motorcycle Champion Chris Matheson, he's feeling like a teenager again about to go on his first date!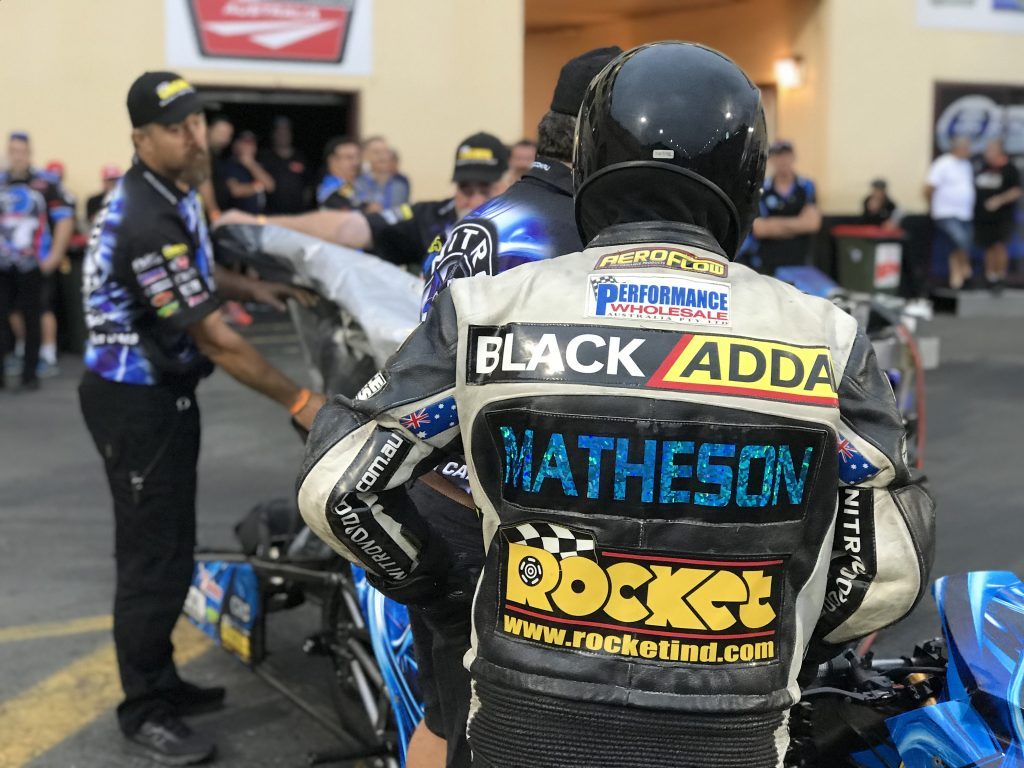 This coming weekend the 2019/2020 400 Thunder Championship kicks off at Sydney Dragway, featuring all the professional categories.
Matheson and his Nitro Voodoo team will begin their attack to win the much-coveted 400 Thunder Australia Top Fuel Motorcycle championship.
"Winning is what it's all about for me", said Matheson. I like going hard, smashing records and winning championship titles. They are how you etch your name in the history books forever."
Matheson is attempting to win his 7th title and is confident he can make history on his 1500 horsepower nitro-burning motorcycle.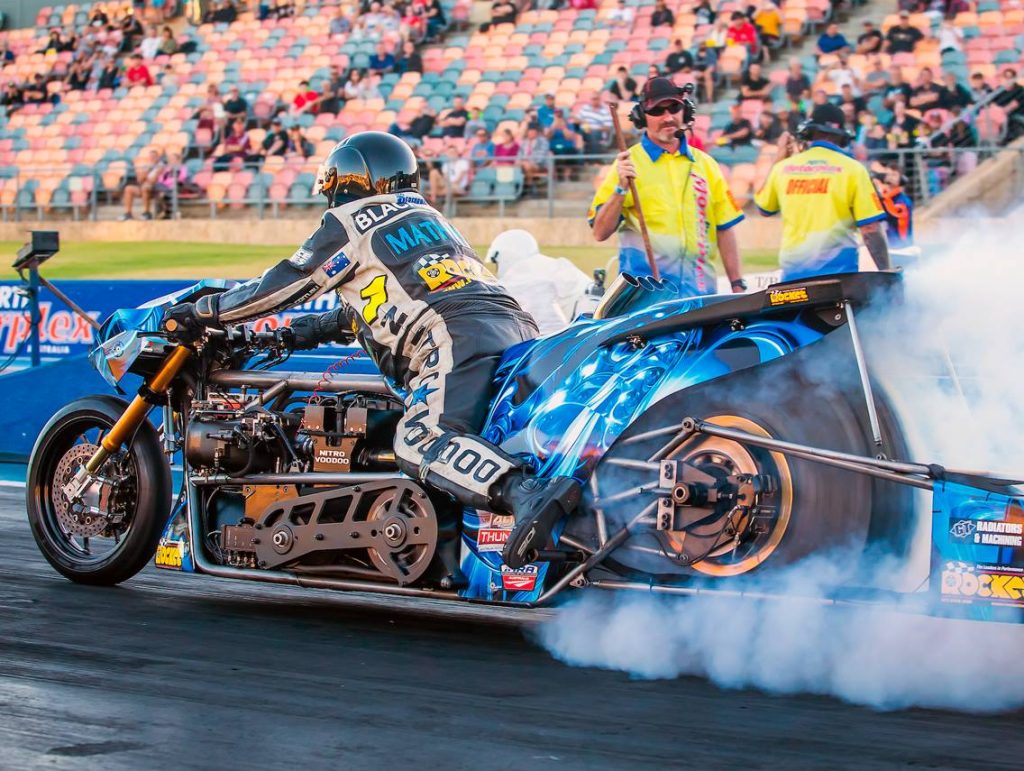 "We are loaded and ready to race the entire 2019/20 400 Thunder championship drag racing season. The off-season has been great, we have a semi-trailer full of fresh gear, new sponsors and many old sponsors who are in their 10th year of supporting Chris Matheson Racing.
"Our last time on the track was in Sydney for the Aeroflow World Fuel Altered Challenge. We made a lot of changes to the bike, both external and internal, ready for the next development level of our racing program," said Matheson.
"While we didn't achieve what we had hoped, we went home and found a few things that showed us what went wrong. We are making plenty of horsepower, but the key is to get it down the track and that sometimes is the tricky part. However, if it was easy everyone would be doing this, grinned Matheson
"The bike is very quick, strong and reliable and I'm really enjoying the racing as much as ever."
Sydney's East Coast Thunder event will be the 400 Thunder season opener with plenty of fans to see the new machines, liveries, modifications, and new teams.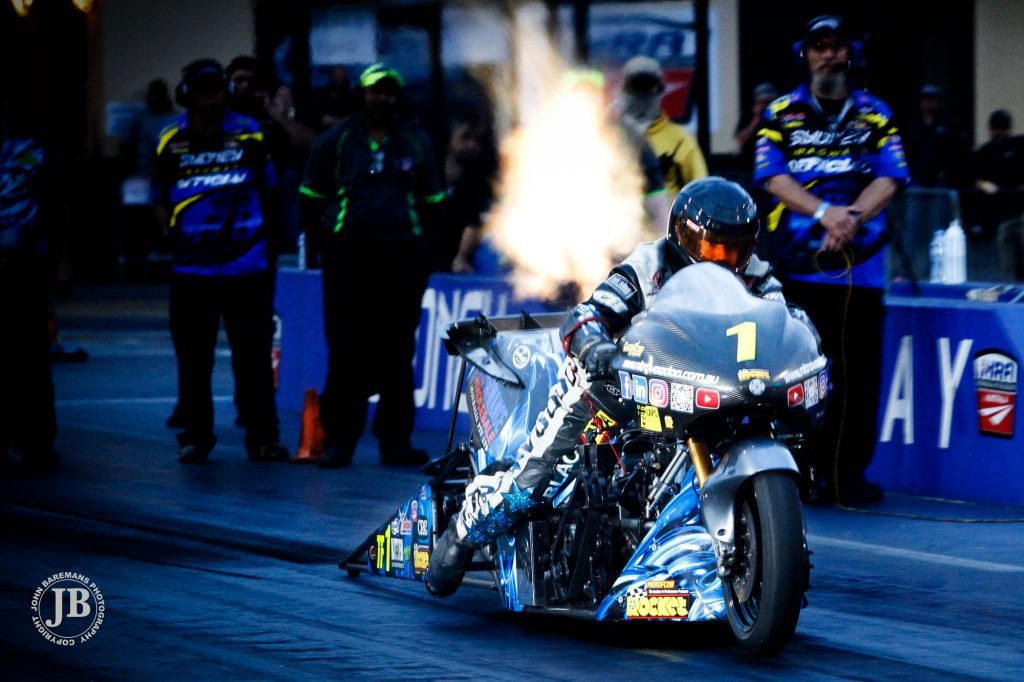 Matheson has been the benchmark Top Fuel motorcycle team in the southern hemisphere for the past 10 years, holding the national records for the entire time.
No one has dominated the Top Fuel Motorcycle series in Australia like Matheson. He holds all but one of the track records at all the major tracks across Australia.
When asked Matheson said the eluded Perth record is in his sights on his next visit to Perth.
After winning the last three national championships on the trot Matheson said he is more driven than he's ever been.
"I love this sport and it gets my blood pumping. I've got an old head, but my enthusiasm makes me feel young.
"Looking forward to meeting all our fans in Sydney. If you are in the pits please come over and say hi. We have plenty of new hero cards ready to sign and hand out."
There are more videos on the Cycledrag Youtube channel (please subscribe here) and the Cycledrag.com Facebook page (Please like here) and more will be coming soon. Check back daily.
Photos by John Baremans
Chris Matheson Racing is proudly supported by the following sponsors – Kitten Ultra, Rocket Industries, CRC, Web Cam Racing Cams, Larry McBride, World Wide Bearing Company, Boninfante Friction Inc, Performance Decals & Signage, Bill Furr Orangeburg Cycle Racing, Hi-Side Leather Repair, Performance Wholesale, GT Radiators & Machining, Boninfante, Great Southern Diesel Services, Aeroflow Performance, Ballistic Performance Parts, Fueltech, CycleDrag.com and New Gen Business Park.