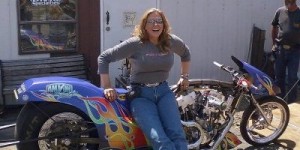 Carrie Seifert Tate a.k.a. "The AMAZON" goes to the Winner's Circle at the AHDRA Liberty Nitro Nationals in Catawissa, PA, September 9, 2012. Seifert Tate is currently Number 2 in National Points in the AHDRA Pro Drag Nitro Harley Class. She enjoyed her first win on her Hawaya Racing Pro Drag bike, Brutus, last weekend after two Runner Up finishes.  The first in Atco, NJ, on May 20th then again at Norwalk, OH, June 10th.  The Amazon Racing Team was ready for a big win.
"After the long 1,200 mile drive to Pennsylvania it was time to get down to business. During our test and tune pass Friday we discovered a clutch problem", says her Crew Chief and husband, Kerry Tate. "I felt like we had it corrected Friday night so we were ready for qualifying on Saturday.  We knew we might get only one qualifying pass in due to predicted rain so we needed to make it count. The Amazon came out strong, but she drifted to the center line taking out two cones on the big end of the track", Tate continues.  "The pass was disqualified and with the rain moving in we thought we were done for the weekend."  Mr. Kerry continued to prep Brutus just in case the rain held off and luckily it did.  The Amazon Racing Team made a second qualifying pass running a 7.637 putting them in the #3 spot.
Sunday turned out to be a beautiful day for racing.  The first race The Amazon lined up with Pete Stimling and was able to get by him with her 7.741 compared to his 7.951.    "We were still wrestling with a clutch problem going in to the semi-finals against the #1 points leader, Steve Pier of Bad Apple Racing", says Carrie.  "Steve is a fierce competitor and there is no room for error going up against him.  I knew I was going to have to beat him off the line to get a little edge and hope everything held together. Steve and I have been dukin' it out all season.  I've gotten by him once already in Rockingham so I felt like we could pull it off and beat him again," she says smiling.  Steve ran a 7.481 and The Amazon ran a 7.545.  Unfortunately for Pier, he red lighted and Amazon Racing was going to the finals!
"We were headed to the finals against our friend and 2011 AHDRA Pro Drag Rookie of the Year, Rich Vreeland of Vreeland's Harley-Davidson Racing," says Mr. Kerry.  "The Amazon was on her game and running wide open and straight as an arrow since her squirrelly first qualifying pass.  I knew she was in her groove.  We were still fighting the clutch problem so we had some strategic decisions to make.  We didn't drive 2,400 miles round trip to be Runner Up.  It was all or nothing", he says.
The sound of Nitro burning Harleys comes to life and after the burn outs they both roll up to the staging lights.  "Rich had been riding like a champ all weekend and his brother Ray Vreeland was tuning his bike.  That's a tough combination to beat.  One mistake on my part and we'd be done for", says Carrie.  Vreeland jumped The Amazon with a .126 reaction time to her .131. She pulled strong and straight all the way down the 1,320 with a 7.51 at 165.31 to Rich's 8.149 at 115.12.  The Amazon Racing Team pulled off the big win!
We appreciate our sponsors: Hawaya Racing, Bates Custom Leathers, Engineered Performance Tooling, Beene's Baggers, Conway Collision and Superior Interiors.  Thanks to Johnny Vickers of Hawaya Racing for sharing his wisdom and technical support between races. Thanks to Leanne Purvis for keeping the faith.  Thanks to Billy Jackson for helping us in the pits between rounds.  We also want to thank Rich, Ray and Patty Vreeland of Vreeland's Harley-Davidson for sponsoring this race. We thank the passionate Harley drag racing fans who come out and support our wonderful sport.
For more information about our racing program go to www.amazondragracing.com