Perennial Top Fuel Motorcycle championship contender Dave Vantine continued his meteoric rise to the pinnacle of the sport with an empathic season debut at the Man Cup MTC Nationals from South Georgia Motorsports Park, April 30-May-2, where Vantine and his freshly revamped "Yellow Bullet" soared to a new personal best speed of 257 mph.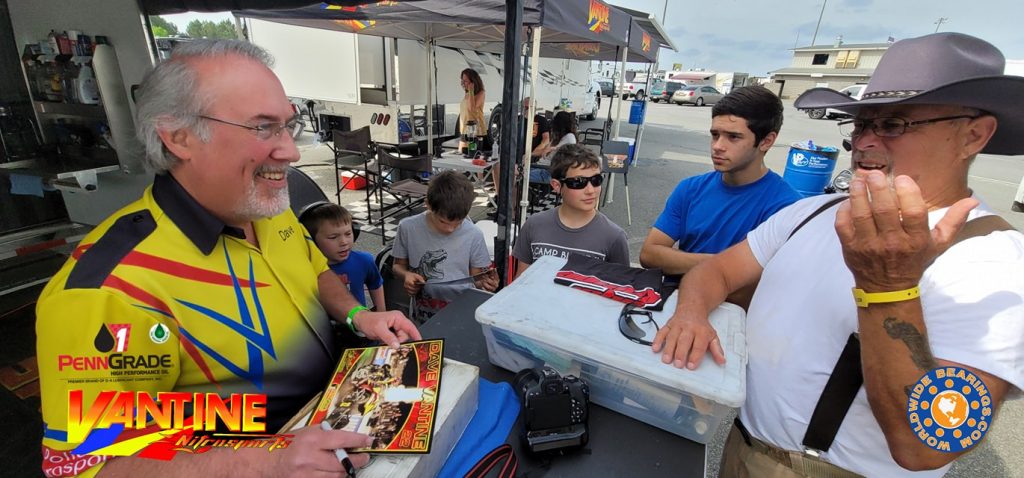 The rapid blast vaults Vantine to No. 2, ahead of Kory Hogan on the all-time fastest list. The fearless pilot from New York trails only legend Larry "Spiderman" McBride's 265 mph speed record.
The incredible speed certainly got Vantine's attention but the talented rider says it wasn't nearly as harrowing as his previous best run of 254 mph, from two seasons ago at SGMP. After eclipsing 254 mph in 2019 Vantine made valuable and beneficial changes to his riding style.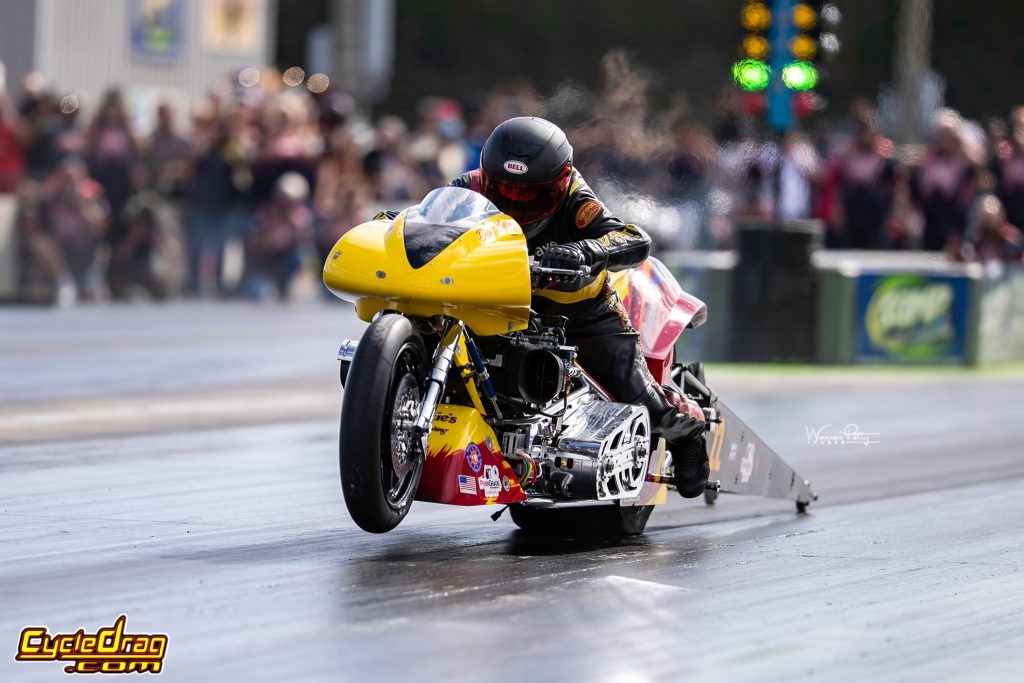 "I was a little more prepared. I worked with Larry on some things and I stay tucked a little harder. I grip it like a motocross bike with my legs and stay super low. In the shutdown I let the bike dictate and shutter a little bit. You have to be on your game. Once you are north of 250 mph there is not a lot of extra time for anything," Vantine said.
It underscores what McBride has always said about "relaxing" on the motorcycle and letting it do what it wants to before making any sudden moves.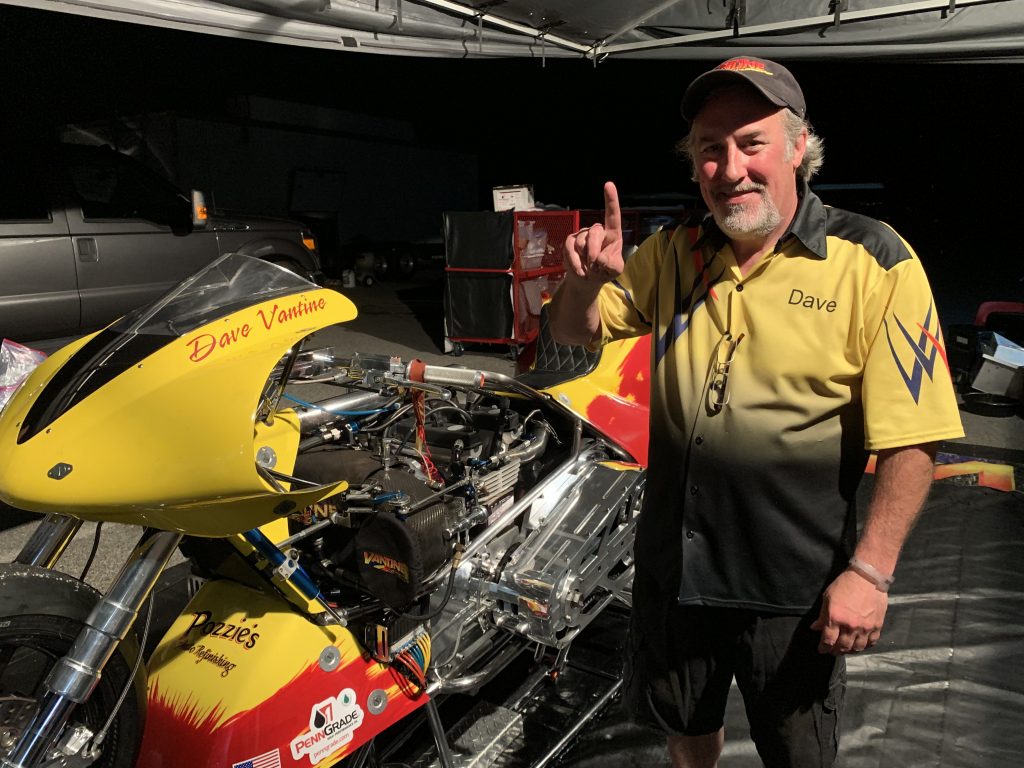 Despite the new and improved riding style, Vantine says he knew the Yellow Bullet was "eating" more than a mouthful.
"The supercharger was whining like crazy. It was either going to give up the ghost or it was moving," laughed Vanitne. "It's truly a unique feeling to go that fast."
McBride, who was unable to attend the race, preparing for a knee replacement May 27th, send his heartfelt congratulations to the team.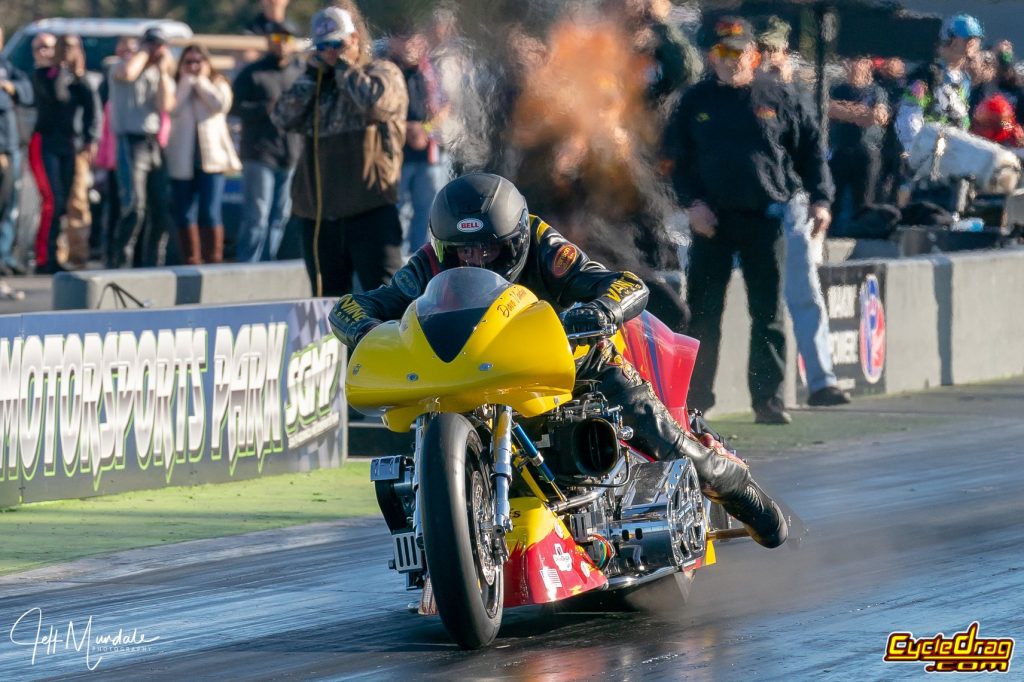 "Those guys did a fantastic job," McBride said. "I'm really proud of how far the entire team has come. I gave them the best motors I could and they did the rest."
A major reason for the increase in performance comes from the off-season improvements of talented tuning and building guru Greg Pollard. The bike spent most of the winter in Pollard's shop in Canada and was torn down to the bare frame for several upgrades.
"Greg did a fantastic job. He wired in a lot more controls and that has made the bike feel a lot smoother. It was a lot nicer to ride" Vantine said. "I think we are able to apply the power in a smoother fashion. When the clutch came in it was a smooth transition of power. We are spending a lot of time investing in how clutches change during a run and we are learning a lot."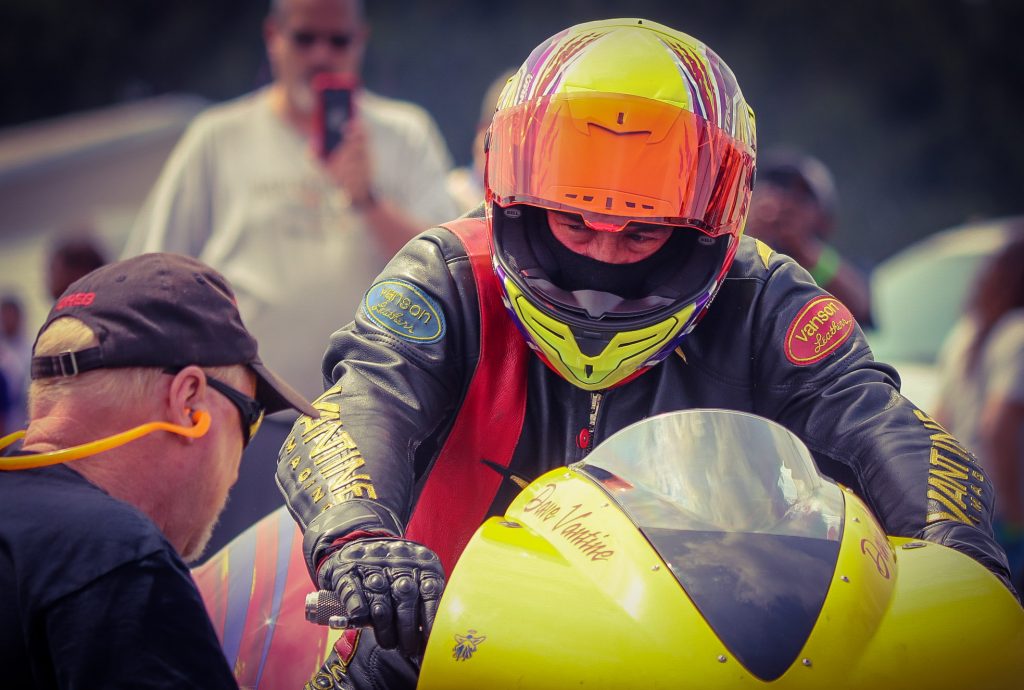 With a talented crew of Vantine, Pollard, "Nitro" Joe Taranto and others and great attention to detail, Vantine's chances of recording more personal bests this season are strong.

The only bad news for Vantine is since he was the only Top Fuel Motorcycle on the property he was not able to officially compete per new ManCup rules, which requires three entries.
With the NHRA national event at Richmond getting postponed, Vantine now turns his attention to the big Norwalk Night Under Fire Aug. 7 where he will face stiff competition from a full field of racers.
"We are really excited to be a part of the big show," Vanitne said. "We will be aiming to put down some numbers."
Vantine is also exploring other options for possible outings as well. Stay tuned to Cycledrag and Vantine's Facebook page for all the latest.
Vantine extended a special thanks to his entire team, Penn Grade Oil, World Wide Bearings, Larry and Steve McBride and Vanitne Imaging.
There are more videos on the Cycledrag Youtube channel (please subscribe here) and the Cycledrag.com Facebook page (Please like here) and more will be coming soon. Check back daily.
To take advantage of some amazing discounts at Brock's Performance, click – http://brocksperformance.com?aff=12
USE cycledrag5 coupon code.