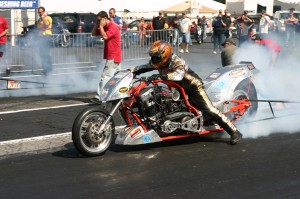 Larry "Drums" Brancaccio of Bammer Racing is flying solo this weekend at Moroso Motorsports Park, near West Palm Beach, FL. BUT he is NOT alone.
Brancaccio's crew was unable to attend the IHRA Night of Fire celebration, but Drums couldn't pass up the opportunity to perform in front of such a huge crowd at such a great race track. Michael Hopkins, crew chief for Bammer Racing, was winding up a family vacation when the invitation call came, "Drums has the bike prepped, he's ready for the show and all the Nitro Harley Teams are well known for chipping in to help a fellow racer. It won't be easy and we'll be talking over the weekend to offer support from afar."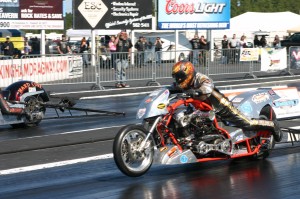 Drums is coming off a runner up close finish at the Richmond NHRA Harley-Davidson Drag Racing Series. He was taken out in the final round by Tommy Grimes of Ray Price Racing. Drums is ready for the winner's circle.
Qualifying begins Friday evening, we'll be posting on Facebook and www.BammerRacing.com
Bammer Racing's nitro pounding Top Fuel will be making horsepower and big noise for the spectators and sponsors.
Sponsors for 2014 include:
Central Metal Fabricators www.centralmetalfab.com
Anthony Augliera, Inc www.augliera.com
Richard Murray
Keith's Custom Seats www.keithscustomseats.com
World Wide Bearings www.worldwidebearings.com
Capone Landscape www.caponeracing.com
Vanson Leathers www.vansonleathers.com
Tattooville Tattoo www.tattooville.com
Autolite www.autolite.com
Chris DiMaggio Property Services
Starlight Tattoo www.starlighttattoo.com