If you think the Spiderman doesn't know his v-twins, think again.
The world's quickest Top Fuel Motorcycle drag racer Larry "Spiderman" McBride and talented tool and die maker, brother Steve, are known as meticulous, perfectionist motorcycle builders, whether they are constructing an inline four cylinder or a v-twin.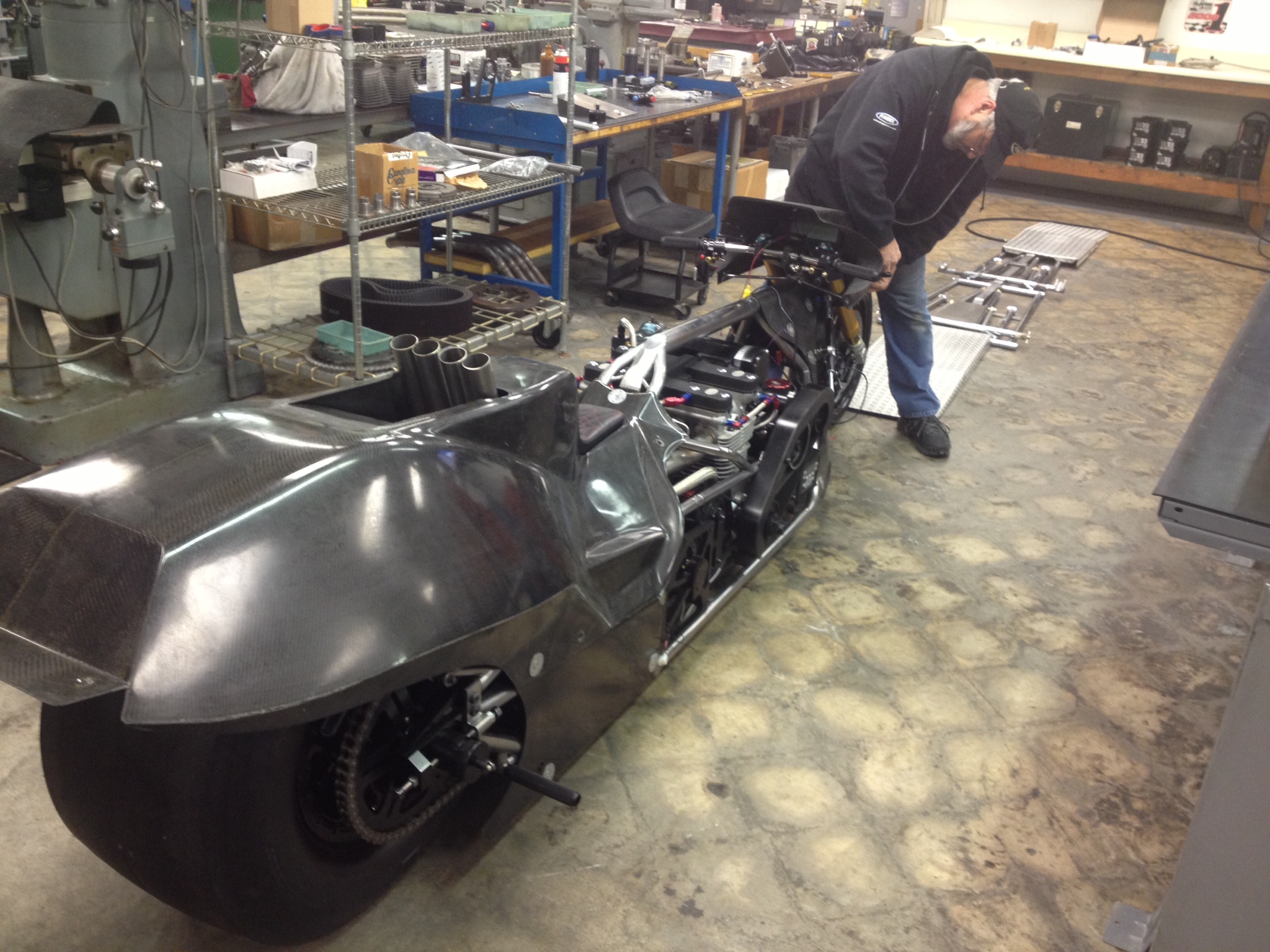 The McBride's reputation of excellence is what drove former AHDRA Pro Fuel champion Tim Kerrigan, formerly of Red Line Oil, to contract the Spiderman for a total overhaul of an outdated Nitro Harley. Kerrigan and McBride have teamed up on builds in the past. It was a way to reconnect with a popular segment of the sport for both parties.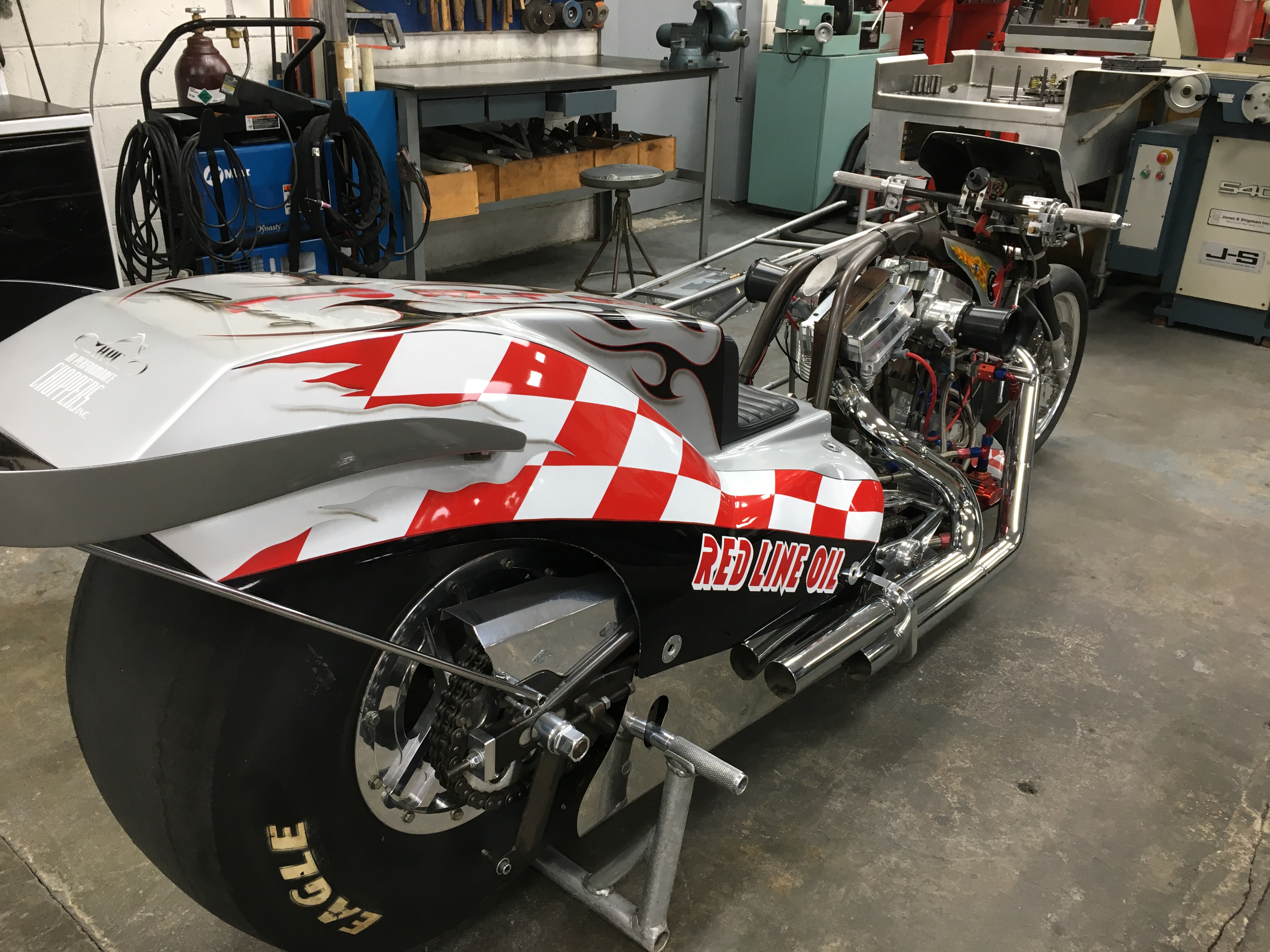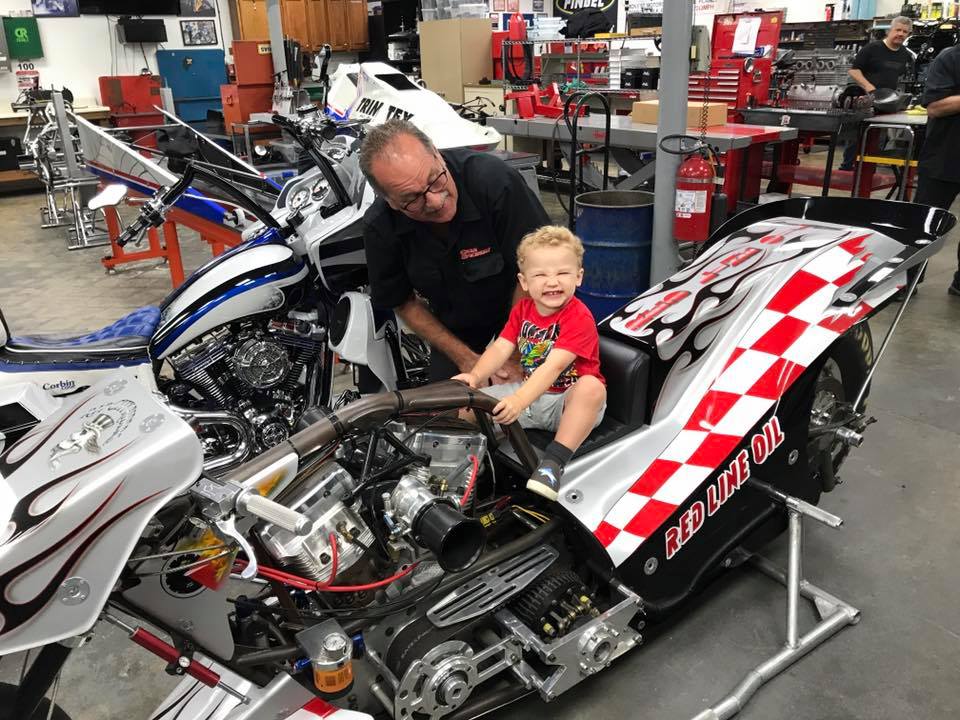 The motorcycle has not been raced in more than 15 years. Major updates were needed to bring this machine up to par.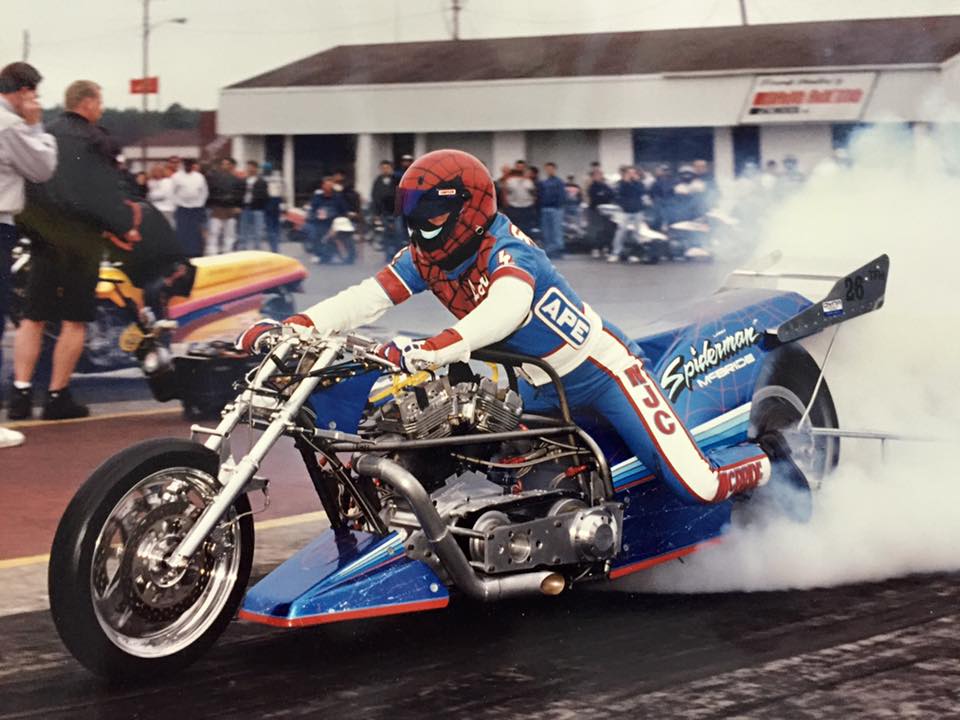 It has been since 1995 that the Spiderman campaigned an Overkill, Nitro Harley with Fred Buckley and Quick Way Trucking.
The passion for Nitro Harleys for the McBride's and Kerrigan was still as strong as ever.
"I've always loved the Nitro Harleys," McBride said. "One of my goals is to build my own someday."
A total of about 350 hours were put into the machine to usher it back into the modern era.
"Everything needed updated," McBride said. "We didn't anticipate this in the beginning but by the time we got done it was more time consuming than building a new bike."
THE FINISHED PRODUCT –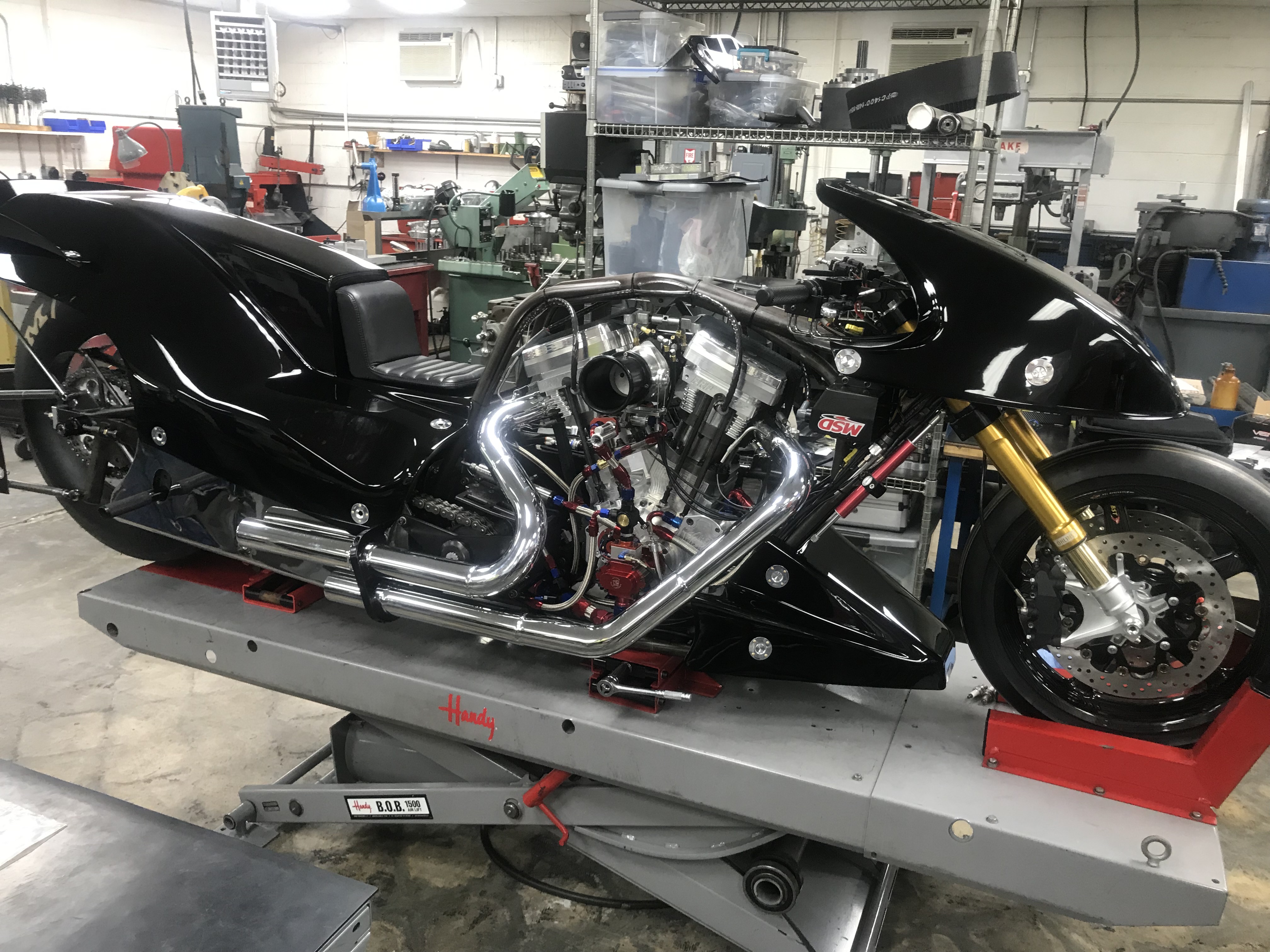 The bike came all the way down to the frame at McBride's Newport News, Va. Cycle Specialist headquarters.
"We spent a lot of time removing a lot of things that are unnecessary. We needed to do a lot of cutting, replacing of tabs and had to manufacture several brackets," McBride said. "We wanted it to look nice and be as easy as possible to work on."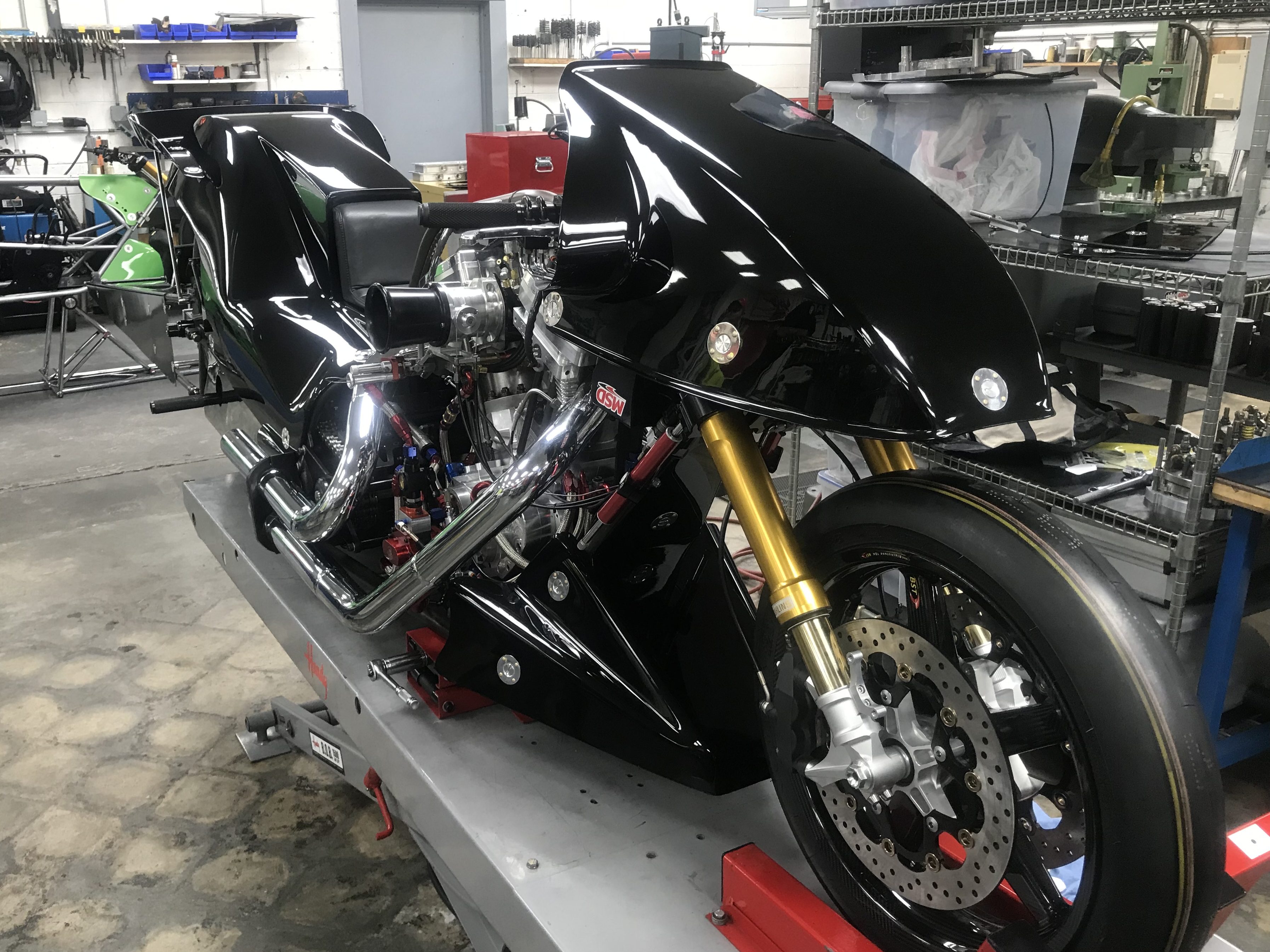 McBride dissected and freshened up the 175 cubic inch PRP motor, adding all new bearings and new pistons. The Spiderman also reworked the cylinder heads with a valve job.
Other upgrades include
A modern MSD ignition
New clutch controller
New Racepack Computer
Ohlins front end
BST carbon fiber front wheel
New fuel controller by Don Jacskon
New fuel pump
New fuel lines
New wheelie bars
New paint
New front fairing designed to keep wind off hands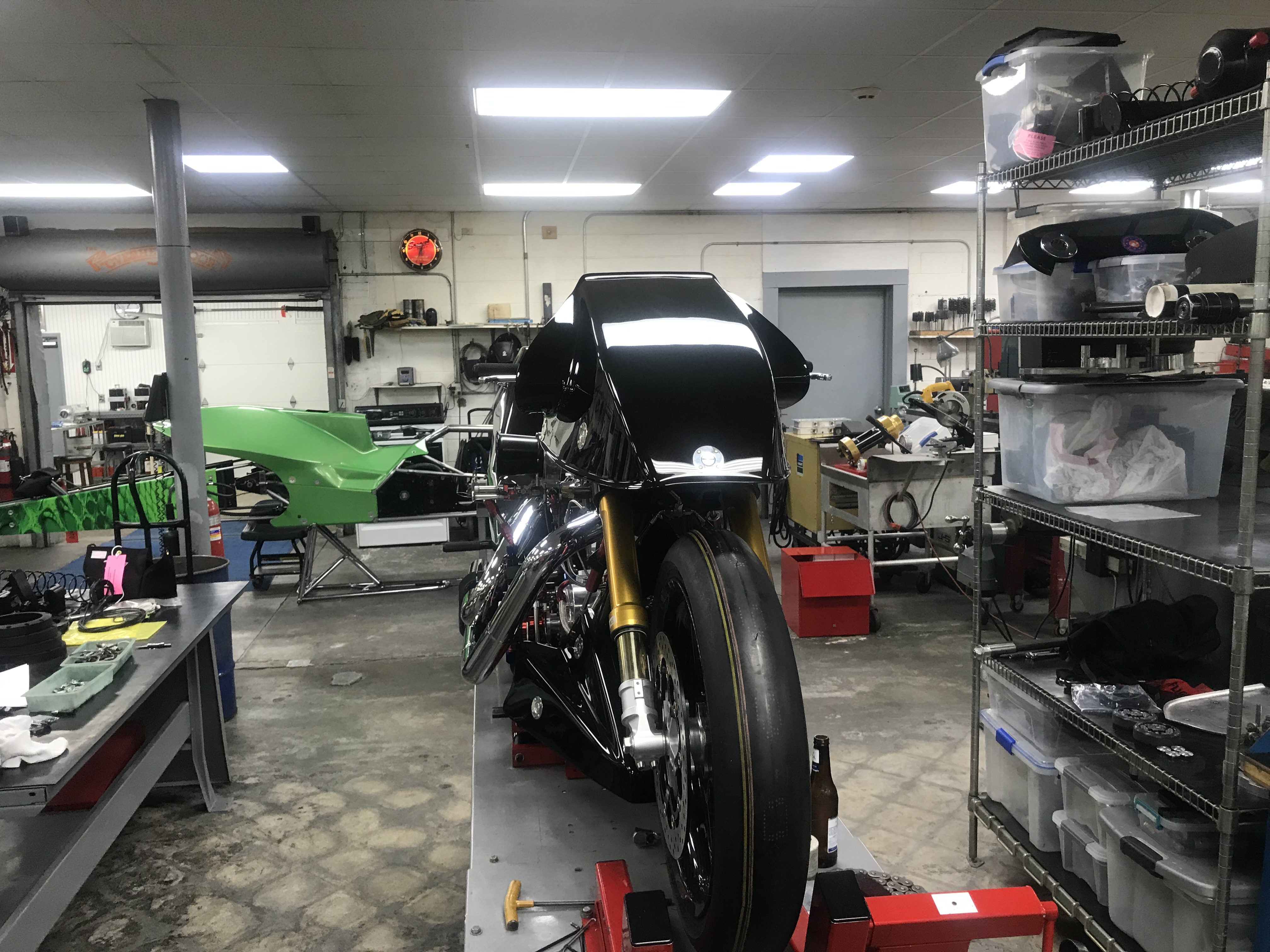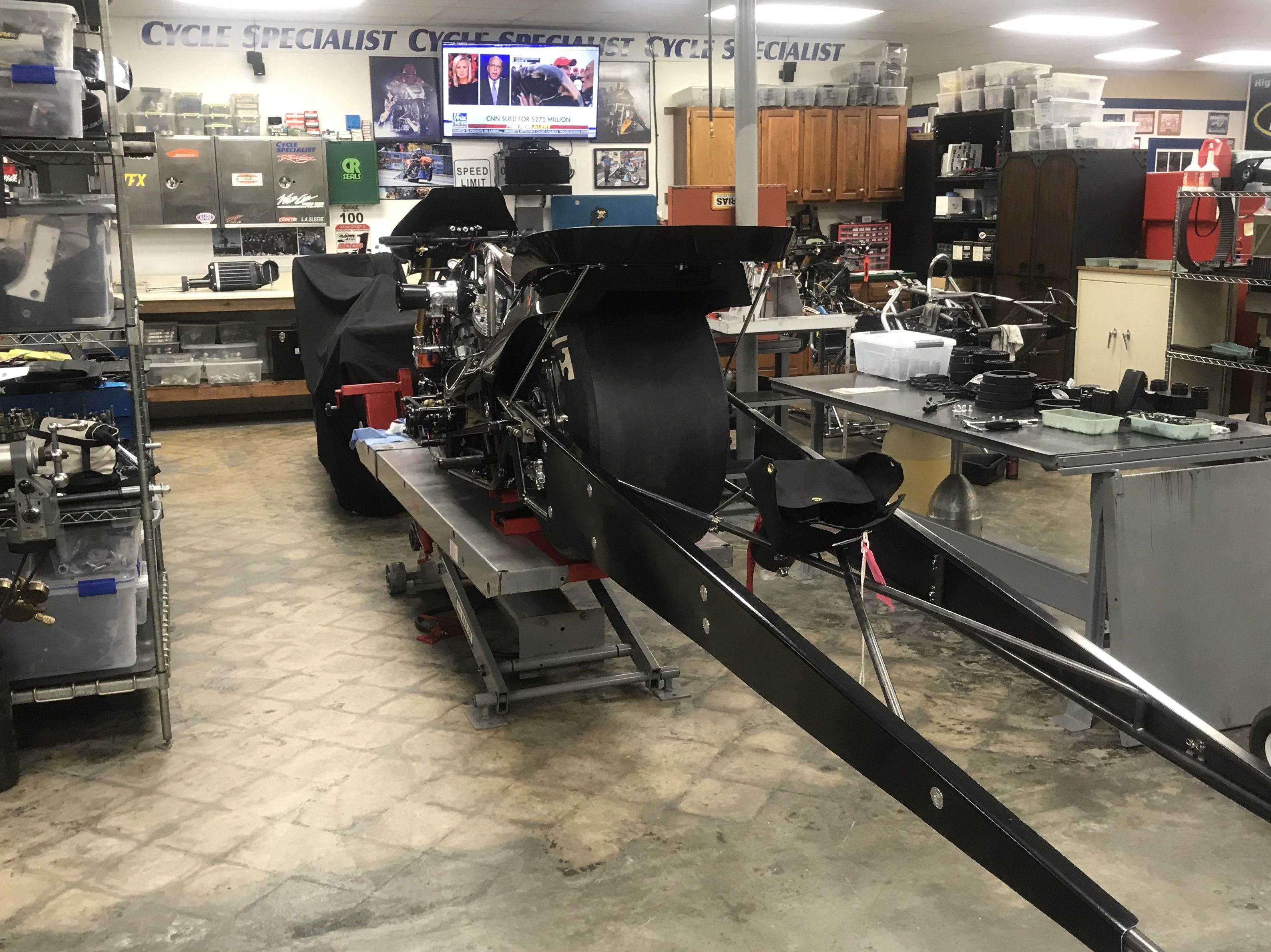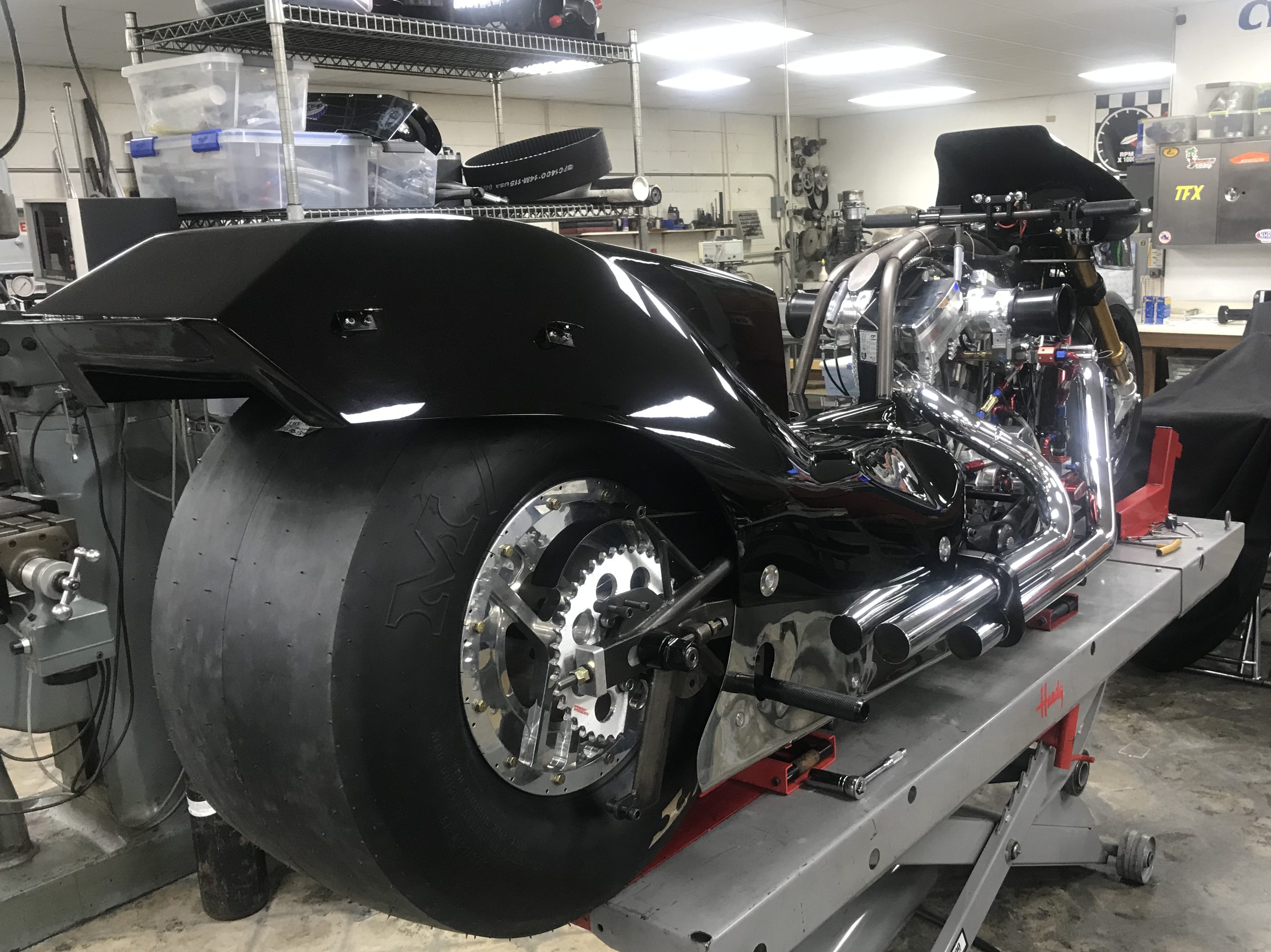 McBride is pleased with the final product and is appreciative to have a deep rolodex of Harley friends who helped on many occasions.
"These machines have come a long way," McBride said. "We depended on a bunch of buddies and they really came through for us."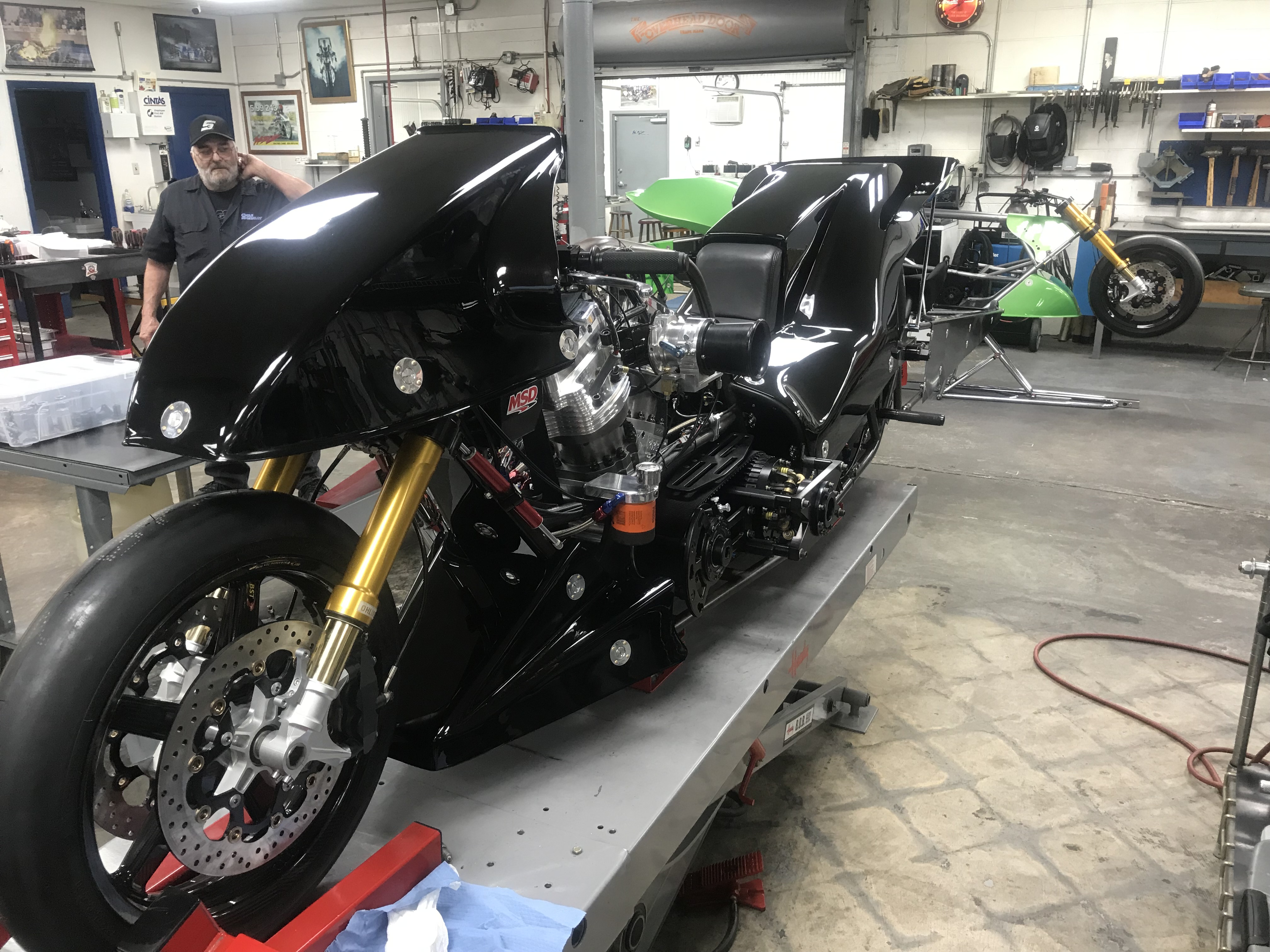 McBride said the next step is for Kerrigan to go get his NHRA license so that he can start entering select events.
The Spiderman is optimistic on the performance potential of the revamped, high-gear only, Orangeburg Cycle Bill Furr chassis. He also recognizes the limitations of older motorcycles compared to brand new ones.
"The new bikes have improved so much," McBride said. "I think this one has the potential to be competitive. It should be a qualifier for sure."
McBride says with this project complete, he and his brother can continue the new four-cylinder Top Fuel builds for Jimmy Brantley, Dave Vantine and Athol Williams, along with preparing their own machine for the upcoming Man Cup opener, April 6-7.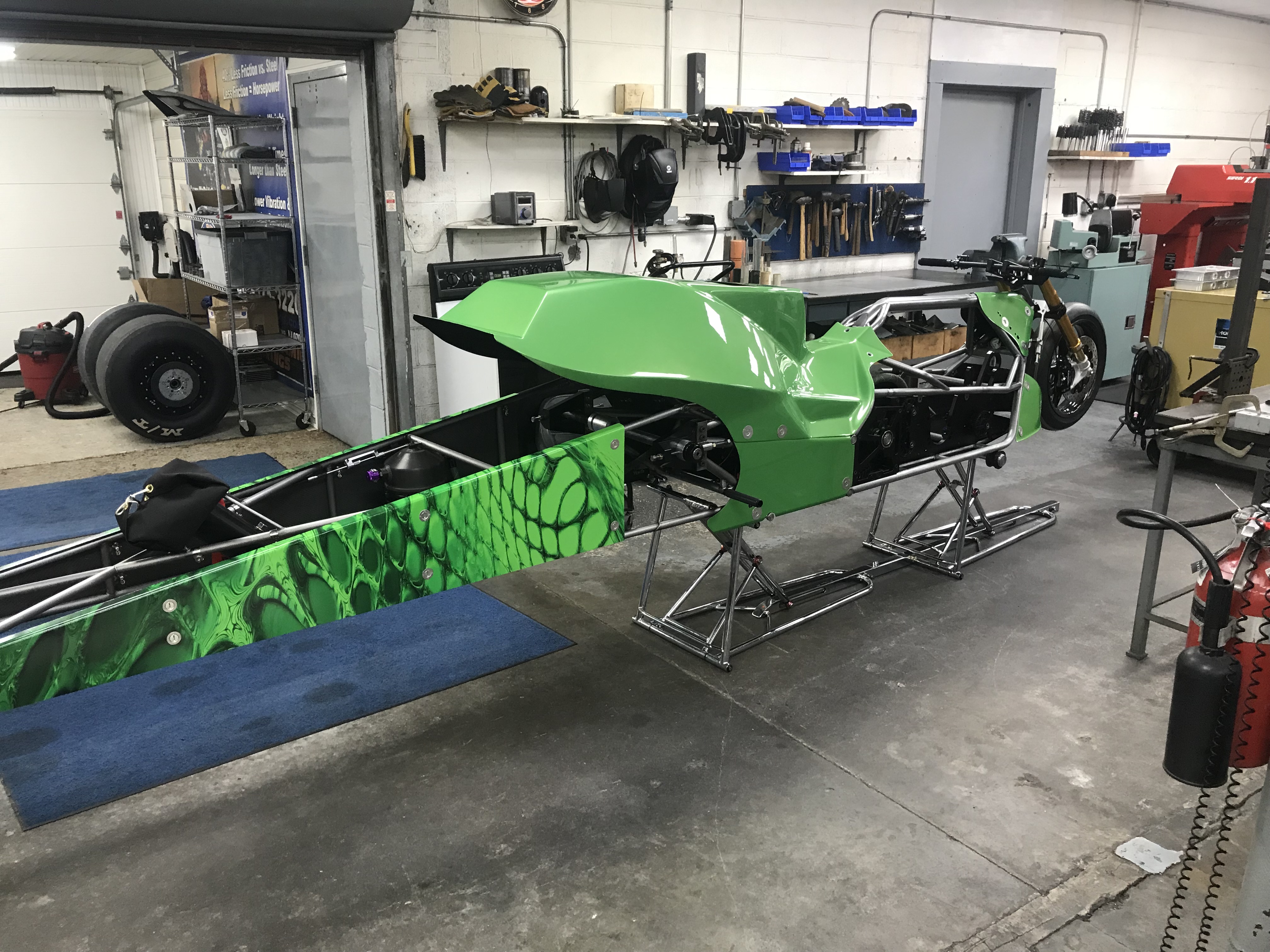 For all the continued support McBride thanked his primary sponsors; Trim-Tex Drywall Products, Pingel Enterprise, Drag Specialties-Parts Unlimited, Final Swipe Merchant Services, Web-Cam, APE and Kibblewhite Precision Machining.
Vance & Hines Motorsports, Red Line Synthetic Oil Corporation, Federal Mogul, PR Factory Store, Ferrea Valves, World Wide Bearings, Vanson Leathers, Belt Drives Ltd, Simpson Race Products, Nitrous Express, EK Chain, Arias Pistons, Cometic Gaskets, B&J Transmission, Carolina Cycle, L.A. Sleeve, PJ1, Mickey Thompson Tires, Valco, Goodridge, Carlisle Belts, ProJack, Bullseye Visual and Gates Belts.
There are more videos on the Cycledrag Youtube channel (please subscribe here) and the Cycledrag.com Facebook page (Please like here) and more will be coming all throughout the off-season. Stay connected!