What drives a competitor to push for more after already accomplishing so much?
It's a question Tom Brady and other successful athletes are often asked in the latter stages of their career. "The love of the sport," is a common explanation.
Love, passion and unrelenting desire are all answers Top Fuel Motorcycle legend Larry "Spiderman" McBride provides.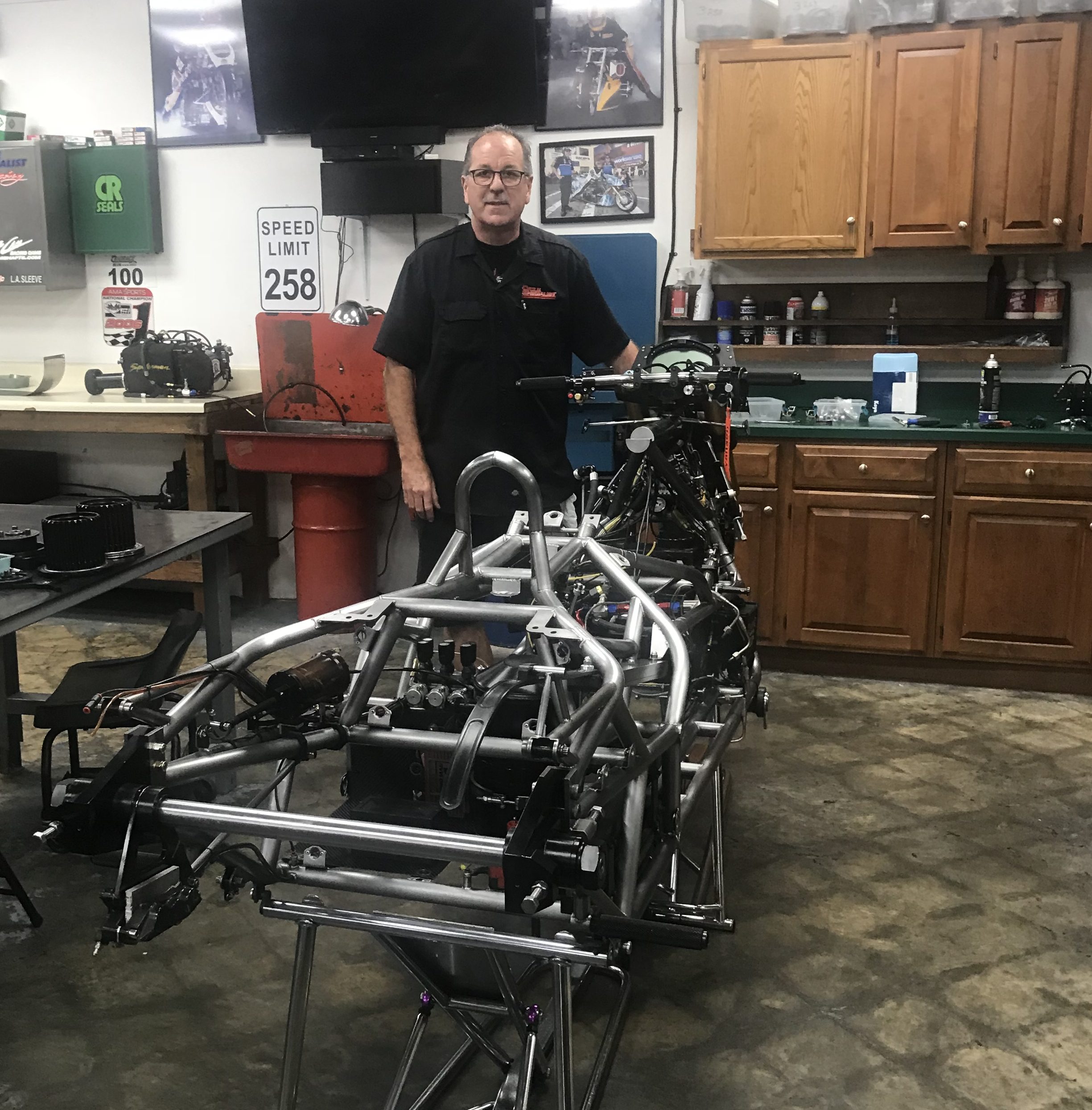 The 2017 season was unlike any other for the four-decade-plus motorcycle racing veteran McBride, who ended the year with an unprecedented 18th championship and seemingly inconceivable world records at 5.61 and 258 mph.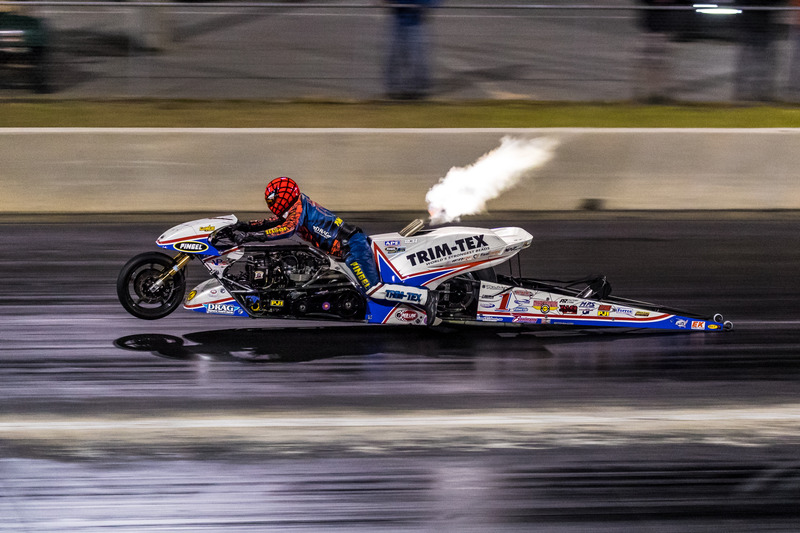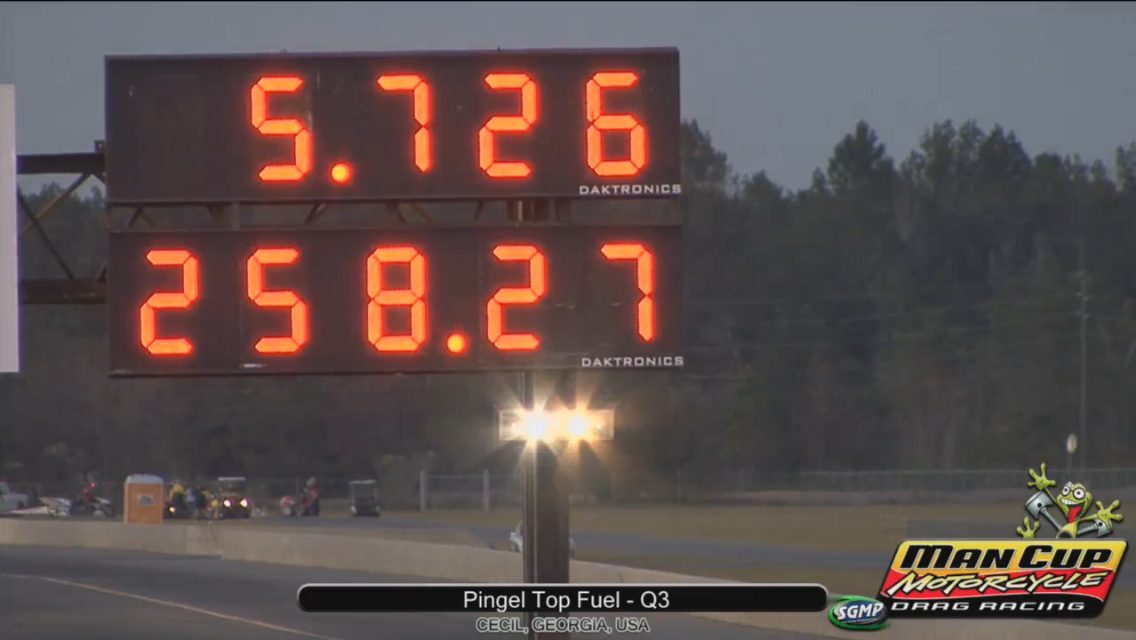 It completed McBride's most recent list of career goals; he came back from a near career-ending explosion in 2015, successfully debuted a brand new motorcycle after a seven-year build and recaptured the world record from Sweden.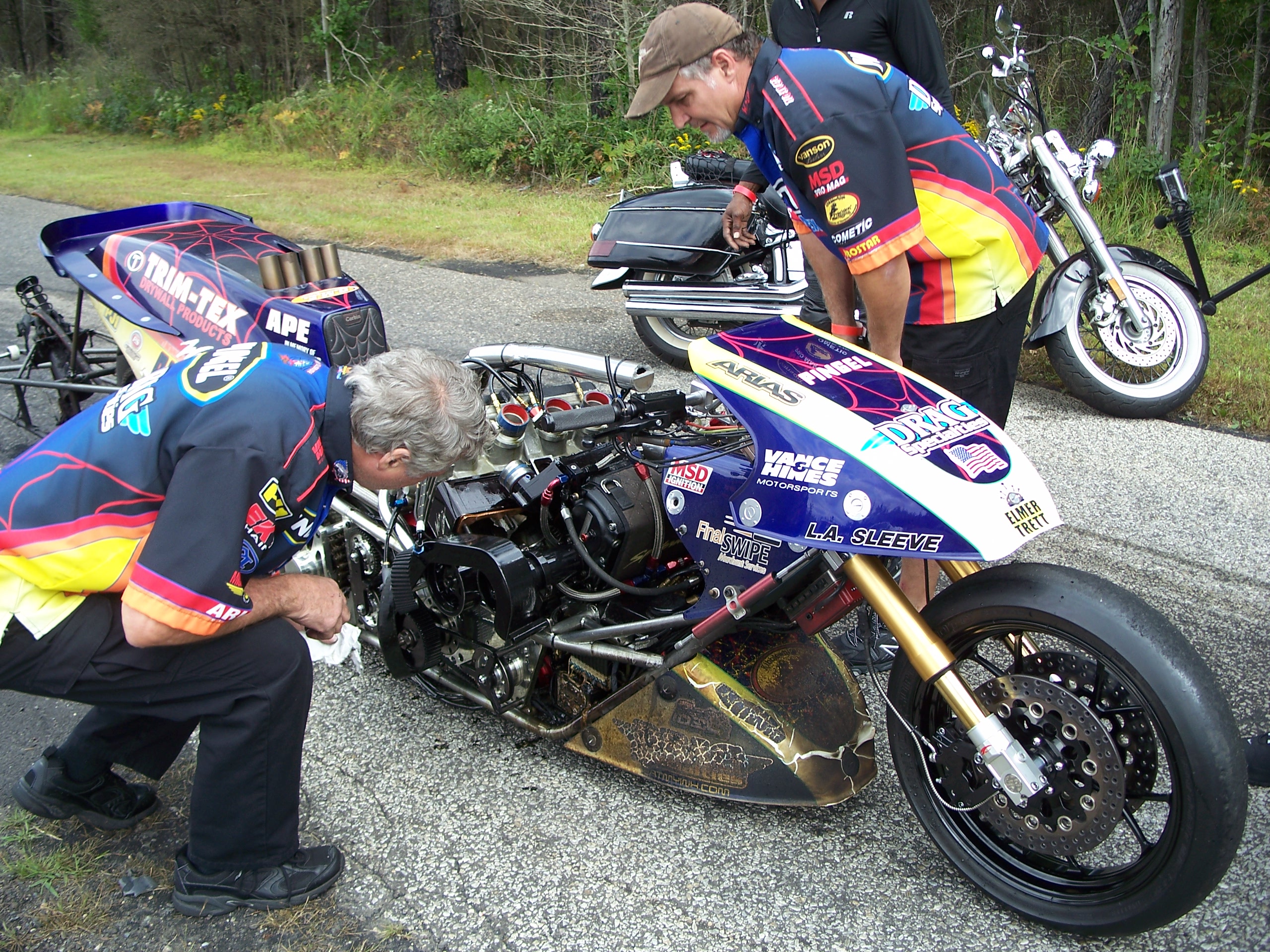 What is left to accomplish for McBride, who turned 60 over the off-season? What is driving the veteran to comeback for a 41st season of Top Fuel?
"It's purely the love of the sport and the passion I have for what we do," McBride said.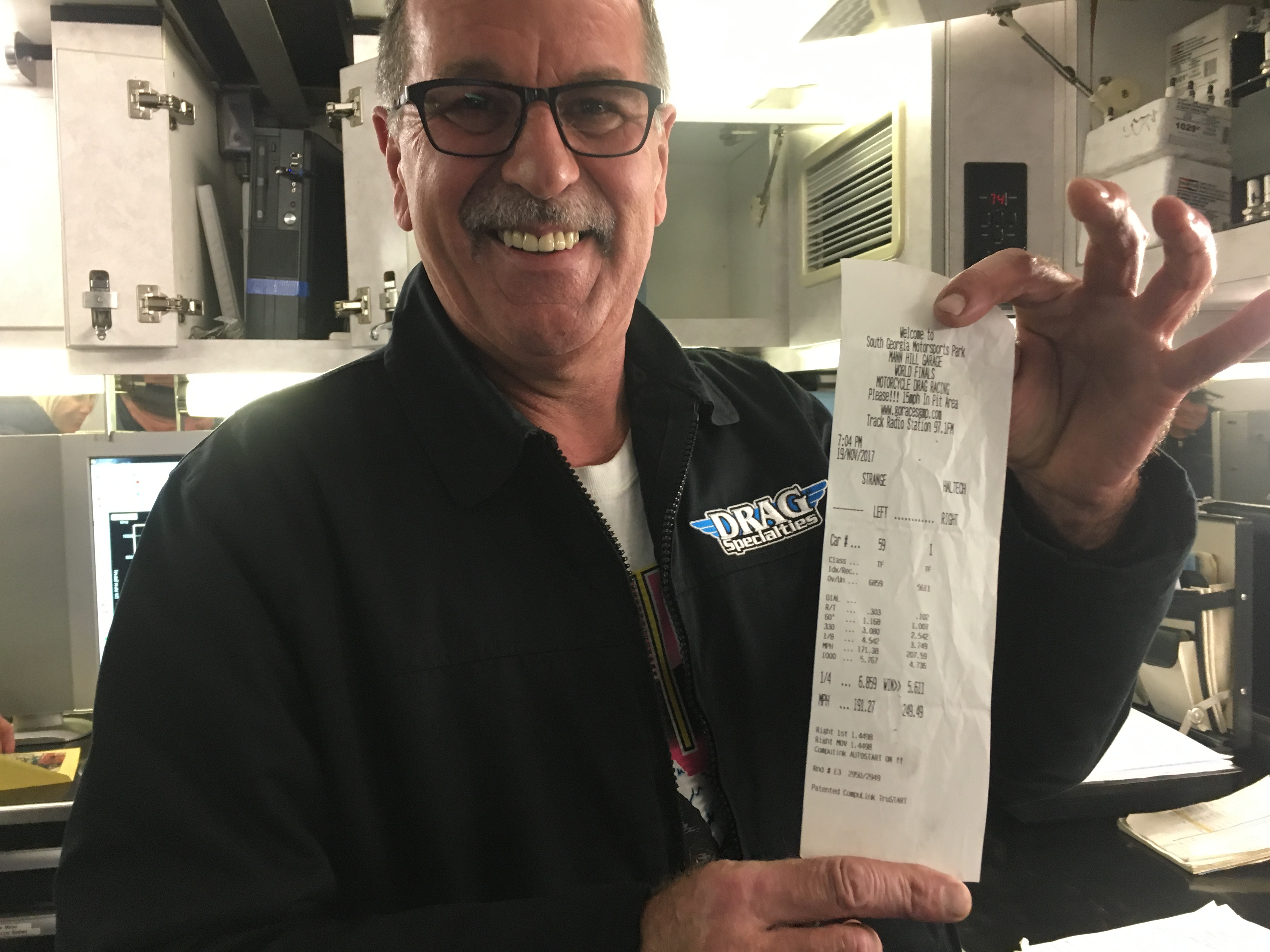 McBride is nearing an age when many think of retiring from work, let alone from racing one of the world's quickest and most dangerous motorcycles.
"I still feel 40 even though I'm 60," McBride said. "If I didn't feel like I could safely do it, I wouldn't."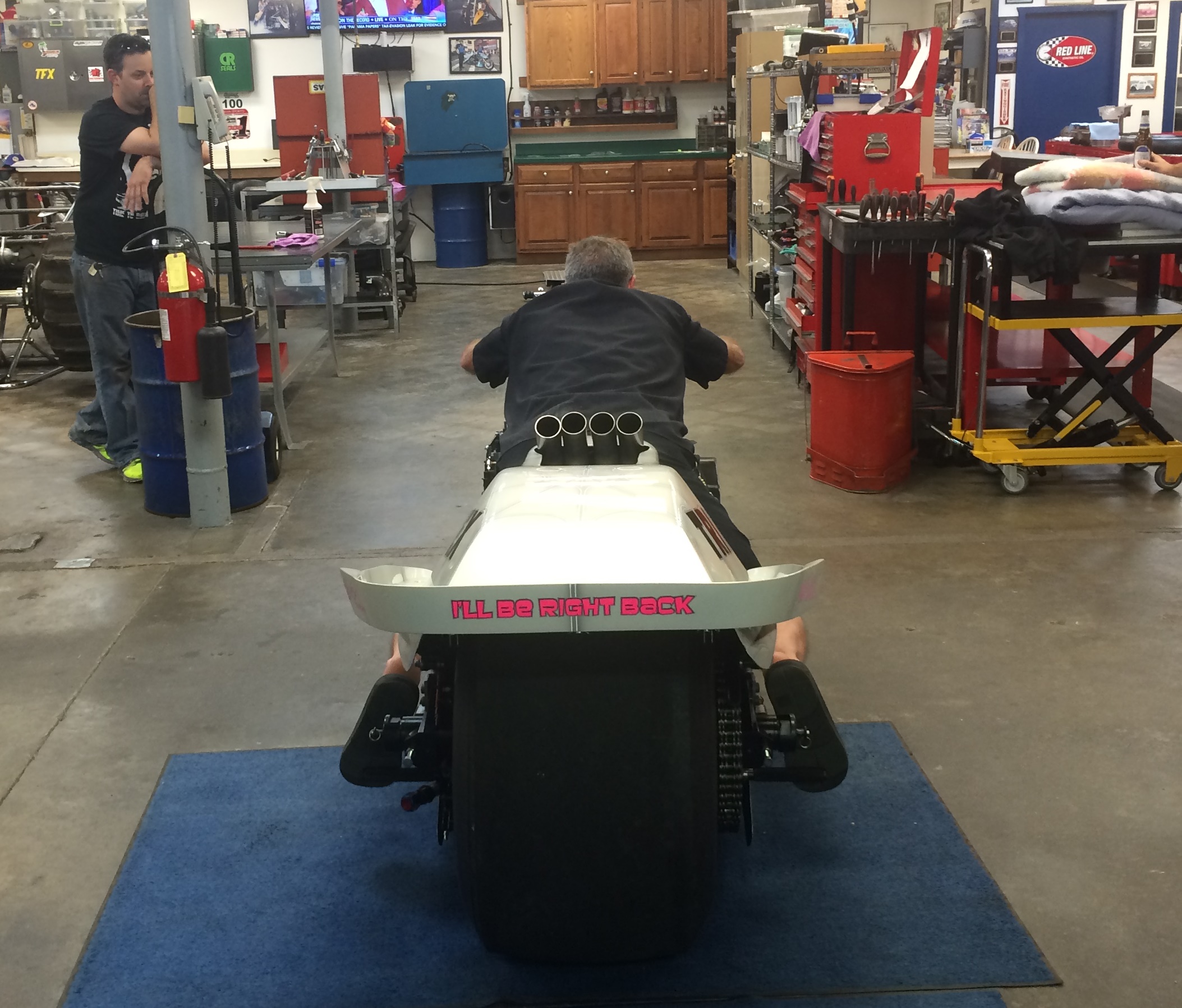 Along with still having the passion and physical ability, McBride says it's also the relationships he has built that keep him going.
"We didn't do any of this by ourselves. Having the motivation behind you of a Joe Koenig from Trim-Tex (McBride's primary sponsor) and Wayne and Donna Pingel is what keeps me going," McBride said. "Everyone I'm involved with from Final Swipe, Drag Specialties to APE to Webcam and right on down the list. They are my motivation."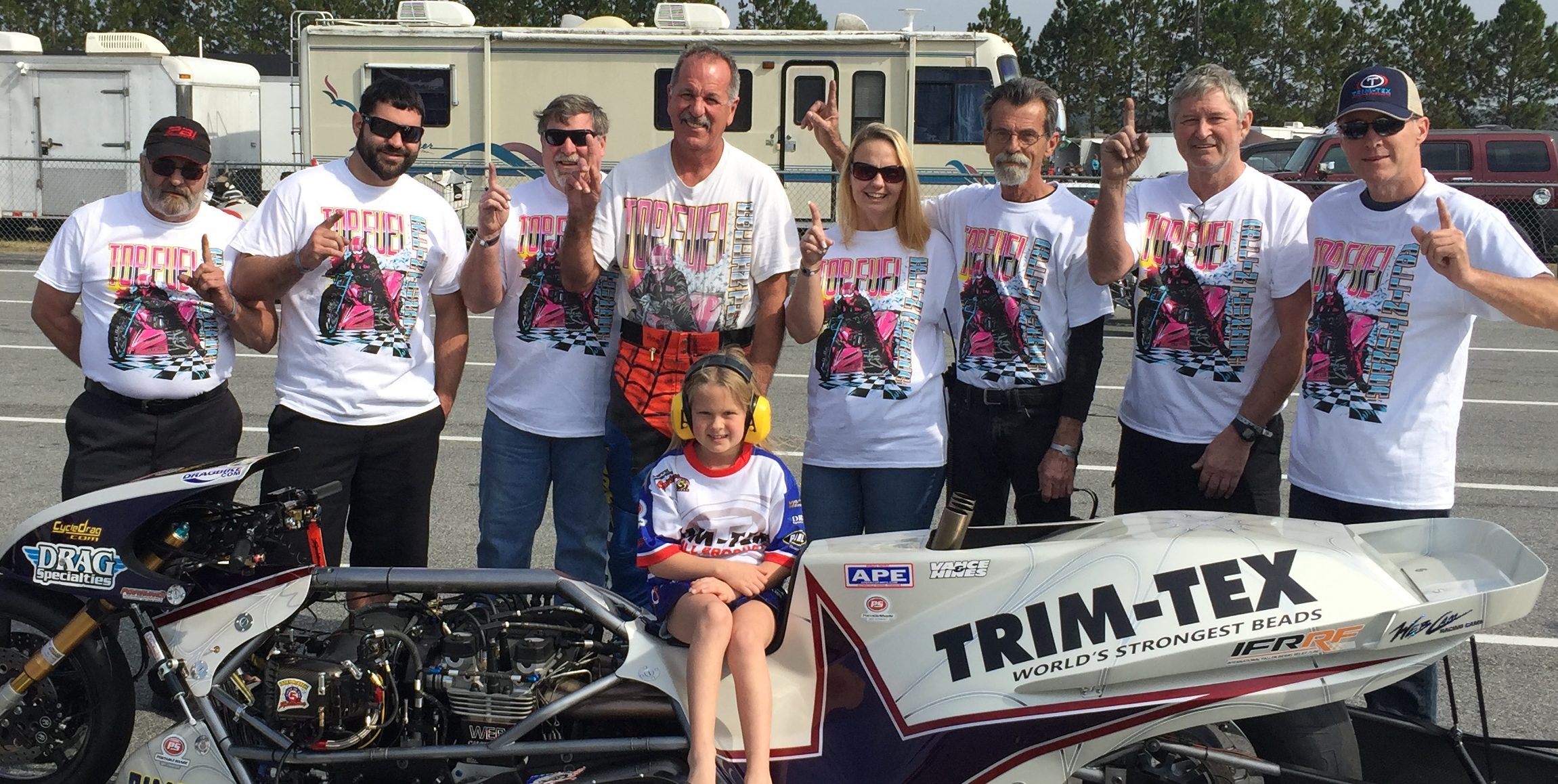 McBride says the dedication of his team is another factor that helps keep him young.
"My crew works for free. They do this only for expenses. Who does that? I've burnt a lot of people out," McBride said. "I'm proud of all my guys. I couldn't do this without them."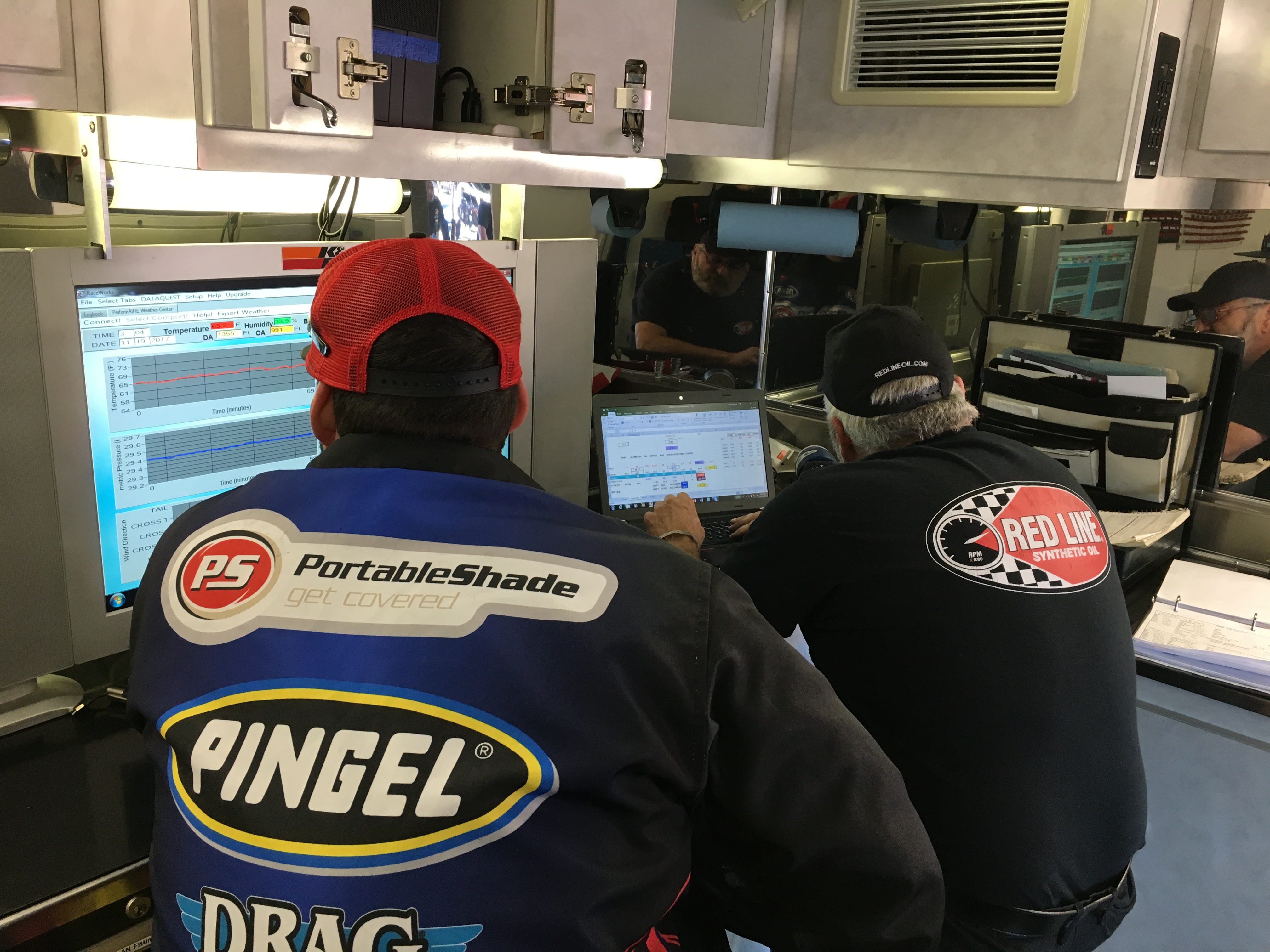 McBride often jokes with his crew that they should have chosen to race NASCAR and could all be retired.
It's always been a team effort. Even from a young age, McBride says his family always knew he was the driver.
"When we were kids my brothers Steve and Lamar put me in a red wagon and pushed me down a hill," McBride recalled. "I had a great run but my driveway at the bottom was filled with rocks and I knocked my two front teeth out. Throughout all of our crazy experiments I was always the driver."
Another factor that hasn't changed over the years is McBride's competitiveness and unrelenting will to win.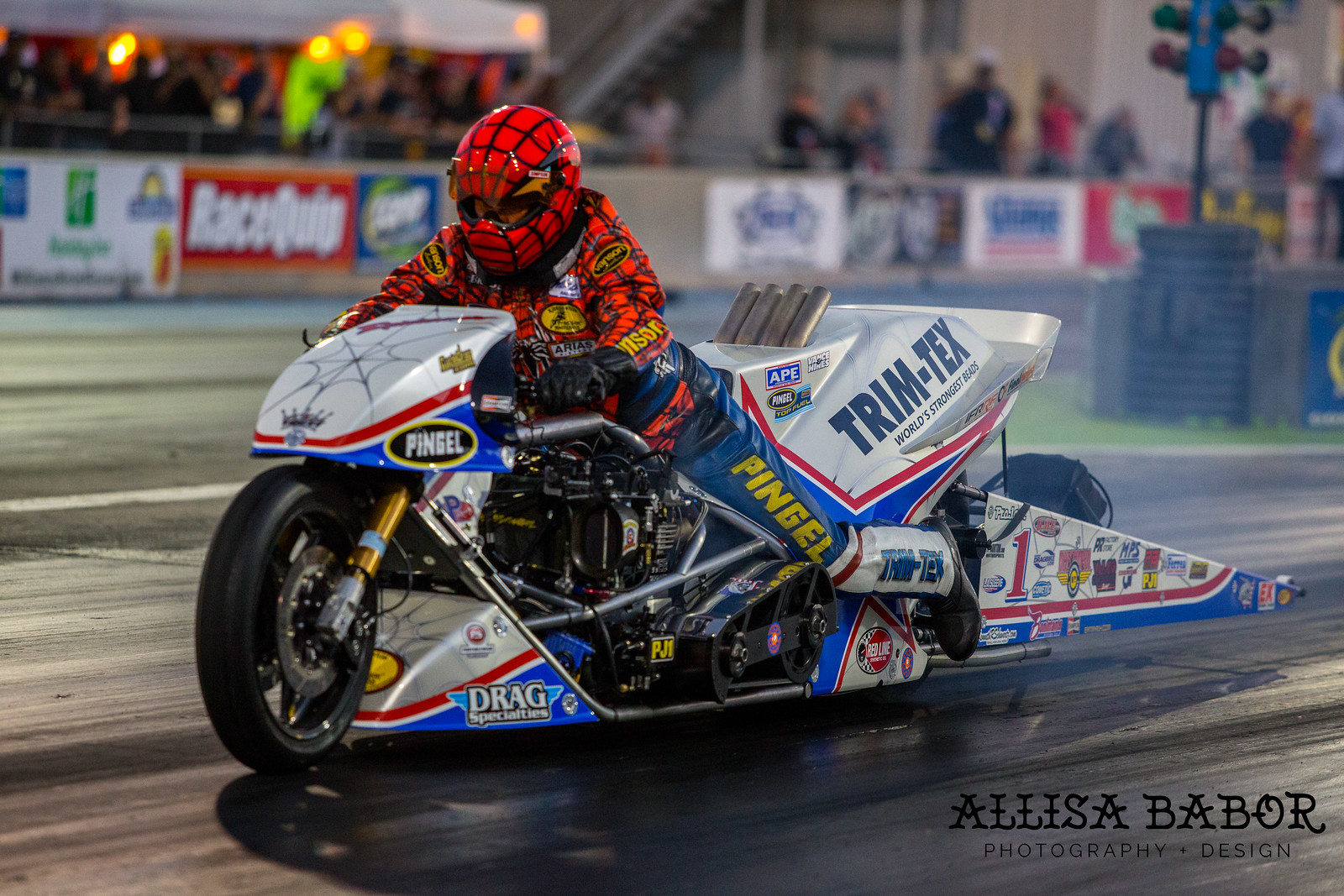 "I can be beat, but it won't be easy. I'm always going to give 100-percent and going to try to knock a home run," McBride said. "I know how it feels to lose. I'm not happy and neither is my crew when it happens. I've been beaten by just about everyone in my class. If I lose and I'm happy I must have run a 5.50."
McBride has never run in the 5.50-zone but came about a hundredth of a second away from doing it in November. In retrospect McBride is extremely proud of his 5.61 but is also conflicted on how he feels it seemed to demoralize some in the class.
Sam Wills announced just moments after the run that he was putting his bike up for sale. Chris Hand said dejectedly, "The game has been changed."
McBride understands the situation with perfect clarity, as he was on the other side for decades.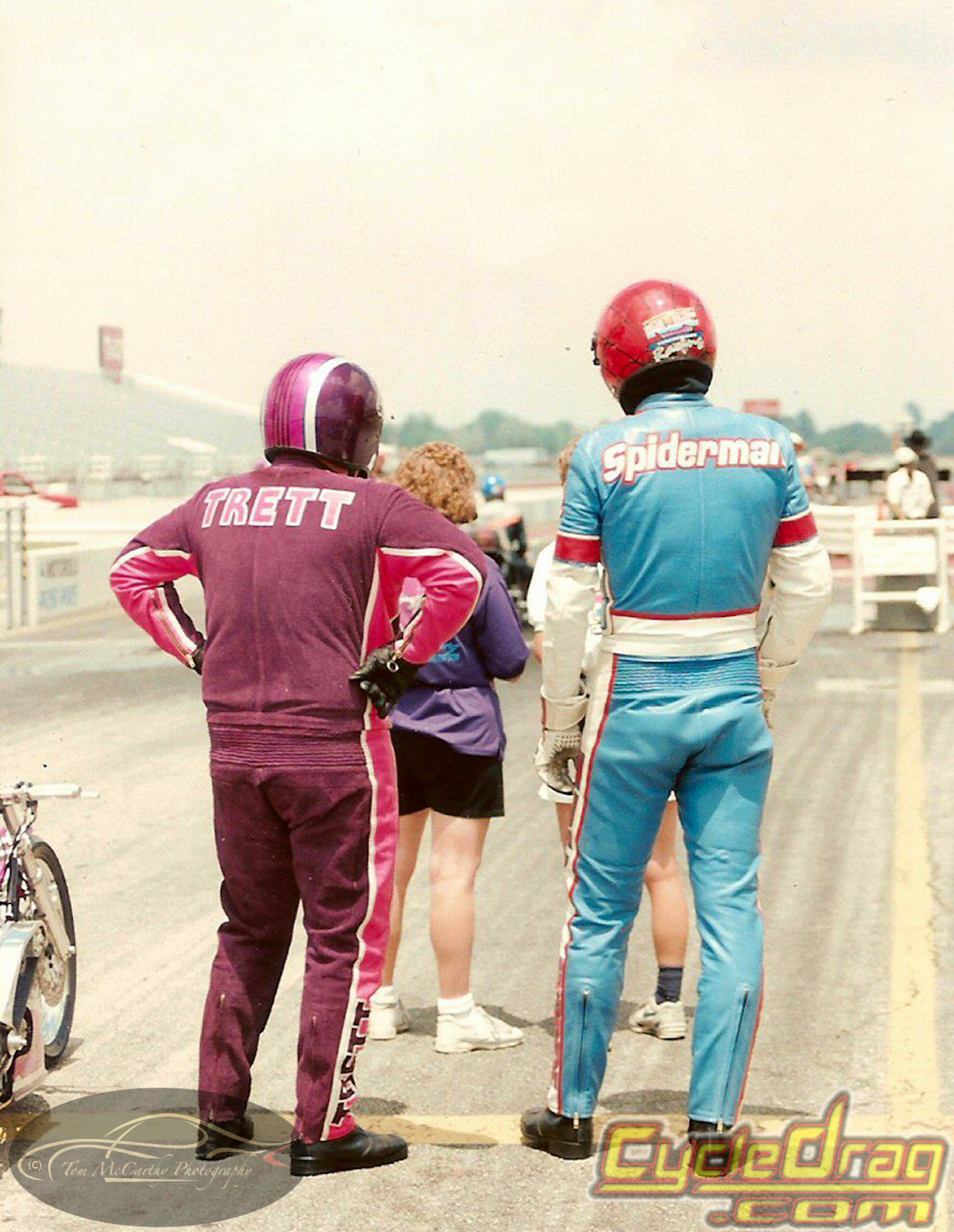 "I feel their pain because that's how it was when I was running against Elmer for all those years. He was always so far ahead. You can't get discouraged, you have to keep your head up," McBride said. "I'm looking to go out and support the class anyway I can."
McBride says he is poised to help his colleagues close the performance gap. He is an open book, there to offer assistance.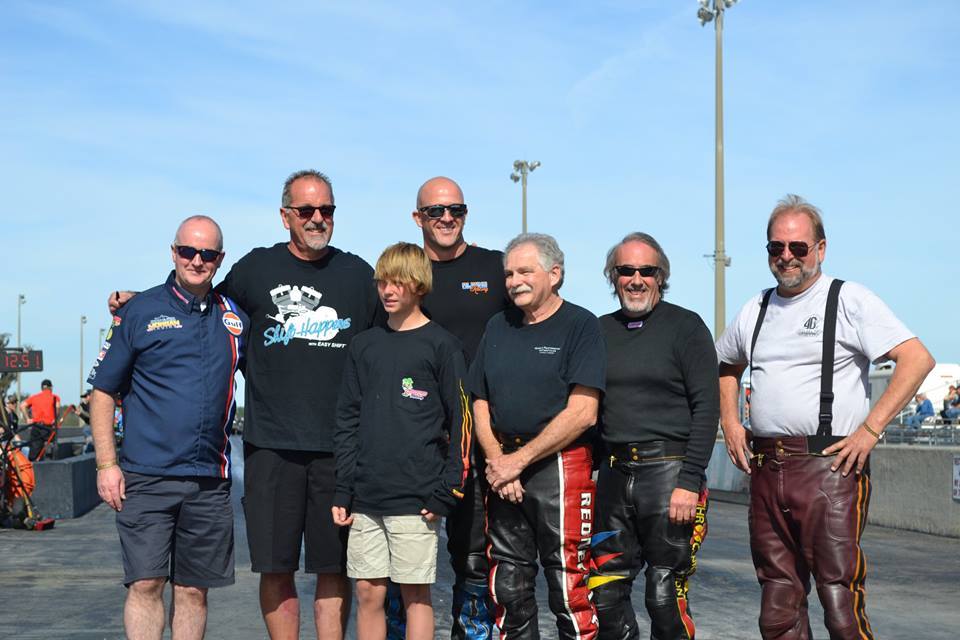 "You have to treat people like you want to be treated and I'll help anybody," McBride said. "I have more parts than anybody. I'll never send anyone in the wrong the direction. We are fixing Mitch Brown's clutch right now. We want to see him do well."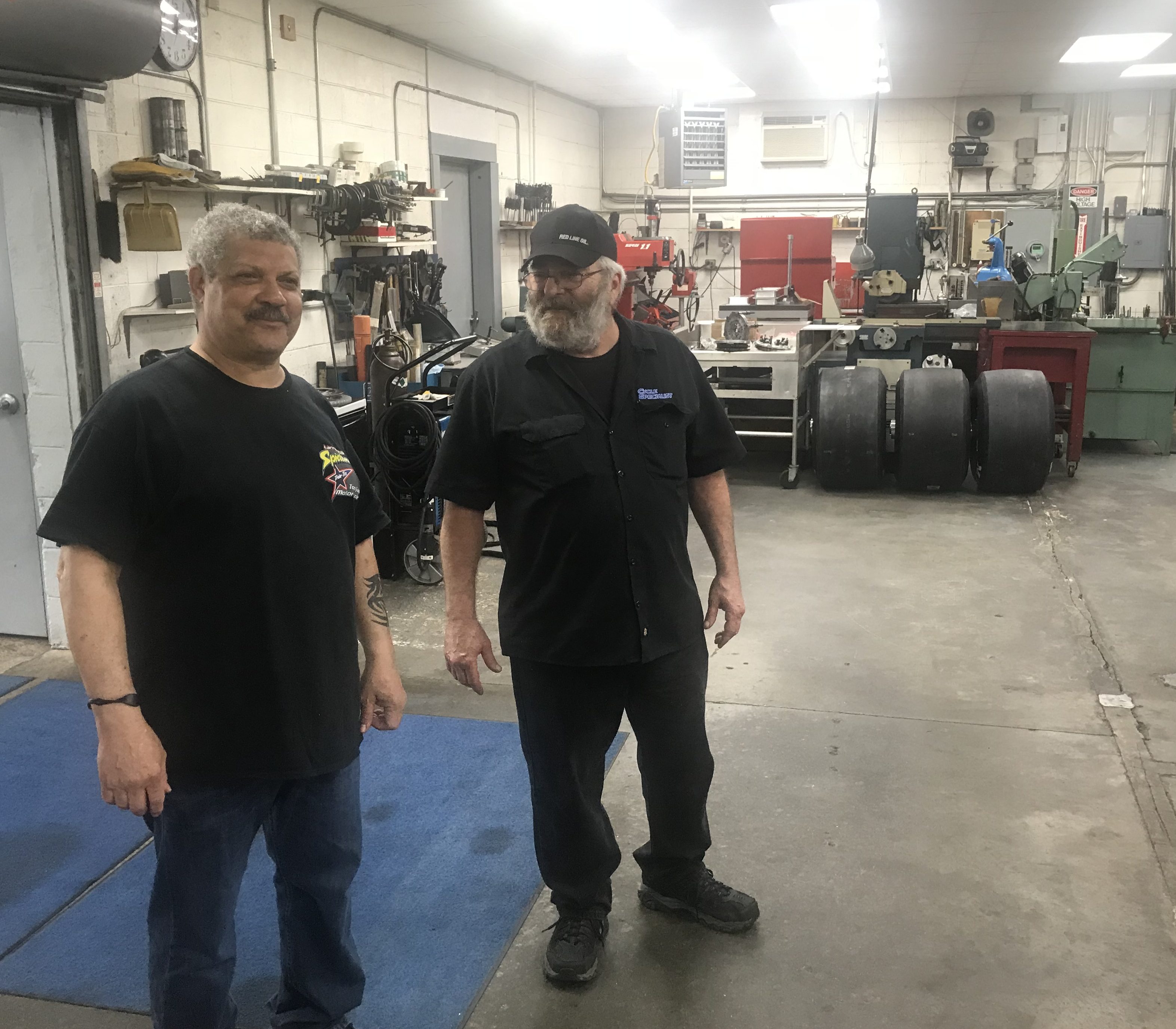 McBride says helping push other racers is something his team has always tried to do.
"We built a bike for Tom Perry and helped put it in the fives. We put Jimmy Brantley in the fives; we helped Geoff Pollard get in the fives, and did the same for Dave Vantine. We could not have helped if they all didn't have great crew people who followed directions," McBride said. "We want to keep Top Fuel Motorcycle alive. It's a great class and a great group of people."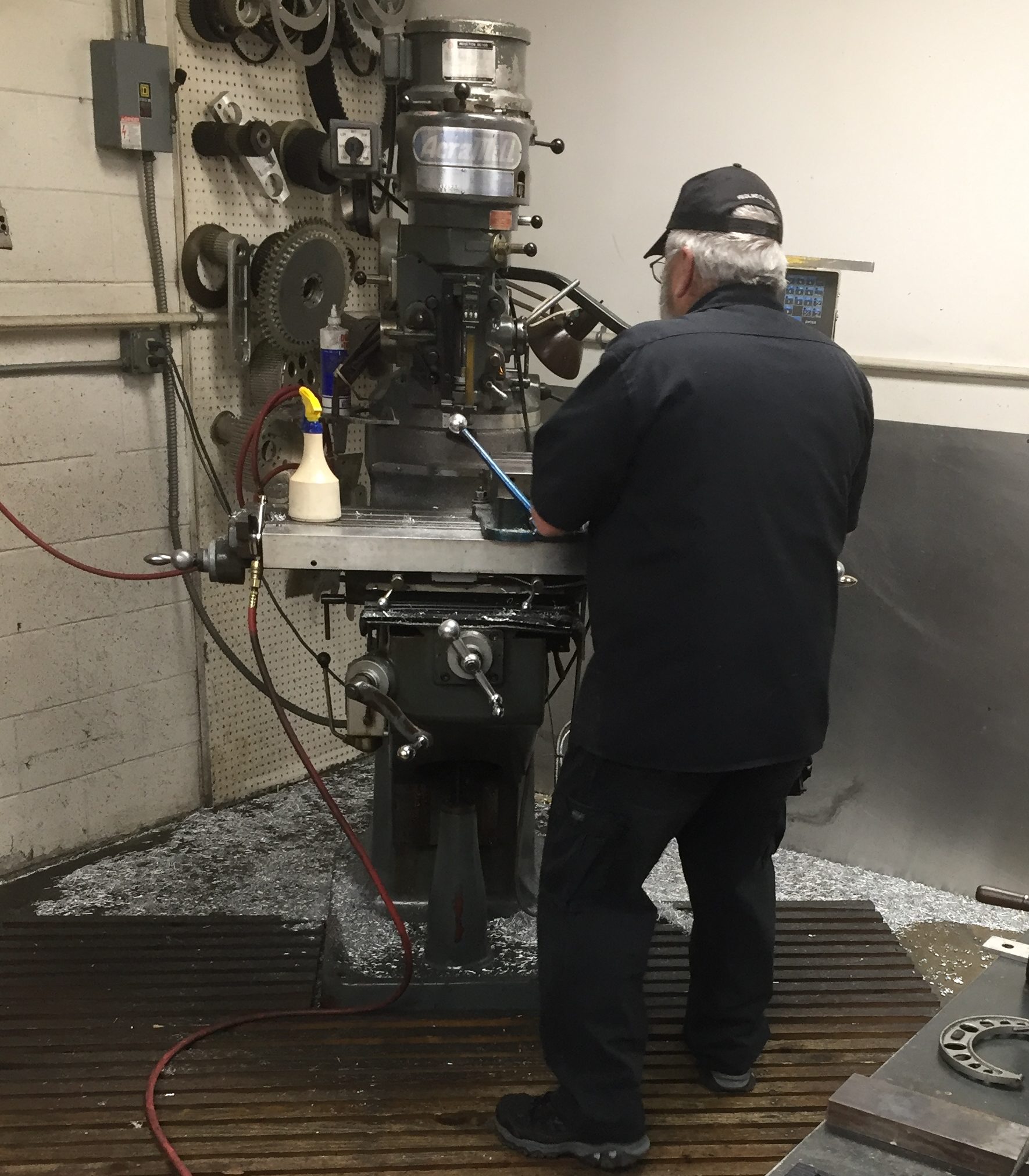 McBride says the most valuable piece of advice he can pass on to any racer, is don't be afraid to ask for help.
"Steve and I have not done this by ourselves," McBride said. "If you don't know something, ask."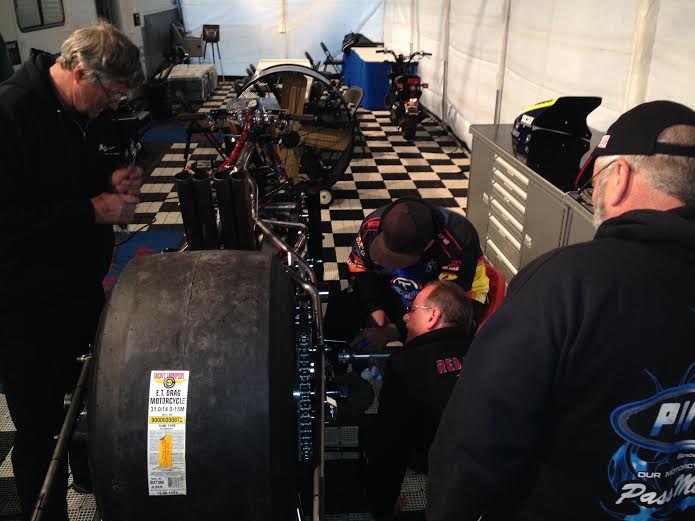 McBride says Wills' departure will be a big loss for the class, but he understands the decision.
"For Sam it's a money thing and he hasn't gotten much sponsor help," McBride said. "He has a dedicated crew but sponsor help is hard to come by."
McBride hopes to see more funding available to all racers in the ultra-expensive category. The veteran is quick to point out he has worked as hard to secure sponsorship over the past 40 years as he has worked on his race program.
McBride says he has been attending the PRI show for more than 15 years and began going to the dealer expo more than 40 years ago.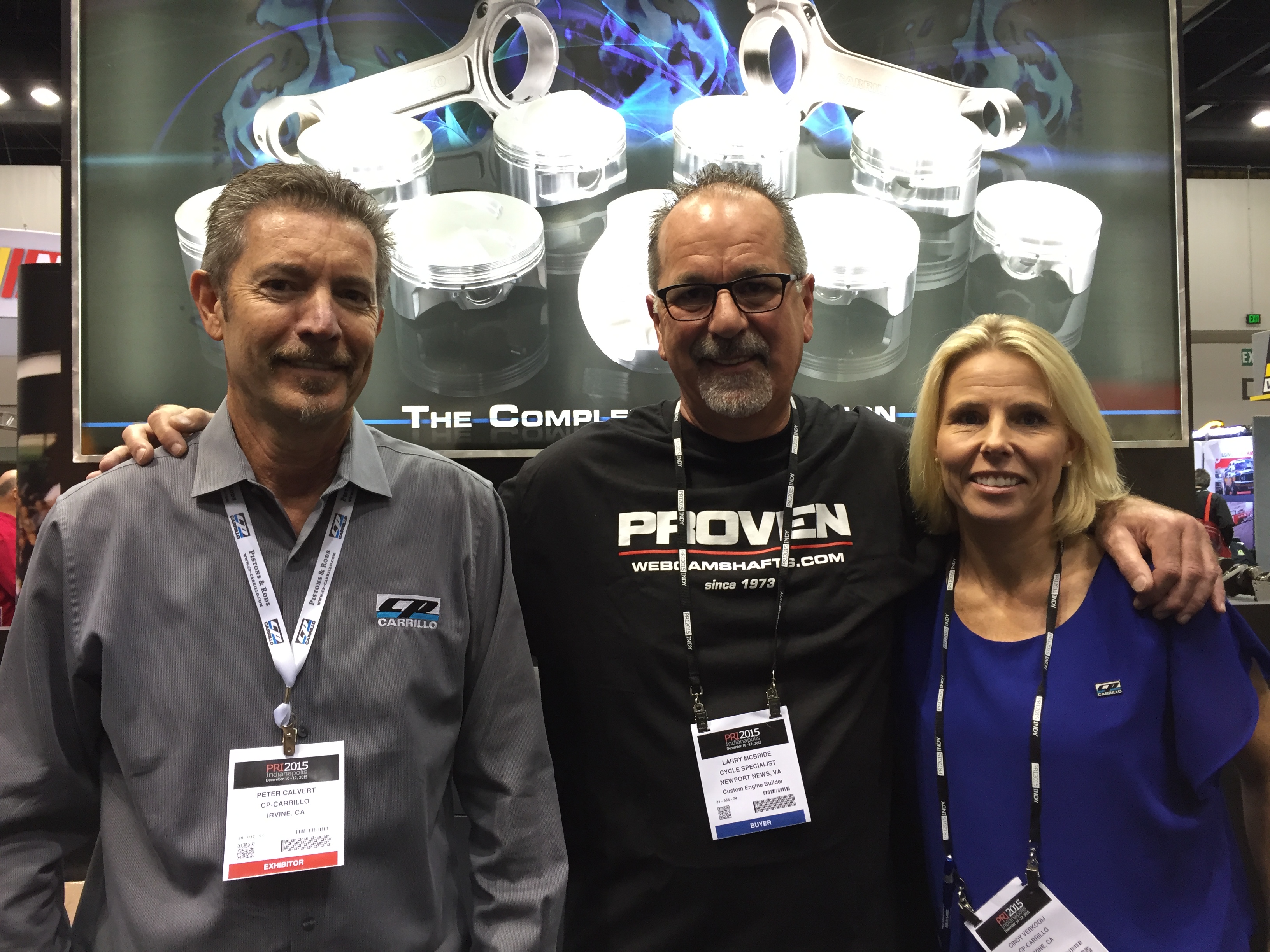 "You have to earn the respect of sponsors. You can't go to the PRI Show one year and expect to get something," McBride said. "It's about building relationships and trust because so many people have been screwed. They want somebody who will be there for the long run. All of my sponsors have been with me for 20-plus years."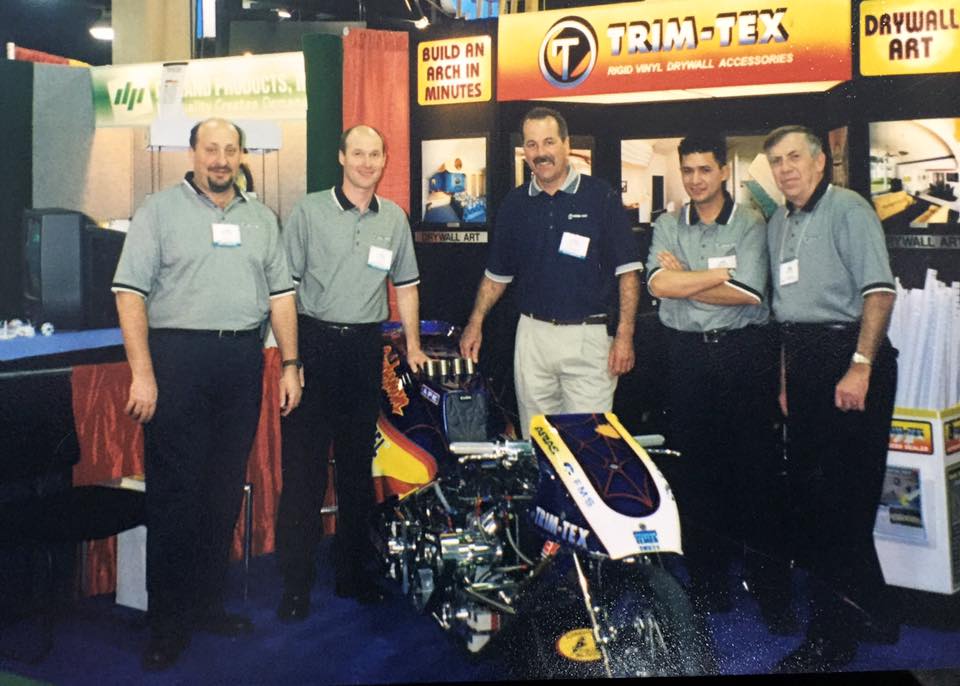 McBride says some of his sponsors are interested in seeing him return to Nitro Harley racing, to get in front of the big NHRA crowds and on Fox Sports 1 TV coverage. McBride isn't ruling it out if he can put the right deal together.
"I'd love to do it," said McBride, who has had a Nitro Harley sitting in his shop for the past several years.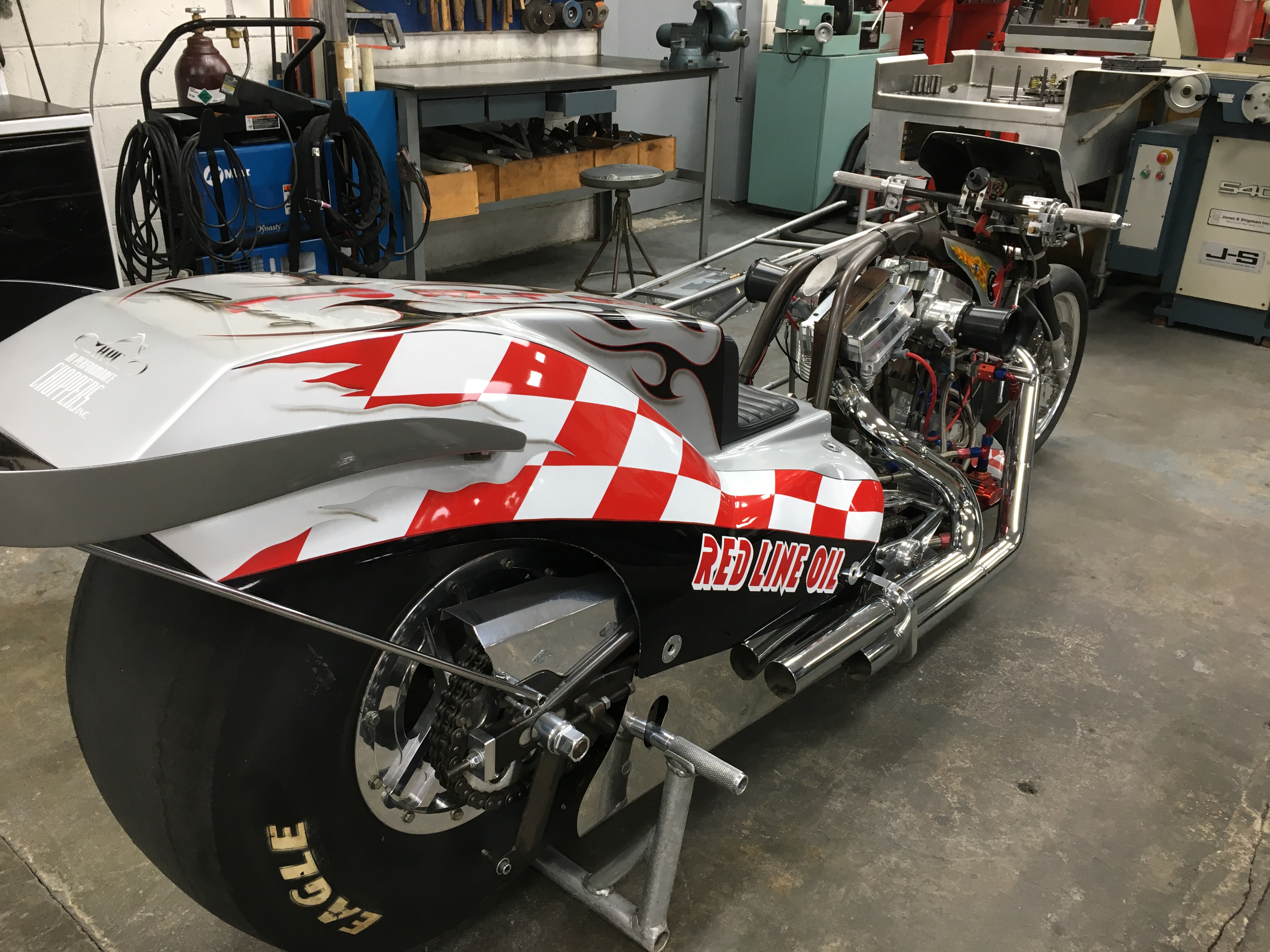 As for inline four-cylinder nitro racing, what's the next goal for the 18-time champion after waiting his entire career to get into the 5.60s?
"If you are a true racer and go a 5.61 you want to go a 5.59. That's what we want. I think we are definitely capable," McBride said. "We have to have the right conditions."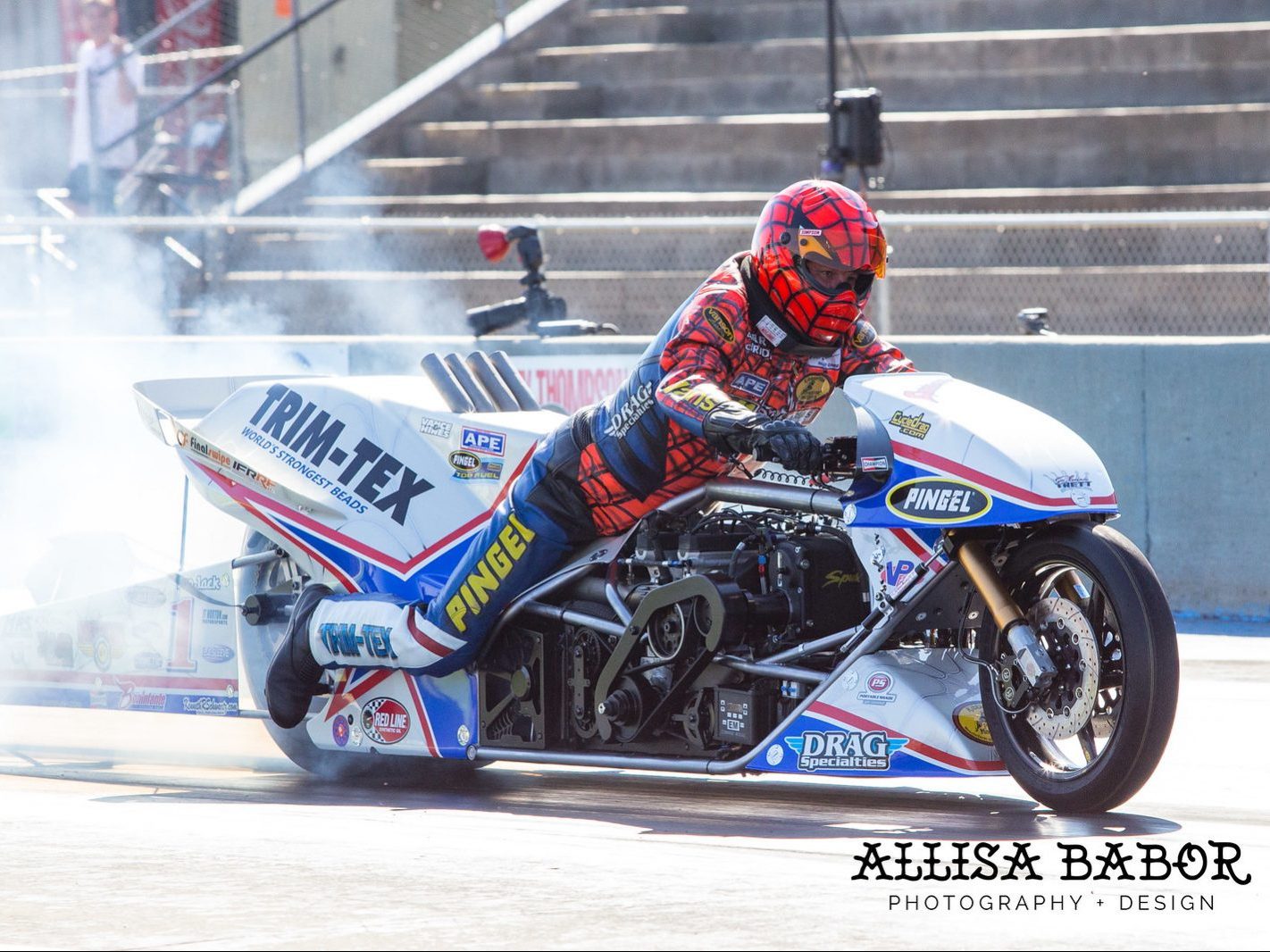 McBride points to Valdosta in November as the most plausible venue to further lower the world record, but doesn't discount seeing it elsewhere.
"We won't give up on it running a 50 at any track," McBride said
McBride says the 5.61 stunned his team and he was simply trying to repeat the 5.67 from earlier in the weekend.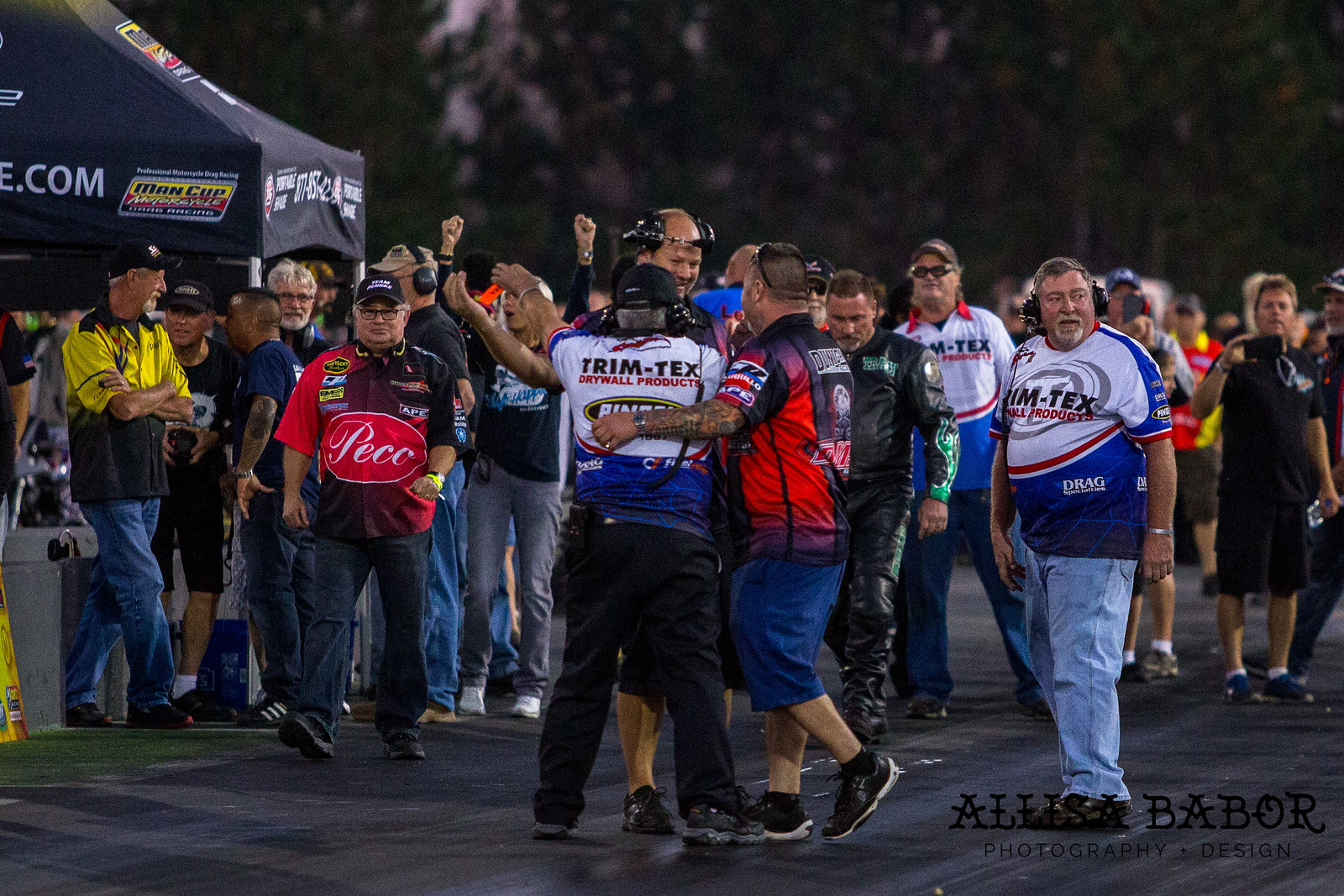 "When you are trying too hard to run big E.T.s they usually don't come," McBride said. "They sneak up on you. We were all surprised."
At this stage of his career McBride has a hard time answering what is more important, championships or record-setting elapsed-times.
"Both," laughed McBride.
It's been a busy off-season for team McBride. "Star" has been torn down to the frame since winning the championship. McBride's team is carefully inspecting every component.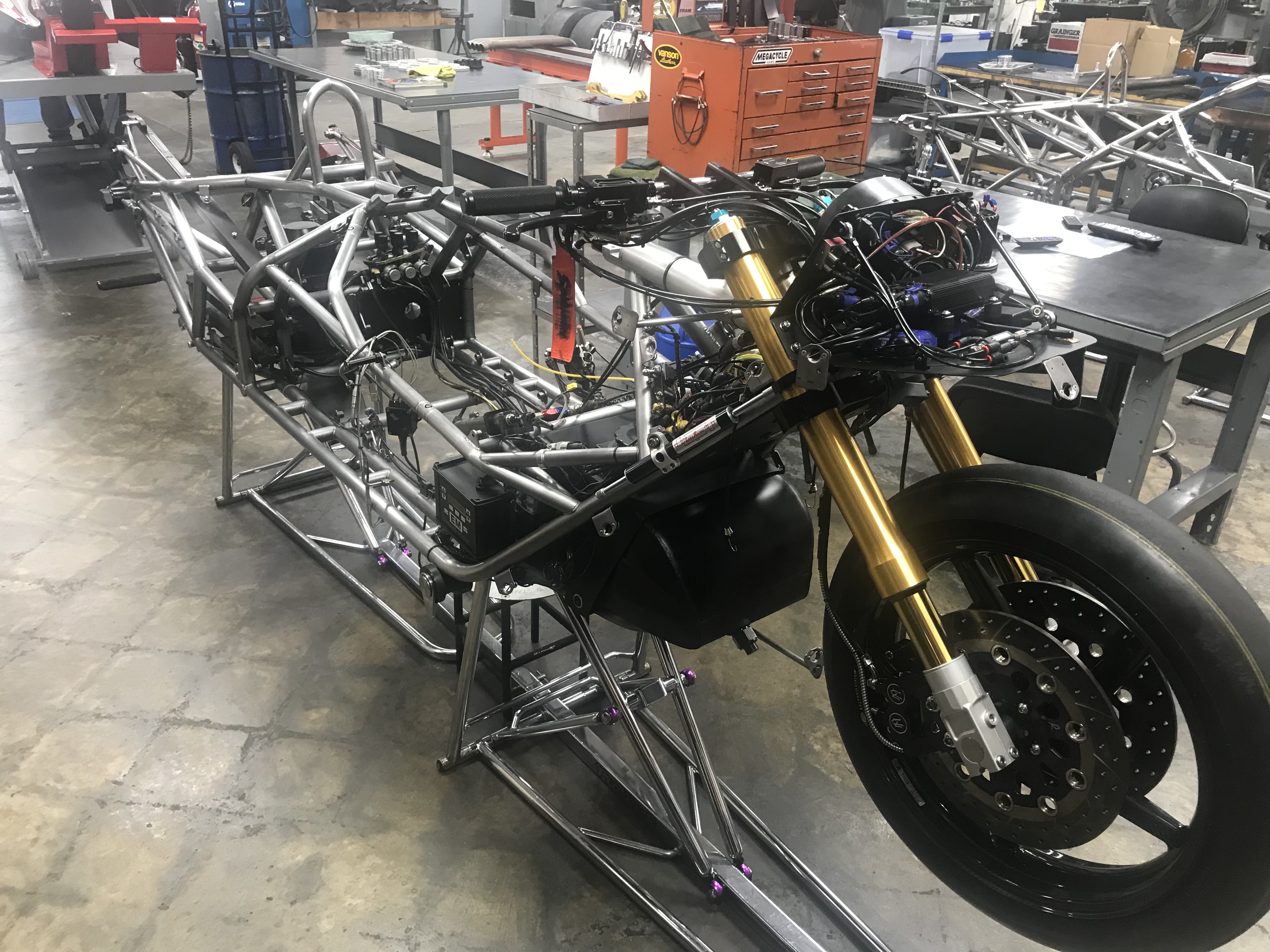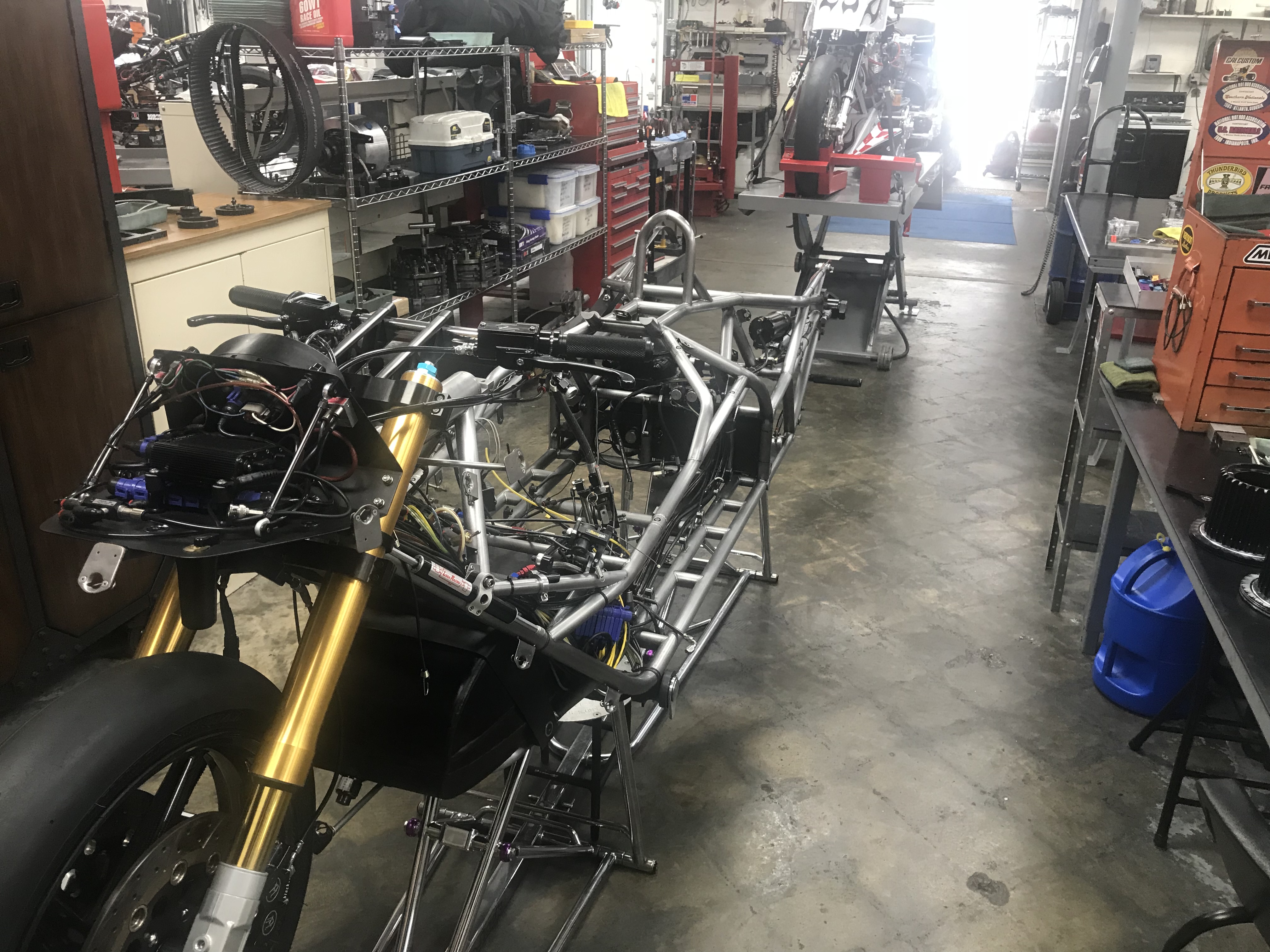 McBride is also busy building new bikes for Dave Vantine, the returning Jimmy Brantley and Athol Williams of New Zealand. McBride says all three bikes will be exactly like his record-setter.
"They will be quadruplets. That means if they don't work it's not my fault," laughed McBride.
McBride admits the lengthy, taxing process of making the custom parts has been a challenge for his shop.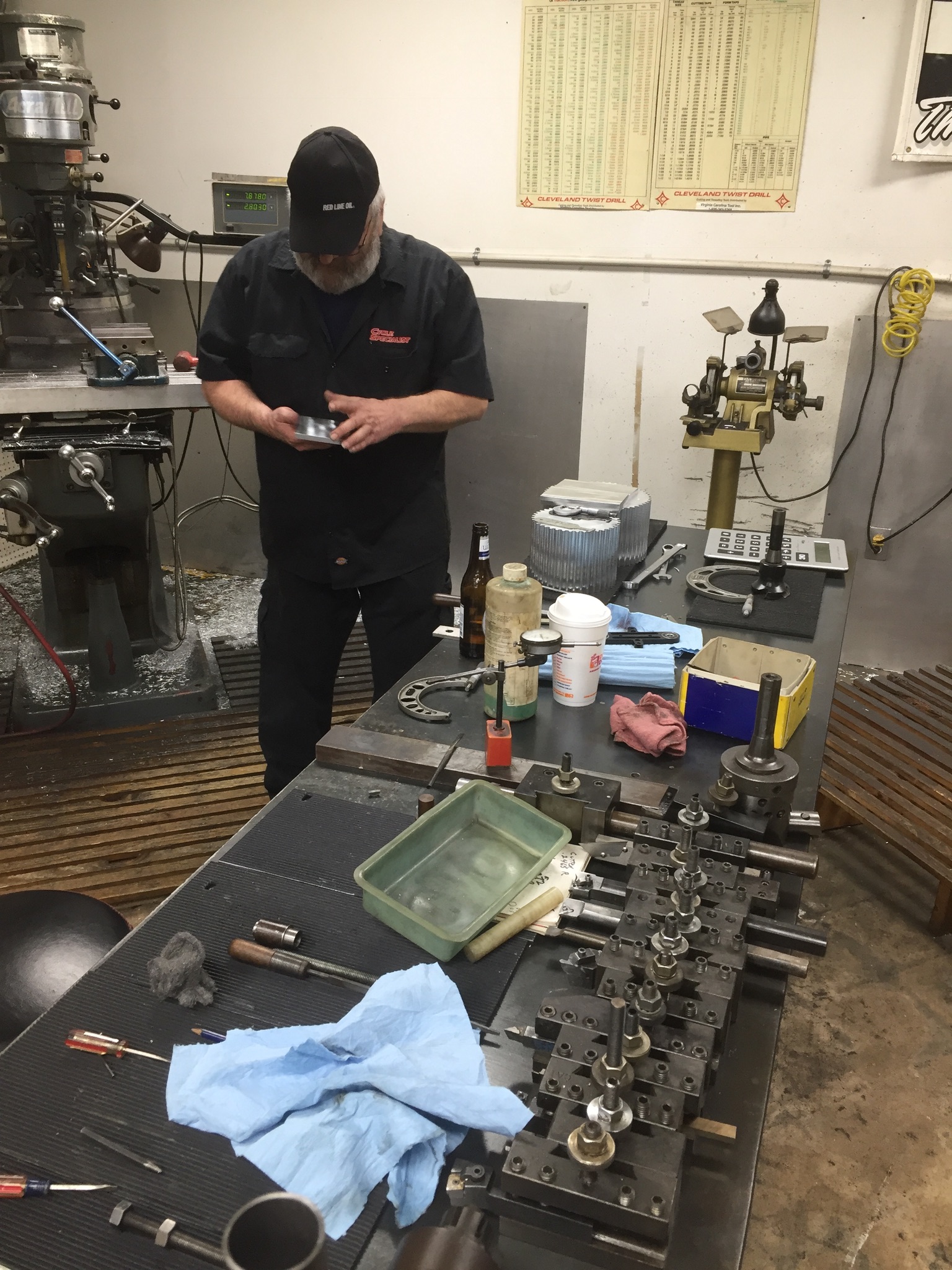 "We are three months behind. We were hoping to have Brantley's bike done by April but it's not going to happen," McBride said. "Two people can only get so much done. I'm reluctant to even set a date. We hope to be out with it this year."
How will the new bikes run? Will we see a 5.50? These are questions that will have to be answered during the season. One thing is for certain; no matter how he performs, McBride will approach the season with the same love, passion and enthusiasm that he has for the past 40 years.
He'll love every second of it.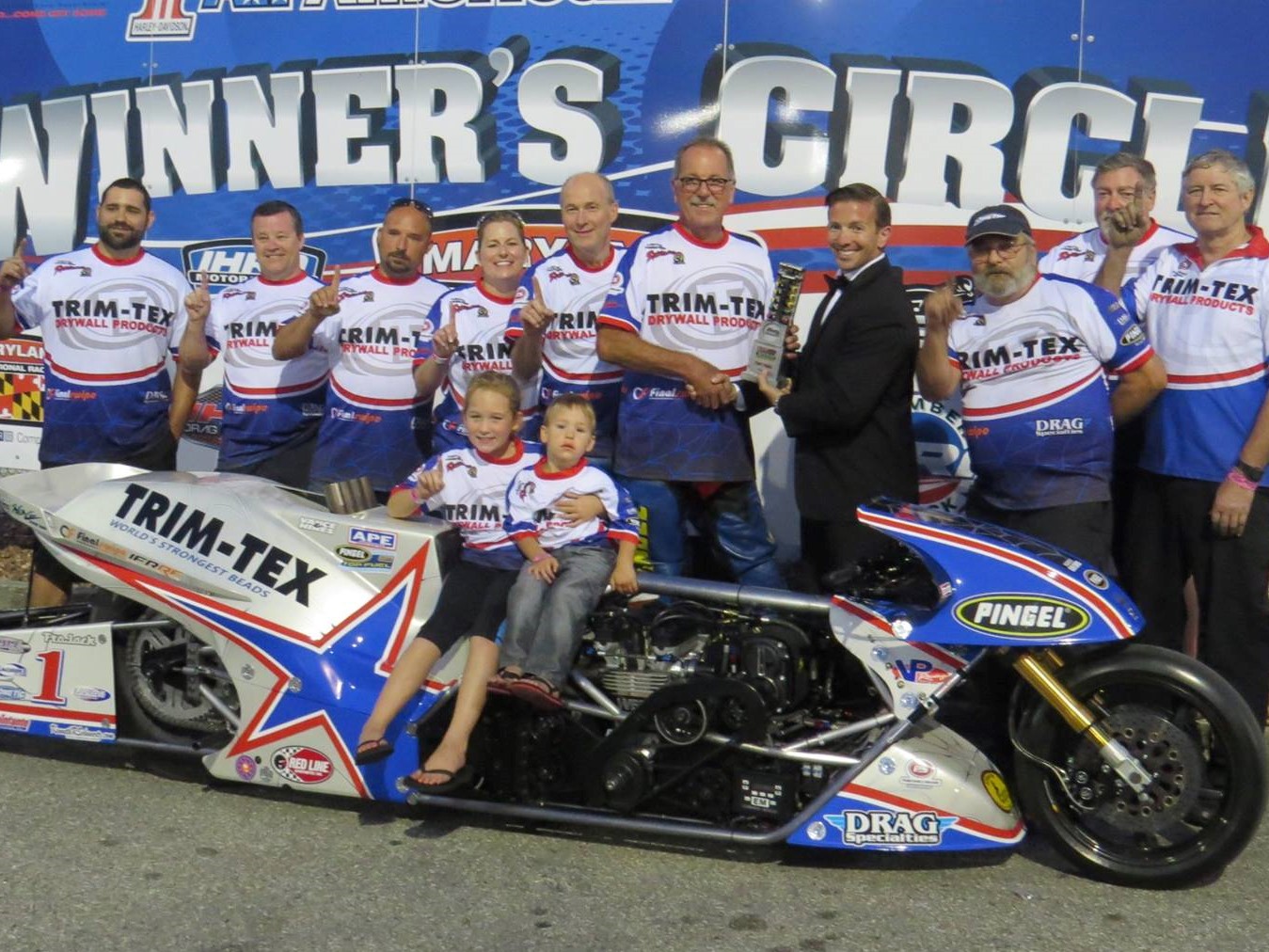 Larry McBride 2017 Video Highlights
For all their continued support with this new machine, McBride thanked his primary sponsors; Trim-Tex Drywall Products, Pingel Enterprise, Drag Specialties-Parts Unlimited, Final Swipe Merchant Services, Web-Cam, APE and Kibblewhite – Precision Machine.
Vance & Hines Motorsports, Red Line Synthetic Oil Corporation, Federal Mogul, Portable Shade, PR Factory Store, Ferrea Valves, World Wide Bearings, Vanson Leathers, Five Star Powersports, Belt Drives Ltd, Simpson Race Products, Nitrous Express, APE, EK Chain, Arias Pistons, Cometic Gaskets, B&J Transmission, Carolina Cycle, L.A. Sleeve, PJ1, Mickey Thompson Tires, Valco, Goodridge, Carlisle Belts, ProJack, Bullseye Visual and Gates Belts.
McBride also extended a special thanks to Bill Miller Engineering, Don Jackson, Gary Baillio of Final Swipe, Andy Sawyer, Chris Connelly, Jason and Dave Dunigan, Dimey Eddinger and the entire DME team.
McBride thanked Wayne and Donna Pingel and Dave Dunigan for all the support they offer the Top Fuel class.
Larry "Spiderman" McBride 2017 Results
MANCUP Spring Cup, Maryland International Raceway, Valdosta, Ga. April 7-9 – Winner
MANCUP HTP Performance Nationals, Memphis International Raceway, Memphis, Tenn. June 3-4 – Rainout
MANCUP MTC Nationals, Galot Motorsports Park, South Dunn, N.C. July 15-16 – Runner Up
IDBL WPGC Bike Fest, Maryland International Raceway, Budds Creek, Md. July 28-30 – Winner, 5.74 National Record
MANCUP, Rockingham Dragway, Rockingham N.C. Sept. 23-24 – Winner, 255 MPH Speed Record
IDBL DME Fall Nationals, Maryland International Raceway, Budds Creek, Md. Oct. 6-8 – Winner
MANCUP World Finals, South Georgia Motorsports Park, Valdosta, Ga. Nov. 17-19 – Winner, 5.61, 258 MPH World Records
Special thanks to Allisa Babor and Tom McCarthy for photo contributions.