Sydney's Adam Layton has been burning the midnight oil in the lead up to the 2018 Gulf Western Oil Nitro Thunder event at Sydney Dragway on 4th & 5th May.

Over the past weeks, Layton has been putting in the hours at his workshop preparing his nitro-burning Harley-Davidson for the penultimate round of the 400 Thunder Top Bike Championship.

It's a juggling act for the Hawkesbury resident with 6 days a week spent at his APL Performance Bike shop in Windsor, NSW before the shutters close and Layton re-focuses his attention to his nitro Harley, stripping it down to a bare frame, rebuilding engines and ordering components.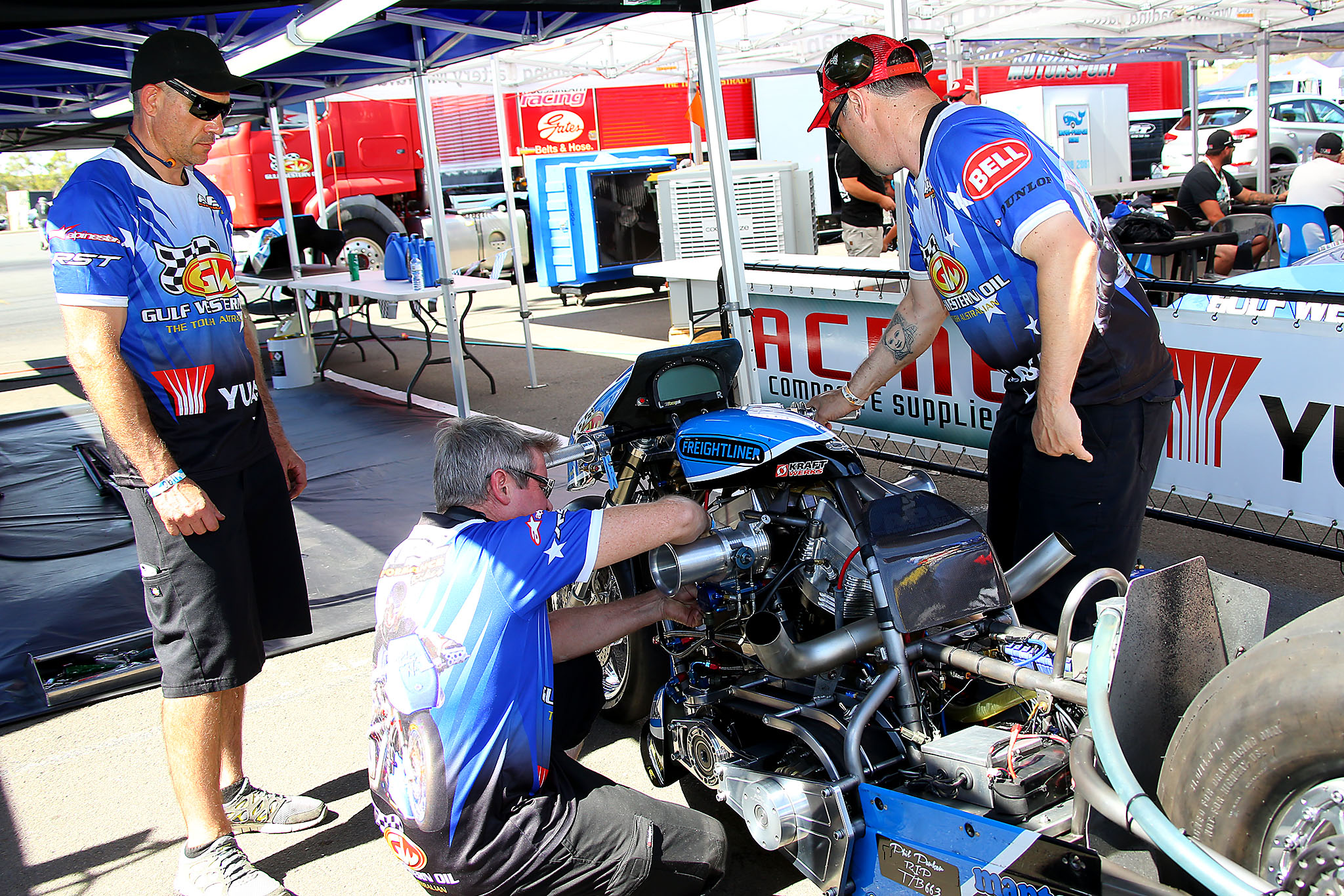 "It's tough sometimes especially for my family," said Layton. With two daughters and a younger son, they are always on the go. I'm so very lucky to be supported by my wife Julie, and family. They understand my passion and the long hours spent preparing my race bike and for that, I'm a fortunate man.

Layton is currently sitting third on 169 points following his runner-up finish at the January 400 Thunder championship round in Sydney. It was a massive event for the team with the bike jumping into the six-second zone for the first time. His APL Performance Bike Harley blasted down the Sydney Dragway quarter-mile (400 meters) in 6.49 seconds, smashing his previous best of 7.2 seconds.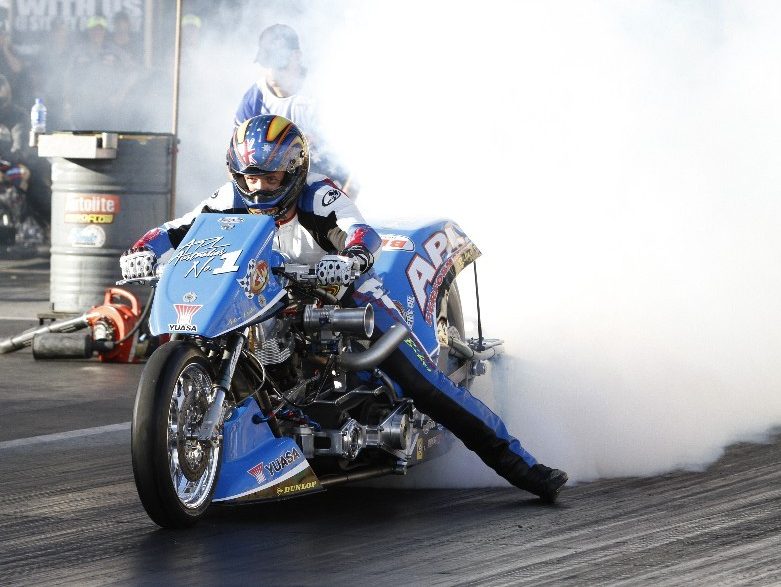 "I'm feeling great right now," said Layton. Everything is coming together nicely and I've never been more prepared. "I've really focused on the new fuel system and clutch. I want to go faster and hopefully break the Australian Harley-Davidson record, which currently stands at 6.3 seconds.

"I've also upgraded to carbon-fibre brakes. If I want to go quicker and faster I need to know that I can pull up before the sand trap", grinned Layton.

"This bike has a lot of potential and as far as I'm concerned one of the best nitro Harley-Davidson's in the country. Everything is falling into place and I can't wait to get out to the track and burn some nitro. My crew have been amazing so hopefully, everything will fall into place and produce the record we are chasing.

"The increments on my 6.4 second pass showed it could have even quicker had I not got off the throttle early. It was an easy run with no damage or struggle. I even used the same spark plugs again. The Racepak computer showed I was off the throttle before the 700 mark!

"For this weekend I've got new pistons and have worked on a new head design with some cc work, so the combination of more fuel, power, clutch and my crew should deliver the goods.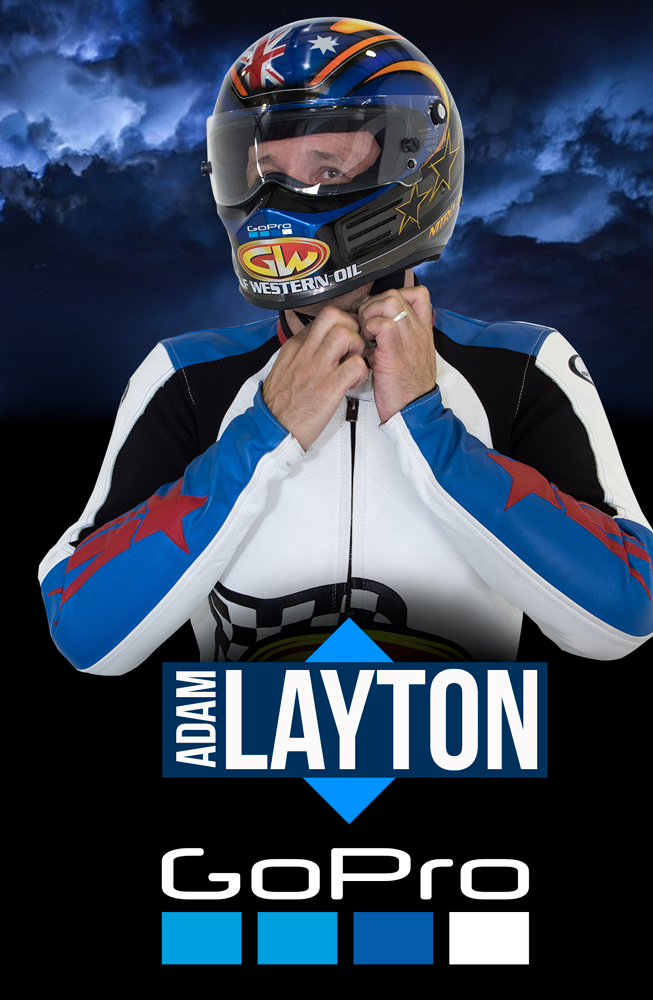 "Our first practice run on Friday will be a checkout pass to make sure everything is working as it should, including the new brakes and parachute.

"All going well, I have a great opportunity to step up and improve my championship points this weekend," said Layton. It's shaping up to be a great weekend with good weather and some spectacular drag racing. If you are a fan and thinking about coming out, do it because you are in for something special. I love this sport and its fans, they are just the greatest!
Gulf Western Oil Nitro Thunder Info
The Panel Show: Adam will be appearing on The Panel Show who will be shooting two programs from the Gulf Western Oil Nitro Thunder. His first appearance will be on Thursday and then again on Sunday.
For more info head to www.thepanelshow.tv
Autograph Signing Session: Adam is appearing at the popular 400 Thunder Pro Drivers Autograph Session on Saturday. Come and get your event posters signed from 2 pm.
Racing Schedule: Two practice sessions on Friday starting at 5:42 pm and 7:52 pm. Then on Saturday Adam has one final practice session at 12:40 pm before three rounds of racing – 4:31 pm, 6:31 pm and 8.31pm.