Australian Nitro Harley racer Adam Layton will be continuing his quest to break the world record and inch closer to the five-second zone this weekend at Sydney Drag Way and the first event in the 400 Thunder Professional Drag Racing Series for 2019.
He will be on his self designed and built 1500hp nitro-burning Top Fuel V-Twin with the single goal of becoming the fastest person ever on a Twin Cylinder Harley.
The 44-year-old has been riding motocross and supercross most of his life.
It wasn't until he reached 40 that he decided to finally get into the world of drag racing.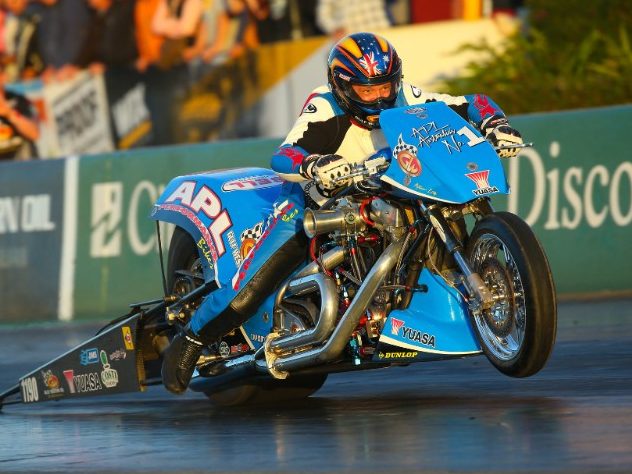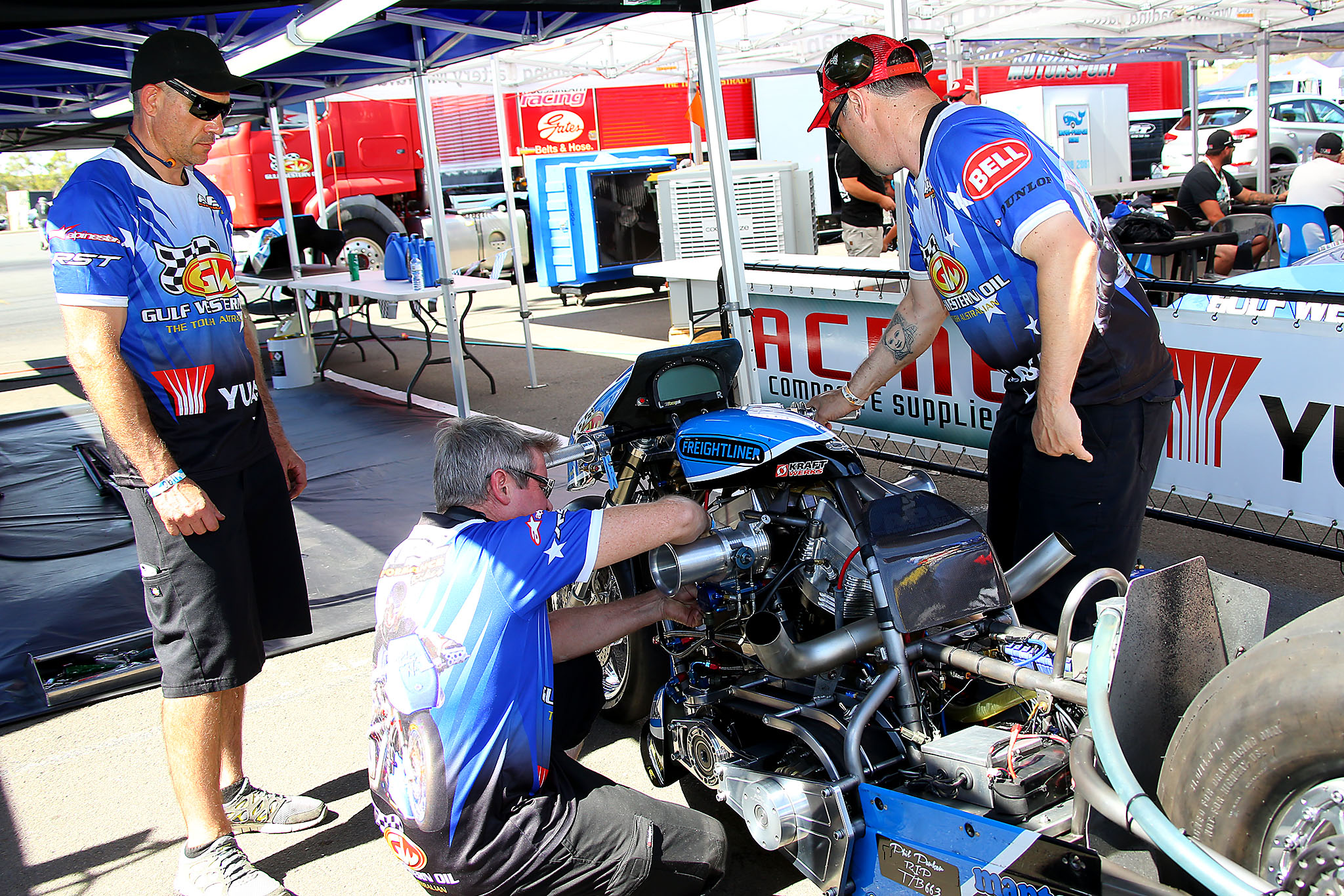 "I've wanted to do it [Top Fuel] for 15 years and despite riding bikes my whole life it was a massive jump," said Layton
"I couldn't have done it in my 20's or even my 30's"
"You need a maturity and respect with these bikes that you wouldn't have if you were younger."
Layton grew up in the Hawkesbury.
He has lived here for most of his life and owns APL Performance Bikes in South Windsor.
He traveled the world for motocross and supercross but remains located in the Hawkesbury where he raises his young family of three.
The Australian record for someone on a V-Twin is 6.3 seconds with the world record at 6.1 seconds.
Layton is confident that his bike can beat those times and he wants to reach 5.9 seconds or faster.
"I've always been that guy that has to be in front, no matter what it is I always had to be the fastest," he said.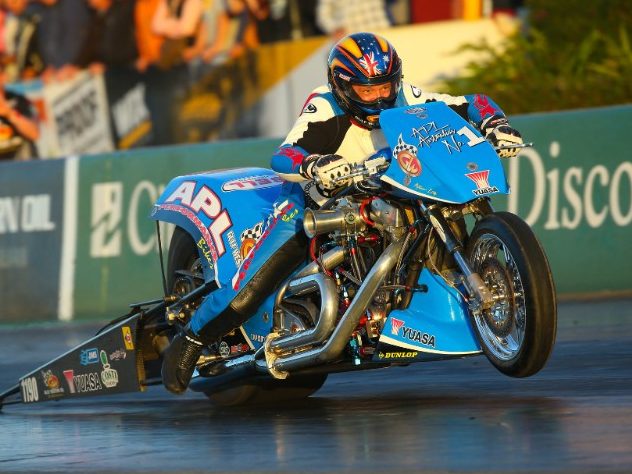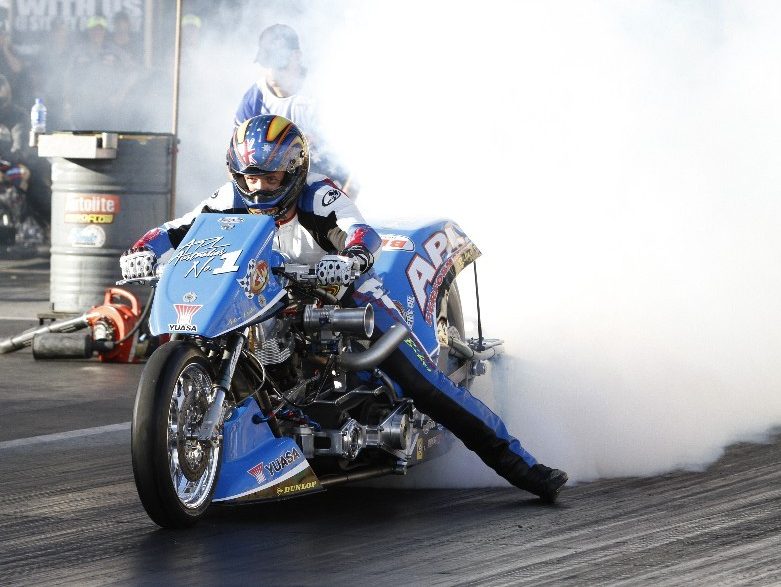 "I have a competitive nature to beat others but my biggest threat and opponent is myself."
Drag racing has a high level of danger to it.
The speeds that you travel at, the G-force you feel and the use of nitro in the engines makes drag racing an extreme sport.
For Top Bike they are without a roll cage for protection surrounding the rider, outside of a ballistics vest and racing gear which makes what Layton doing one of the most dangerous sports in the world.
"It is the hardest motorsport in the world and it's the hardest thing I've ever done but it's something I'm happy to be doing," he said.
Layton's bike is completely designed and built by himself and his crew of workers from his South Windsor based motorcycle shop.
It has a unique fuel system designed by Layton which is the first on a motorcycle and what he believes will be the cause for him breaking the world record.
"I do around two to three hours a day throughout the year."
"And in the two to three weeks leading up to a meet we work on the bike even more with two mechanics full time including myself.
"This will involve preparing and building the engine, making and adding parts, replacing any worn or damaged parts."
Layton believes that Top Bike is the most exciting thing he has ever done.
He said the atmosphere of a race constantly changed as each individual step was completed in the lead up to the start line.
The race takes absolute focus from not only himself but his well trained crew.
They have to ensure that everything is perfect, which includes ensuring that the bike is set to race in the conditions that they are experiencing.
Layton said: "If you've prepared for a 30 degree day with high humidity but then a southerly buster comes through, you have to quickly make changes to account for that weather change."
"Even a five degree change in either way is enough to call for dramatic adjustments to the bike."
Despite being a part of a handful of riders who are at the elite level Layton is among a massive international community in Top Fuel.
The race itself is only six to seven seconds long and no matter the preparation, success comes down to Layton's ability on the bike.
"I get to a point where I'm happy with the prep work and my focus shifts to the little things on the bike and what I have to do."
"When you come out of the tunnel at the dragway there are 60,000 fans cheering, plus everyone watching it live across the world.
"I know I have a job to do and now I just have to do it."
"When you race you travel so quickly… the jump almost doesn't feel natural…I'm often like, "wow, how did I get here?" and I look back to the start line that is half a mile away by the time I'm stopped.
"My heart races but to know what I have just done excites me and makes me so happy… especially when you see and hear the crowd cheering the way they do."
Layton, despite the excitement and speed, ironically finds racing to be relaxing as he said, "everything else in the world fades away during meets".
"All that matters is the bike and getting to the other end of the track.
"Myself, the whole team and everyone involved just forget about politics and all of the other stuff around the sport and just race.
"It's relaxing in that sense."
Layton races in the 400 Thunder Professional Drag Racing Series around eight times a year across all of Australia.
He will have his first meet of 2019 on January 18 and 19 at Sydney Dragway on Ferrers Rd, Eastern Creek, which Layton says is the best place for him to reach the 5.9 second mark in Australia.