It takes a lot of confidence for a California team to travel to the East Coast to drag race a motorcycle, but that's exactly what 187 Custom Cycles did this spring.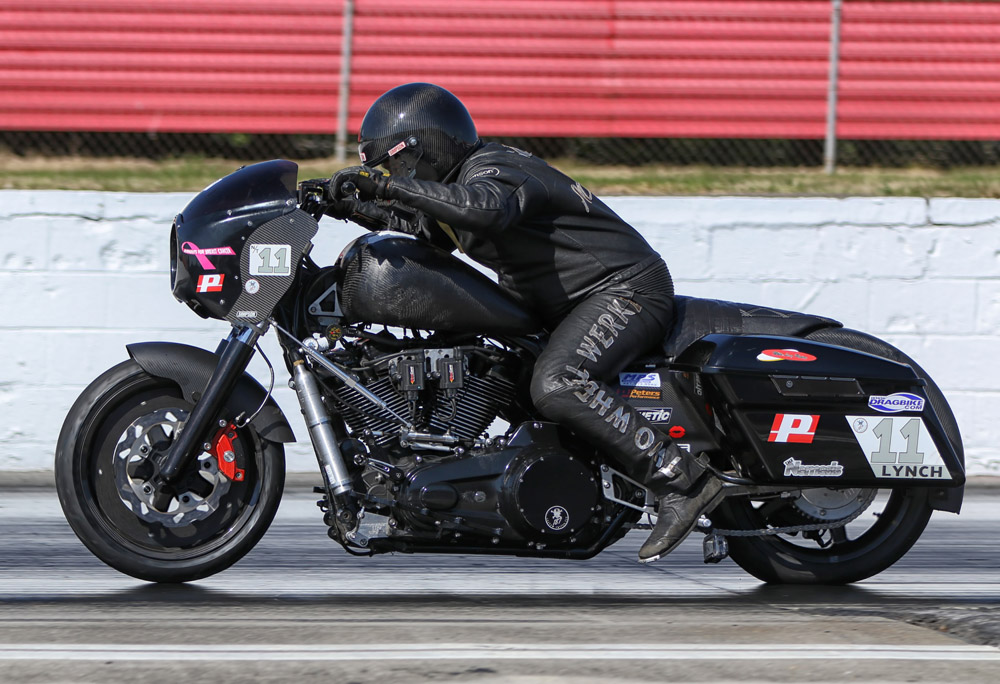 And it paid off. With experienced no-bar jockey Victor Gotay in the seat, the team won Law Tigers Pro Bagger at AHDRA's Atlanta and Darlington events.
A return trip to Sacramento and the Motorcycle Mania event netted two runner-ups for Gotay—Hot Street and Street ET—and a Street ET semifinal loss to Gotay by his teammate Crystal Lynch. Crystal is the wife of 187 Custom Cycles owner Patrick Lynch.
187 Custom Cycles is based out of the small, northern California town of Gridley. "We focus strictly on racing and performance bikes," said Patrick, whose been racing since he was eight years old. "Karts, dirt late models, and now bikes."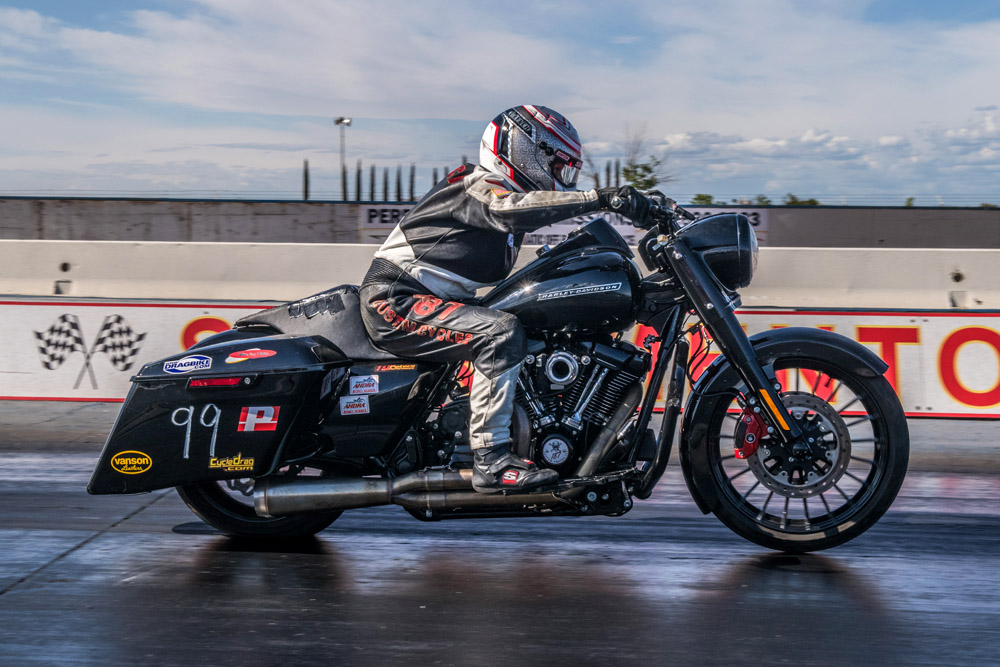 The Bagger that Victor rides is a stock Harley-Davidson FLH frame with a 143 cubic inch Milwaukee 8. The package weighs in at around 540 pounds.
"We build everything in house," said Patrick. "Engines, custom trees, swingarms—you name it, we build it if it's for a race bike we are prepping."
Hired rider Gotay is more known on the high-revving, inline four cylinder, import motorcycle drag racing scene than on brute-torque, American Harley-Davidsons. How did Californian Lynch hook up with the Floridian Gotay?
"I met Victor through a mutual friend at Orlando Speed World. I needed someone to do some testing and he came highly recommended.
"Victor provides feedback that is second to none. He is also helping my wife Crystal become a much better racer. He has been a huge help in a short period of time."
"I would like to thank Victor for putting up with me and for all his help," said Crystal. "He is hard on me, but I really appreciate all he's done to make me a better rider and racer."
"I would like to emphasize how hard Crystal is working to get to the winners circle, and I don't think we could have anyone better than Victor to help make that happen," added Patrick.
The team embarked on an ambitious calendar of testing and racing in Orlando, Atlanta and Darlington. "We tested thirteen days, raced five days, and made an appearance at Black Jack Harley on the Thursday before the race in Darlington."
The two big AHDRA wins put the team in good spirits for the grueling trip back to California. "Since I left California on March 24th till I got home, we have traveled 8,600 miles.
"Racing may appear easy from a outsider's view, but it is 100% never-stop, hard work, and I thank Victor and Crystal for all their efforts."
And that work will have to continue, as the team heads back across the country to race with AHDRA at North Carolina's Rockingham Dragway on June 4-6 (that one is tentative due to ongoing repairs), Lumbee Racing's "Thunder at the Rock" on June 11-12, AHDRA at National Trail in Columbus, Ohio on June 19-20 and Sturgis, South Dakota on August 8-10, Hogs Gone Wild in Reynolds, Georgia on August 20-22, AHDRA in Orangeburg, South Carolina on September 17-18 and Norwalk, Ohio on October 1-3, Hogs Gone Wild in Reynolds on Oct 23-24, AHDRA at Florida's Gainesville Raceway on November 6-7, Hogs Gone Wild in Gulfport, Mississippi on November 12-13, "And anywhere we can race in between those dates!" added Lynch.
"I would like to think Ozzy Moya and the entire Orlando Speedworld crew for their hospitality when we are in Florida. They enable us to call their track our Florida Headquarters.
"Our associate sponsor is Jeff Peters from Peters Performance, and he is a huge part of us being able to chase the AHDRA Pro Bagger title. I also want to say a special thanks to Frank Delzingaro III."
The 187 Custom Cycles team is making things happen and making big noise with their own American-built horsepower from one end of the country to the other.
There are more videos on the Cycledrag Youtube channel (please subscribe here) and the Cycledrag.com Facebook page (Please like here) and more will be coming soon. Check back daily.
To take advantage of some amazing discounts at Brock's Performance, click – http://brocksperformance.com?aff=12
USE cycledrag5 coupon code.