The Xtreme Dragbike Association (XDA) takes Motorcycle Drag Racing to Virginia Motorsports Park for the 33rd annual MTC Engineering Summer Nationals on May 31-June 2, 2019.
This family-friendly event features over 700 Professional, Sportsman, and Grudge motorcycle drag racers in competition, and they will be competing for over $40,000 in cash purse with a shot at the 2019 championship title.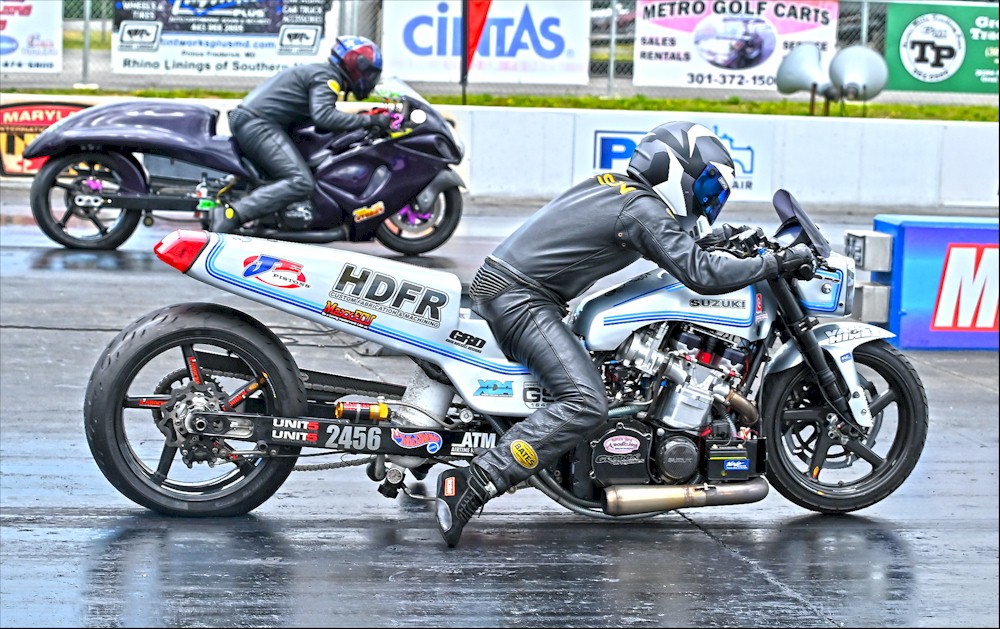 Over a century ago, Virginia was the combat site between the North and the South during the Civil War. Each side worked tirelessly to prevail against its counterparts. Today the battlefield is a quarter mile dragstrip as the XDA warriors prepare to do battle.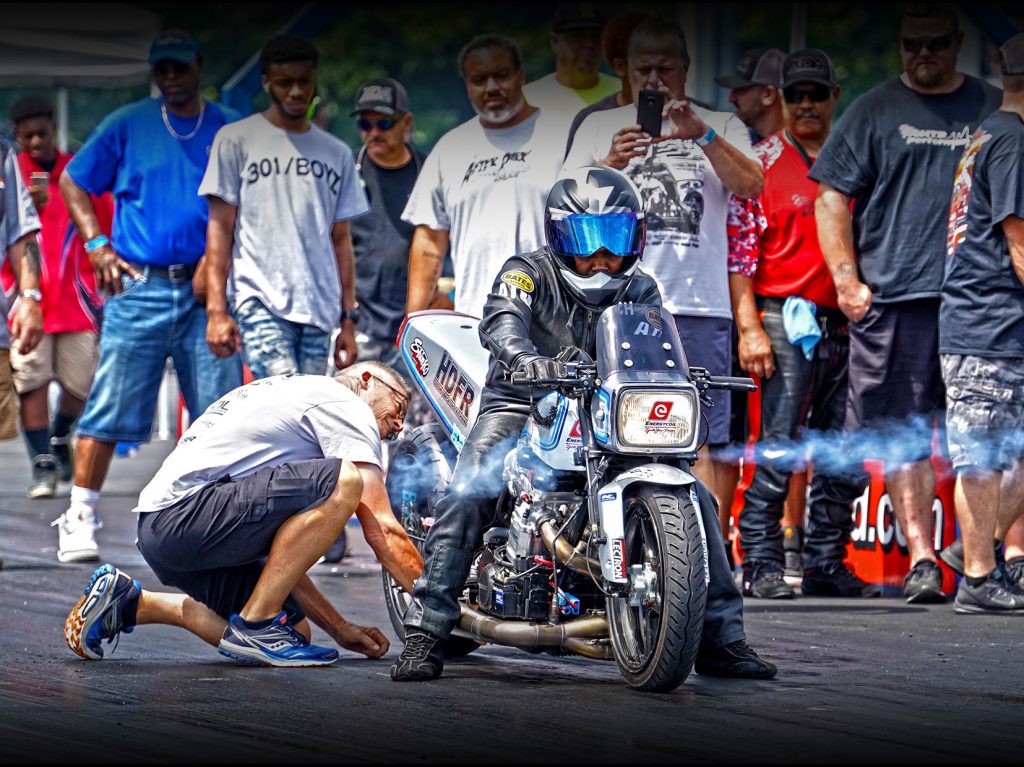 Virginia Motorsports Park (VMP) celebrates their 25th anniversary with continued facility improvements. In 2018 they installed a brand-new state of the art concrete racing surface, wall to wall from the water box past the quarter mile. For 2019 the beautification of the property has continued with additional Musco lighting in the pit areas, remodeled bathroom facilities, a repaved return road, and a new Kubota Static Drag has also been added to their arsenal of equipment alongside their rotator.
There are videos on the Cycledrag Youtube channel (please subscribe here) and the Cycledrag.com Facebook page (Please like here) and more will be coming soon. Check back daily.

Orient Express Pro Street
Class Points Leader – Rodney Williford
The baddest street tire motorcycles in the world will assemble once again for the Orient Express Pro Street class. With a track smooth as glass, and a recent rule change, these 650+ horsepower motorcycles running at speeds over 230mph in the quarter mile, in only 6-seconds will be setting records all weekend. You do not want to miss the endless racing action served up by these all-stars. Points leader Rodney Williford officially holds the ET record at a 6.515, but Jeremy Teasley's 6.492 on the DME Racing/Connelly liter bike will not be diminished as fans in the stands will be expecting him to reset that record.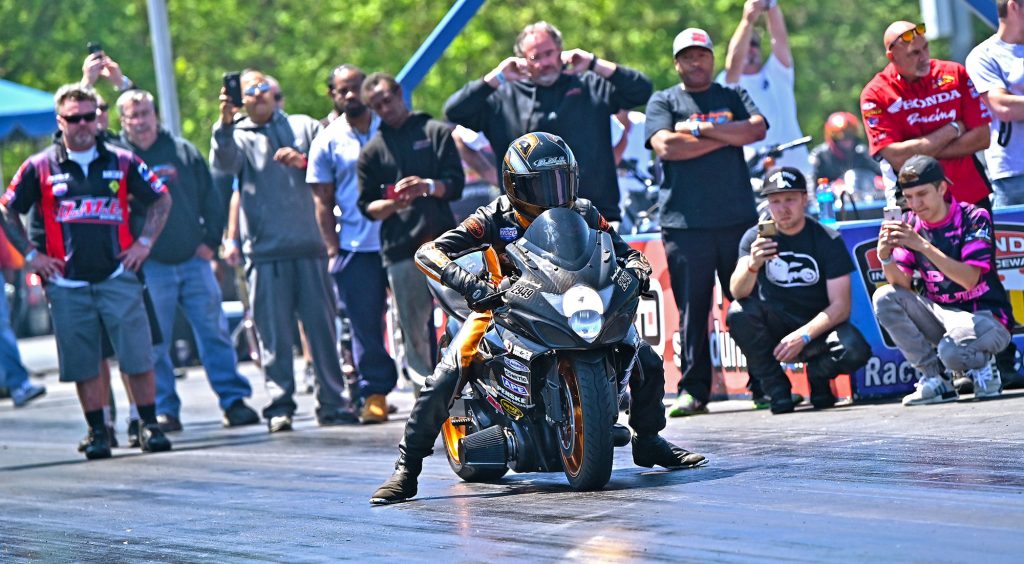 And while class champion and points leader Rodney Williford is zeroed in on his program, competitors Richard Gadson, Frankie Stotz, and Darion Payne are positioned for a smash and grab if Williford faulters in eliminations.
XDA welcomes to the event, Brett Ware, Chris Edwards, Gabe Frederick, and Lorenzo Ortiz. These racers may have missed the season opener, but they won't waste any time getting in on the record-setting action next weekend as they attempt to move up the Pro Street GOAT list for bragging rights.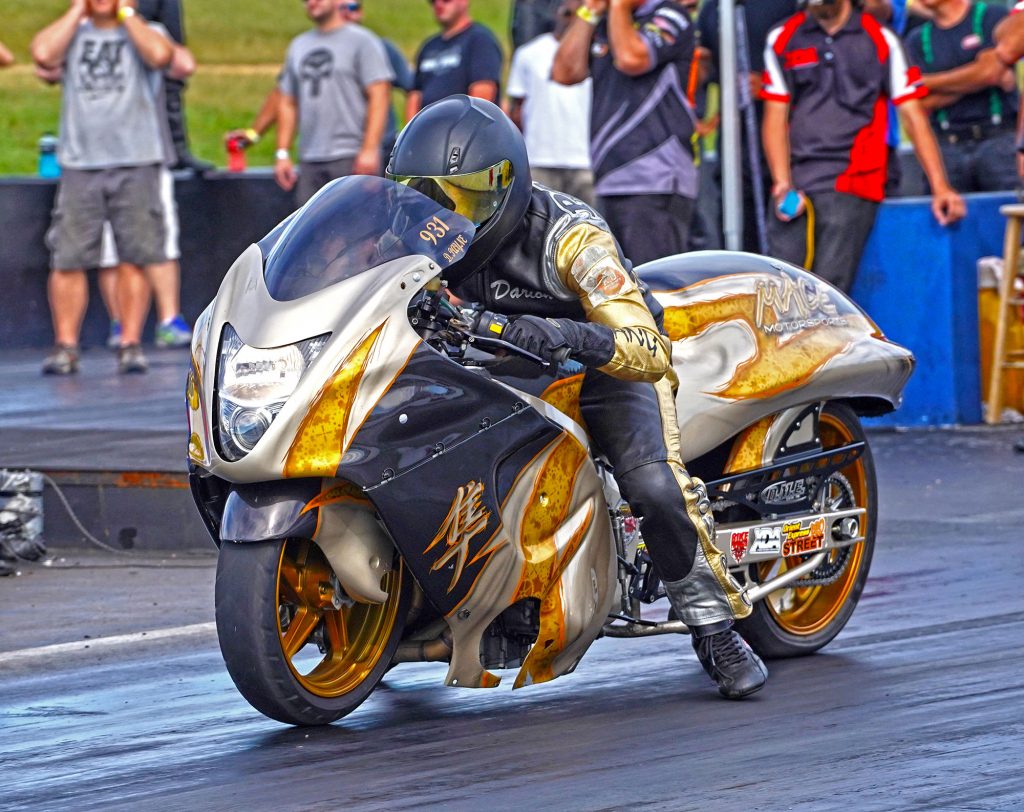 Twenty-nine Orient Express Pro Street racers have already confirmed they are coming to VMP for the MTC Engineering Summer Nationals. XDA is consistently getting the largest counts of any other series in the county.
The battle for a spot at the Haltech World Cup Finals presented by Wiseco Import vs. Domestic event in November at MDIR will also heat up. Racers will be fighting for a top ten finish in qualifying for the chance to compete in front of 40,000+ fans in the $5,000 to win Pro Street Shootout sponsored by Platinum General Services.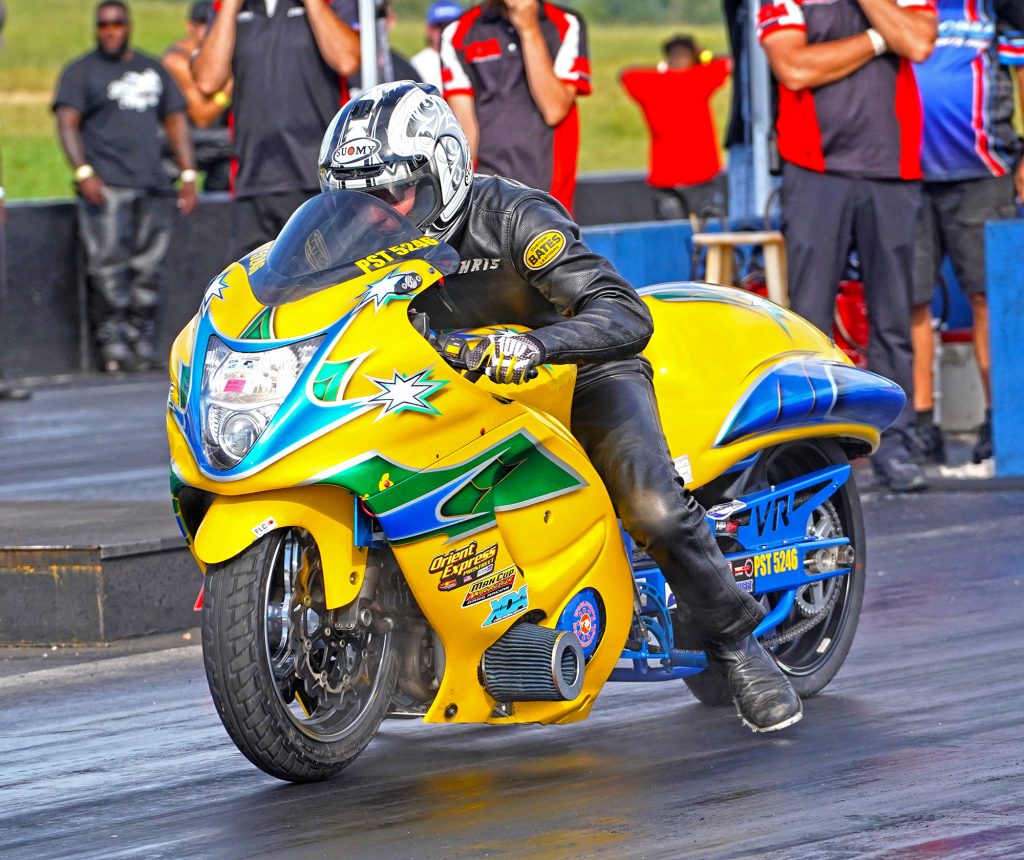 Qualifying starts Friday at 8 pm, and Saturday features a bonus race with the Penske Racing Shocks Pro Street Shootout, don't miss a second of the action!
DME Racing Real Street
Class Points Leader – Mark Hylton
DME Racing Real Street shattered its attendance record at the Spring Nationals with twenty-three bikes in qualifying. Mike Sweeney Jr. who missed the season opener due to electrical issues, will start his season at VMP alongside finance Ashley Cotnoir. Top Sportsman racer, Cotnoir is no stranger to speed, and will be making her professional Real Street debut at the Summer Nationals.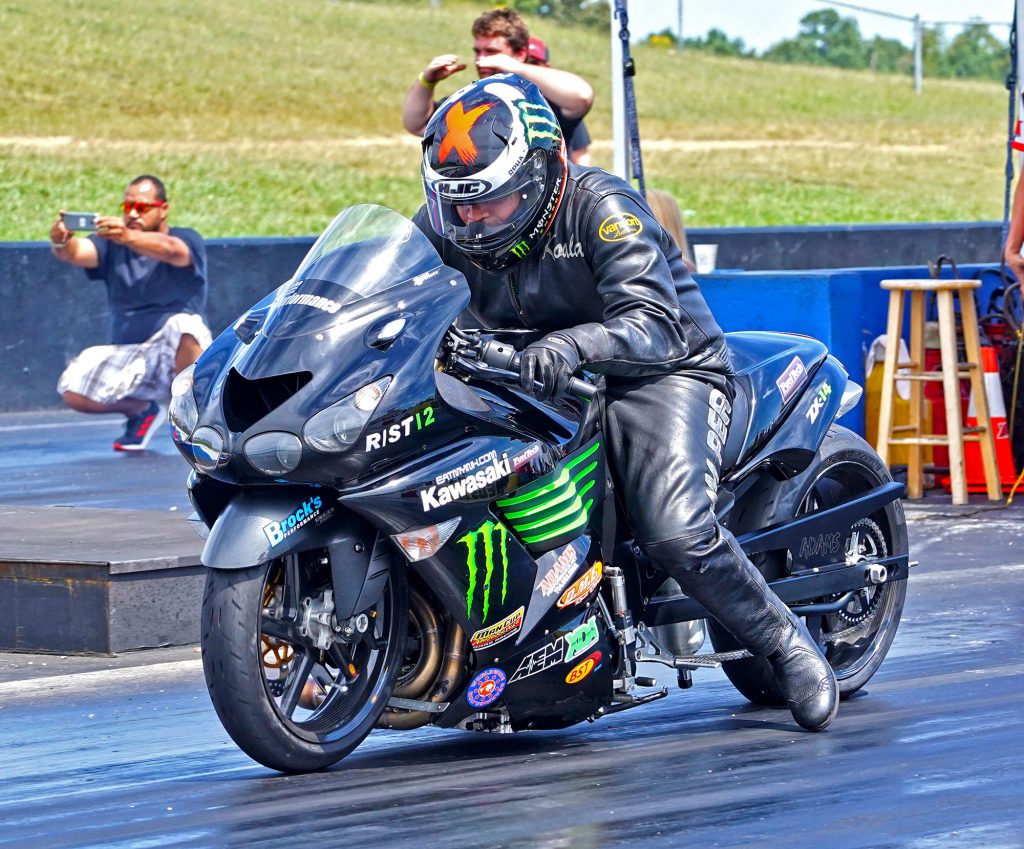 Points leader Mark Hylton will roll into this event after an unstoppable two-race winning streak. His Suzuki Hayabusa is consistent round after round, and that may be all he needs to stay out in front of class record holder Jeremy Teasley and the likes of Anibal Merced and Spencer Claycomb.
This event will also feature the Schnitz Racing Shootout on Saturday during qualifying, but the current buzz is Friday's 'Off the Trailer' nickel race between champion Spencer Claycomb and Devin Ragland. Both bikes must be in legal Real Street trim, and the rookie is giving Claycomb the back tire!? These guys have too much downtime between events.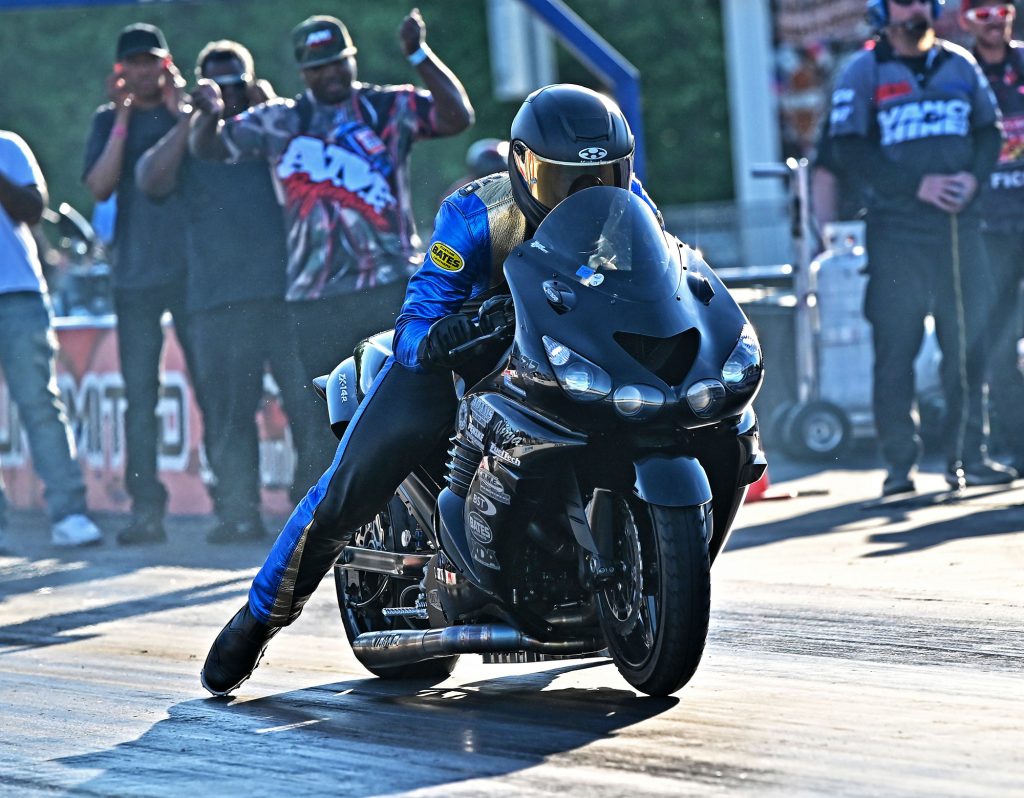 Twenty-three DME Racing Real Street racers have once again already confirmed they are coming to VMP for the MTC Engineering Summer Nationals. This class has really turned out and the internet boards are buzzing about Real Street 24/7.
HTP Performance Grudge
HTP Performance Grudge will once again run on the best-prepped track any series has to offer. Grudge racers will have the option to run all three days behind the Pro classes making them part of XDA's world-class show.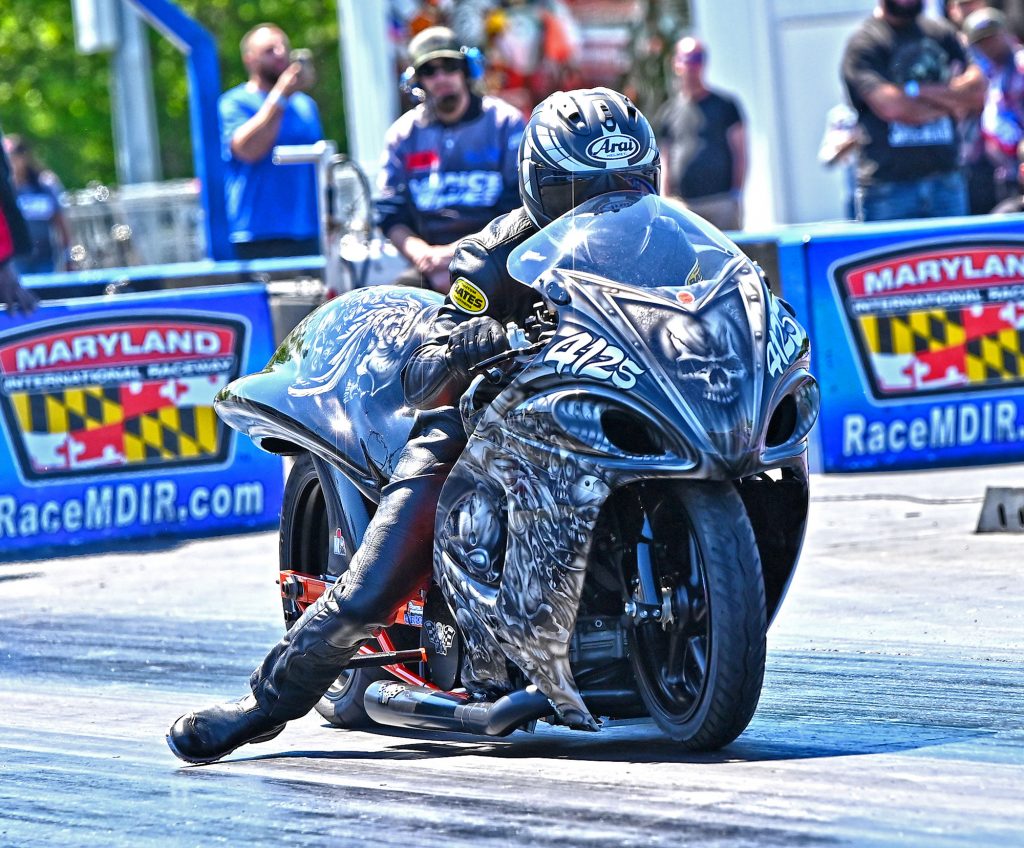 XDA's "Running of the Bulls" features Boosted Bulls, APE Nitrous Bulls, Monster Bulls, and Unit 5 Components Brahma Bulls headlining Saturday night with a potential $54K payout if we see full fields. Come get this money!
With track prep on kill, riders won't be able to throw their hands up in strife about the racing conditions. So those with excuse maker lips will be at home Saturday night in the 'Call Out' group tapping keys while the adults compete.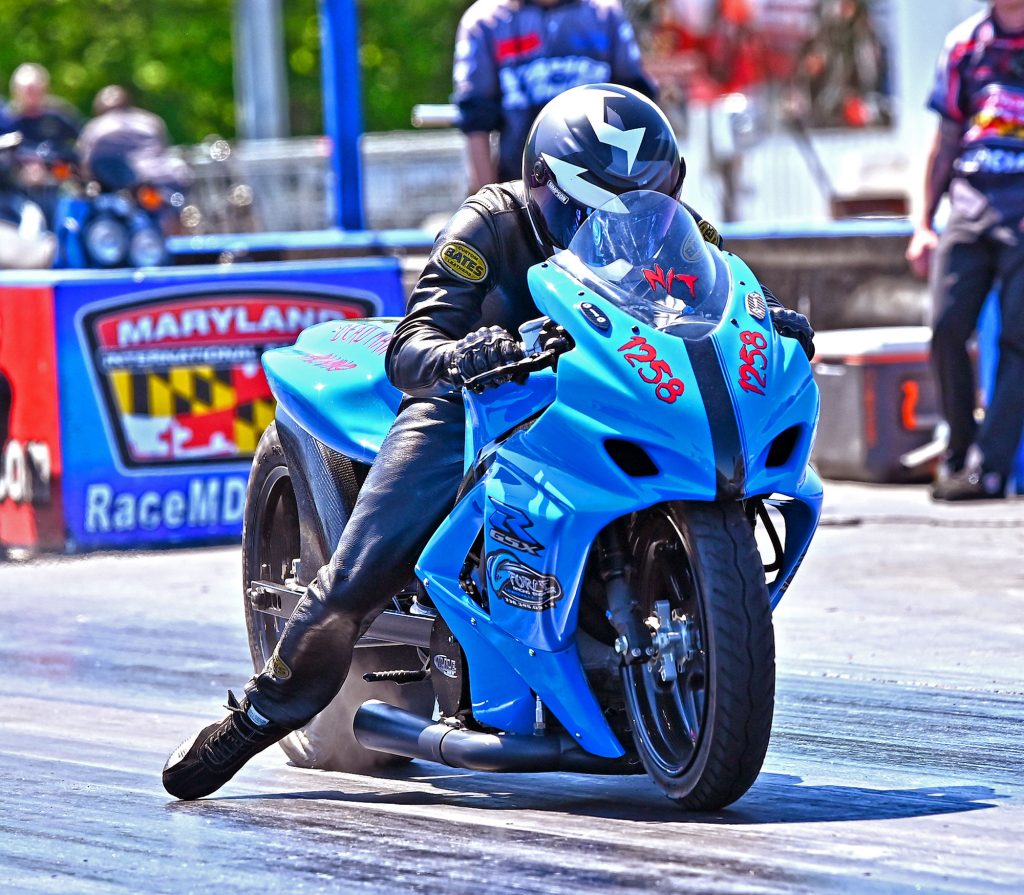 No-Time racers ready to back up their claims that have locked-in for the event include: Koolaid, Hannibal, Jizzle, Dead Man Walking, El Diablo, Child's Play, Pickin Pockets, Spawn, Juggernaut, Clockwork and many more are ready for their big payday.
Limited spots are still available, sign up now and reserve yours today at www.xdaracing.com/bulls and earn extra points.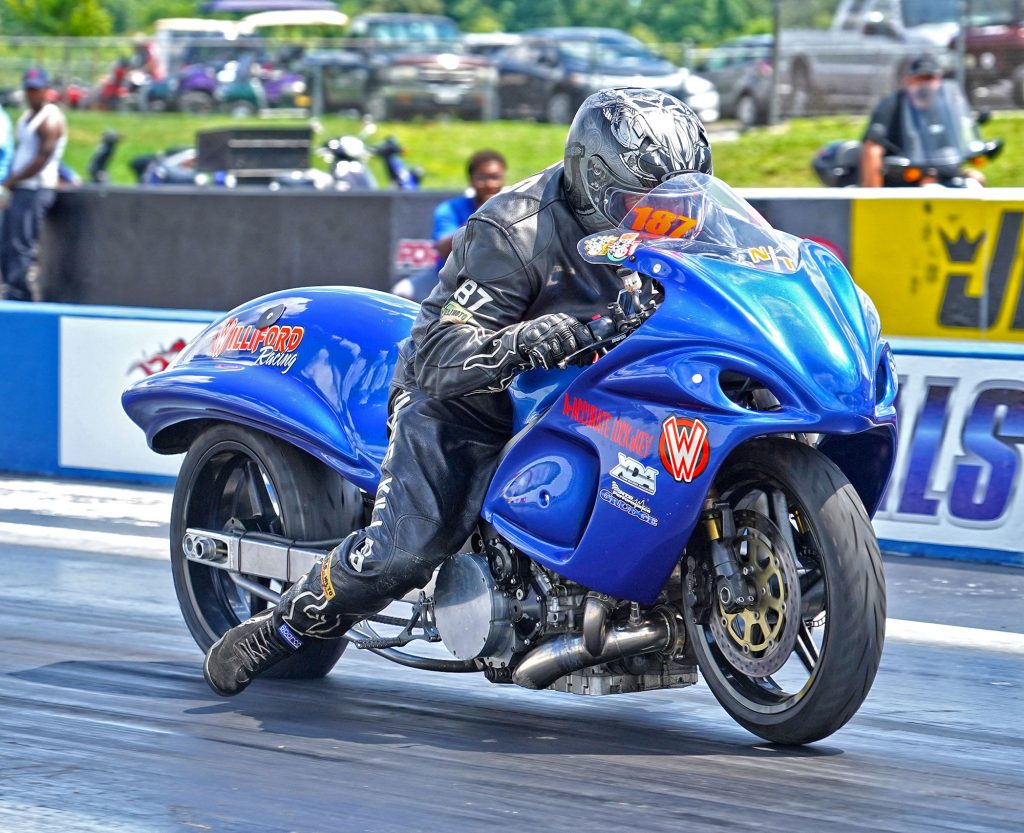 Vance & Hines 4.60 Index
Class Points Leader – Ronald Procopio
Vance & Hines 4.60 class is the world's quickest two-wheeled index category running against a four-tenth pro tree. And this 660 feet of battleground will potentially see its biggest turn out with thirty-three racers already confirmed. The only female in the class, Dystany Spurlock, will return looking for redemption on Larry Mark's Suzuki. Spurlock showed great potential at the PFR Spring Nationals qualifying number four on her first showing, but mechanical problems off the starting line in round one of eliminations cut her weekend short. Points leader Ronald Procopio holds a twenty-three point lead over Tyler Cammock, Michael Ostrowski and Boo Brown who will be his toughest competition, as they are in striking distance to defeat him.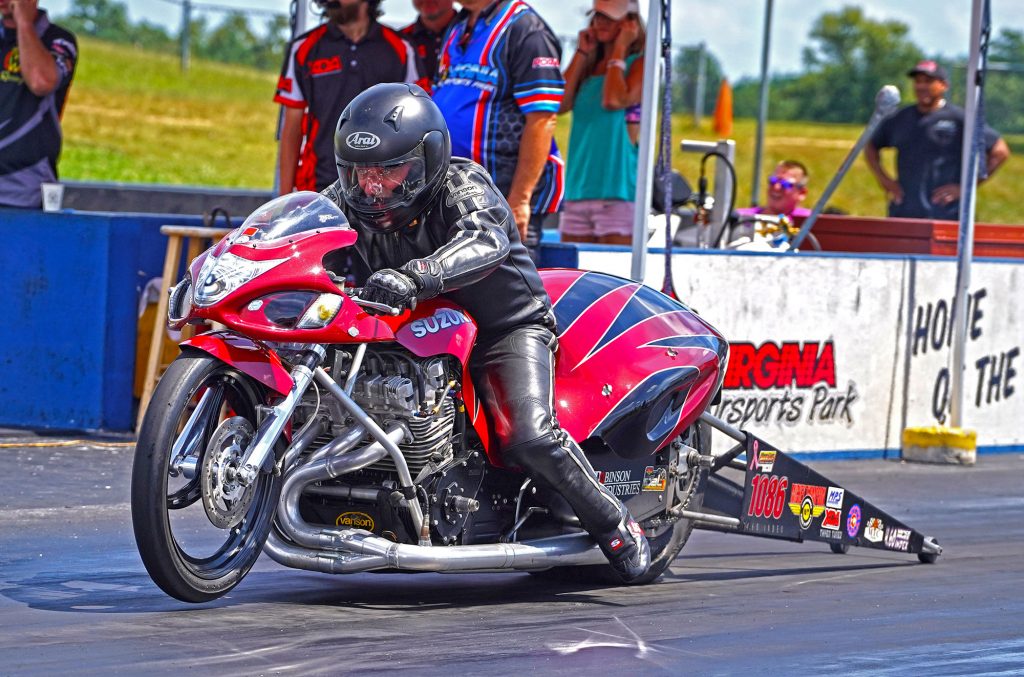 A whopping thirty-three Vance & Hines 4.60 Index racers have already confirmed they are coming to VMP for the MTC Engineering Summer Nationals. Can this class get any bigger?
FBR Shop 5.60 Index
Class Points Leader – Daniel Joyce
The FBR Shop 5.60 class will not only play host to our regular heavy hitters but based on the internet Roll Coll we will have some newcomers as well for the MTC Engineering Summer Nationals. Lonnie DeTurck from Oley, PA plans to attend with his crew from the Reading Motorcycle Club, including Michael Schneider. Claycomb is pushing Willie Nichols to try his hand in the class as well. With big bike counts and fresh blood on the grounds, points leader Daniel Joyce will need to hold the line if he wants to leave VMP as top dog.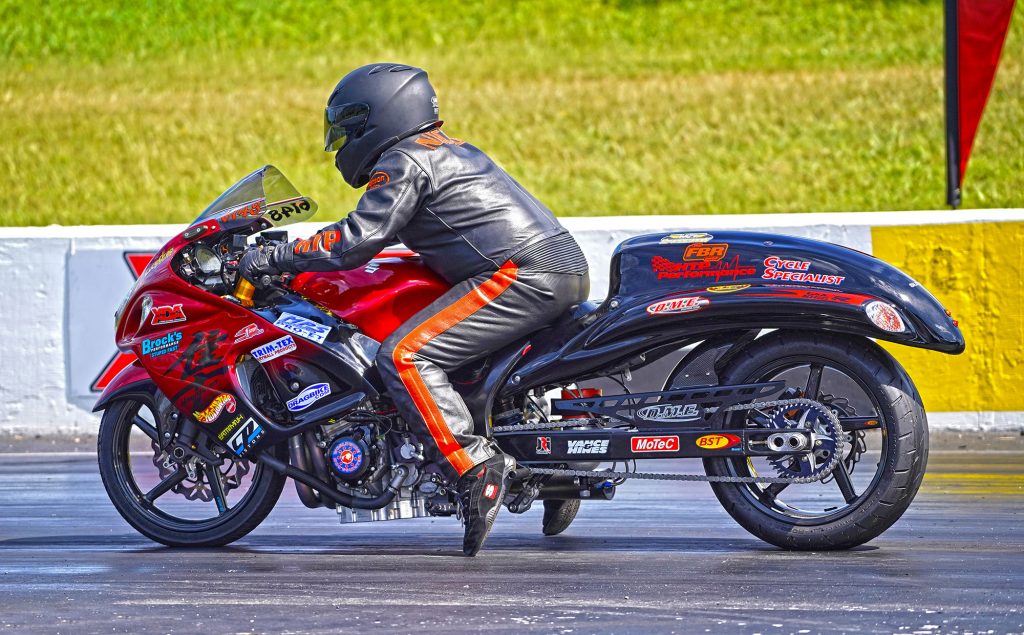 Shinko Tires Crazy 8's
Class Points Leader – Nick Hamlett
As the Shinko Tires Crazy 8's class grows in numbers, so does the level of competition. At the PFR Spring Nationals, XDA had an incredible 56 entries, making the field tight come Sunday morning. However, on race day, only three racers ran an 8.88 in competition as these guys are still looking over their shoulder at the finish line judging whether or not they should let off the throttle. Home track advantage at this race will go to the points leader Nick Hamlett, along with racers Clay Davies, Alex Kupetz, and Jeremy Brown.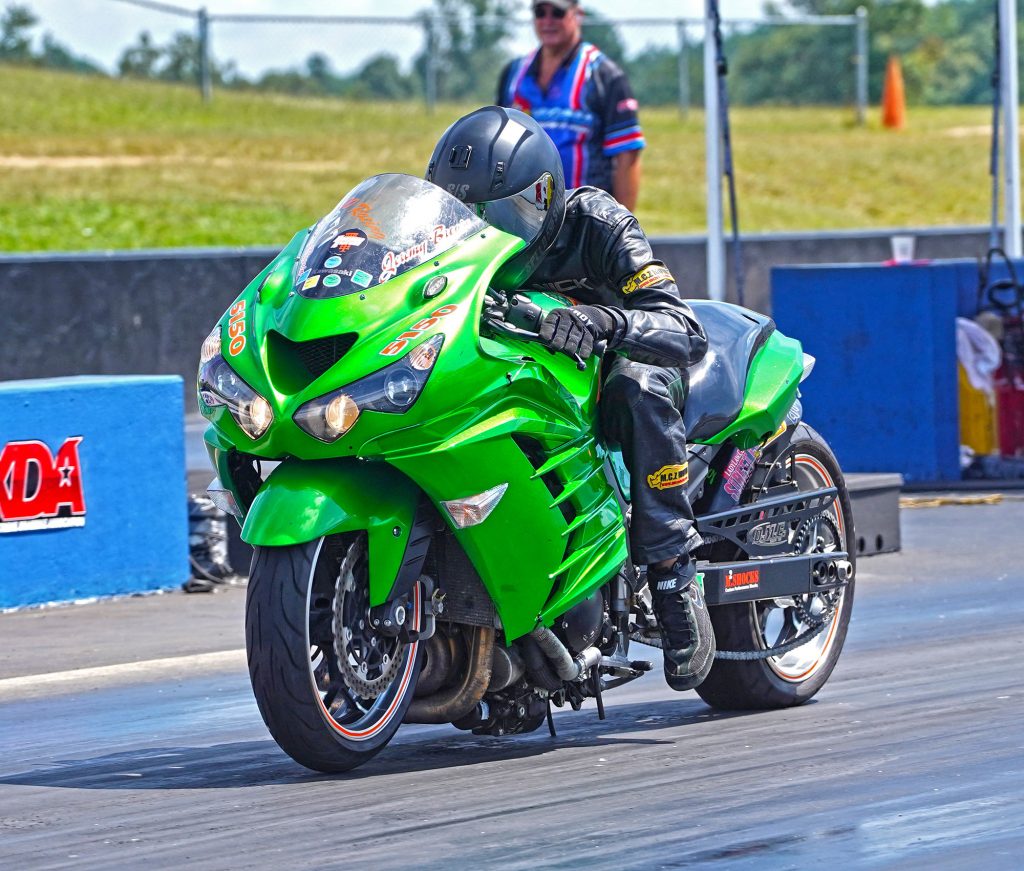 Mickey Thompson Tires Top Sportsman
Class Points Leader – Jim Shifflett
Mickey Thompson Tires Top Sportsman gives the thirty-two quickest sportsman racers a chance to take home the biggest payout of the weekend with a $9,000 potential payout.
Points leader Jim Shifflett has an eleven-point lead that will be tough to keep locked down with racers like Mac McAdams, George Shriver, and Kermit Garnett looking for a takeover. Purchase a two-day Pro ET tech card, and you're in the running to qualify for the quickest sportsman class in motorcycle drag racing.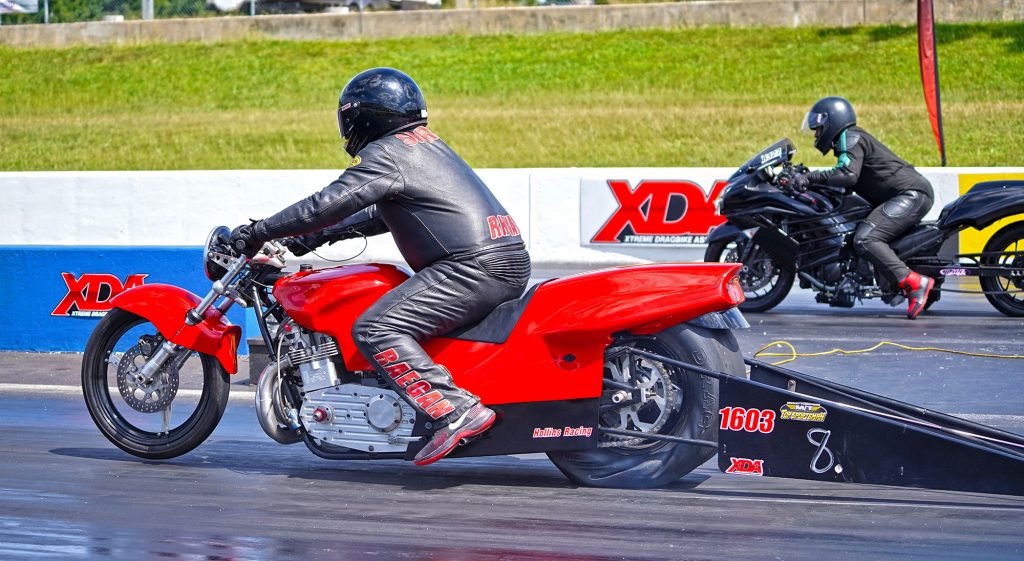 MPS Pro E.T.
Class Points Leader – Jimmie Miller
Our MPS Racing Pro ET points leader was one of the last racers out of the track at the PFR Spring Nationals after an eight-round battle to the winner's circle, and there is a good chance he might be one of the first in line when the gates open up on Friday. Miller leads but only two rounds, but once you've tasted life at the top, it's hard not to strive to stay there. And he's going to have to fight for his life, because Jim Shifflett, Stephen Knight, and Bob Carlson are coming for his spot.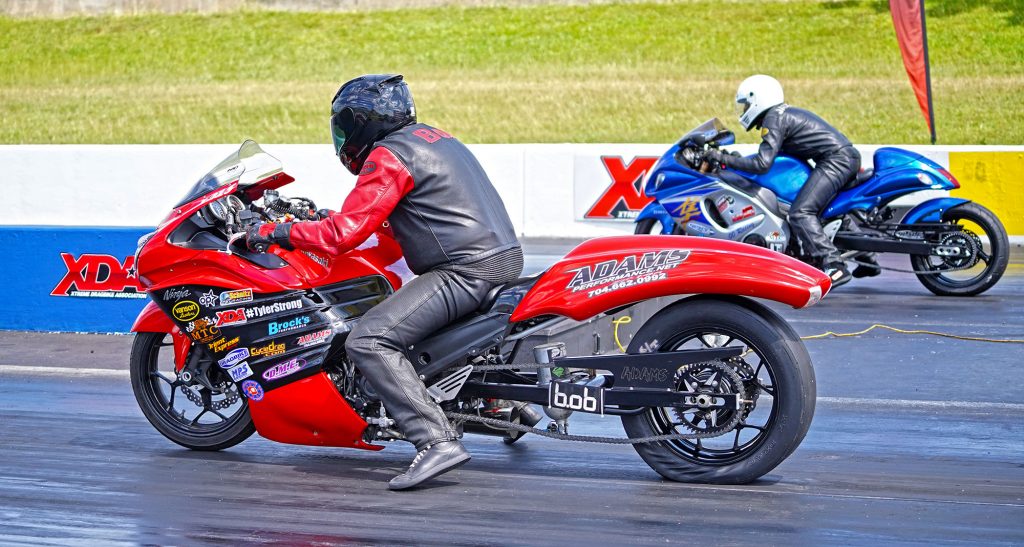 Brock's Performance Street E.T.
Class Points Leader – Derrick Milbourne
100+ Brock's Performance Street ET racers will flood the staging lanes on Saturday morning prepared to look over at their competition at the finish line and make that tough decision to lift or stay in the gas as they cross the stripe. Derrick Milbourne may have a slight points lead, but Virginia native, Dana Mack, won 14 rounds at VMP at this event last year, and he will be looking to capitalize on his home track advantage to gain points this weekend.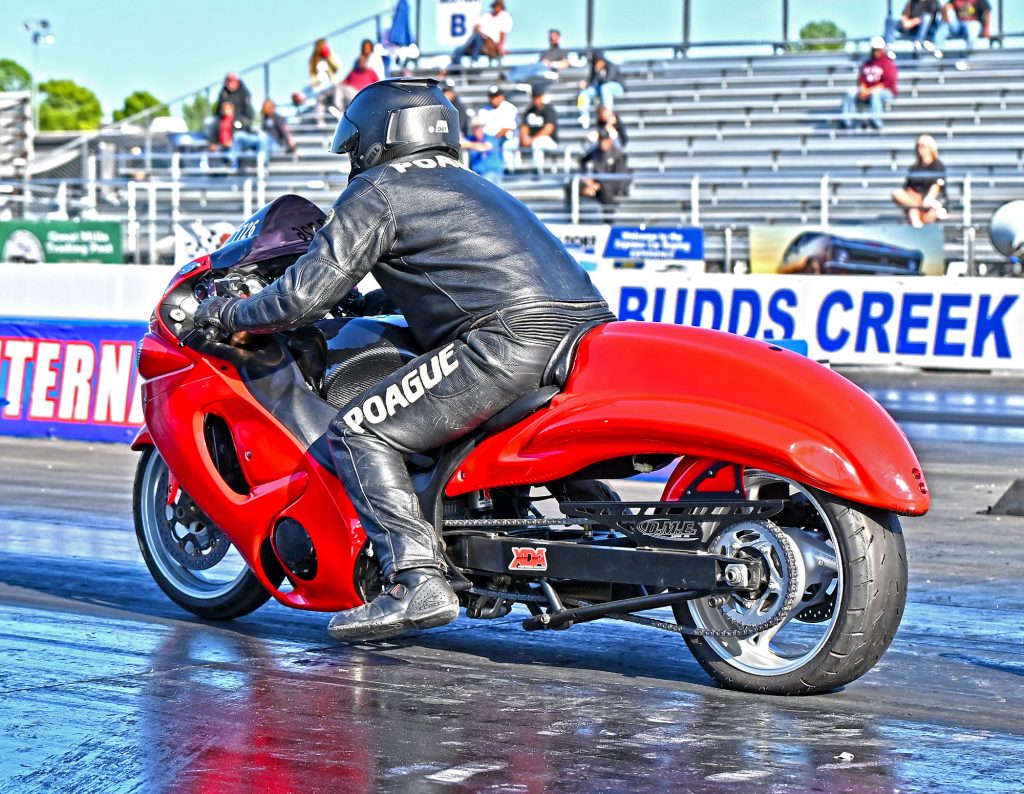 Other Virginians that are looking to take that same advantage are Mark Southard, David Poague, Brian Guarino and a ton of other racers that will be in the lanes.
The Street ET racers are also eligible for a special giveaway of a Baxley Sport Wheel Chock generously donated by sanction supporters, 1 Stop Speed, and Williford Racing.
This event will also feature a vendor midway full of great deals on motorcycle parts, accessories and apparel. Event sponsor, MTC Engineering will also be giving out door prizes at this event. Everyone arriving at the gate will be given a MTC Engineering Postcard. Just fill it out and take to the MTC Booth on the vendor midway to be entered into the drawing for one of these awesome prizes: $100 gift certificate, Drag Racing History book, Clutch picks with magnets, and MTC Engineering shirts and hats.
Suit up and head out to Virginia Motorsports Park in one week for an exciting weekend of motorcycle drag racing action. As a reminder to racers, the Thursday gates for parking are 6-9pm. Gates open on Friday at 8 am, testing starts at 11 am, and qualifying begins at 8 pm for the Pros.
Visit www.xdaracing.com for event information, class rules, schedule, and more.
About XDA Racing
The Xtreme Dragbike Association (XDA) is an east coast motorcycle drag racing series with 700+ motorcycle racers competing at each event. Every XDA event hosts professional classes, sportsman classes, grudge racing and a vendor midway. Lifestyle activities such as bike shows, bikini contests, DJ and live bands are also held at select events. For more information on the XDA, please visit www.xdaracing.com or connect with us on Facebook, Instagram, Twitter and YouTube @xdaracing