The Xtreme Dragbike Association (XDA) takes Motorcycle Drag Racing to Virginia Motorsports Park (VMP) for the 2nd Annual MTC Engineering Bike Bash on August 21-23, 2020 and all spectators are welcome!
With only one event in the books for this year, XDA racers will have to produce peak performance with only two events left in this year's race season.

XDA racers will be treated to the smoothest racing surface and the country's best motorcycle track prep. As always, from the first pass down the track to the last, the traction will be staggering. This combo will be a guaranteed record-setter. Come out and join us for socially distanced motorcycle drag racing action!
XDA racers will be battling for over $75,000 in cash purse at this event, along with over $160,000 in contingency prizes. Racers and spectators alike will enjoy a vendor midway full of great deals on motorcycle parts, accessories, and apparel.
The MTC Engineering Bike Bash will feature the Orient Express Pro Street class running at speeds over 230 mph in only 6-seconds! Over 700 professional, sportsman, and grudge motorcycle racers will compete next weekend. Still, all eyes will be on the event headliner, the Inaugural DME Racing Real Street Royal Rumble paying $5,000 to win, and a 32-Bike Field!
DME Racing Real Street
Class Points Leader – Ben Knight
Do you like drama? Then forget grudge racing, come hang out in the staging lanes with the racers of Real Street. The smack talking, true hand clutch riding, Real Street racers are always entertaining on and off the track. The DME Racing 7-second, 190mph Real Street motorcycles will dazzle you on the track and keep you entertained between events in their Facebook group.
At the last event, Ben Knight said he was bringing his DAS Performance built ProCharger Hayabusa entry to the season opener to dominate. And his 'Shake and Bake' teammate Spencer Claycomb allowed him to do that by red lighting him to the winner's circle. Will Claycomb let this happen again? Hell no, he has torn his bike down to the bones and is bringing a few more horses with him to VMP.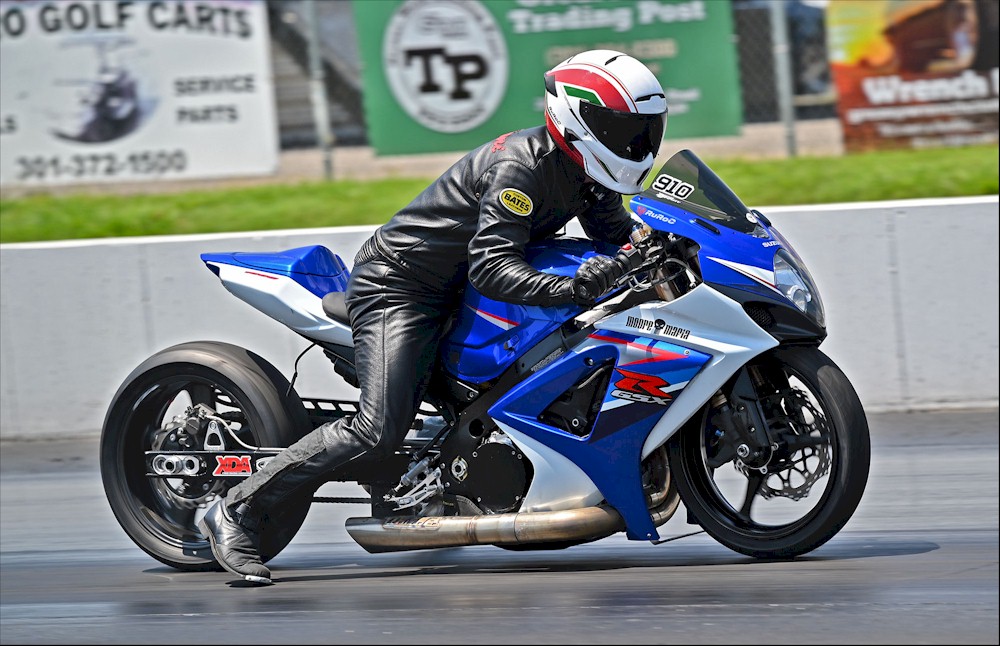 With some rule changes made after the last race, we took the handcuffs off some of the shorter wheelbase combos by giving them some additional wheelbase. So, like Claycomb, several riders in the class will show up to the MTC Engineering Bike Bash with a few more inches, because size does matter. Now it's going to be a party!
The Royal Rumble is replacing the 16 bike field with a massive thirty-two bike field and an additional payout to make this the richest pot of the year. Real Street racers will be treated to a catered dinner Saturday night (courtesy of Ralphie Navarro) to allow the smack talk to continue before Sunday eliminations show who can back up their claims.
Do not miss this dramatic class, and witness records fall in the biggest Real Street event of the 2020 drag racing season.
Orient Express Pro Street
Class Points Leader – Greg Wallace
The radical street tire motorcycles of Orient Express Pro Street will once again be throwing everything they have at the VMP 1320 next weekend. These 650+ horsepower motorcycles running at speeds over 230mph in the quarter-mile, in only 6-seconds, never seem to be happy with their performance numbers. At the last/first event of the season these guys were trying to throw every bit of horsepower on the track, and to most, it was a detriment.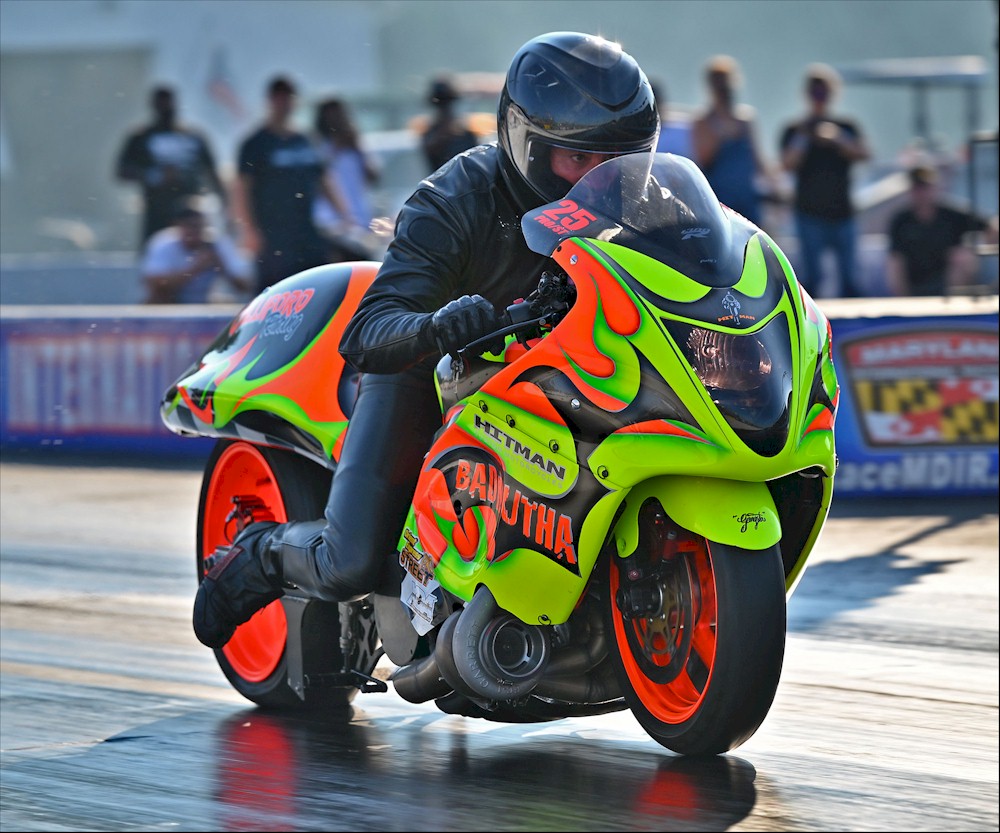 This class is a special breed of racers that have little interest in A to B passes. While they want to make clean passes that win rounds, what they really want is the loftiest number on the board, every single time. And right now, Orient Express Pro Street is an apex with the entire class running at peak performance. It's not two or three riders sitting at the top; they are all at the top fighting over the smallest increments. Come to VMP next weekend; you don't want to miss the illustrious racing action served up by these asphalt lords.
Pro Xtreme
Class Points Leader – Travis Davis
Pro Xtreme racer Shane Eperjesi will be looking to the MTC Engineering Bike Bash for a second attempt at setting the MPH record he could not back up at the last race. And 4.60 racer Mike Chongris will be making his Pro Extreme debut next weekend. This class's excitement keeps growing as the majority are running low 4.0 passes and knocking on those 3.9x ET's.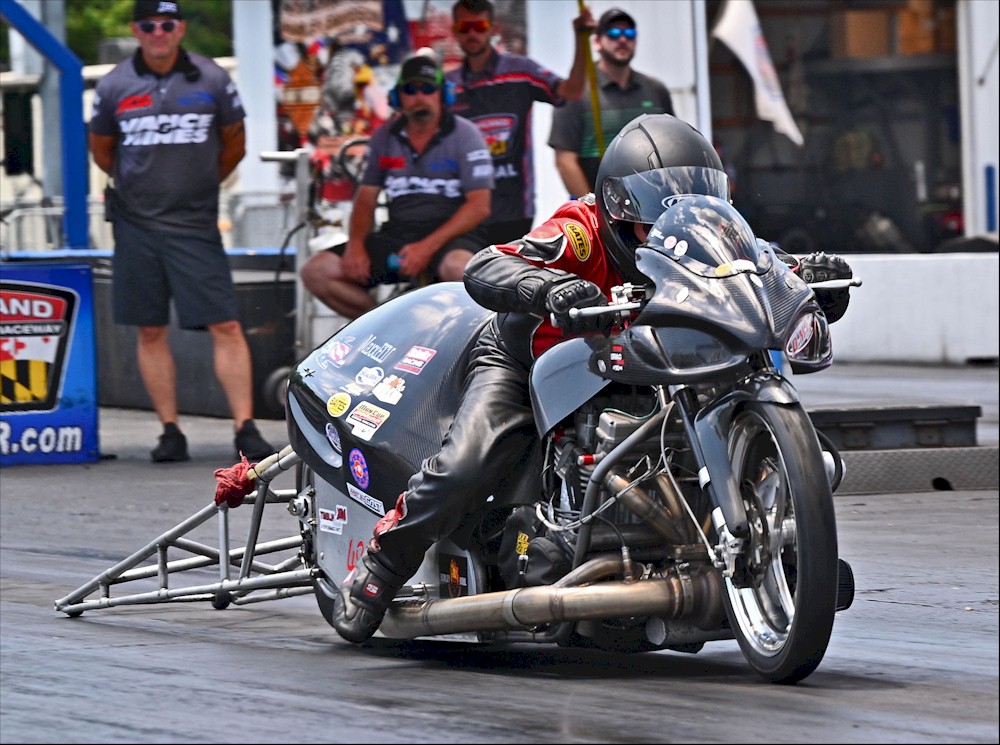 Pro Xtreme is presented by Ace Motorsports, Billy Vose Racing, Dunigan Racing, DME Racing, Grothus Dragbikes, Harley Haul, MaxxECU, Rob Bush Motorsports, Robinson Industries, Schnitz Racing, Timblin Chassis, and Worldwide Bearings.
HTP Performance Super Stock
Class Points Leader – David Fondon
HTP Performance Super Stock racer David Fondon from Puerto Rico leads the new class by twenty-four points after setting the ET and MPH record at the last event to 8.742 at 161.32 mph. The stock wheelbase motorcycles with limited modifications were a massive hit at the Platinum Fleet Repair Bike Fest, with all riders running within one second of each other.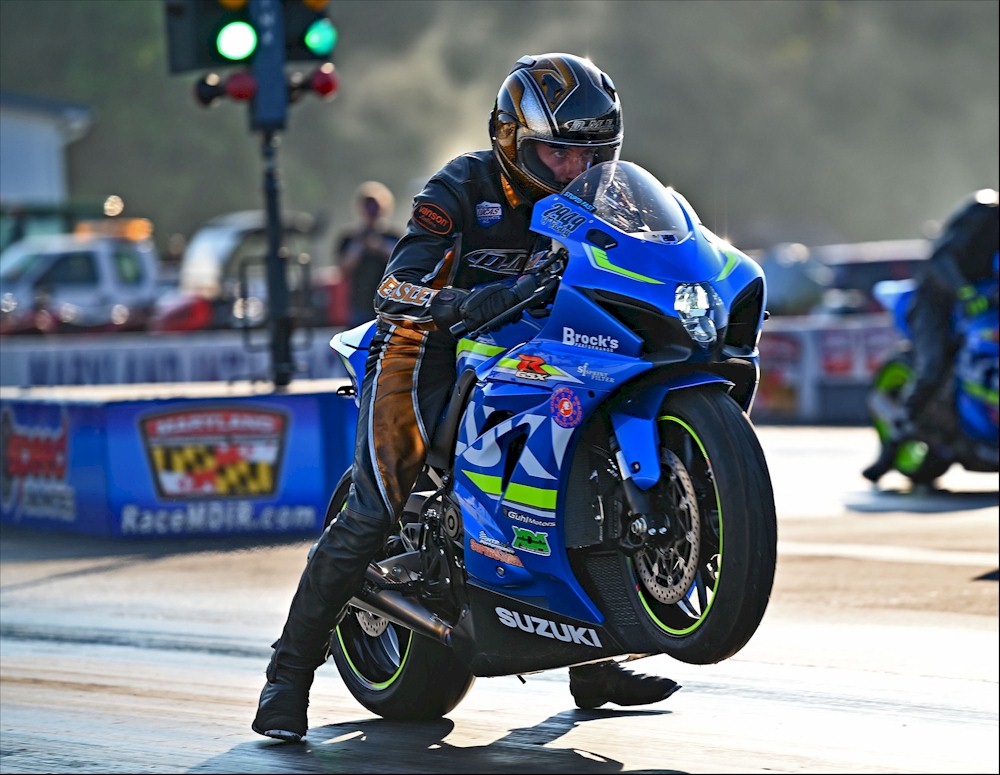 In this class, power adders will not get you from A to B; it's all in the rider's hand. Spectators will visually watch each rider's skill as they try and control the horsepower of their machines off the starting line to the 330'. It really is impressive to watch. And as this class progresses, fans will witness each rider's growth on their bike as the season continues. HTP Performance Super Stock is a class to keep your eye on!
Vance and Hines 4.60
Class Points Leader – Ron Procopio
Ron Procopio leads the Vance & Hines 4.60 class by a mere twenty-two points in this 1/8th-mile sportsman index category. This class's competitors like to keep spectators on their toes when betting on who will win each battle to the 660. This class is full of the biggest names and fiercest competition in motorcycle drag racing. And despite the intense competitiveness among racers, this is a close-knit class. But just like frenemies, you always have to watch your back.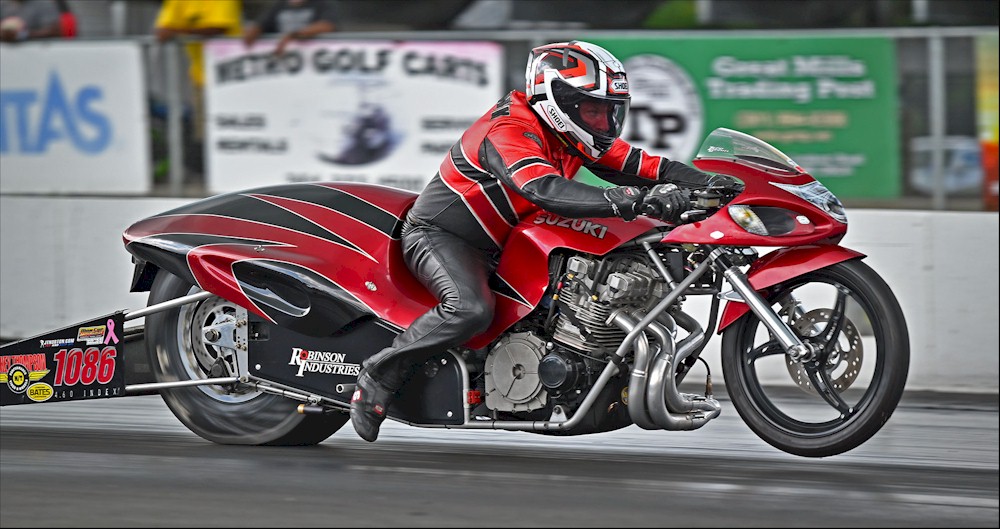 The FBR Shop 5.60
Class Points Leader – Dustin Lee
The FBR Shop 5.60 class champion Courtlan Whiting came into the first race looking for a win to defend his title 2019 title. However, a second-round loss has him sitting fifteenth in points. And with only two races to go, and a plethora of heavy hitters in front of him, he has work to do. Dustin Lee sits at the top of the board with a twenty-five point lead. The 660 at VMP is going to be a bloodbath next weekend.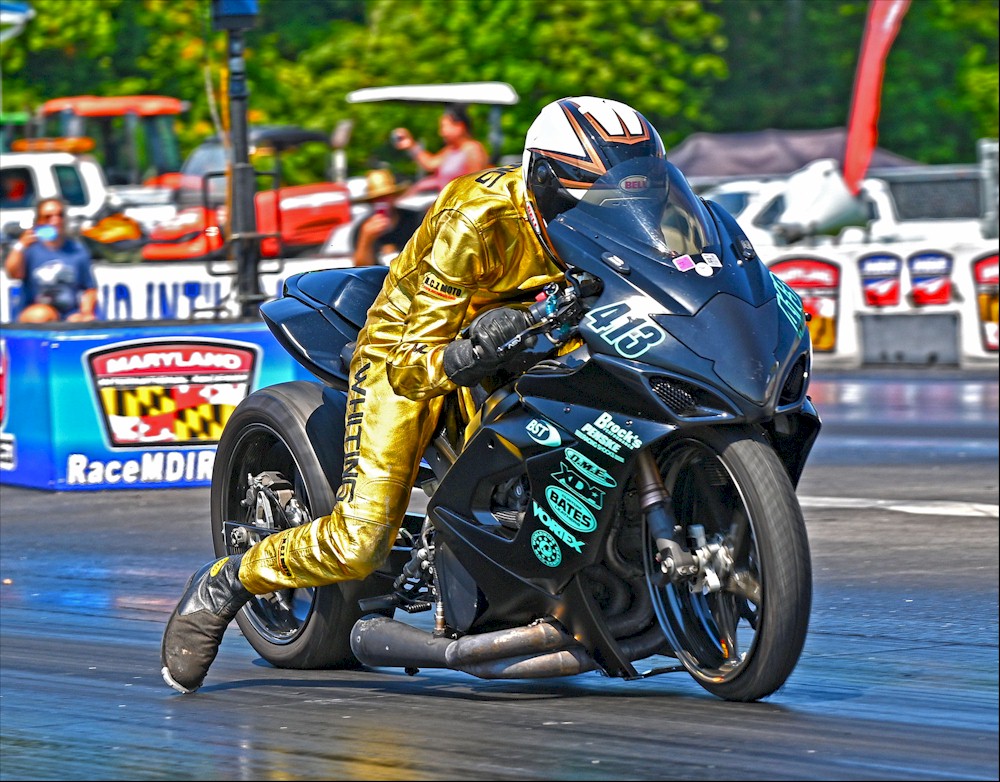 Crazy 8's
Class Points Leader – Tylan Beckelheimer
Tylan Beckelheimer from the JTR racing camp is on fire this year, taking the win at our first event and winning a ton of rounds at other events he has attended. He is packed up and ready to head to Virginia next weekend, looking for a repeat win. Andrew Ritchey and Stephen Knight are right behind him in points. However, he does have a sixty-point gap on the rest of the field going into the MTC Engineering Bike Bash.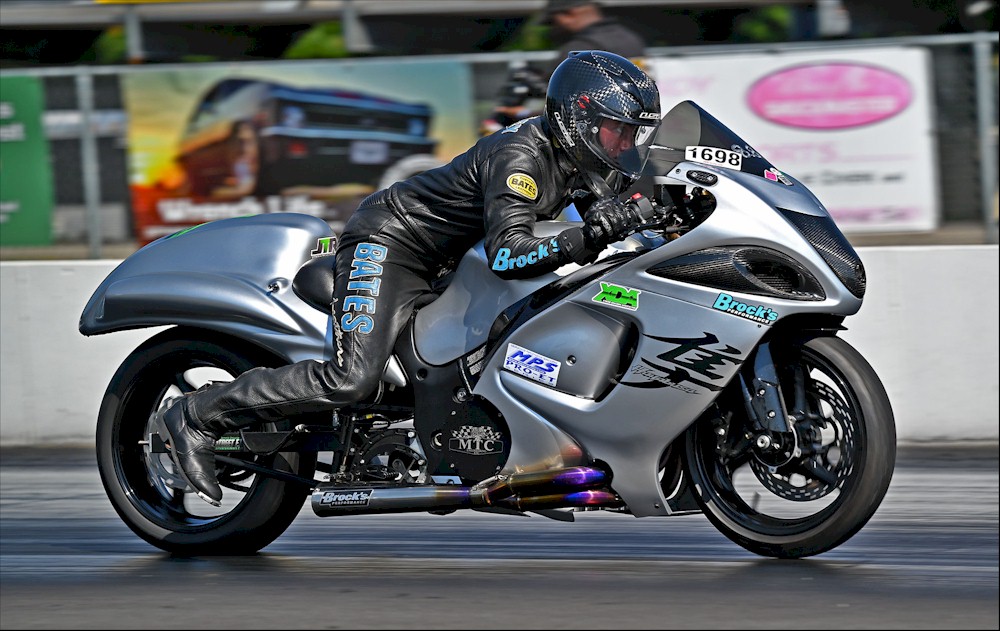 Mickey Thompson Top Sportsman
Class Points Leader – Jim Shifflett
Our Mickey Thompson Top Sportsman class, led by Jim Shifflett, features the quickest ET bikes on the property at XDA events. Top Sportsman runs in tandem with MPS Pro ET, allowing the winner to win a potential $9,000 in a weekend if they can get lucky enough to take the wins in both Pro ET classes as well. Next weekend the quickest ET riders will compete for a coveted spot in the thirty-two bike field.
MPS Racing Pro ET
Class Points Leader – James Farmer
Our MPS Racing Pro ET points leader James Farmer took his first win of the year at the last event, but it wasn't what we expected. Farmer is easy to identify on a race weekend with his beautiful lime green wheelie bar Hayabusa machine. But the last event he was winning rounds on a red Hayabusa street bike. With the bike change-up he left a few people doing a double-take. Farmer proved bars or no bars; he was going to keep winning rounds.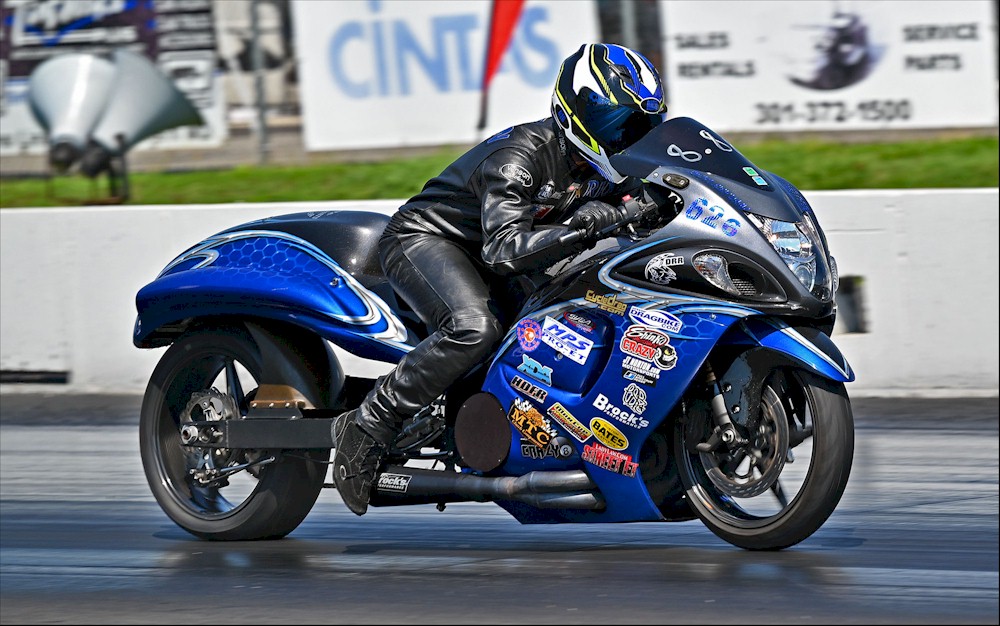 Brock's Performance Street ET
Class Points Leader – Montrell Johnson/Derrick Milbourne
The Brock's Performance Street ET class is a tight race at the top of the leader board with Montrell Johnson and Derrick Milbourne holding 131 points, Michael McAllister 130 points, and Laray Proctor and Tyrone Dale trailing by an additional ten points. Street ET runs on both Saturday and Sunday, allowing racers two chances to earn points towards the championship. New racers are welcome at all XDA events, come out and learn how to drag race with us on an OEM True Hand Clutch!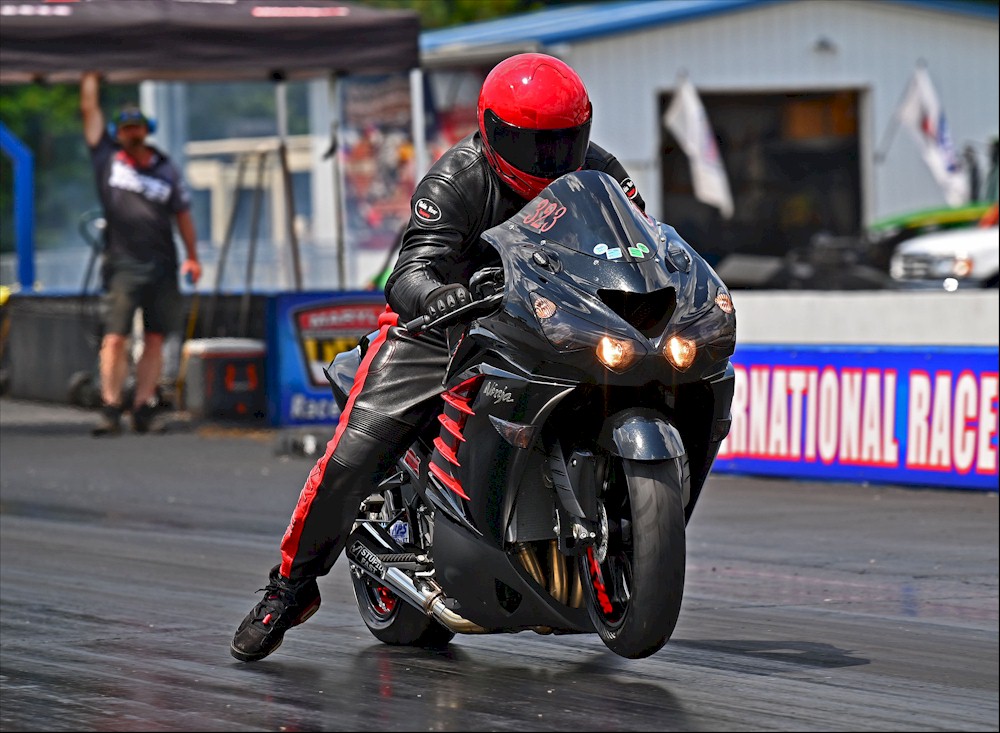 HTP Performance Grudge
The Saturday night HTP Performance Afterdark Underground Grudge program will continue to feature APE Nitrous Bulls (Nitrous Bikes), Monster Bulls (Heavyweights), and the new Tommie's Motorsports DMV Bulls (Smaller buy in) at all events. These No-Time classes feature very few rules and offer Grudge racers an opportunity to earn points for a year-end championship (except for the new DMV Bulls class). Grudge racing provides a lot of fast-paced action and excitement to bet on, and you don't want to miss the Saturday night program.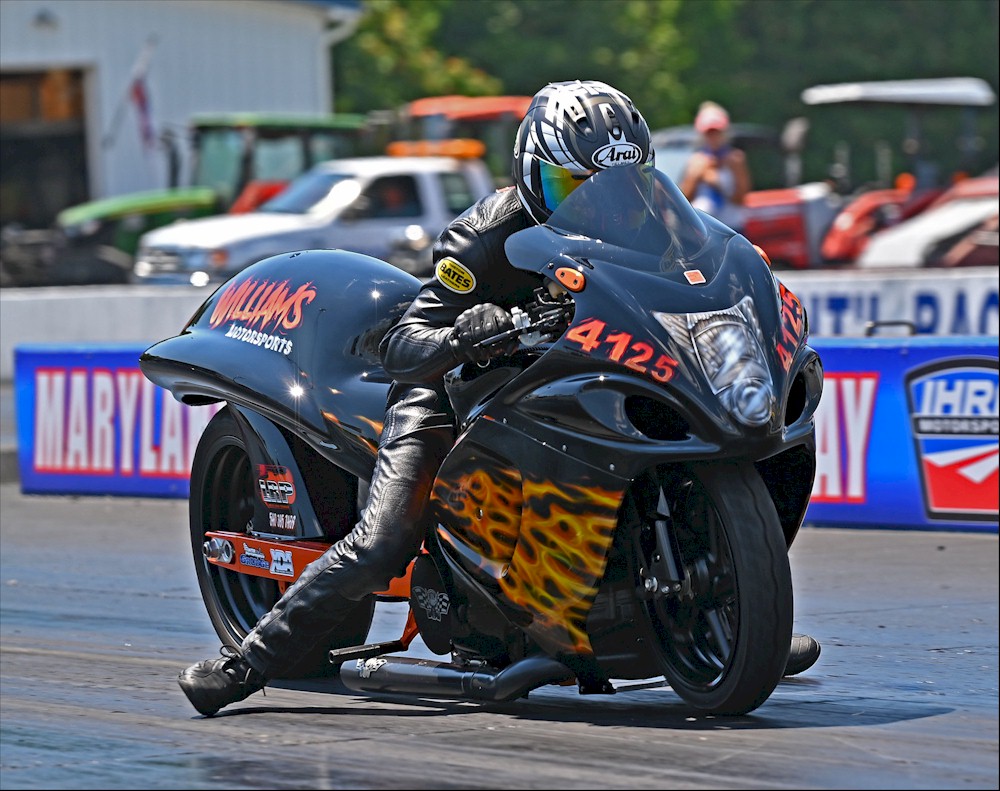 Additional nightly action will include XDA Cornhole Tournaments on Friday and Saturday nights for a total pot of $500 per night.
Spectators are permitted in Virginia and can attend XDA, following local social distancing health guidelines. Standing along the fence in front of the grandstands is no longer allowed. Fans sitting in the grandstands must be in a row with a green stripe; rows with red stripes are off-limits. Fans must remain six feet away from groups they didn't travel with, and they must abide by distancing markers in line at the concession stand.
All racers, crew, and spectators must purchase their admission tickets at the gate. An adult weekend pass is $40, or an adult 1-Day pass is $20. A Junior (12-15) weekend pass is $20, or a Junior 1-Day pass is $10. Kids 11 & under are FREE!
Visit www.XDAracing.com/bikebash for event information, class rules, payouts, entry fees, schedule, and more.
Class Entry List and Resources
XDA prides itself on having a close-knit group of racers, below you will find a list of racers attending this event along with links to class-specific groups that you can access to talk to other racers and get your questions answered. Together we are strong.
XDA Facebook Groups
Orient Express Pro Street
Darion Payne
Chris Moore
Alex Moore
Tony Ficher
Greg Wallace
Jordan Haase
Rodney Williford
Mark Gargiulo
Ryan Bonitatis
Ehren Litten
Justin Shakir
Gabe Frederick
Gaige Herrera
Kenny Brewer
Jason Dunigan
Jeremy Teasley
Ricky Wood
Ryan Schnitz
Chris Edwards
Ian Malone
DME Racing Real Street
Brandon Teasley
Spencer Claycomb
Ben Knight
Chad Sosnowski
David Stewart
Richard Diggs
Brittany Bohne
Alisha Malone
Casey Baxter
Jeremy Teasley
Anthony Weindel
Bud Harrod
Caleb Holt
Mark Hylton
Ralphie Navarro
Jovi CPturbobusa
Wes Brown
Ashley Sweeney
Michael Sweeney Jr.
Pro Xtreme
Chris Cutsinger
Shane Eperjesi
Rob Garcia
John Collins
Kevin Clarke
Bobby Lovingood
Travis Davis
Tommy Saxon
Billy Vose
Mike Chongris
HTP Performance Super Stock
Darion Payne
Derek Sobiech
Tony Ferland
Chris Moore
Key Moore
Russell Dennison Jr
David Fondon Merino
John Briscoe
Brian Johnson
Marcus Queen
Tarius Johnson
Jamar Price
Patrick Cooper
Curtis McDougald
Caleb Holt
Stewart Northan
Jerome Max Benton
Patrick Butler
Brandon Feagon
Dustin Clark
Jordan Haase
Drae Taylor
Vance & Hines 4.60
Cameron Shelton
Darion Payne
Mike Ostrowski
Kenny Cornnell
Will Phillips
Eran Pielert
Wilson Burkhead
Mike Beverly
Ronald JR Procopio
Brad Gleason
Ron Bonitatis
Dystany Spurlock
Steven Shriver
Jimmy Petway
Douglas Robinson
Michael Thyen
Terry Tompkins
Ellis Pierce
Jim Jordan
Preston Hopkins
Harvey Hubbard
Johnny Anderson
Larry Leftwich
Robbie Hunnicutt
James Taylor
Curtis Jr Griggs
Mac McAdams
Troy Hausmann
Boo Brown
Tyler Cammock
Wes Hawkins
Durwood Rawlings