Scotty Pollacheck couldn't have dreamed of a better way to close out the famed Atlanta Dragway on Sunday, by scoring a victory at the 40th and final Lucas Oil NHRA Southern Nationals.
In an all-Matt Smith Racing final round, Scotty Pollacheck claimed the victory over his teammate, as Matt Smith went red by a mere .001, handing the victory to Pollacheck on his DENSO/Strutmaster/Matt Smith Racing EBR. Pollacheck, who was the No. 1 qualifier, went 6.921 at 198.35 to claim his second career victory, with the first one also coming after he qualified No. 1. He was solid throughout eliminations, beating Jerry Savoie, Ryan Oehler and Angelle Sampey to reach his ninth career final round.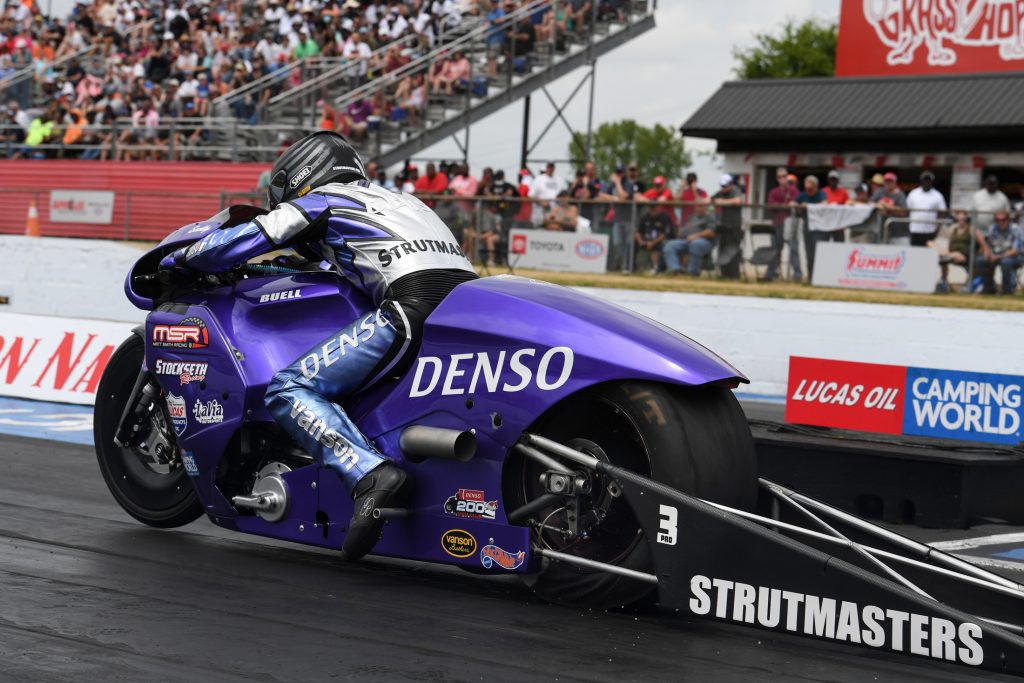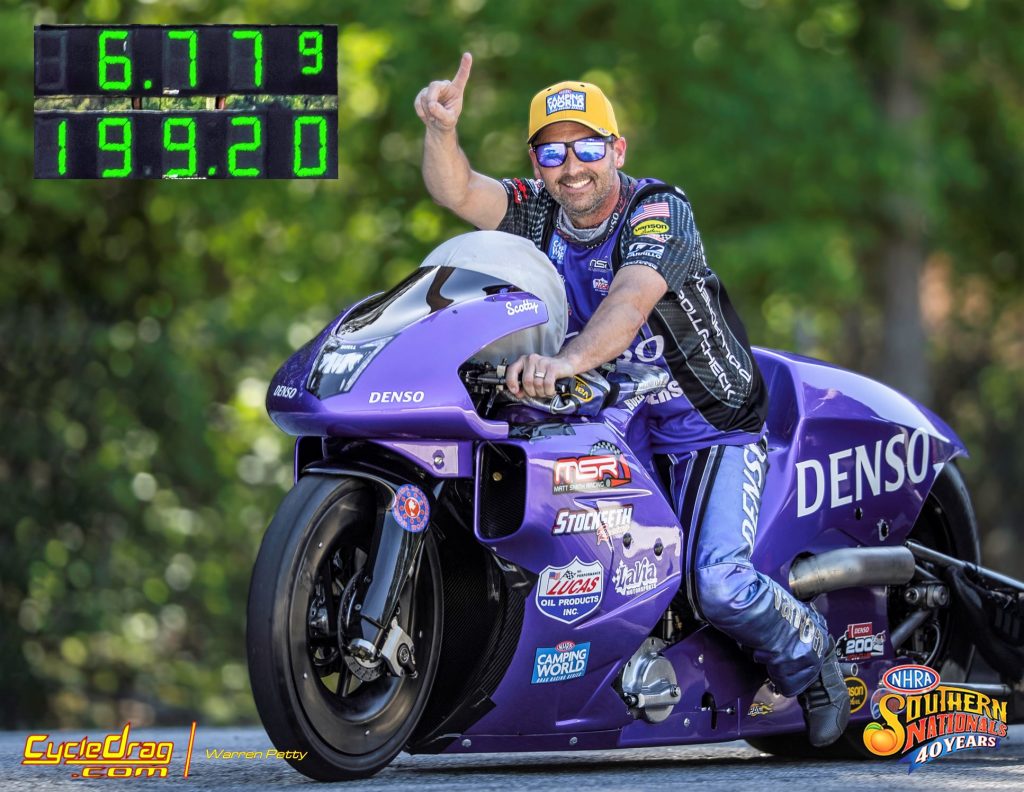 "This whole team did so well with two bikes in the final round, and Matt is the man," said Pollacheck, who jumped to second in points, just three behind Smith. "He gave me one there because mine bogged down in the finals, but it's going to be a big celebration tonight. This was awesome and it's just a great team."
Smith reached his 60th career final round and second in 2021 thanks to round wins against Steve Johnson, Joey Gladstone and Eddie Krawiec.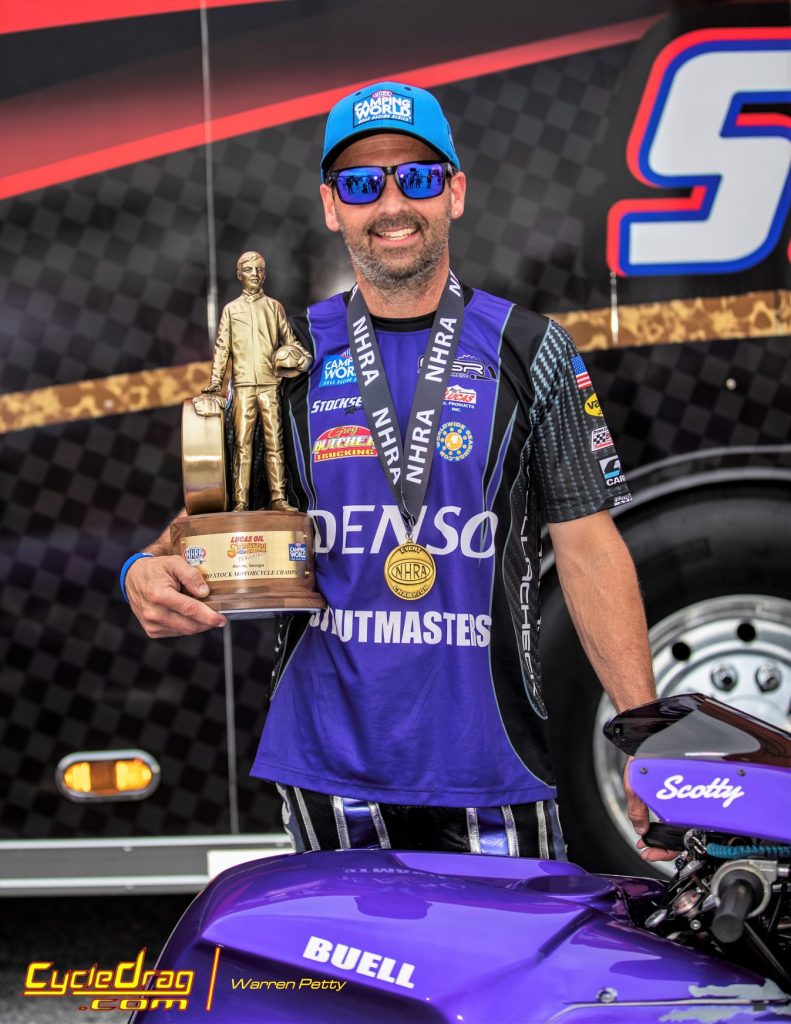 The NHRA Camping World Drag Racing Series returns to action May 14-16 with the NGK NTK NHRA Four-Wide Nationals at zMAX Dragway in Charlotte.
PRO STOCK MOTORCYCLE:
ROUND ONE — Ryan Oehler, 9.866, 87.93 def. Cory Reed, Suzuki, Broke; Angie Smith, 6.866, 198.73 def. Jim Underdahl, Suzuki, 6.955, 194.07; Matt Smith, 6.860, 200.71 def. Steve Johnson, Suzuki, 11.601, 68.35; Joey Gladstone, Suzuki, 6.885, 195.99 def. Michael Phillips, Suzuki, Foul – Red Light; Eddie Krawiec, Buell, 6.798, 201.07 def. Karen Stoffer, Suzuki, 6.919, 194.69; Angelle Sampey, Suzuki, 6.887, 176.72 def. Kelly Clontz, Suzuki, 6.907, 193.74; Andrew Hines, Buell, 6.840, 199.49 def. John Hall, Buell, 6.921, 197.10; Scotty Pollacheck, 6.869, 195.62 def. Jerry Savoie, Suzuki, 7.129, 189.58;
QUARTERFINALS — Pollacheck, 6.808, 199.40 def. Oehler, 6.882, 191.16; Sampey, 6.866, 195.17 def. A. Smith, 6.892, 195.76; M. Smith, 6.812, 199.94 def. Gladstone, 6.813, 198.03; Krawiec, 6.816, 200.20 def. Hines, 6.852, 199.26;
SEMIFINALS — Pollacheck, 6.802, 199.32 def. Sampey, 6.916, 196.85; M. Smith, 6.824, 199.58 def. Krawiec, 6.815, 200.47;
FINAL — Pollacheck, 6.921, 198.35 def. M. Smith, Foul – Red Light.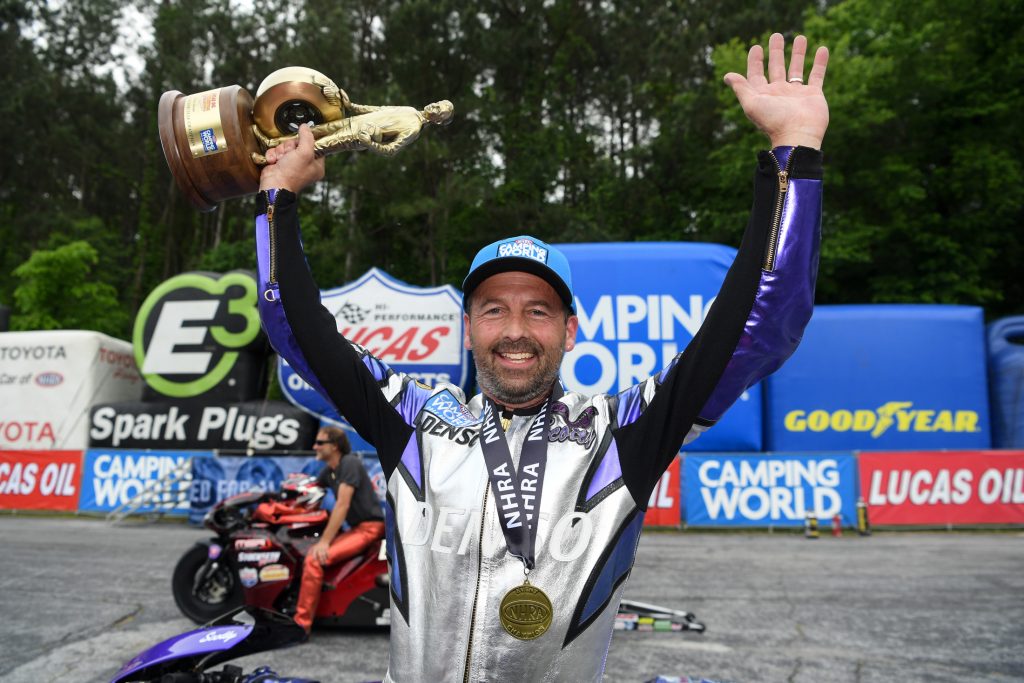 Pro Stock Motorcycle Points
1. Matt Smith, 276; 2. Scotty Pollacheck, 273; 3. Ryan Oehler, 262; 4. Angelle Sampey, 198; 5. Steve Johnson, 184; 6. Cory Reed, 156; 7. Angie Smith, 147; 8. Karen Stoffer, 122; 9. Joey Gladstone, 102; 10. Kelly Clontz, 96.
There are more videos on the Cycledrag Youtube channel (please subscribe here) and the Cycledrag.com Facebook page (Please like here) and more will be coming soon. Check back daily.
To take advantage of some amazing discounts at Brock's Performance, click – http://brocksperformance.com?aff=12
USE cycledrag5 coupon code.