The season has not gone as planned for Pro Stock Motorcycle rider Hector Arana Sr. as he works through a frustrating stretch heading into this weekend's Lucas Oil NHRA Nationals at Brainerd International Raceway. But the longtime rider continues to do it with a smile on his face, as Arana continues to have the time of his life doing what he loves.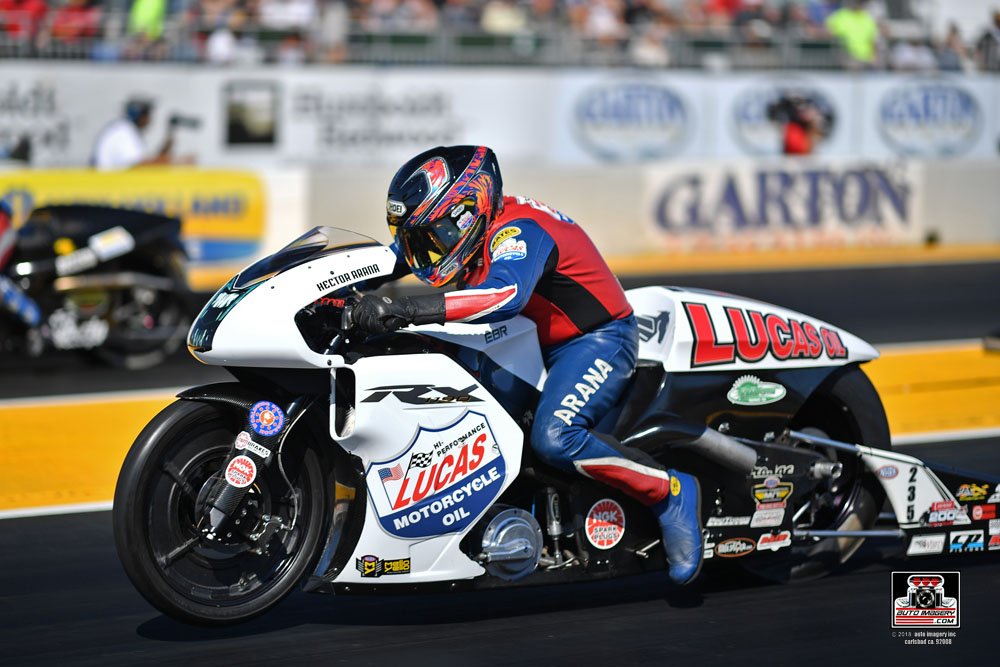 That will be especially evident in Brainerd as Arana will ride his Lucas Oil Buell at his sponsor's race in what is the penultimate race of the 2018 NHRA Mello Yello Drag Racing Series season. Arana knows he needs a good performance to secure his spot in the Mello Yello Countdown to the Championship, but even through the struggles Arana appreciates the position he is in.
"To me, I'm living the dream," said Arana, the 2009 Pro Stock Motorcycle world champion. "This is what I always wanted and especially with the sponsor I have, I couldn't ask for anything more. I'm having my son race with me, he's setting records and winning races, I'm living the dream. Representing Lucas Oil at their event, it's an honor. Of course, there's some pressure with that, and we want to do well and we have in the past. We'll be focused on that and hopefully we can have some more success."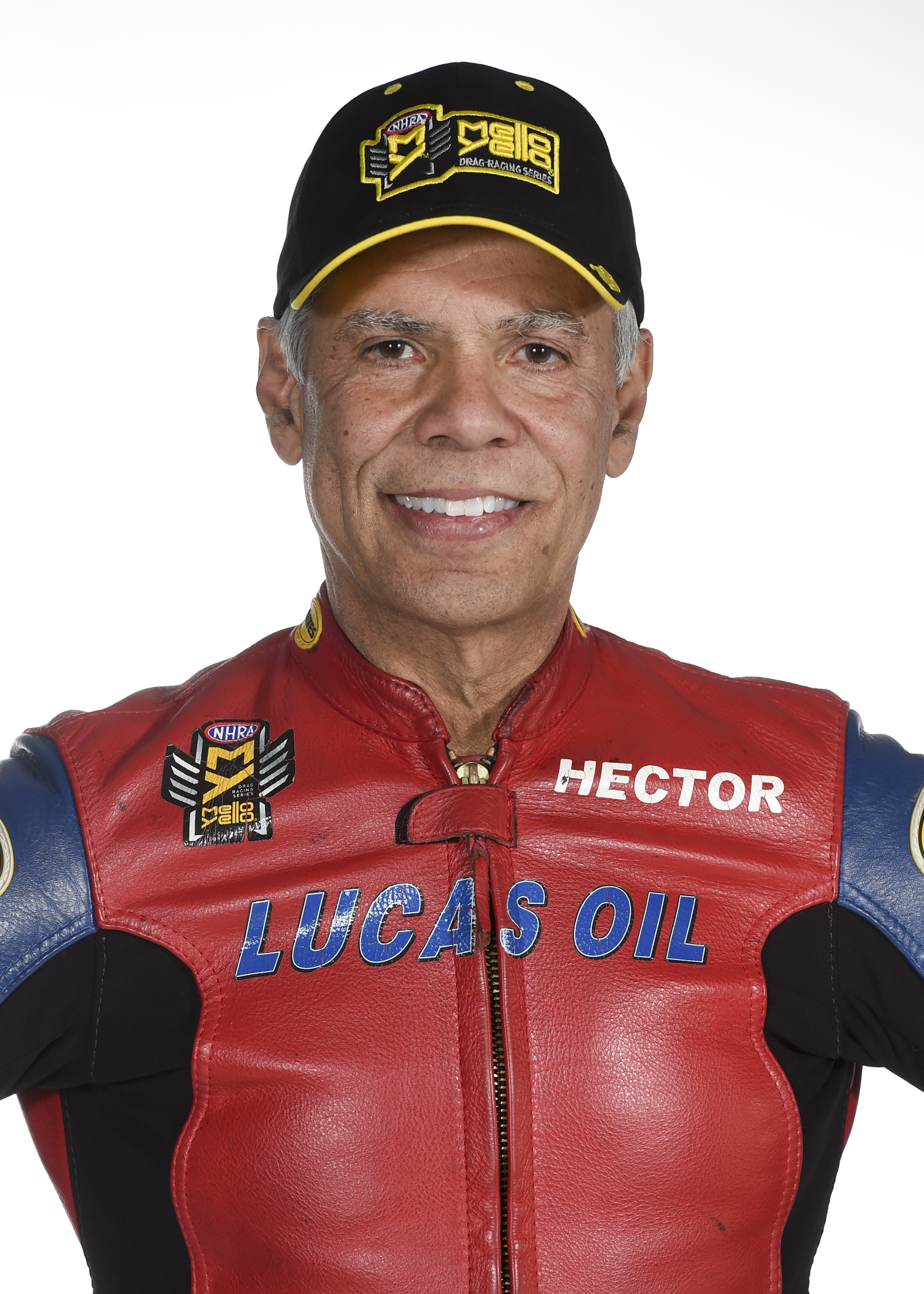 Leah Pritchett (Top Fuel), Alexis DeJoria (Funny Car), Tanner Gray (Pro Stock), and Jerry Savoie (Pro Stock Motorcycle) were last year's winners of the event that will be televised on FOX Sports 1, including live final eliminations coverage starting at 2:00 p.m. (ET) on Sunday, Aug. 19. It is the ninth of 16 races during the 2018 Pro Stock Motorcycle season and Arana is currently ninth in the loaded class, which means he has some work to do this weekend in Brainerd.
He is on a rough stretch of five straight first-round losses as not much has gone right as of late, a stark contrast to the success his son, Hector Arana Jr., is having in 2018. He became the first PSM rider to ever reach the 200-mph mark and also won in Denver, currently sitting fourth in points. That lets Arana Sr. know that there's something there and it's just a matter of finding it on his bike.
"We've been trying different things and it just doesn't seem to respond," said Arana, who has seven career wins. "We've made some changes and hopefully these changes put us in the right direction. But we will find it and we won't give up. My son is going 200 mph and I can't even get close. It's been frustrating, but we're working to find out why. The bike doesn't want to respond. But I'm not a quitter. If I would have been a quitter, I would have quit drag racing a long time ago."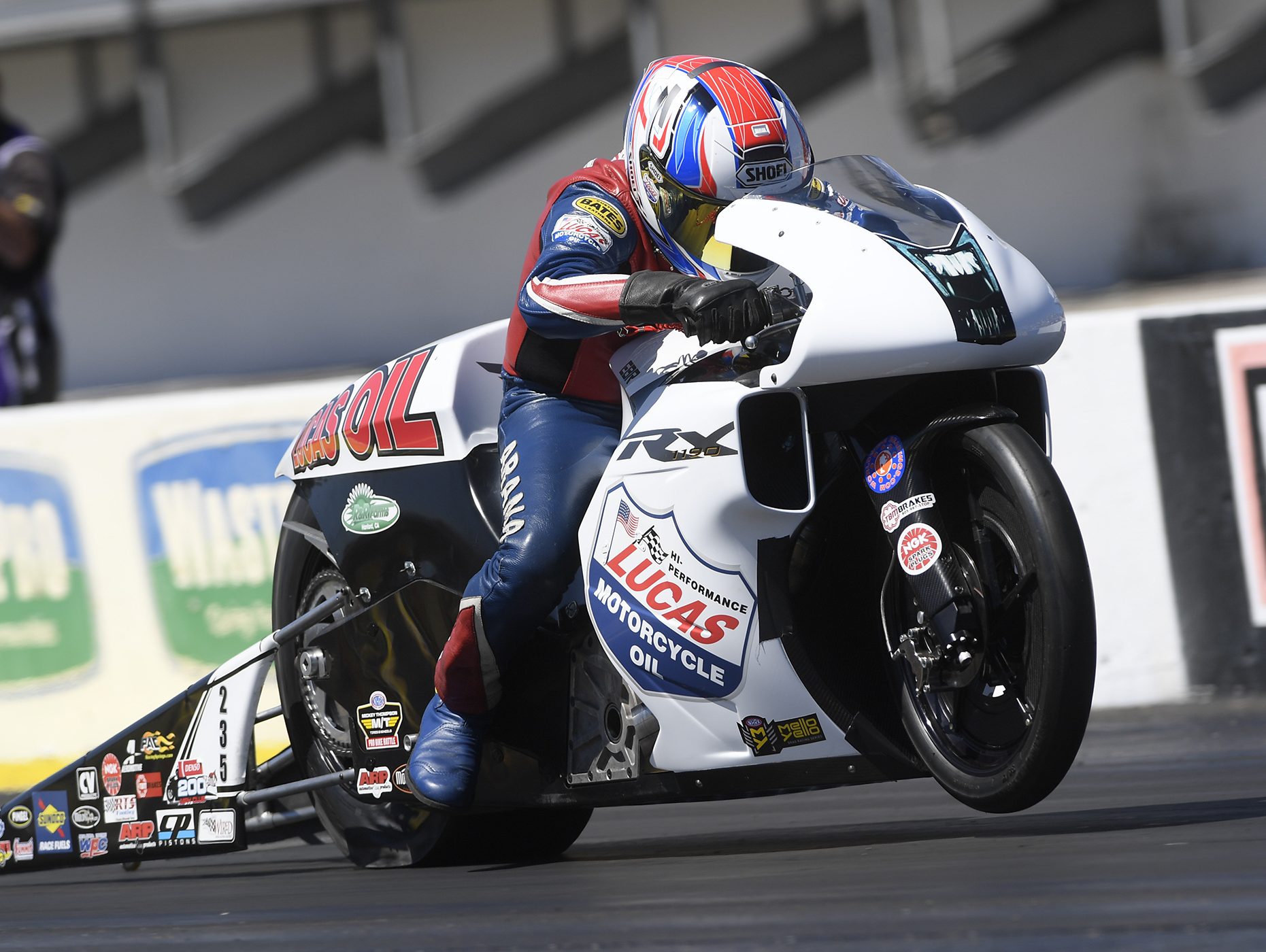 Instead, Arana is in the midst of a successful career that has spanned nearly three decades. He still craves more success and he'll look to get it in Brainerd against a top-flight field that includes points leader Andrew Hines, defending world champion Eddie Krawiec, LE Tonglet and defending event winner Savoie, but Brainerd has brought out the best in Arana before. He won the race in 2009 and with a chance to strengthen his hold on a playoff spot, Arana plans to be at his best.
"There's just something special about Brainerd," said Arana, who has two career No. 1 qualifiers at the track. "It's one of my favorite tracks and I really appreciate the fans there. You definitely feed on that energy they have, and you want to do well and give back to them. We want to secure our spot in the top 10 and doing well this weekend would be the turnaround this team needs. We're headed in the right direction as a team, and now I have to do my part and figure this thing out."
Defending Top Fuel event winner Leah Pritchett is after her third win of 2018 going against points leader Steve Torrence, Seattle winner Antron Brown and defending world champ Brittany Force.
Funny Car points leader Courtney Force will look for her first career Brainerd win against the likes of Matt Hagan, five-time event winner Ron Capps and John Force, who has 11 Brainerd victories.
Pro Stock's Gray has four 2018 wins, but he's chasing points leader Greg Anderson, a Minnesota native with three Brainerd wins. Others to watch are Erica Enders and Vincent Nobile.
The event also features thrilling competition in the NHRA Lucas Oil Drag Racing Series. After Nitro qualifying, fans can watch the spectacular Lucas Oil "Muy Caliente" jet cars, with Tom Bogner driving the Lucas Oil Racing TV Missile and Tony Franco driving the Lucas Oil Terminal Velocity. Jet cars are propelled by jet engines with exciting pre-run flame shows.
Those in attendance will have the once-in-a-lifetime opportunity to interact with a few of the most renowned names in drag racing during the NHRA Legends Tour. This will feature meet-and-greets, autograph sessions, and a variety of other activities. Legends scheduled to attend the Lucas Oil NHRA Nationals include Tom Hoover, Al Corda, and Forrest Lucas.