The 49th running of the Gatornationals from Gainesville, Fla. lived up to the hype.
Although motorsports is struggling to draw fans in some parts of the country, clearly drag racing is alive and well in north-central Florida. The NHRA announced a sell-out crowd for qualifying and eliminations.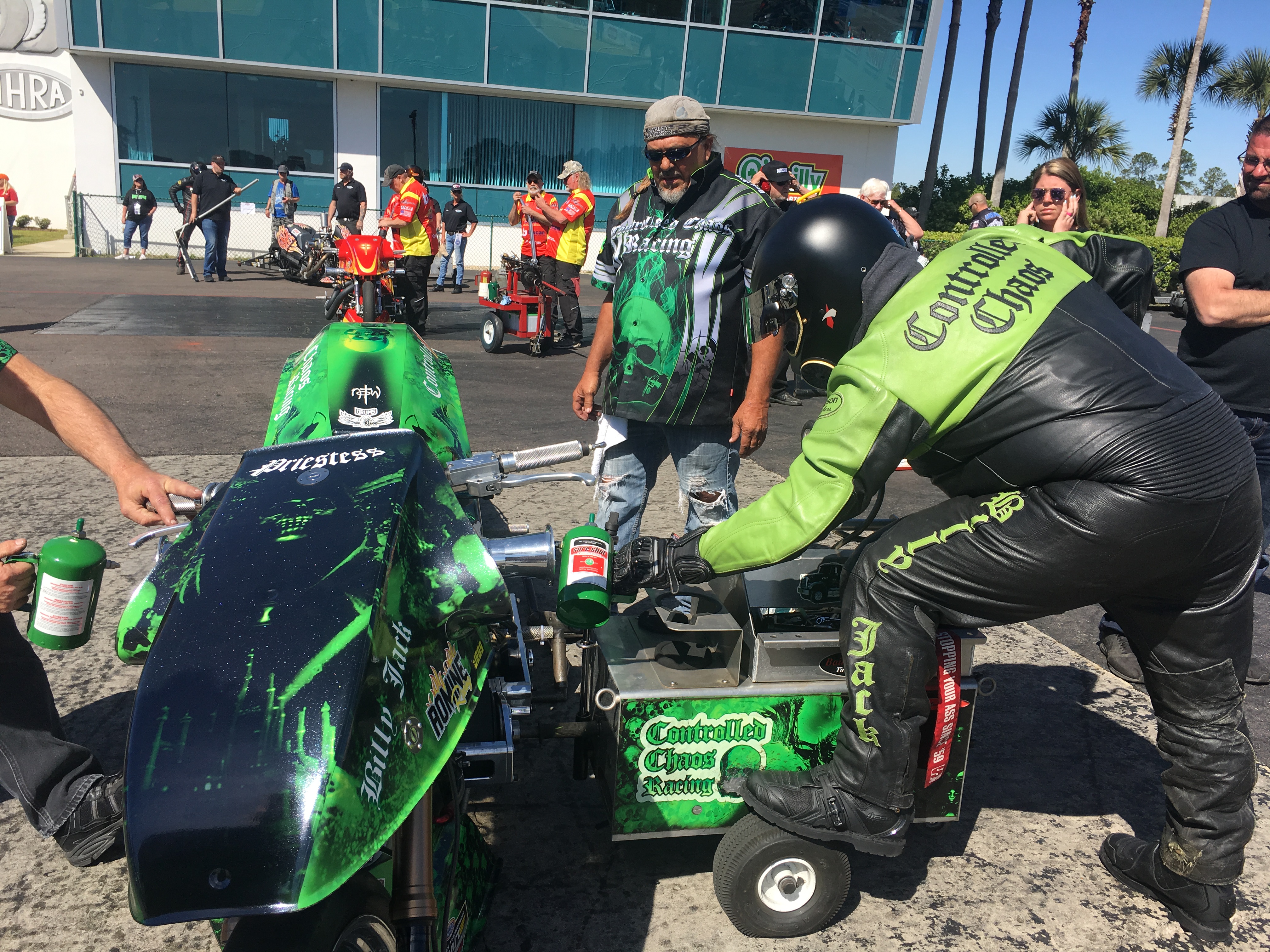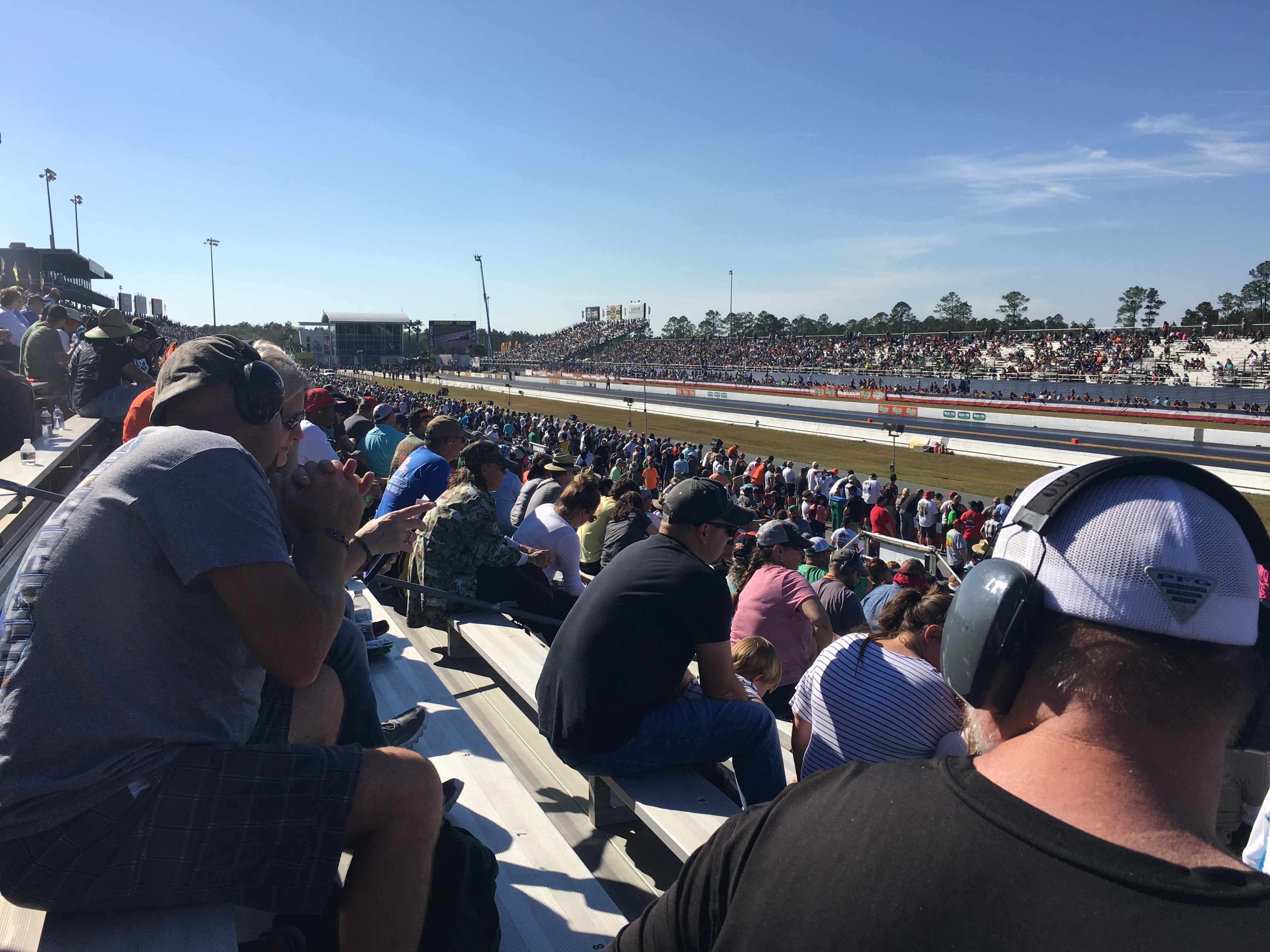 Dragbike fans were treated to the season debut of Pro Stock Motorcycle combined with round No. 3 of the Nitro Harley series. It amounted to 40 professional motorcycles in the Gainesville pit area.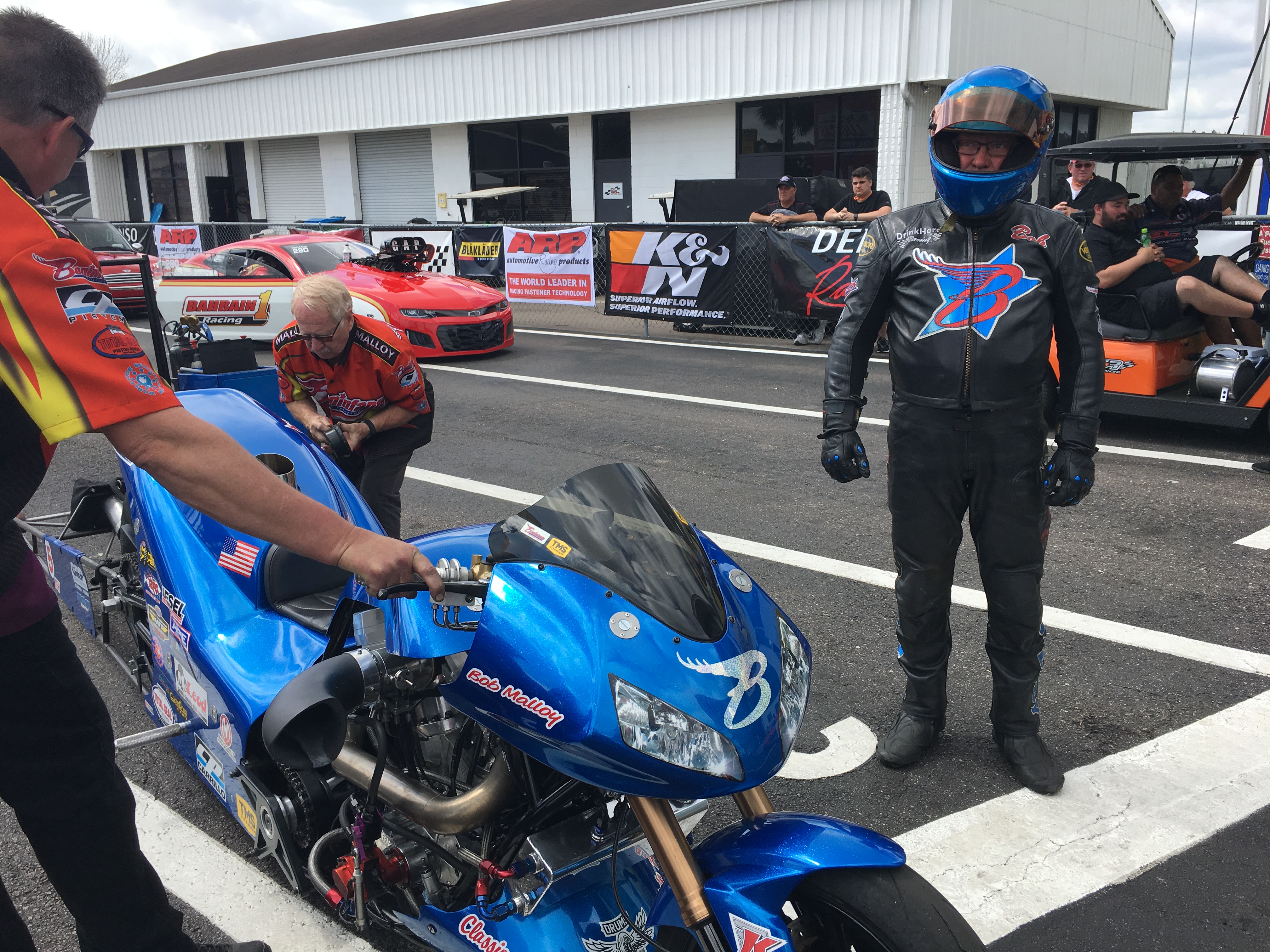 Competition was fierce. The Nitro Harley eight-bike field bump spot finished at 6.62 and the Pro Stock Motorcycle 16-bike field featured a tight 6.77 to 6.94 split.
Nitro Harley Round No. 1

The opening round of Nitro Harley saw a huge first round upset as No. 1 qualifier and Pomona winner Doug Vancil was ousted by Beau Layne with a 6.46 to Vancil's 9.28. The Vance & Hines bike encountered mechanical problems right at the hit of the throttle as Layne stepped up to his quickest pass of the weekend.
Vancil's Mike Romine-tuned Harley was incredibly consistent all throughout qualifying. The upset was another reminder of just how volatile and unpredictable nitro racing can be. It's a factor that most fans love.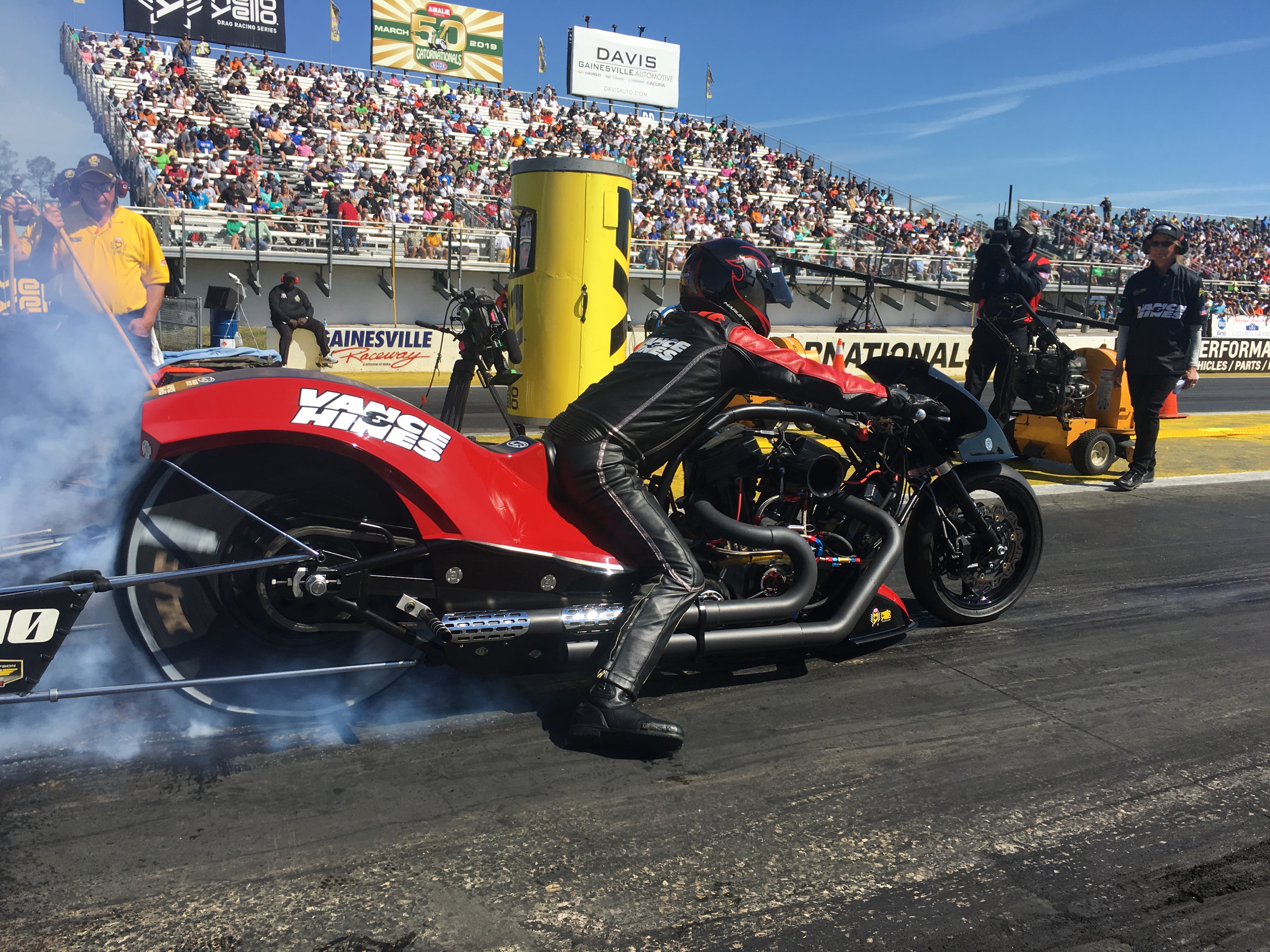 Bob Malloy and defending champion Jay "The Bulldog" Turner one of the closest races of the weekend with Malloy's 6.23 edging out Turner's 6.34. For Malloy, the Glen Mills, Pa.-based rider, it's his first race of the year.
A final-worthy Malloy-Turner first round showdown drove home just how competitive qualifying was. It's incredibly rare for the Bulldog to be on the trailer after round No. 1.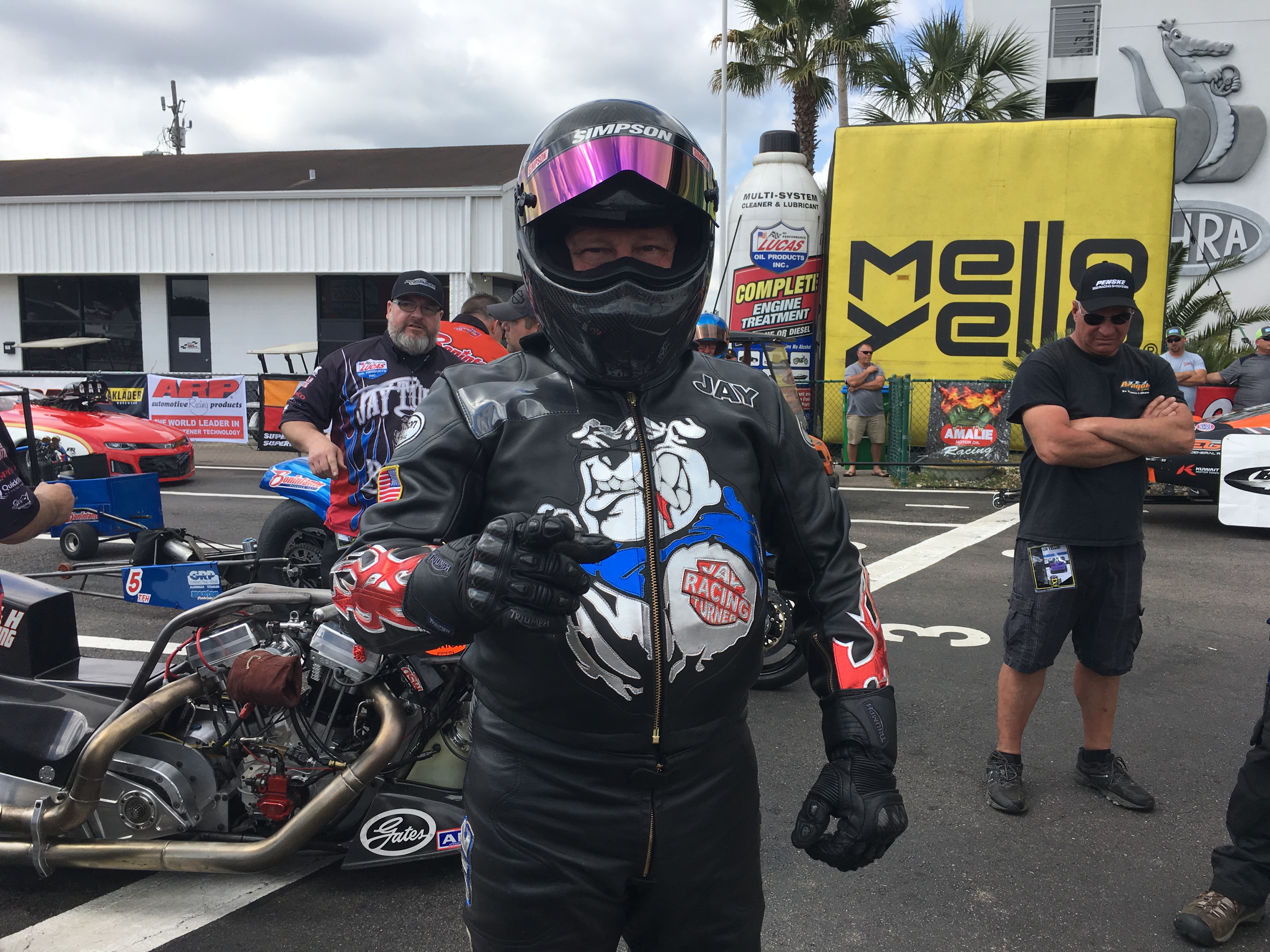 Turner's teammate and the tour's most recent winner, Tii Tharpe scored a first round win over Dennis Fisher Samson Exhaust machine, 6.27 to Fisher's wounded 23.83. It was Tharpe's quickest pass of the weekend.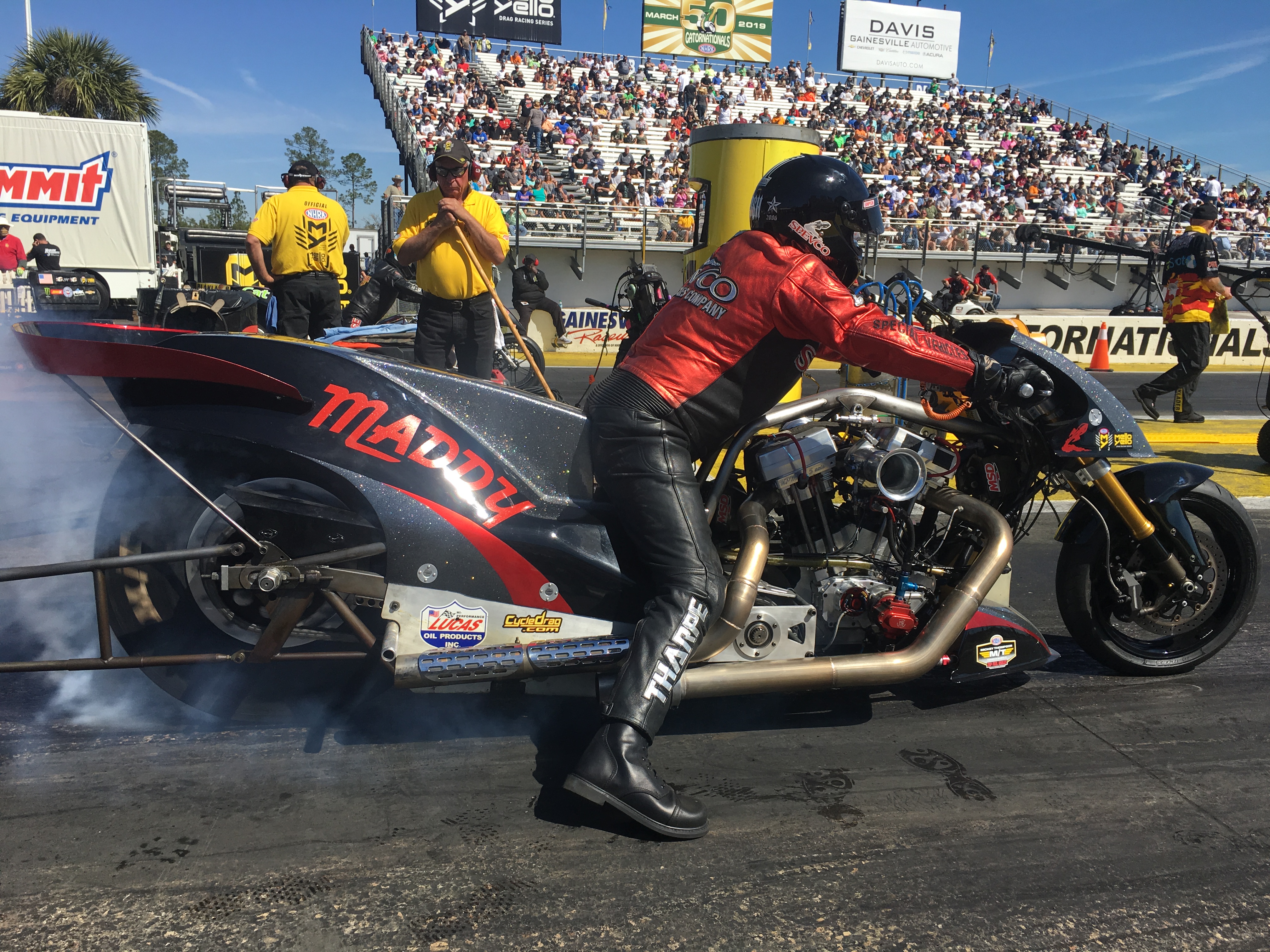 No. 6 qualifier Billy Jackson made a late Saturday wrench session pay off with an upset win over No. 2 qualifier and last year's series runner up Rickey "Sharky" House. Jackson ran a 6.68 to House's 9.03.

Pro Stock Motorcycle Round No. 1
Stoffer-Underdahl Suzuki Extended Protection teammates Scotty Pollacheck and Jim Underdahl were forced to face off in opening eliminations by virtue of their respective No. 5 and No. 12 qualifying efforts.
Underdahl red lighted with a -.088 and Pollacheck was able to avoid the centerline on an errant run to take the win with a 8.30 to Underdahl's 6.97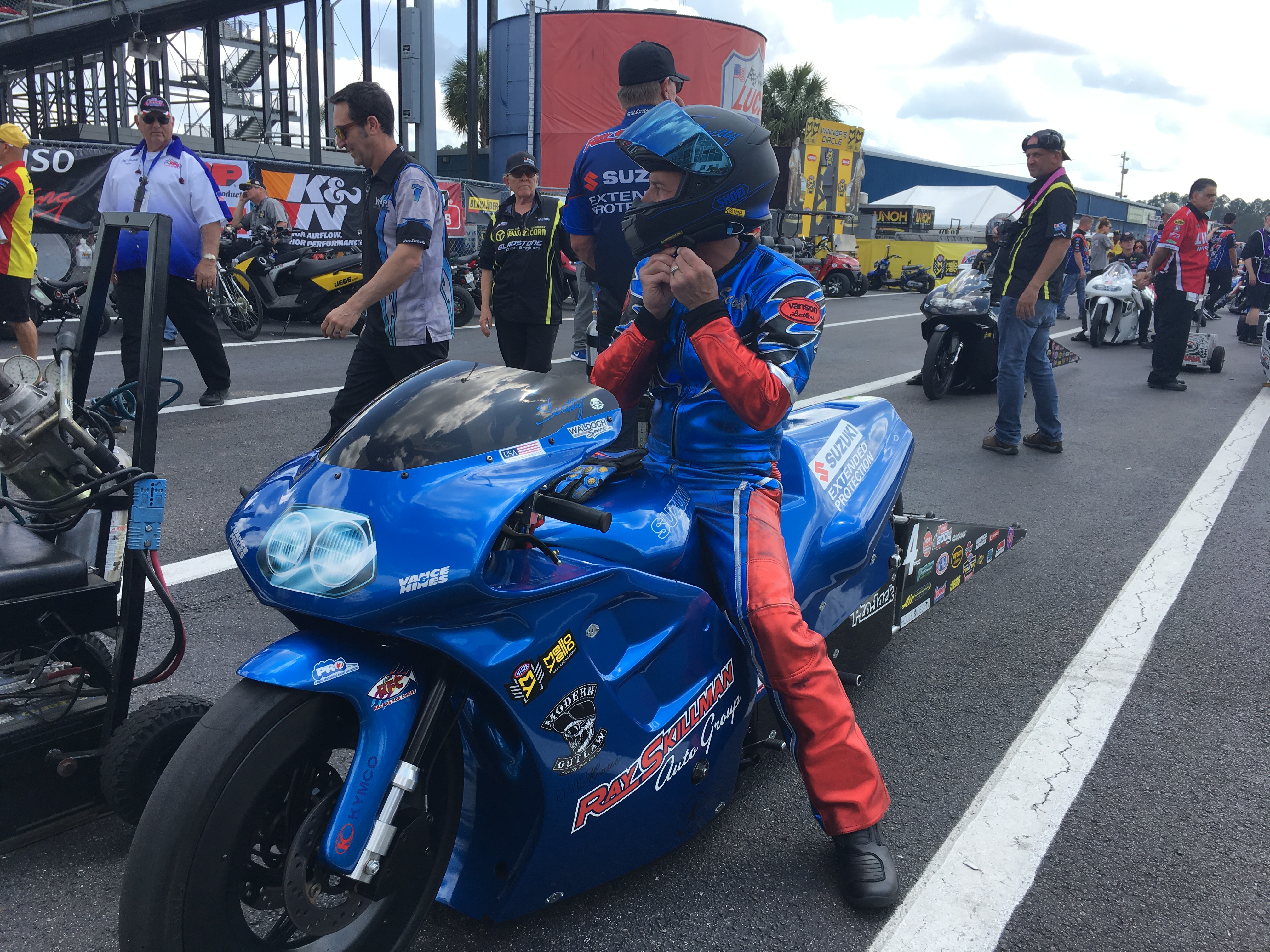 Veteran Steve Johnson looked comfortable aboard his new White Alligator Racing Suzuki. After qualifying in the No. 7 spot Johnson scored a 6.92 first round victory over Angie Smith, who redlighted away a quicker 6.89 with a -.043 bulb.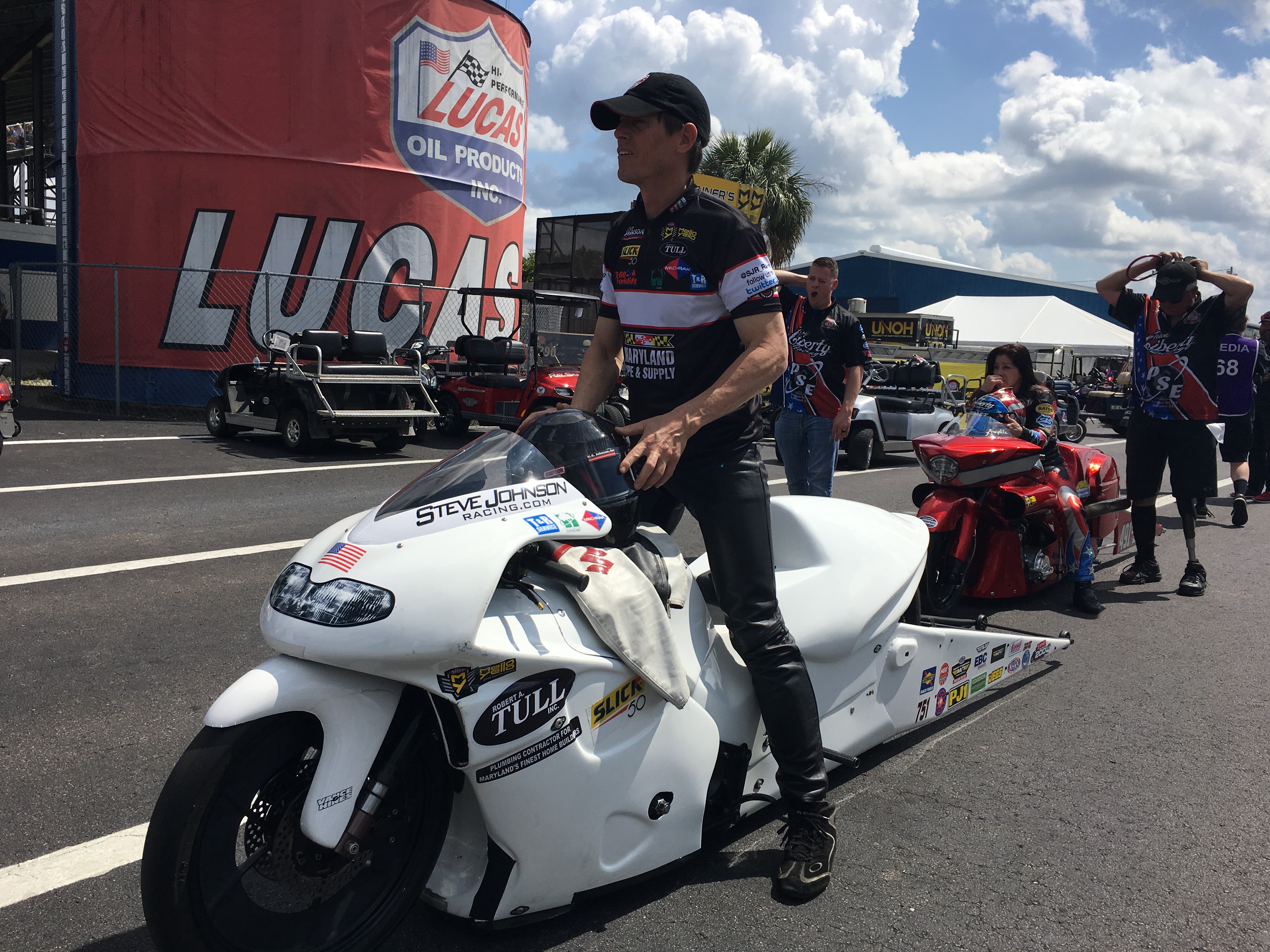 Former Pro Street champion Joey Gladstone was impressive in qualifying with his new team and motorcycle, snagged the No. 3 spot with a 6.79, making him one of only three racers to dip into the 6.70s during qualifying.
On raceday Gladstone slowed to a 7.00 and was upset by No. 14 qualifier Hector Arana and his 6.91.
Top qualifier Andrew Hines of the nine-time champion Vance & Hines Screaming Eagle V-Rod team did not miss a beat. Hines posted low elapsed-time of the round at 6.80 to defeat former Pro Street racer Mark Paquette, who snuck into the field by edging out Matt Smith by a mere .02.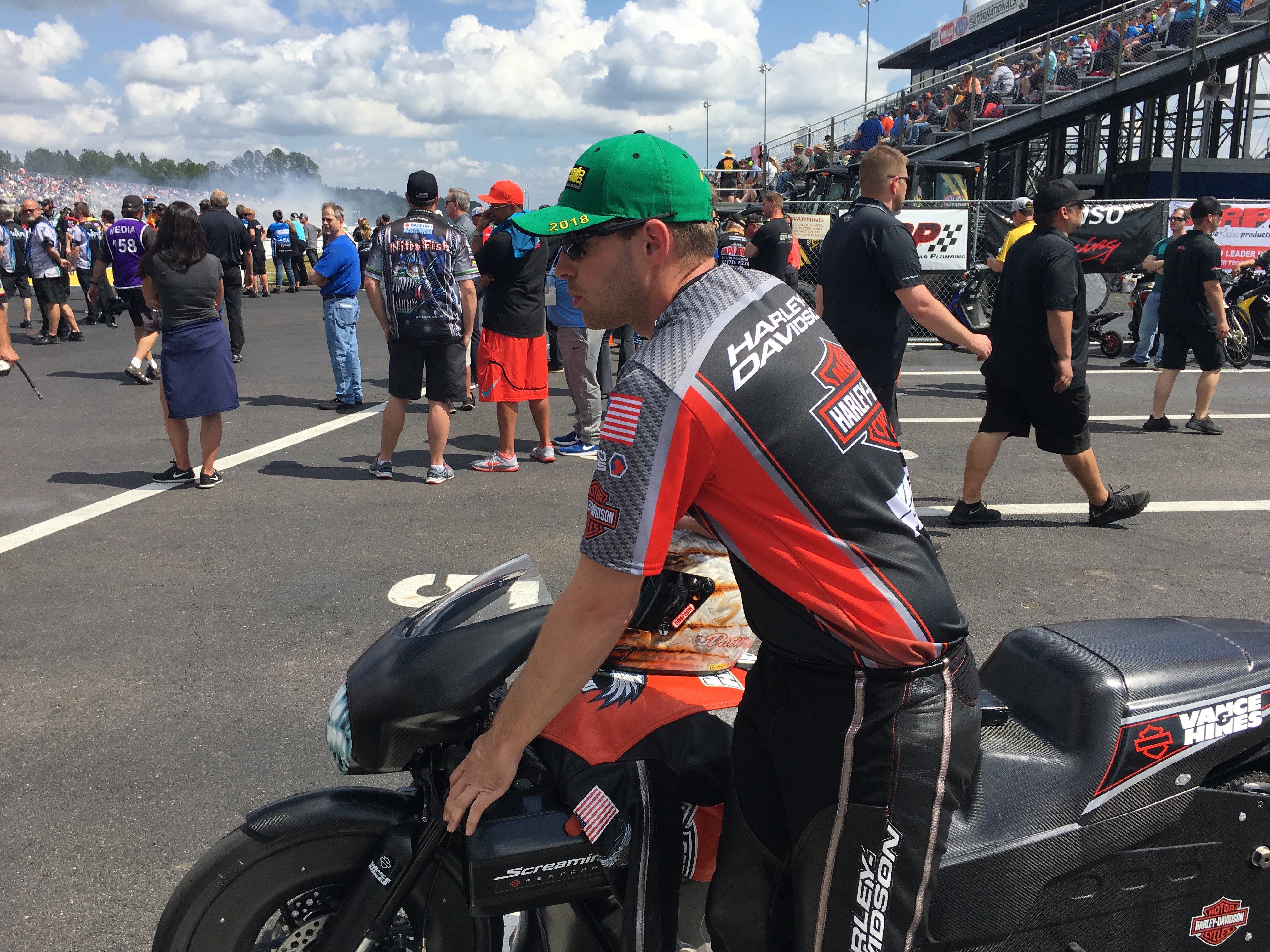 Three-time NHRA champion Angelle Sampey grabbed the No. 8 spot with a 6.85 in qualifying on her Victory. With the help of Pro Stock tuning master Larry Morgan, Sampey and teammate Cory Reed are pleased to report their performance has improved drastically from last year.
Sampey used a 6.90 in the opening round to talk out the 6.94 of "Flyin" Ryan Oehler.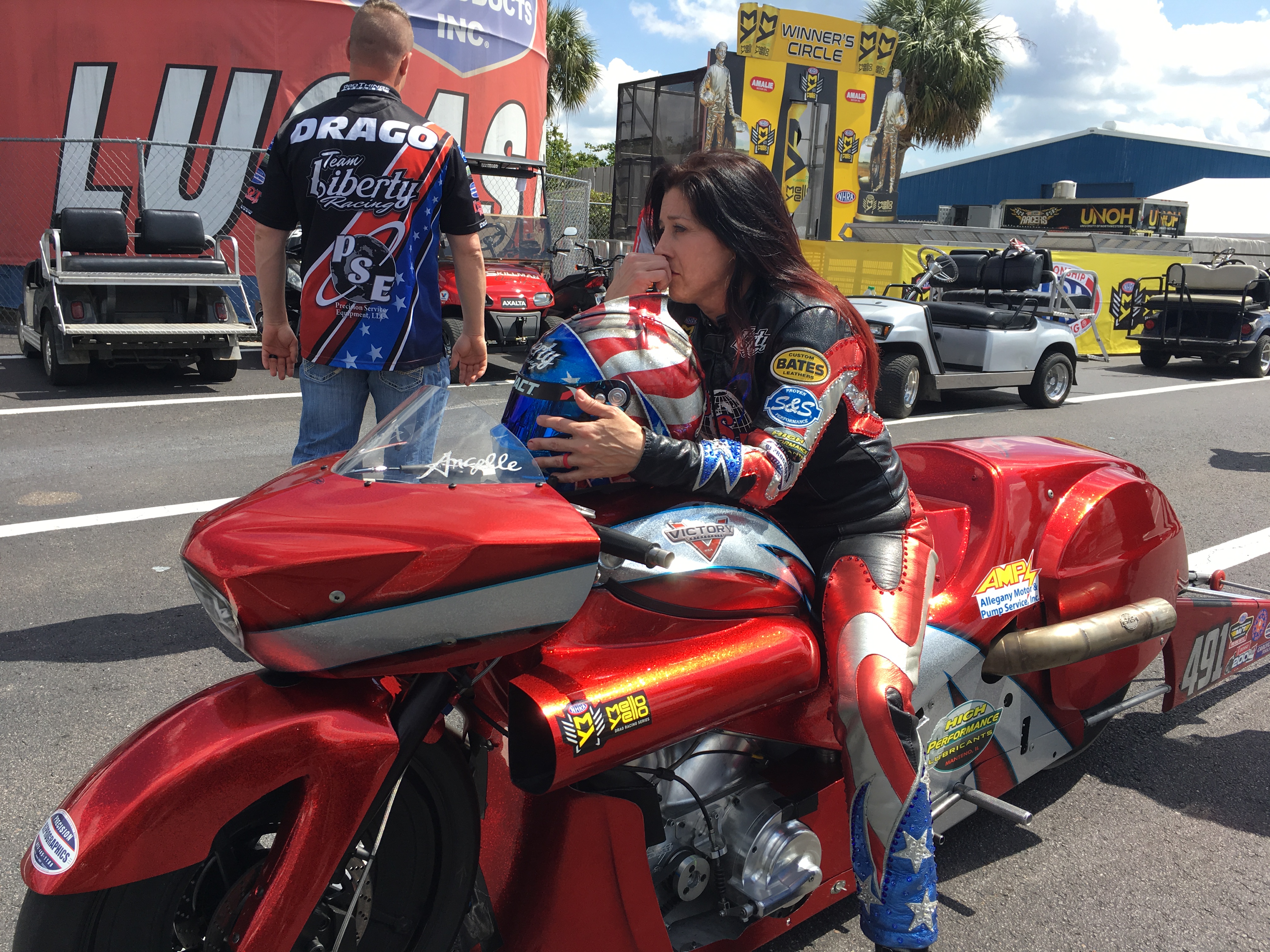 Teammate Cory Reed also was victorious in the opening round. Reed cut a stellar .007 light to take a holeshot win over Hector Arana Jr who cut a .032 and ran 6.94 to Reed's 6.95.
Although not successful in the opening round, Arana Jr. leaves $10,000 richer courtesy of Denso for running the first official 200 mph pass.

Defending champion Eddie Krawiec appeared to be in mid-season form with a 6.84 to defeat the 9.07 of former champion L.E. Tonglet, who entered the race with a borrowed motor from Fred Camarena. Tonglet says he is in the process of putting together a new motorcycle.
Krawiec is on the same chassis he finished his remarkable 2017 championship run on. In a Friday press conference Krawiec said not making too many off-season changes is all part of the unique way his team chooses to attack the countdown.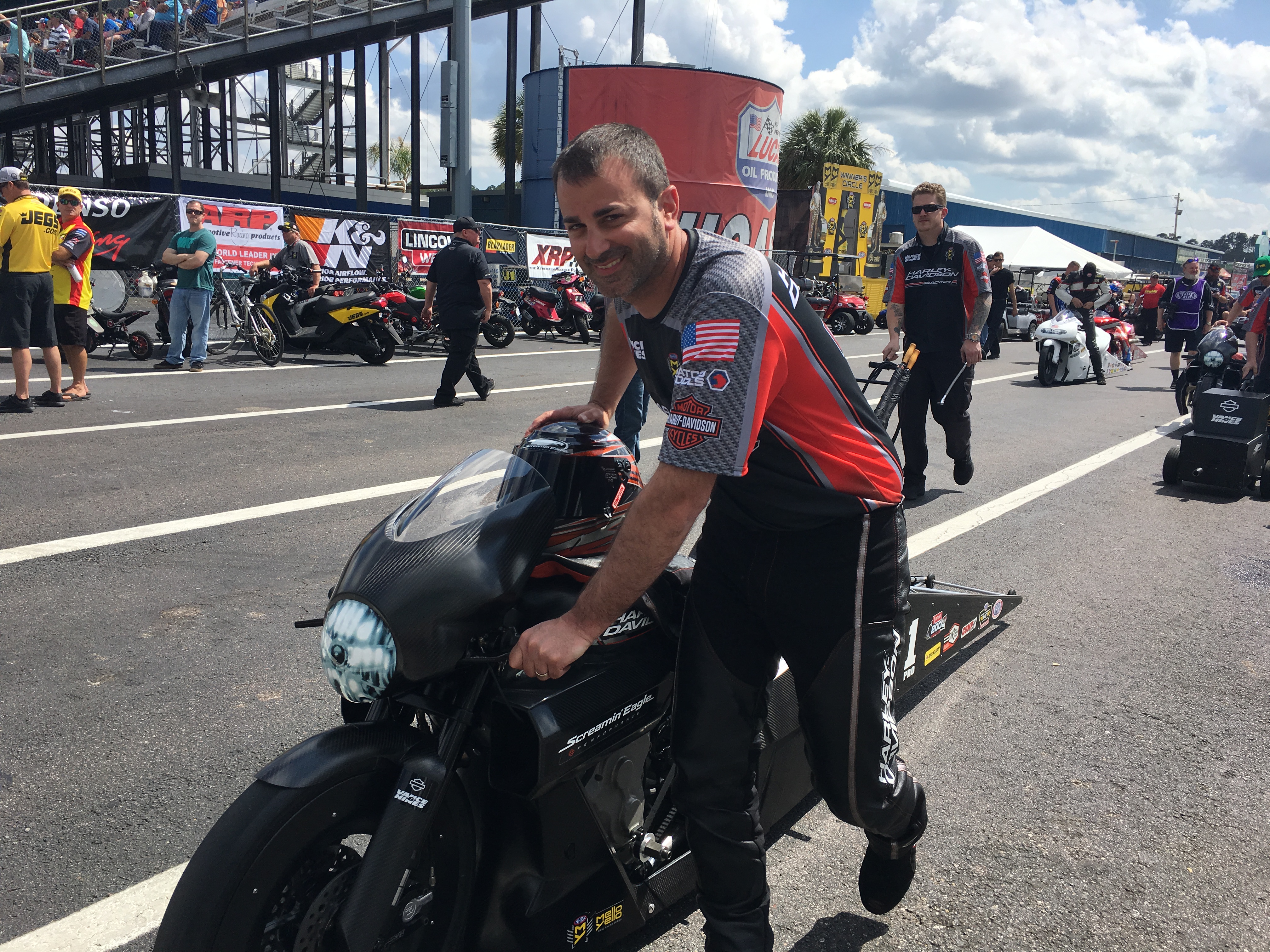 No. 11 qualifier Karen Stoffer scored a huge, upset, holeshot victory over No. 6 qualifier and 2016 champion Jerry Savoie. Stoffer cut a .009 and ran 6.93 to beat the alligator farmer to the finish line with a 6.93 to Savoie's 6.88.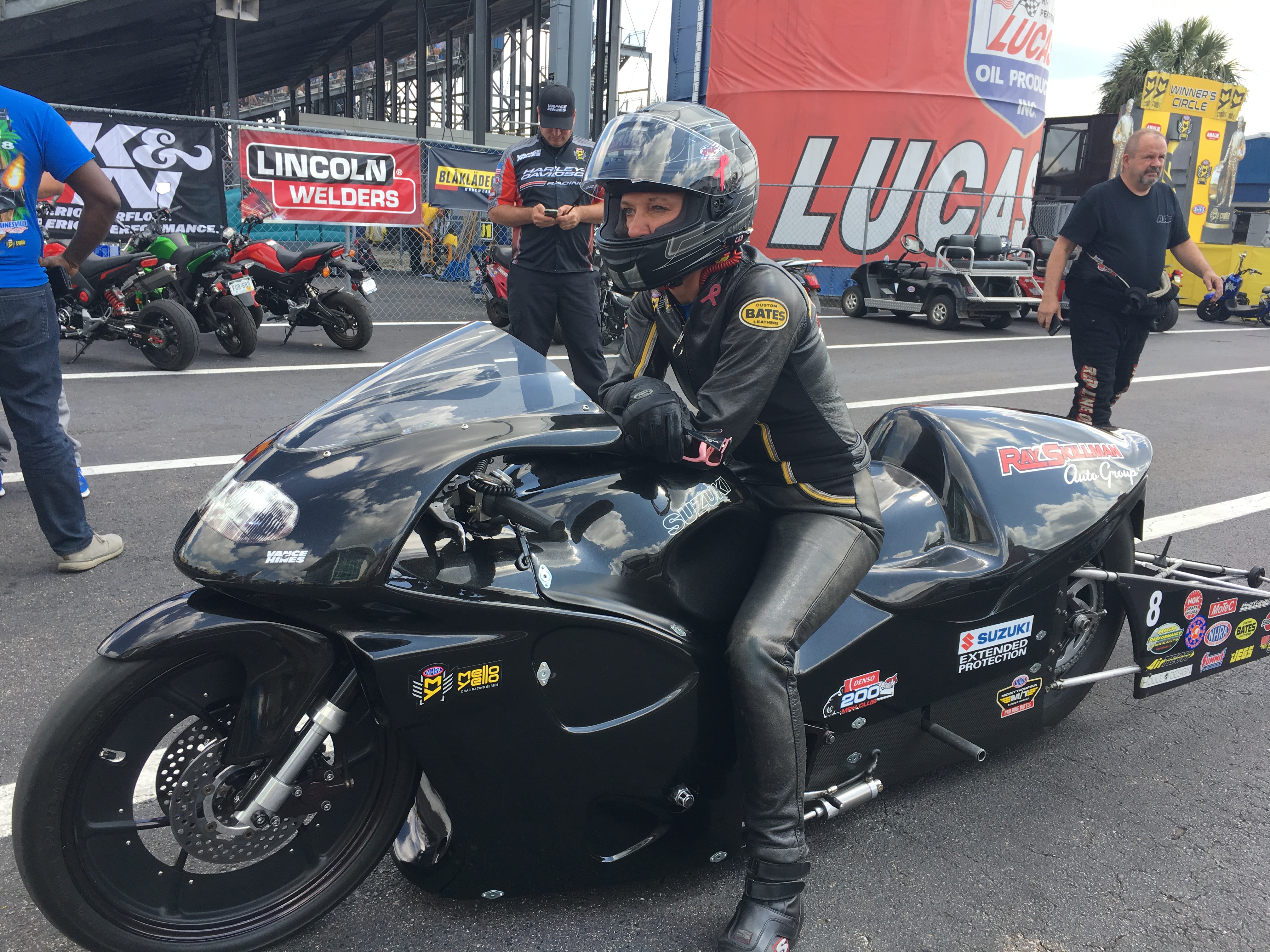 Nitro Harley Semifinals
The weekend's two most consistent v-twin nitro racers continued the trend in the semifinals.
Tharpe took out Jackson with a 6.33 to Jackson's 7.69. Jackson left the line headed for the centerline and struggled to regain control.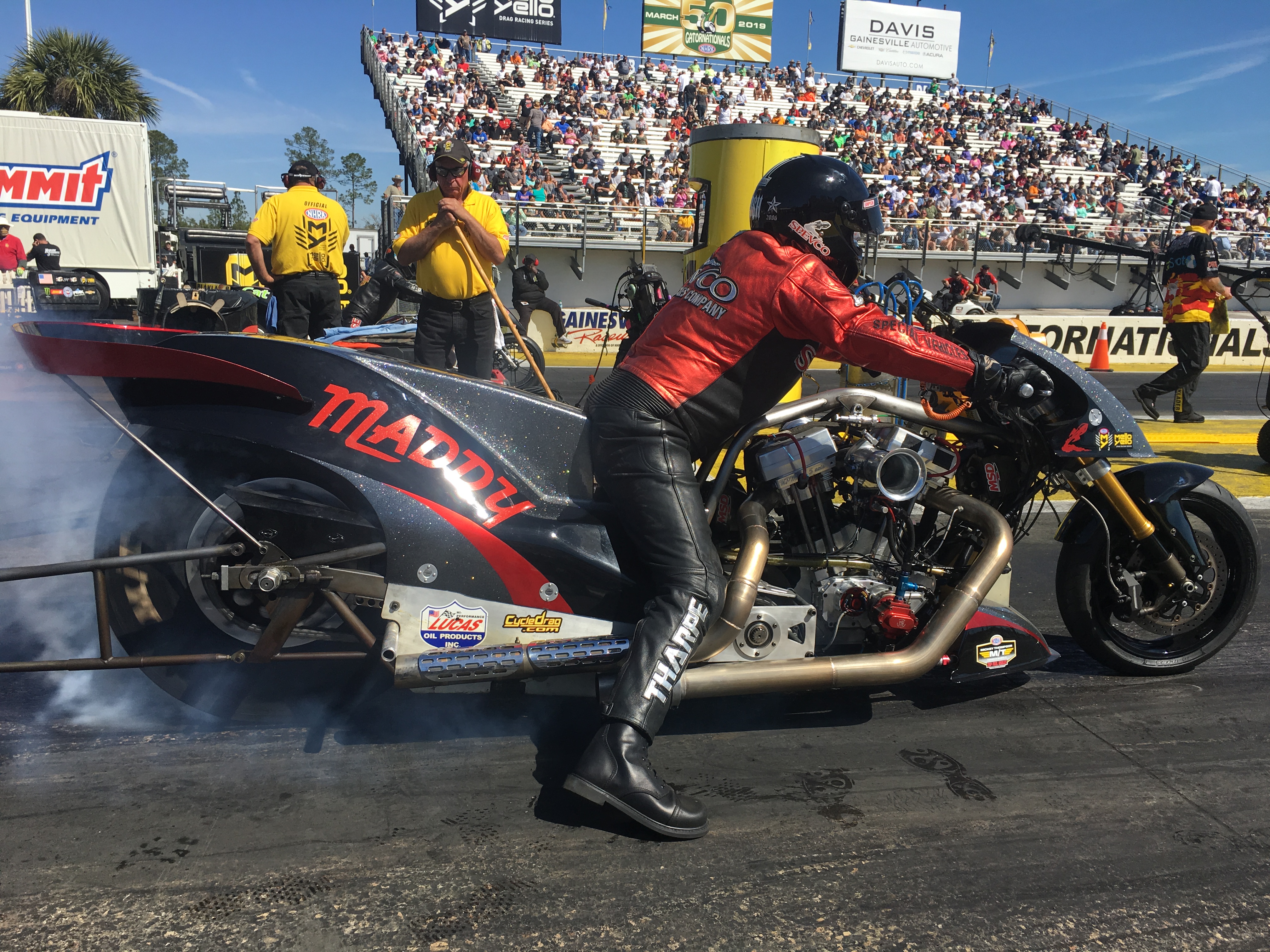 Malloy made another clean, feet on the pegs pass and ran 6.34 to defeat the 6.52 of Layne.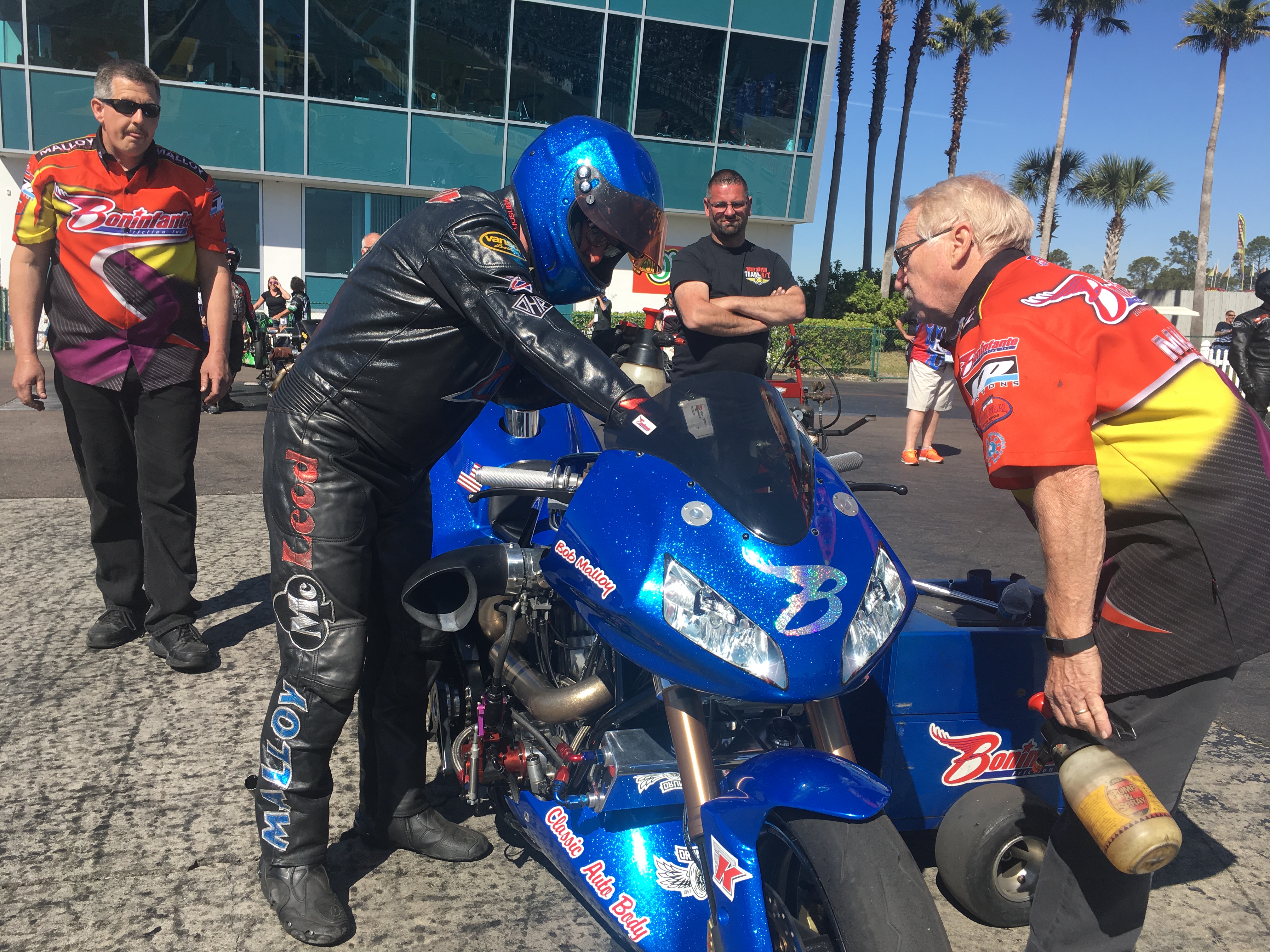 Pro Stock Motorcycle Round No. 2
The Harley team flexed its performance muscles in the second round. Hines ran 6.857 to beat the 7.07 of Sampey and Krawiec posted low elapsed-time of the round at 6.852 to defeat the 6.92 of Johnson.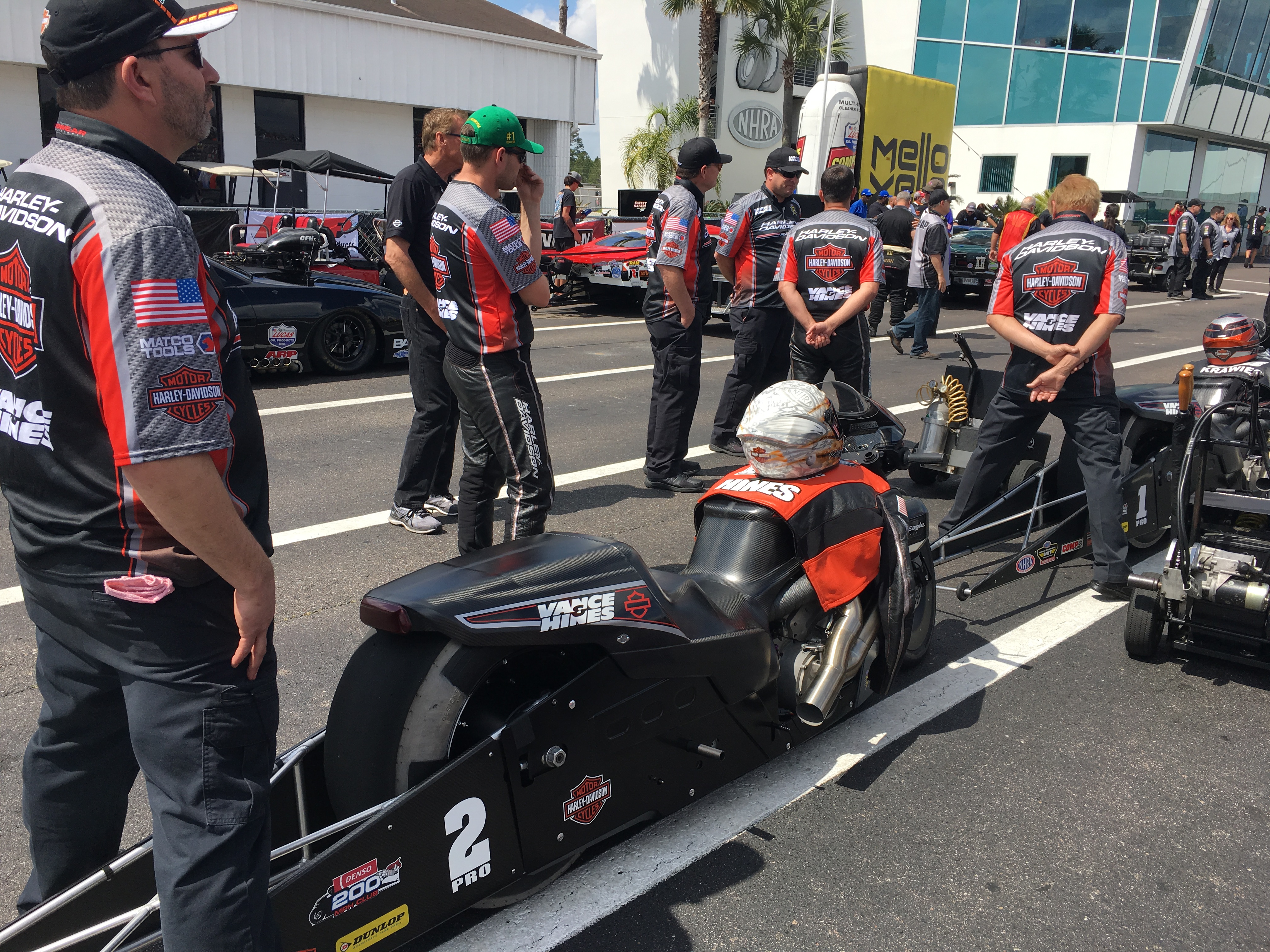 Pollacheck used a near-perfect .001 light and 6.87 to beat the 6.92 of Reed.
Arana scored another upset victor on his Lucas Oil Buell with a 6.87 to Stoffer's 6.98 to put the No. 14 qualifier in the semis.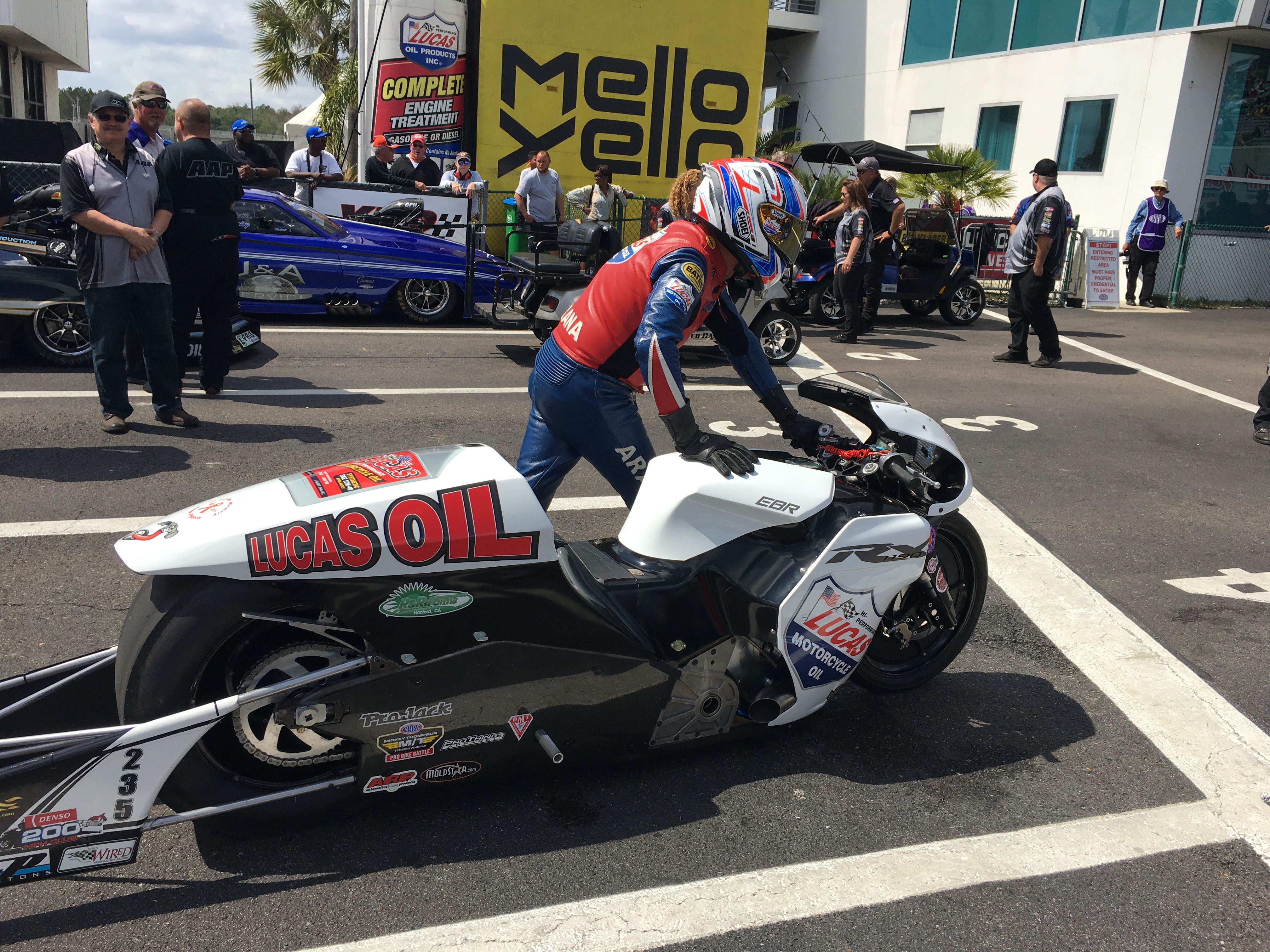 Pro Stock Motorcycle Semifinals
Arana's Cinderella-bid was brought to a halt by Krawiec with a 6.85 to 6.96.
Hines joined his teammate in the final with a 6.86 win over Pollacheck's 7.04.
Nitro Harley Final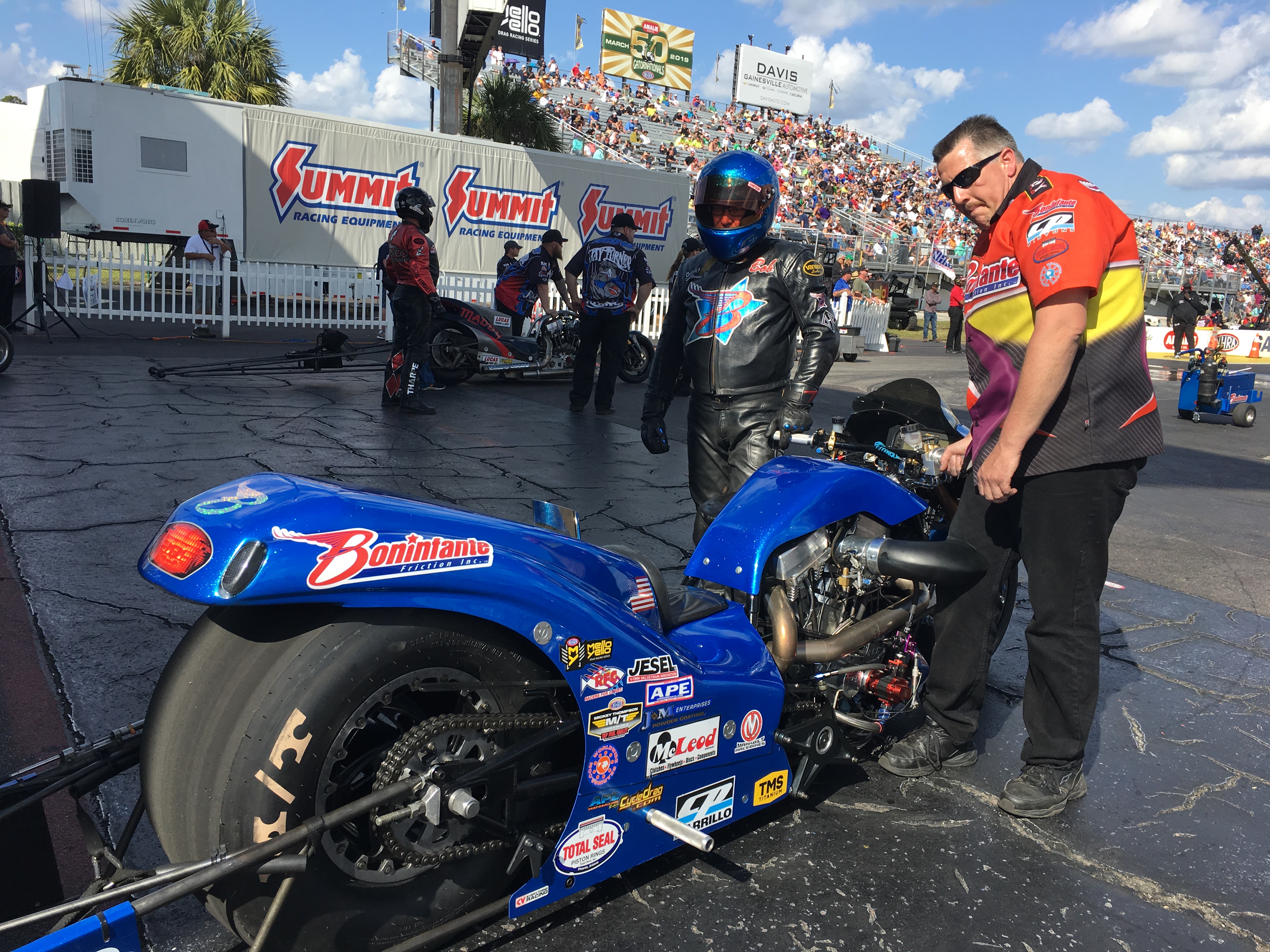 Tharpe makes it two event victories in a row on "Maddy" with a 6.31 at 230 mph to Malloy's 6.54 at 172 mph.
Pro Stock Motorcycle Final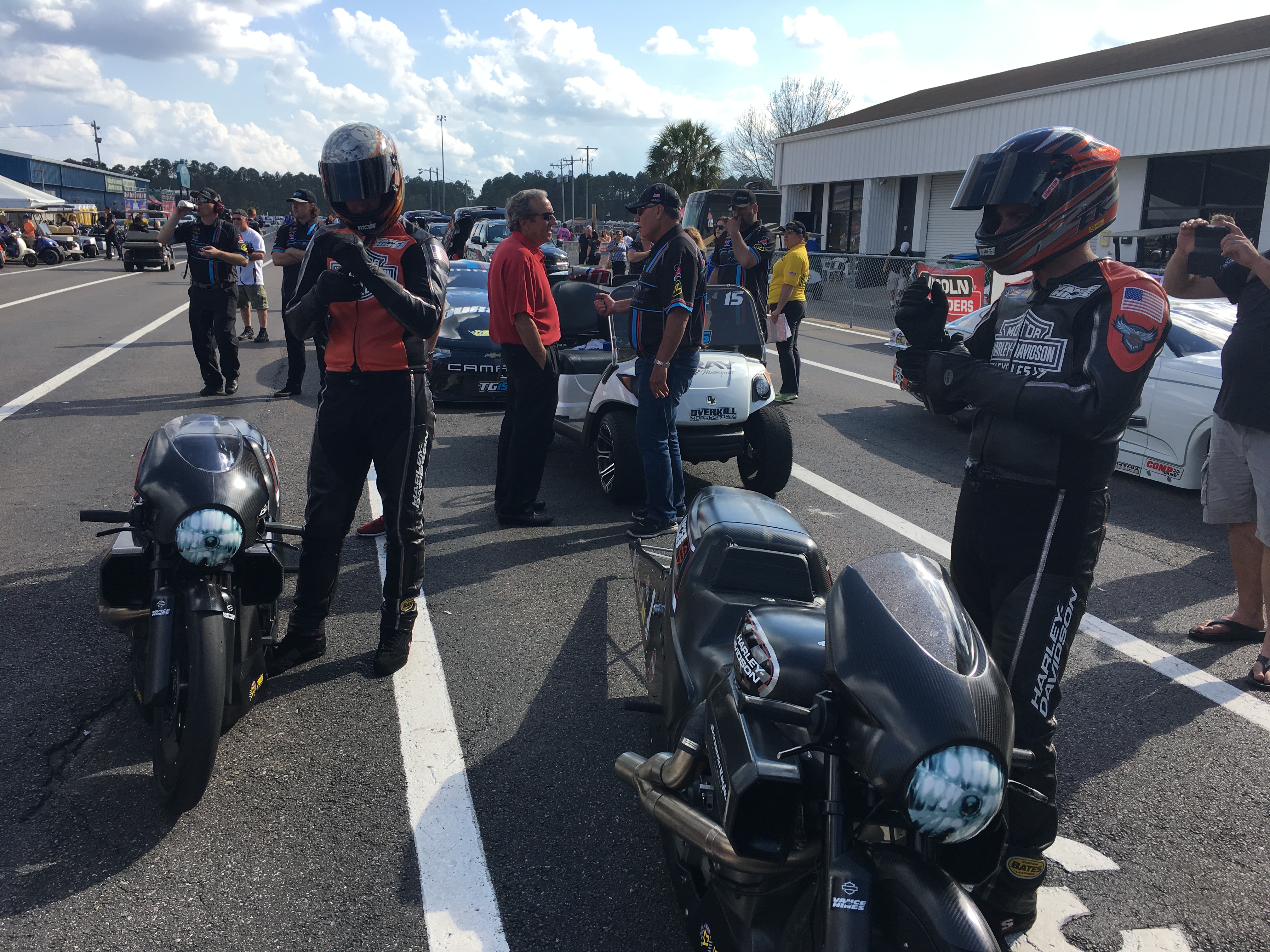 With legendary racers and Vance & Hines founders Terry Vance and Byron Hines looking on, Krawiec captured his sixth Gatornationals win with a 6.82 to Hines' 6.85.
Krawiec won the championship in 2008 without winning a single event. He has now won at least one race a year since then.