In Pro Stock Motorcycle, Matt Smith set the track E.T. record in the final round on his Denso Auto Parts/Stockseth/Matt Smith Racing EBR, going 6.782 at 200.56 to beat Steve Johnson at the Summit Racing Equipment NHRA Nationals at Summit Racing Equipment Motorsports Park.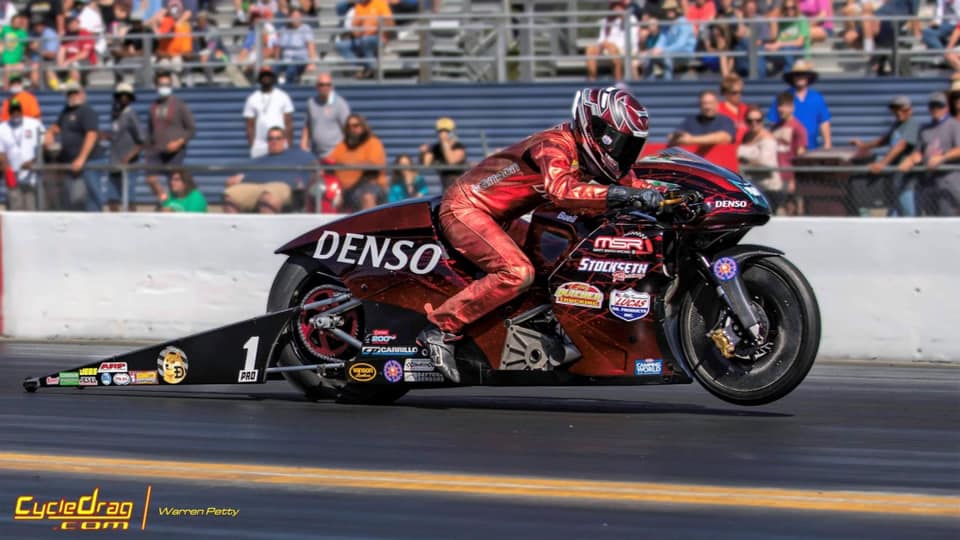 Smith picked up his second win this season and 28th in his impressive career, as the defending world champ built on his points lead. To reach the final round, Smith took out Jianna Salinas, Ryan Oehler and Eddie Krawiec, dialing up his best round of the weekend — and the quickest in Pro Stock Motorcycle history at Norwalk — to deny Johnson of his second straight victory.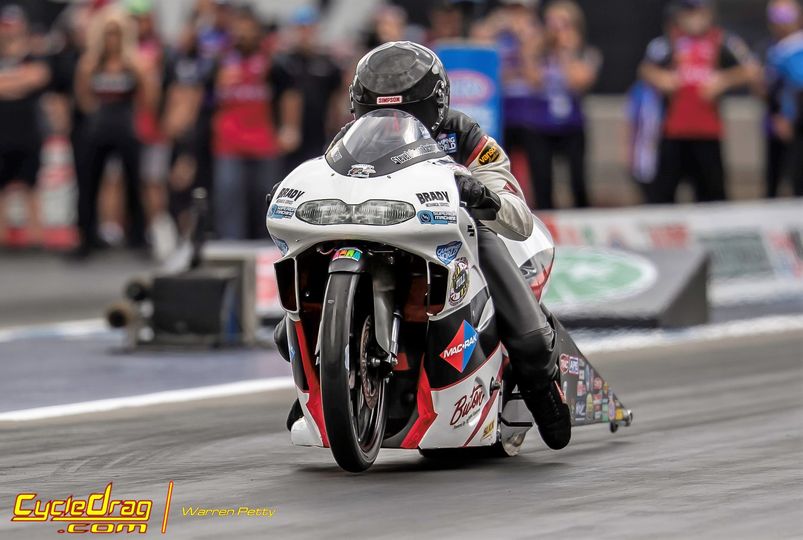 Johnson moved to second in points by advancing to his third final in 2021 and 25th in his career. He had round wins over Jim Underdahl, Angie Smith and Joey Gladstone.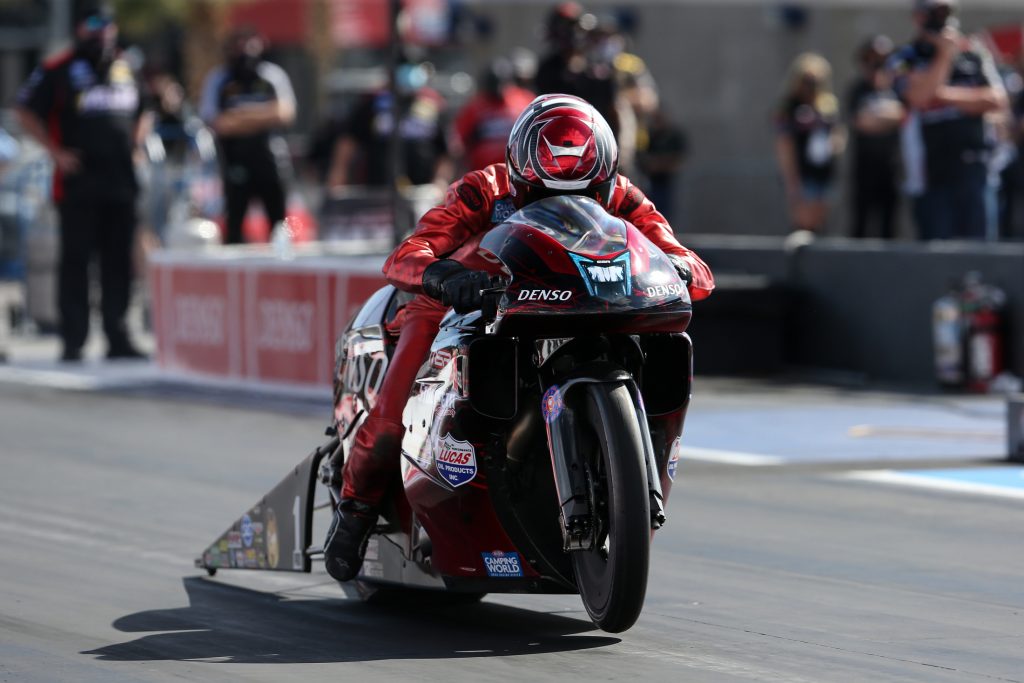 The NHRA Camping World Drag Racing Series returns to action July 16-18 with the Dodge//SRT Mile-High NHRA Nationals presented by Pennzoil at Bandimere Speedway in Denver. It is the first race of the NHRA's famed Western Swing.
PRO STOCK MOTORCYCLE:
ROUND ONE — Angie Smith, 6.946, 196.73 def. Scotty Pollacheck, Foul – Red Light; John Hall, Buell, 6.911, 197.42 def. Jerry Savoie, Suzuki, 6.952, 191.27; Ryan Oehler, 6.995, 194.55 def. Angelle Sampey, Suzuki, 6.996, 193.65; Joey Gladstone, Suzuki, 6.835, 197.57 def. Karen Stoffer, Suzuki, 10.750, 77.01; Andrew Hines, Buell, 6.854, 199.67 def. Cory Reed, Suzuki, 6.937, 193.74; Steve Johnson, Suzuki, 6.817, 197.51 def. Jim Underdahl, Suzuki, 7.148, 190.59; Eddie Krawiec, Buell, 6.846, 199.52 def. Marc Ingwersen, Buell, 7.041, 190.03; Matt Smith, 6.818, 200.83 def. Jianna Salinas, Suzuki, 7.193, 186.10;
QUARTERFINALS — Krawiec, 6.854, 200.41 def. Hall, 6.891, 197.08; Gladstone, 6.856, 197.65 def. Hines, 6.847, 199.91; M. Smith, 6.816, 200.26 def. Oehler, 7.119, 191.51; Johnson, 6.821, 197.57 def. A. Smith, 6.903, 196.59;
SEMIFINALS — Johnson, 6.797, 196.36 def. Gladstone, 6.869, 195.56; M. Smith, 6.800, 199.85 def. Krawiec, 6.823, 199.61;
FINAL — M. Smith, 6.782, 200.56 def. Johnson, 6.836, 196.10.
There are more videos on the Cycledrag Youtube channel (please subscribe here) and the Cycledrag.com Facebook page (Please like here) and more will be coming soon. Check back daily.
To take advantage of some amazing discounts at Brock's Performance, click – http://brocksperformance.com?aff=12
USE cycledrag5 coupon code.