Enjoy some video and photo coverage from race No. 3 of the Man Cup Motorcycle Drag Racing season, the Rob Bush 190Hookup.com Nationals from Legendary Darlington Dragway in Hartsville, S.C.
This event marked Man Cup's first trip to Darlington. The facility was remarkably clean and featured millions of dollars of renovations and fresh concrete. The only downfall for the legendary venue is its steel guardrails in the shutdown area, something that pushed this event to eighth mile for rider safety. Officials at Darlington said going to a full concrete barrier is a goal.
Final Round Results
Pingel Top Fuel – Larry McBride .038, 3.76, 210 mph def. Dave Vantine .058, 3.80, 201 mph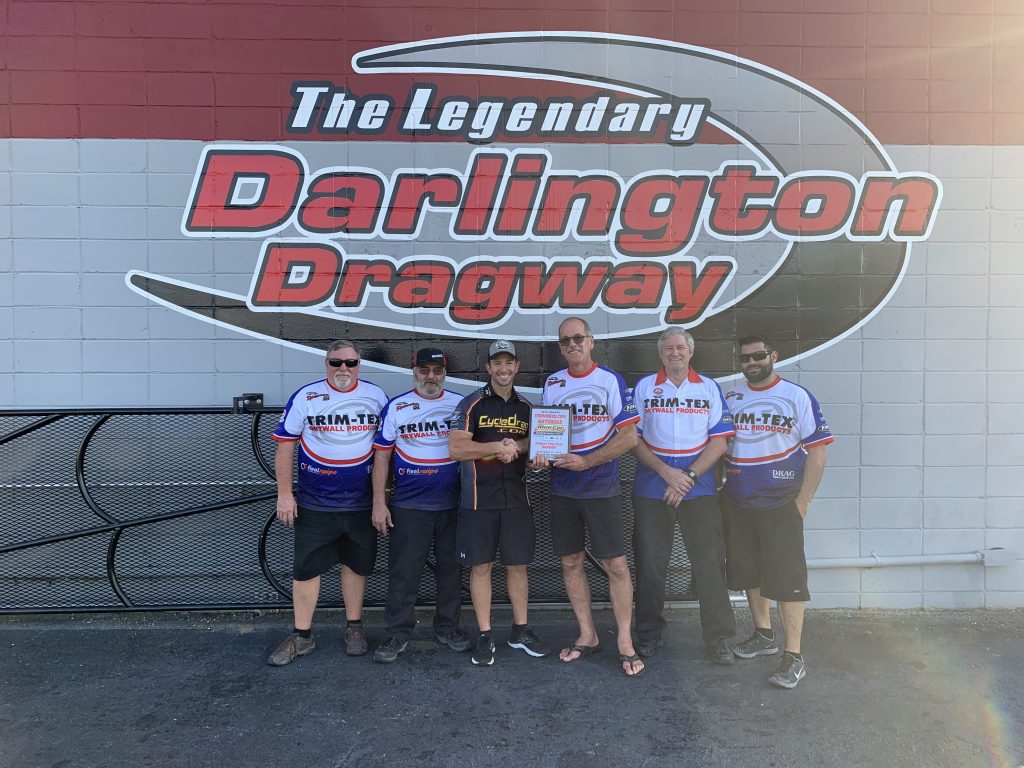 Larry "Spiderman" McBride and Dave Vanitne continue to entertain fans with their thrilling back-and-forth-battle. Vantine entered with a 38-point lead and won the day on Saturday with a 3.78 in opening qualifying to edge out McBride's 3.79 in Q3. McBride and team smoked the tire hard in the opening round and spent the day on the phone with Bill Miller of BME and other experts trying to find the right tuneup.
Vantine has found remarkable consistency and his team attributes much of the success to crew chief Greg Pollard's nine-stage clutch and Vantine's stellar riding.
Mitch Brown, Sam Wills and Chris Hand all sat this race out, opting to save the equipment for the next race in Rockingham.
In the final round, McBride and team did what they have been known to do, stepping up when they needed it most with low elapsed time at 3.76 to defeat Vantine's 3.80.
The point margin is down to less than one round of racing heading into the final two events. These talented racers are taking it down to the wire again.
Nitrous Express Pro Open – Jean Gosselin .226, 4.05, 181 mph def. Ron Procopio N/A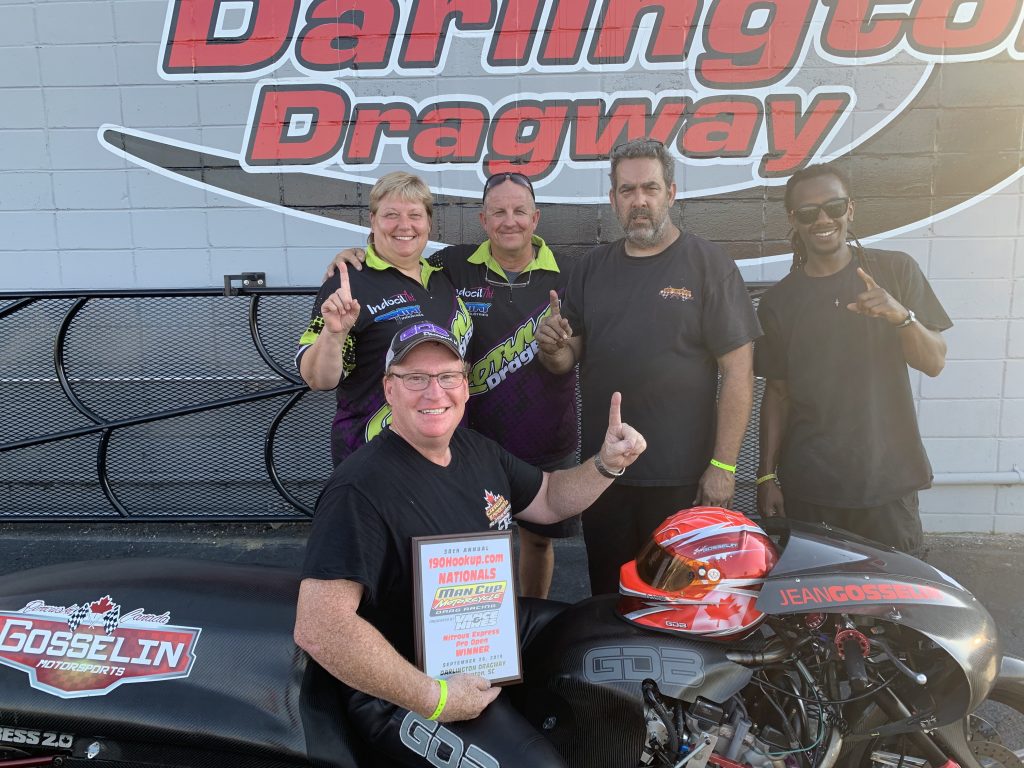 Pro Open got a much needed, forceful injection of interest and intrigue in what had to be one of the most unusual, controversial and compelling races the class has ever seen.
Dan "DTM" Wagner and Niki Zak became at odds when Wagner opted to roll Terry Schweigert's fast Pro Mod out of the trailer on Saturday night and enlisted bracket ace Ronnie Procopio to ride as a last minute entry. The team opted not to make a qualifying run after DTM customer and Grothus Dragbikes backed defending champion Jean Gosselin solidified the No. 1 spot.
The insertion of Procopio at the bottom of the qualifying order gave Gosselin an opening round bye and ex-DTM client Zak a tough first matchup against the Schweigert bike. Procopio cut his usual stellar light, pulling off the upset, putting Zak on the trailer. DTM's strategic move was legal. Zak and her teammate Wayne Castleberry called out DTM for what they felt was dirty, unsportsmanlike behavior.
The controversy did not stop there. There was confusion in the lanes in the opening round due to the ladder changing late Saturday. Turbo Hayabusa racer Mark Rendeluk was told his opponent Larry Hayes was broke and was sent to the line for a solo. Rendeluk rolled into the beams and was on the two-step for about seven seconds before he was backed up and told Hayes was not broken. Hayes' crew came to the line and said they were ready to go, in place and never told anyone they could not make the call.
Rendeluk would eventually win the round after the confusion was sorted out.
In the next round Procopio continued to soar and upset Rendeluk setting up an all-DTM Gosselin vs. Procopio final. After the semifinal upset Wagner looked at the Cycledrag camera and said, "Don't cherrypick Pro Open."
It was clear there were many others issues and agendas at play here. The Procopio entry was out to prove a point.
More controversy set in prior to the final when Wagner said Procopio would only be breaking the beam and would not run Gosselin in the final.
"We just had to come up to get our runner-up money," Wagner said. "The objective was never to win the race with this bike. We are testing."
Things got even stranger after the race when Gosselin's bike was accidentally run over by a Man Cup tow vehicle near the registration trailer. Fortunately only the wheeliebars were damaged.
If that was not enough drama and intrigue, sources reported to Cycledrag that the authorities were called to the track for complaints of marijuana fumes coming from one Pro Open camp, in what was perhaps retaliation related to the situation.
This class controversy comes after Wagner, chassis builder Walt Timblin and others were incensed that their turbo bike was not permitted to step up to Top Fuel over the off-season. The duo has denounced Pro Open for low payouts.
The mystery and intrigue of the catch-all known as Pro Open, combined with some fiery, reignited rivalries could be just what this class needs.
Stay tuned and subscribe to the Cycledrag Youtube channel for a full video on the Pro Open battle.
Hawaya Racing Pro Fuel – Sam White .121, 4.61 149 mph def. Preston Bartlett .189, 4.72, 147 mph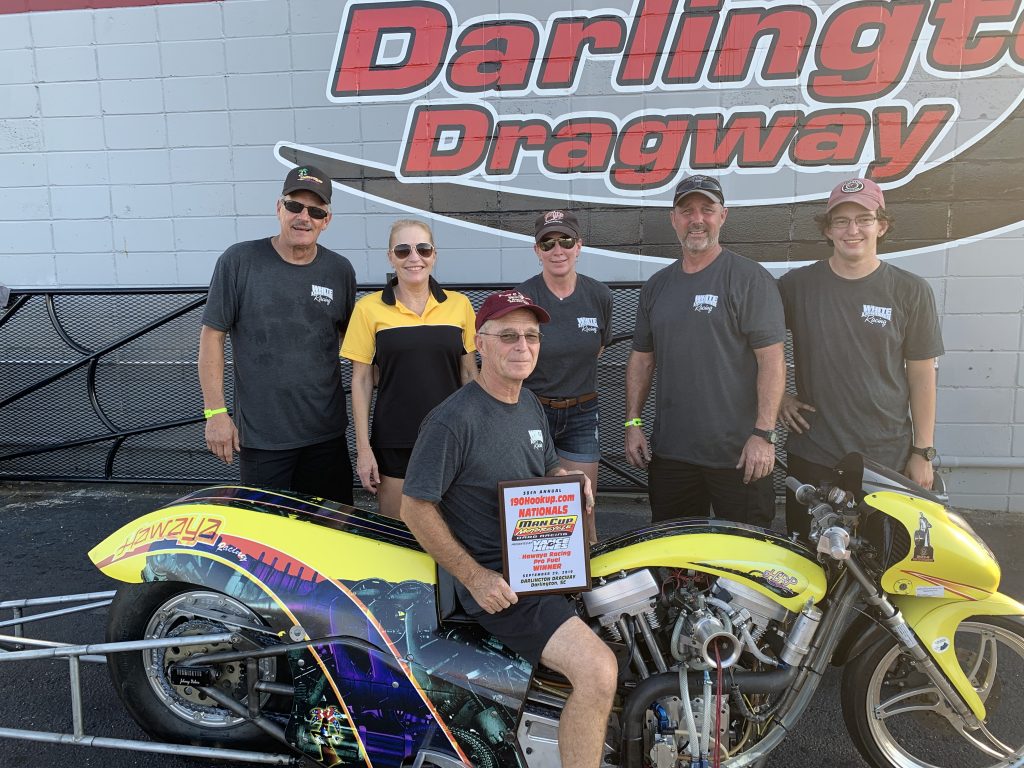 Pro Fuel Harley enjoyed a healthy turnout once again as the class has really seemd to have found a home in Man Cup. Hawaya Racing's Sam White "Lightning" was unstoppable, taking out defending champ Preston Bartlett in the final.
Falicon Pro Mod – Paul Gast .027, 4.00, 177 mph def. Mike Chongris -.038, 4.37, 167 mph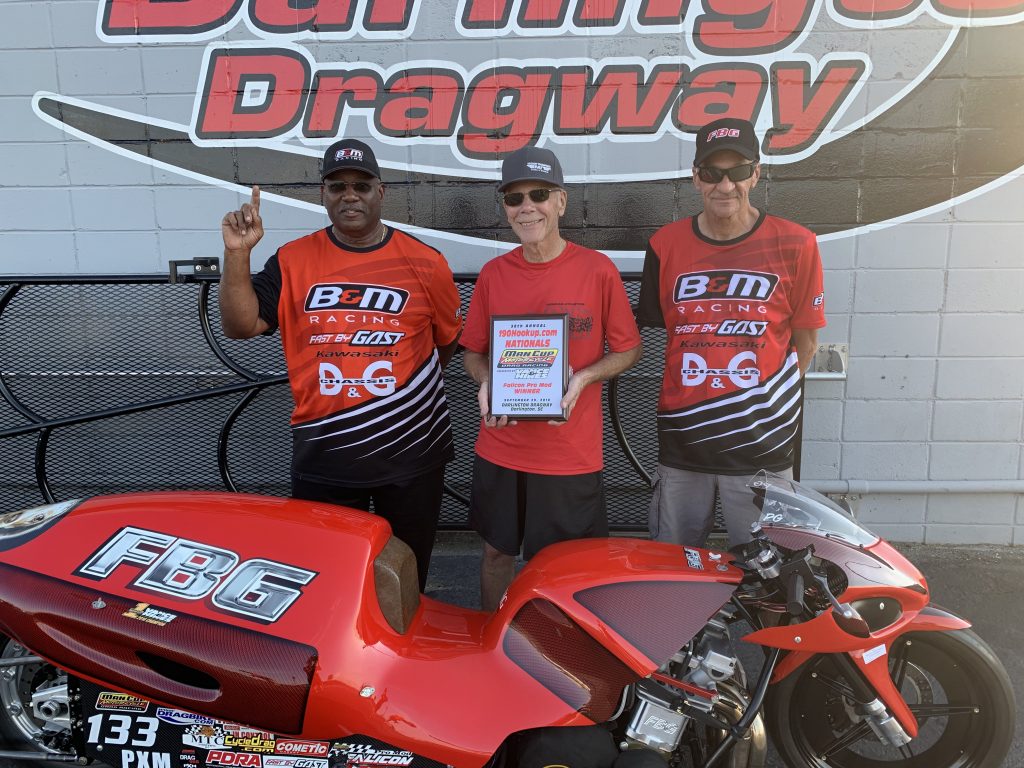 At 70 years old, veteran Paul Gast is like a fine wine. The ageless wonder has won every Man Cup race this season and was the only Pro Mod racer to hit the three-second zone during the hot weekend that saw temps reach the high-90s.
Gast will leave his trailer and crew in South Carolina for this weekend's PDRA Fall Nationals.
APE Pro Street – Chris Edwards N/A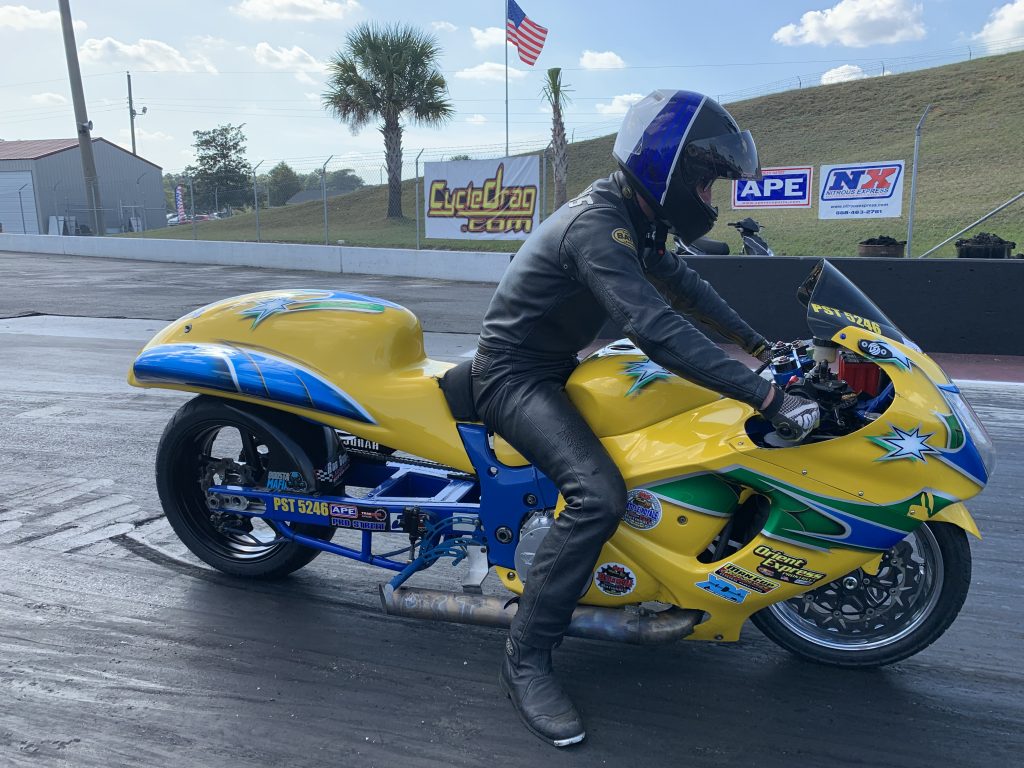 Chris Edwards was the lone motorcycle to show up in Pro Street, which seemed to be a tough weekend to draw entires in this class, just one weekend after the categories' biggest race, the XDA $10,000 Battle Royale. It's interesting to see what the future will hold for Pro Street as the majority of the class seems to have given up on NHDRO and Man Cup championships. Could it become an XDA only category?
For Man Cup the World Finals is still a big draw for PST. Attendance in Rockingham, the home state of DME and Williford Racing, is a bit of a curiosity. With XDA and NHDRO done for the year we could see some no-bar teams at the Rock.
Shinko Real Street – Marcus Hylton -.015, 5.30, 140 mph def def Spencer Claycomb -.074, 5.07. 151 mph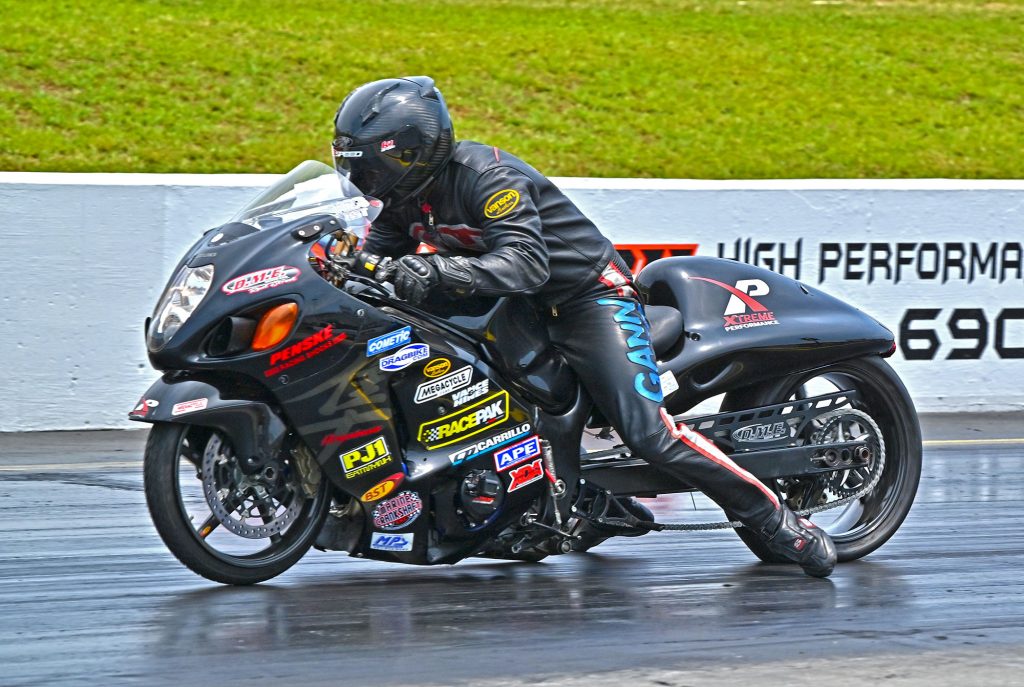 Marcus Hylton showed great consistency throughout the weekend and got by the always tough Spencer Claycomb in the final round.
Grothus Dragbikes 4.60 – Broderick Jackson .029, 4.61 def. Mike Chongris -.021, 4.81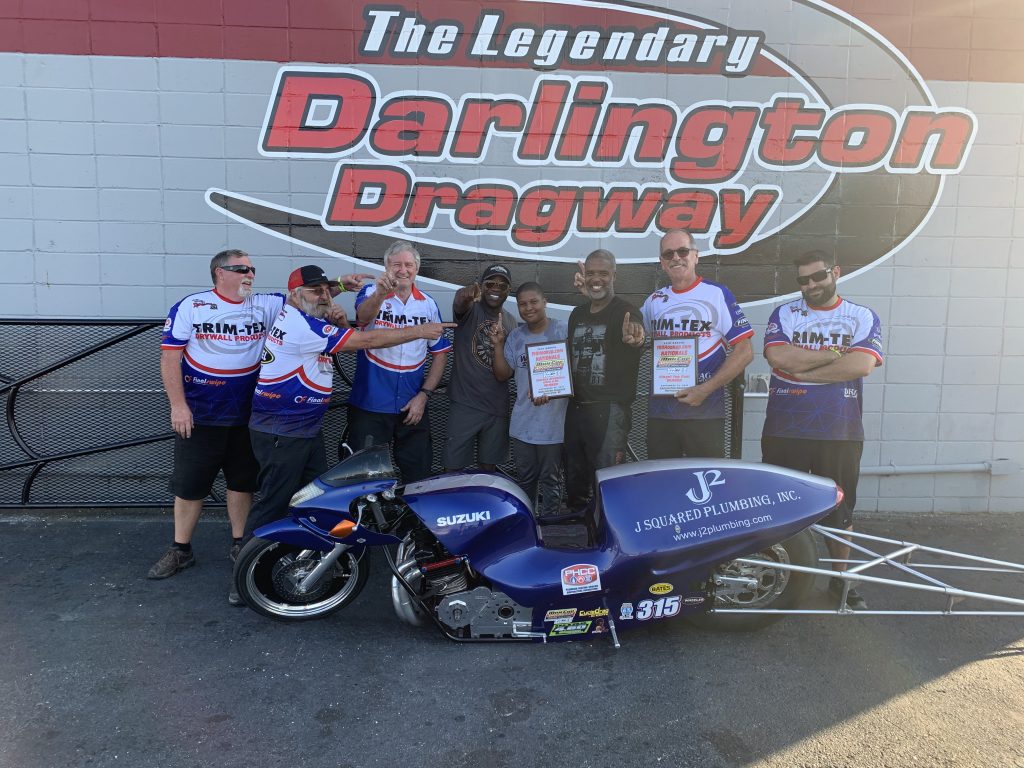 Make it seven 4.60 wins this year for Broderick Jackson and his beautiful Suzuki GS. Jackson got to have some fun in the winner's circle when team Larry "Spiderman" McBride came over to photo bomb. Jackson's son also had a great time and filmed dad on every run. Look for this young man to join the racing ranks soon.
Star Power Top Gas (5.10) – Mike Lingo .094, 5.10 def. Ronnie Procopio -.0001, 5.15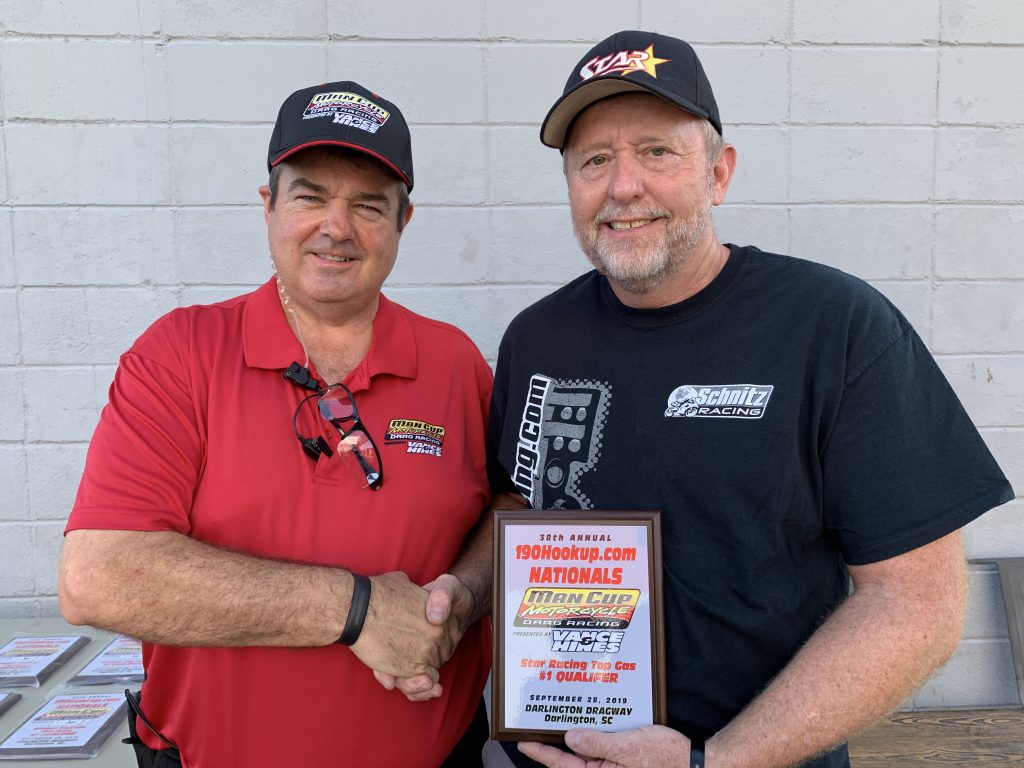 Mike Lingo ran the table in Top Gas, qualifying No. 1 and defeating Procopio in the final. With Accutime displaying a fourth digit, Procopio felt the pain of an unbelievable -.0001 red.
MTC Super Comp (5.60) – Spencer Claycomb .002, 5.66 def. Harvey Hubbard .052, 5.62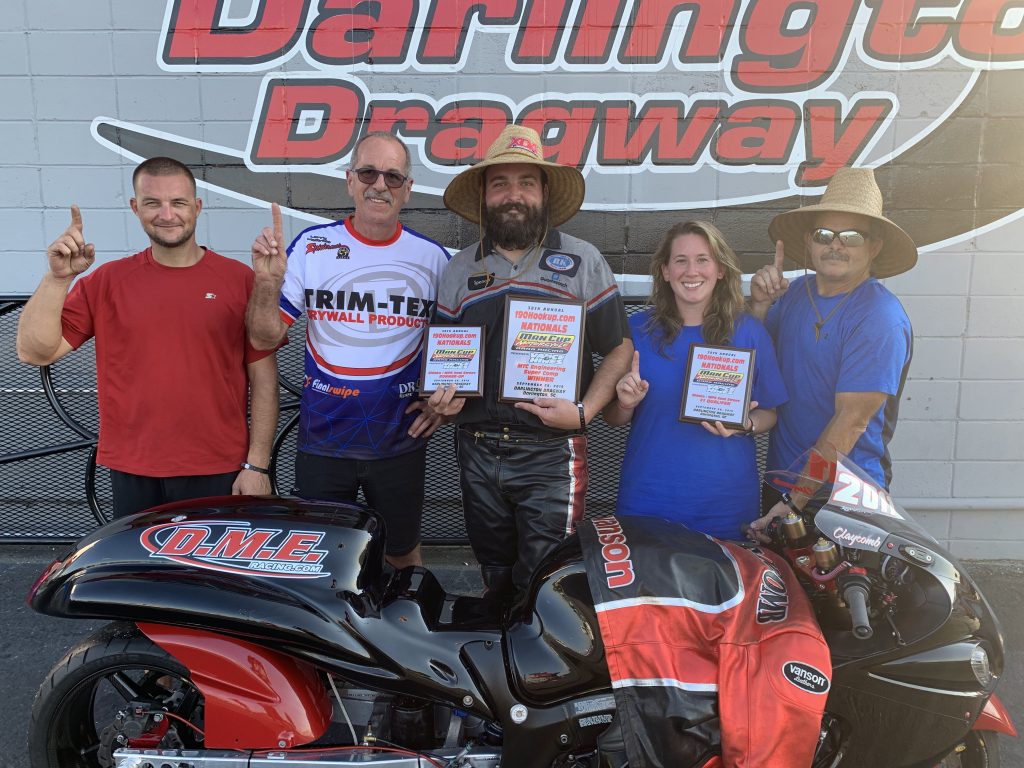 Drag racing warrior Claycomb overcame a lot of adversity to reach the Super Comp winner's circle. Claycomb shrugged off a Real Street redlight and a massive tire spin during his bye run earlier to put a .002 on the tough Harvey Hubbard in the final.
Wiseco Street Fighter (6.20) – Pablo Gonzalez .049, 6.20 def. Dusty Brazel, .040, 6.22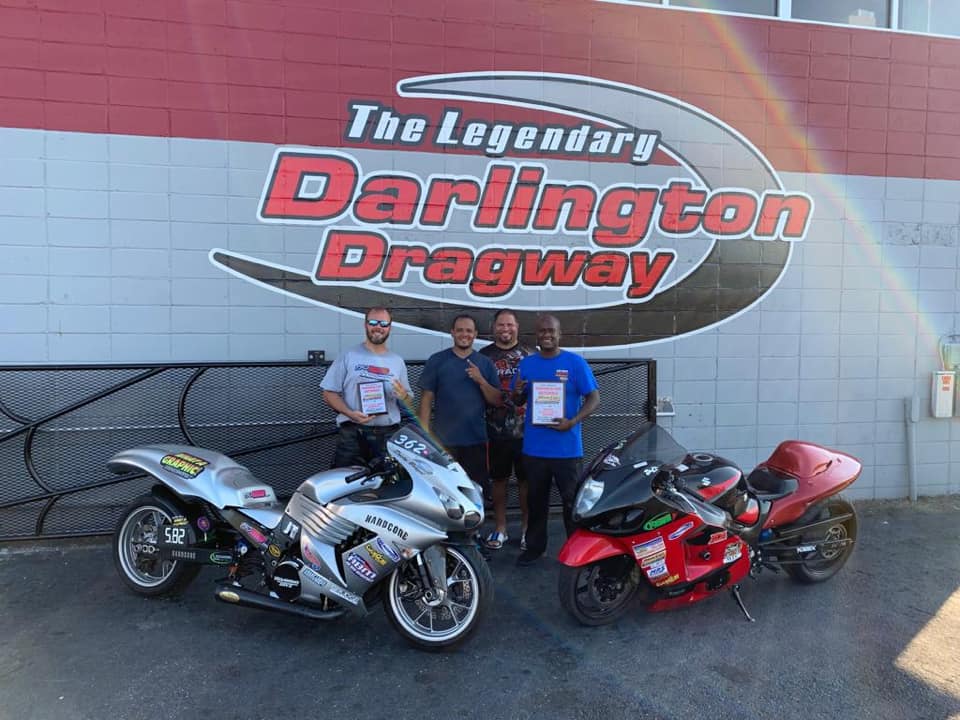 Pablo Gonalez and Dusty Brazel were impressively sharp and consistent as always. In the end the Busa nipped teh Zx-14.
MPS Pro ET – Shawn Welch .028 5.58/5.52 def. Scott Riley .091 6.63/6.64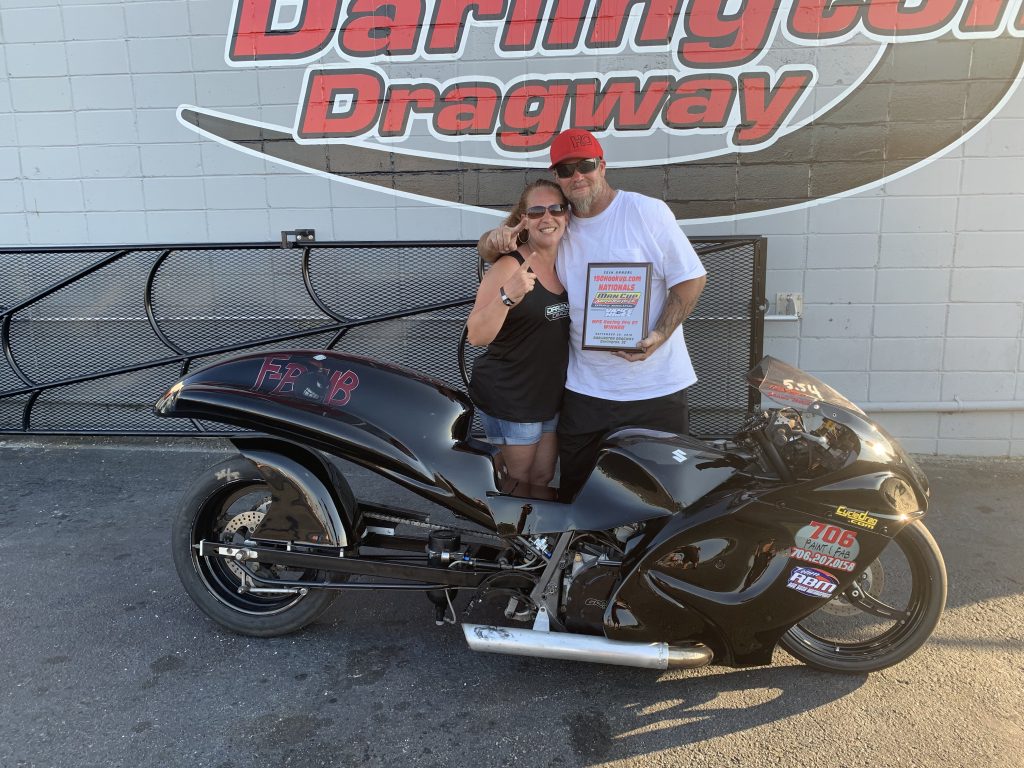 The "F-Bomb" of Shawn Welch was set on kill. It looked as though no one would be able to take down the Yamah SRX drag sled of Scott Riley, who was nailing the tree and running dead on. Welch got the upper-hand in the final and scared the starter and the Cycledrag.com film crew with a giant fist pump at the stripe. Fortunately it was an enjoyable celebration, and not an emergency as it had initially appeared to onlookers.
Vance and Hines V-Twin – Vance Houdyshell .204, 6.42/6.40 def. Manny Carrasquillo .129 6.60/6.44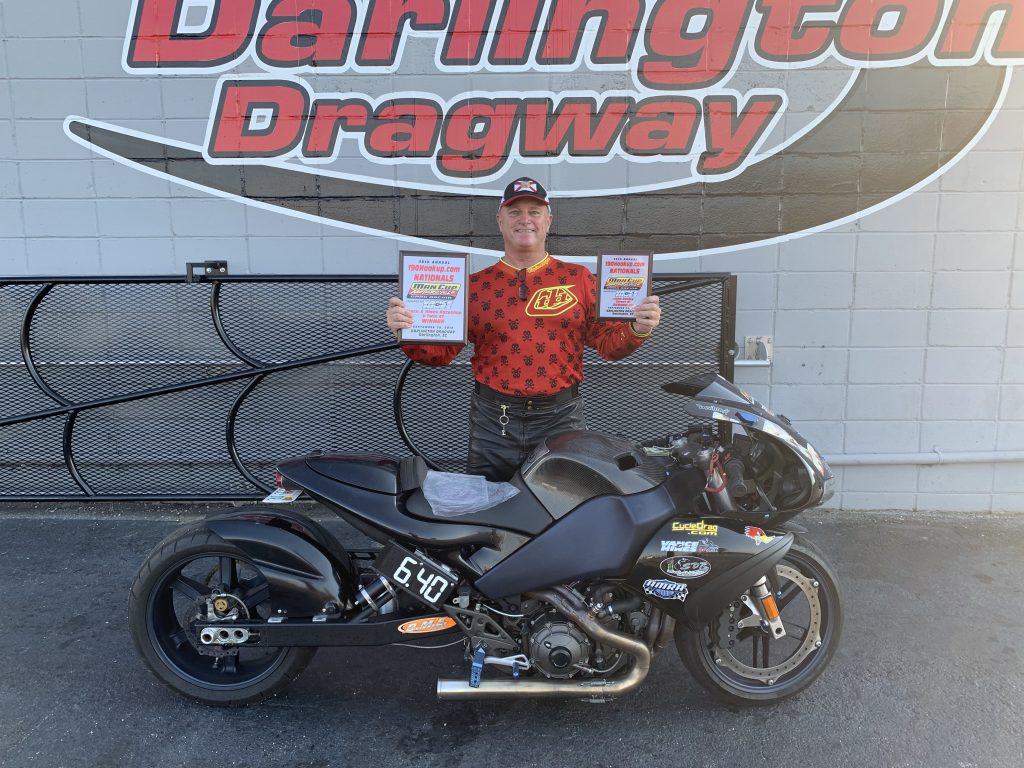 Defending champ Vance Houdyshell lived up to his reputation as the king of Man Cup V-twin ET racing despite stiff competition from his good buddy Manny "Flyin Taco" Carrasquillo and his Harley-Davidson V-Rod Destroyer. Houdyshell nearly doubled up, advancing to Sunday's Street ET final as well.
C & S Custon Street ET – Barry Pryer .015 6.60/6.60 def. Vance Houdyshell .046 6.40/6.40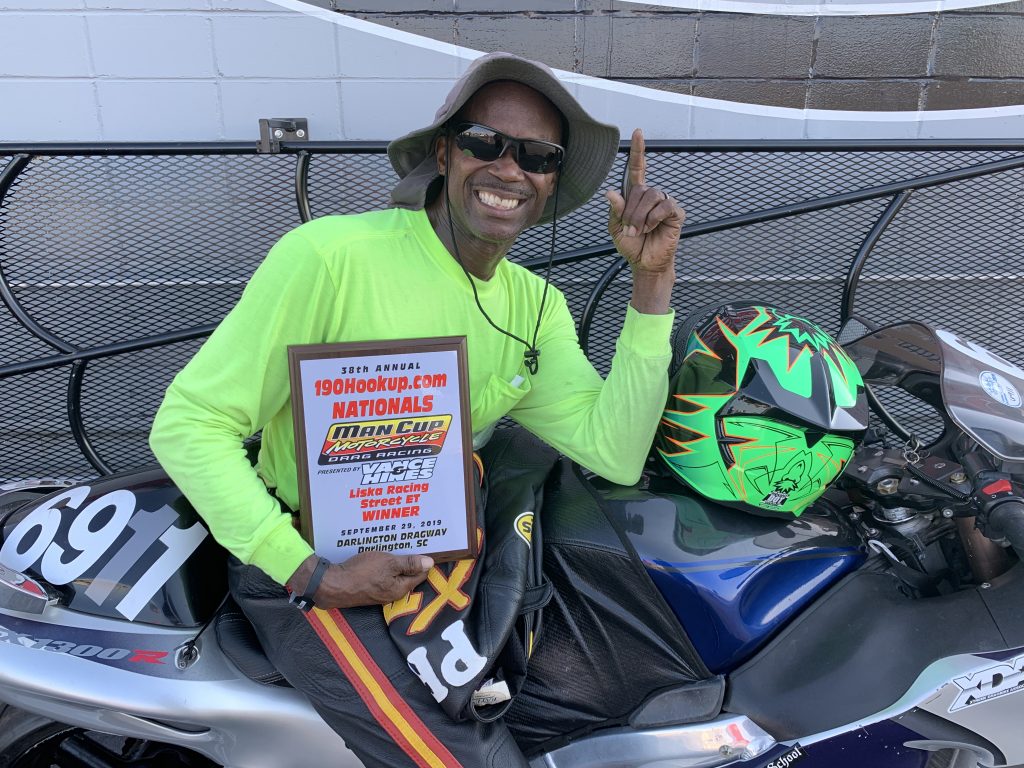 As usual the entertaining and colorful Barry Pryer had the Cycledrag team cracking up all weekend. Among his many other entires, the parts and bike hustler entered a new Gen 1 Hayabusa with "For Sale" written on the front windscreen in Street ET. After Pryer rode the new weapon to a win on the strength of a .015 light in the final he promptly rode back to the winners circle, wiped off the shoe polish message on the front and told everyone the motorcycle was no longer for sale.
Pryer was entertaining the Cycledrag social media followers with his usual smokey, one-handed burnouts. The Virginia-based drag bike fanatic sure knows how to have fun.
The Man Cup series now heads to Steve Earwood's also legendary Rockingham Dragway, Oct 6-7 for the tour's penultimate event.
Enjoy some bonus photos and videos from the weekend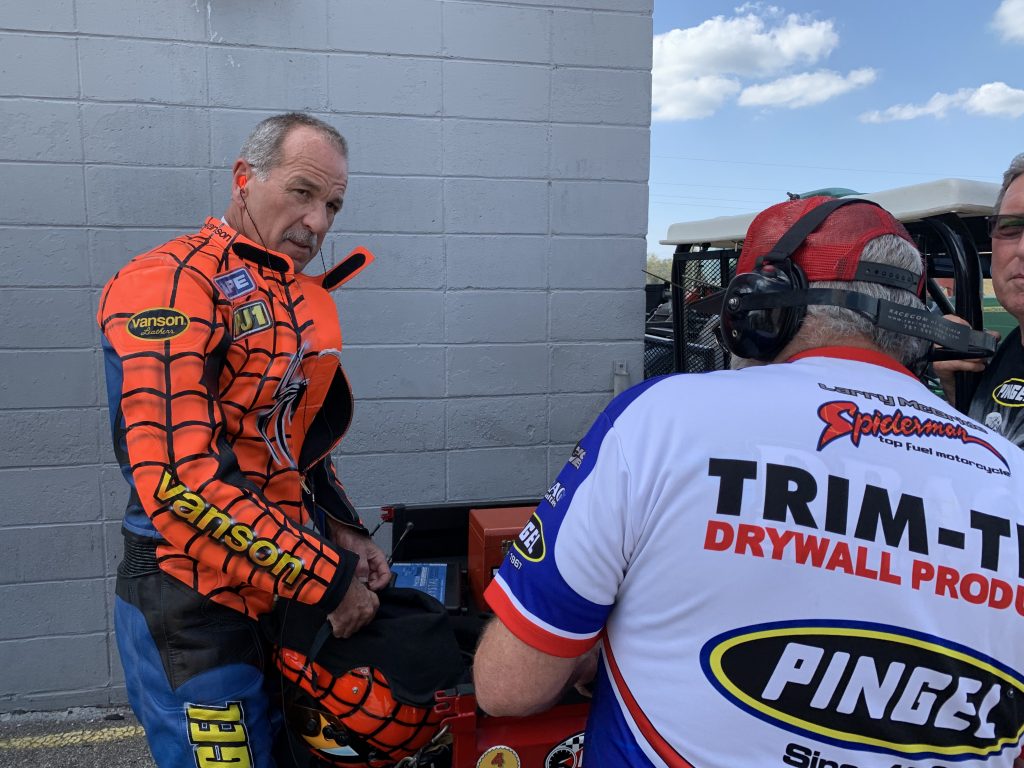 What a special relationship these brothers have. They truly know what one another is thinking.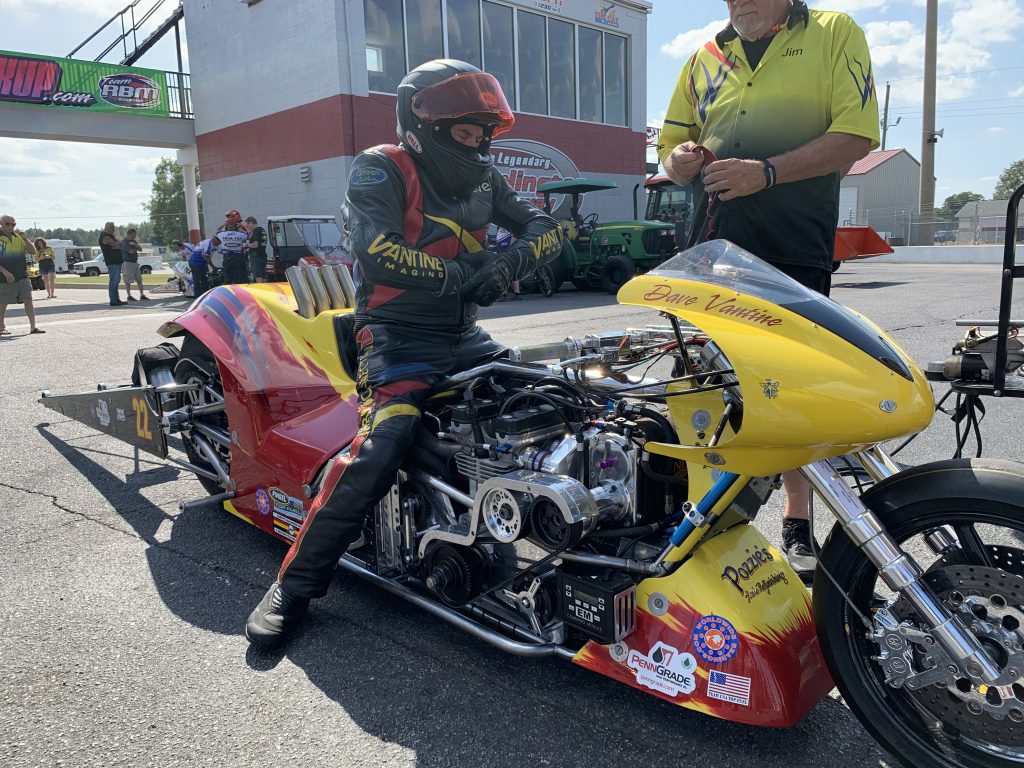 Dave Vanitne continues to impress and make one of the most daunting and challenging classes look easy. Vantine's 3.78 was a career best 1/8th mile. He is the second quickest rider in North America and the fourth quickest in the world.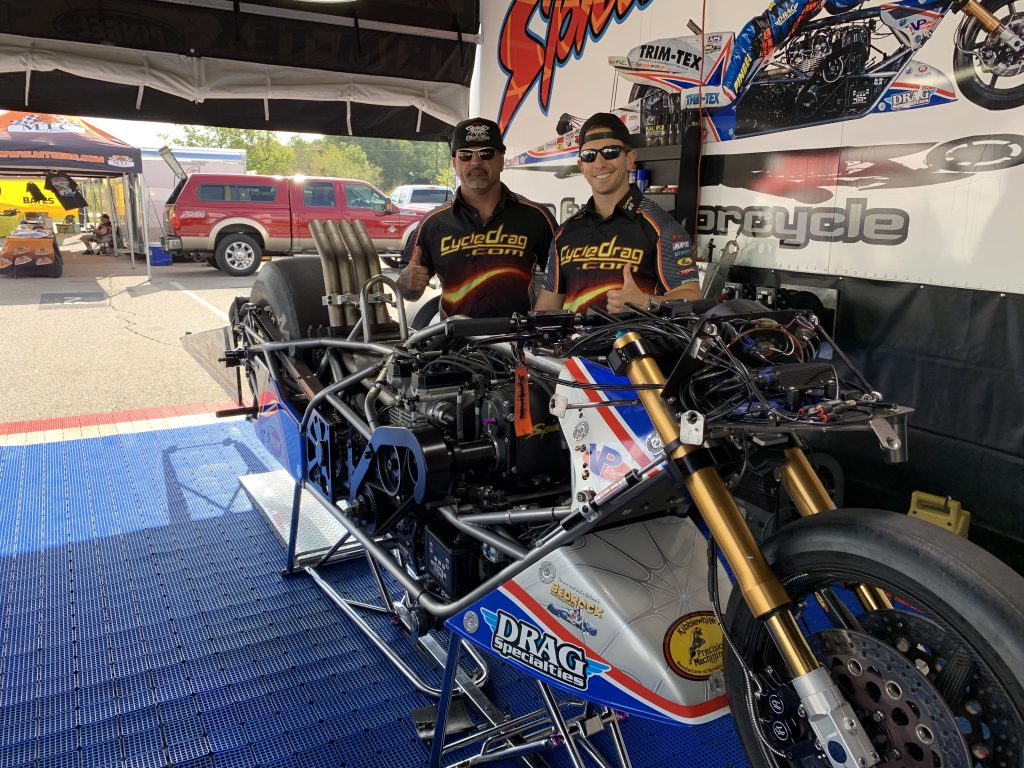 Just a few more days left to get your Cycledrag.com crew shirts at www.prothings.com/cycledrag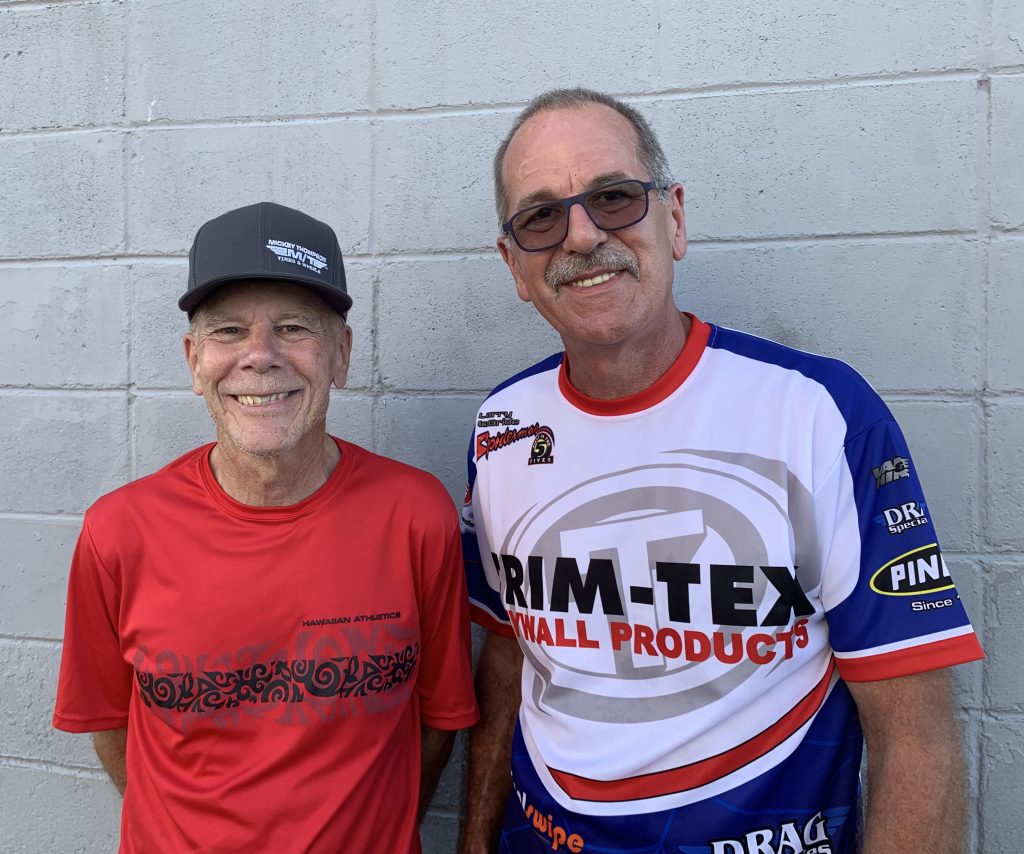 Only about 90 years of racing experience here…..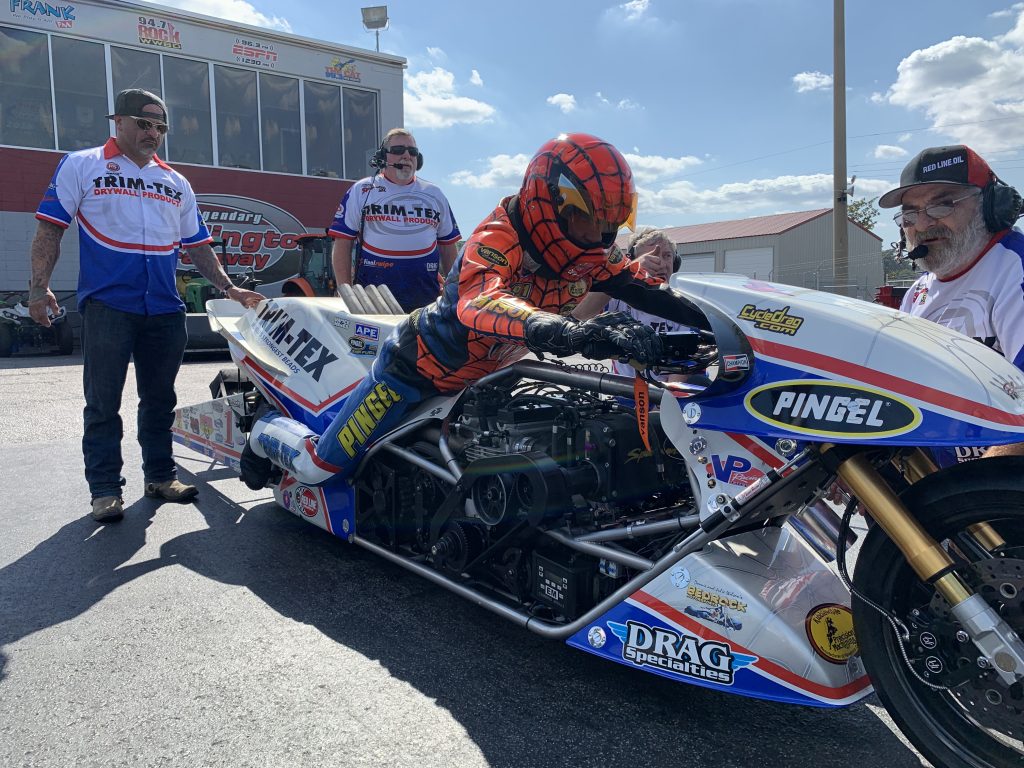 Team Spiderman had their game faces on understanding a loss to Vanitne likely meant dropping out of championship contention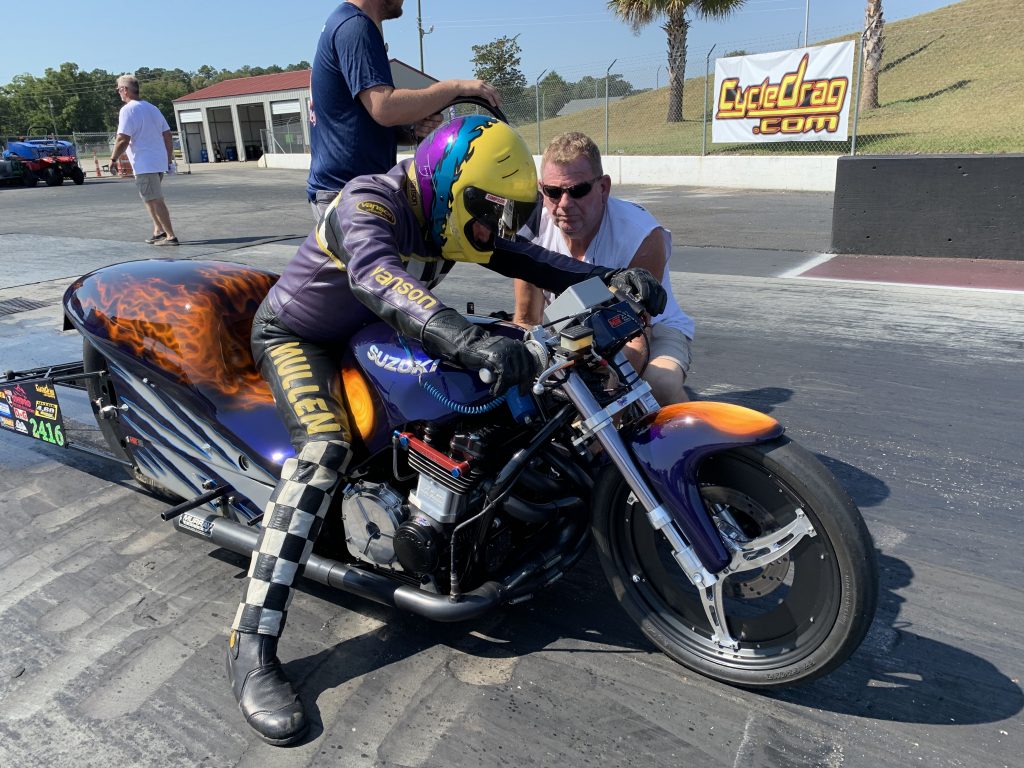 Tony Mullen and his brother put in another solid weekend on the beautiful Bola de Fuego entry.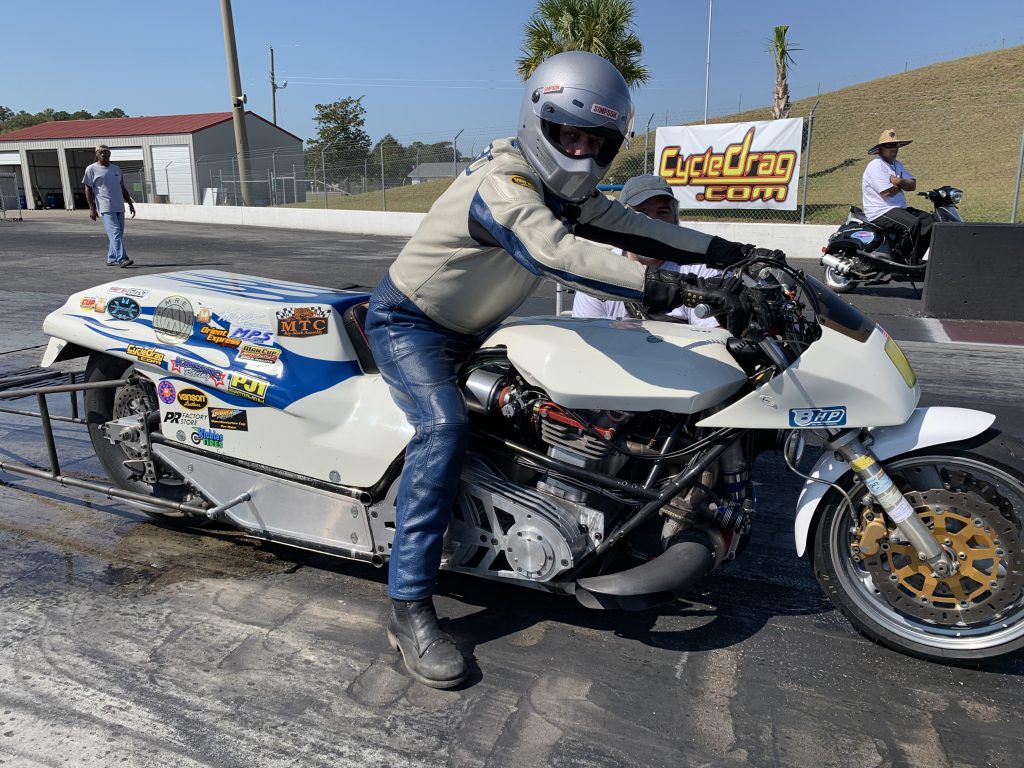 God bless veteran Rob Giard who has suffered a very tough year with the loss of his beloved wife and pets. The talented veteran says it's been a really rough stretch.
It was great to see Giard grinding out the tough times to still make it to the track to be with his racing family.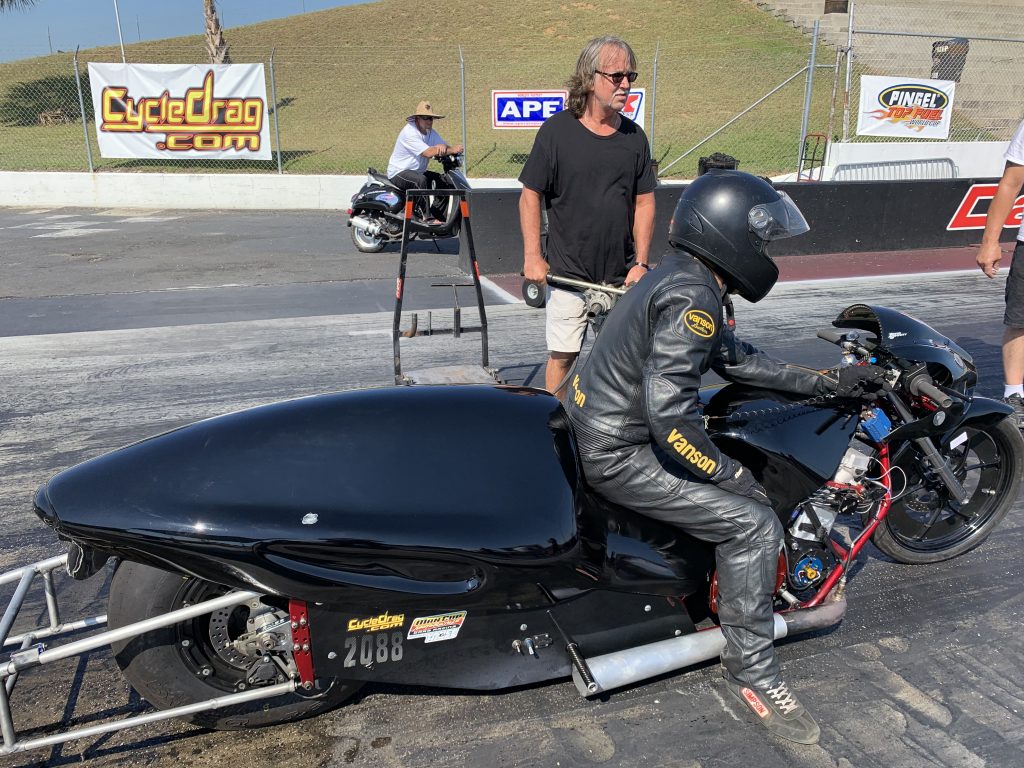 Former Pro Stock racer Mike Chongris continues to improve in Pro Mod and is upholding his reputation as one of the toughest 4.60 racers in the world.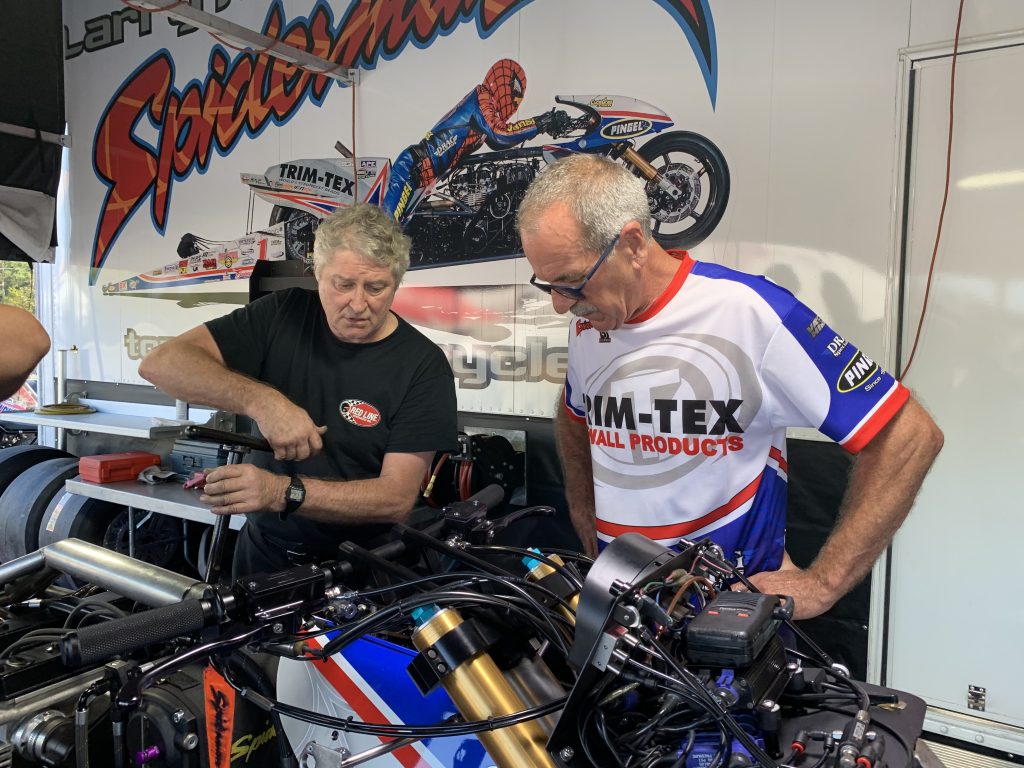 What a luxury for McBride to have the experience of a former Top Fuel racer and U.S. Nationals winner Roland Stuart on his side.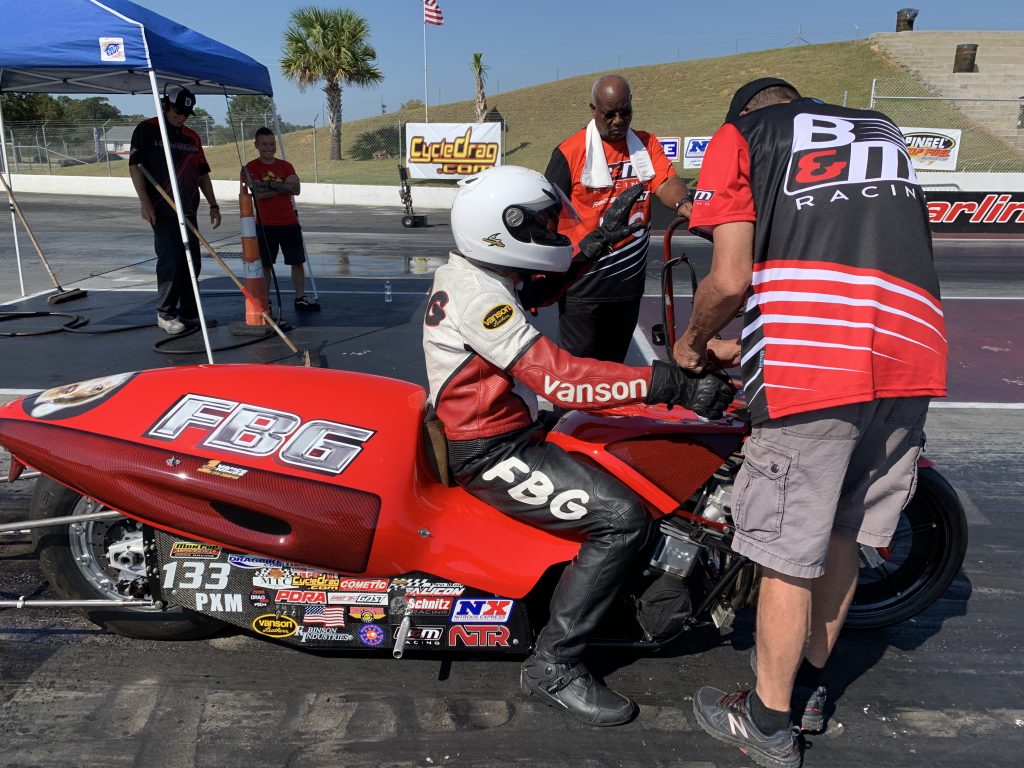 Gast was on-point all weekend. He told Cycledrag in a forthcoming Youtube interview all those years of Pro Stock racing has benefitted him in Pro Mod.
"You want to start with the best engine possible before you add the nitrous," explained Gast, who said he used to dyno for a week to find a quarter horsepower on his Pro Stock Bike.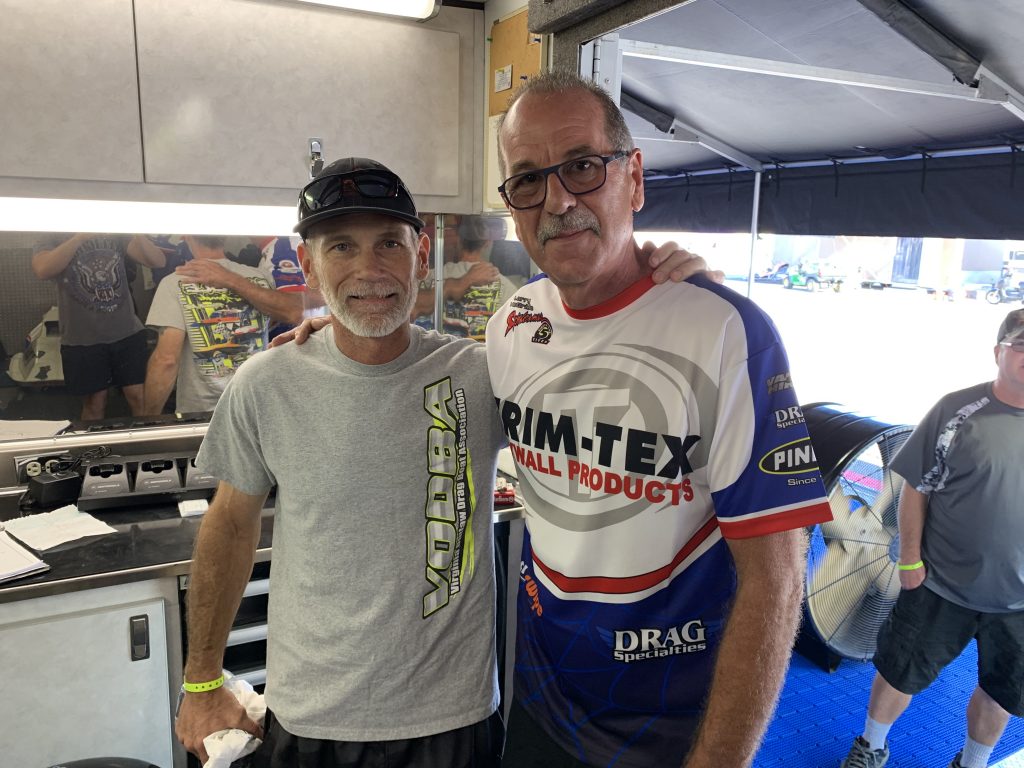 It was great to see former Funny Bike champ and Pro Stock Motorcycle racer Chip Ellis back at the track. Ellis says he is busy at his own shop and is enjoying being off the road.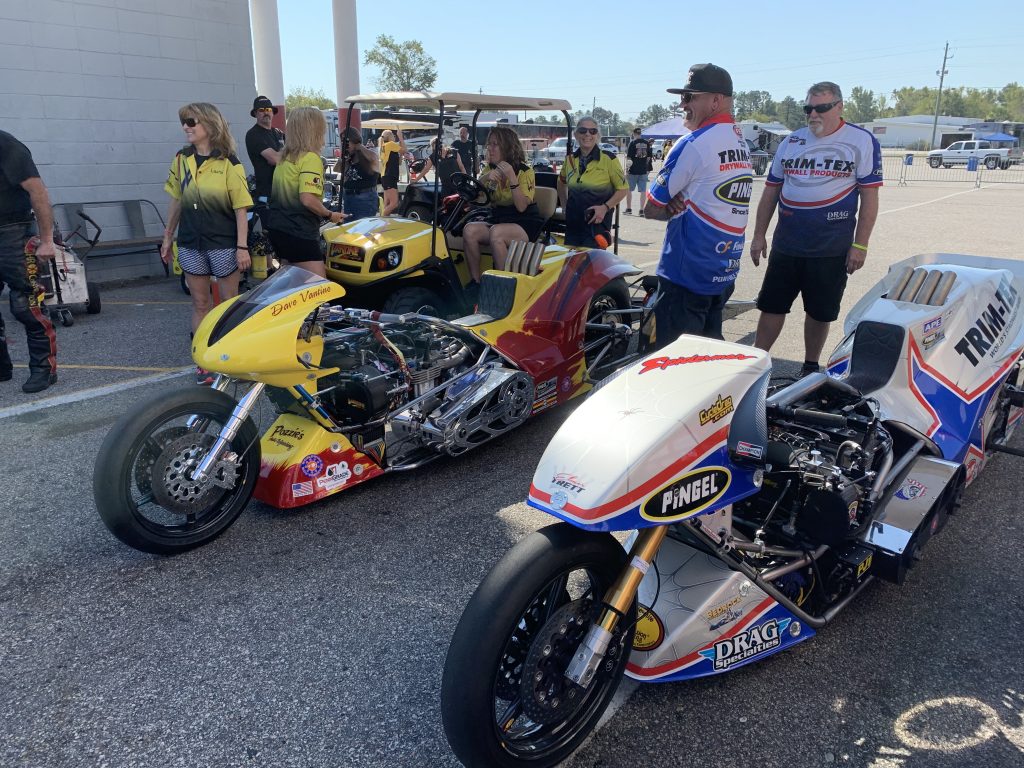 What a titanic showdown, always entertaining.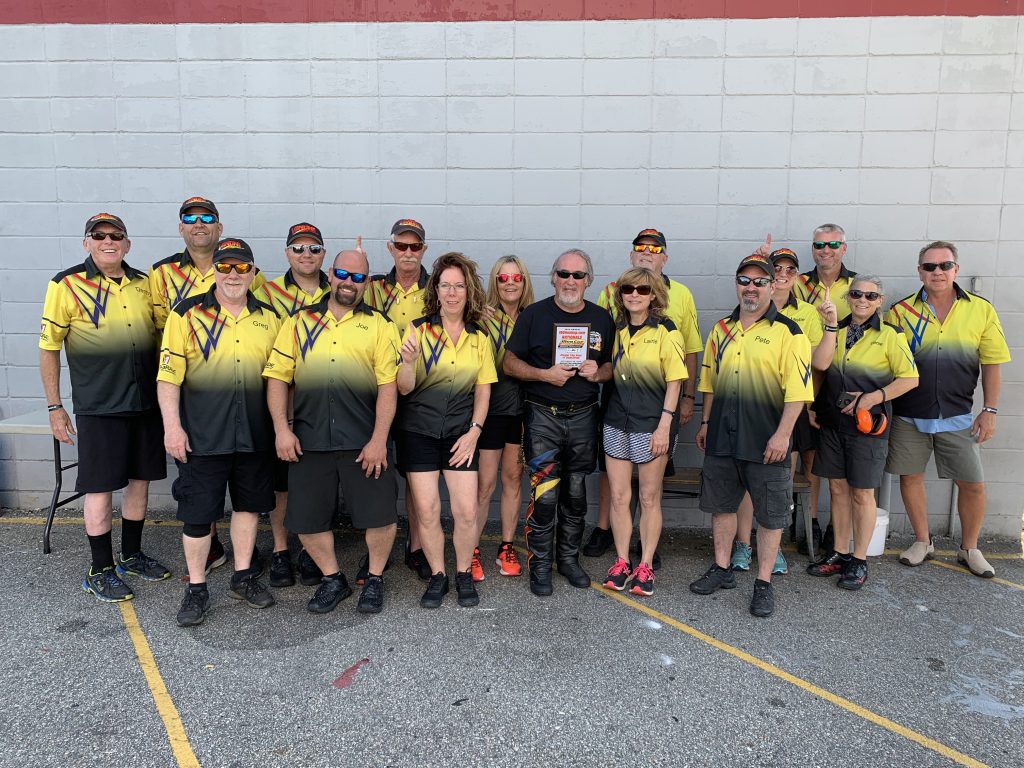 The always well dressed, well represented Team Vantine celebrated the No. 1 qualifying position.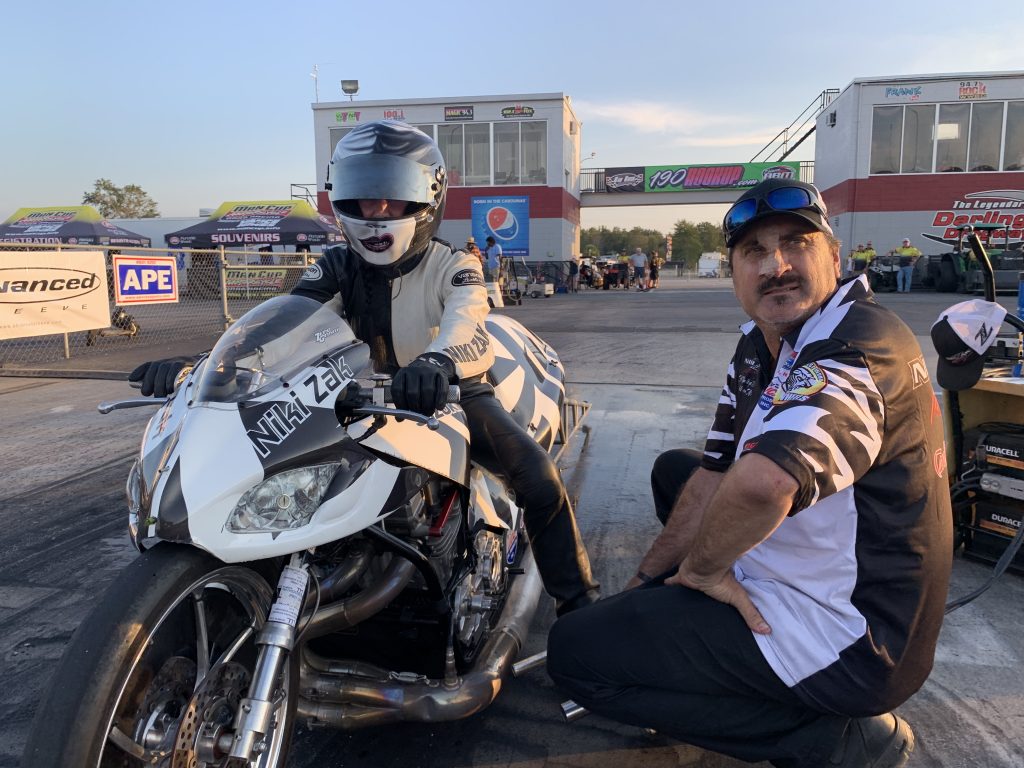 Niki Zak showed great speed and performance, qualifying No. 2 in Pro Open. On Cycledrag.com Facebook she accused DTM and Grothus Dragbikes of conspiring against her by adding Ron Procopio in late Saturday.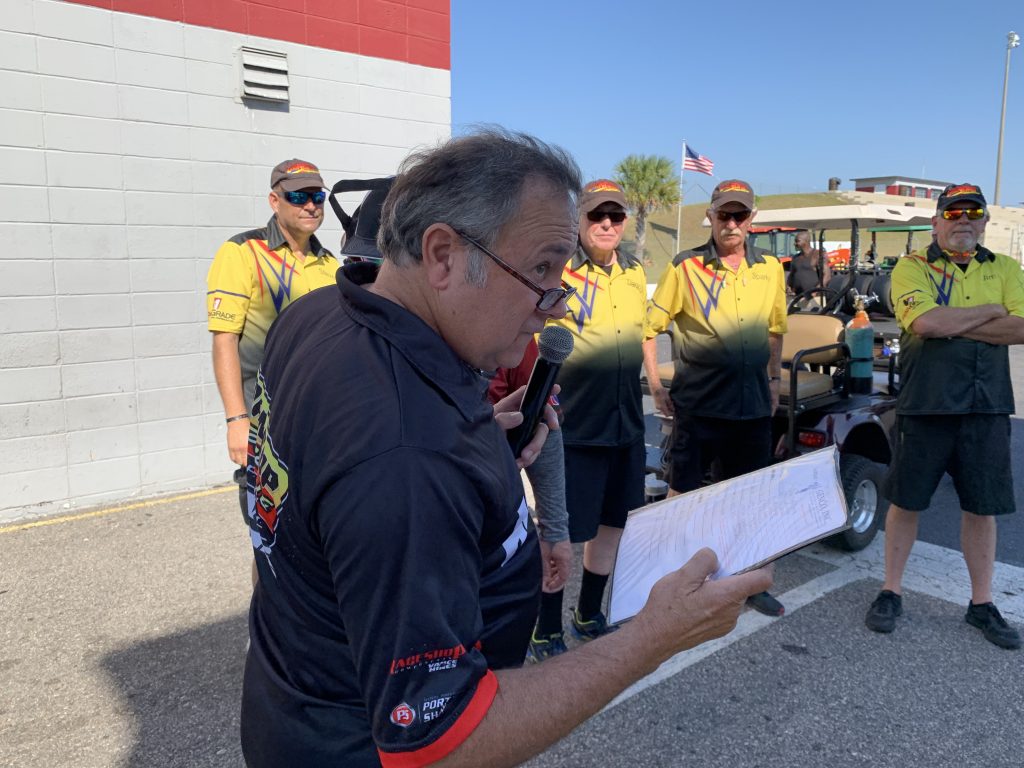 Tom McCarthy and Jay Regan kept racers informed splitting up the announcing duties.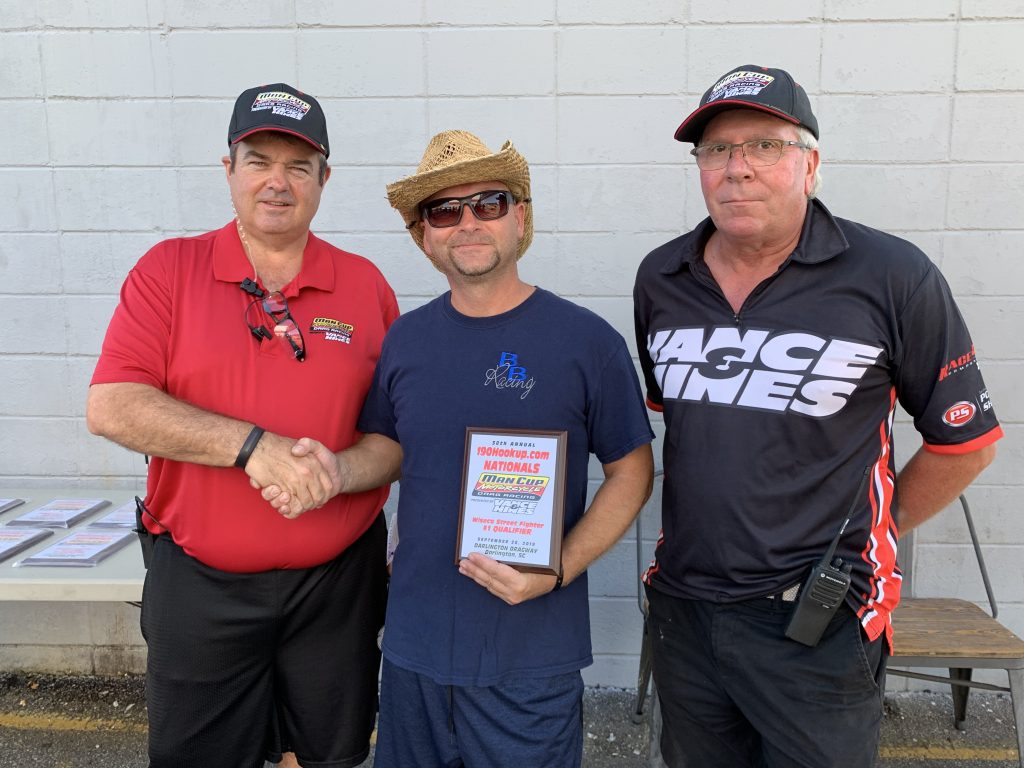 Bob Burt qualified No. 1 in his respective category and showed great consistency. His relative Jeremy "Wildchild" Burt said the rollout at the track threw their team a bit of a curve.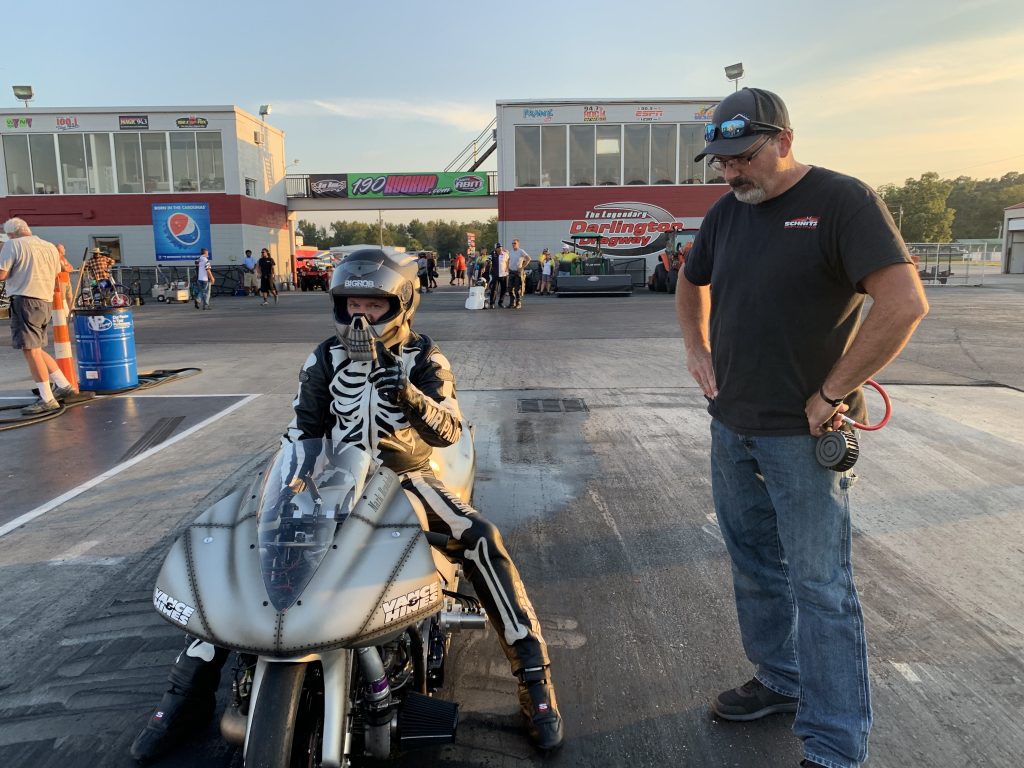 Mark Rendeluk continues to improve on his DME turbo Hayabusa entry. Rendeluk was not pleased with the confusion in the opening round of Pro Open.
There are more videos on the Cycledrag Youtube channel (please subscribe here) and the Cycledrag.com Facebook page (Please like here) and more will be coming soon. Check back daily.
FACEBOOK LIVE COVERAGE