62-year-old, 20-time Top Fuel Motorcycle champion Larry "Spiderman" McBride has been through many hardships throughout his long and storied career. There was the time he nearly lost his life in a high speed, top end crash in Gainesville, Fla. in 1992 or the time he caught on fire and needed a life flight to the hospital in Atco, N.J. in 2015.
Despite those unpleasant memories, such is the case for so many of us, McBride has never experienced a more surreal, perplexing or bizarre situation than the Covid-19 shutdown. Just as the team was ready to begin their season, the racing industry, and the entire world for that matter, came to a screeching halt.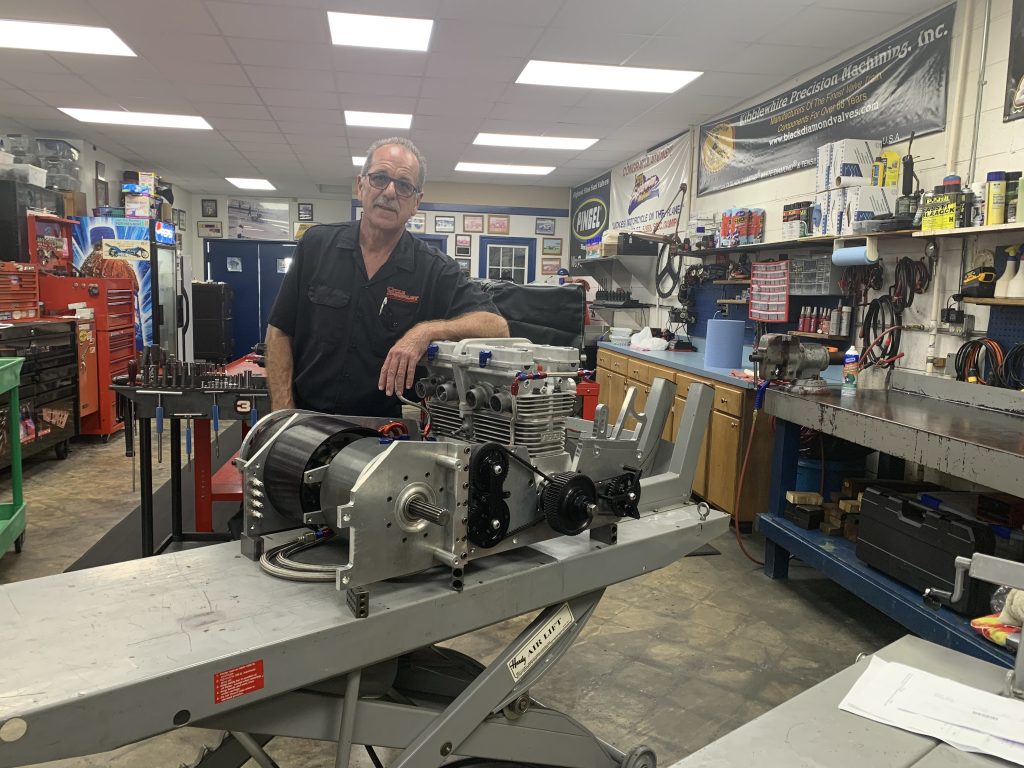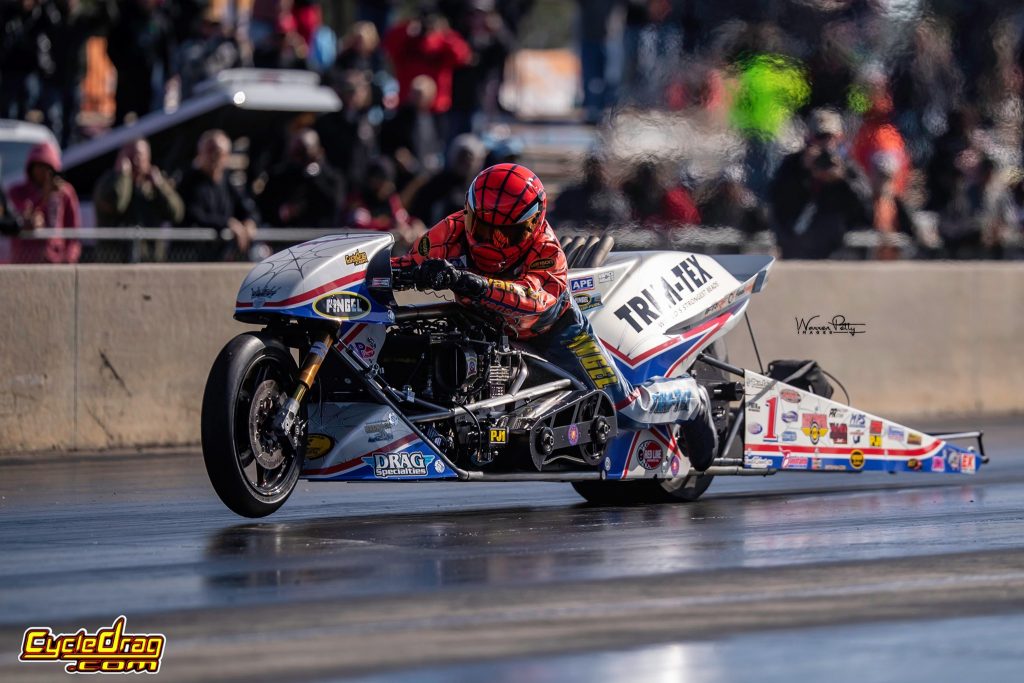 "It's hard to put it into words what this has been like. First and foremost our hearts go out to anyone battling this virus," said McBride. "I have a strange feeling in my stomach about what is going to happen in racing. If we get cleared to race, are we going to have a crowd? How long will it be before we can have one? It's a very confusing time."
For the McBride brothers, racing is their passion and livelihood, and has been for more than four decades. It's all they know.
McBride, holder of a 5.50, 264 mph world record time ticket, has been passing the time in his Newport News, Va. speed shop Cycle Specialist with his brother Steve finishing up the sand dragger of Jeff Guillot and the new Top Fuel Motorcycle builds of Jimmy "Hulk" Brantley, Dave Vantine and Athol Williams.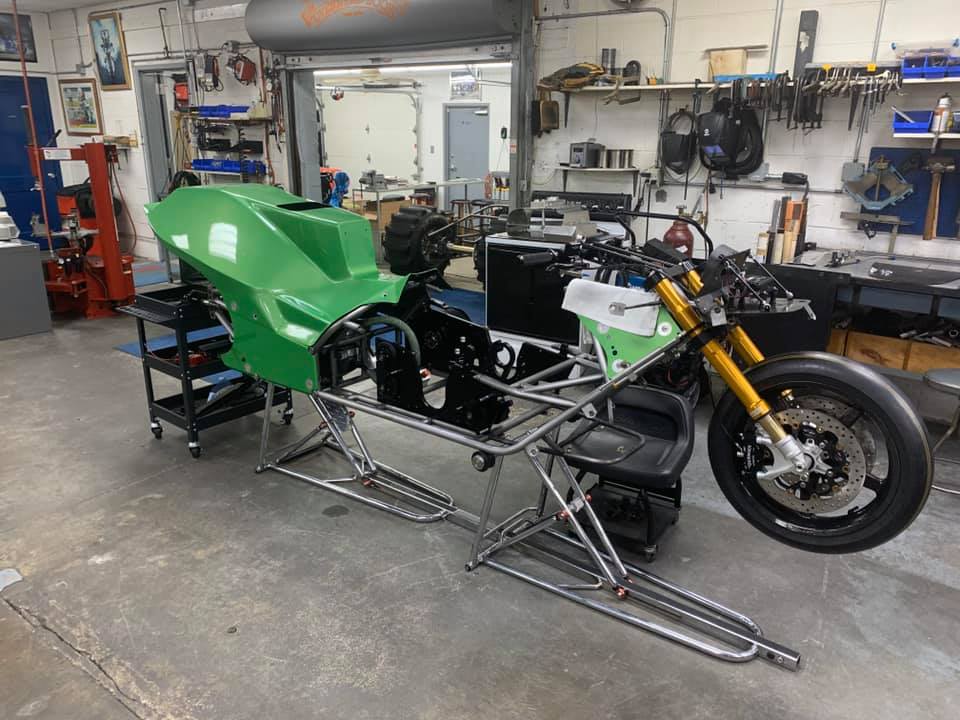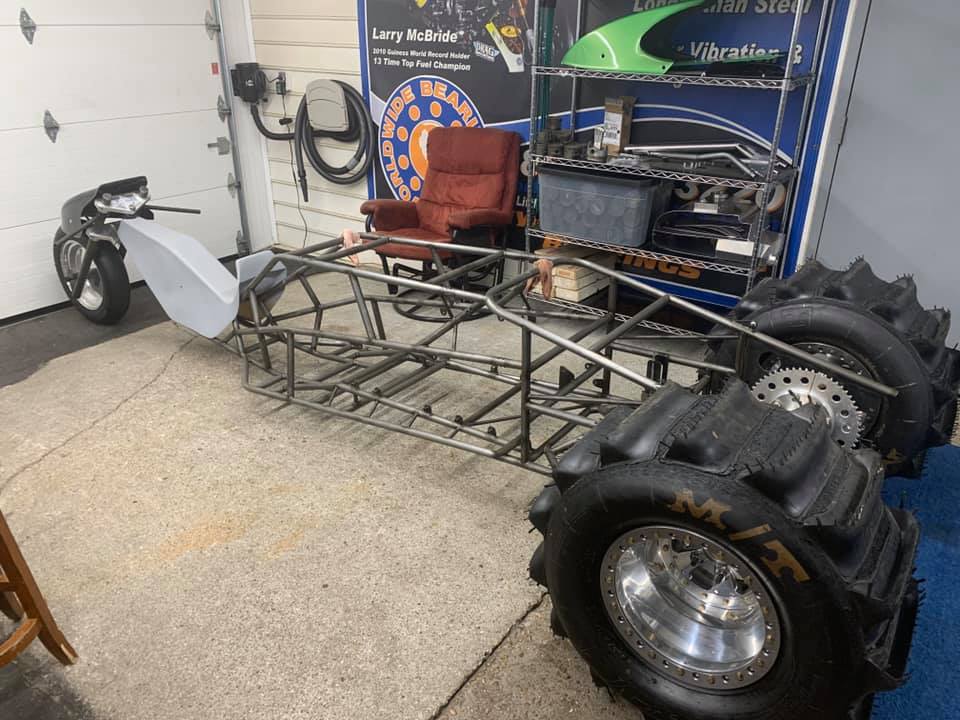 Social isolation has been difficult for many. For decades McBride's shop becomes a local happy hour spot around 6 pm for friends who want to lend a hand, check in on the progress of the team, or simply do a little bench racing.
For now, it's just the McBride brothers, intermittent machine noise, and classic rock on the speakers for about 12 hours a day.
"It's been hard not seeing all my buddies but we have been putting our time to good use," McBride said. "We have been putting in about 12 hours a day catching up on work. The projects we have to finish have been a nice distraction."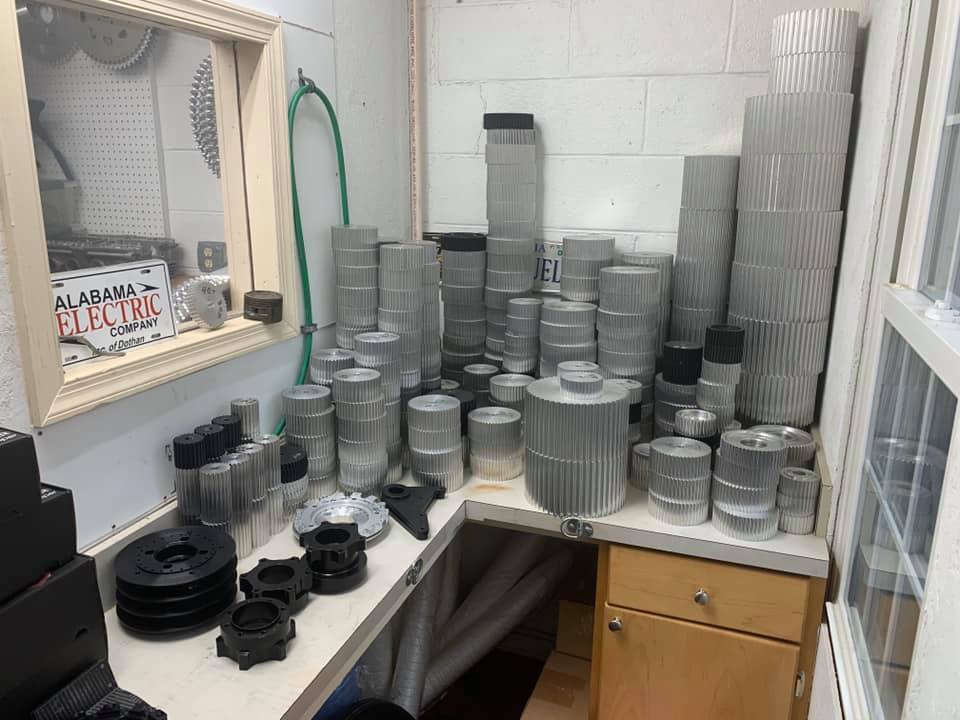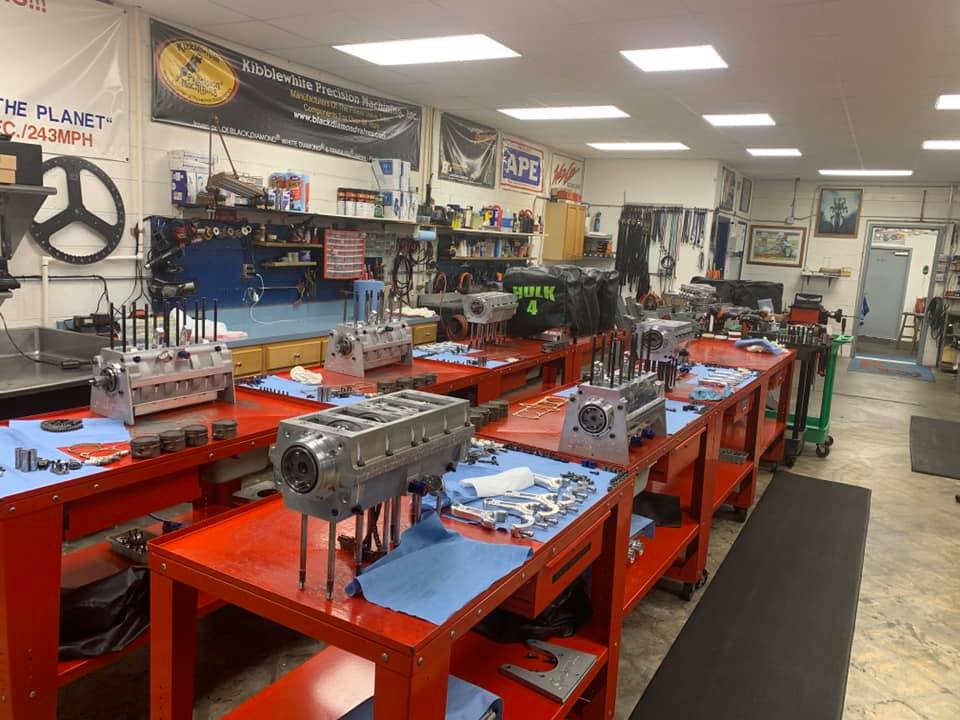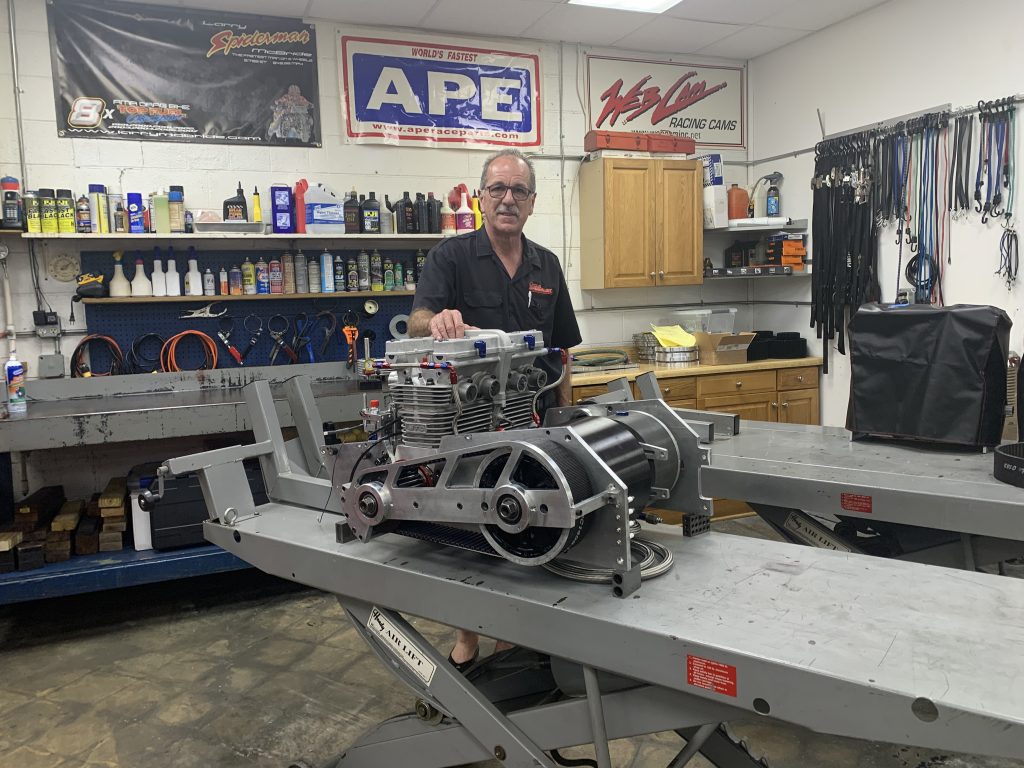 McBride is uncertain when he will be able to compete again but takes solace in how his last race, the 2019 Man Cup World Finals, where he ran a career best and won a 20th title, was what he calls the second greatest race of his career, behind only the 1999 NHRA race in Houston, Tx., where he became the first drag bike racer to run a five-second pass.
"It's nice to have those memories, but I'm eager to get back," McBride said.
Potentially, McBride's next race is the Man Cup Spring Cup at South Georgia Motorsports Park in Valdosta, Ga., May 1-3, 2020 . McBride says he will go if the race is on but many have raised serious doubts about whether officials will allow the event to take place.
"If you go off the news, I don't know," McBride said. "As bad as I want to say heck yeah, I don't know. It could be too soon."
The events already canceled in May were a dejection for the team. McBride was slated to make his return to the NHRA for the first time in about 20 years, for a match race with Dave Vantine at the Atlanta and Virginia races. Both of the races were cancelled and not rescheduled.
"It ripped our hearts out," McBride said.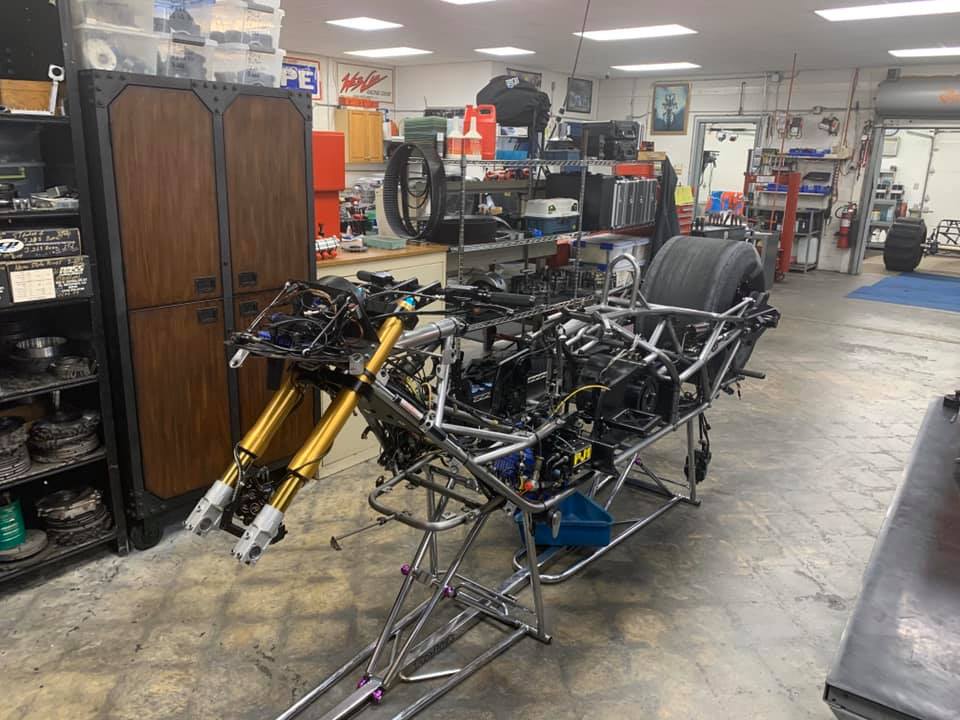 There is good news on the horizon though as McBride, Vantine, and Cycledrag are in talks with NHRA about possible replacement races this season. More news to come on that soon on Cycledrag.com.
McBride and his colleagues are also still slated to compete in an opportunity of a lifetime, a special motorcycle shootout at one of the biggest drag races in the world, the Norwalk Night Under Fire, August 8th, 2020 at Summit Motorsports Park. It's an event that attracts more than 40,000 fans and is a coveted opportunity for the entire field.
"We are really pumped up about that. It's an amazing opportunity so hopefully things get worked out by then," McBride said. "I have my fingers crossed that we will be able to get back to normal by August."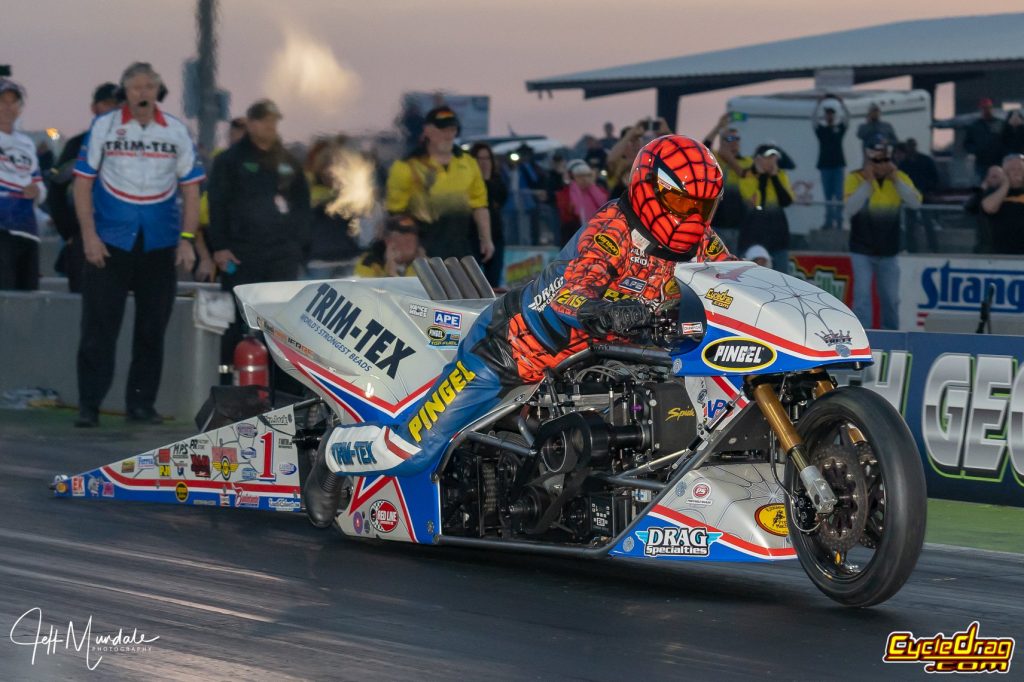 2019 was a season like McBride had never experienced, walking away with a 2oth championship title and a new world record.
2020 has already been more memorable and it's not even half way through.
Stay safe, stay healthy, stay positive, and we will be back to what we love soon.
In the meantime enjoy all the videos on the Cycledrag Youtube channel (please subscribe here) and the Cycledrag.com Facebook page (Please like here) to get your racing fix in these tough times. More will be coming soon. Check back daily.
For all the continued support McBride thanked his primary sponsors; Trim-Tex Drywall Products, Pingel Enterprise, Drag Specialties-Parts Unlimited, Final Swipe Merchant Services, Web-Cam, APE, Donnie and Julie Wilson and Kibblewhite Precision Machining.
Vance & Hines Motorsports, Red Line Synthetic Oil Corporation, Federal Mogul, PR Factory Store, Ferrea Valves, World Wide Bearings, Vanson Leathers, Belt Drives Ltd, Simpson Race Products, Nitrous Express, EK Chain, Arias Pistons, Cometic Gaskets, B&J Transmission, Carolina Cycle, L.A. Sleeve, PJ1, Mickey Thompson Tires, Valco, Goodridge, Carlisle Belts, ProJack, Bullseye Visual, Gates Belts and Cycledrag.com