The 34th annual AAA Texas NHRA Fall Nationals belonged to the Gator Man.
Pro Stock Motorcycle's Jerry Savoie went 6.881 at 195.90 in the final round on his White Alligator Racing Suzuki to knock off Eddie Krawiec and claim his third win in 2019. It is his 12th career win. Savoie also earned his second win in the Countdown to the Championship, closing to within 94 points of leader Andrew Hines heading into the final two events. Savoie reached his fifth straight final in Dallas with wins against Jianna Salinas, Karen Stoffer and Hines, picking up a key victory against the points leader before knocking off Krawiec in a pivotal final round.
"It was a great day and we knew we had a good bike coming in," Savoie said. "We said if we held our composure we could win this thing. For the most part, tracks favor certain riders and we've been blessed here. It's a great place and today was great. Bottom line, I want a championship just as bad as anybody else, so whoever is in my way I'm going to do everything I can to try and beat them. I felt good and we've got a great team. To me, this win gives you more hope and means a lot. This gives you that window of opportunity where you could win a championship again."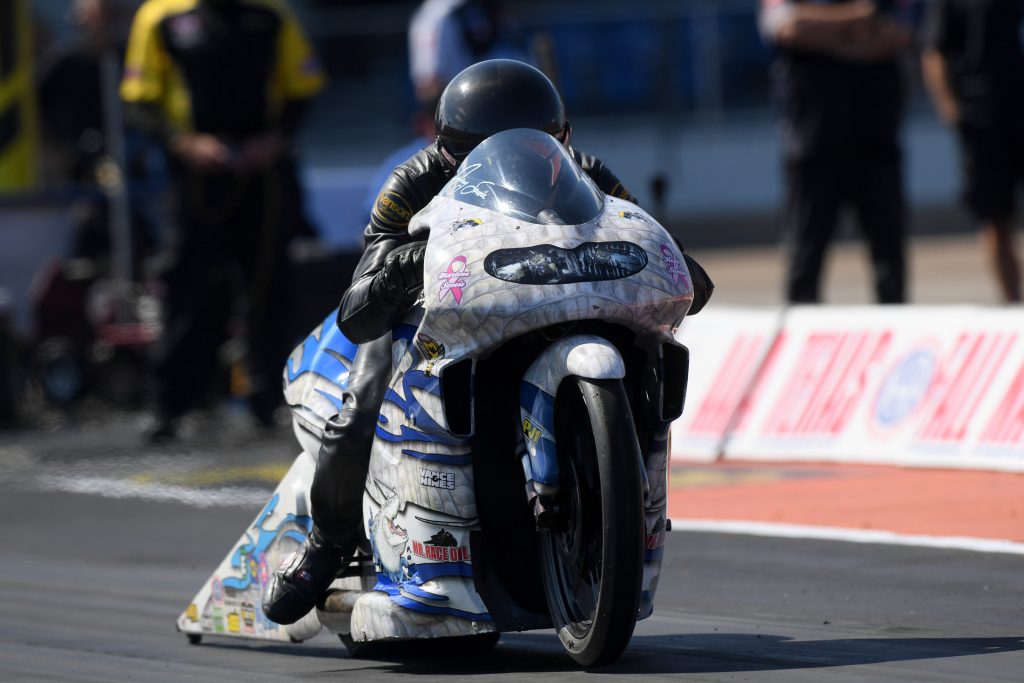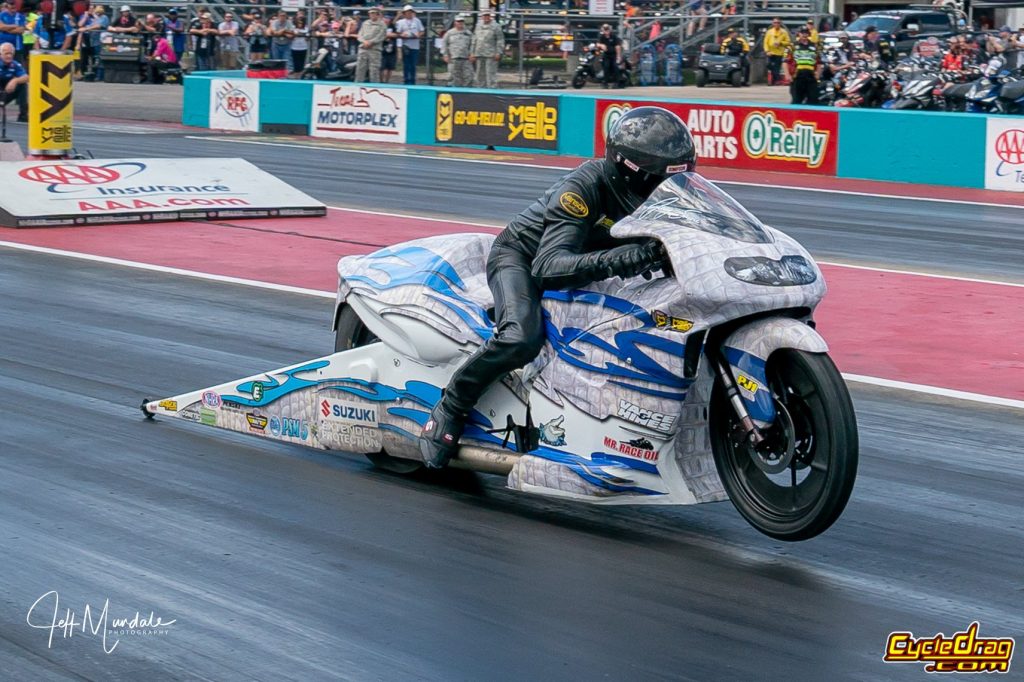 Krawiec reached his 47th final round thanks to wins against Ryan Oehler, No. 1 qualifier Matt Smith and Angelle Sampey. The three-time world champ remains winless in his last 10 final-round appearances dating back to last season. Hines' points lead also grew to 81 over Stoffer.
The Mello Yello Drag Racing Series continues Oct. 31-Nov. 3 with the fifth of six races in the Mello Yello Countdown to the Championship playoffs, the Dodge NHRA Nationals presented by Pennzoil at The Strip at Las Vegas Motor Speedway.
ROUND ONE — Eddie Krawiec, Harley-Davidson, 6.912, 195.34 def. Ryan Oehler, 6.901, 196.33; Karen Stoffer, Suzuki, 6.863, 196.67 def. Angie Smith, 6.910, 195.65; Andrew Hines, Harley-Davidson, 6.885, 194.46 def. Hector Arana Jr, 6.933, 193.52; Angelle Sampey, Harley-Davidson, 6.903, 190.89 def. Hector Arana, Foul – Red Light; Scotty Pollacheck, 6.898, 194.21 def. Kelly Clontz, Suzuki, 6.955, 192.08; Steve Johnson, Suzuki, 6.849, 194.21 def. Michael Ray, 7.209, 155.76; Jerry Savoie, Suzuki, 6.827, 196.10 def. Jianna Salinas, Suzuki, 8.231, 104.03; Matt Smith, 6.837, 197.33 was unopposed;
QUARTERFINALS — Sampey, 6.914, 193.93 def. Pollacheck, 6.918, 194.16; Hines, 6.921, 194.58 def. Johnson, 6.889, 194.35; Krawiec, 6.899, 195.76 def. M. Smith, 6.935, 196.24; Savoie, 6.857, 196.44 def. Stoffer, 6.900, 196.07;
SEMIFINALS — Krawiec, 6.957, 195.48 def. Sampey, 6.989, 190.35; Savoie, 6.877, 195.76 def. Hines, 6.991, 191.51;
FINAL — Savoie, 6.881, 195.90 def. Krawiec, 6.901, 195.62.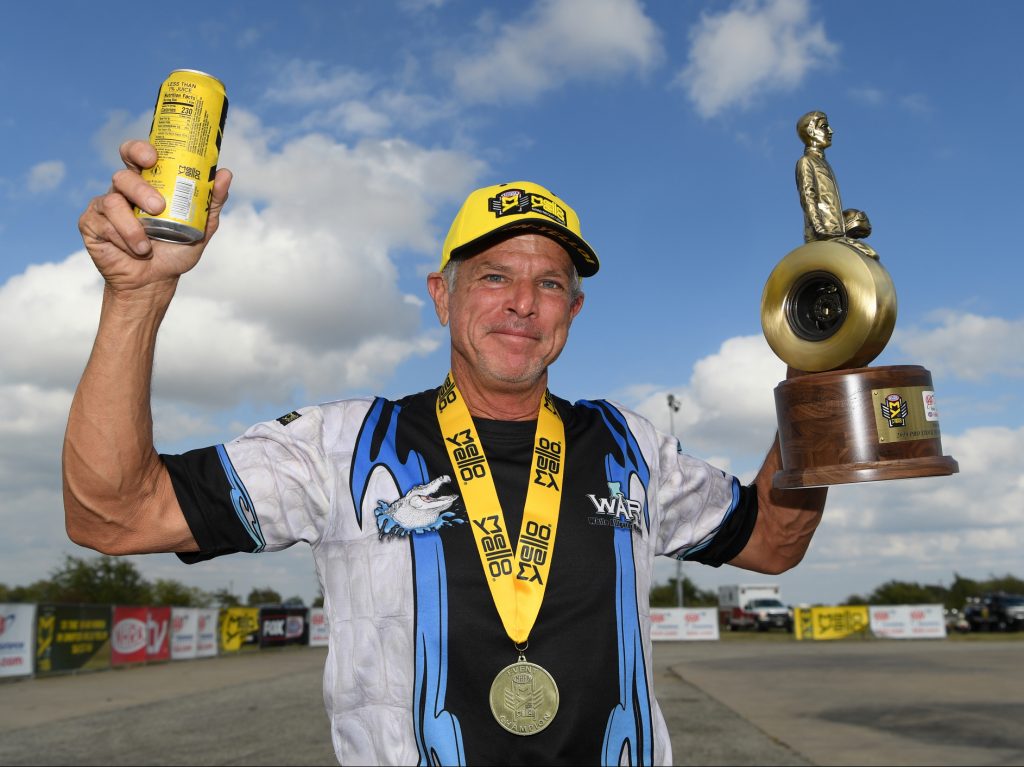 Point standings (top 10) following the 34th annual AAA Texas NHRA FallNationals at Texas Motorplex, the 22nd of 24 events in the NHRA Mello Yello Drag Racing Series –
1. Andrew Hines, 2,464; 2. Karen Stoffer, 2,383; 3. Jerry Savoie, 2,370; 4. Eddie Krawiec, 2,365; 5. Matt Smith, 2,297; 6. Hector Arana Jr, 2,274; 7. Angelle Sampey, 2,248; 8. Angie Smith, 2,181; 9. Ryan Oehler, 2,159; 10. Hector Arana, 2,128.
There are more videos on the Cycledrag Youtube channel (please subscribe here) and the Cycledrag.com Facebook page (Please like here) and more will be coming soon. Check back daily.