Rebounding from disappointing losses at the last two races, Gaige Herrera reclaimed his Pro Stock Motorcycle championship-leading form to put his Vance & Hines/Mission Suzuki Gen 3 Hayabusa back into the winner's circle at the NHRA Mile-High Nationals at Bandimere Speedway in Morrison, Colorado, on Sunday.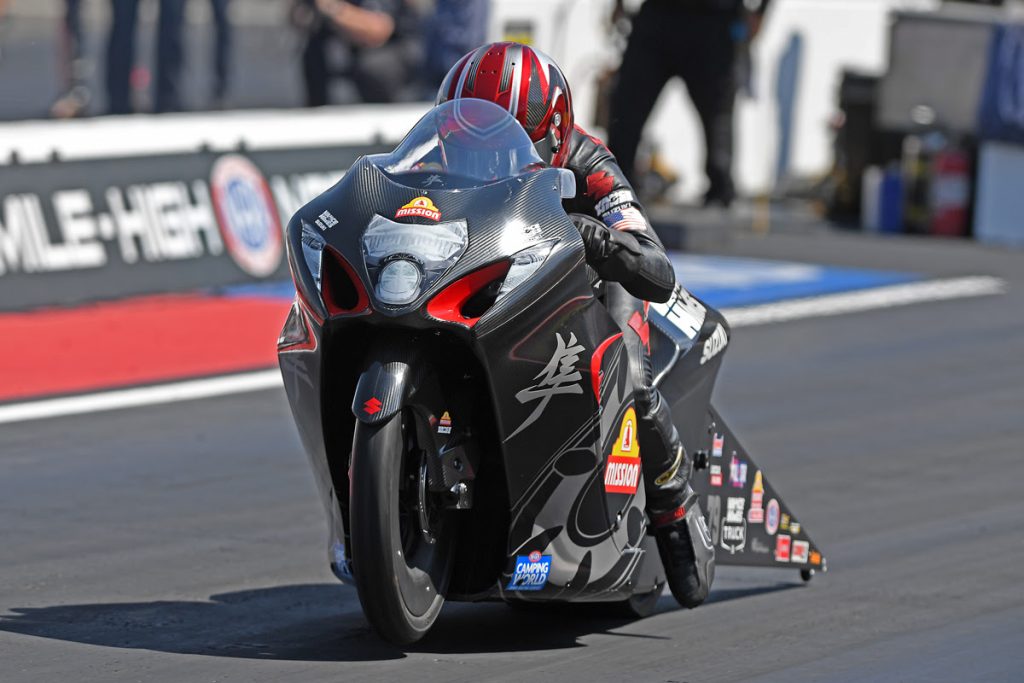 Gaige Herrera qualified third and won his fourth race of the season, becoming the final Pro Stock Motorcycle class winner at Denver's legendary Bandimere Speedway.
Eddie Krawiec qualified fifth and advanced to a second-round loss.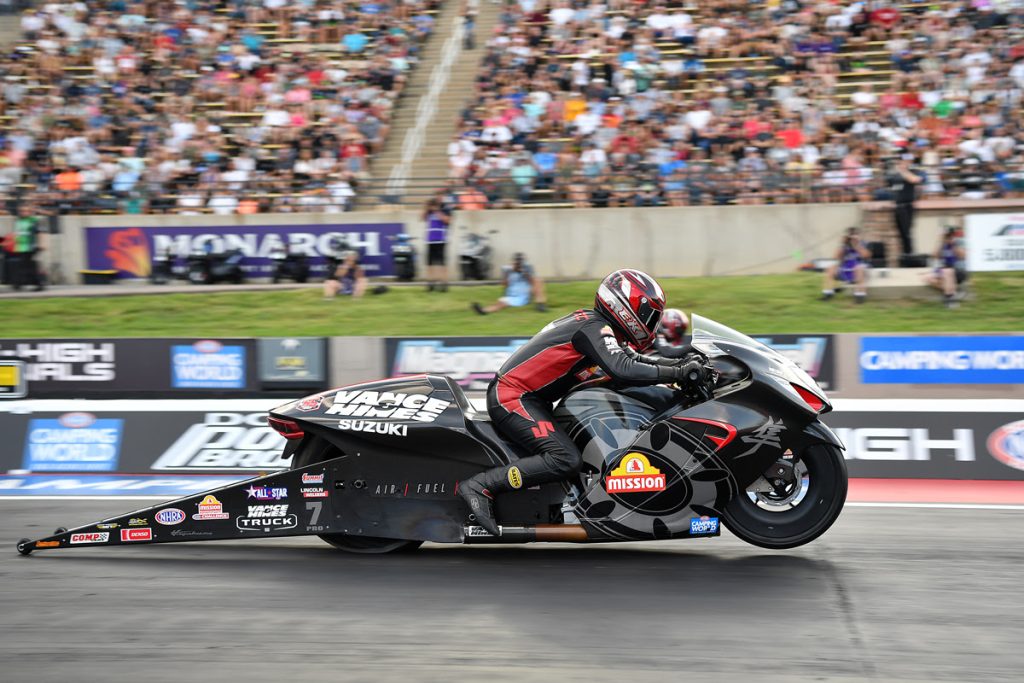 Gaige Herrera (79) collects his fourth win of the season aboard his Gen3 Hayabusa.
After qualifying third with a 7.123-second/187.39 mph run, Herrera entered Sunday's elimination rounds in his lowest starting position of the season, but it didn't stop him from carving his way through the field to claim a fourth win of the season. The victory puts him into the record books as the final Pro Stock Motorcycle class winner at Bandimere Speedway, also known as the Mountain, which is closing following the race after more than 40 years of hosting NHRA national events.
Herrera improved on his qualifying time in round one, making a 7.098-second/187.91 mph pass to advance past Chris Bostick, who fouled on the starting line. Facing tough matchups in rounds two and three against Matt Smith and Chase Van Sant, Herrera proved that a series of setbacks that cost him potential wins in the past two races are firmly in his rear-view mirror.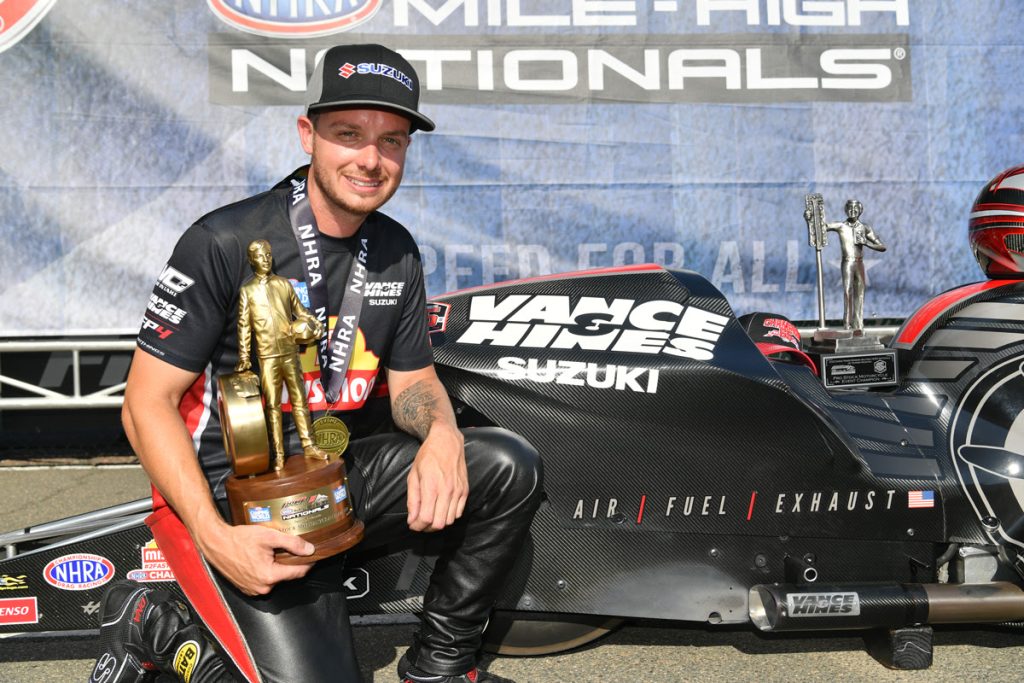 Against Smith in round two, Herrera displayed the sharp reaction times and icy nerves that have vaulted him to the top of the class in his rookie season by posting a 7.143-second/186.72 mph pass to edge past the reigning class champion's 7.190-second/186.43 mph pass. In the third round, he knocked out number two qualifier Van Sant (7.166 seconds/187.73 mph) with a 7.109-second/187.73 mph pass to advance to his fifth final-round appearance in six races this season. In the final round, Herrera defeated Angie Smith, who fouled at the start, for the second time this season with a 7.103-second/187.73 mph run.
"We had our work cut out for us after qualifying, but the whole Vance & Hines team worked hard all weekend and I felt I rode very consistently. To come out on top and add my name to the list of winners from the Vance & Hines team here is amazing," Herrera said. "It's a shame the track is closing because it's an amazing facility. This is one race I really wanted to win, and I can't believe I did it."
After the final race at Bandimere Speedway, Eddie Krawiec (7) is looking forward to the next race in Kent, Washington.
Krawiec qualified in the fifth starting position with a 7.134-second/188.81 mph run on Saturday and opened eliminations with a 7.148-second/188.12 mph victory over Steve Johnson (7.309 seconds/182.50 mph) in the first round. He failed to advance out of the second round on a holeshot loss to Angie Smith, despite making a quicker 7.176-second/187.94 mph run compared to her 7.217-second/186.10 mph pass.
As a multiple winner at Bandimere, Krawiec was especially disappointed to leave the final event at Bandimere in frustration.
"I have four wins here and I wanted to leave with a win. I have a great motorcycle. My Suzuki Hayabusa is consistently fast on every run. But when you are doing 20s on the tree during qualifying, there is no excuse to be that late on race day," Krawiec said. "It's a mental thing that seems to be affecting me most in the second round. I have to overcome it, and when I do, there will be great results."
For Vance & Hines/Mission Suzuki crew chief Andrew Hines, who grew up in Colorado and began his professional career as a Pro Stock Motorcycle rider at Bandimere, the win was an emotional victory.
"I was super nervous in that final round because you don't know when something might not go your way and I wanted everything to be on our side. With the altitude and thin air here, running four-cylinder engines is not easy. The weather changed enough that it threw some people off, but our team persevered through the heat and delivered a flawless motorcycle to the starting line. Gaige's run in the first round is the only 7.0-second run ever by a Suzuki up here on the Mountain," Hines said. "It's a testament to what Vance & Hines and Suzuki have built through the years. To have Gaige join Eddie and me as a winner up here on the Mountain is special. This track was our home for 10 years. It's great to bring home the last win here for Vance & Hines and Suzuki, but I'm excited to get back to sea level next weekend."
After six of 15 rounds, Herrera and Krawiec currently sit first and fifth in the Pro Stock Motorcycle championship standings with 682 and 384 points, respectively.
The Vance & Hines/Mission Suzuki team is back in action July 21-23 at the Flav-R-Pac NHRA Northwest Nationals at Pacific Raceways in Kent, WA.
There are more videos on the Cycledrag Youtube channel (please subscribe here) and the Cycledrag Facebook page (Please like here) and more will be coming soon. Check back daily.
To take advantage of some amazing discounts at Brock's Performance, click – http://brocksperformance.com?aff=12
USE cycledrag5 coupon code.