For the third-straight race, Vance & Hines/Mission Suzuki teammates Gaige Herrera and Eddie Krawiec faced off in the final round, with Herrera once again prevailing to win his 10th race of the season at the NHRA Nevada Nationals at The Strip at Las Vegas Motor Speedway in Las Vegas, Nevada.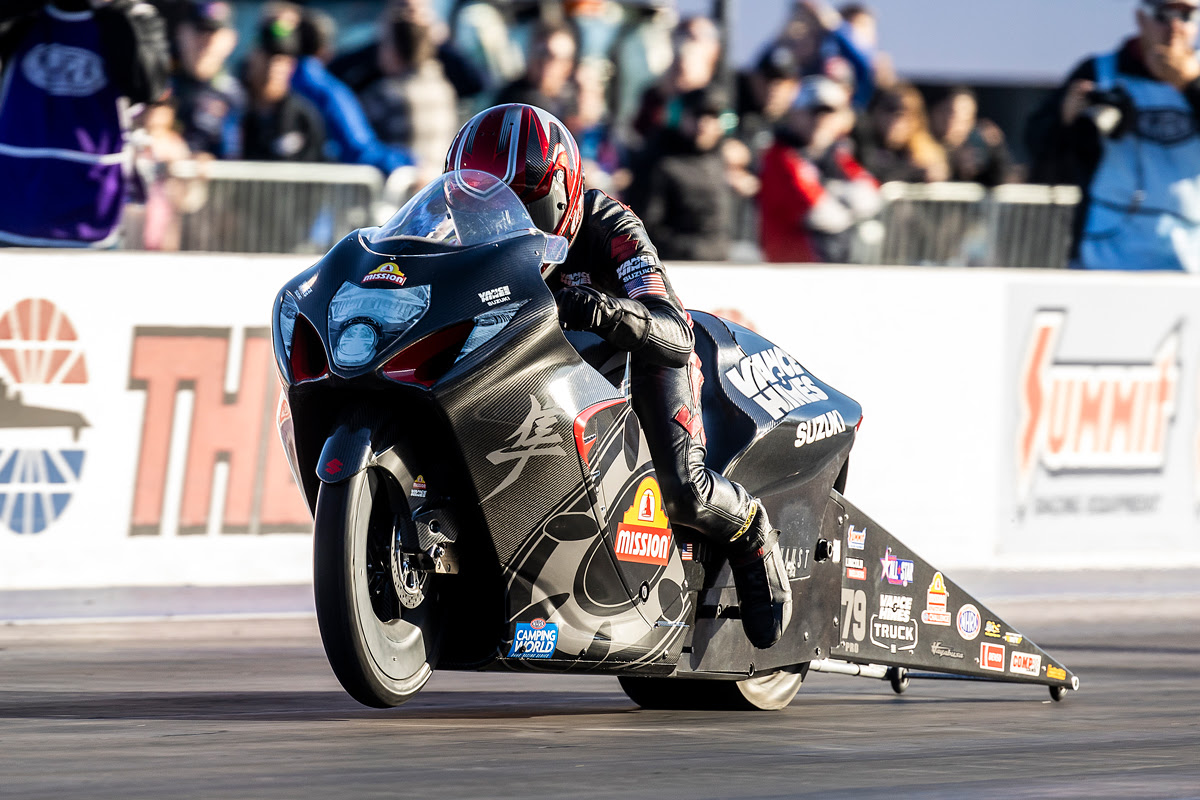 In what has become a familiar refrain, Herrera qualified his Gen 3 Suzuki Hayabusa in the number-one starting spot for the 13th time in 14 races this season, set a new Las Vegas track elapsed-time record with a 6.760-second/199.82 mph run on Saturday, and advanced to the finals with a dominant march through Sunday's elimination rounds.
Herrera advanced on a round-one bye with a 6.786-second/198.41 mph run. In round two, he knocked off Mark Ingwersen (7.026 seconds/169.57 mph) with a 6.795-second/196.93 mph run that set up a match against Jerry Savoie in the semi-final round. Herrera beat Savoie (6.906 seconds/193.07 mph) with a 6.815-second/196.85 mph run to advance to a third-straight all-Vance & Hines/Mission Suzuki final-round matchup against Eddie Krawiec.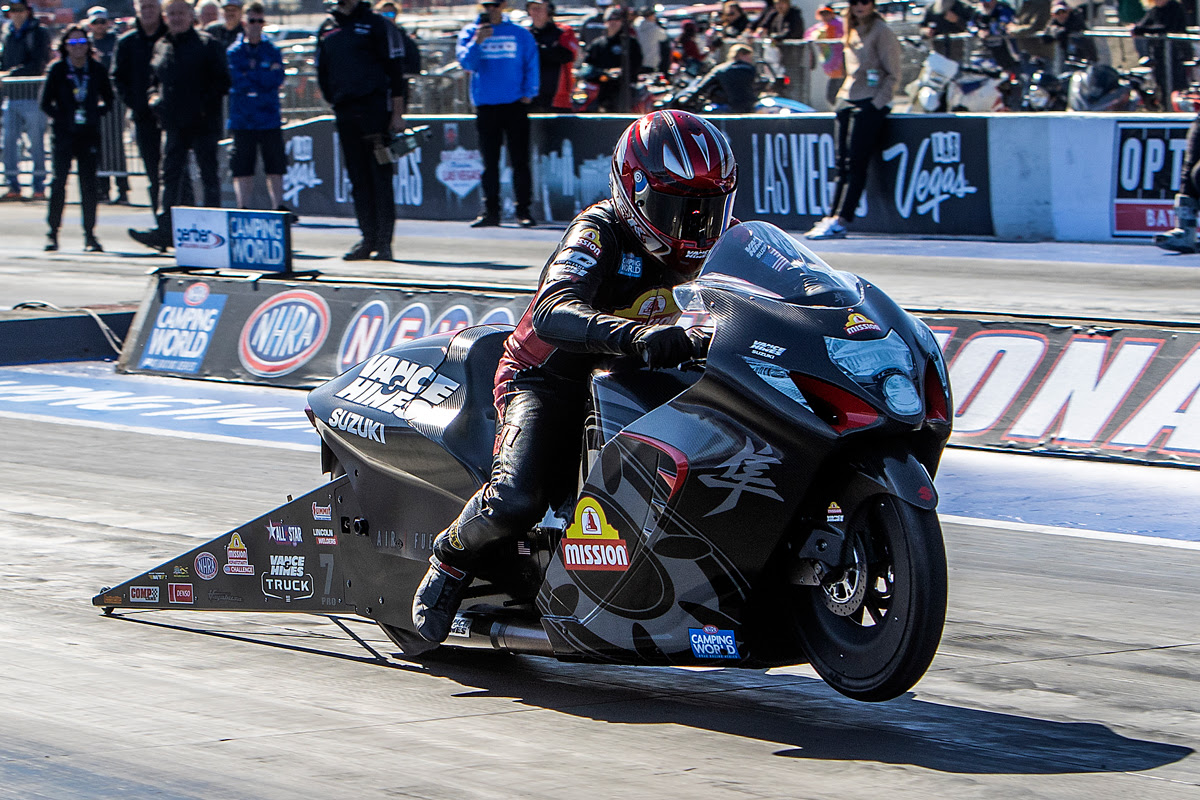 In the final round, Herrera denied Krawiec a long-sought 50th career win for the third-straight race and for a fourth time this season, knocking off his teammate with a 6.755-second/198.32 mph pass that was nearly a tenth quicker than the four-time champion's 6.847-second/198.70 mph run and that also set a new elapsed-time track record.
Although Herrera came up just ten points shy of clinching his first NHRA Pro Stock Motorcycle world championship, he needs only to qualify for the field at the NHRA Finals in Pomona in two weeks to win the championship in his first full season as a rider. Only Krawiec, currently 181 points behind, has a mathematical chance to catch him in Pomona, which features a points-and-a-half format offering a maximum of 191 points to the winner.
"We had a little fun in the final round with a little staging battle on the starting line. Eddie revved his throttle and then I revved mine, but when he revved a second time, I knew he wasn't moving into the staging lights, so I had to go first. It was a fun round," Herrera said. "Even though I didn't wrap up the championship yet, I'd rather win it in Pomona because it's very close to my hometown in La Mirada. It has not set in yet what we've accomplished as a team this season. I've really bonded with the guys on the team and I'm having a lot of fun. I'm relaxed going into Pomona and the focus there will be on finishing with both Vance & Hines bikes one and two in the championship and getting Eddie his 50th win."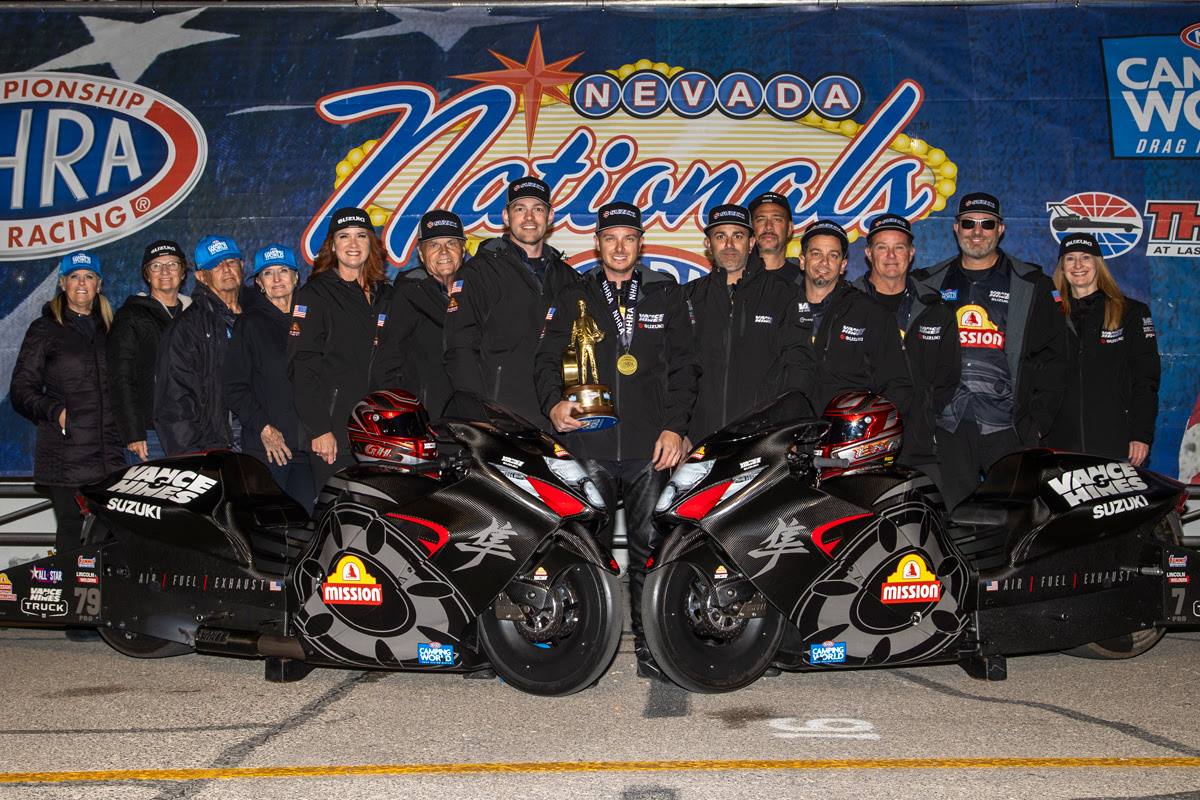 In the last three races, Eddie Krawiec has surged to second place in the Countdown to the Championship standings, widening the gap to the riders behind him with three consecutive final-round appearances.
After qualifying second with a 6.830-second/198.85 mph run, Krawiec caught a lucky break in round one when he had to shut down early after spinning the rear tire on the starting line. Fortunately, he still advanced because his opponent Karen Stoffer could not make it to the starting line.
Krawiec came back strong in round two, defeating Steve Johnson (6.959 seconds/189.73 mph) with a 6.864-second/197.08 mph pass. In round three, Krawiec ran 6.845 seconds at 197.57 mph to overhaul Jianna Evaristo (6.897 seconds/193.29 mph) at the finish line in a close, come-from-behind victory that set up another all-Vance & Hines/Mission Suzuki team showdown in the finals.
"The staging battle was fun. I had to put my foot down and say I'm not going in first! I wish I had run a little quicker that round, but it was still a good race that got us one step closer to our goal of being one and two in the championship," Krawiec said. "It's a guaranteed Vance & Hines/Mission Suzuki championship, which is awesome and shows the level of our program. I'm going to Pomona to win. I have a history of winning the race there when I don't have a chance to win the championship, so that's my goal."
Vance & Hines/Mission Suzuki crew chief Andrew Hines marveled at the consistency of three straight all-team final rounds and attributed the team's success to its relentless focus on continuous improvement and a commitment to excellence.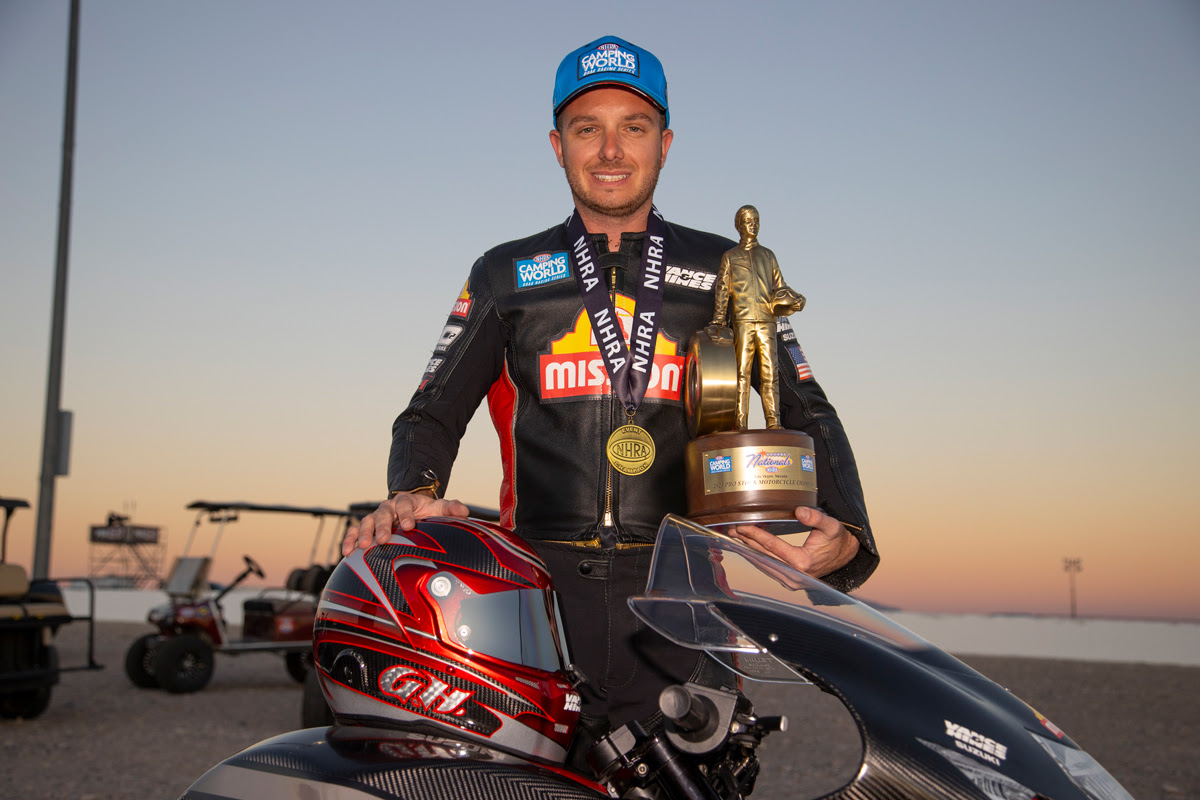 "I love a broken record," he said. "To have a rider and motorcycle so capable of perfection 95 percent of the time is mind-boggling, considering how close and competitive this class has been for so many years. Between the riding and tuning, we've learned so much along the way to make our Hayabusas the best in the class. We never let up. We push relentlessly to have our motorcycles be the epitome of what a Pro Stock Motorcycle should be. Our entire team pushes each other to be better, round after round to strive for perfection. Our goal is to finish one and two in the championship and get Eddie his 50th win. It's going to come down to him excelling as a rider, but I think good things are going to come at Pomona."
With one race remaining in the Countdown to the Championship, Herrera and Krawiec sit first and second in the Pro Stock Motorcycle championship standings with 2,690 and 2,509 points, respectively.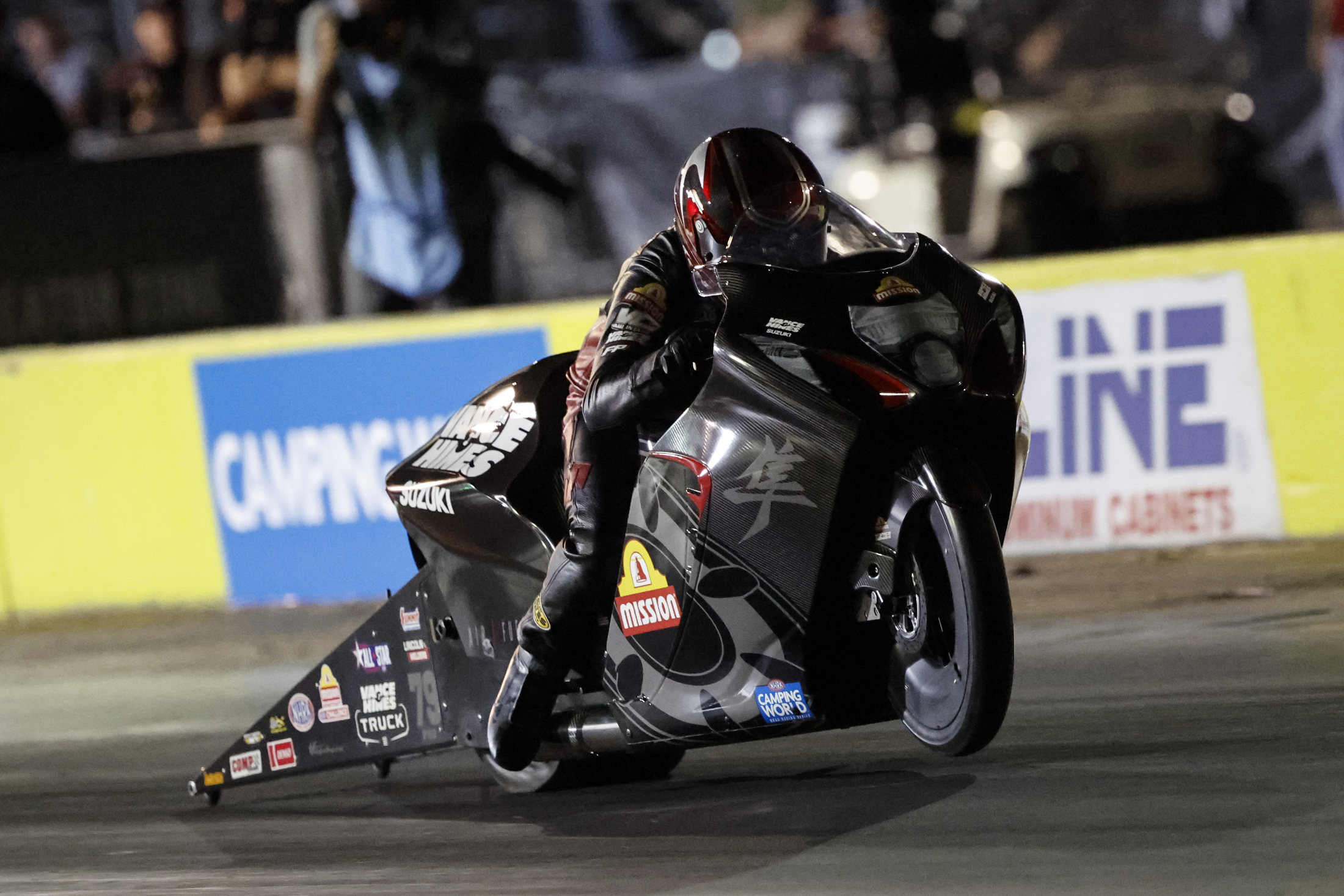 The Vance & Hines/Mission Suzuki team will be back in action Nov. 9-12 for the 2023 NHRA season finale at the In-N-Out Burger NHRA Finals at the In-N-Out Burger Pomona Dragstrip in Pomona, CA.
Alongside the finals, Suzuki is hosting the Hayabusa Homecoming, a commemoration of the 25th Anniversary of the legendary Suzuki Hayabusa on Saturday, November 11th. This event is open to anyone attending the In-N-Out Burger Finals. Showing appreciation for owners of Suzuki and Suzuki Hayabusa motorcycles, registrants will receive free grandstand entry for Saturday, VIP Suzuki Parking for the day, and an In-N-Out Burger lunch voucher.
There are more videos on the Cycledrag Youtube channel (please subscribe here) and the Cycledrag Facebook page (Please like here) and more will be coming soon. Check back daily.