Gaige Herrera extended the perfect start to his breakout rookie season by delivering the Vance & Hines/Mission Suzuki team its second consecutive Pro Stock Motorcycle class win Sunday onboard his Gen III Suzuki Hayabusa at the Circle K NHRA Four-Wide Nationals at zMAX Dragway in Concord, NC.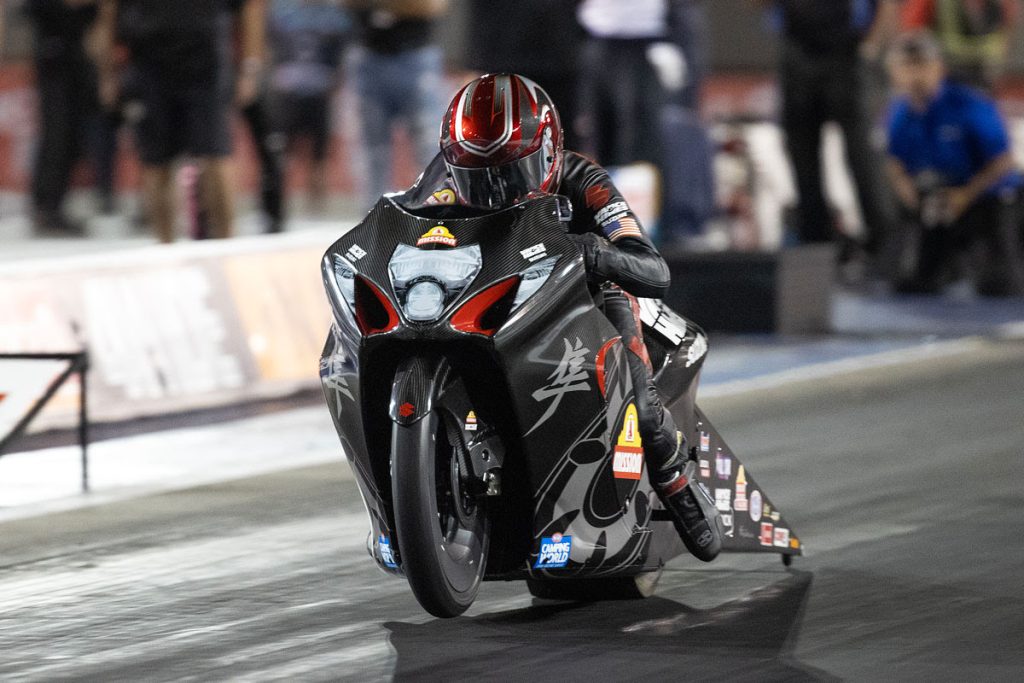 Race Highlights
Gaige Herrera dominated the weekend by topping qualifying and winning a second straight race in his first career NHRA four-wide race appearance.
Eddie Krawiec qualified second to lock out the top two starting spots for the Vance & Hines/Mission Suzuki team and finished in third place.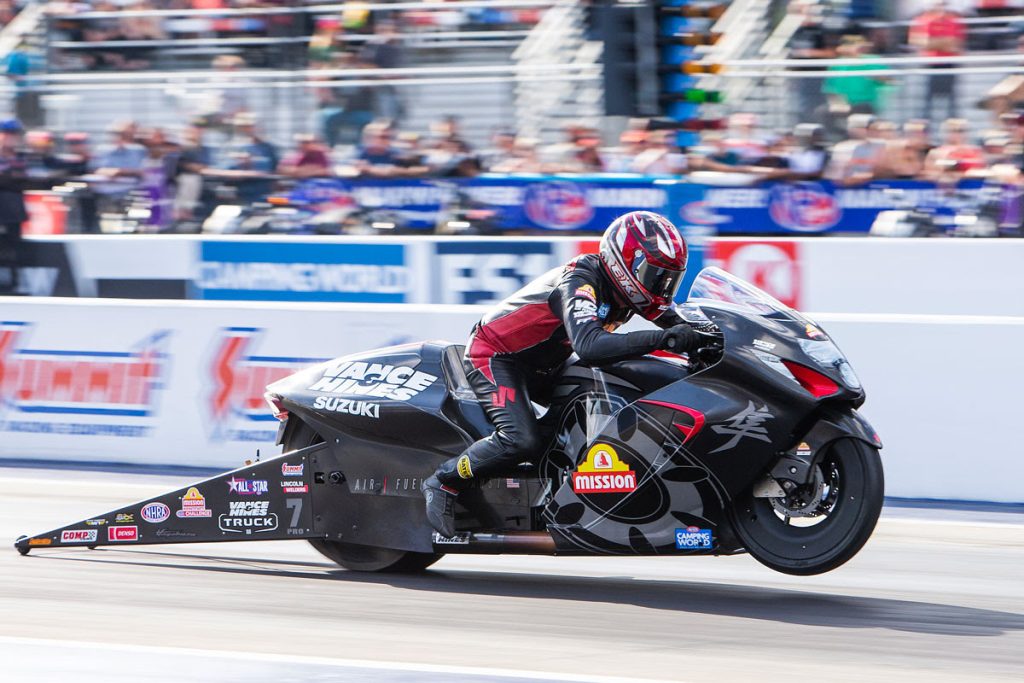 Gaige Herrera (79) captures his second win in a row in his first four-wide race in Charlotte.
Under the NHRA's unique four-wide racing format, the first two motorcycles to cross the finish line, barring a redlight jumpstart, advance to the next round regardless of lane pairing. In the final round four-wide quad, the first motorcycle to cross the finish line wins.
Unfazed by his inexperience in four-wide racing, Herrera displayed more of the speed and poise that have vaulted him to the top of the Pro Stock Motorcycle standings by qualifying number one for the second race in a row with a 6.735 seconds/201.52 mph run on Saturday.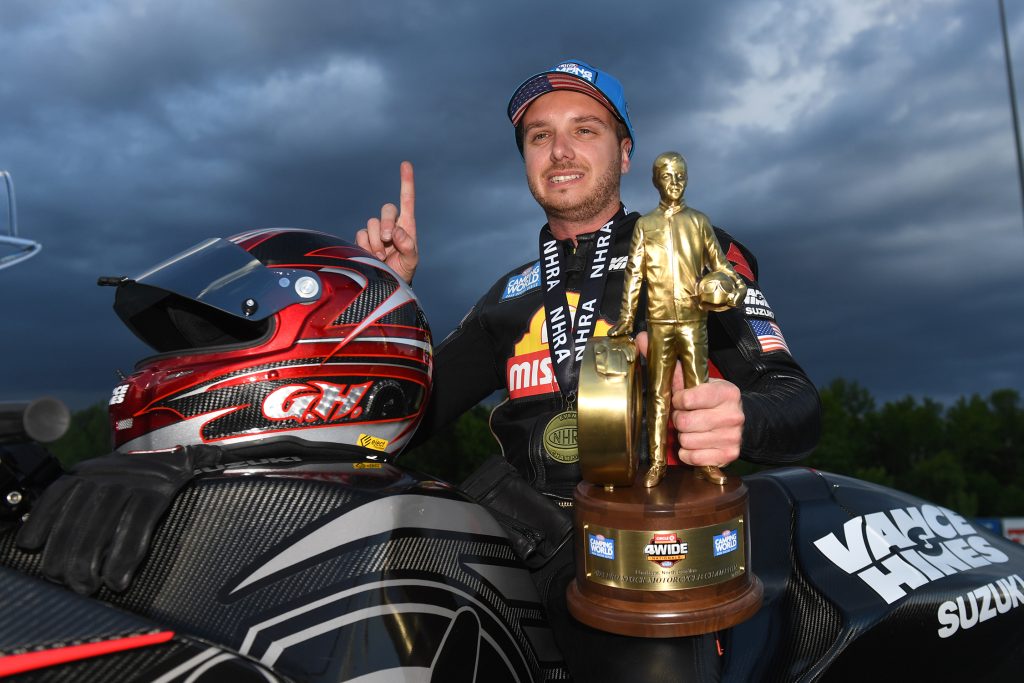 In the first round of eliminations, Herrera won his first-round quad matchup with a strong 6.754-second/201.13 mph run to easily advance past runner-up Kelly Clontz (6.874-seconds/196.04 mph), who also moved to the second round.
Herrera advanced to his second career final round thanks to some luck in the semi-finals after his motorcycle slowed when his kill switch lanyard became detached and shut off the engine near the end of the run. Despite the hiccup, his 6.857-second/170.02 mph run was good enough to advance into the final round along with runner-up Matt Smith (6.916-seconds/194.60 mph).
Continuing his dominance, Herrera blasted to a second straight race win with a hammer-blow 6.71-second/202.00 mph pass that easily covered the other three bikes in the final round quad. Matt Smith finished runner-up with a 6.780-second/199.61 mph run, followed by Krawiec in third (6.784-seconds/199.37 mph) and Steve Johnson (6.810-seconds/197.54 mph) in fourth, capturing the four top finishing positions for Suzuki.
Exuding confidence and calmness that belies his rookie status, Herrera is taking his incredible start to the season in stride. "It's definitely more than I expected. I've got all the confidence in the world in the Vance & Hines/Mission Suzuki team, but as far as me being able to hold my composure and show the results of all the hard work they do back at the shop, it's a lot to take in."
Herrera is also adapting to the techniques required to ride a Pro Stock Motorcycle consistently fast. "Every pass has a learning curve. I'm still working on how to make little changes with my body during a run that won't affect the motorcycle's elapsed time or top speed. The Gen III Suzuki Hayabusa is a dream to ride, and if I leave the line going straight, I know it's going to be a good pass. I have one of the best bikes out there, so I'll try to make it three in a row in Chicago."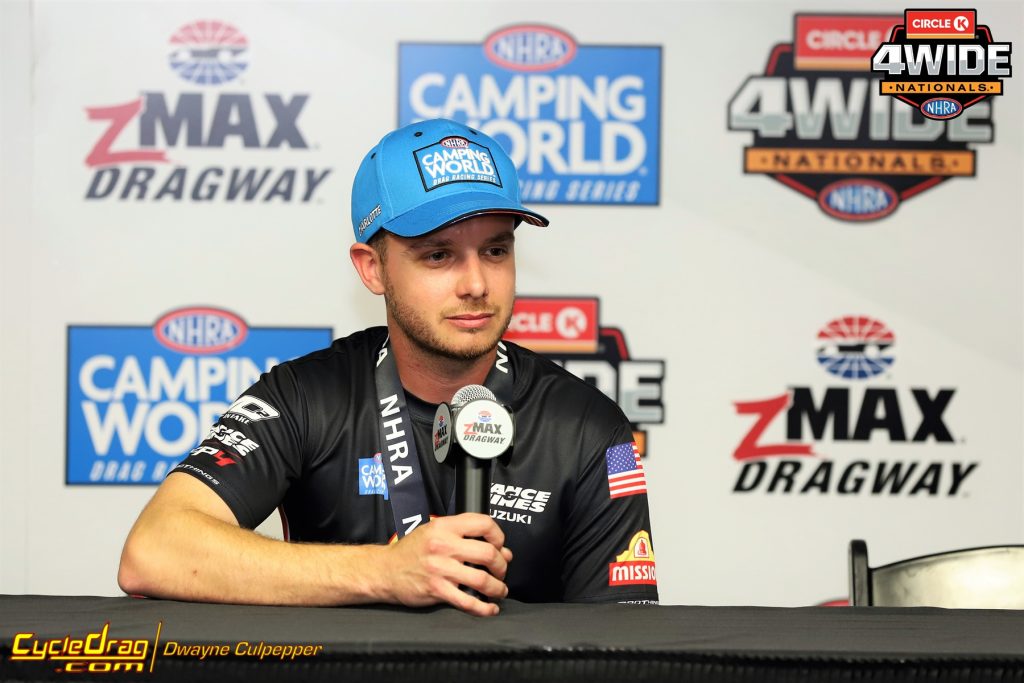 Making the final for the first time in this early season, Eddie Krawiec (7) finishes third.
After struggling with an inconsistent performance at the end of the 2022 season, Krawiec has turned a corner with his motorcycle's performance this season after chasing and fixing some hard-to-diagnose issues.
Capitalizing on improvements made to his Suzuki Hayabusa after the opening round in Gainesville, Krawiec posted a strong 6.765-second/197.77 mph qualifying performance to claim the second starting position.
In the first round, Krawiec staged a come-from-behind win in his quad matchup against Hector Arana, Jr., Ron Tornow, and Angie Smith. He advanced to the second round with a 6.822-second/200.02 mph run, along with runner-up Arana (6.914-seconds/199.55 mph).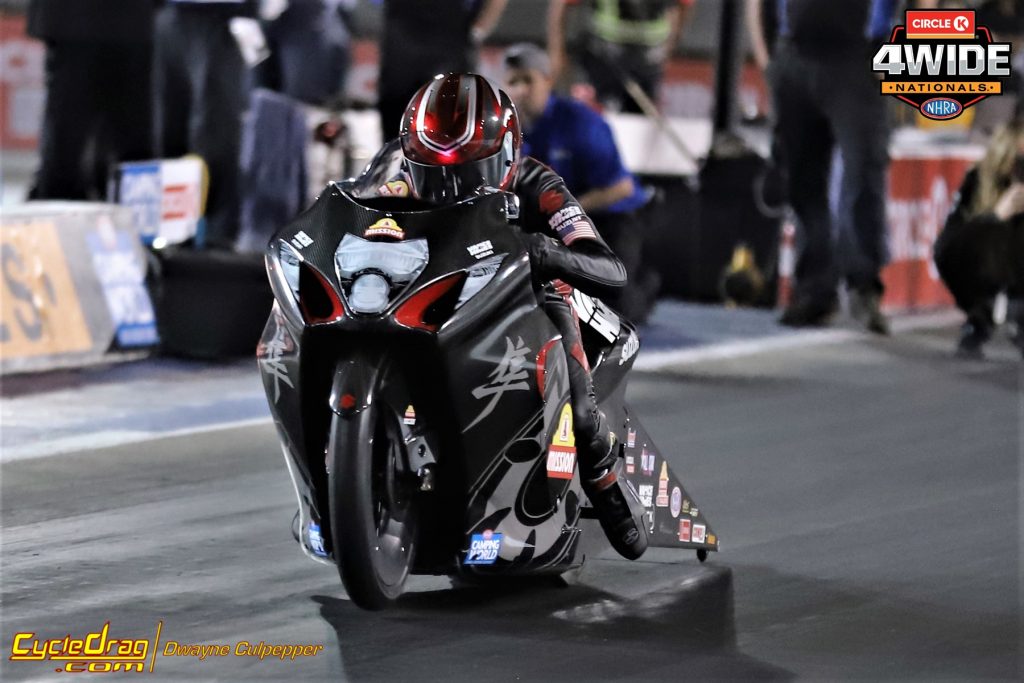 Improving on his first-round speed, Krawiec advanced to the finals with a 6.784-second/199.73 mph run to defeat runner-up Steve Johnson (6.806-seconds/198.00 mph).
Krawiec trailed his teammate in the final round, finishing in third place in the quad with a 6.784-second/199.37 mph pass.
"We fixed some things on my bike and are running a completely different setup now than last year, so I've got to relearn what makes it happy," Krawiec said. "As we do that, it'll get better and better. It's good to have a fast motorcycle and that's now in view. I'm not looking for it with binoculars anymore."
Vance & Hines/Mission Suzuki crew chief Andrew Hines praised Herrera's performance and his perfect start to the season.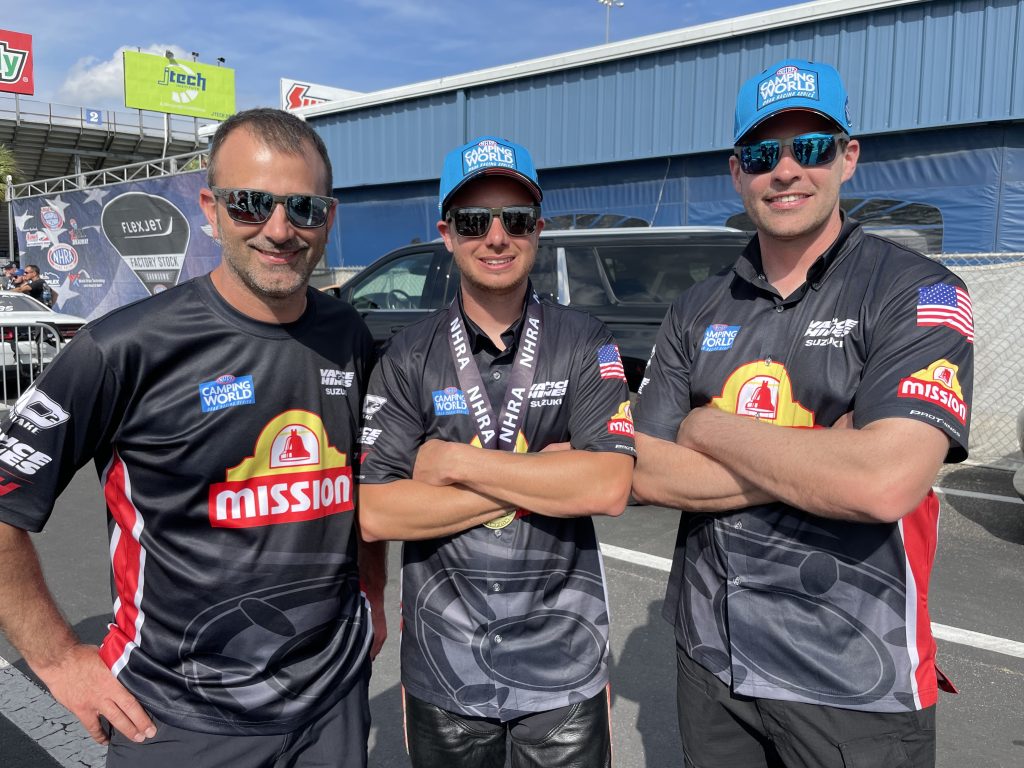 "Gaige is on fire. He's a rookie. He's got nothing to lose and nothing to prove. He just goes out there and races," Hines said. "We had a lot of time off after Gainesville, a lot of time to go through all our engines and figure out which ones were the best. We brought our two A-game pieces to this race that we knew were ready to go and to be class leaders. The new Gen III Hayabusa body is allowing both riders to make flawless runs, and our Vance & Hines horsepower is shining. These are the two best race bikes we've brought to the racetrack in a long time. The clutch tune-up I have in Gaige's bike is working very well. We've just got to adapt the setup on Eddie's bike a little bit better and we'll be good to go for Chicago in a few weeks."
After two of 15 rounds, Herrera and Krawiec currently sit first and third in the Pro Stock Motorcycle standings with 255 and 135 points, respectively.
The Vance & Hines/Mission Suzuki team will be back in action May 19-21 at the Gerber Collision and Glass Route 66 NHRA Nationals presented by PEAK Performance at Route 66 Raceway in Elwood, IL.
There are more videos on the Cycledrag Youtube channel (please subscribe here) and the Cycledrag Facebook page (Please like here) and more will be coming soon. Check back daily.