It was a hot and humid Friday July 9th, 2021, when the VTwin Powersports sponsored Hog's Gone Wild Harley Davidson Bagger (HGW) event got underway at Shadyside Dragway in Shelby, NC. A few racers found that their "off-the-trailer" game plans would leave them working hard between testing rounds to get their machines tuned properly. Humidity and barometric pressures were ever changing throughout the entire day of racing as well as Mother Nature throwing in a light rain shower for a time in the afternoon and well, we've all been there done that type of race day. Work hard, sweat hard, shake your head and get your race machines down the track. Shadyside Dragway employees would have the track dried in record time and it was time to start the Instant Green race.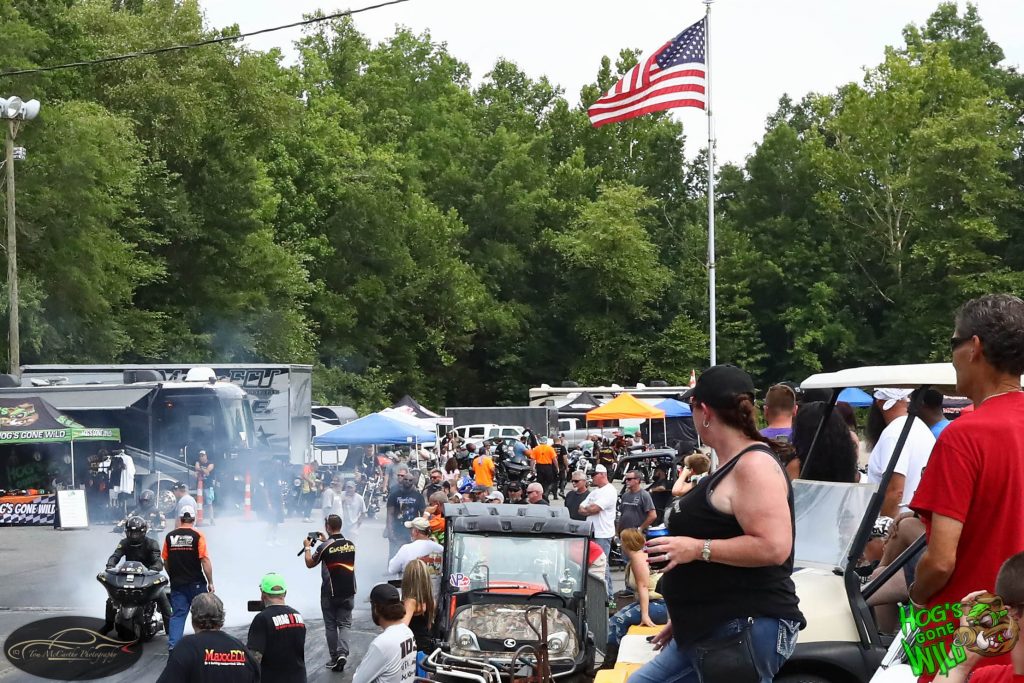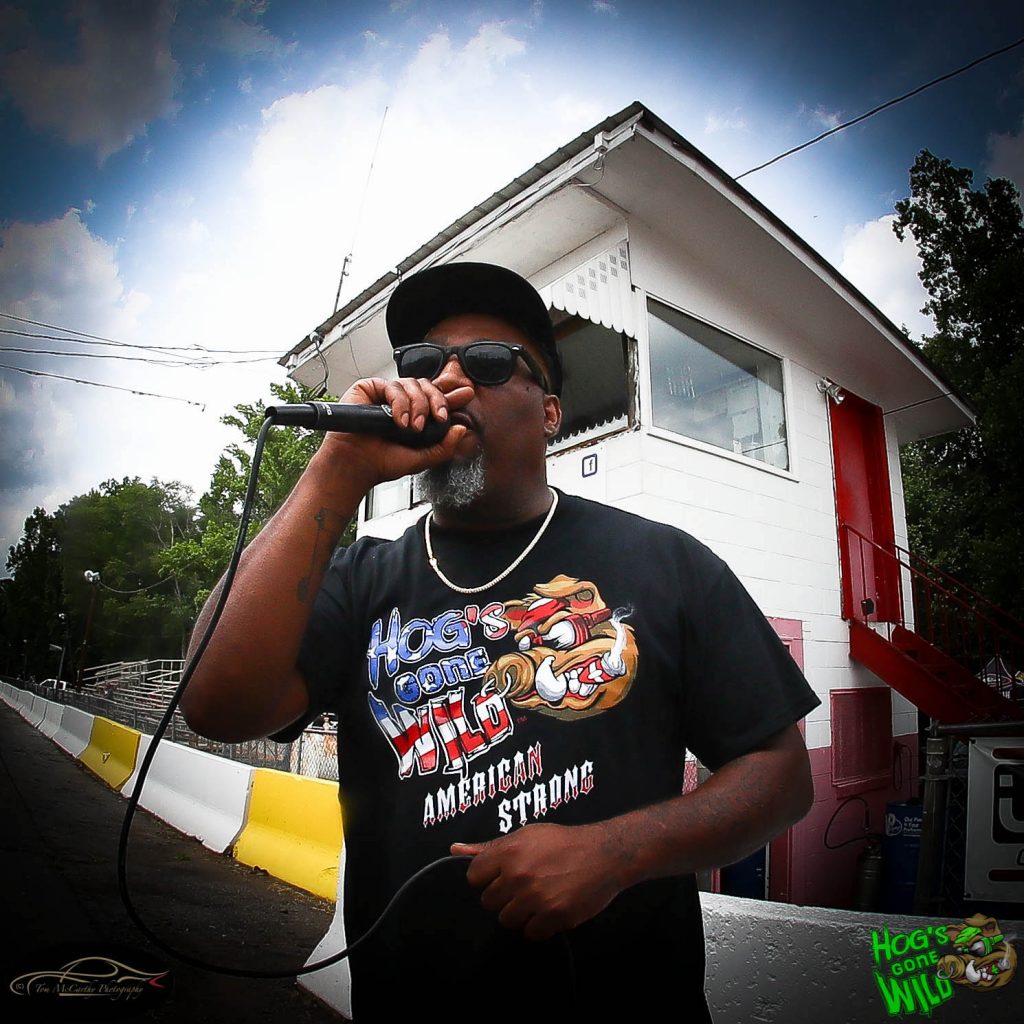 Instant Green
First pair out on Friday July 9th in this heads-up class were Marc Fricke of VTwin Powersports (sponsor of this HGW race) against opponent Dwayne Gee riding for the Street Kings Motorsports team. Fricke had a fuse box issue in the water box and had to wave off giving the win to Gee. Street Kings Khole Sellers was next up paired against Jason Crisp, owner of 1-Forty-1 Speed Cycles. Sellers in the right lane launched into a full-on 90 degree wheel stand enabling Crisp to sail down his lane to take a win light in round 1. Final
Instant Green Finals:
• W – Dwayne Gee
• RU – Jason Crisp
Harley vs Metric:
We saw many red light in this class and the Metrics pulled out into the lead early on. It went down like that and looked as if this was going to be all Metric again like the previous CT Motorsports/HGW race in Tulsa OK ended but when all was said and done, it would be an all Harley finals to the cheers of all in attendance.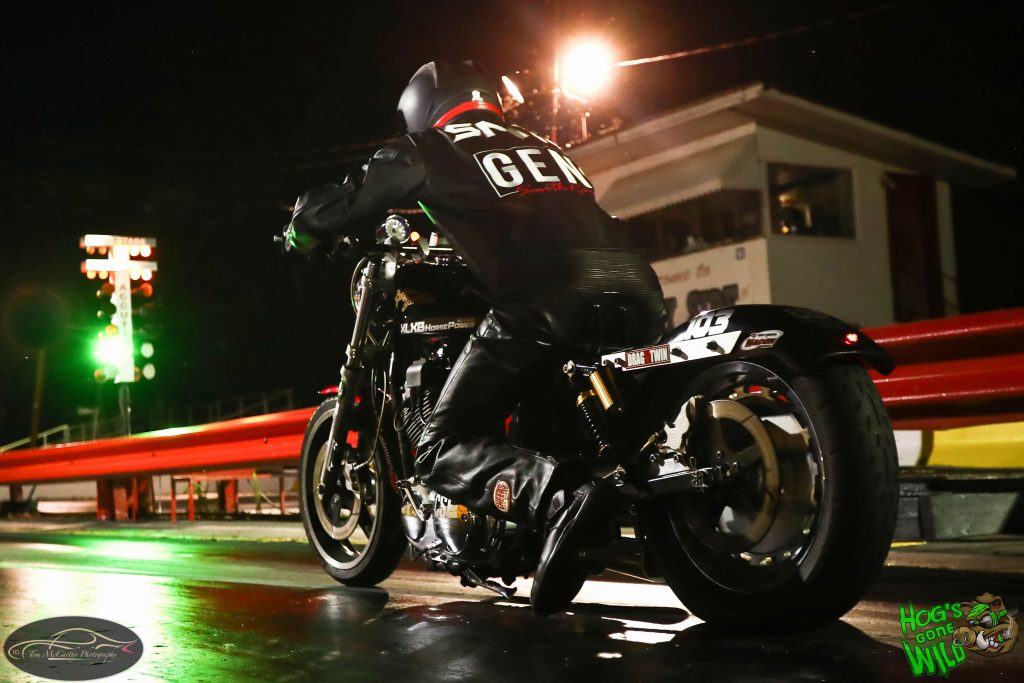 Harley vs Metric Finals:
• Ed Hayes – 8.78 dial 8.76 ET (W)
• Casey Smith – 7.60 dial 7.56 ET (RU)
• This match was the epitome of a drag race all the way down the track! Winner Ed Hayes was pleased as he's new to racing and said "I was very consistent on my reaction times in testing and figured I had a shot." RU Casey Smith wanted to thank his sponsors Harley Davidson of Macon GA & Chad Hart at XLXB Horsepower. Great job to both racers.
ET Gamblers:
ET Gamblers class also saw it's share of red lights, tire spin and to make things more interesting, you get a race full of unexpected red lights and surprising breakouts. The semi's saw Tim Vath dial a 6.02 in the 1/8 mile to run a too quick time of 6.00 but with the bye run it was all good to head into the finals against the fierce competitor Casey Smith. Smith dialed a 7.38 to Vath's 6.02 and when the light went red in Vath's lane, it was all said and done. The win light was all Smith and he ran his dial dead on. Casey Smith wanted to thank Harley Davidson of Macon GA and Chad Hart at XLXB HORSEPOWER.
With Friday's races in the the books, the band SkynDeep playing good playing good Rock-N-Roll on stage, it was time for the CT Motorsports sponsored evening dinner. Tammy & Chuck Briggs of CT Motorsports gave us a good old fashion picnic style Fried Chicken spread with all the trimmings! Perfect for the atmosphere as everyone lined up for good eats and great music played until late in the evening. Friday nights are just plain fun at all the Hog's Gone Wild races!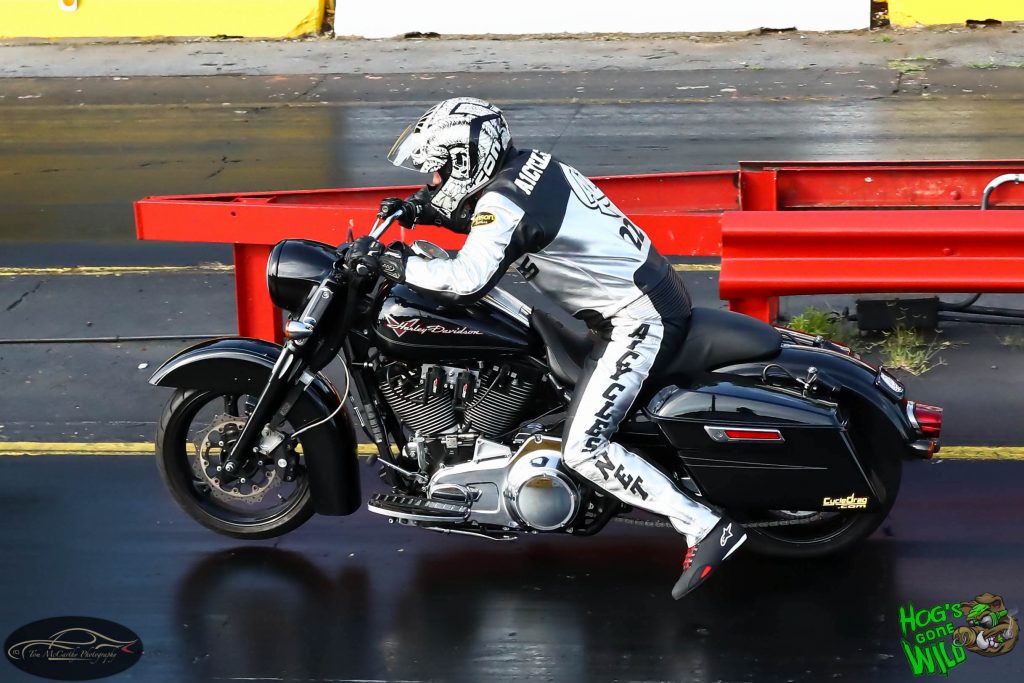 Onto Saturday July 10th and RACE DAY…
Gates opened for the VTwin Powersports/HGW race day at 7a.m. with more racers pulling in and getting setup. When I mentioned it was hot on Friday, little did we know just how brutal Saturday's heat was going to be. Race day was going to be tough in all matters pertaining to drag racing from track prep, tuning and the ever present threat of dehydration throughout the day.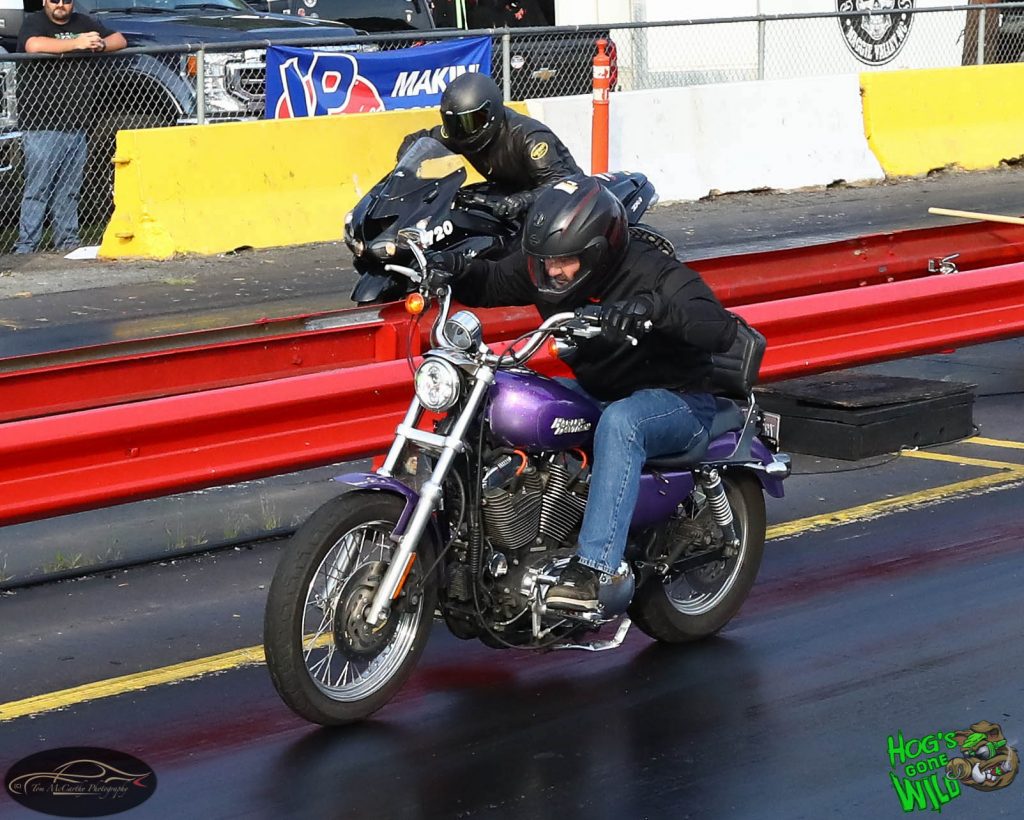 All these and more came into play on race day and racers, staff and spectators alike experienced slight difficulties from tire spin to dehydration related issues. Staying hydrated in the summer sun, especially at racetracks, is of utmost importance. Some of the signs of dehydration are: Thirst, decreased urine output, fatigue, headache, nausea, vomiting and dizziness. Learn all the signs of dehydration. Knowing all the signs will literally save lives.
Now let's get down to race business as race day definitely was on with 10 Classes of racing!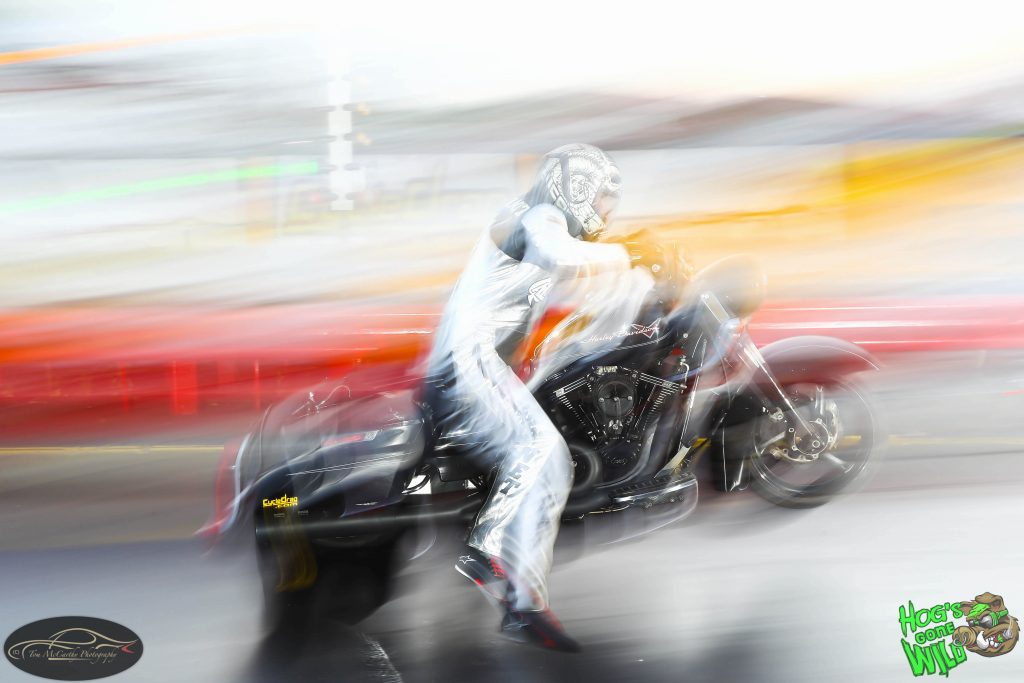 A1 Cycles Pro Street Class Results
W – Michael Beland .0325 RT 6.6611 ET 119.69 MPH
RU – Dwayne Gee .1846 RT 7.0010 ET 100.16 MPH
Michael Beland of A1 Cycles said "We fought clutch issues throughout the day and it wasn't until the finals with the .032 reaction time that everything felt right straight from the launch."
Dwayne Gee wanted to thank Orlando Williams of Street Kings Motorsports for everything they do for the team. This is their second season racing for Street Kings Motorsports.
CT Motorsports Hot Street
W – Marc Fricke .1632 RT 5.9142 ET 119.68 MPH
RU – Ryland Mason .4324 RT 6.5579 ET 110.73 MPH
Marc Fricke said "The new VTwin Powersports motor build is doing well and we had some clutch issues and got those straightened out." When asked about the shop Marc said "We are hoping to go full service in a month and stayed tuned for details on our facebook page and if anyone wants to see what we do, all the VTwin Powersports videos are at http://cycledrag.com.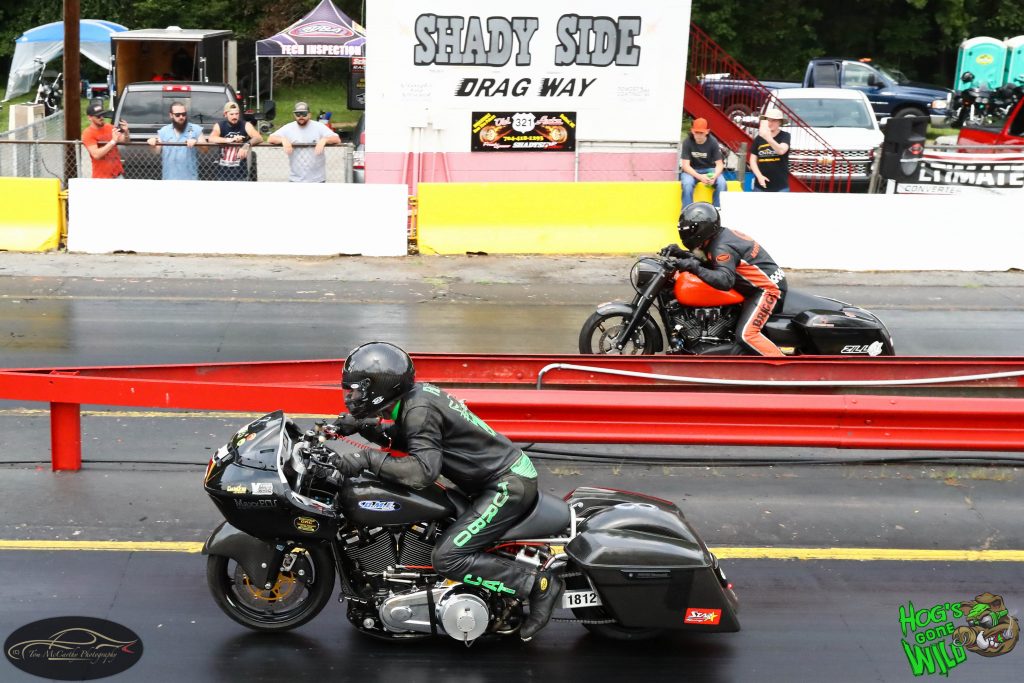 Star Racing Outlaw
W – Marc Fricke .0818 RT 5.9014 ET 119.40 MPH
RU – Dwayne Gee .1371 RT 6.0333 ET 121.75 MPH
VTwin Powersports Non Bagger
W – Jason Crisp .0683 RT 6.1030 ET 113.21 MPH
RU – Joe Perry .1304 RT 15.4273 ET 43.85 MPH
Street Kings Motorsports True Street
W – David Cartwright .1896 RT 6.9602 ET 120.58 MPH
RU – Alvin Henry .3493 RT 7.7019 ET 96.22 MPH
Winner David "Paco" Cartwright couldn't be more gracious about the bike that Daren Sheffer/Sheffer Performance have given him to race. Not only did the Sheffer Perf. Team win this class on the same setup they had in Tulsa, they also won contingency money from Star Racing for running a George Bryce Crank as well as from Scott Tomsu of STFU Motorcycles as they run STFU Pistons.
Alvin Henry of Gaffney, NC had his granddaughter Lily to thank for even attending this race as she had never seen Grandpa race before. Alvin was recently released from the hospital after sustaining a work injury. Multiple surgeries later and a recent post op infection, Alvin had the Lord to thank as well as his family for all their support, especially Lily. The Henry family were found in the Sheffer Performance pit having a great conversation and cooling off in the shade after their finals match-up. Way to go gentleman. Impressive race day!
GRC Street Class
W – Jason Emmick .0229 RT 6.6306 ET 106.69 MPH
RU – Geronimo Siin .1913 RT 10.5945 ET 44.93 MPH
Jason Emmick and his 1993 FLH Carbureted 124ci Evo out of Chicago Illinois had "been out of racing for 10 years prior to this season." The 2x AMRA Outlaw Street Champion went on to say that "I stopped racing to care for one of my son's that is disabled and both son's encouraged me that it was time to get back to racing." In fact, one of his son's is his Pit Crew. Jason had worked for 16 years in a Metric Bike Shop and then went on to work for a Harley Davidson shop for 18 years. Jason is a great racer and a great person to talk with. His enthusiasm for racing just pours out and this reporter cannot wait to talk with him at a race in the future. Good luck Jason Emmick.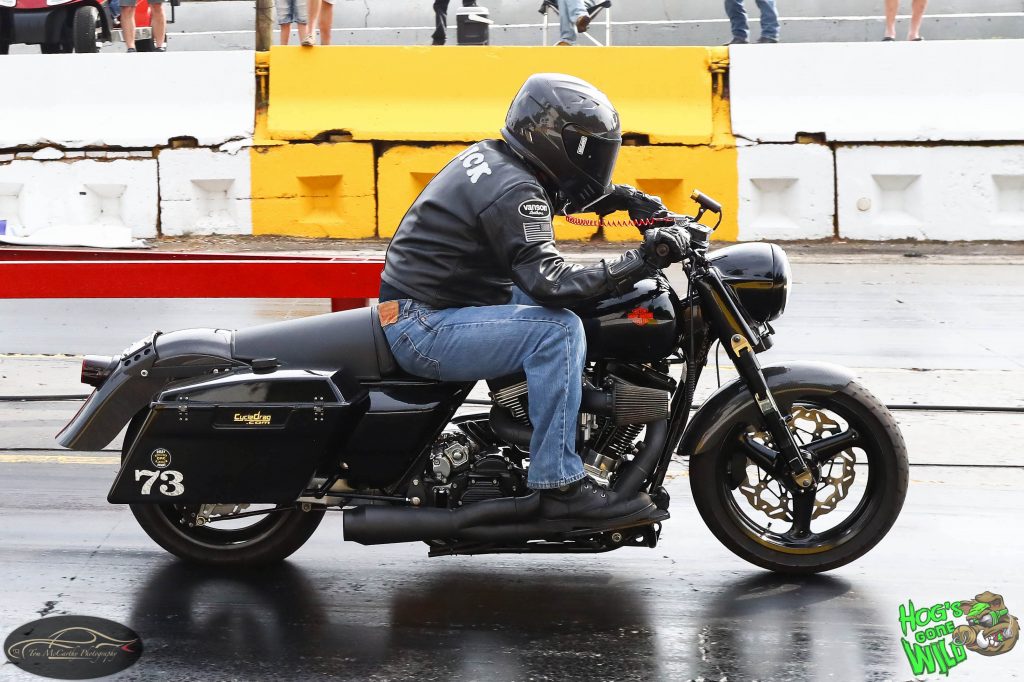 MTC Street ET
W – Robbie Bryant 6.30 Dial .0528 RT 6.2767 ET 113.72 MPH
RU – Andrew Patterson 5.81 Dial .0399 RT 5.7803 ET 120.03 MPH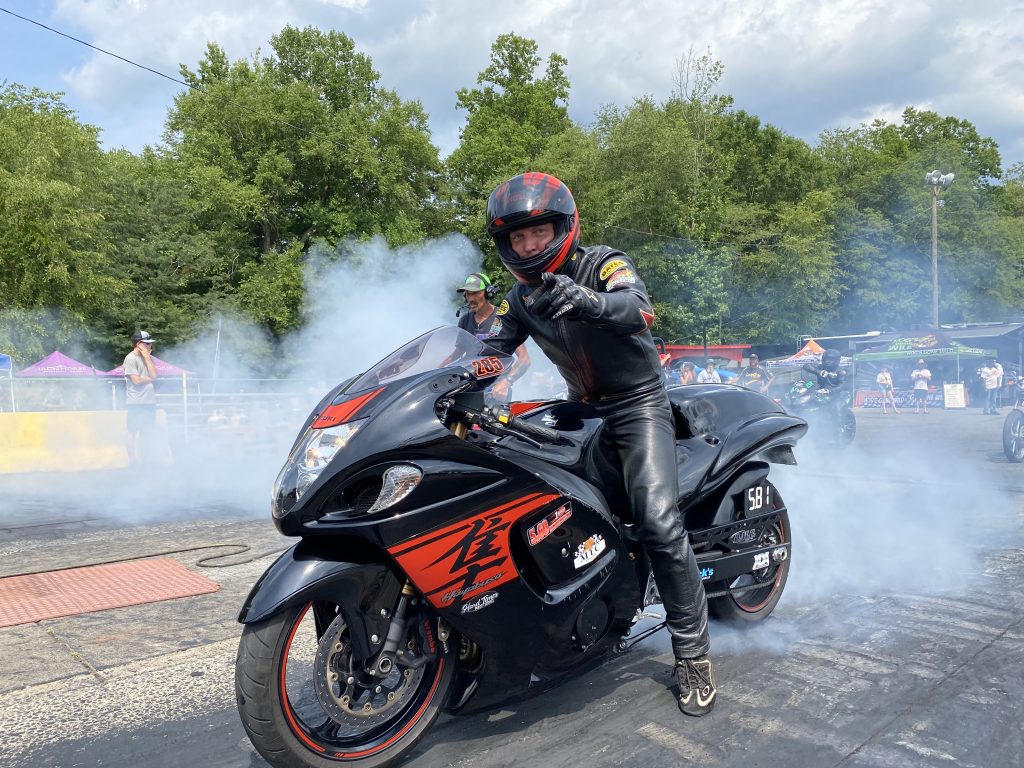 Robbie Bryant of Wallace NC said "This has not sunk in yet." The team was just happy with the way the day went and Bryant wanted to thank his Dad Glenn Bryant and his nephew Wesley Jones for all their help and hard work and I do not believe this will be the last we hear from Bryant.
Andrew Patterson thanked Roger Edgerton and Lashonda Carter as well as the HGW Staff for a wonderful event, and thank his wife and son for enduring the heat and their support. Andrew had left the hospital five days prior to the race due to a herniated disc in his neck and asked me to make sure his friends and family knew how much he appreciated their encouragement to make this race and their continued support of his racing.
Super Stock Harley
W – Richard Stamey 8.60 Dial .1119 RT 9.3929 ET 668.36 MPH
Super Stock Harley brought some good competition for this Winner Take All Class and it wasn't surprising that Richard Stamey took the win. Stamey had a score to settle with himself when the ET class tended to shut him down early on Saturday.
Stamey looked really good throughout the entire weekend and just seemed to draw some equally tough competitors in other classes early on. Congratulations Richard for the hard work and on the win.
5.60 Index
W – Carson Fields .0048 RT 5.6465 ET 120.58 MPH
RU – Sonny Vick .1083 RT 5.5769 ET 128.31 MPH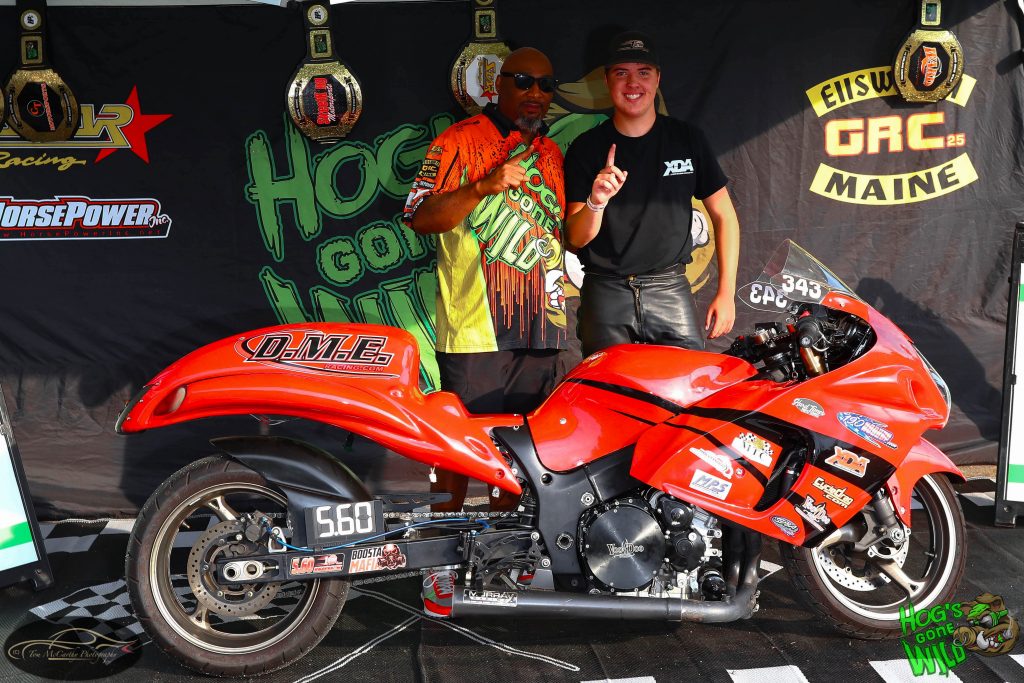 6.0 Index
W – Richard Stamey .0348 RT 6.1807 ET 105.53 MPH
RU – Tim Vath .1442 RT 6.1045 ET 119.08 MPH
Memorable moments of the weekend were:
Grudge race between Uncle Joe Perry and Dwayne Gee. Perry got the holeshot over Gee and had the
lead until Perry's bike decided it was time to lift the front end to take a look at the sun and that was all Gee needed to get around Perry to take the win.
Marc Fricke/VTwin Powersports and Michael Beland /A1 Cycles with Fricke winning over the "bucking bronco, fire snorting" pass of Beland. Jack Korpela of CycleDrag interviewed Beland after the pass and Michael said "Bike is okay. It's just hand-shifting with Nitrous."
(You can view more of this interview with Michael Beland and his melted Kevlar race suit plus more on track footage from the HGW race on http://cycledrag.com/ and CycleDrag YouTube.)
And the award of the memorable moment of the weekend goes to this reporter.
Note to self: When going into any racers pit for an interview, make certain they are fully dressed. It's quite awkward when you ask the racer if they mind doing an interview and they say "I'd be more comfortable if I had my pants on" while they are sitting in a lawn chair, cooling off after being on the track, with their shorts laying over their lap.
And that's a wrap from the VTwin Powersports sponsored Hog's Gone Wild Harley Davidson Bagger Event from Shadyside Dragway in Shelby, NC!
Do not forget the upcoming Hog's Gone Wild Harley Davidson Bagger Race at Silver Dollar Motorsports Park in Reynolds, GA for our $140K – 3 day ET Bracket Race.
Pre-register before all the spots are filled!
Hog's Gone Wild would like to thank all of their Class Sponsors:
 A1 Cycles sponsored Pro Street
 CT Motorsports sponsored Hot Street
 Star Racing sponsored Outlaw
 Ward Performance sponsored M8 Shootout
 V Twin Powersports sponsored Non-Bagger
 Street Kings Motorsports sponsored True Street
 GRC sponsored Street
 MTC Engineering sponsored Street ET
Also, thank you to all of our contingency sponsors:
DME Racing, Maxx ECU, STFU Motorcycles, Horsepower Inc, Law Tigers, M2 Shocks, Iron Horse Lawyers, What-A-Graphic, DTF Performance, DragVTwin, ProThings apparel, Hardtail Harry's Speed Shop, Kadafe Racing, Star Power.
2021 HGW Schedule
Feb 26-27 / Silver Dollar Motorsports Park / Reynolds, GA
April 2-3 / Shadyside Dragway / Shelby, NC
May 14-16 / Keystone Raceway Park / Alexandria, PA
June 4-5 / Tulsa Raceway Park / Tulsa, OK
August 20-22 / Silver Dollar Motorsports Park / Reynolds, GA – 140K ET RACE
October23-24 / Silver Dollar Motorsports Park / Reynolds, GA
November 12-13 / Gulfport Dragway / Gulfport, MS
Story: Tamre Martin "Of the Racers, for the Racers"
For Hog's Gone Wild ™
Photography: Tom McCarthy Photography
Video links: Jack Korpela III / CycleDrag.com / CycleDrag YouTube
There are more videos on the Cycledrag Youtube channel (please subscribe here) and the Cycledrag.com Facebook page (Please like here) and more will be coming soon. Check back daily.