In all the best ways, the PennGrade1 AMRA DC Jones Memorial Fall Nationals at Beech Bend Raceway Park in Bowling Green, Kentucky, was like a return to the old days. Full pits, full campgrounds, full bike corrals, great weather, and great times were all around all weekend. Oh, and great racing too, as the nitromethane and gasoline V-Twin heroes of the American Motorcycle Racing Association showed the crowd some fantastic Harley-Davidson drag racing.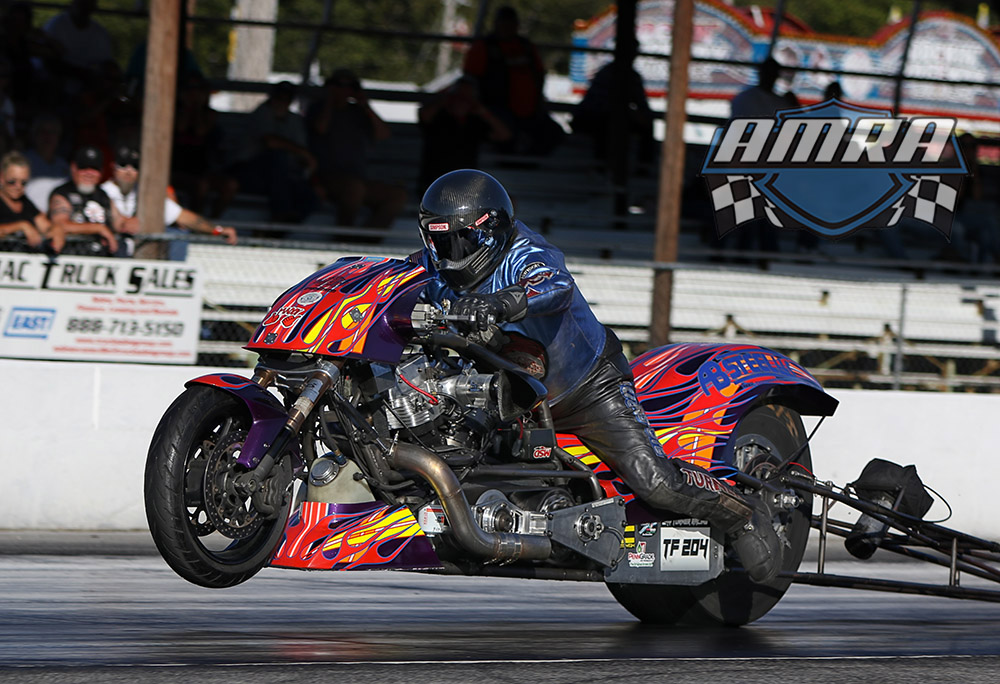 Top Fuel
Jay Turner Racing showed up strong at Beech Bend, with multi-time national champ Turner qualifying number one with a 6.39 at 218 miles per hour in Top Fuel riding the Randal Andras' bike known as "Mae Mae."
Turner's teammate Tii Tharpe qualified second on the Spevco-sponsored "Maddy Too," and it was those two that eventually made it to the final. Turner took out another teammate—John "JT" Toth—in round one and Jordan Peterson in the semis.
Along the way, Tharpe beat what might be called the "Hand-built and Unusual bikes from Ohio." First off was the short-stroke, big-head behemoth of Derrick Nelson, followed by the small displacement, blown beauty of Jason Pridemore.
Tharpe took the tree .073 to .098 against Turner in the final, and it was a great side-by-side race until the boards lit up with Turner as the 6.37 at 217 mph to 6.46 at 227 winner.
"What a fantastic weekend for JTR," said the North Carolina racer with the Bulldog on his chest. "We have a great group right now. We work well together, which makes racing fun.
"Thank you to the AMRA for a great event and to my friends and family for your continued support."
Nitro Funnybike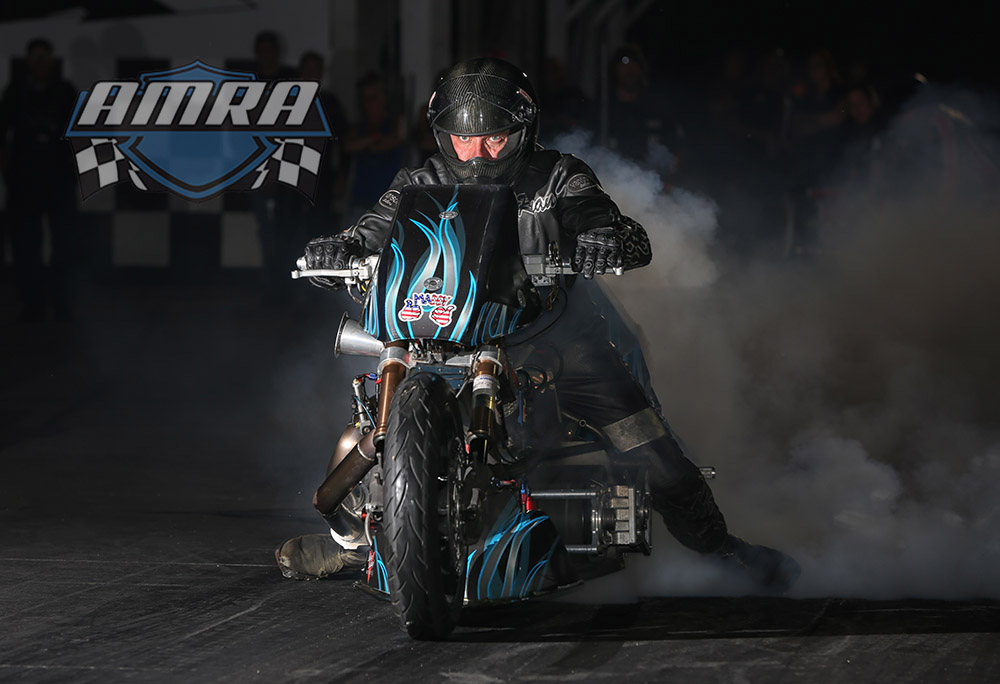 AMRA Top Fuel champion and 2021 NHRA U.S. Nationals winner Ryan Perry had some emotional wounds to lick after losing to Jordan Peterson on a round one holeshot in that class. But by the end of Nitro Funnybike, there were actual flesh wounds to be dealt with.
Peery qualified number one with a 6.59 at 209 in the high-gear only class and met up with class champion Jim Doyle in the final. Doyle got there by defeating Japanese racer Tadashi "Reggie" Saito in round 1, after loaning Reggie the parts to compete following a broken valve disaster on Friday.
Peery was again second to leave the starting line against Doyle in the final, giving up .019. He was also 30 mph slower than Doyle at the finishline after a desperate but ultimately successful and winning effort to keep his "Big Nasty" Funnybike off the asphalt and moving forward.
"Not a proud moment, but I was determined to stay on it," reported Peery. "I was in the right lane, bike was heading right so I'm leaning hard left. Wheel came down at about 8-900 feet and the front end washed out. This happens from time to time if you don't keep the wheel straight in the air.
"The handlebars starting jerking back and forth violently, throwing my hands off. The bike laid over on its left side and I was coming off. I grabbed whatever I could with my right hand and right leg to keep me on and the left knee went into the track, but I was able to stay on.
"Somewhere in the middle of all that I crossed the finishline and got the win. Still ran a 6.81 about 180mph—not bad for getting out of the throttle at 5.2 seconds.
"The bike has a few new scratches and a bent footpeg. I've got a sore back and a little road rash. My leather pants and boot weren't so lucky."
Pro Fuel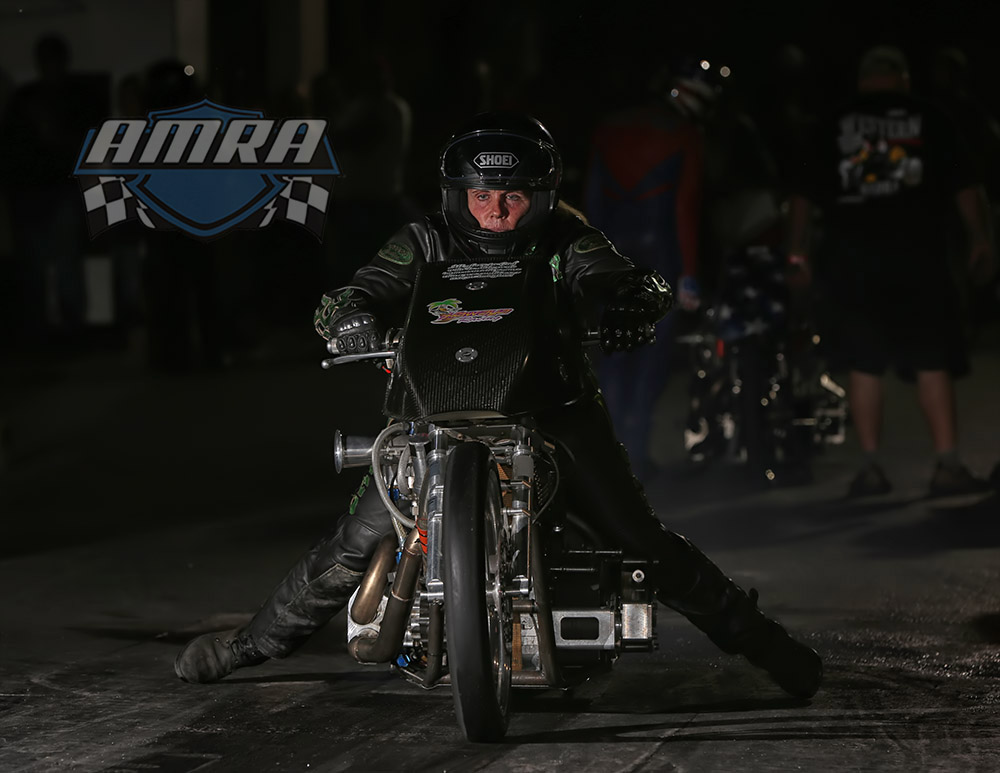 Bad Apple Racing's "Bad Ass Mary" Dangrow had a somewhat less dramatic path to her second straight AMRA winners circle (and third straight overall) than did Peery, although she did have to crawl back from number four qualifier.
Sam White qualified number one with a 7.37 at 169 mph in the carbureted nitro class. Behind him lined up an incredibly tight field, with Curt Sexton and Jim "Bad Influence" Martin both putting 7.400s on the scoreboard. Dangrow was right behind with a 7.402.
White put too much fuel in his tune-up on raceday, dropped a cylinder and lost to David Larson in E1. Dangrow advanced past Jordan Leeper and then Larson to face Martin in the final. Another great nitro race, as Mary grabbed .006 at the tree and then ran a 7.493 at 166 to Martin's 7.51 at 163 for the win.
"This was my first time on the Bowling Green track and it was awesome," said Dangrow. "Great riding surface and beautiful facility. Winning here on its own is pretty great, but to win this race with the field of riders that we had was exceptionally amazing.
"The Pro Fuel class as a whole should be very proud of both the turn-out and the performance of each team. The field was very tight, and that kind of field amps me up. Each round win was tough and everyone came with their A-game.
"Tracy (Kile, the OG Bad Apple and Mary's old man) didn't race at this event so he could crew for me and help Jimmy Mac (McMillan) with Reggie's Funnybike. Tracy is always my tuner even when he's riding "Frankenstein," but this event was extra special working side-by-side with him in the pit to turn my bike around for each pass. Winning on top of that was a huge blessing. To have the kind of support he gives me is priceless.
"I have to quote Jason Leeper. When I told him Tracy wasn't riding this event so he could help me, Jason said 'Whaaat? That is a good man there. I know I wouldn't be able to not ride so that my lady could.'
"I want to thank Jimmy, Stacey (Kelso, McMillan's wife), and Reggie for their help and support; Jack Romine for stepping in to take care of my front tire the entire weekend; and of course Tracy for always having my back! God has blessed me with all of this."
Speaking of blessed, Mary also receives congratulatory texts from inline Top Fuel Motorcycle racers Larry McBride and David Vantine when she wins. And after the win, her pit was filled with kudos for her riding and racing from Peery, Turner, and JTR's Dorothy Olson. "Thank you to them all for the encouragement and support. It's all what makes a win even better!
"Thanks also to my sponsors Fairview Tavern, Vanson Leathers, Capone Landscape, Hawaya Racing Products, and the Bad Apple image department for their continued support."
Zipper's Performance Pro Bagger
Zipper's Performance Pro Bagger winner and number one qualifier Jeremy Williamson had little serious competition at Bowling Green. Number two qualifier Jason Broski might have mounted a challenge, but gave up .085 at the tree (and slowed a bit) against eventual runner-up Jeremy Justice in the semis.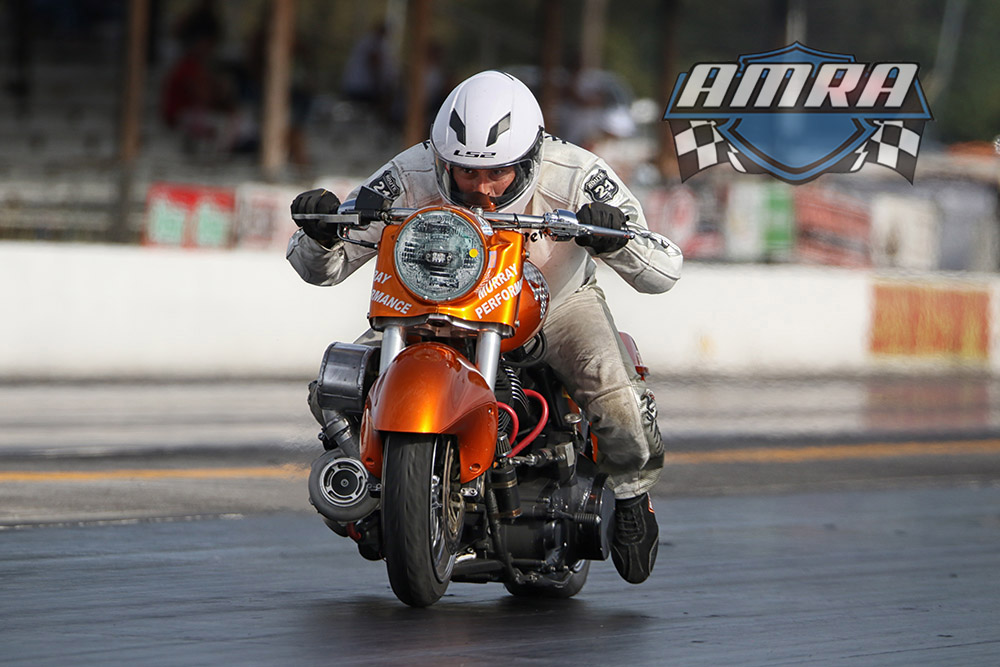 Justice went the other way to start off the final, giving Williamson a full .099 headstart. Williamson—who ran quicker every round—laid down an 8.11 at 169 against Justice's 8.60 at 165 in an all-turbo, all-Jeremy final.
"It's a great feeling," said Williamson. "Third AMRA win in a row with the new combo. Seven passes, all low low 8s, with an 8.11at 169 in the finals. Still testing and trying different things, but all and all I'm pleased with the progress.
"Again, want to thank everyone that's helped along the way and all of the AMRA crew and fellow racers. Greg (AMRA's Greg Baugh) said we had nearly 300 entries Sunday morning. All I know is we had a ton of racers, and it was awesome to see and watch."
Axtell Hot Street
Brian Conley Jr. once again raced the iconic J.T.'s Auto & Cycle bike to the Axtell Hot Street number one qualifier and win.
Conley gave up a huge .115 at the tree against runner-up Casey Smith, but ran an 8.99 at 147 to take the win against Smith's 9.13 at 140.
"Was an all around great weekend in Bowling Green with the AMRA!" said Conley, who also got some more nitro experience under his belt. "Friday we made more hits on the 'Big Nasty.' Learning a lot and loving it!
"Special thanks to JT's Auto and Cycle, Darkhorse Motor Company, Horsepower Inc., T-Man Performance, Energy One Clutches, Law Tigers Chicagoland, Coating Specialties, Super Shoxs, Tri R Distributing, Spectro Oils, and S&S Cycle."
Pro Modified
Lake Charles, Louisiana racer Billy Doherty is no stranger to qualifying number one and winning, and did so in Pro Modified at Beech Bend. Runner-up Jason Adams redlit by a wide -.182 margin and the rest was academic.
"I am working on getting my 23rd national championship," Doherty said proudly. "Larry Pratt and I have been working together to get another championship on the 'Banana.' We are hoping to finish the season strong in Rockingham at the national finals."
Zipper's Performance Modified
Gary Douglass is also used to qualifying number one and winning, and his class is Zipper's Performance Modified. Douglass was able to overcome a .181 reaction time with a massive performance advantage that clocked in at nearly a second in his 9.30 to 10.29 win over Mark Saur in the final.
"This weekend was one to remember," said Douglass. "We always enjoy Beech Bend Dragway, but this time was one for the Douglass Racing archives.
"We started out at 8 a.m. Thursday. The trip usually takes 10 hours but this one took 22 hours. The motorhome broke down 40 miles from home. We had to wait 5 hours until a tow truck showed up.
"In the meantime my daughter Jody was able to pick me up and take me home so I could check out my old RV and trailer to see if it would make it. Didn't see any problems. When Charley's RV arrived at his house, we unloaded the trailer and RV and loaded mine. We are off again at 7 P.M.
"Drove all night and got to the track at 6 A.M. Friday. Wanted to test a new setup but was too tired. In qualifying Saturday my setup seemed to be working, just some minor tuning. Qualified number one. Eliminations Sunday I ran a 9.08 and won modified. This was the good part of the weekend.
"So we drove all night to get home about 150 miles from home my motorhome's transmission started acting up. We barely made it up my driveway. We were finally home.
"Thanks to my son Charley. If anyone deserves dedicated racer of the year it has to be him. Looks like we have a lot of work to do.
"Thank you all that offered help. Thanks to our friends from Indiana for the food and keeping us hydrated and the friendship. Thank you Energy One, Chad Hart, SA Racing, H-D of Lynchburg, Axtell, Jerry Johnson and Billy Mathias. Thank you Tom McCarthy for the pictures and thank you Mr. Tim. Hopefully we will see you all in Rockingham."
Top Eliminator 9.30
Like Doherty and Douglass, David Doremus (there are a lot of capital Ds in this sentence) is another racer that shows up and wins. Doremus qualified number one and took the Top Eliminator 9.30 index final over Curt Stuckenschneider. Curt took the tree with a .027 against Doremus' .076, but David's 9.33 at only 124 was way closer to the index than Curt's 9.50 at 143.
"It was hard getting the bike slowed down with the Bristol tune-up still in it," said Doremus. "My crew chief David Headecer and I finally got it slowed down to a 9.302.
"The class was fairly tight. The first two rounds of eliminations were easy with Brad Reiss Jr. having a serious breakdown on the track. He gets a lot of MPH so he comes on strong on the big end. I did know he was broke, fortunately I didn't break out. Second round was a bye.
"Curt gave me a good fight in the final but I came out on top. I got some help from Paul at PGS, and let's not forget PennGrade1 Oil."
Super Gas 9.90
Heather Jendruch also qualifies as a member of the Frequent Winners Club. She gave up .031 to Robert Alther at the tree in the Super Gas 9.90 final, but ran a sharp 9.913 to take the win against Alther's 9.88.
"Jim Van Fleet set up 'Christine' perfect this weekend!" said Jendruch. "This win is in honor of Jim's birthday.
"Going rounds against great competition is always a great feeling, and this weekend's competition was no walk in the park. Dave Miller, the Master Bagger Jeremy Wilson, Curt Stuckenschneider, and Robert Alther all had me guessing on the down-track winlight every time.
"I'd like to thank JimBob Hanes at High Output Engineering, Energy One Clutches, Miller Motors, Hammer Performance, Axtell Cylinders, Daytona Twin Tec and Napa Auto Parts.
"As always, bring your bike to the races and be part of the show!"
Number one qualifier Donnie Huffman lost to Alther in the semis.
BK Electric 10.30 Super Pro
It's rare for a winning rider to characterize his or her weekend as "Bad," but that was the case with Brad Reiss Jr. "It was a bad weekend," said Reiss. "My 9.30 and 9.90 bike motor is a total loss, so the 10.30 bike win was nice."
Indeed, that BK Electric 10.30 Super Pro check will help defray the expenses of the quicker bike's demise. "Front rod snapped about 3/4 of the way through third gear in the first round of eliminations," continued Reiss. "Was definitely a wild ride to a stop."
Brad was trying manage his nitrous tune-up after a bent pinion shaft put the intended rods in the scrap bin. "My 9.30 and 9.90 motor was specific-built to run a huge shot of juice. Pistons are .100 thousands thicker than normal pistons so they won't melt down and I run billet connecting rods. I just put in a stock set to hopefully get me by the last two races, well you seen how that worked out. I cut the shot from 140 to 60 and it still didn't hold."
Thankfully for Reiss, the slower index provided no such drama, even after runner-up Jimmy Smith slapped an .017 on Reiss' .078 in the final. But Smith's 10.49 couldn't hold off Reiss' 10.38.
"It was (the bike's) first 10.30 win," said Reiss "It was the 10.90 national points champion in AHDRA in 2020. But when I did the 1250 kit last year when the motor let loose on the starting line at Keystone Dragway, I decided I would try the 10.30 index this year with it. Had a rough start but it's coming together now, so we'll see what I can get together for the season final race in Rockingham!
"I want to thank Dave Miller, my teammate and crew chief; My wife for always supporting my passion; Barnett Clutch for always giving me whatever I need; Fueling Performance Parts for cam and lifters when I needed them; Reiss Cycle LLC, and everyone else that's helped along the way!"
Number one qualifier Ian Fix lost to John Shotts in E2.
Pro Eliminator 10.90
Cody Hayworth is a young applicant to the Frequent Winners Club. His Pro Eliminator 10.90 win at Bowling Green is one of many he's had in the last two years across both Harley sanctions.
Runner-up Steve Lacy made it easy on Hayworth in the final with a .186 light to Cody's .035, in what was a double breakout race. Number one qualifier Billy Buell lost to Casey Smith in the first round.
"I want to start out by thanking the staff of Beech Bend Raceway," said the thoughtful Hayworth. "They did a great job getting through as many bikes as we had with very few hiccups. We had a strong 34 bike field in 10.90 Pro Eliminator. I qualified 27th with 11.01, so to say it was a close field would be an understatement. We managed to go a bunch of rounds and take the win.
"A big thanks to AMRA for a great performance showing up and showing out. I want to thank my parents for making every bit of this racing dream I have happen, and Tim Hailey for so many different things.
"I do believe I will take over the points lead with this win, and with one more race to go it is going to be a shootout to crown this year's champ! See y'all at the Rock."
Eliminator
Chad Trayner sliced through an 82 bike field to take the Eliminator win against the toughest of final round opponents—multi-class, multi-time Harley drag racing champ Donnie Huffman. But Huffman made it easy with a -.074 redlight.
"Tough weekend with that many eliminator bikes," said Traynor. "Had some luck and a great crew that helped me get the win and keep my points lead.
"Gotta thank my sponsors Whiteknuckler Brand, Man O' War Harley, Lowbrow Customs and Snakecakes."
Number one qualifier Steve Lacy lost to Huffman in round 4.
Thunder Max Street Eliminator 11.50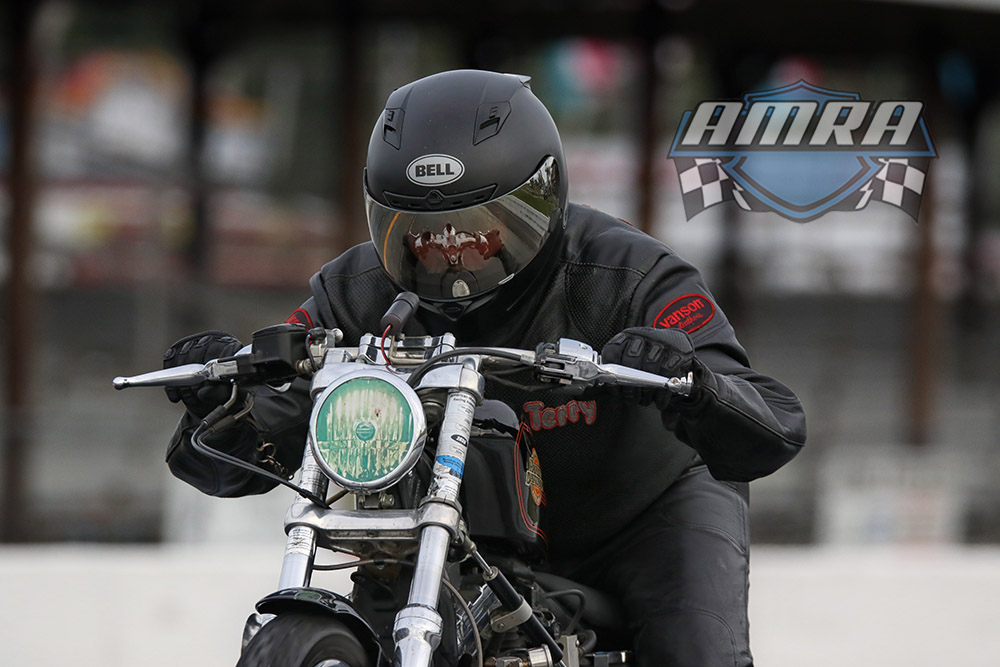 Thunder Max Street Eliminator 11.50 runner-up Blake Fields made it fairly easy on winner Terry Mason, putting up a .174 light in the final to Mason's .061. Mason's 11.58 was also closer to the index than Fields' 11.66.
"The weather was prefect and we had a huge racer turnout in all classes," said Mason, who ran Eliminator and Pro Eliminator 10.90 in addition to Street Eliminator. "Qualified twelfth in SE with a 11.55 and second in PE with a 10.91.
"I ended up winning SE class against some of the best racers in motorcycle drag racing! I went 4 rounds in e-class, redlit against the legendary Donnie Huffman.
"Got down to five bikes in PE. Had a brain fart and forgot to turn my gas on.
"It was a great weekend racing and hanging with a lot my racing family and friends. I want to thank my incredible wife Patty of over 40 years and for supporting me for 23 years of racing. Also thanks to The Preacher Randy BBear Hammons."
Number one qualifier Joseph Woolsey lost to Brad Croneberger in the second round.
Outlaw Street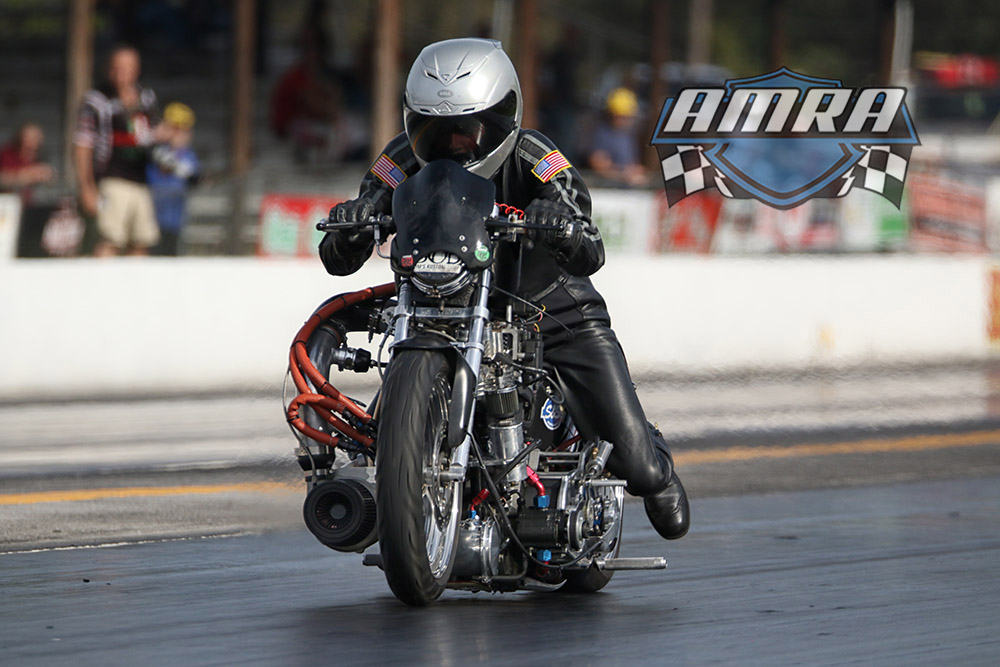 Outlaw Street winner and number one qualifier Tim Grindle had enough faith in his turbo bike to post an old-school .447 light against Casey Smith's .108 in the final. His 8.51 at 180 mph showed his faith well-placed against Smith's 9.28 at 138.
Thunder Max Street Bagger
Scott Tomsu found increased performance on his "Dragbag", but still wound up as the Thunder Max Street Bagger runner-up to winner and number one qualifier Jimmy Mailkranz.
Mailkranz gave up .084 at the tree before laying down a 9.77 at 140 to take the final over Tomsu's 10.07.
Shutdown Area
Bowling Green is a special place on the Harley-Davidson, American V-Twin drag racing tour, but the next place on the schedule might be "specialer." Rockingham Dragway will host the AMRA and AHDRA combined 32nd Annual Jim McClure All-Harley Nitro World Finals on October 27-29.
AMRA's Greg Baugh and John "JT" Toth thank you for your support and look forward to welcoming you to The Rock!
There are more videos on the Cycledrag Youtube channel (please subscribe here) and the Cycledrag Facebook page (Please like here) and more will be coming soon. Check back daily.
To take advantage of some amazing discounts at Brock's Performance, click – http://brocksperformance.com?aff=12
USE cycledrag5 coupon code.