The AMRA (American Motorcycle Racing Association) is "Old School" fun drag racing, as evidenced by the April 28-29, Spring Rally and Drags, held at Beech Bend Raceway in Bowling Green KY. For the most part this is the last remaining "All Harley" drag racing sanction. They are serious about their racing and about having a good time before and after the race day is done.
Yes the racers are serious about their drag racing and many are seeking to set national records. But racers who race during an AMRA event know that by 6 O'clock, on any given race day, Marty VendenHeuvel, the head of AMRA, better have a beer in his hand or their will be hell to pay.
"Heck I'd rather have that beer at five if you ask me" say's the man in charge. AMRA motorcycle drag racing is old school style drag racing where people can still race, have fun; or be as serious as they like about their racing.
At historic Beech Bend Raceway, in Ky, the facility is attached to Beech Bend Park and the "park" is actually a full "Amusement Park" with spinning rides, thrill rides; all kinds of fun for all ages of the family. A petting zoo, children can feed the critters, it's a fun place for everyone. Racers who bring their families along for the weekend; there is no better place to be.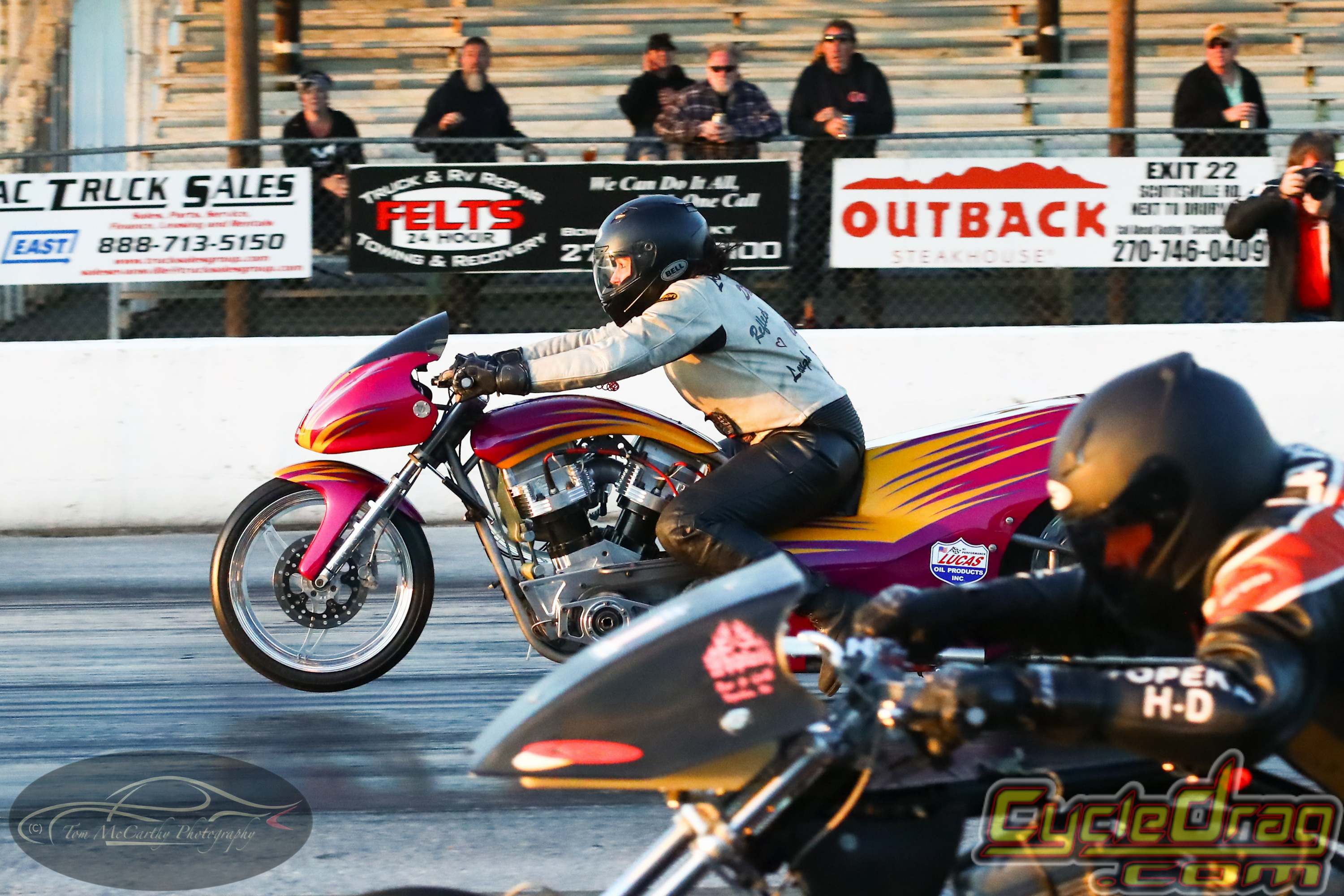 Out on the track the rules are the rules and the racing is fierce, but off the track and especially in the pits, good times abound. You can find a foot-long corn dog, or enough fried food from the concession stands to keep cardiac doctors in business for years to come. If you try the catfish at Beech Bend Raceway Park, you'll be glad you did. There is also some good BBQ from the various vendors, which vary from event to event.
Over 95% of the motorcycles at an AMRA drag race are Harley Davidson motorcycles. Similar bikes like Indian motorcycles are also welcome. For the serious racing enthusiast, there are the highly modified "Race Only" machines that blast down the track at speeds of over 200 MPH. But for the most part, the majority of the drag bikes racing at AMRA sanctioned drag races are street/strip type bikes. They are just highly modified ones to take a serious beating on the weekends.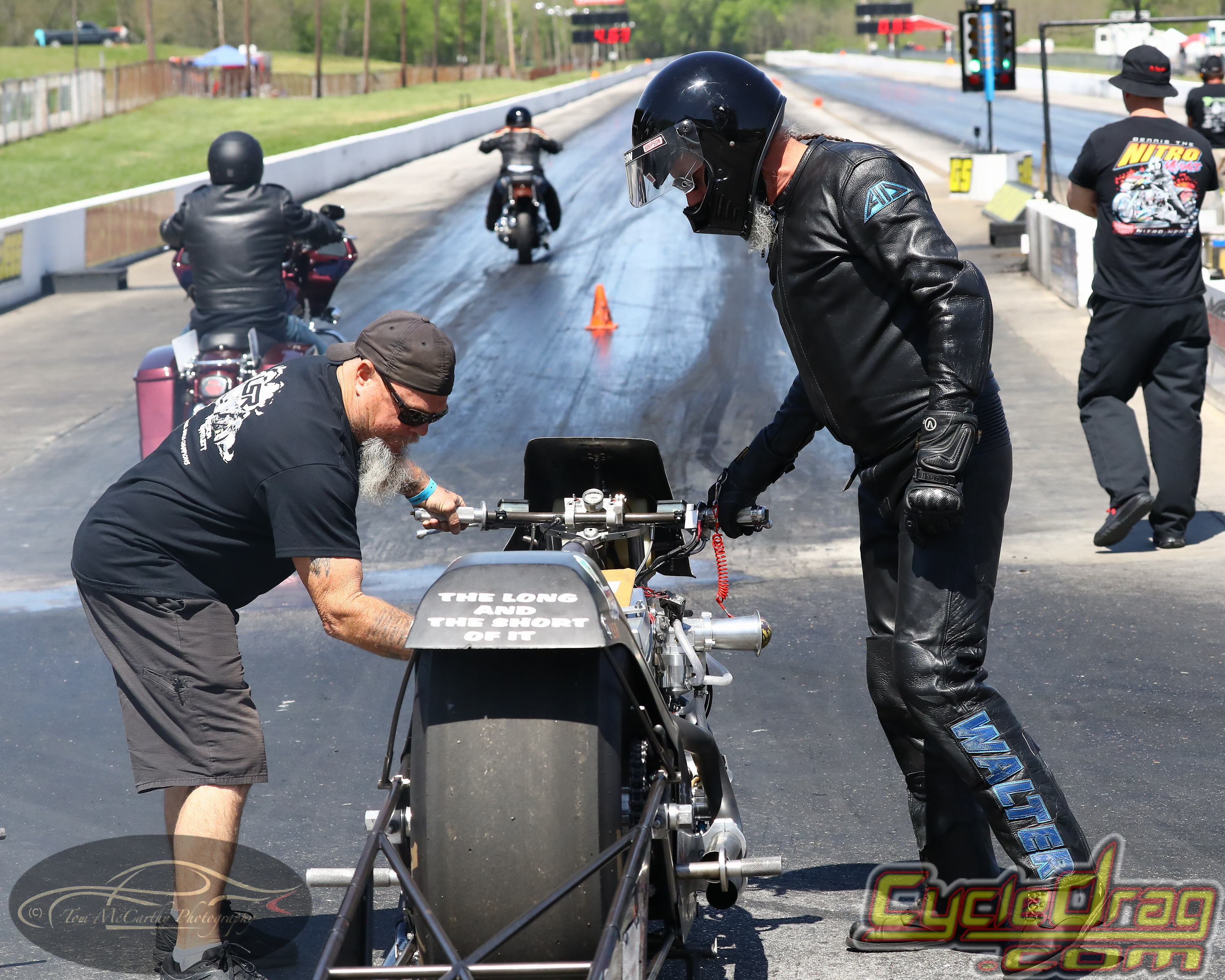 The Nitro Funny Bikes at the AMRA Spring Rally and Drags were the fastest/quickest, machines on the property. AMRA does recognize and race the Top Fuel Harley class – but only at selected events. At the Spring Drags, 2018, the Nitro Funny Bikes (N/FB) were the "Cock of the Block." Ryan Perry of Milford, Ohio, was the number one qualifier with a stout 6.81 at 203-MPH. He then ran the table and went on to win the race for the class and looked damn fine in doing so defeating Rich Vreeland of PA in the final round, 6.66 to 6.76 in a close round of racing. Great tuning by Jake Stordeur's tune-up was vital to the win for Kunckelheads Racing.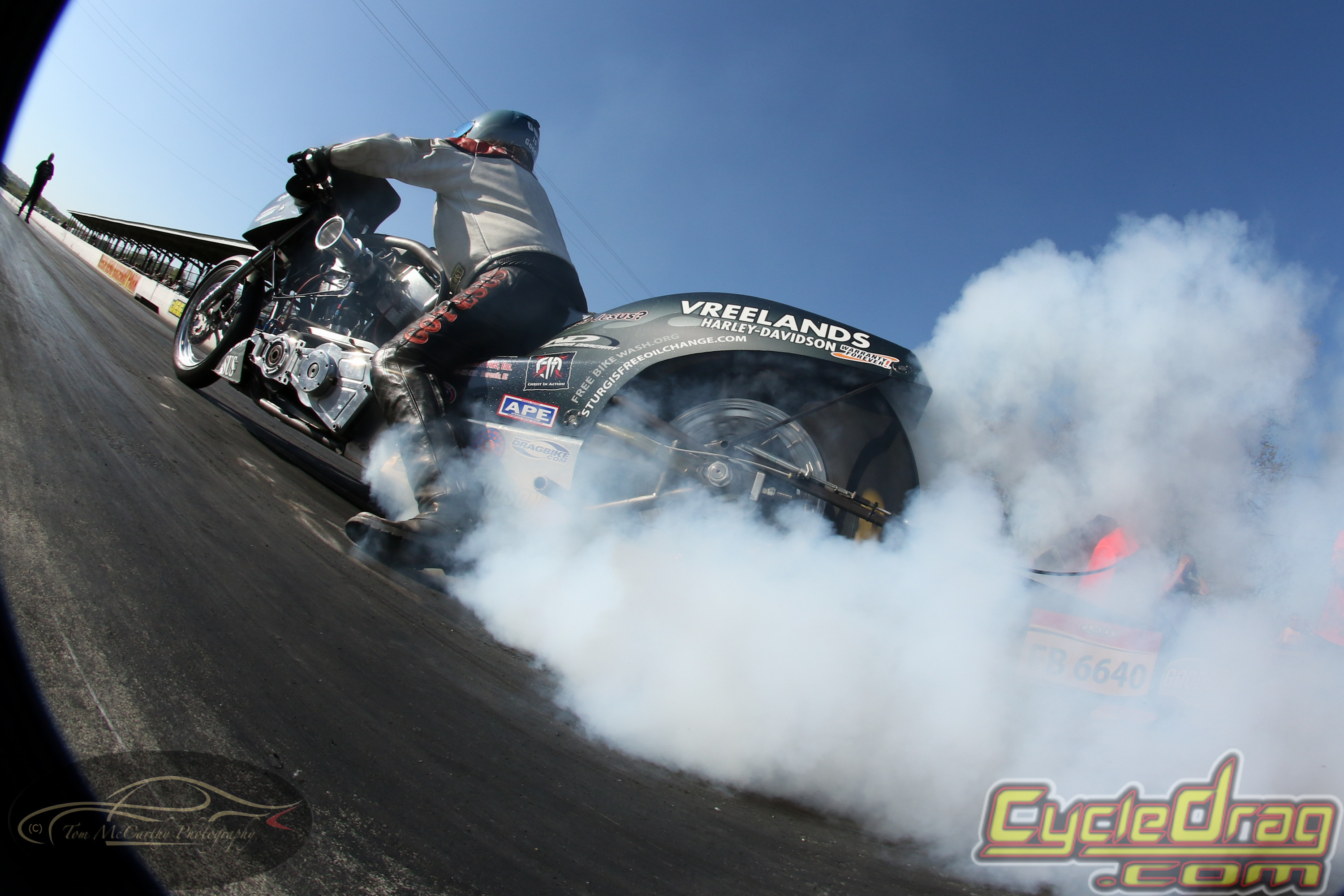 In the Pro Fuel class, Kirby Apathy of DeLand, FL was the #1 qualifier with an excellent 7.16 elapsed time at 179 MPH, not too shabby for a carbureted, high-gear-only motorcycle!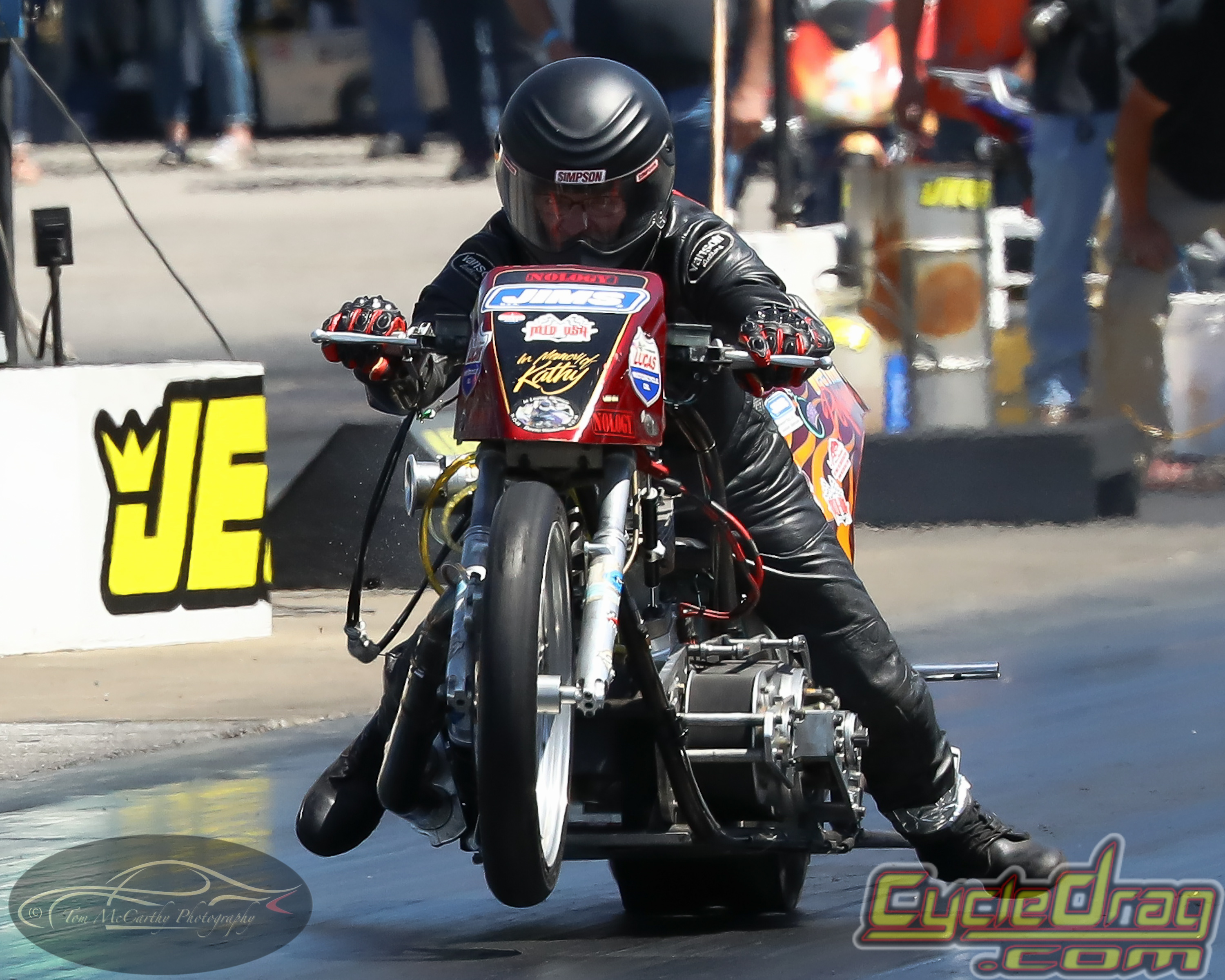 But some tough luck for Kirby ended his day early in round one against Tyler Wilson of NC, when Kirby's bike faltered and Tyler stormed by for the win. Tyler Wilson of Walnut Cove, NC is a former Man Cup Pro Fuel champion and he went on to win the P/F class for the event, defeating Gary Stroud of Valparaiso, Indiana, on a hole-shot.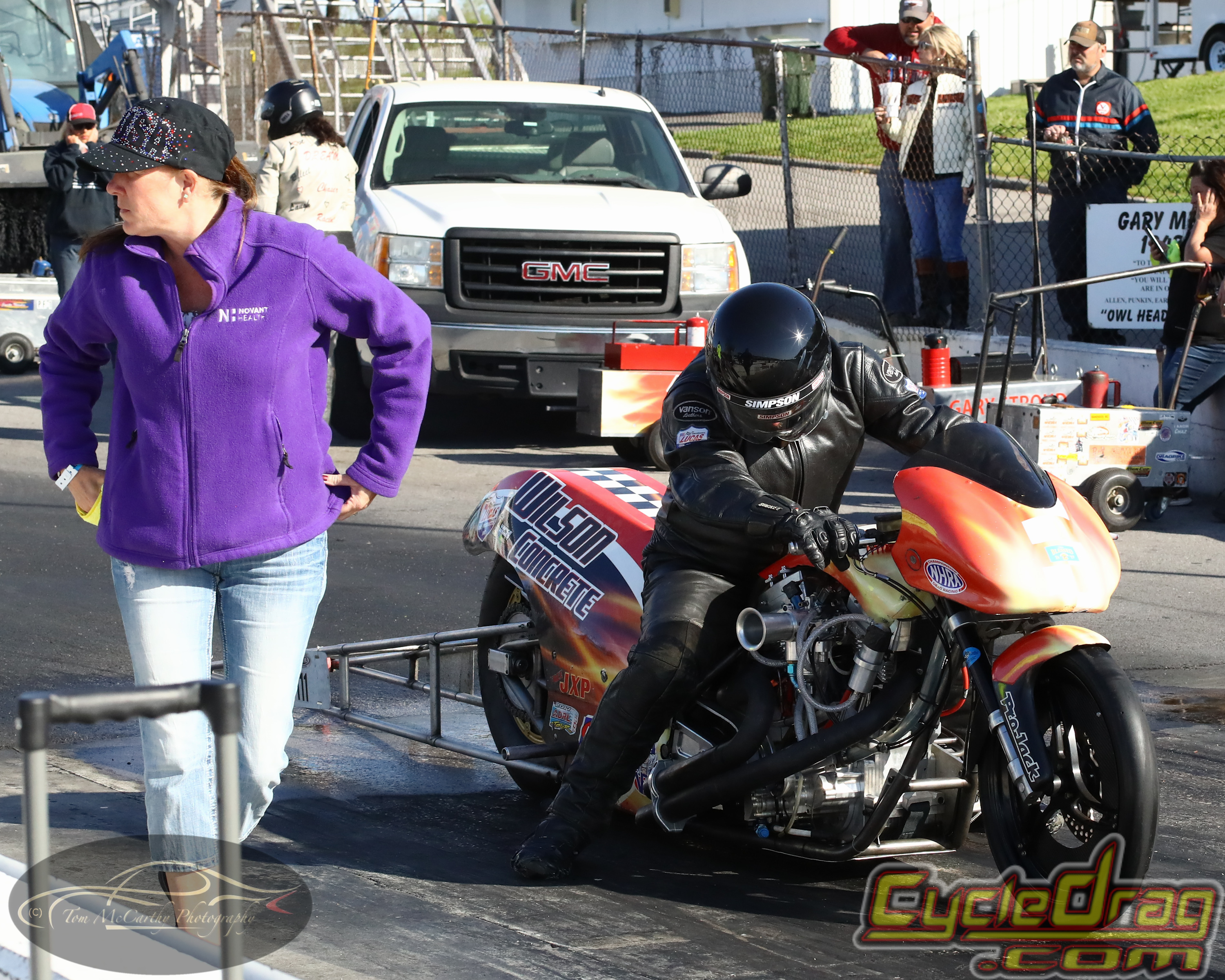 Winners at this event included: P/G Mike Pierce, of Avondale Ga, P/M John Price of Emmitsburg, MD, O/S Tim Grindle of Uniontown, PA, S/C Billy Doherty of Lake Charles, LA, Hot/St. John Toth of Twilight PA, S/G Paul Lowe of Crown Point IN, S/St Charley Douglas of Staunton VA, Mod, Gary Douglas, Staunton, VA, T/E David Doremus, of Loveland, OH, P/Elim Rick Miller of Pensacola, FL, Super/Pro David Doremus, of Loveland, OH, St/Elim Donnie Huffman, Lakeland, FL, and Energy One Dresser class was won by Eric Henderson of Erie, PA.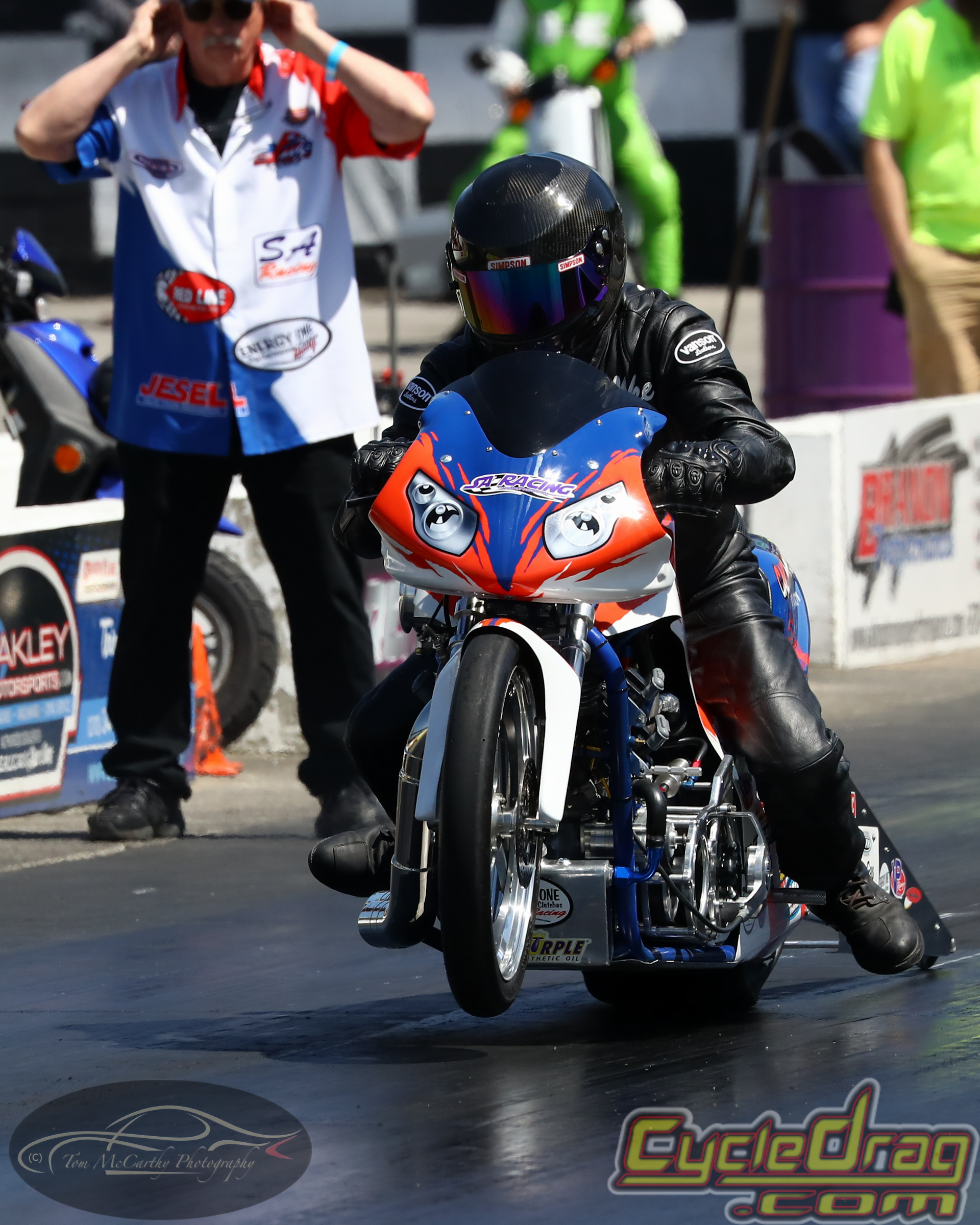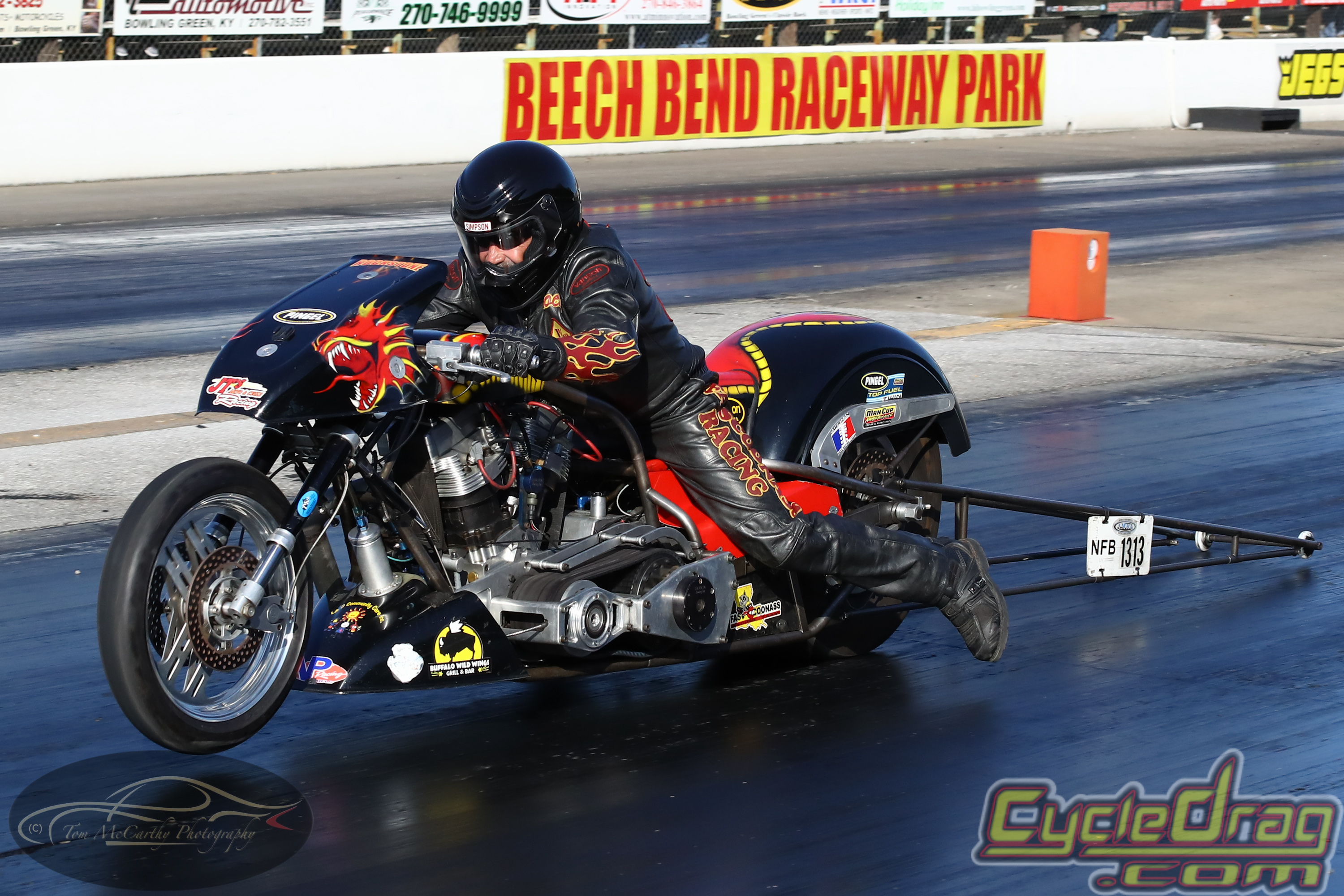 The next event for the AMRA will be back to Bowling Green, KY on June 23-24 for the Summer Shootout and Rally at Beech Bend Raceway. This event will include the Top Fuel Harleys and is an "All Classes Run" event. For further information on AMRA drag racing, please visit their website at http://www.amraonline.com/#schedule
Article by Tom McCarthy for Cycledrag